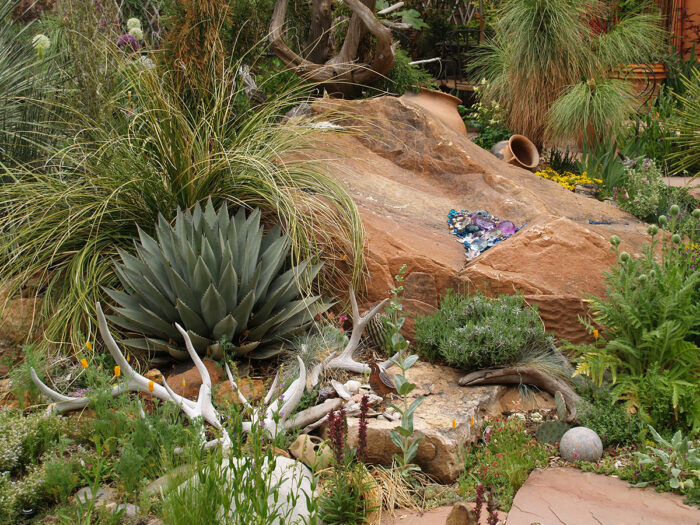 Not all plants thrive everywhere, especially in a region as diverse as the Southwest. Elevation, hardiness zone, and even where you site a plant in your yard all converge to create endless microclimates. But there are a good number of plants that will perform well nearly everywhere in the Southwest. Here are a few of my favorite native and native hybrid plants, which I have grown reliably in both Denver and Tucson, a fact that underscores their adaptability.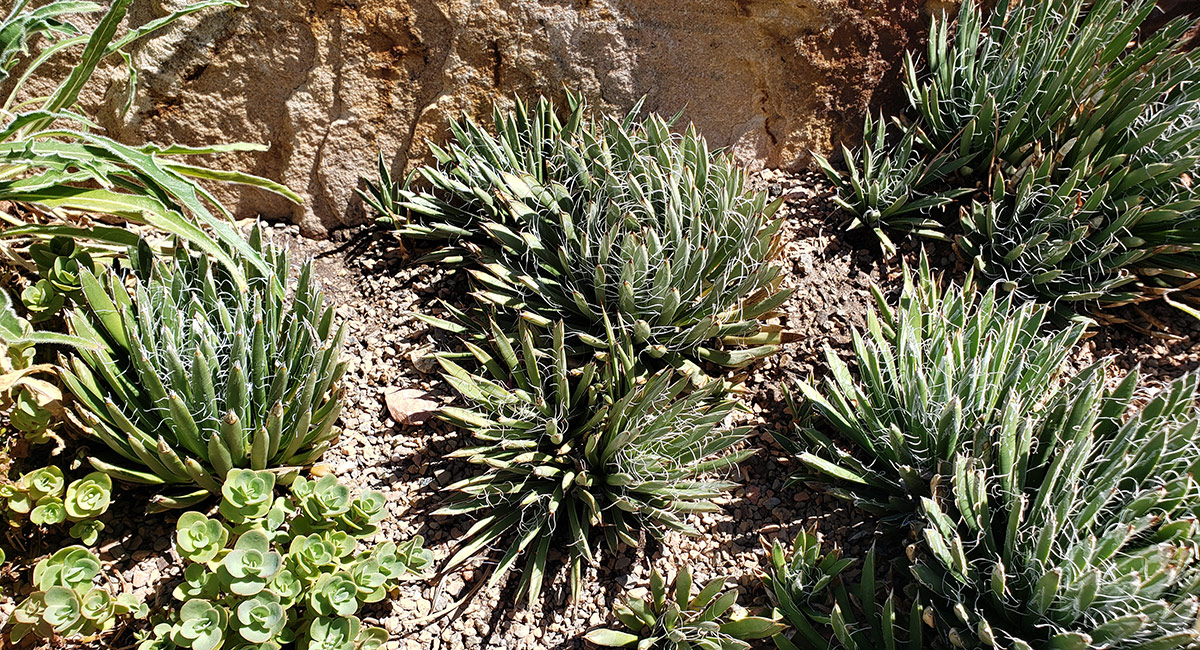 Agaves
Agave spp. and cvs., Zones 5–12
Not all agaves are suitable for everyone in the Southwest. The farther south you go, the more species you can grow, but the following three agaves are cold hardy and seem to thrive anywhere, as long as they get plenty of sun and good drainage. They make bold, sculptural anchors in a Southwest garden.
New Mexico agave
New Mexico agave (Agave parryi subsp. neomexicana, Zones 5–11) typically has blue-green leaves with uniform teeth and impressive black-spined tips. It can mature up to 30 inches in diameter, and at 10 to 15 years it may produce a 12-foot-tall flower stalk that draws in bees and hummingbirds. Small offsets will perpetuate the plant once the main rosette has flowered and died. Havard's agave (Agave havardiana, Zones 5–10) is similar to New Mexico agave but looks greener, has wider leaves, is bigger, and is less inclined to produce many offsets.
Toumey's agave
Toumey's agave (Agave toumeyana var. bella, Zones 5–10) is a diminutive gem compared to the previous two mentioned. It forms rosettes just 6 to 8 inches in diameter, which offset freely. This agave is a treasure for a rock garden or perennial border. Its slender green leaves are striped in silver along their margins.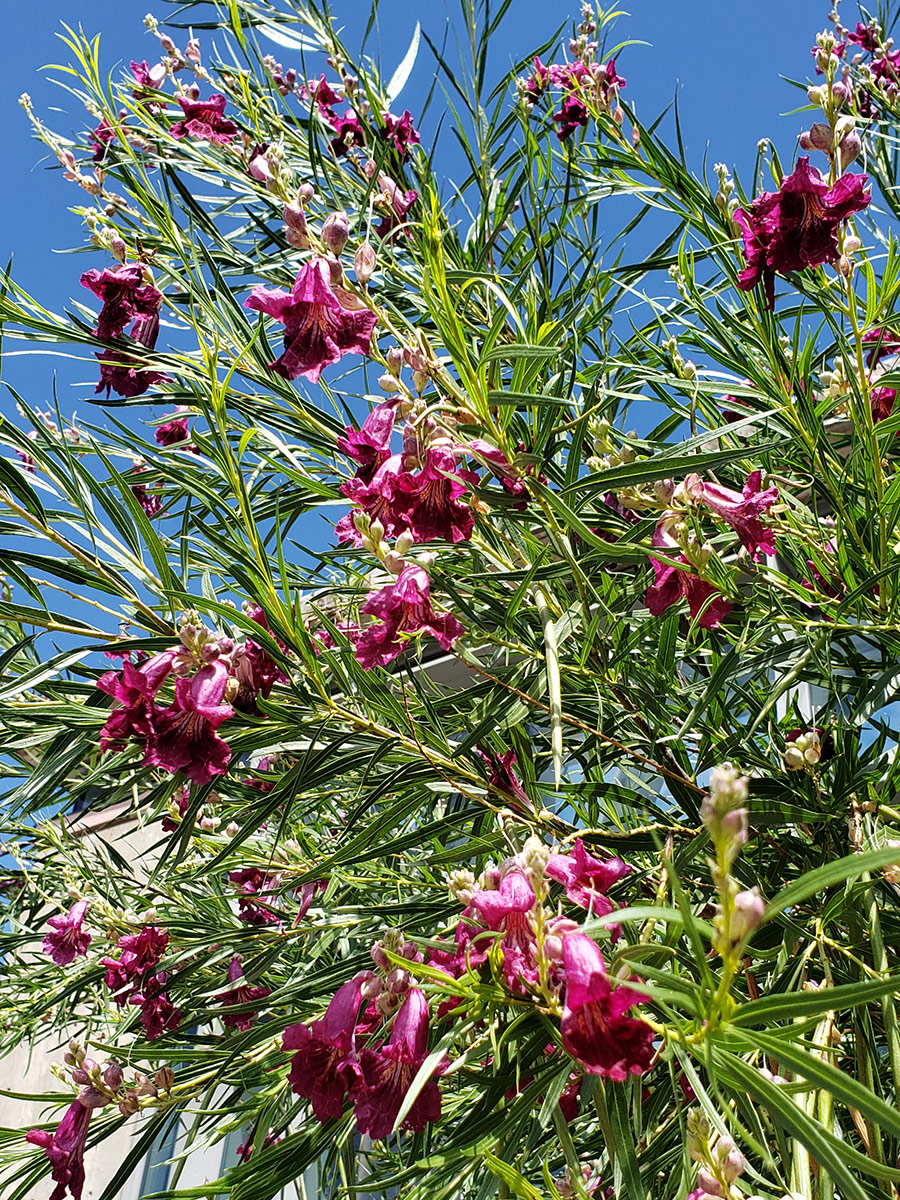 Desert willow
Chilopsis linearis, Zones 6–11
Almost any desert willow will grow in a sunny southwestern garden. Certain cultivars have been selected with limited seedpod production, and these are tidier during their deciduous winter season. Desert willow's flowers bloom in prolific waves during the warm season, attracting hummingbirds and other pollinators. In cooler zones, site them with southeast exposure and ensure good drainage. Here are some of my favorite desert willow cultivars.
'Bubba' desert willow
'Bubba' desert willow (Chilopsis linearis 'Bubba', Zones 6–11) features upright growth with lustrous leaves, deep pink to burgundy flowers that bloom over a long season, and minimal seedpods. This plant's flowers have one of the best colors of the species, and I've noticed more fragrance from them compared to other desert willow blooms.
'Art's Seedless' desert willow
'Art's Seedless' desert willow (Chilopsis linearis 'Art's Seedless', Zones 6–11) has more spreading growth than 'Bubba', with blooms a bit lighter pink. It's noted for its general lack of seedpods, yet it still has plentiful blooms for the hummingbirds to enjoy.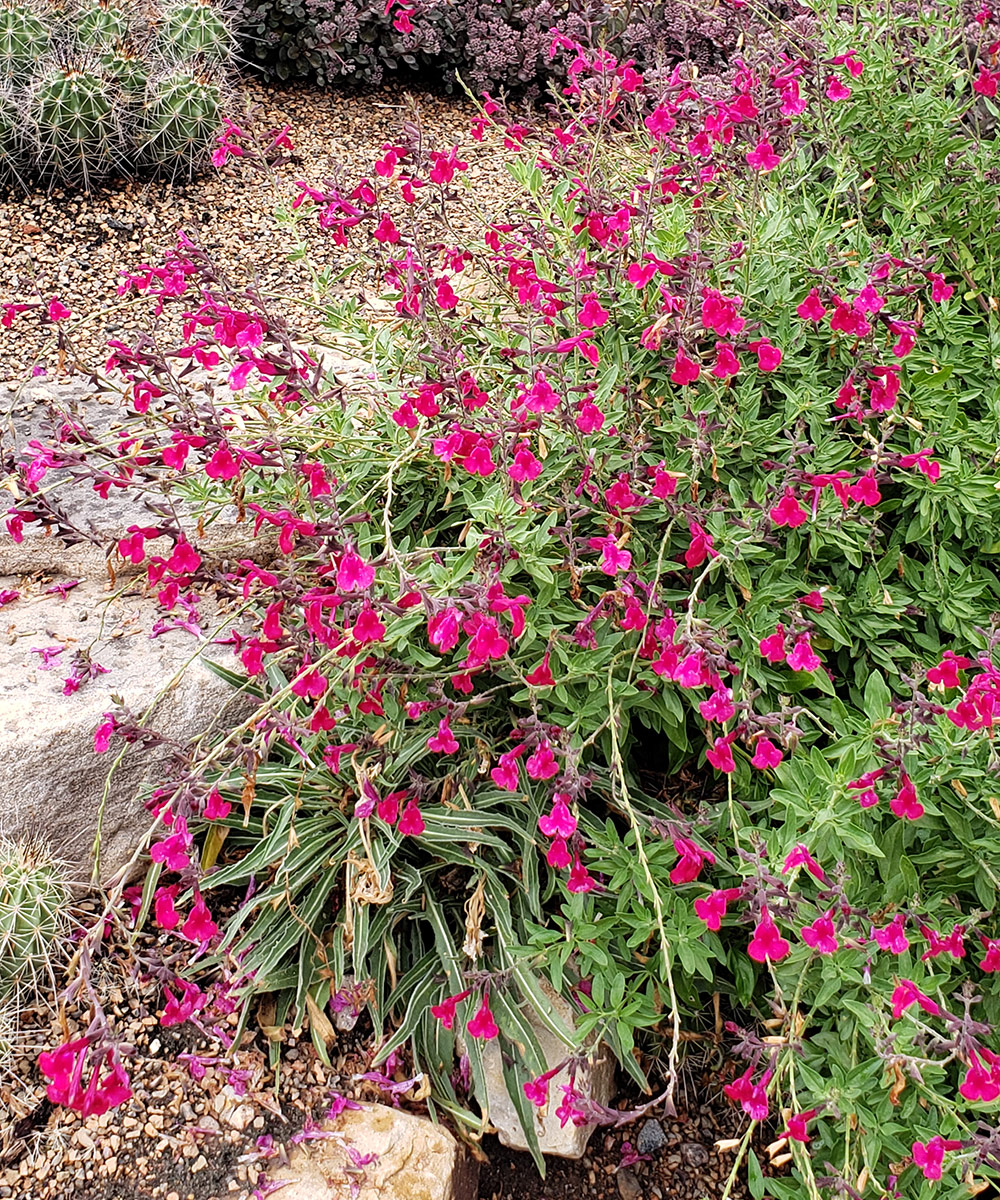 Autumn sage
Salvia greggii, Zones 6–10
There are innumerable species, hybrids, and varieties of salvias that thrive in the desert, but among the most durable is native autumn sage. Growing as permanent shrubs in warmer gardens, they perform as die-back shrubs in cooler parts of the region. A quick trim down to about 4 inches in spring will provide a tidy plant all season long. Autumn sage's bloom period is long, starting in midspring and slowing a bit in summer's heat but then resurging vigorously as evenings cool off later in the year. Hummingbirds love this plant, along with bumblebees and other pollinators. Here are a few of my favorite autumn sages.
'Wild Thing' autumn sage
'Wild Thing' autumn sage (Salvia greggii 'Wild Thing', Zones 6–10) is a long-lived shrub that will grow 2 feet tall and 3 feet wide with a robust habit. It blooms all summer with open spikes of carmine-pink flowers that cover its mounding habit of growth. Hummingbirds absolutely flock to this plant.
'Mesa Azure' salvia
'Mesa Azure' salvia (Salvia 'Mesa Azure', Zones 7–9) is a hybrid thought to be a combination of autumn sage and baby sage (Salvia microphylla, Zones 7–11). This sage is a favorite of mine, with lavender-blue flowers that are hard to find from a tender salvia. Its fall flush of cool blue blooms is an essential complement to the many lemon and gold colors from plants at that time of year.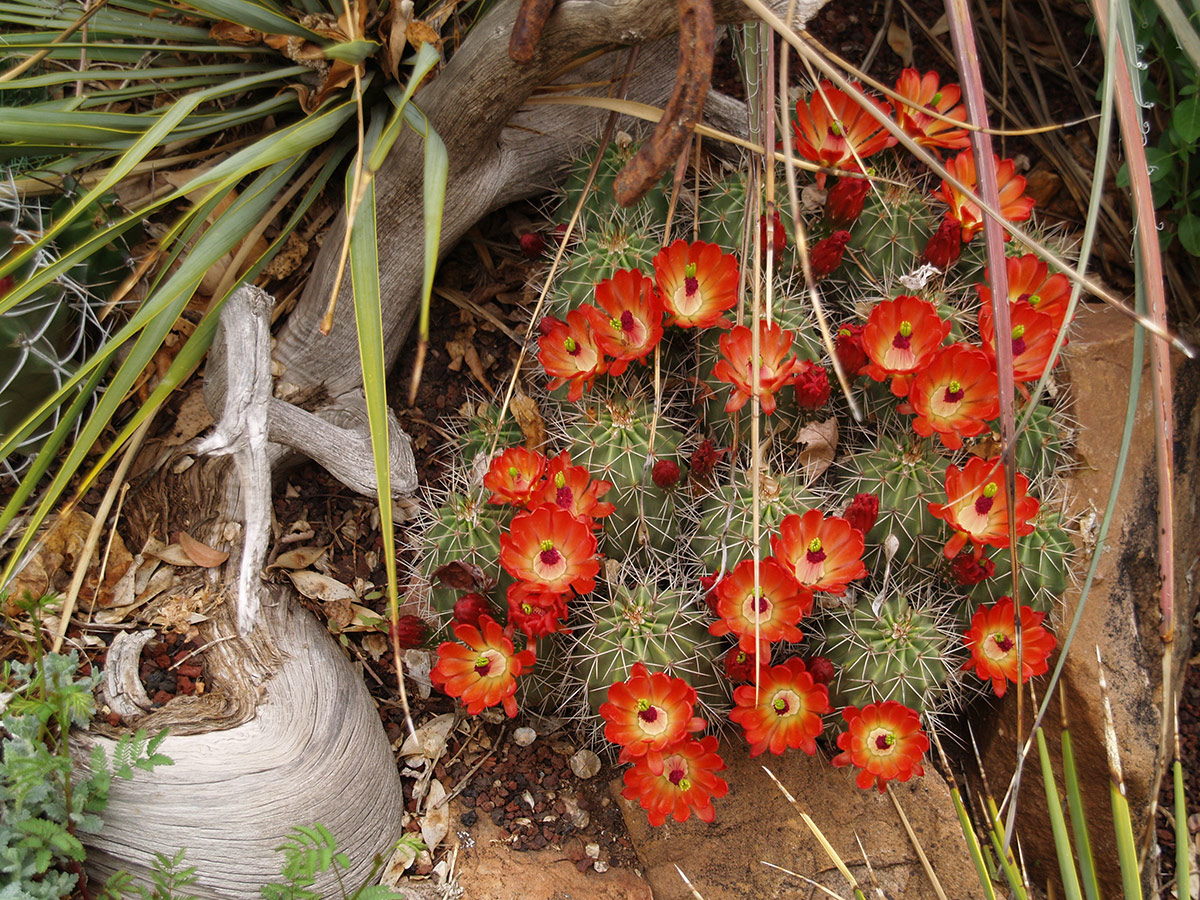 Cacti
Cacti are everywhere in the Southwest, but not everyone is comfortable around them. Try some of the less spiny ones, or the more compact ones that can serve as well-behaved accents. Better yet, grow them up in durable ceramic containers so you don't stumble upon them accidentally while working in the garden. There are many cold-hardy cacti, such as the following, that are suitable for the colder zones of the Southwest as well as warmer areas.
'Coombe's Winter Glow' prickly pear cactus
'Coombe's Winter Glow' prickly pear cactus (Opuntia aurea 'Coombes Winter Glow', Zones 5–9) is a spineless prickly pear that still has the small glochids, so handle it with care. Its blue-green waxy pads turn red-purple in cool weather. The flowers are a brilliant magenta.
Kingcup cactus
Kingcup cactus (Echinocereus triglochidiatus, Zones 4–9) is found growing wild over a wide range of the Southwest in many forms and varieties. Also called claret cup, this cactus is compact and long lived. Its midspring blooms can range from deep red to soft salmon, or even white or yellow. Hummingbirds are more attracted to the red and orange flowers. There is even a spineless form of this plant, Echinocereus triglochidiatus var. mojavensis f. inermis, which is particularly nice.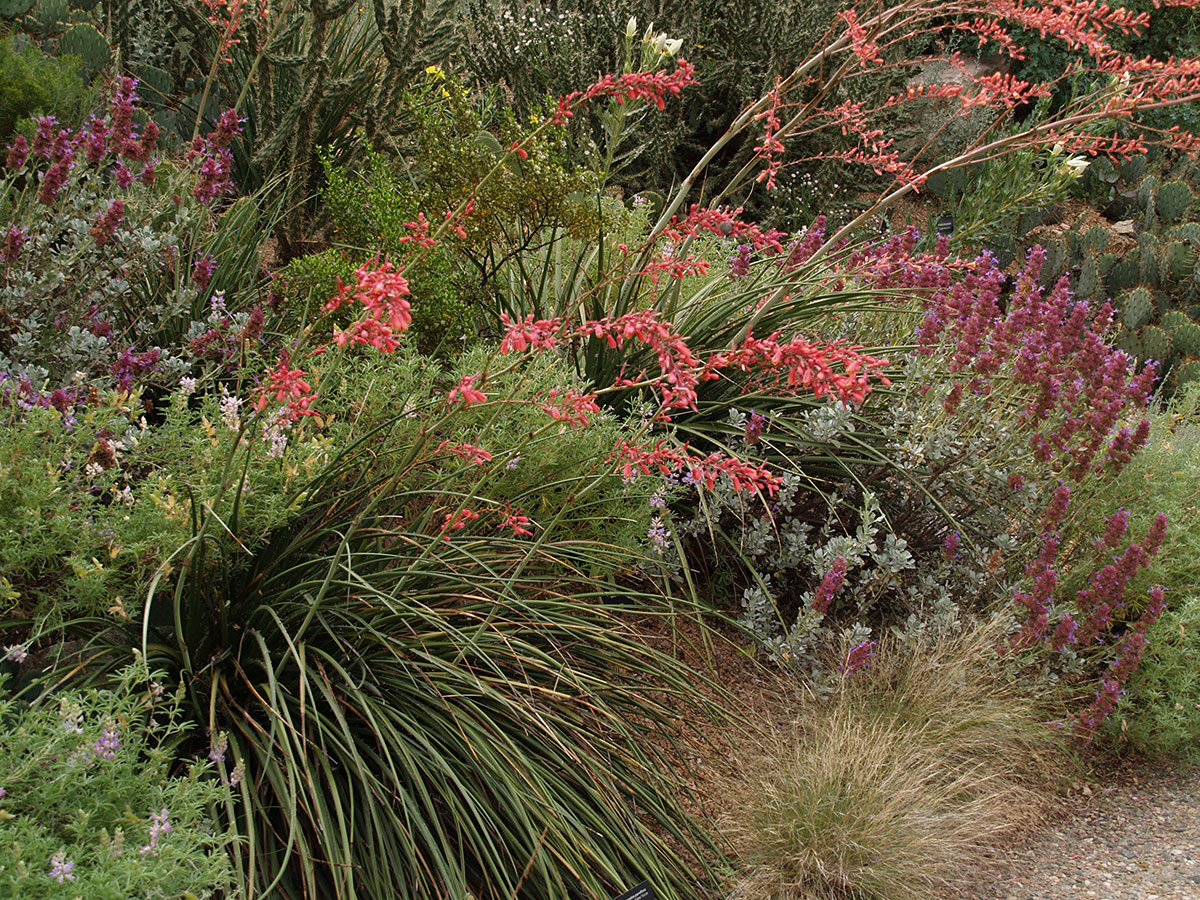 Red yucca
Hesperaloe parviflora, Zones 5–10
Though originally from central Texas, this species, which is not a yucca at all, is grown throughout the world in warm climates. But it also does well down to Zone 5 when planted in a sunny spot with well-draining soil. Those in hot climates may see a spring push of new flowering stalks that eventually tire during the hottest months of the year. Removing seedpods as they appear and providing a bit of water may extend flowering. In cooler areas of the Southwest, the stalks often remain viable until frost, producing new flushes of flowers after periodic rains. Numerous new hybrids have been produced in recent years with variations in flower height and color, but it's hard to beat the original species for its warm coral flowers and ease of growth. But I've been impressed with Pink Parade® Hesperaloe (Hesperaloe 'Perfu', Zones 6–10), which is a hybrid of red yucca and another native Hesperaloe. In addition to its pink flowers, its leaves turn a pale pink in areas with colder winters.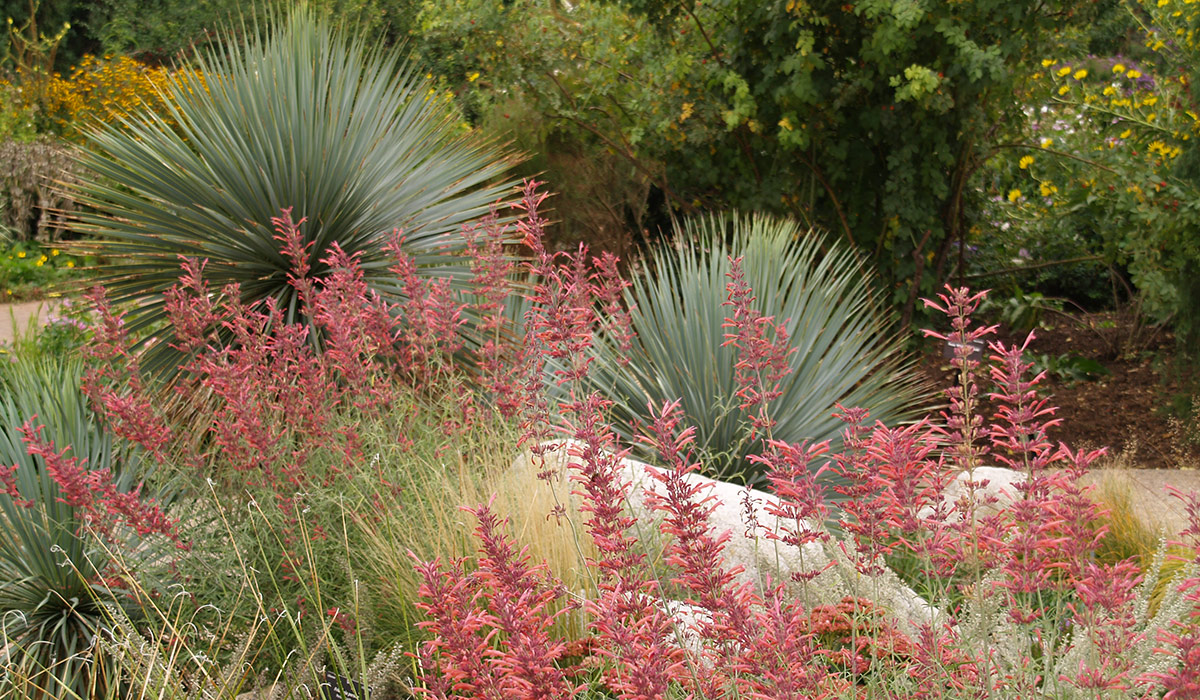 Beaked yucca
Yucca rostrata, Zones 5–10
Dozens of true yuccas adorn southwestern gardens. Some are tiny, and some have nearly life-threatening 3-foot-long blades. This species is in the middle of those two extremes. Its graceful domes of narrow silver-blue leaves are flexible and shimmer in the wind. It features massive flower spikes that are creamy white and softly fragrant. This plant creates an architectural focal point as its trunk develops, reaching up to 10 feet tall over time.
Regardless of your elevation and your hardiness zone, plant one of these versatile native plants for a reliable performance. For more plants that thrive in the high desert and low desert, click here:
—Dan Johnson lives and gardens in Denver and in Tucson, Arizona. He is an associate director of horticulture for the Denver Botanic Gardens.
Photos: Dan Johnson