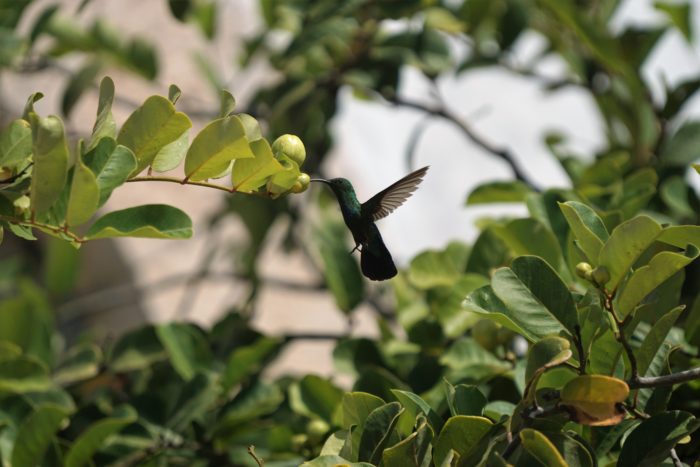 For a bird that weighs about as much as a penny, the tiny hummingbird sure creates a lot of buzz. We all want them. And if we already have them, we want more. Putting up nectar feeders is the quick and easy way to get hummingbirds. It works so well, it's almost like cheating—no hummer can resist checking out that red plastic beacon. Blame it on evolution. Hummingbirds are hardwired to investigate the color red.
While fragrance is the prime bait for pollinators like butterflies and other insects, birds don't have good sniffers, so flowers that depend on them must advertise with color. For hummingbirds, red rules the roost. Because these flyers have to eat a lot to keep those wings buzzing at an average of 75 beats a second, nature makes it easy on them by packaging their nectar in shades of red. Homing in on this vibrant color saves these high-energy birds time and conserves calories.
This strategy worked great in ancient days, but today, hummers get plenty of bum steers. They investigate not only red flowers and red feeders but also red eyeglass frames, red shoes, red hair ornaments, red children's toys, and even red lipstick. To select good hummingbird flowers, color is paramount, but you'll want to consider flower form, too. Blooms with a long, tubular shape can't be serviced by shorter-tongued pollinators like bees or wasps; they're made especially for hummingbirds. Once in your yard, hummers will move naturally to blossoms of other colors besides red. The following perennials are a few of my favorites that keep hummingbirds happy in my garden from late spring through late summer.
Draw in early visitors with spring bloomers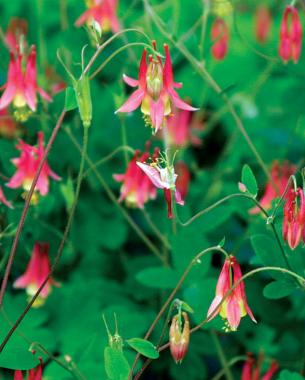 Hummingbirds migrate north in spring by following the flowers as they bloom, so be sure to have some early bloomers ready and waiting. Wild columbine (Aquilegia canadensis) kicks off the hummingbird season in the eastern two-thirds of the country, blooming just in time to greet returning migrants. It's a large yet delicate-looking plant that adds a touch of grace to any garden as the unusual nodding red-and-yellow flowers bloom for weeks.
Wild columbine thrives in full sun to partial shade and well-drained soil, generally achieving a size of about 2 to 3 feet tall and wide. It adapts well to lean soil, including gravel, and has a charming habit of sowing itself into crevices in rock walls. Snip off green seed heads to prolong bloom, but let some mature to self-sow. As the season progresses, the attractive, ferny leaves may show interesting tan or white scribbles from leaf miners; these do not harm the plant. Many other columbine species, cultivars, and hybrids are available. They're all easy to grow and loved by hummers.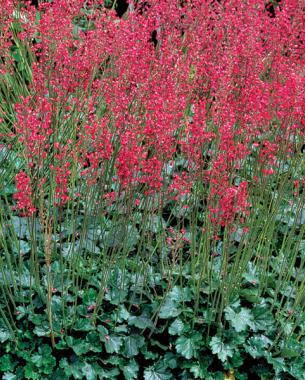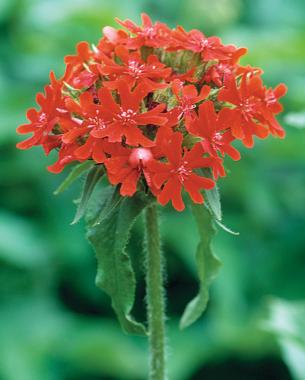 For another spring-blooming hummingbird magnet, try the spectacular native fire pink (Silene virginica). There is no pink to the star-shaped flower—just red. It's an easy-to-grow shade lover that gets 12 to 18 inches tall and wide and prefers moist, well-drained soil. As spring moves along, heuchera (Heuchera spp. and cvs.) comes into its own. Though its tiny flowers do not seem like an obvious choice, hummingbirds are attracted to their tubular form. Fancy-leaved heucheras with pale flowers will get the birds' attention, but choosing cultivars with knockout red or brilliant carmine blooms will virtually guarantee a visit. For a daily hummingbird sighting from spring into summer, edge a bed with 'Firefly' (H. × brizoides 'Firefly', syn. 'Leuchtkäfer', Zones 4–8) or other vivid red cultivars. Heucheras can be grown in full sun to partial shade and in well-drained soil. They reach 12 to 36 inches tall and 12 to 24 inches wide. Smaller varieties work well in rock gardens and containers. These long-blooming plants are better suited for cooler climates as they can be short-lived in the South.
For another jolt of red, consider Maltese cross (Lychnis chal­cedonica), which sets early summer ablaze with color in the form of big, rounded clusters of flowers. This perennial shines in full sun and moist soil. The flowers can reach up to 48 inches tall on 12- to 18-inch-wide plants. For a bushier, more compact appearance with increased blooms, pinch back stems in spring. Deadheading will encourage a second round of flowers.
Keep hummers happy with an ardent summer buffet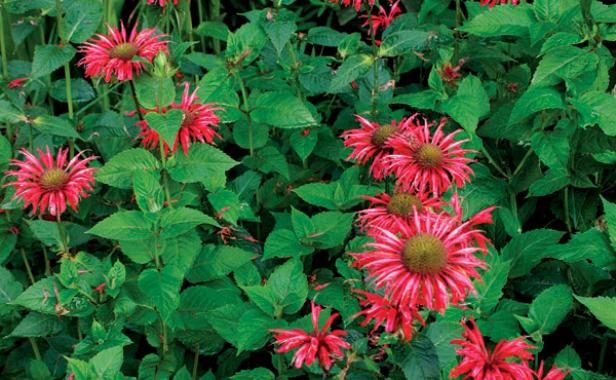 As summer settles in, a flood of hummingbird plants come in season. One plant I wouldn't be without is bee balm (Monarda didyma and cvs.). Yes, it's a 36-inch-tall mint that's pushy and quick to reach beyond its 24-inch spread, but I always try to find it an appropriate place in full sun to light shade and rich, moist, well-drained soil. The flowers go for weeks on end and become a regular stop for area hummers. Red cultivars such as 'Gardenview Scarlet' will get attention fast, but any color will eventually be embraced. Cut bee balm back by half when it starts to look ratty later in the season; it will regrow with vigor and provide another round of bloom.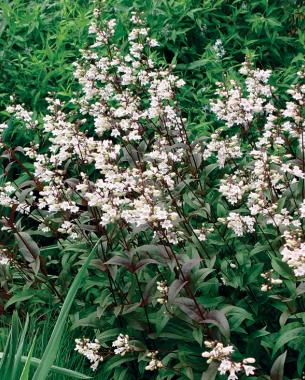 Penstemon (Penstemon spp. and cvs.) is a superb, drought-tolerant hummingbird-attracting option. It blooms from mid- to late summer and is naturally tailored to match the habits of the birds it depends on for pollination. Its upright, vibrant red-to-pink-to-lavender flower panicles provide easy, nectar-sipping access as they grow on plants 8 to 48 inches tall and 6 to 24 inches wide. Scarlet-blooming firecracker penstemon, or any other native species, is a good choice for areas with full sun and rocky, fast-draining soils. 'Garnet' (P. 'Garnet', syn. 'Andenken an Friedrich Hahn', Zones 7–10) or 'Ruby' (P. 'Ruby', syn. 'Schoenholzeri', Zones 6–9) are two knockout, deep pink cultivars that quickly become the size of shrubs and bloom into winter in milder regions.
Most western penstemons sulk away from their native haunts, but eastern and midwestern selections, such as white-flowering 'Husker Red' (P. digitalis 'Husker Red', Zones 3–8) or prairie penstemon (Penstemon tubaeflorus, Zones 4–8), are more adaptable. They may not supply the same color impact of their western counterparts, but they attract hummingbirds all the same.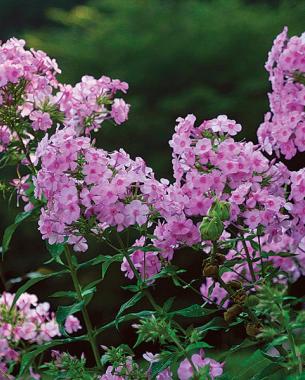 If you're looking for quieter-colored flowers in shades of white, pink, or lilac, give garden phlox (Phlox paniculata and cvs.) or meadow phlox (P. maculata and cvs., Zones 5–8) a go. These summer bloomers have the hummingbird stamp of approval as the flowers are set above the leaves, allowing hummers to easily zip around and hover while feeding. Phloxes are easy to grow in average to rich, moisture-retentive soil in a sunny spot; meadow phlox will also bloom in partial shade. Snip off dead flower heads to encourage another round of bloom.
Many phlox cultivars are susceptible to disfiguring (but not fatal) powdery mildew. To keep mildew down, provide a little elbow room between plants for good air circulation and keep irrigation off the leaves. If the malady gets out of control, just cut affected plants back hard. At 36 to 48 inches tall and 18 to 36 inches wide, phloxes can be placed at the back of the border where the mildew is less noticeable.
What makes a hummingbird feel right at home?
Hummingbirds are treasures found only in North, Central, and South America. Most of us in North America make do with just one species of hummingbird: The reliable ruby-throated hummer resides in the eastern two-thirds of the country. Those in the West see a few more kinds. The Southwest sees the most—as many as 16 different species. Still, that's just a drop in the bucket when compared to the roughly 338 hummingbird species that live in Central and South America. But even a single species is pleasure enough in our own backyards, which is why my gardens are always packed with hummingbird plants and red plastic feeders. You can also include a few other elements to make hummingbirds feel welcome.
•Water is a big attraction in summer. Supplying a mister at your birdbath or setting up a sprinkler to go off at the same time every day will bring hummingbirds around like clockwork. They prefer to flutter their wings under a shower, rather than settle their bodies into a pool for a bath.
•Spider webs are also a big draw. Humming­birds will find the spiders in your garden before you do. The birds pluck and eat insects from the webs and use spider silk for building their nests.
•Perches are appreciated. Because hummingbirds spend a lot of time sitting and resting, it's a good idea to provide perching sites throughout your garden. Decorative elements, such as trellises, tuteurs, and shepherd's hooks, are ideal as long as the perch is small enough for those tiny feet to get a good grip.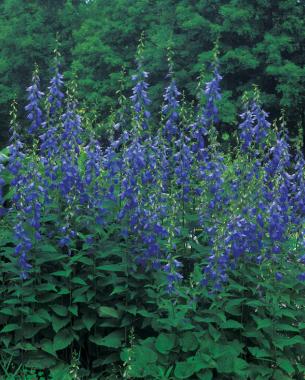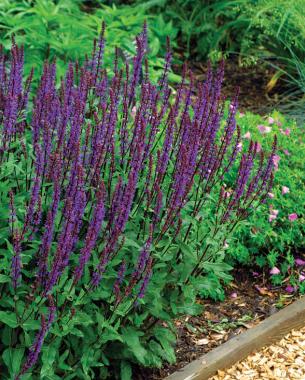 Common ladybells (Adenophora confusa) is another excellent non-red choice. Its lavender-blue bells dangle from 24- to 30-inch-tall panicle flower stems for weeks in early summer. Common ladybells grows well in full sun to partial shade and average to rich garden soil. It is tolerant of clay and can withstand a few weeks of drought. It spreads quickly by roots in loose, rich soil and easily forms an 18-inch-diameter patch within a year. Stray plants are easy to uproot when they get out-of-bounds. I give common ladybells free rein to meander through my perennial bed, where it fills in among other plants. If you prefer a more formal style, this perennial may be a little too enthusiastic for you.
For a long-blooming companion for common ladybells and phlox, choose any salvia (Salvia spp. and cvs.). This vast genus offers many choice species, cultivars, and hybrids, all of which are beloved by hummingbirds. Most salvias pop with flowers in shades of red or blue and can range in size from 12 to 48 inches tall and wide. If you give these plants full sun to partial shade in any well-drained soil, the summer show can last into fall, especially with deadheading.
A midsummer disappearing act
If you suddenly notice that your regular hummingbird visitors stop dropping by in the middle of summer, don't take it personally—it's just part of their natural cycle. This is the time when these birds take up nesting terri­tories and are busy with family duties. By late summer, traffic will again begin to increase as families disperse. Fall migration also boosts the count, until the birds have funneled through.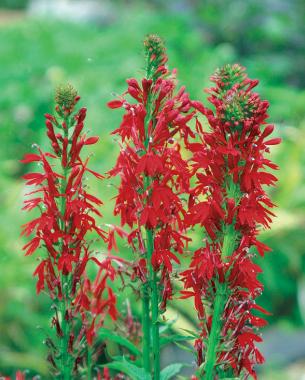 As summer comes to a close, send your area hummingbirds off on their journey south with a full belly. The beautiful red candles of cardinal flower (Lobelia cardinalis) begin to glow just as hummers start to migrate. The crop of muddy-colored cultivars and hybrids isn't nearly as appealing to hummingbirds, so I stick with the original. Cardinal flower grows naturally in wet places in full sun to partial shade, so don't be afraid to plant in a bog garden or beside a water feature. It also adapts easily to average to rich garden soil if given a weekly dose of water when rain is scarce. To promote branching and new bloom, cut back faded flower stalks. Even though cardinal flower can reach 3 to 4 feet tall and 12 to 18 inches wide, I like to plant it in the foreground, where I can enjoy the show.
If you pay attention to your hummingbirds over the seasons, you'll dis­cover other favorite flowers that you already have. I've been watching these birds my whole life, and they still amaze and surprise me each year.