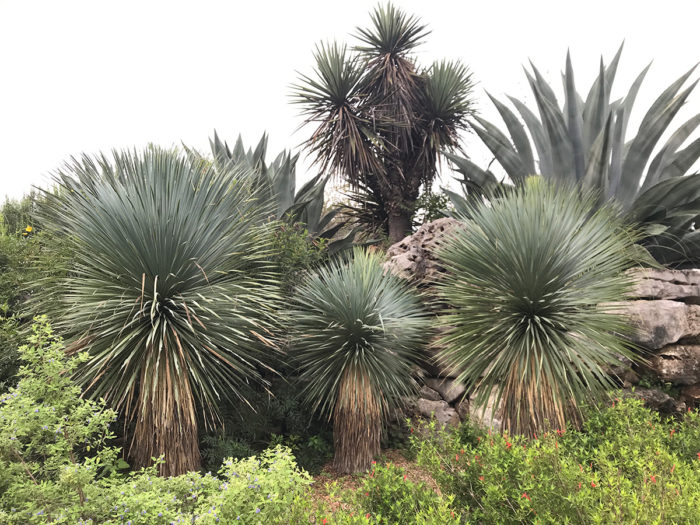 We are fortunate here in the Southern Plains to have quite a few native yucca species (Yucca spp. and cvs., Zones 5–10) that thrive in our climate. Many of them are large, striking plants that serve as excellent focal points in the garden, while smaller yuccas that grow near the ground, such as twist-leaf yucca (Y. rupicola, Zones 7–11) and pale-leaf yucca (Y. pallida, Zones 7–9), are more demure. Many folks are familiar with the larger, treelike yuccas known by the common name "Spanish dagger." This name, along with many others, is applied to several different species, each one distinct in look and habit, so I find it worthwhile to know the yuccas by their botanical names. All of the yuccas I have profiled here are drought tolerant and moderately cold hardy. They also thrive in full sun (unless otherwise noted) and are easy to grow—not to mention beautiful.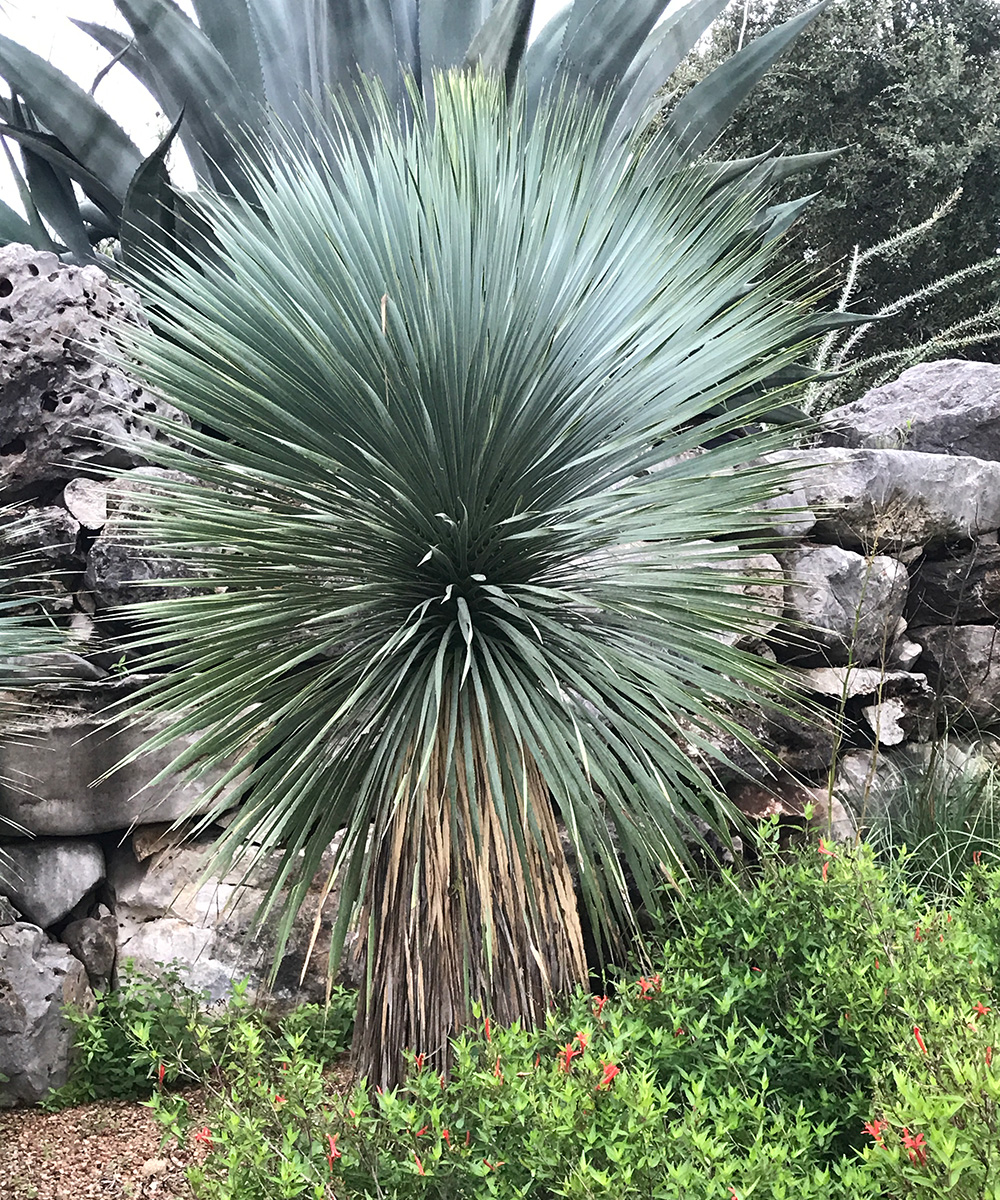 Beaked yucca
Also known as: Thompson's yucca, soyate, palmita
Y. thompsoniana (syn. Y. rostrata), Zones 5–10
Beaked yucca is, in my opinion, the most beautiful of the yuccas. This is a bold statement, but beaked yucca is a bold plant. It grows slowly and adopts a treelike appearance with a stocky trunk that is topped with a big pompom ball of leaves. It sometimes branches near the top but is often found unbranched. Each rounded head of leaves consists of hundreds of tough, blue-gray leaves that grow up to 2 feet long. These pointed leaves, which are about half an inch wide, are less rigid than those of many other yucca plants, so this yucca is slightly more forgiving in the garden. While many yuccas take on a rather unkempt appearance, with shaggy brown leaves hanging down underneath, beaked yucca tends to stay tidier. It makes a striking focal point, and I recommend it in locations where you want to make a statement. Make sure you give it enough room, because it can reach 6 to 14 feet tall with a 6-foot spread.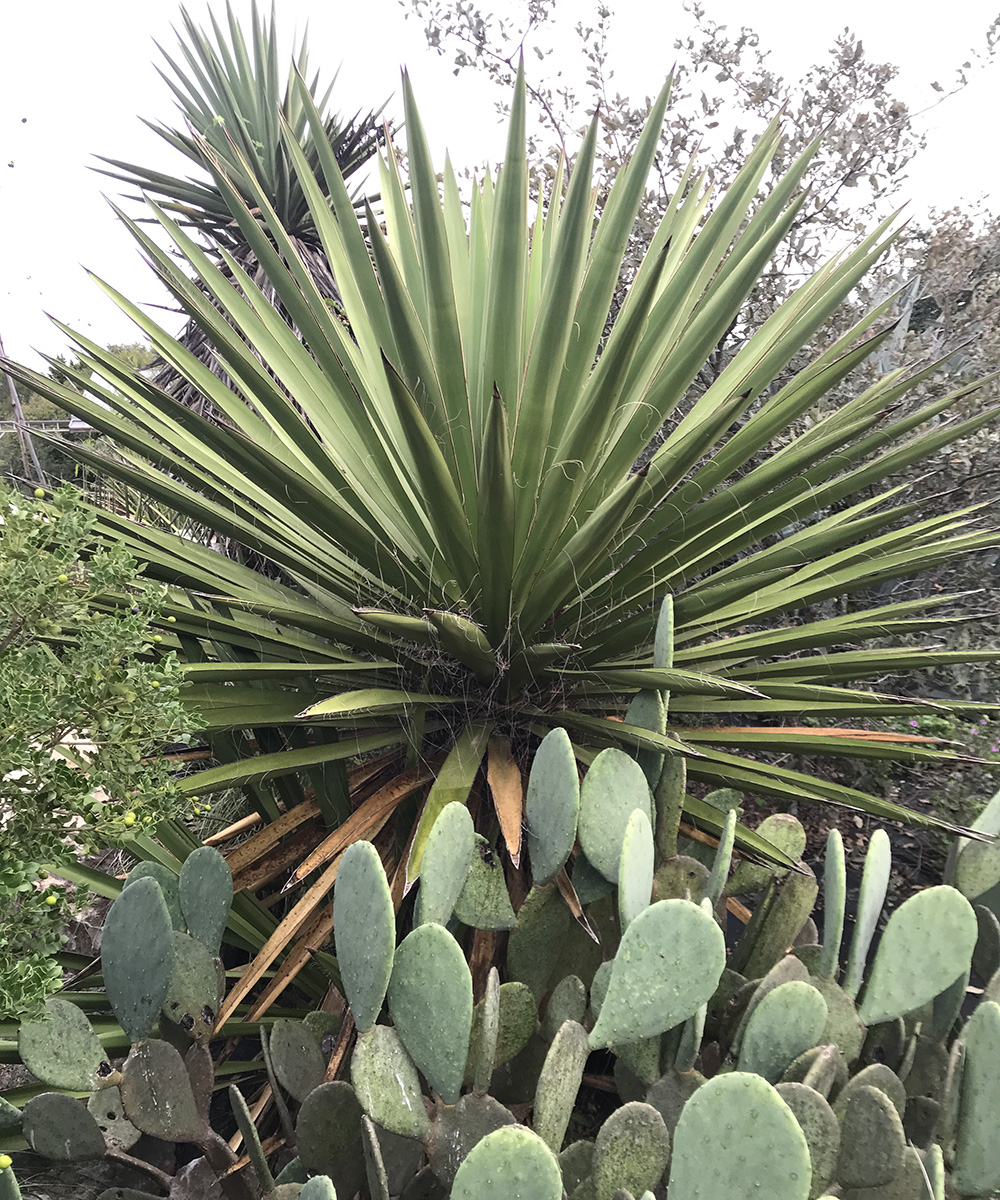 Giant dagger
Also known as: Spanish dagger, Faxon's yucca, West Texas tree yucca, giant white yucca, Eve's needle
Yucca faxoniana, Zones 5–10
Giant dagger is another treelike yucca that tends to be smaller than beaked yucca, reaching heights of about 10 feet. Some individual plants stay fairly short and give the appearance of a ball of bayonet-like leaves on the ground. The leaves are distinctive in that they are very wide and stiff, from 2 to 4 feet long and over an inch wide. Unlike the leaves of beaked yucca, the stiff, spiked leaves of this species are very rigid, so choose its location carefully. It is a very striking and beautiful specimen, with a gorgeous 2-foot-long bloom stalk covered in creamy white flowers in the spring. This is another bold-statement plant that can look especially attractive when surrounded by smaller xeric plants.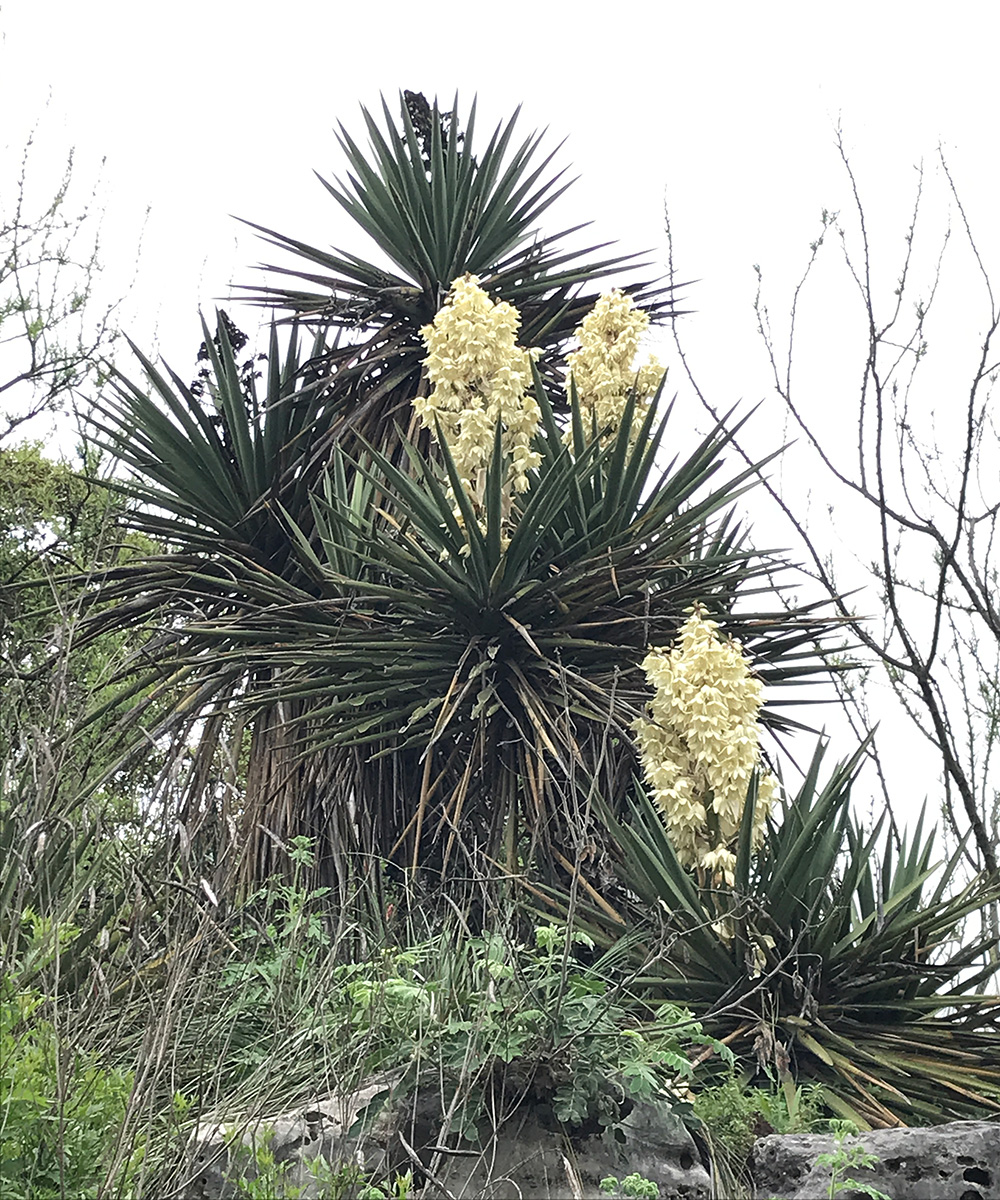 Don Quixote's lance
Also known as: Spanish dagger, Spanish bayonet, palma pita, palma de datil
Yucca treculeana, Zones 7–10
Like the two previous yuccas, this species also takes on a treelike form and reaches heights of 10 to 15 feet. The leaves, which are thick and stiff, are intermediate in width and between the size of beaked yucca's and giant dagger's leaves. Don Quixote's lance is not as tidy as beaked yucca, tending to retain its old brown leaves, which can give it a rough, shaggy appearance. That doesn't make it unattractive, however. This rugged appearance is softened by its blooms, which are large, round, white or purplish flowers that dangle from a long bloom stalk above the foliage. This yucca makes an excellent accent shrub or security hedge.
Twist-leaf yucca
Also known as: Spanish dagger, Texas yucca
Yucca rupicola, Zones 7–10
Don't have the room (or the fortitude) for one of the larger yucca species in your garden? Twist-leaf yucca is under 2 feet tall and behaves more like a small succulent than a large shrub or tree. This more understated member of the yucca genus starts out with straight, greenish-blue leaves that become more twisted as the plant ages. The flower stalk is impressively tall for such a small plant, regularly reaching heights of 4 to 5 feet and topped with the large, white, bell-shaped flowers typical of yuccas. It blooms in late spring (April to June) and attracts butterflies, even serving as the larval host for the yucca giant-skipper (Megathymus yuccae). Unlike the other yuccas mentioned here, this species does just fine in partial shade. I have seen it do fine in full shade as well, although it grows more slowly and does not usually bloom in that case.
—Karen Beaty is a horticulturalist at the Lady Bird Johnson Wildflower Center in Austin, Texas.