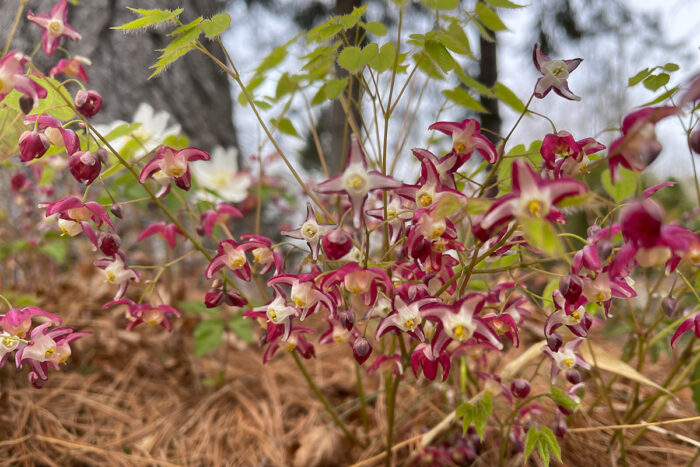 Many of us in the Northeast struggle with the drier soil conditions found under tall evergreens, particularly the problematic summer-dry situations often found under towering Eastern white pines (Pinus strobus, Zones 3–8) and other forest trees. While few plants thrive in the sort of dark and dry shade found under a mature Norway spruce (Picea abies, Zones 2–7), there are more planting options once more light and spring moisture are introduced, such as under a pine (Pinus spp. and cvs., Zones 2–9), maple (Acer spp. and cvs., Zones 3–9), or birch (Betula spp. and cvs., Zones 2–9) tree. The following three perennials tolerate these dry shade conditions well and are perfect for planting under a tall tree.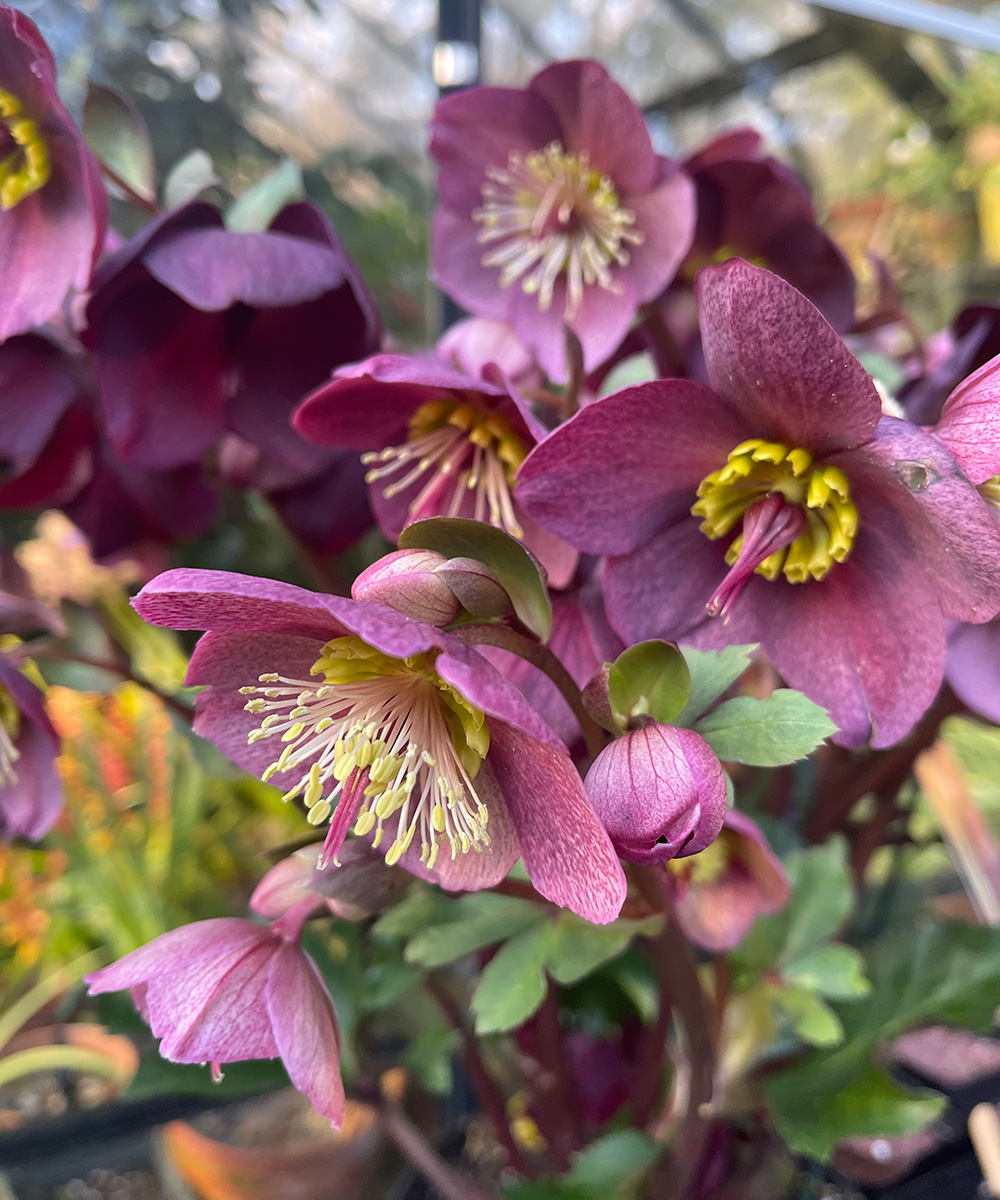 Hellebores thrive in the dappled light under deciduous trees
Once hard to find, hellebores (Helleborus spp. and cvs., Zones 4–9) are now widely available in spring at any good garden center. Hardy and reliable, they are excellent candidates for light shade, particularly under deciduous trees. They tolerate dry summer conditions and provide late winter and early spring color. Unlike ephemeral wildflowers, which share a craving for similar, summer-dry conditions, hellebores will retain their foliage throughout the summer and into autumn. Don't worry if harsh winters damage the evergreen foliage; this damage won't affect spring flowering. Leave the remains on the plant until late winter to provide additional photosynthesis for the plant if the snow cover is light, then remove any damaged leaves just as the flowers emerge. New foliage will replace the ratty old foliage shortly after. With many cultivars to choose from, we all should be allowing hellebores to lead the spring displays in our gardens.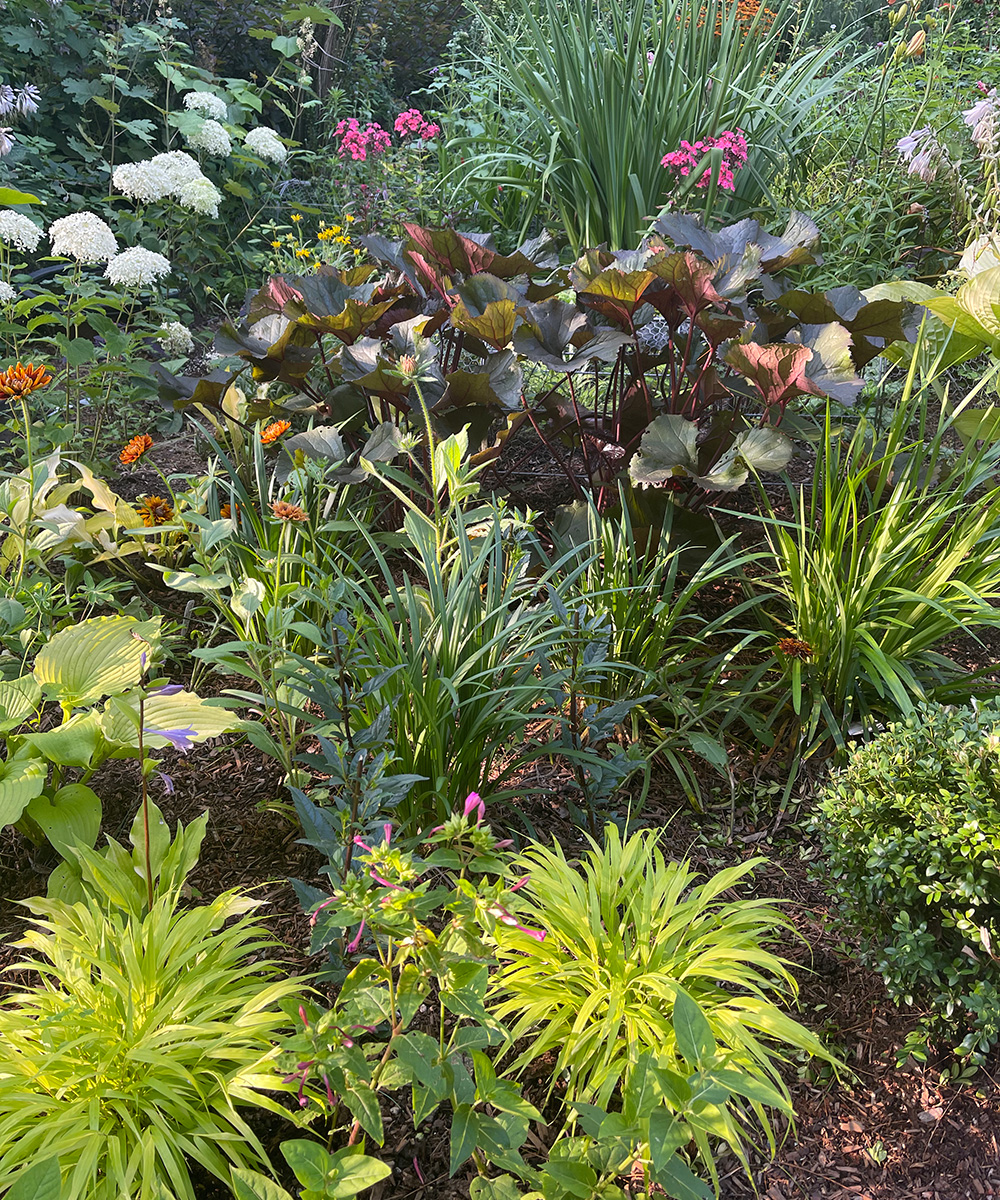 Japanese forest grass brings structure to the shade
Grasses aren't just for meadow plantings or other full-sun conditions. Japanese forest grass (Hakonechloa macra and cvs., Zones 5–9), also called Hakone grass, is a shade-loving perennial that thrives in very dry shade. It transforms those areas with magnificent displays of flowing, thin foliage that looks more like a graceful river of leaves than a ground-covering grass.
Japanese forest grass slowly forms a dense mat of growth that even weeds cannot grow through. While it's not a fierce spreader, clumps will eventually expand over time to cover a few square feet. If you want more coverage, go with the all-green straight species. But it's hard to resist the beautiful golden varieties such as 'Aureola' (Hakonechloa macra 'Aureola', Zones 5–9) and 'All Gold' (Hakonechloa macra 'All Gold', Zones 5–9), with their chartreuse foliage that will brighten up even the darkest nook under a tree.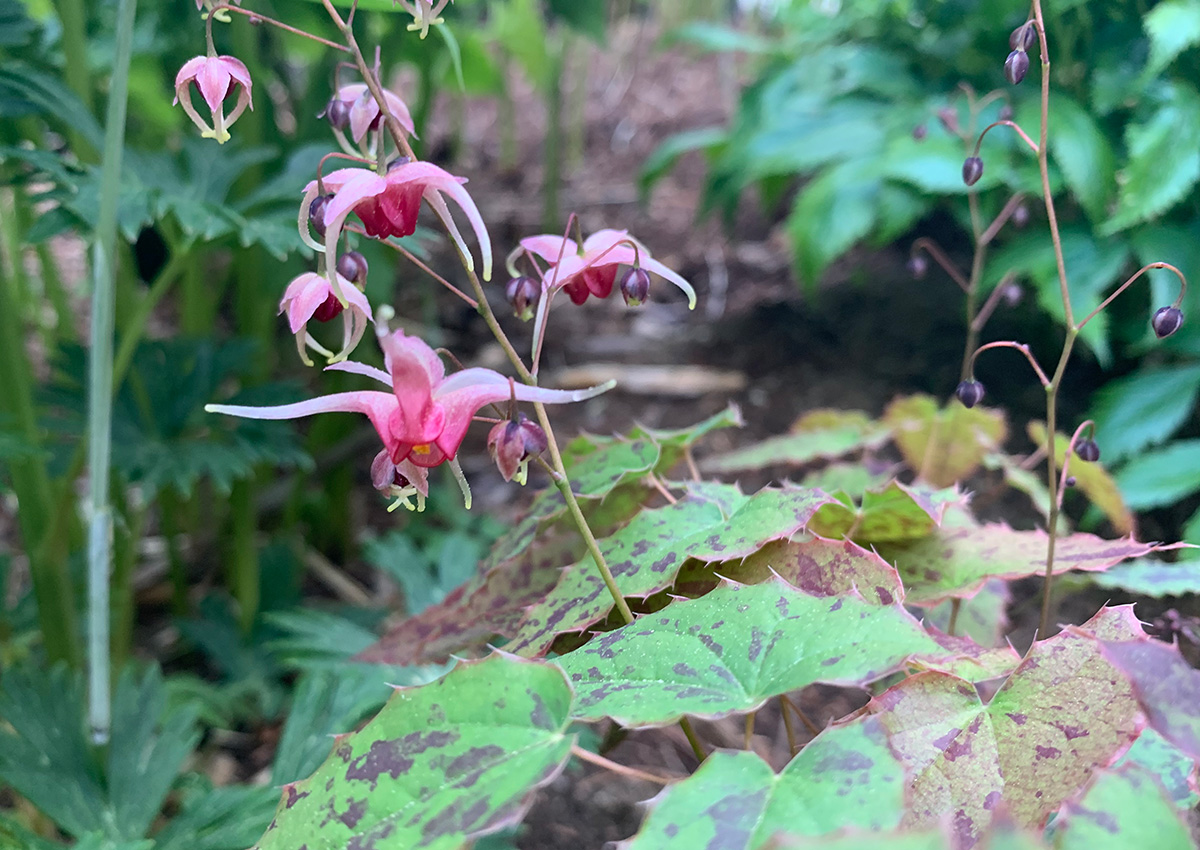 Epimediums add delicate foliage and flowers to woodland planting schemes
Showy and sturdy, epimediums (Epimedium spp. and cvs., Zones 4–9) are one of those plants that can grow well by themselves or with others. While they might prefer a bit more moisture and light than some shade plants, many species and crosses tolerate dry shade very well.
The red leaf margins on red epimedium (Epimedium × rubrum, Zones 4–9) have ornamental value past spring and through much of the growing season. First emerging just after the reddish flowers bloom, leaves open up to create a canopy of colorful foliage that lasts until winter snow. But the real stars of the genus include some newer hybrids that are worth seeking out, such as 'Pink Champagne' (Epimedium 'Pink Champagne', Zones 5–8). This cultivar will add that wow-factor to your shade garden. 'Pink Champagne' has long leaves that, while prickly, are spotted with dark maroon and put on a show even without blooms. Flowers can reach 1½ inches wide, and plants will form large clumps up to 2 feet wide, getting better and showier with every passing year.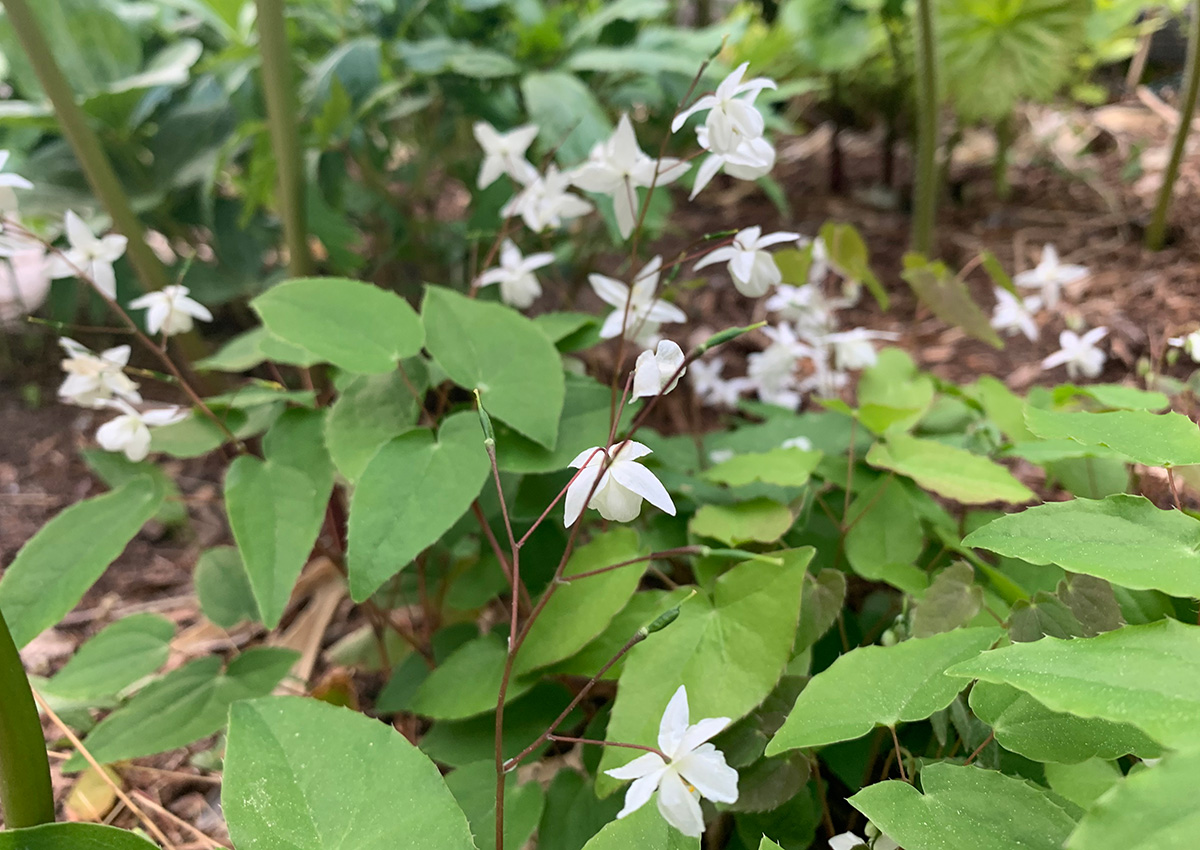 If you're seeking more of a dainty look, try adding any of the Epimedium diphyllum (Zones 5–8) cultivars to the front of your border. Lovely in Japanese gardens or between rocks, 'Nanum' epimedium (Epimedium diphyllum 'Nanum', Zones 5–8) will stop visitors in their tracks when it's in bloom. From late April through May, it has bright green, rounded leaflets and delicate clouds of pristine white flowers dangling just above the leaves. It's more of a clumper than a spreader, so it's best to plant three or five instead of just one.
For more plants for dry shade, check out:
And for more Northeast regional reports, click here.
—Matt Mattus is the author of two books: Mastering the Art of Flower Gardening and Mastering the Art of Vegetable Gardening. He gardens in Worcester, Massachusetts.