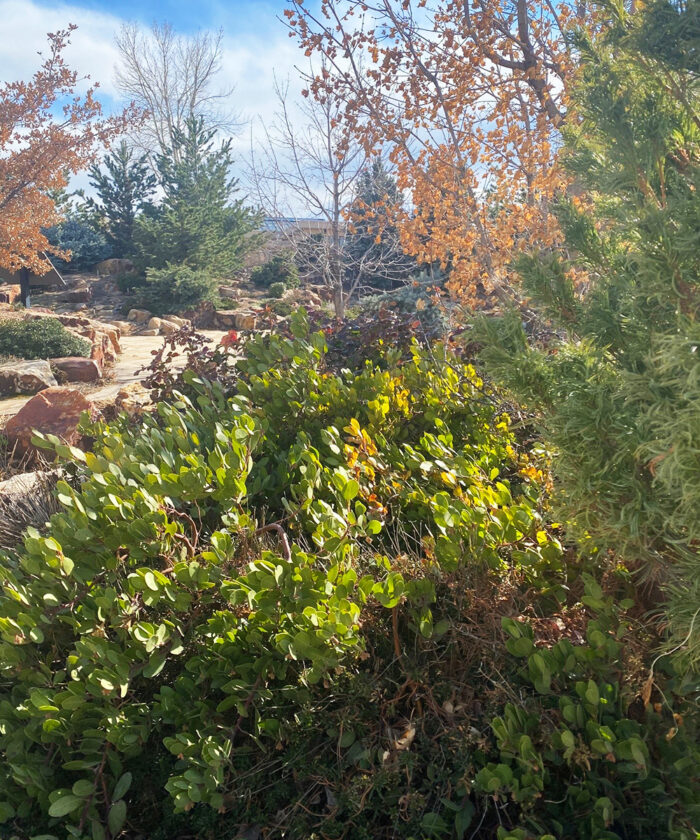 One of the most challenging areas to landscape is dry shade. Whether under the canopy of trees or the north side of your home, the number of plants that will grow in shade is significantly less than those that will grow in full sun. Combine that with a dry area or the need for less water, and that number shrinks even more. But there are some plants that fill those gaps. Here are three native evergreen ground-cover shrubs that will tolerate those conditions.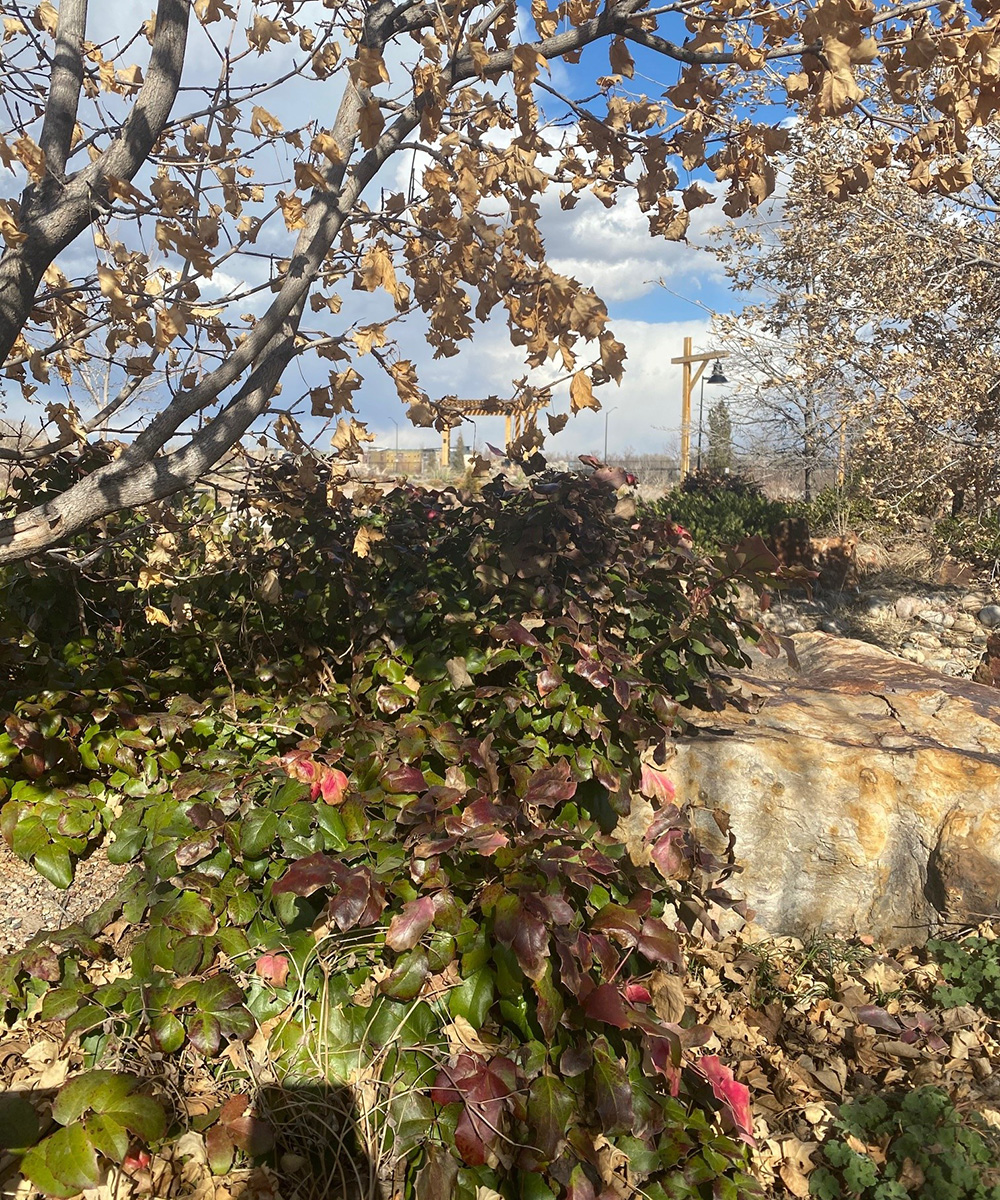 Creeping mahonia
Mahonia repens, Zones 4–8
Creeping mahonia is a beautiful evergreen ground-cover shrub with tough, holly-shaped leaves that turn shades of red to purple in the winter. In early to midspring, the plant is covered with clusters of bright yellow, fragrant flowers that attract pollinators, including native bees. The flowers are followed by deep purple fruits that the birds enjoy. The prickly leaves help to make the plant deer and rabbit resistant. During some winters the leaves can suffer scorch and drop off, but the shrub will leaf out again in spring. Creeping mahonia does best in dry partial shade and will grow 12 to 18 inches tall and 36 inches wide.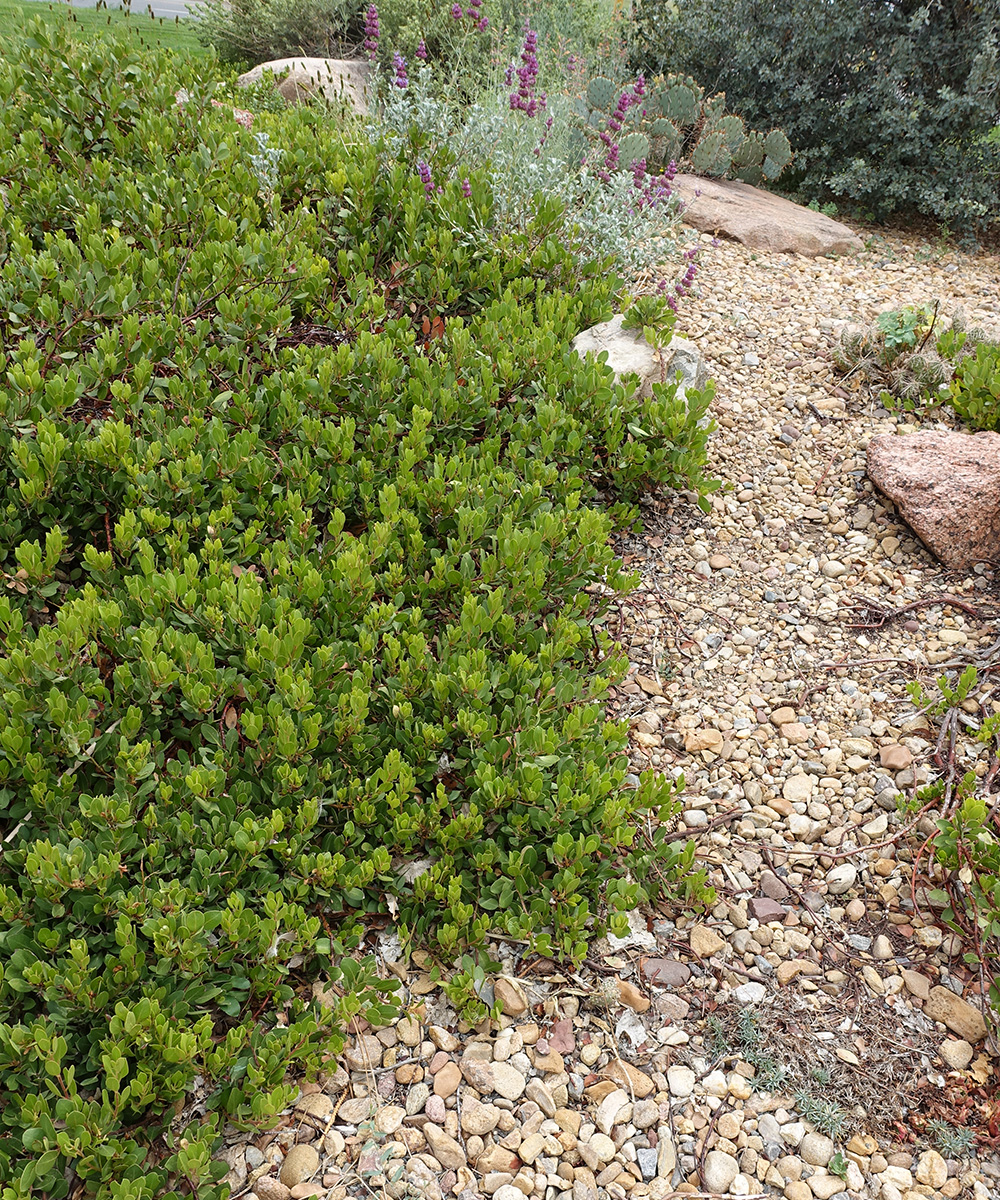 'Panchito' manzanita
Arctostaphylos × coloradensis 'Panchito', Zones 4b–8
There are several varieties of manzanita (Arctostaphylos spp. and cvs., Zones 2–10) that do well in the Mountain West. These broadleaf evergreen shrubs provide year-round interest. The low-growing habit of 'Panchito' manzanita makes it an excellent ground-cover shrub. It only grows 1 to 2 feet tall, and a single plant will grow 3 to 5 feet wide in partial shade. It has pretty, cinnamon-red, exfoliating bark and deep green leaves that may turn reddish purple in the fall. In the spring, its clusters of bell-shaped white or pale pink flowers are some of the first to bloom, providing food for hungry pollinators. These plants do best in well-drained soil and require water the first couple of years; then they are drought tolerant. They do like some sun but seem to do best with afternoon shade. Perfect placement would be on the east side of a house or under the dappled shade of trees.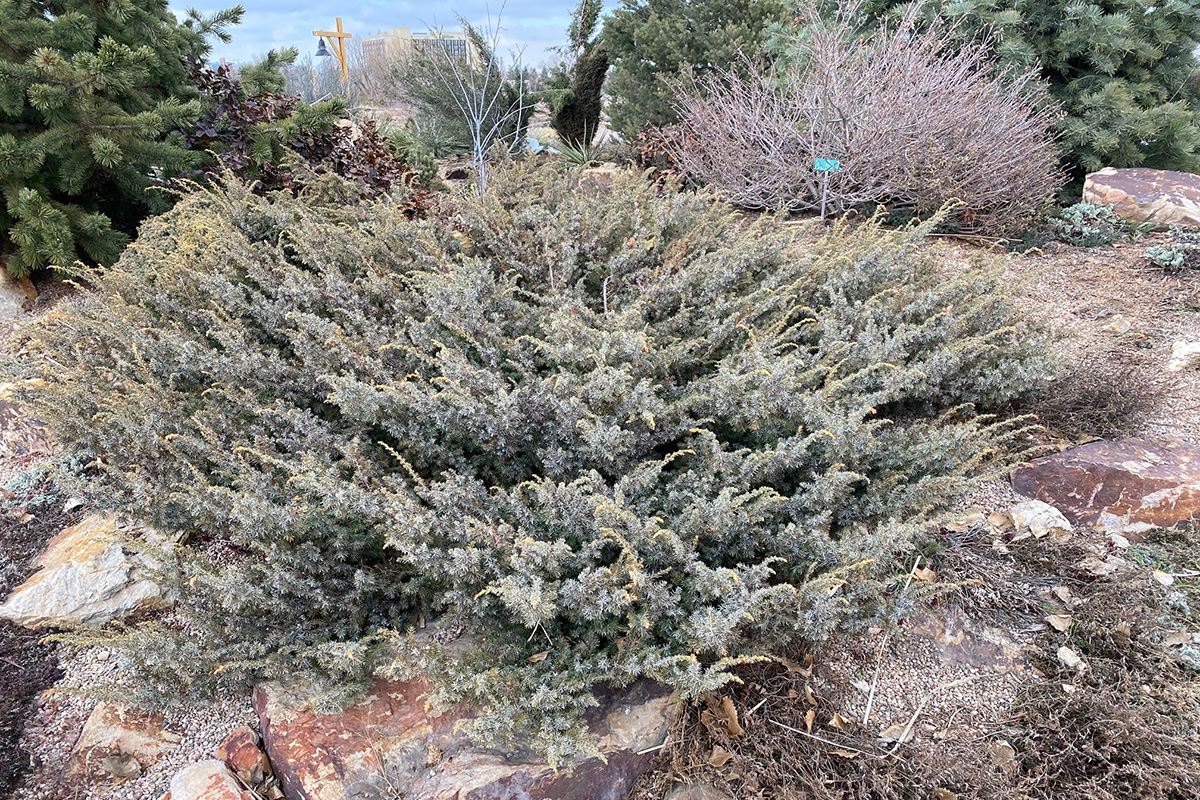 'Effusa' juniper
Juniperus communis 'Effusa', Zones 2–7
I have to admit I am not a huge fan of junipers (Juniperus spp. and cvs., Zones 2–10), but 'Effusa' juniper has won me over. Another evergreen, low-growing spreader, this shrub grows 2 feet tall and 4 to 6 feet wide and takes medium to low irrigation. It has small, bright green needles that are softer than those of other varieties of juniper. With flexible, reddish brown stems, this juniper tends to grow in circular forms. It can adapt from sunny areas to partial shade areas, making it a great option for beds with variable light.
—Michelle Provaznik is executive director of the Gardens on Spring Creek in Fort Collins, Colorado.