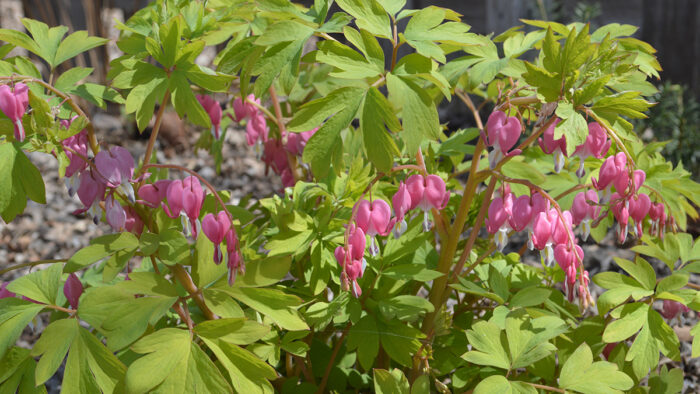 Gardening in dry shady locations can be a challenge. Even when rain does fall, thirsty tree roots quickly suck up soil moisture. To ensure understory plants thrive, I seek out drought-tolerant species as well as spring ephemerals and bulbs that take advantage of our relatively wet springs here in the Southern Plains. The following list includes tough, drought-tolerant perennials that tolerate and even thrive in dry shade. Providing a thick layer of organic mulch will help maintain soil moisture and protect roots during the heat of summer.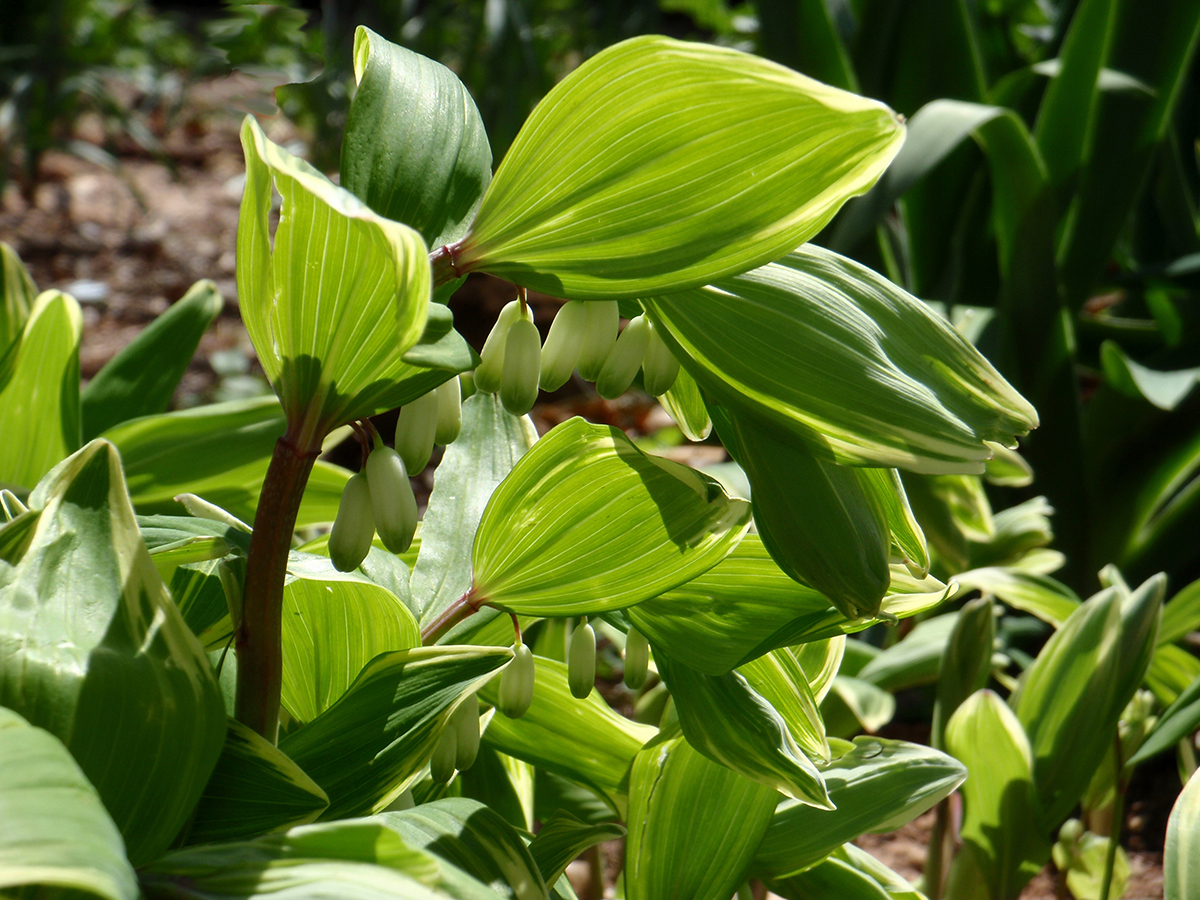 Variegated Solomon's seal
(Polygonatum odoratum 'Variegatum', Zones 3–8)
Top on my list of perennials for dry shade is Solomon's seal. Grown for its gracefully arching stems bearing bright green leaves edged in white, this gem tolerates heavy to dappled shade and brightens up dark corners of the garden. Its stems reach up to 2 feet tall, and plants spread by rhizome, much like iris (Iris spp. and cvs., Zones 3–9), to form a dense clump. Delicate, bell-like flowers dangle beneath the stems from April to May, followed by blue-black berries. Plants tolerate a range of soil conditions.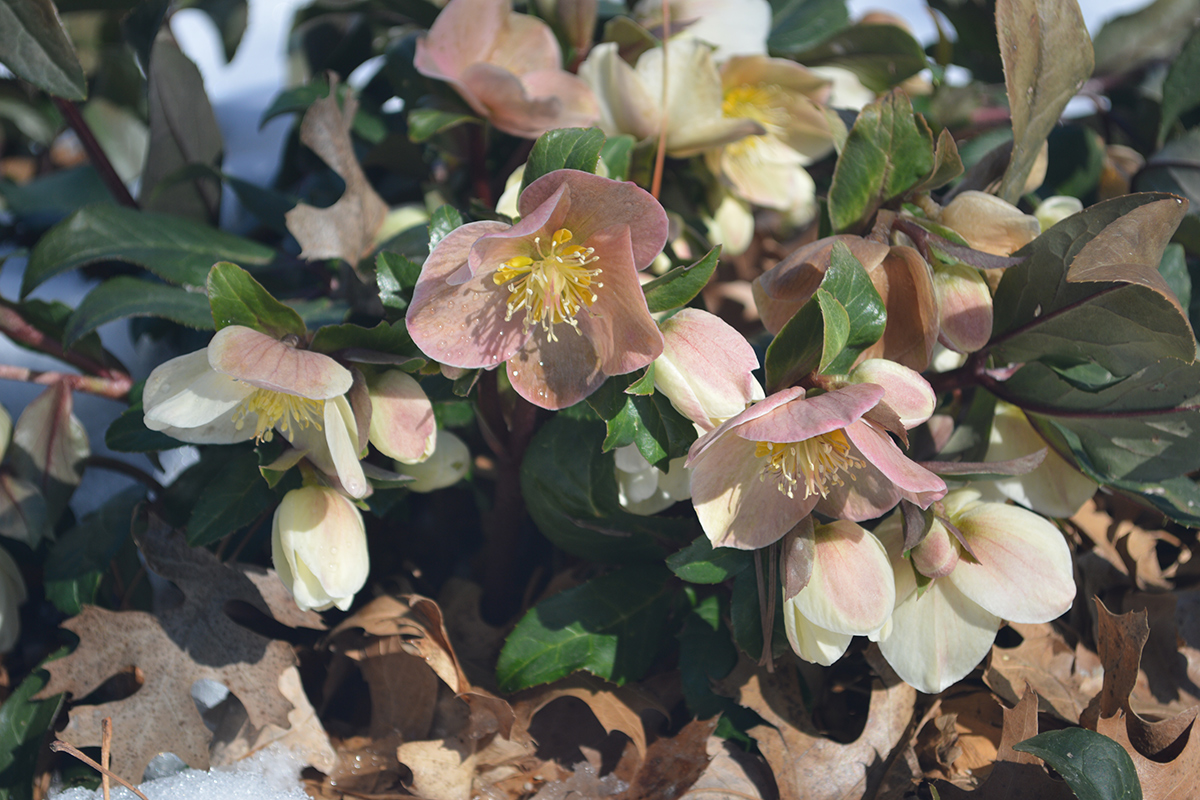 Hellebore
(Helleborus spp. and cvs., Zones 3–9)
Every list of drought-tolerant, shade-loving perennials includes hellebores—and for good reason. Roselike winter blooms and evergreen foliage provide interest all year long on plants that are nothing less than rugged. The exact flowering time varies by species and has given us the common names used for the most regularly grown hellebores: Christmas rose (H. niger and cvs., Zones 3–8), which flowers near Christmas, and Lenten rose (H. orientalis and cvs., Zones 4–8) for the those that bloom in late winter or early spring. Hellebores tolerate heavy shade, and the thick foliage resists deer browsing. The species listed here grow about 12 to 18 inches tall and wide and prefer a well-drained humus soil.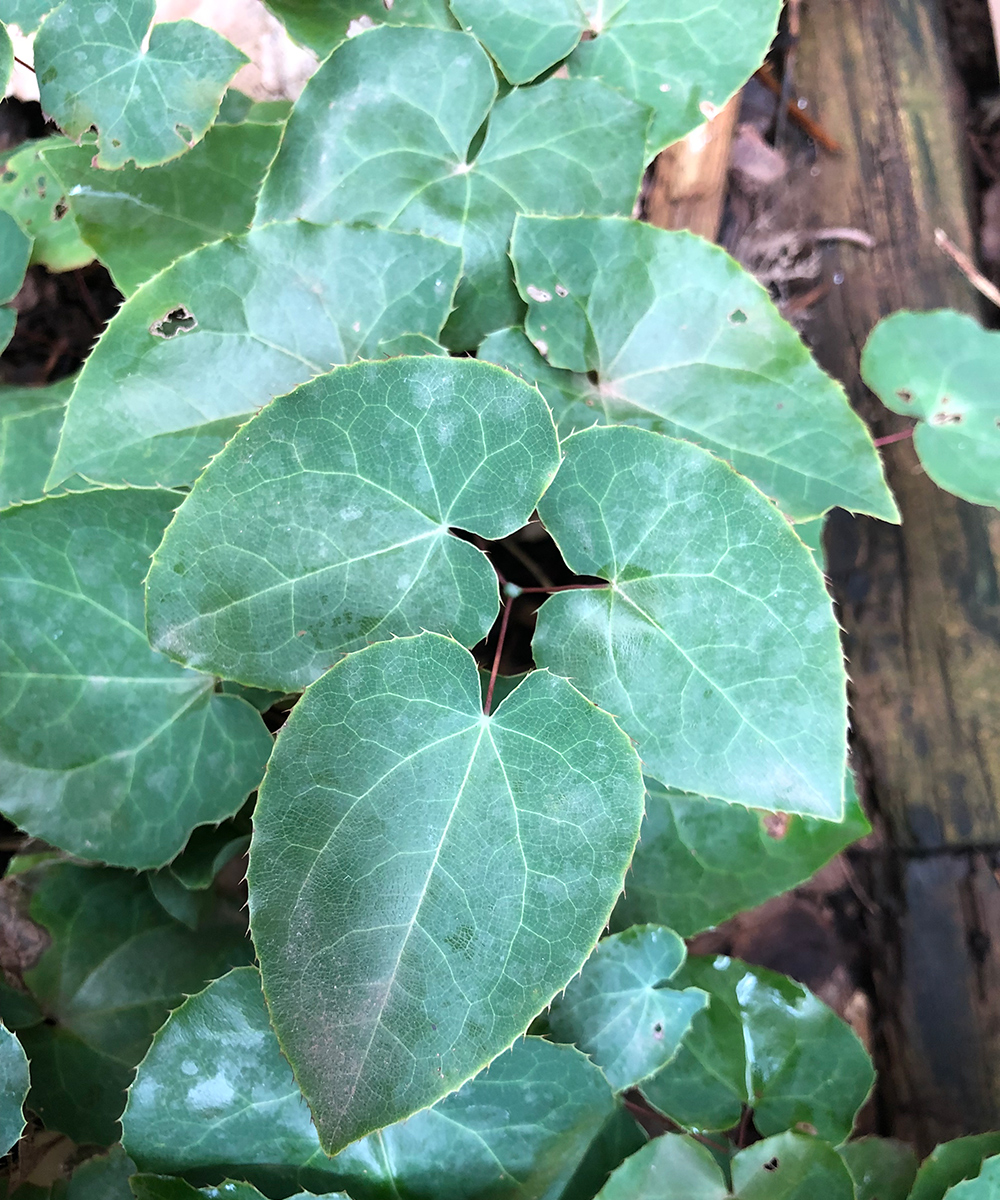 Epimedium
(Epimedium spp. and cvs., Zones 4–9)
With common names like fairy wings and bishop's hat, epimediums are wonderfully enchanting. Unique four-petaled flowers dangle from delicate-looking stems that rise above the evergreen foliage in April. Flower colors vary by species and include lovely shades of yellow, pink, lavender, purple, red, or white. Reaching 6 to 24 inches tall and spreading up to 30 inches, this low-growing perennial makes a beautiful ground cover beneath trees. Plants tolerate shallow, rocky soil but prefer loose loam.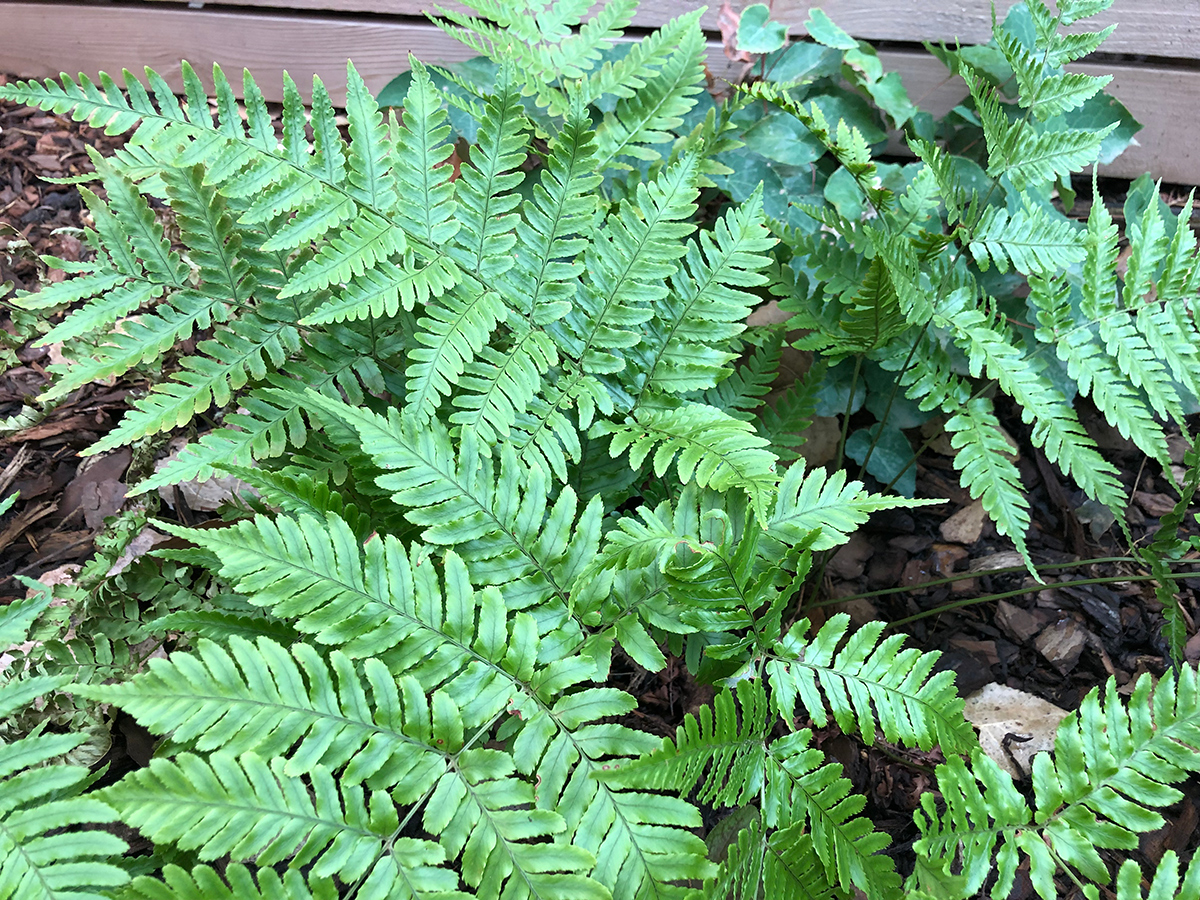 Autumn fern
(Dryopteris erythrosora and cvs., Zones 5–9)
We don't often think of ferns as tolerating dry soil, but autumn fern is a rather adaptable plant. Like most ferns, it will thrive in moist, humus-rich soils, but it also tolerates dry shade once established. Be sure to water plants regularly the first growing season and to provide a layer of mulch. Autumn fern also tolerates clay soil and resists deer and rabbit browsing, making it a wonderful addition to the woodland garden. It grows beautifully in the most challenging corner of my garden. The name of the popular cultivar 'Brilliance' is a reference to its vibrant new growth in spring, which emerges with orange-red hues. Plants mature at 1 to 2 feet tall and spread equally wide.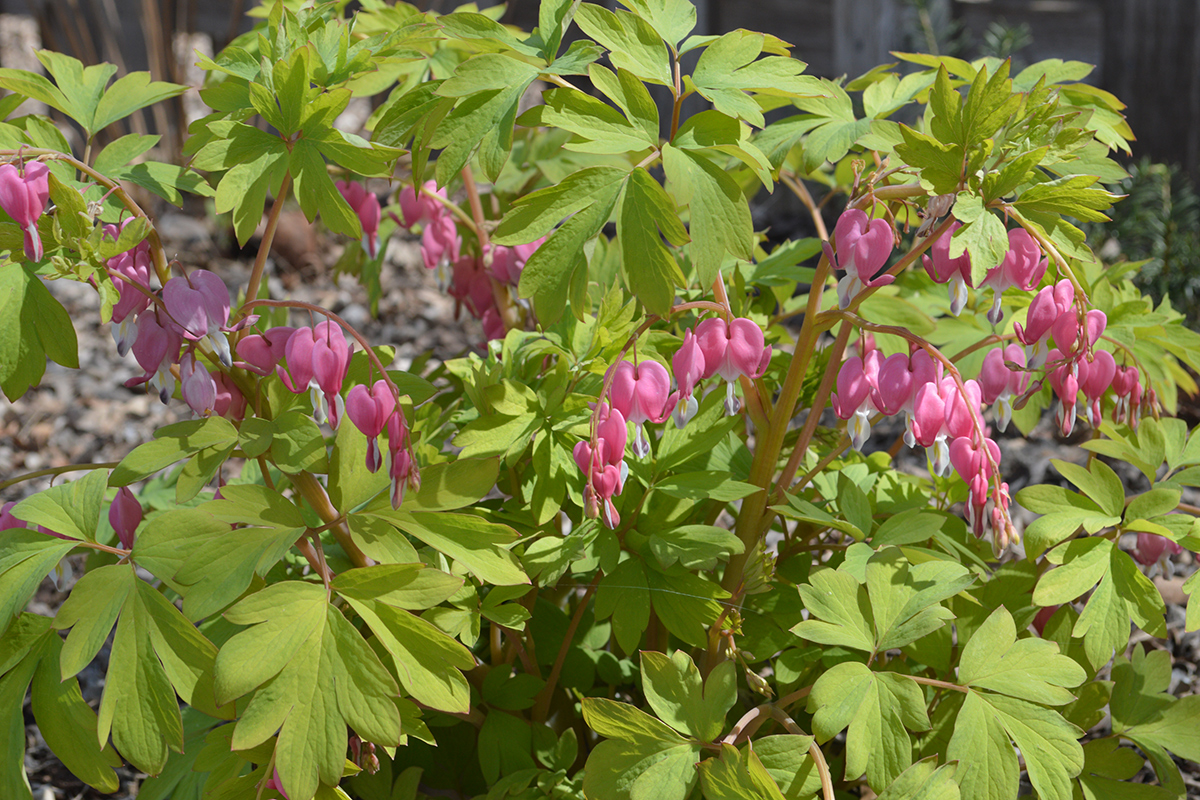 Bleeding heart
(Lamprocapnos spectabilis and cvs., Zones 3–9)
The oddball on my list is bleeding heart. While these plants need moist soil for spring growth and blooming, our typically abundant spring rains generally keep them happy. In our hot climate, bleeding heart will often go dormant as summer temperatures rise. The cultivar 'Gold Heart' is among my favorites, with its gorgeous heart-shaped blooms that appear from April to May against rich golden foliage—a striking color combination in the garden. This selection grows 24 to 36 inches tall and 18 to 24 inches wide. Plants thrive in the loose, well-drained soil and dappled shade typical of a tree understory. Give them plenty of water in the first growing season to establish an extensive root system.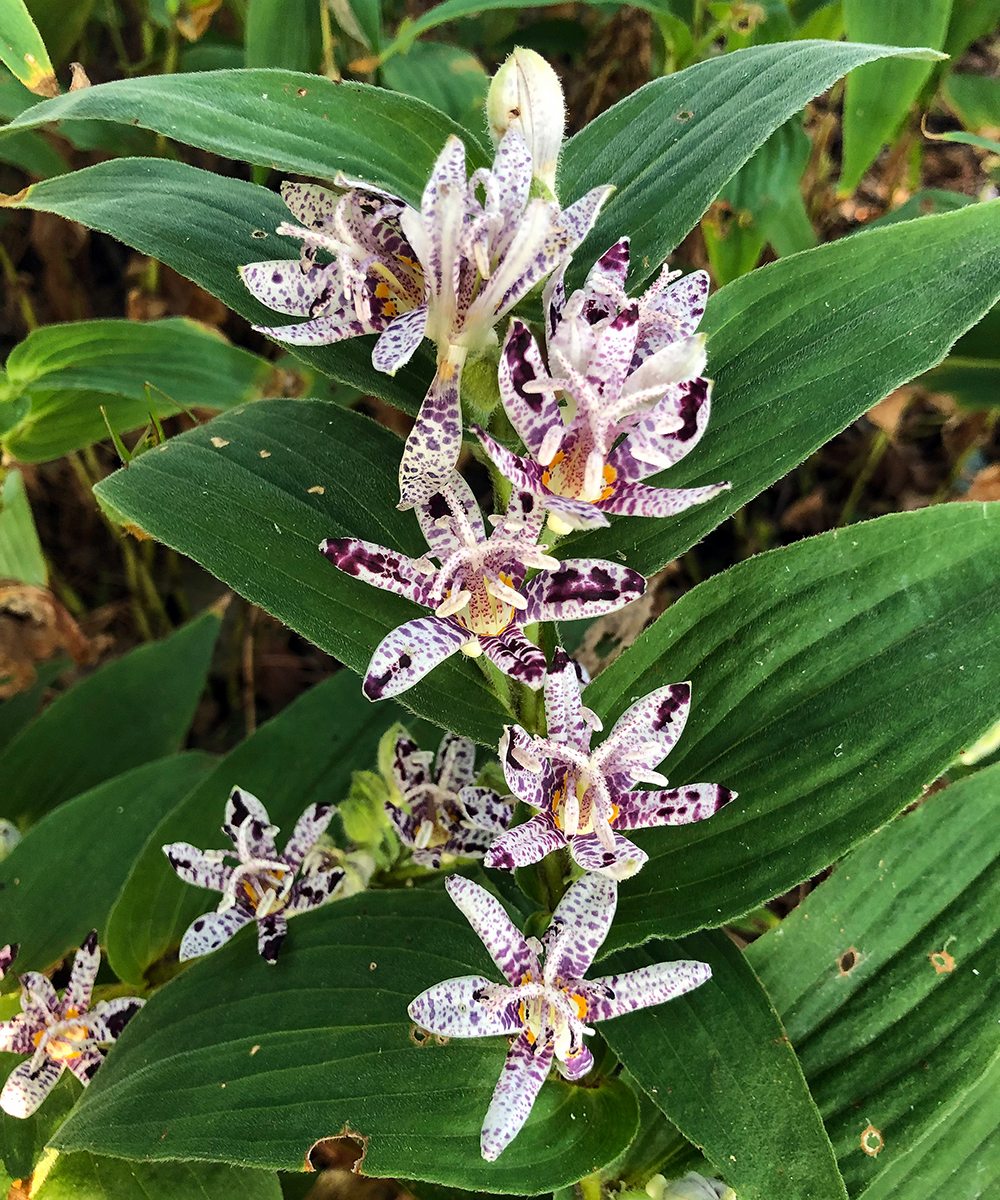 Toad lily
(Tricyrtis spp. and cvs., Zones 4–9)
One of my favorite perennials is the underappreciated toad lily. Fall-blooming and rather scraggly-looking in a container, toad lily is easy to overlook in the nursery, but once established in the garden it will reward you with jewel-toned fall blooms and lush foliage. While toad lilies prefer moist soil, they tolerate some drought once established and never fail to perform beautifully in my underwatered garden. The 18- to 24-inch-tall-and-wide variety 'Miyazai' (T. hirta 'Miyazaki', Zones 4–8) can survive extended droughts by reducing flower production. Water-stressed plants may show browning of leaf edges, which you'll quickly forgive when the blooms open August through September.
—Kim Toscano is a horticulturalist based in Stillwater, Oklahoma. She previously hosted Oklahoma Gardening, a weekly PBS television program produced by the Oklahoma Cooperative Extension Service.