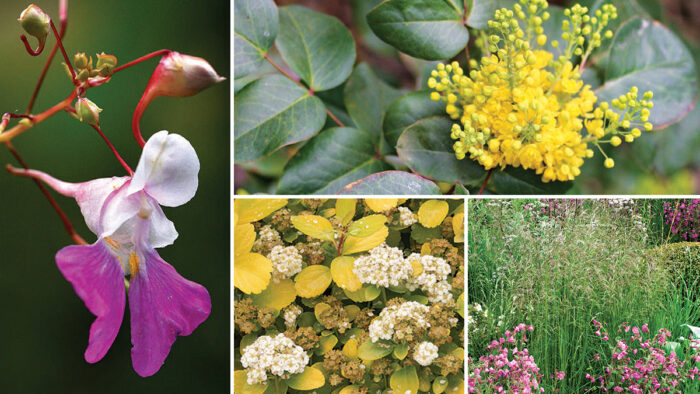 Dry shade is arguably the toughest gardening condition to deal with, yet it's one of the most commonly encountered. Virtually any yard with a nearby established tree canopy benefits from cooling shade at the loss of precious soil moisture, particularly in naturally dry parts of the growing season. In urban gardens, the built-up environment has much the same impact on available soil moisture as large tree roots do. Building shadows, hellstrips, and a general abundance of concrete make for dry, shady, alkaline planting spaces. But with a careful selection of plants that prefer partial to full shade and dry, well-drained soil, these challenges aren't insurmountable. In spite of the hurdles, the palette of plants for dry shade doesn't have to be boring or limited.
'Claude Shride' martagon lily sends rockets of color skyward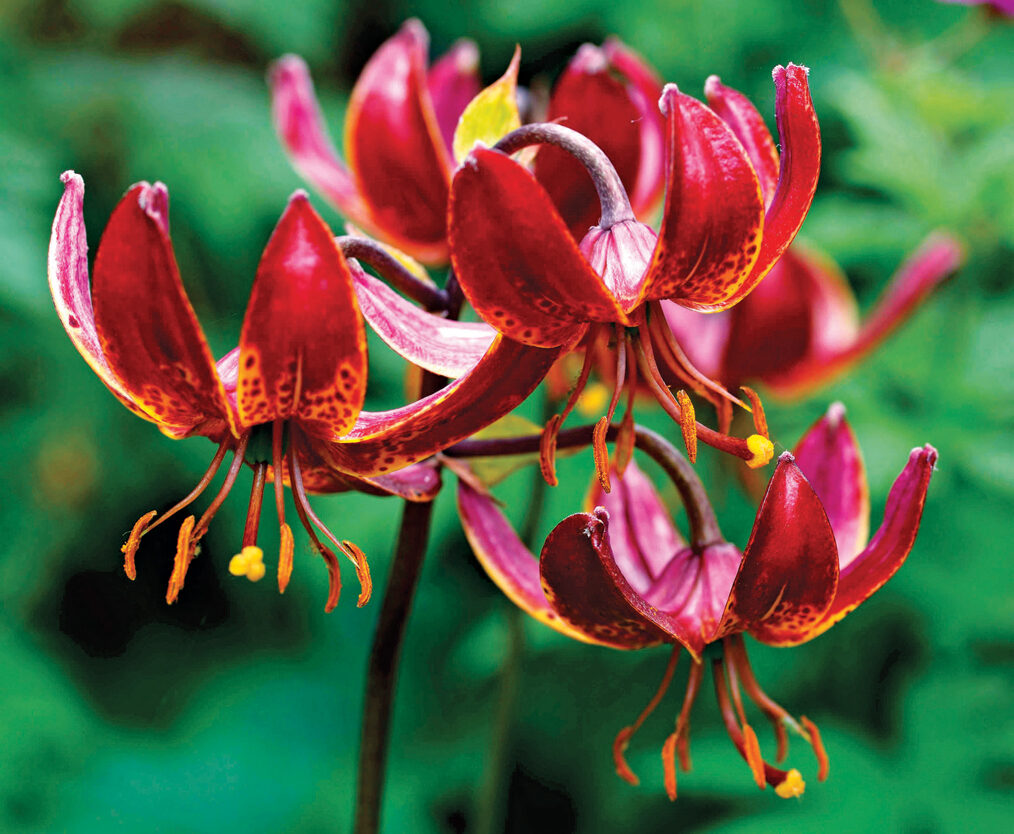 Name: Lilium martagon 'Claude Shride'
Zones: 3–8
Size: 3 to 4 feet tall and 2 to 3 feet wide
'Claude Shride' martagon lily is among the first of its tribe to flower, and it's made for shade. Whirligig stems of pendant flowers seem almost suspended above leafy umbrellas that grow from 3 to 4 feet tall. These stems reach heights occupied by few other plants in the shade garden, which can often be one-dimensional and flat. 'Claude Shride' is a classic cultivar that's known for its vigorous growth and mahogany red flowers. As with most martagons, first-year plants do not usually predict the performances to follow. Once established, they form outstanding colonies, thriving for years without needing to be divided, although after a few seasons you'll have plenty to share. Don't believe claims of deer resistance; as with almost all lilies, the succulent leaves of 'Claude Shride' make for tasty morsels to most nuisance herbivores.
Balfour's touch-me-not is a reliable reseeder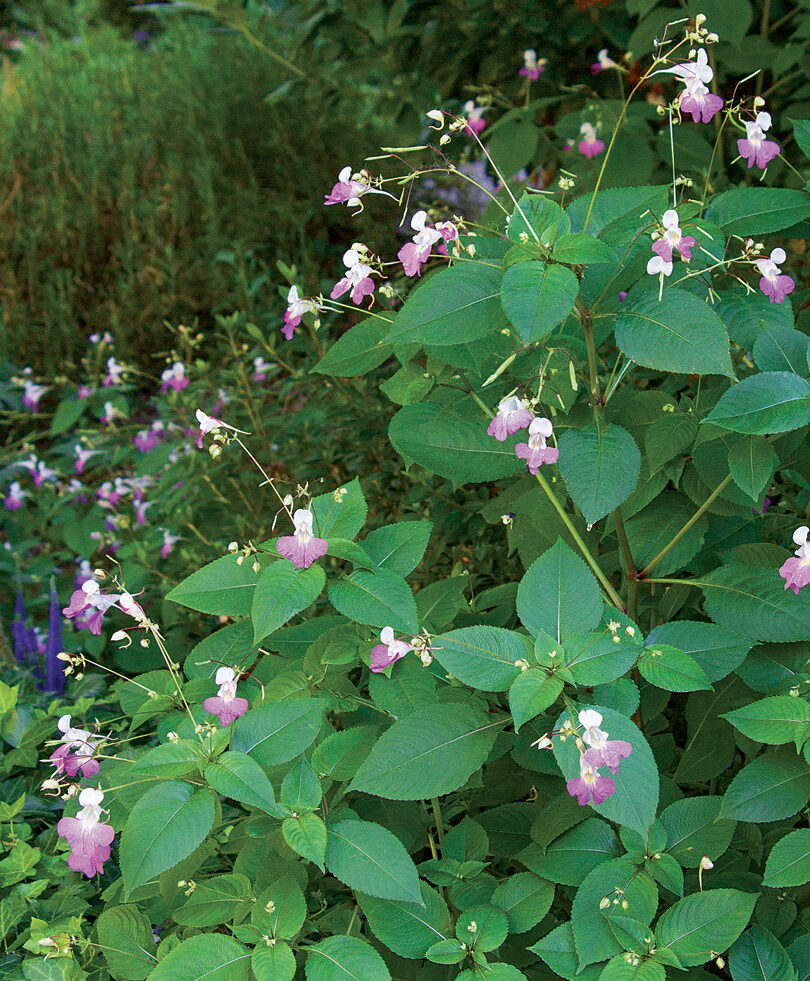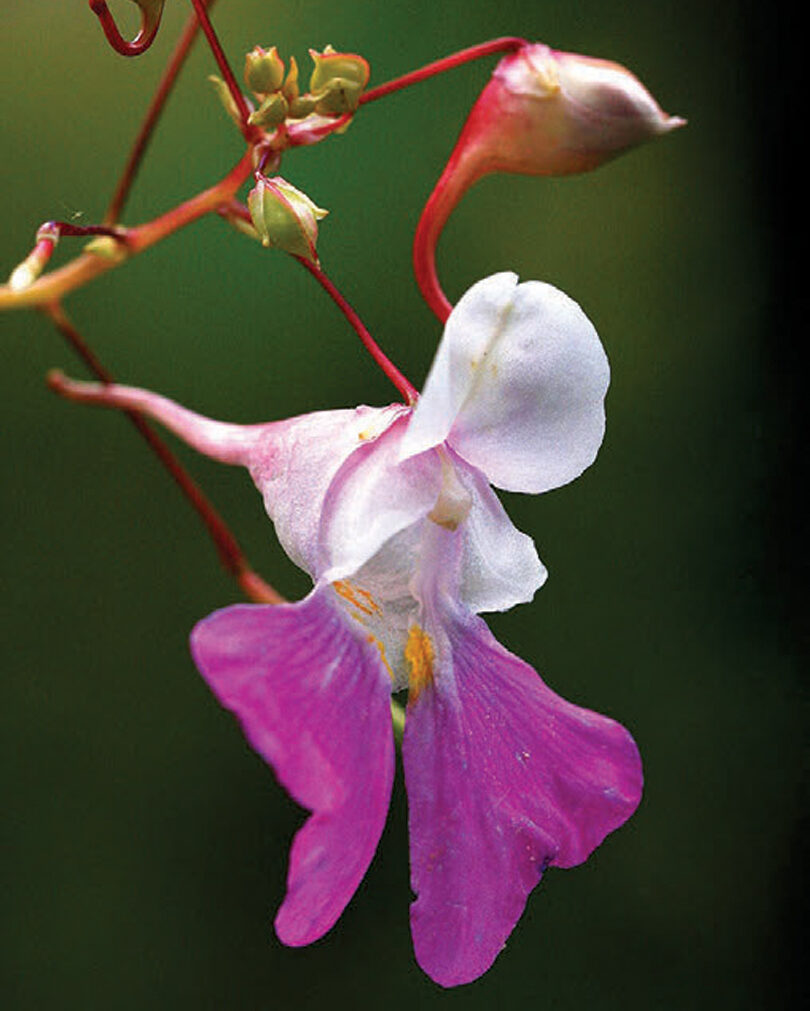 Name: Impatiens balfourii*
Zones: Annual
Size: 3 feet tall and 2 feet wide
The serendipitous personality of reseeding plants is especially valuable in the dry shade garden. Once a frequently planted favorite in our grandmothers' gardens, Balfour's touch-me-not sports intricately bicolored flowers that seem to hover atop tender, succulent stems. While not a selection for the densest of shade, it's suitable for bright spots between trees. Its lack of thirst makes it an adaptable companion to more permanent plantings; think of it as a sugar plum fairy for a scene glutted with hostas. For all its delicateness, this annual isn't small in stature. In a season or two, especially if you have humus-rich soil, you might find it substituting for the weeds you hadn't planted.
Creeping mahonia is a deer- and rabbit-resistant ground cover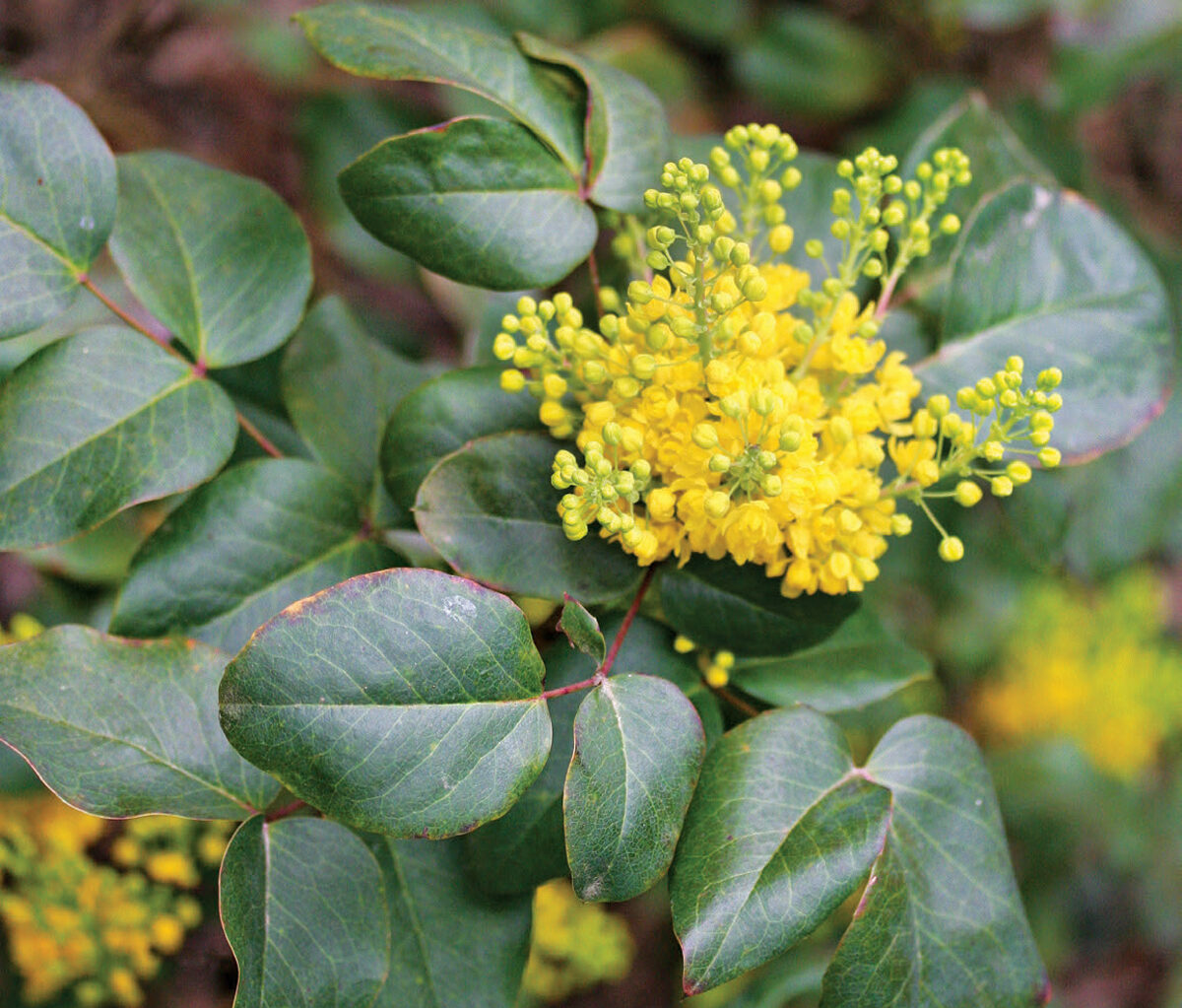 Name: Mahonia repens and cvs.
Zones: 4–8
Size: 1 foot tall and 3 to 4 feet wide
For all the attention that taller mahonias get, gardeners outside Zones 7–9 have little to choose from in the genus. Enter creeping mahonia, the diminutive ground cover–shrub of the Great Plains and Mountain West that may be the toughest member of its clan. Thriving in dogged conditions and resistant to deer and rabbits, creeping mahonia is a broad-leaved evergreen suitable for the shady under-areas of taller shrubs or along a pathway through trees. Its winter color verges on nearly black with rich violet undertones, and it holds leaves longer in denser shade (a little too much winter sun and they'll crisp at the edges). Classic yellow flowers adorn its branches in spring just about the time the daffodils arrive on the scene. Available from more and more nurseries, cultivars can vary in size from only 6 inches tall by several feet wide to shrubbier forms that grow nearly a foot tall and 2 feet wide.
'Mrs. Robert Brydon' clematis is a scrambler, not a vine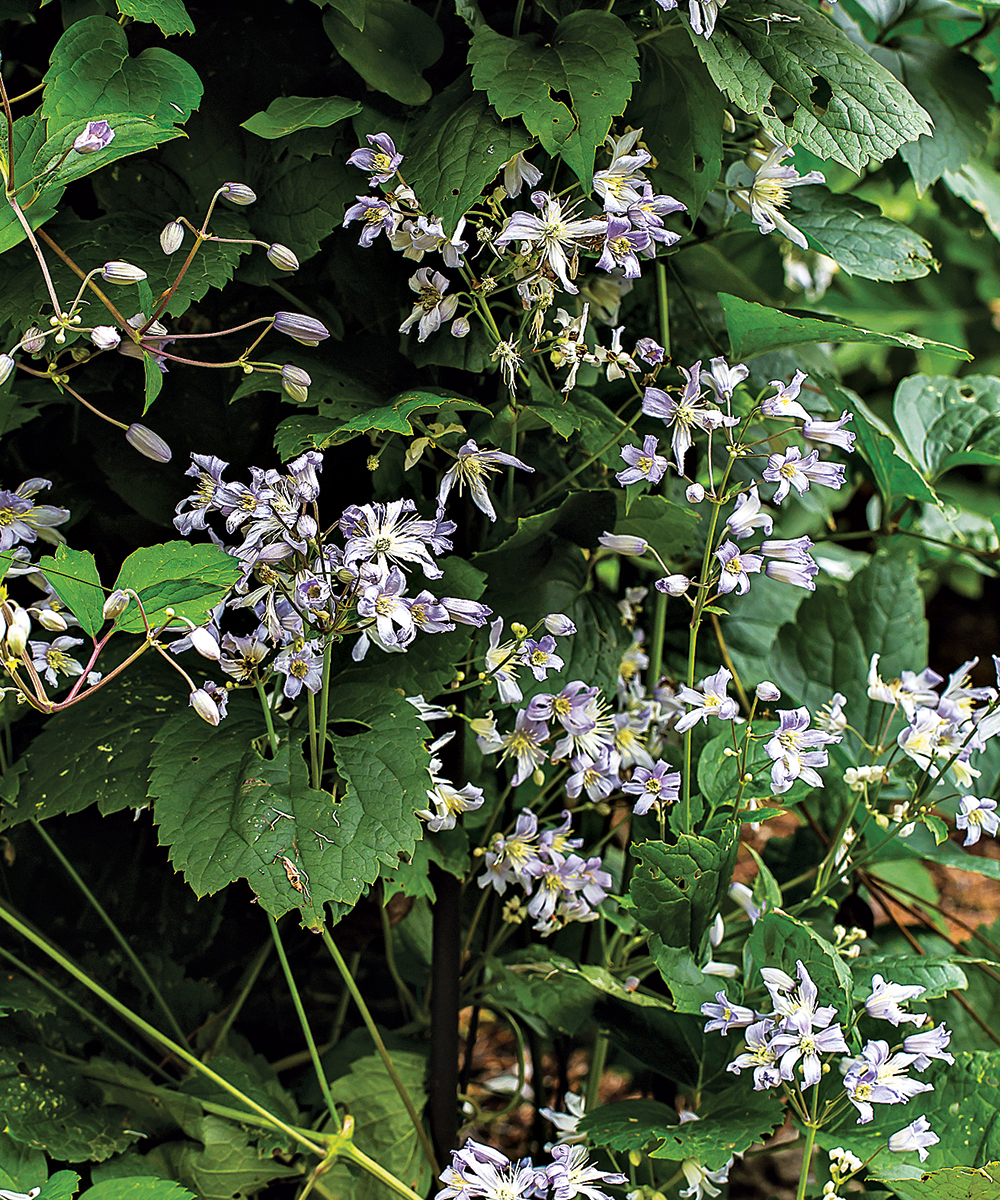 Name: Clematis × jouiniana 'Mrs. Robert Brydon'
Zones: 4–8
Size: 6 to 8 feet tall and 4 feet wide
Many gardeners think of clematis as robust vines, overlooking the assortment of herbaceous varieties that rarely need trellises but only a neighbor to lean on. A sterile hybrid, 'Mrs. Robert Brydon' clematis dates back to the early 20th century, having inherited its vigor and flower shape from Clematis vitalba and shade tolerance from C. heracleifolia. It blooms profusely, brightening up shady corners when you would least expect it with dusty denim flowers that go on for at least a month in late summer. While not a true vine, its scrambling habit could fool you. Neighboring shrubs such as hydrangeas (Hydrangea spp. and cvs., Zones 5–9), weigelas (Weigela spp. and cvs., Zones 4–9), and viburnums (Viburnum spp. and cvs., Zones 3–9) make perfect natural companions, allowing 'Mrs. Robert Brydon' an organic scaffold to clamber through as it reaches nearly 4 feet wide by bloom time.
Zigzag aster sets off a fall fireworks display
Name: Symphyotrichum prenanthoides
Zones: 3–8
Size: 3 feet tall and 2 to 3 feet wide
Known for their pollinator benefits and landscape durability, asters are quintessential plants no matter what the garden circumstance. For dry shade on the brighter side, zigzag aster is a solid choice, if only for its snaking sinuous stems that earn it its common name. If you source it from a native plant nursery, you might end up with a seed-grown plant in a range of flower colors, sometimes nearly pink and often bluish violet. In early autumn, a fireworks-like display of dime-size daisies explodes just as the first leaves start to fall to the ground. While zigzag aster will certainly thrive with more moisture, its garden performance doesn't seem limited in the absence of it. Expect leaner plants in drier conditions, though they still will often be 2 to 3 feet tall and wide.
Appalachian rosinweed has an undeniable presence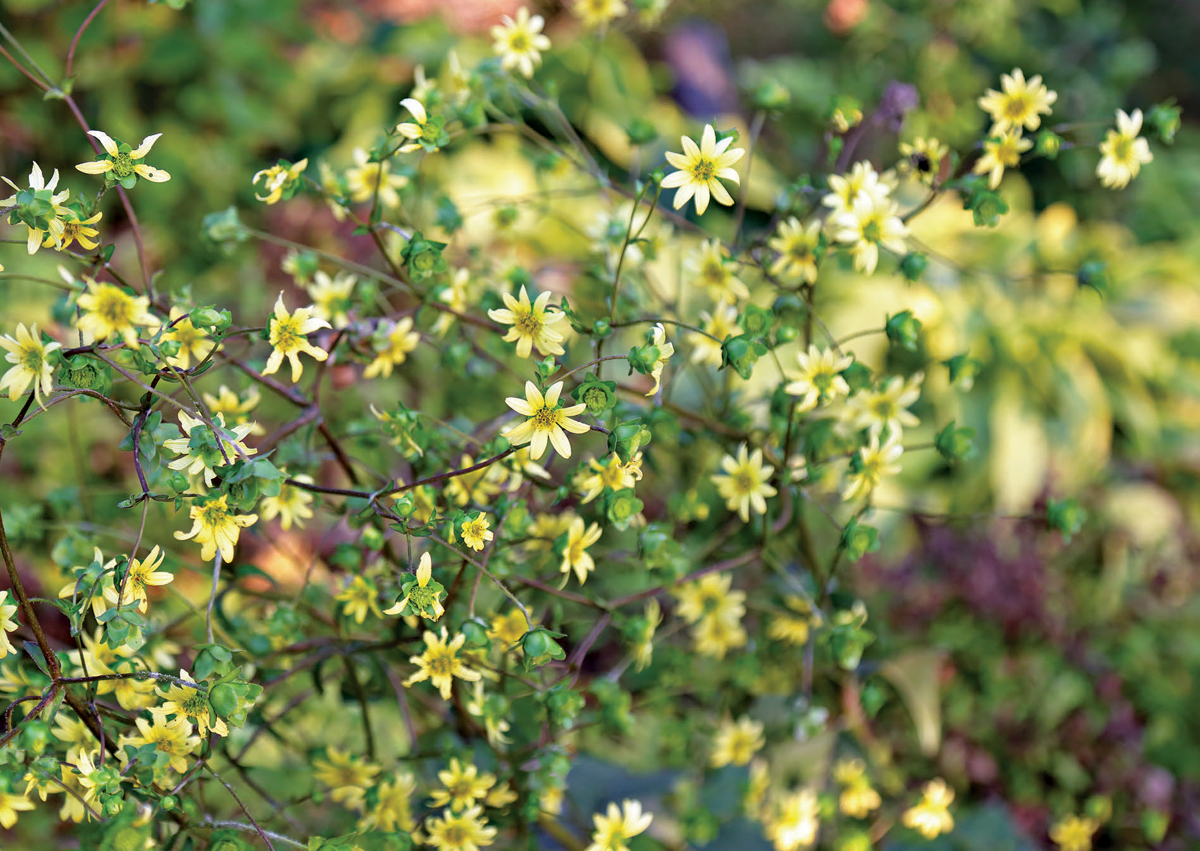 Name: Silphium wasiotense
Zones: 5–9
Size: 3 to 4 feet tall and 2 feet wide
Most rosinweeds are keystone species of prairies and meadows across the central United States, but Appalachian rosinweed ventures into shaded territory. Native to Tennessee and Kentucky, this hardworking plant shrugs off summer duress, easily withstanding moderate drought without supplemental watering. Under normal conditions, it grows upwards of 4 feet tall by late summer, with a towering array of lemon yellow daisies borne from curiously purple-tinted stems. It emerges to form a lush and fuzzy rosette of basal leaves by midsummer with amazingly textural, jagged margins. While not easy to find, Appalachian rosinweed is worth the hunt. Few other plants compete for the title of big, tall, and bulletproof in the shade.
'Pixie Fountain' tufted hairgrass will not reseed obnoxiously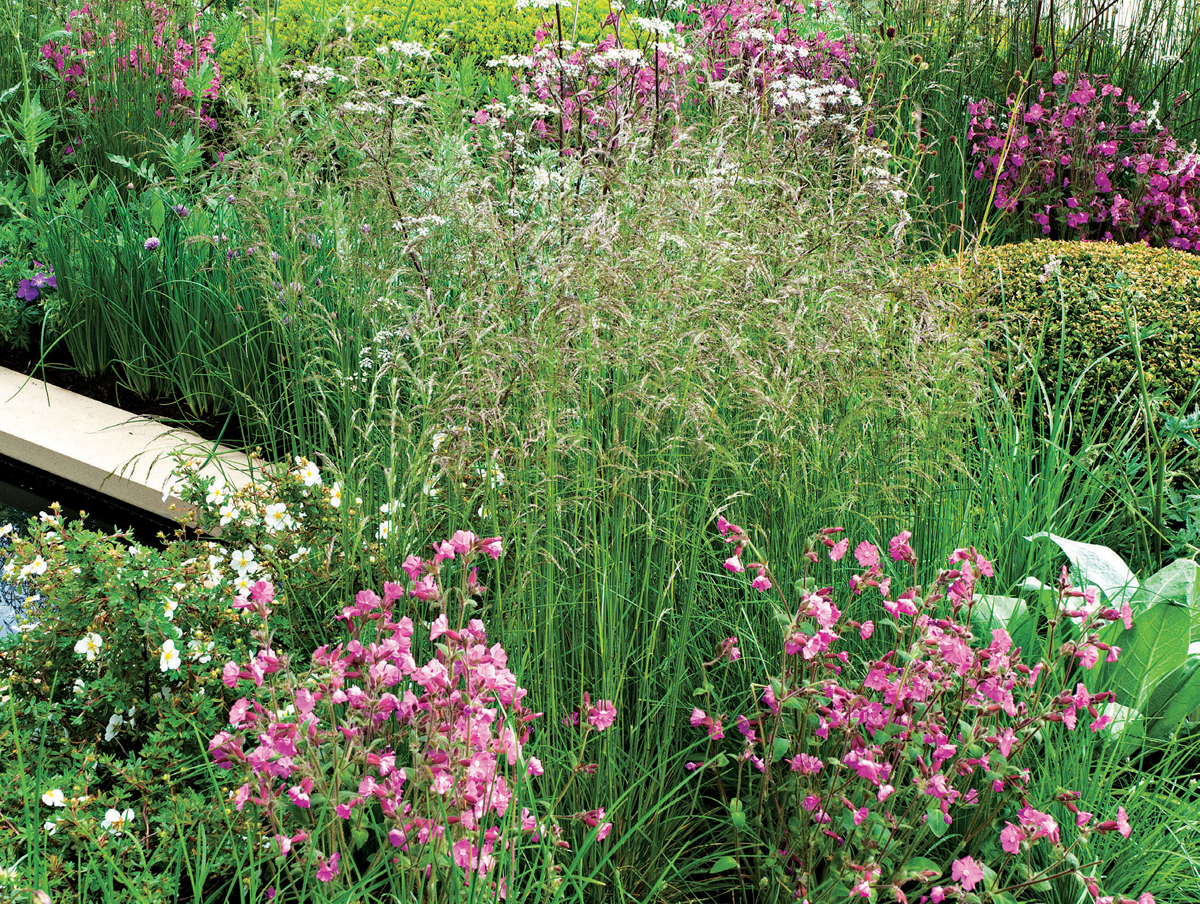 Name: Deschampsia cespitosa 'Pixie Fountain'
Zones: 2–7
Size: 18 to 24 inches tall and wide
For years, gardeners have resorted to Japanese forest grass (Hakonechloa macra and cvs., Zones 5–9) or northern sea oats (Chasmanthium latifolium and cvs., Zones 3–8) as their go-to grasses for shadier corners. But tufted hairgrass, a transcontinental ­native of northern latitudes, thrives in partial shade and doesn't reseed nearly as much as northern sea oats. 'Pixie Fountain' is a carefree, seed-grown cultivar selected for its compact architecture, which is a denser version of the usual forms. A superb choice for smaller gardens, it flowers in midsummer as a silvery white display that yields to tawny yellow by the end of the season. Both stages look fetching in cut flower arrangements.
Glow Girl® birchleaf spirea is a spotlight in the dark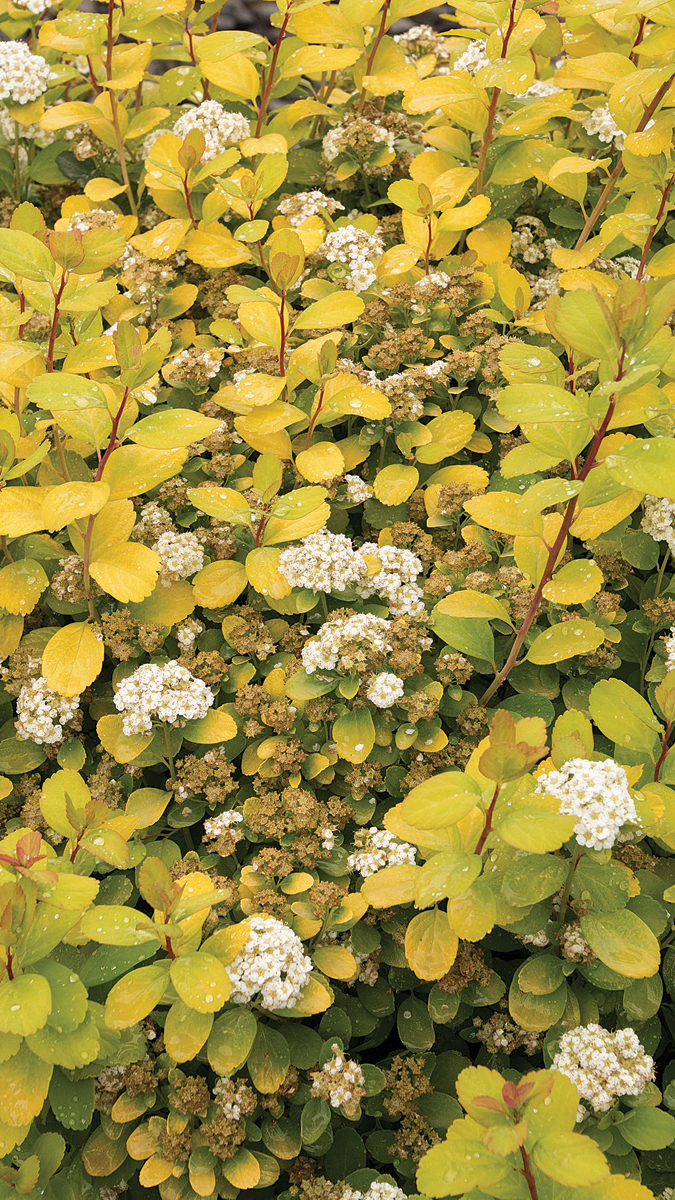 Name: Spiraea betulifolia 'Tor Gold'
Zones: 3–8
Size: 3 to 4 feet tall and wide
Despite their commercial popularity, spireas seem to have few fans among home gardeners. While they often get sheared into green meatballs (and certainly take the pruning well), spireas don't by default have inordinate habits. Staged at the edge of shadier garden corners, they offer necessary understory structure even if the occasional errant branch needs hemming. But you might want to forgive their commonplace and ordinary reputation just this once for Glow Girl® birchleaf spirea, an all-gold version of this stalwart. Somewhere along the way 'Tor', a widespread cultivar of the tough-as-nails and generally deer-resistant Spiraea betulifolia, gave rise to this handsome sport, each leaf of which is saturated with a chartreuse-honey blend that holds its color throughout the growing season. In shade, you can expect a trend toward greener hues but with an intensity as formidable as its growth habit.
---
Tips for growing plants in dry shade
Like it or not, you'll probably have to deal with dry shade at some point in your gardening career. Plant selection is a big key to success, but the following tips will help as well.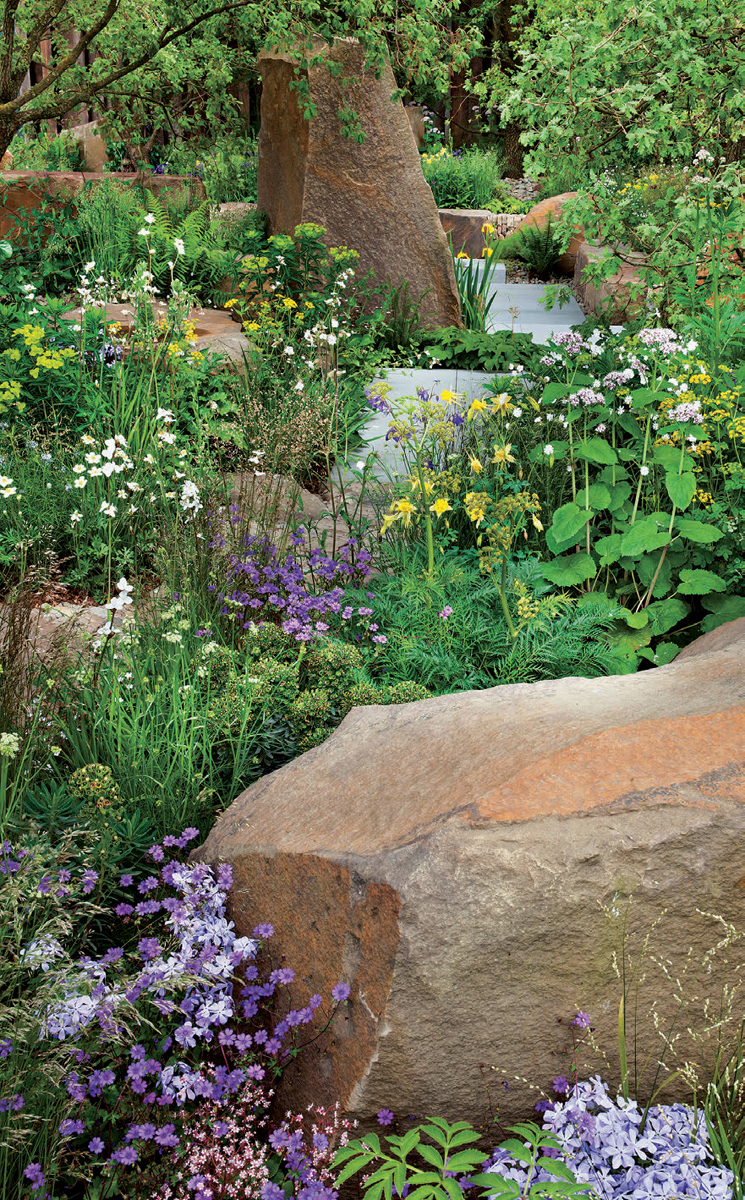 Plant early in the season
Especially in climates with dry summers, planting early in the season ensures that your new cohorts take advantage of seasonally available moisture to get established before the heat kicks in.
Encourage reseeders
In your constant effort to keep the ground green and lush, leverage reseeding plants to fill voids and knit the planting together. Woodland natives such as columbines (Aquilegia spp. and cvs., Zones 2–7), rock corydalis (Capnoides sempervirens, Zones 5–9), and wild blue phlox (Phlox divaricata, Zones 3–8) generously reseed and persist for many years.
Embrace what falls
Fallen leaves make great mulch, which not only decompose to add moisture-retentive organic matter to the soil, but insulate plantings throughout the winter. This extra blanket can prevent frost heaving and provide an extra layer of protection from late spring frosts. Resist the temptation to rake the leaves.
Plant densely
As you choose plants for dry shade gardens, remember to keep the soil covered. The more vegetation you establish to cover the ground, the more that community of plants can work together to keep moisture in the soil.
Think shallow
Shallow-rooted plants such as wintergreen (Gaultheria procumbens, Zones 3–8) and bunchberry (Cornus cana­densis, Zones 3–6) are great for dry shade because they often thrive in the close-quartered niches of a trunk flare or in soils encumbered by tree roots.
---
Kelly Norris is the director of horticulture and education at the Greater Des Moines Botanical Garden in Iowa.
Sources: