My name is Melina. Welcome to my Zone 8a garden in the Seattle area. It has been a few years since I have shared photos of my garden with you all (A Love/Hate Relationship With the End of the Season), so it's nice to have you back to have a peek around. Much has changed over the past couple of years, and slowly my grass is disappearing as my annual "edging" project turns into another foot (or two) of garden border. (The shovel just slipped, LOL.) Next year I have plans to take out some larger sections for dahlias and berry beds, but here is where it sits right now. I have a collector's garden, which means I love plants but don't have enough space to plant three or five of many things. So instead you will find a lot of one-offs jammed together in the borders. Like many, I found my way to the garden through the need for peace and healing. What started as a "hobby" has quickly turned into an obsession that I hope to parlay into a career one day. For now, though, I will keep experimenting in this lovely space—learning and growing through dirty hands, piles of garden magazines, and those of you on social media willing to share your spaces and lessons learned. The gardening community is a wonderful one, and I am glad to be a part of it.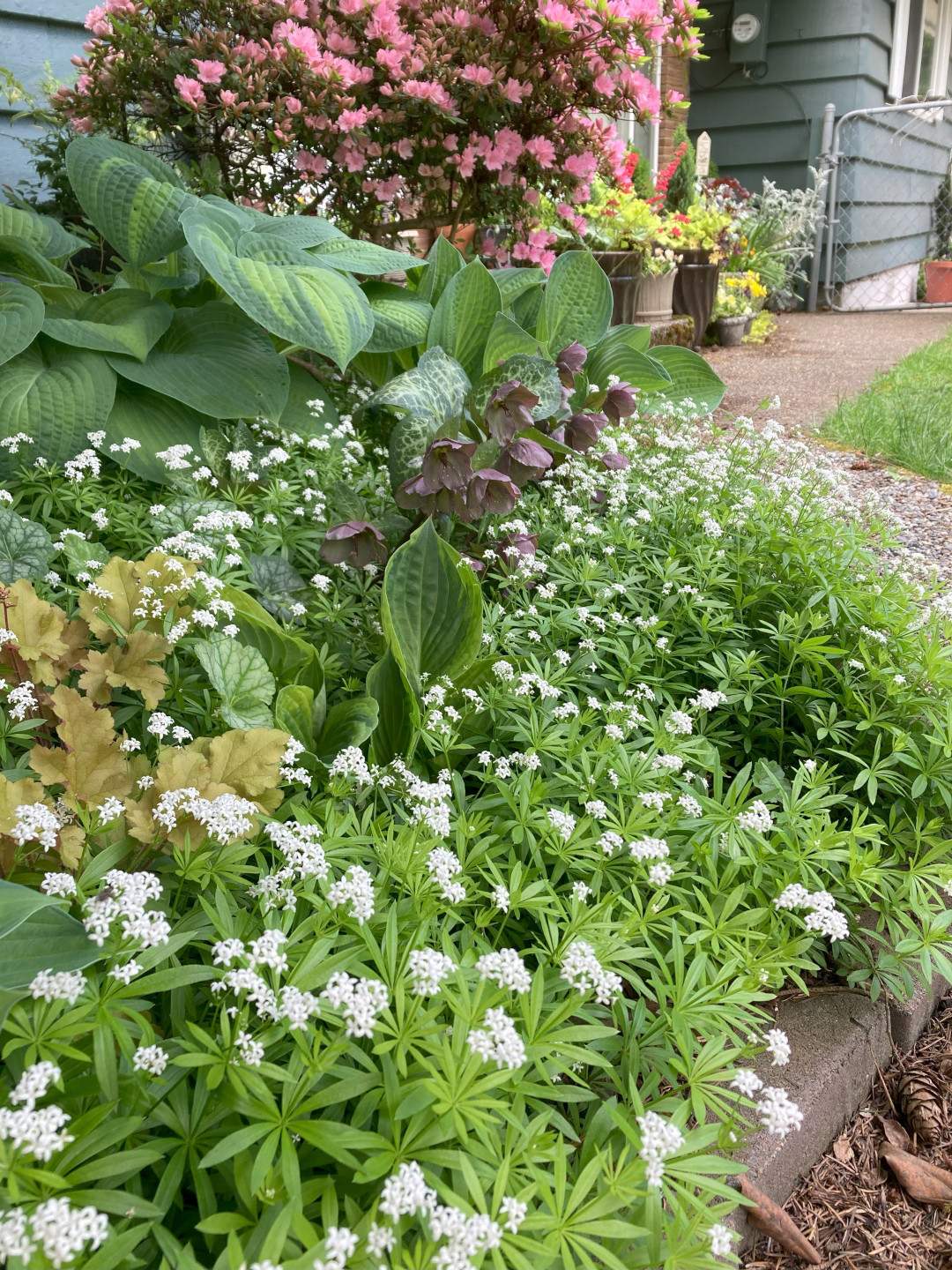 Front bed with sweet woodruff (Galium odoratum, Zones 4–8), hellebores (Helleborus hybrids Zones 4–9), hostas (Hosta hybrids, Zones 3–9), and heucheras (Heuchera hybrids, Zones 5–9), with an azalea (Rhododendron hybrid, Zones 5–9) in the background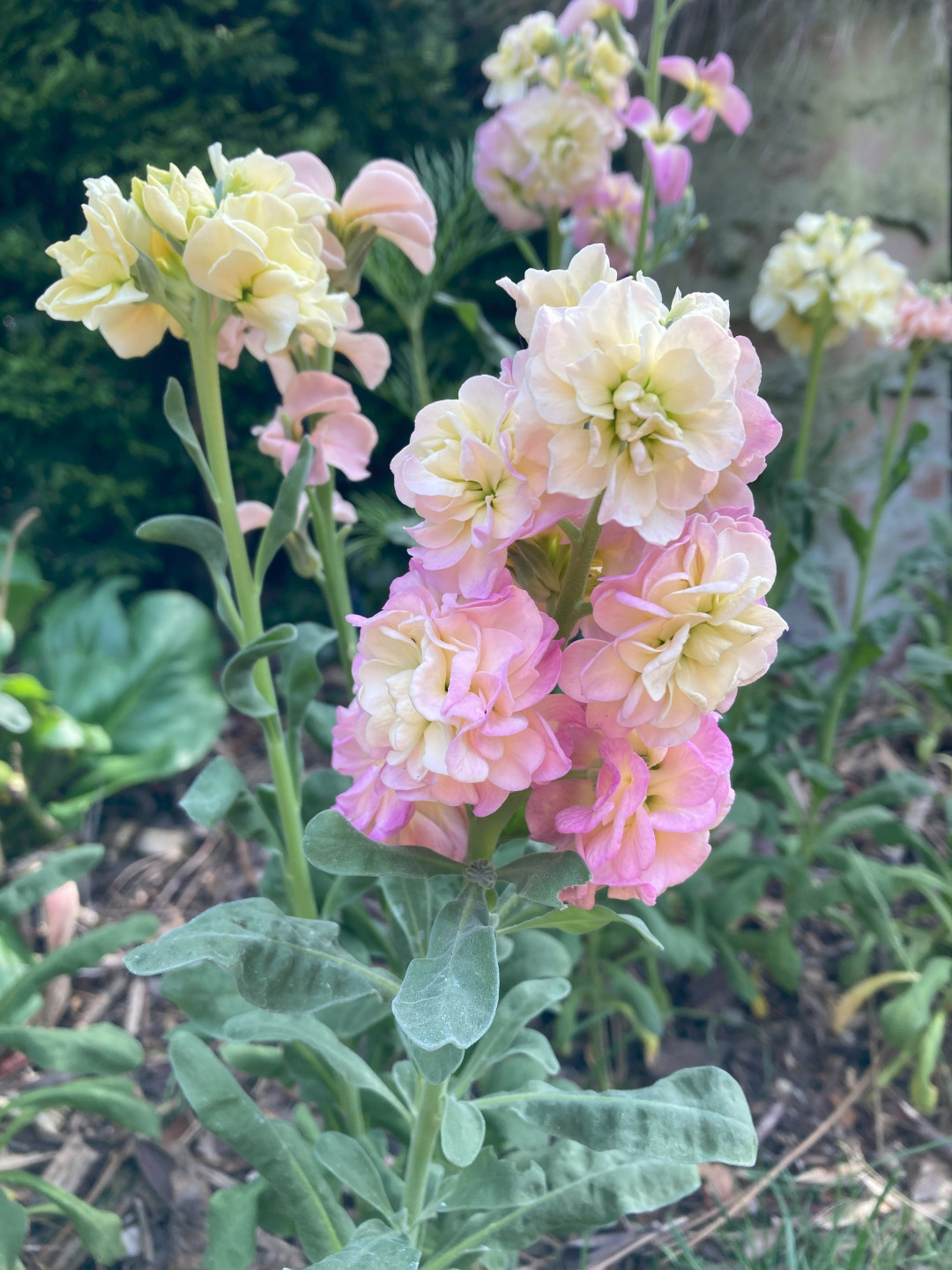 'Quartet Rainbow' stock (Matthiola incana, annual) is a favorite flower I grew from seed this year.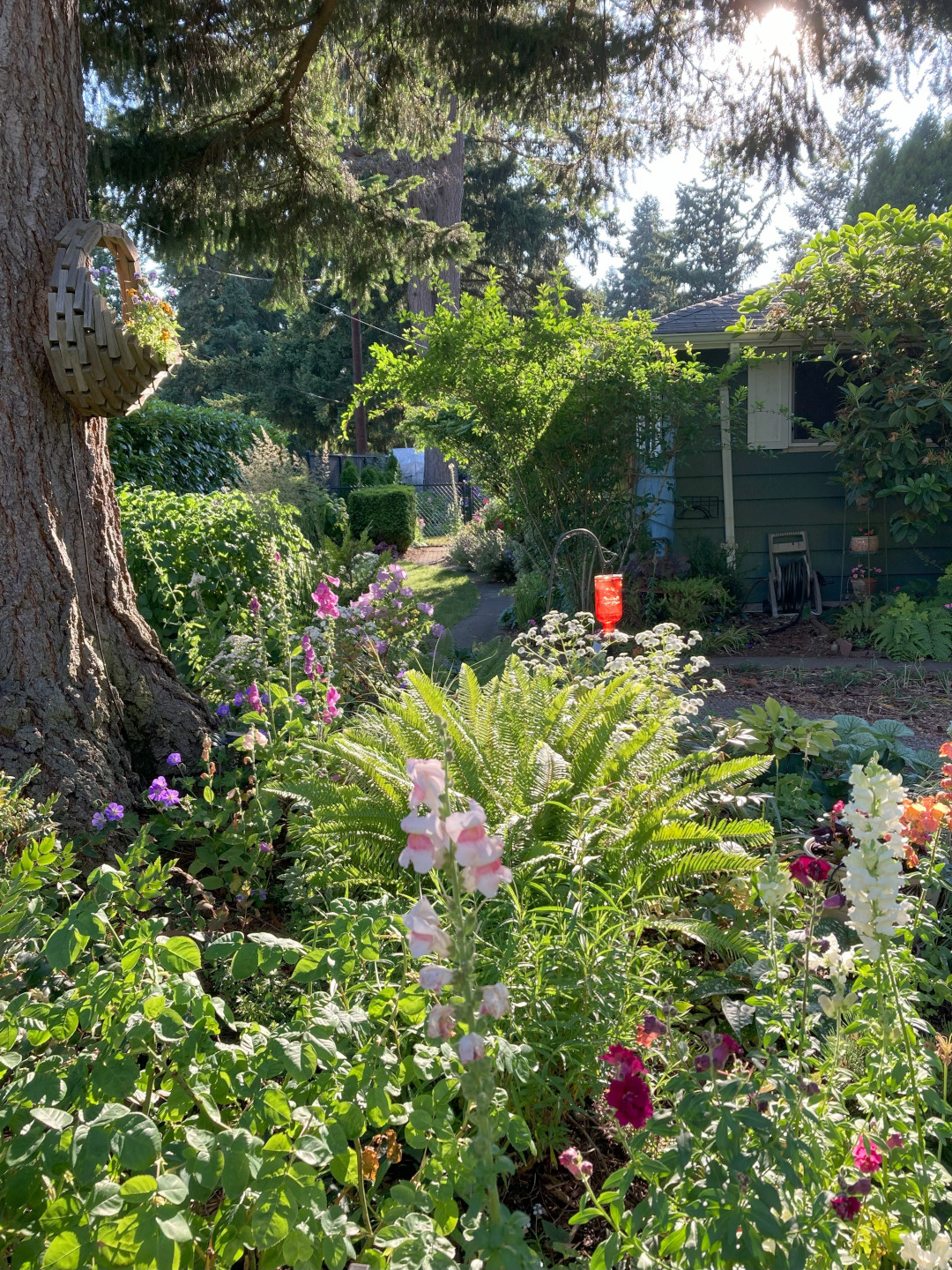 Another front bed with snapdragons (Antirrhinum majus, Zones 7–10 or as an annual) that overwintered from last year, foxgloves (Digitalis purpurea, Zones 3–8), ferns, Rozanne geranium (Geranium 'Gerwat', Zones 5–8), feverfew (Tanacetum parthenium, Zones 5–8), Canterbury bells (Campanula medium, Zones 4–8), and 'Karl Foerster' grass (Calamagrostis × acutiflora, Zones 3–9)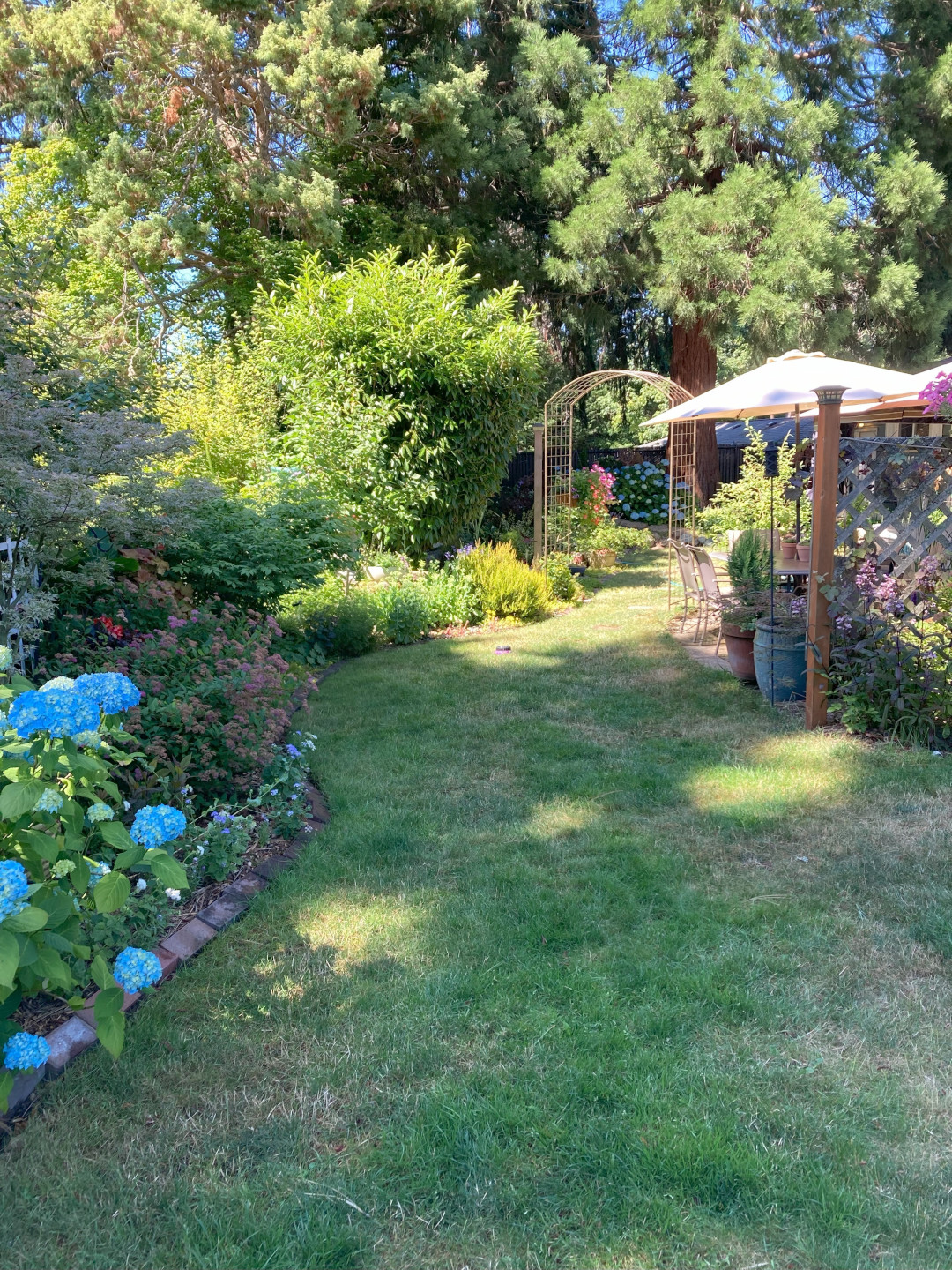 This long view of the backyard garden features 'Endless Summer' hydrangeas (Hydrangea macrophylla 'Endless Summer', Zones 5–9), spirea (Spiraea japonica, Zones 5–9), ageratum (Ageratum houstonianum, Zones 10–11 or as an annual), and a Japanese maple (Acer palmatum 'Ukigumu', Zones 5–9). The photo was taken at the beginning of July 2023.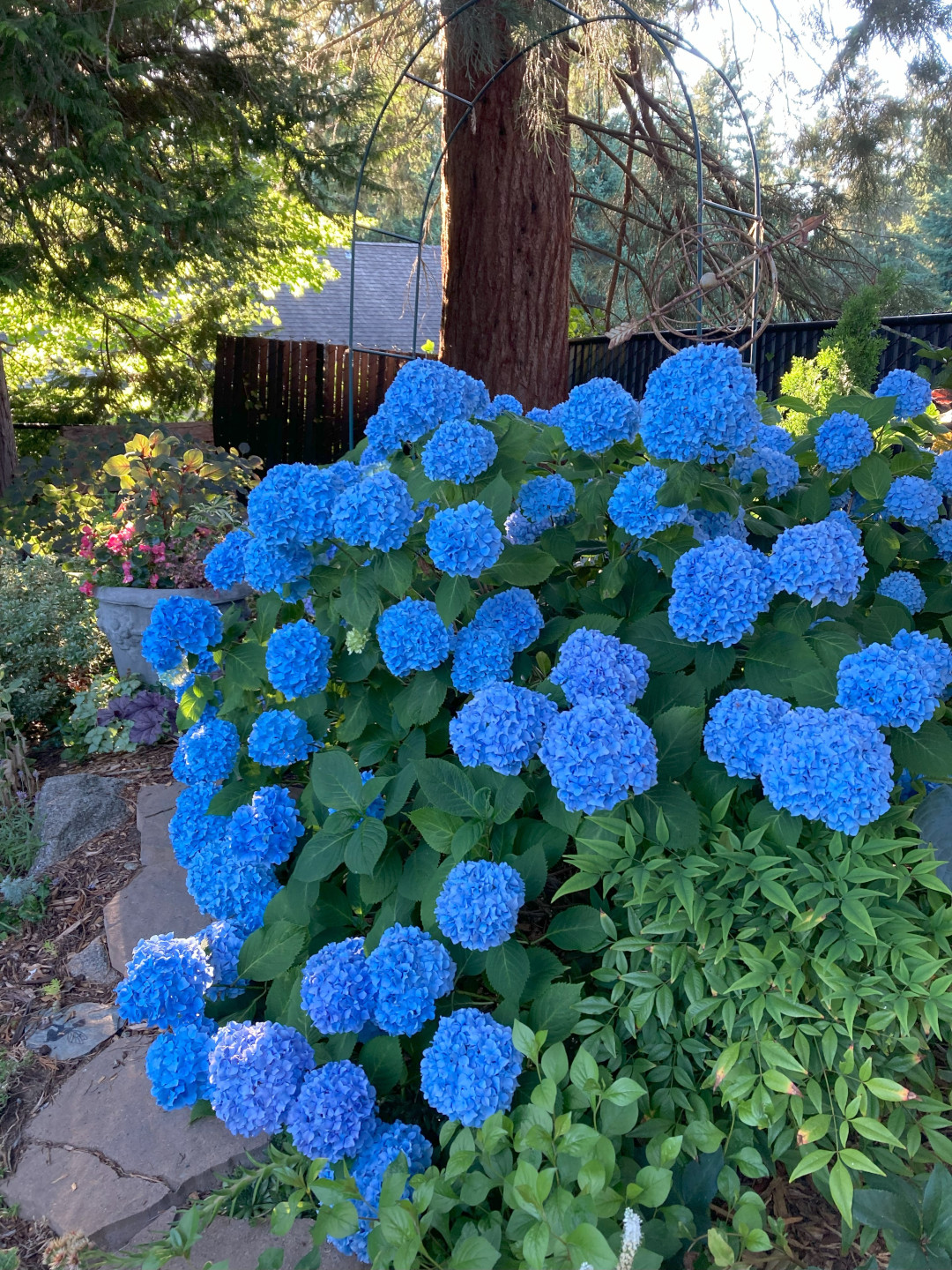 This back garden bed includes 'Endless Summer' hydrangea, a nandina (Nandina domestica; I believe it's 'Gulf Stream', Zones 6–9), ground-cover plumbago (Ceratostigma plumbaginoides, Zones 5–9), and a unique stone pot with annuals in the background.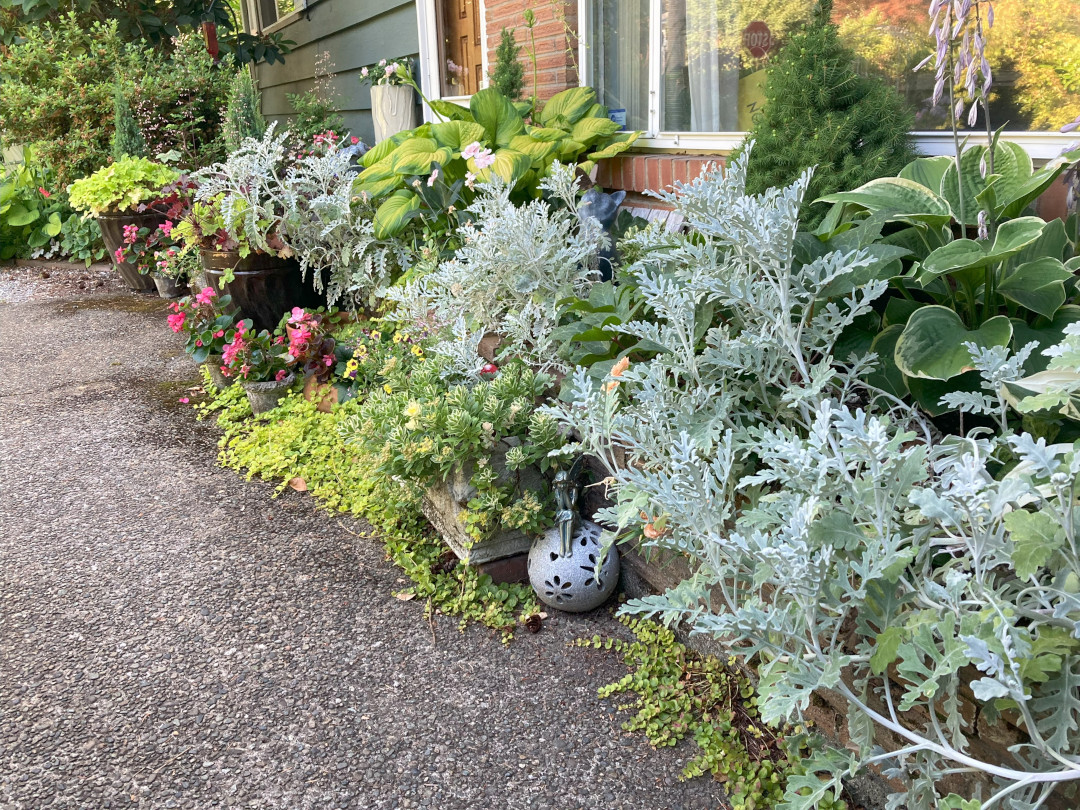 This front window box includes dusty miller (Jacovaea maritima, Zones 7–10), hostas, dwarf Alberta spruce (Picea glauca 'Conica', Zones 3–6), begonias in pots, creeping jenny (Lysimachia nummularia, Zones 3–9), 'Lime Marmalade' heucheras (Zones 4–9), Torenia (Zones 10–11 or as an annual), and a Sedum in the concrete pot.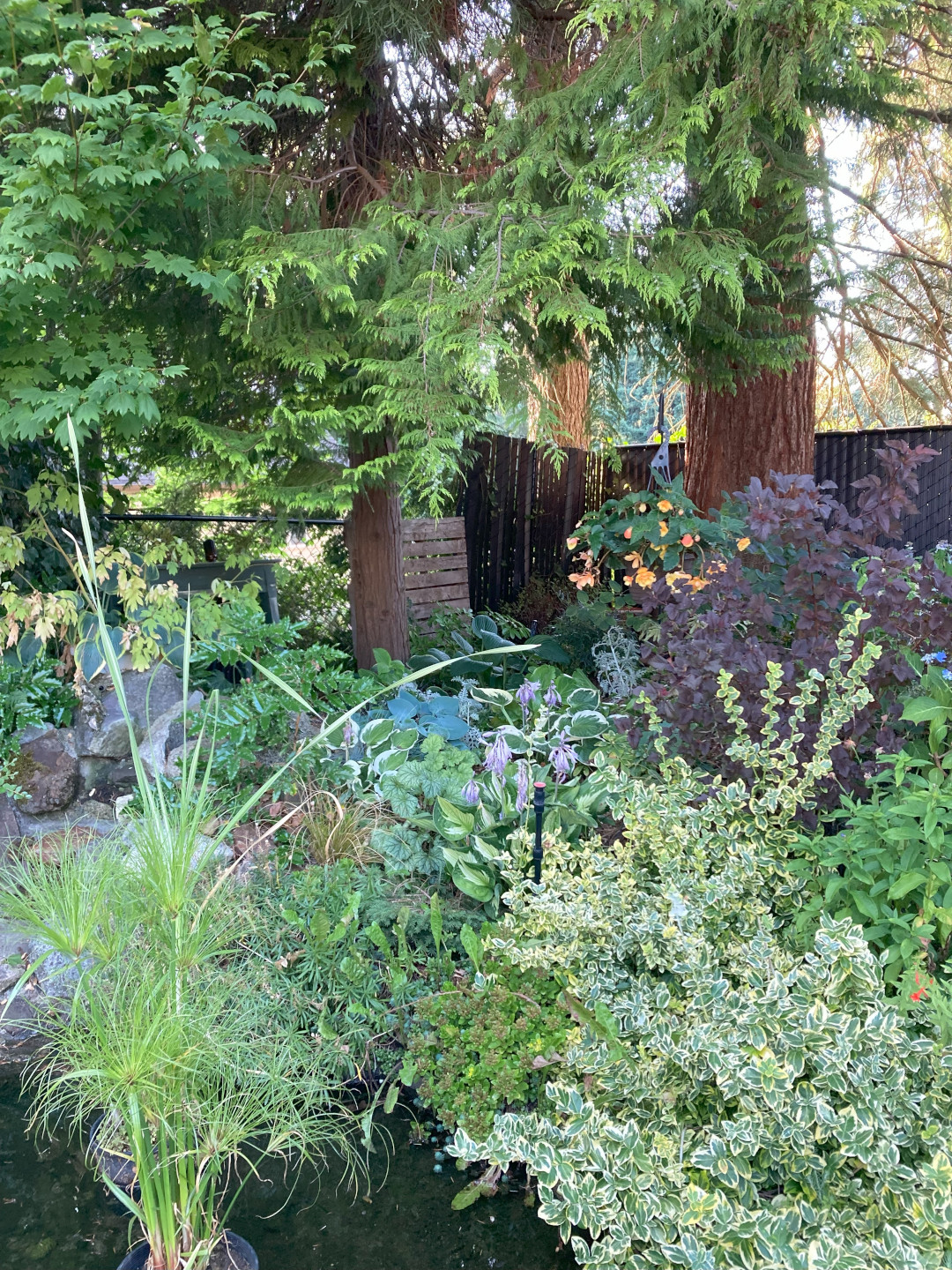 The pond area has hostas, ninebark (Physocarpus opulifolius, Zones 2–8), euonymus (Euonymus fortunei, Zones 5–8), and other perennials. 'Prince Tut' grass (Cyperus papyrus 'Prince Tut', Zones 10–11 or as an annual) is in the foreground.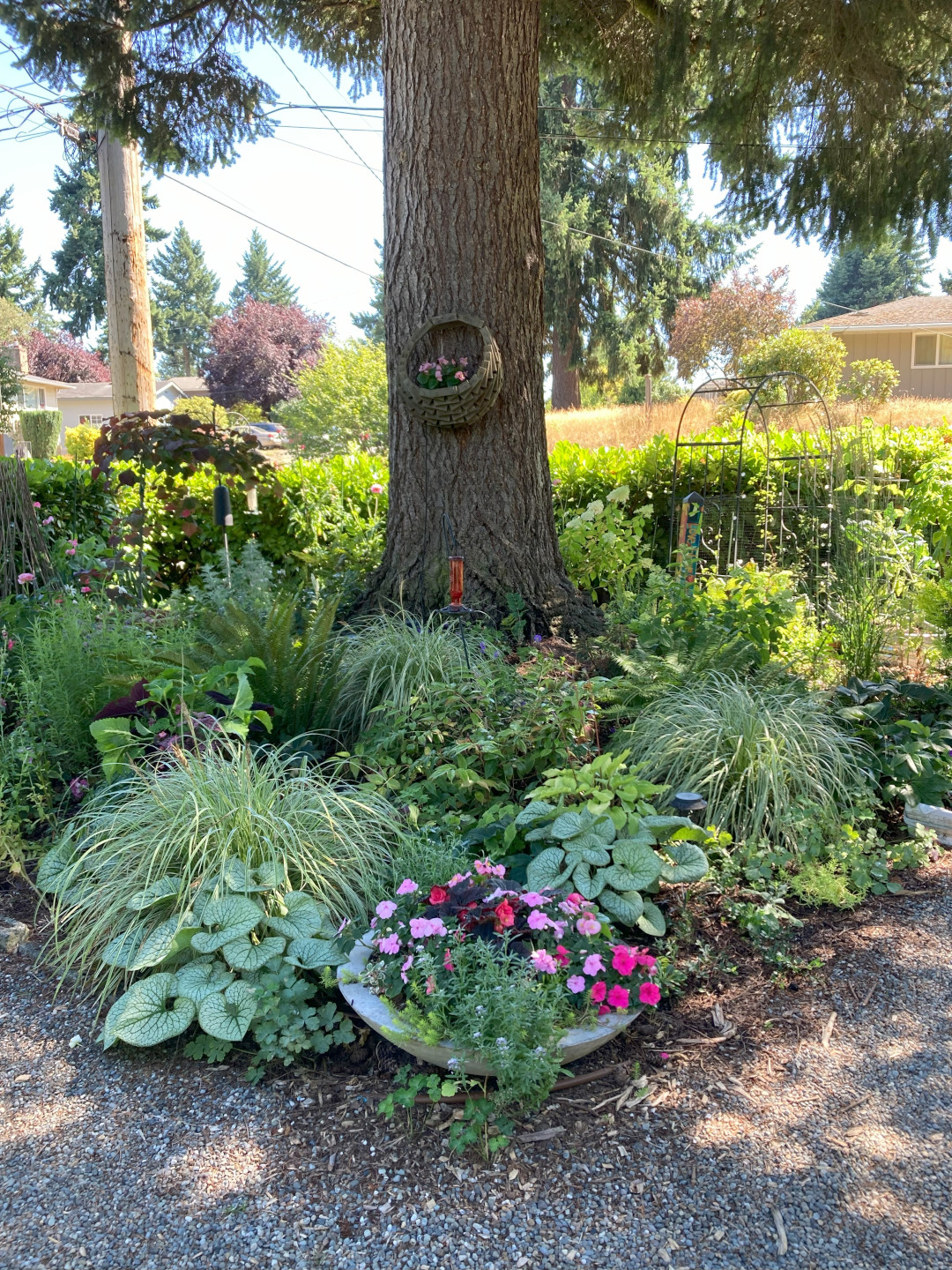 Here is a full-on view of my front garden bed. Many plants are here, but you can see brunnera (Brunnera macrophylla, Zones 3–8) and a pot full of impatiens (Impatiens walleriana, Zones 10–11 or as an annual).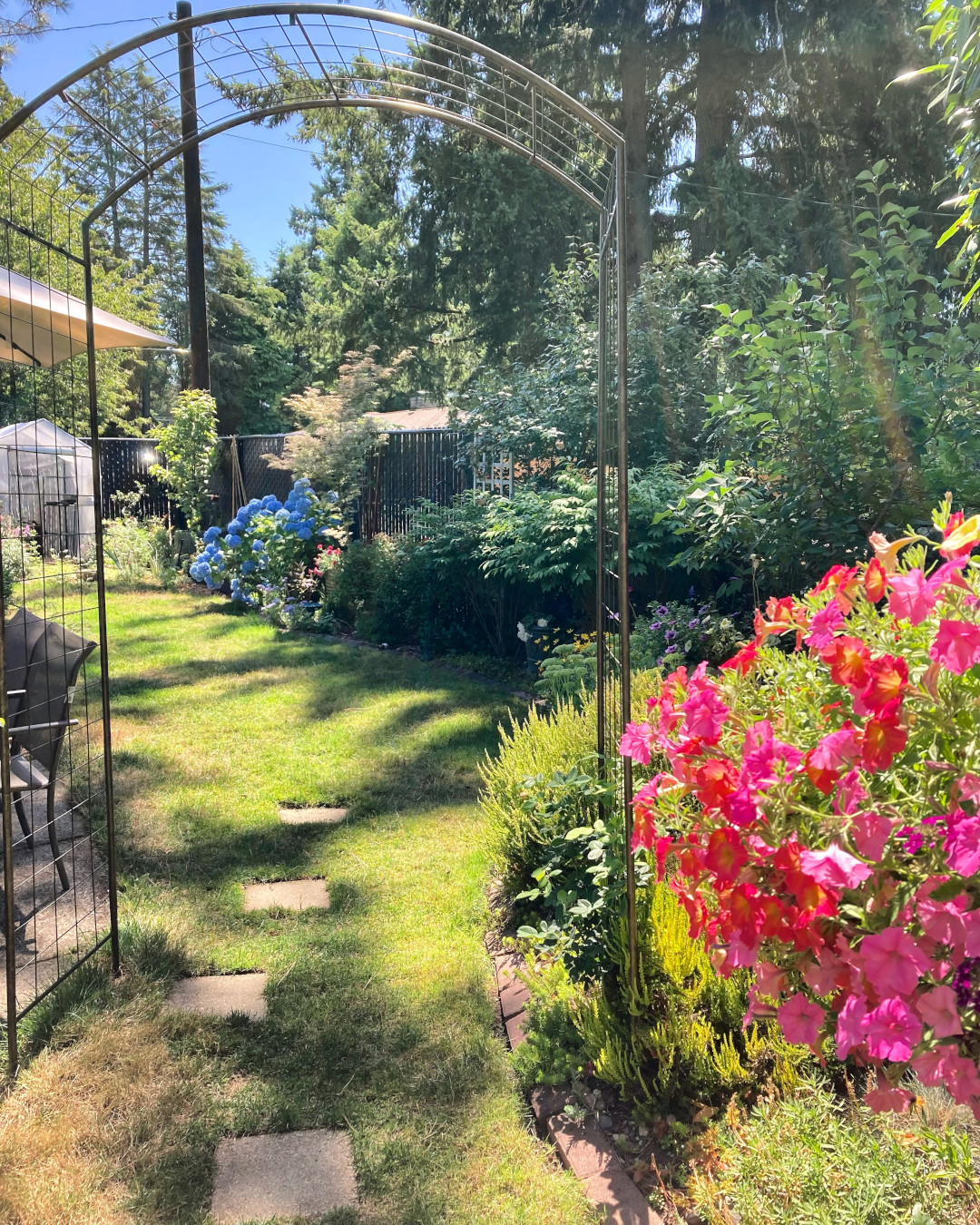 This is an alternate view of my back garden, looking back at my greenhouse. In the foreground is my hanging basket (the primary flower seen is 'Persimmon' petunia from Proven Winners), heather, sedum, 'Ukigumu' Japanese maple, and 'Pink Pyramid' magnolia in the very back corner. Other plants are listed in photo 4.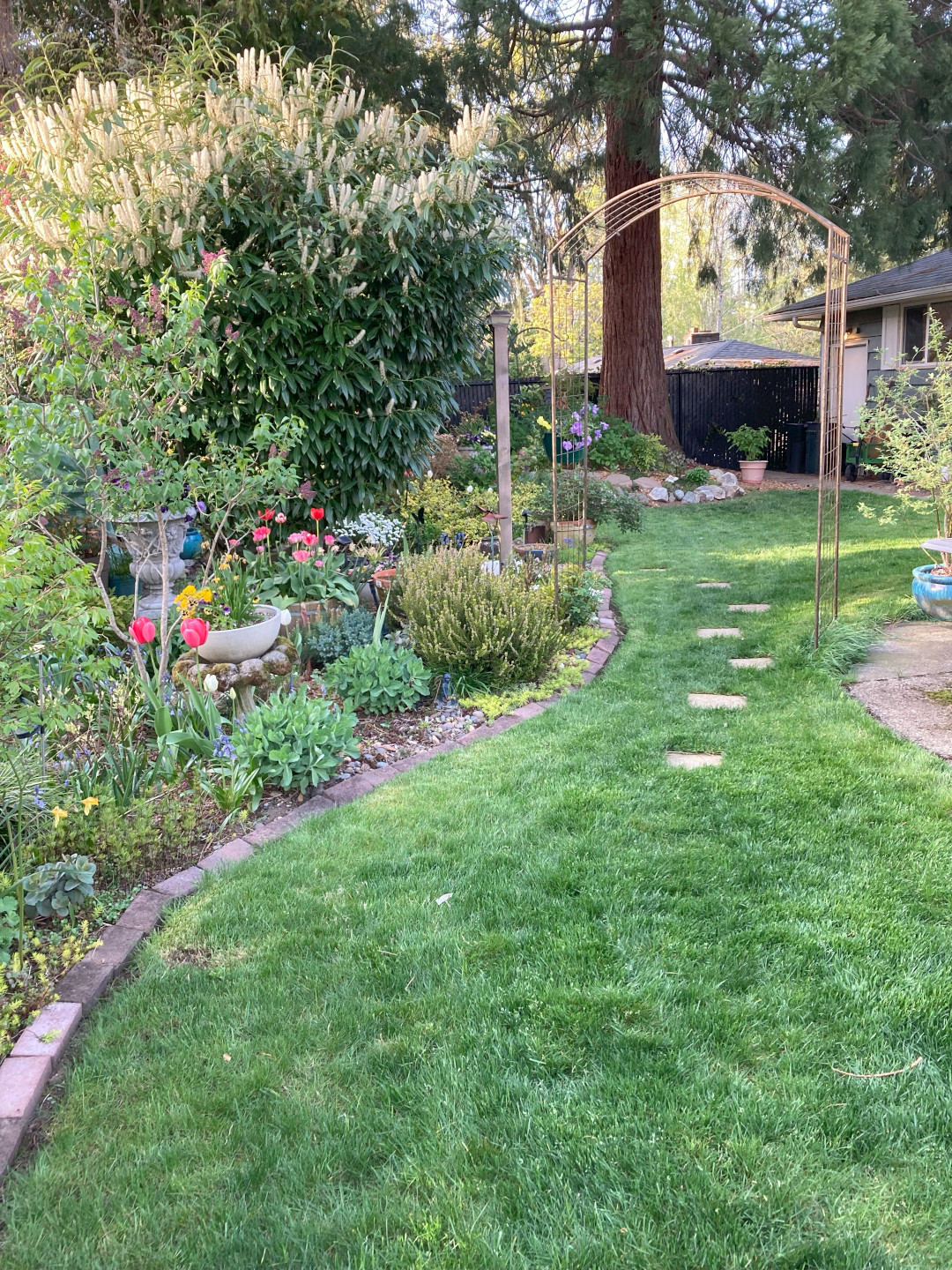 This is the same view of my back garden as in photo 4, but it was taken in May 2023. Some tulips are visible, as well as a few pansies scattered throughout.
If you want to see more, check out Melina's instagram: @gardenwithmelinalynne
Have a garden you'd like to share?
Have photos to share? We'd love to see your garden, a particular collection of plants you love, or a wonderful garden you had the chance to visit!
To submit, send 5-10 photos to [email protected] along with some information about the plants in the pictures and where you took the photos. We'd love to hear where you are located, how long you've been gardening, successes you are proud of, failures you learned from, hopes for the future, favorite plants, or funny stories from your garden.
Have a mobile phone? Tag your photos on Facebook, Instagram or Twitter with #FineGardening!
Do you receive the GPOD by email yet? Sign up here.