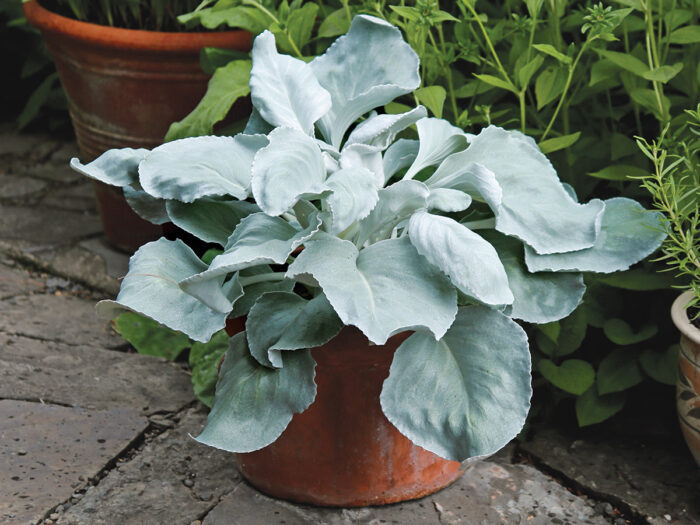 I finally made the trek last spring to search for annuals at a small, out-of-the-way greenhouse in upstate New York that I had heard about for years but had never visited. I went expecting to find the usual workhorses, but alongside those were some extraordinary plants that proved to be standouts through the entire season.
One of them was Angel Wings® sea cabbage. I made a beeline for it as soon as I saw its luminous, white-silver, elegant leaves. Even as a young, small plant, it glowed. Though competing with about 50 other pots on terraces in my garden, this one—planted solo in a pot all to itself—became my favorite of the season with beauty and sereneness that commands attention. This tender perennial performs well into October in Zone 5, but any gardener in colder areas than Zone 8 who wants to keep it for the next year needs to overwinter it inside. (It makes a great houseplant.)
In a medium-size planter on a sunny terrace, Angel Wings® exhibited a quick growth rate that made it a delight to watch. Despite its wide, velvety foliage, which I insisted all my visitors touch, it is surprisingly a succulent. The genus Senecio, with over 1,000 species, includes many plants with different characteristics. The more familiar dusty miller (Jacobaea maritima and cvs., syn. Senecio cineraria, Zones 7–10) is a beautiful plant, though in my mind it is far less sophisticated simply because it is overplanted. While the color of Angel Wings® is similar, its tactile nature combined with its smooth-edged leaves makes it truly unique.
While it was getting established, I found that Angel Wings® preferred less than full sun. If you keep a sharp eye on it, you will see it droop ever so slightly if it is overheated. Watch for this, and move it into a spot with less direct light, morning sun only, or partial shade. Good drainage, or sandy or loamy soil if you plant it in the ground, plus daily or nearly daily watering are musts when in full sun.
This plant is all about the foliage, but I'm going to take the challenge and fertilize with a bloom-boosting formula this year to see if I can coax it into producing its rarely seen clusters of bright, yellow blossoms. Flowers or no flowers, it is a stunning, undemanding superstar that will make all your garden visitors marvel.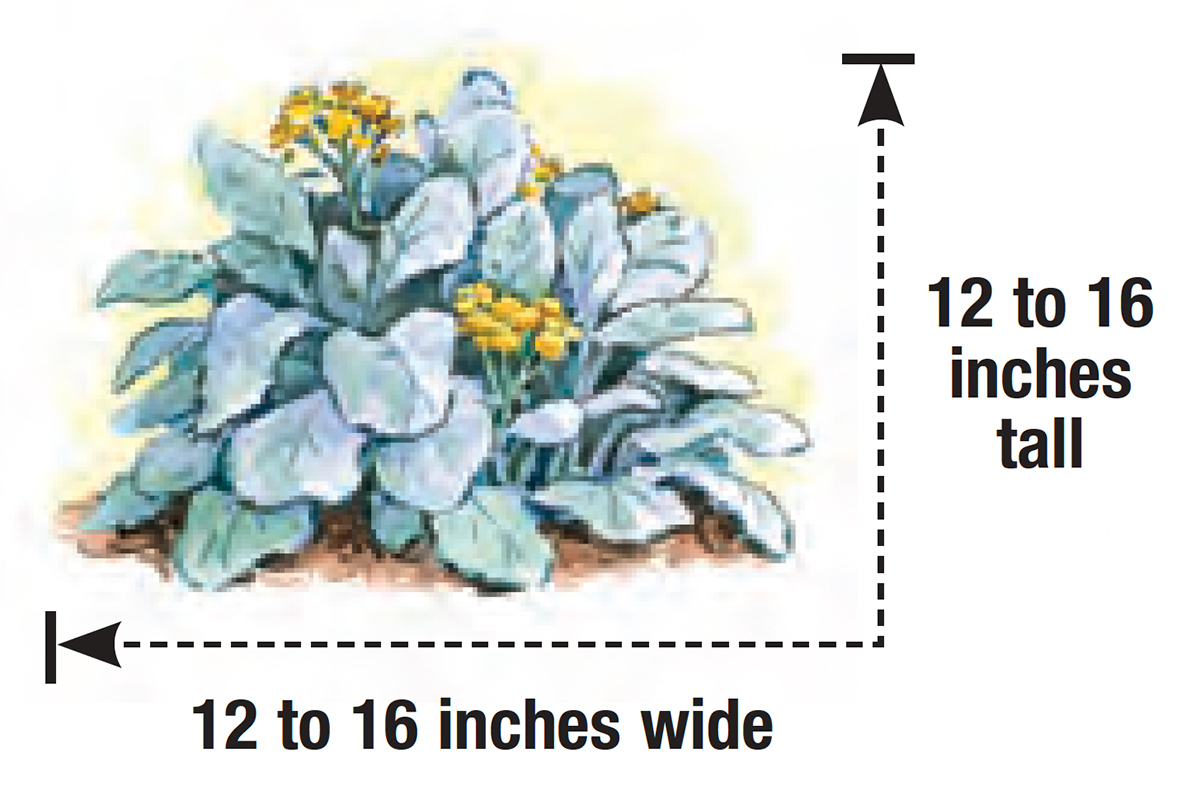 Angel Wings® sea cabbage
Senecio candicans 'Senaw'
Zones: 8–11
Conditions: Full sun to partial shade; average, well-drained soil
Native range: South America
---
Margherita Fabrizio is a lifelong gardener and photographer in Ithaca, New York.
Illustration: Elara Tanguy
Sources