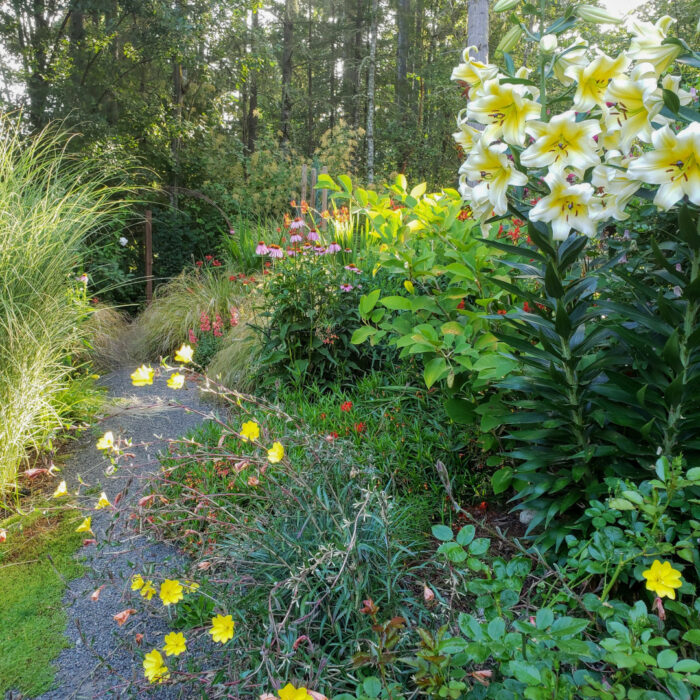 We're on Bainbridge Island, Washington, today, visiting with Katie Crain.
I was just looking through photos from the summer and fall (as one does this time of year), and I thought I'd send you some. A little about this garden: It's on Bainbridge Island, Washington, and is about six years old. The house was new construction, so it was bare dirt in 2016. The garden is now about an acre, though I keep expanding it (of course!). My last garden had more the feel of an English cottage garden, but here on the island, surrounded by nature, I've found my style evolving to a more naturalistic look. I'm particularly interested these days in noticing how plants grow together in the wild and using that to inspire my plantings of more conventional plants. I am a bit of a plant collector and love the weird and unusual, but I also love the classics: roses, clematis, and peonies. I have fun combining rare plants with common plants. I don't consider myself a garden designer at all. My trick is to keep moving things around until they "work" and there is good color and texture balance throughout the garden.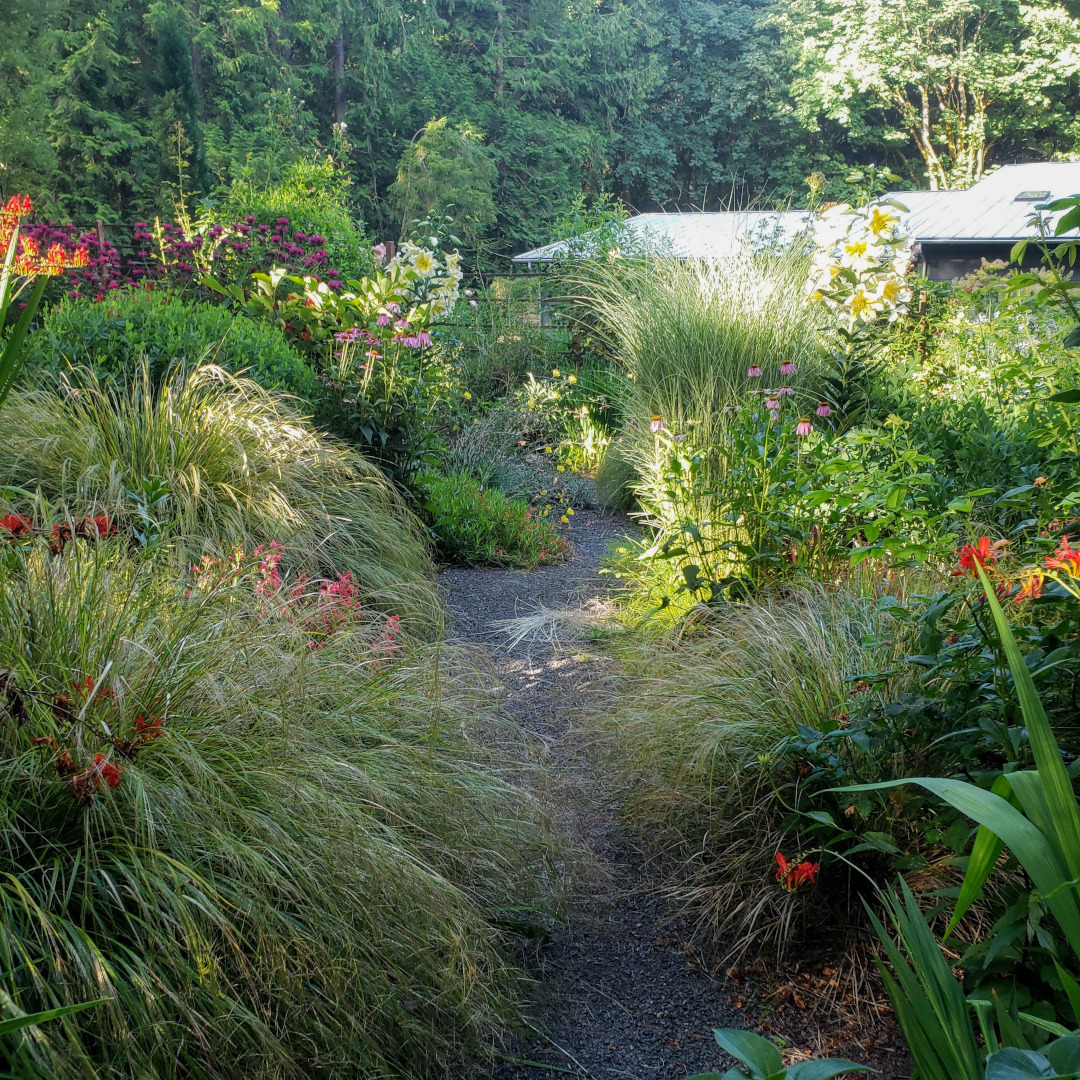 In this lush garden planting, the grasses Miscanthus sinensis 'Morning 'Light' (Zones 4–9), Imperata cylindrica (Zones 5–9), and Anemanthele lessoniana (Zones 8–10) dominate the foreground. Mixed in are the flowers of Echinacea (Zones 5–9; not sure of the variety), 'Conca d'Or' lily (Lilium 'Conca d'Or', Zones 4–8), Crocosmia 'Lucifer' (Zones 5–9), and Monarda 'Raspberry Wine' (Zones 4–9). The monarda have grown larger than they are "supposed" to because they are right under our septic drain field.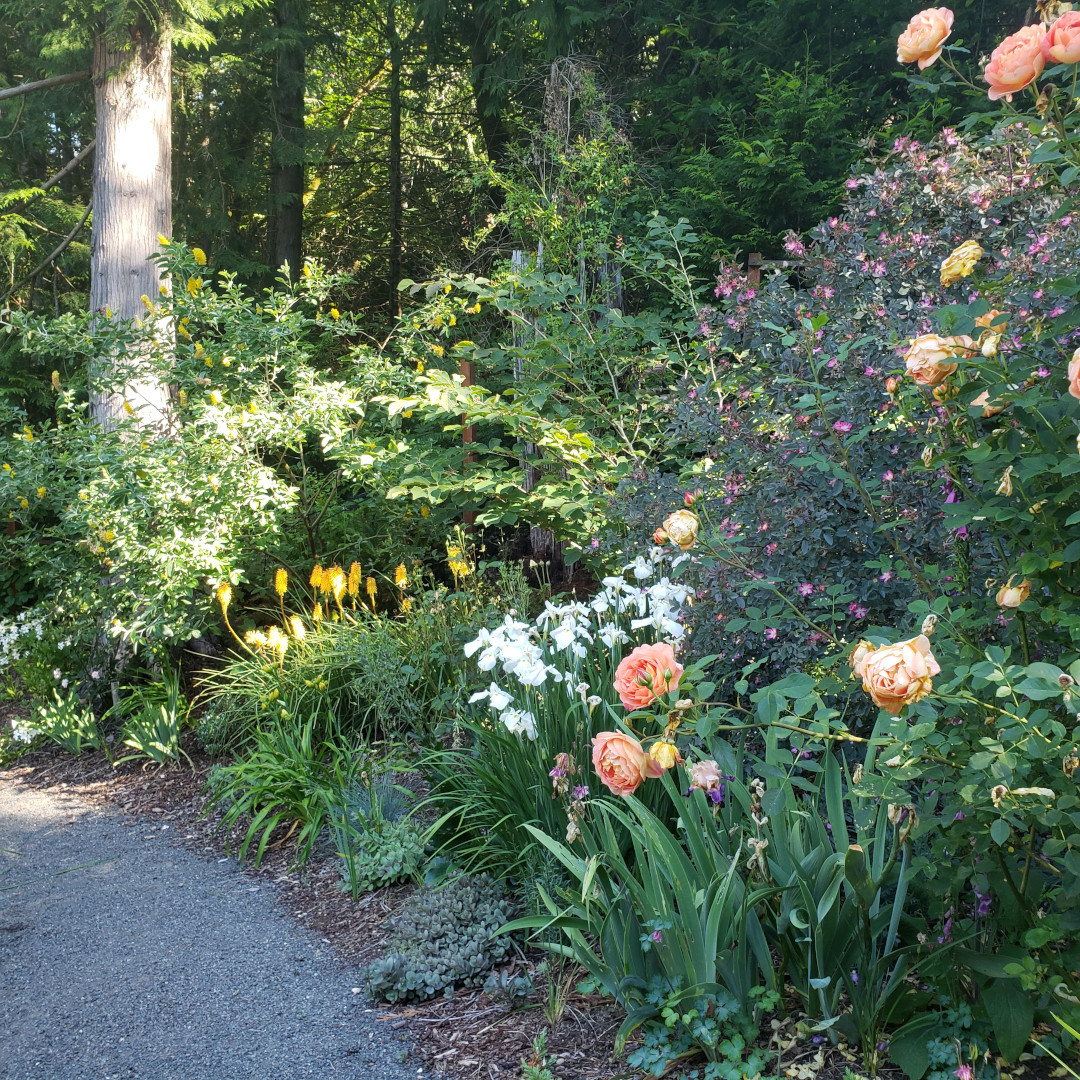 The purple-flushed foliage of Rosa glauca (Zones 2–8) takes center stage here, joined by the apricot flowers of Rosa 'Lady of Shalott'. Unknown varieties of Japanese iris (Iris ensata, Zones 5–10) and Kniphofia add white and yellow flowers respectively, while the shrub Argyrocytisus battandieri (Zones 7–10) blooms in the background.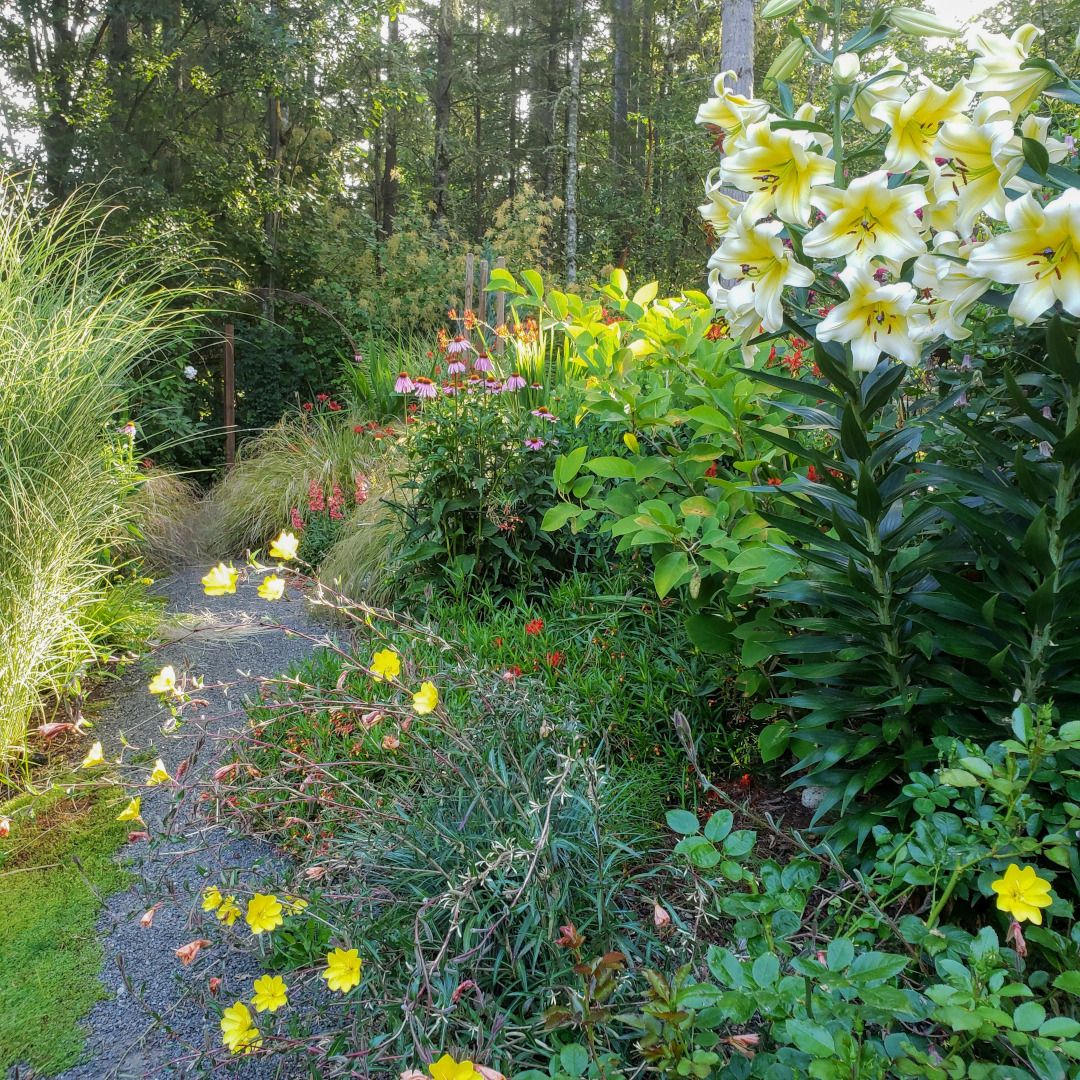 Lilium 'Conca d'Or' looks absolutely magnificent with Oenothera versicolor 'Lemon Sunset' (Zones 4–9). A Magnolia siebolidii (Zones 6–8) is not in bloom but backs up the lily with foliage, while other flowers, including the bright red blooms of Penstemon 'Red Riding Hood' (Zones 5–9), show off in the background.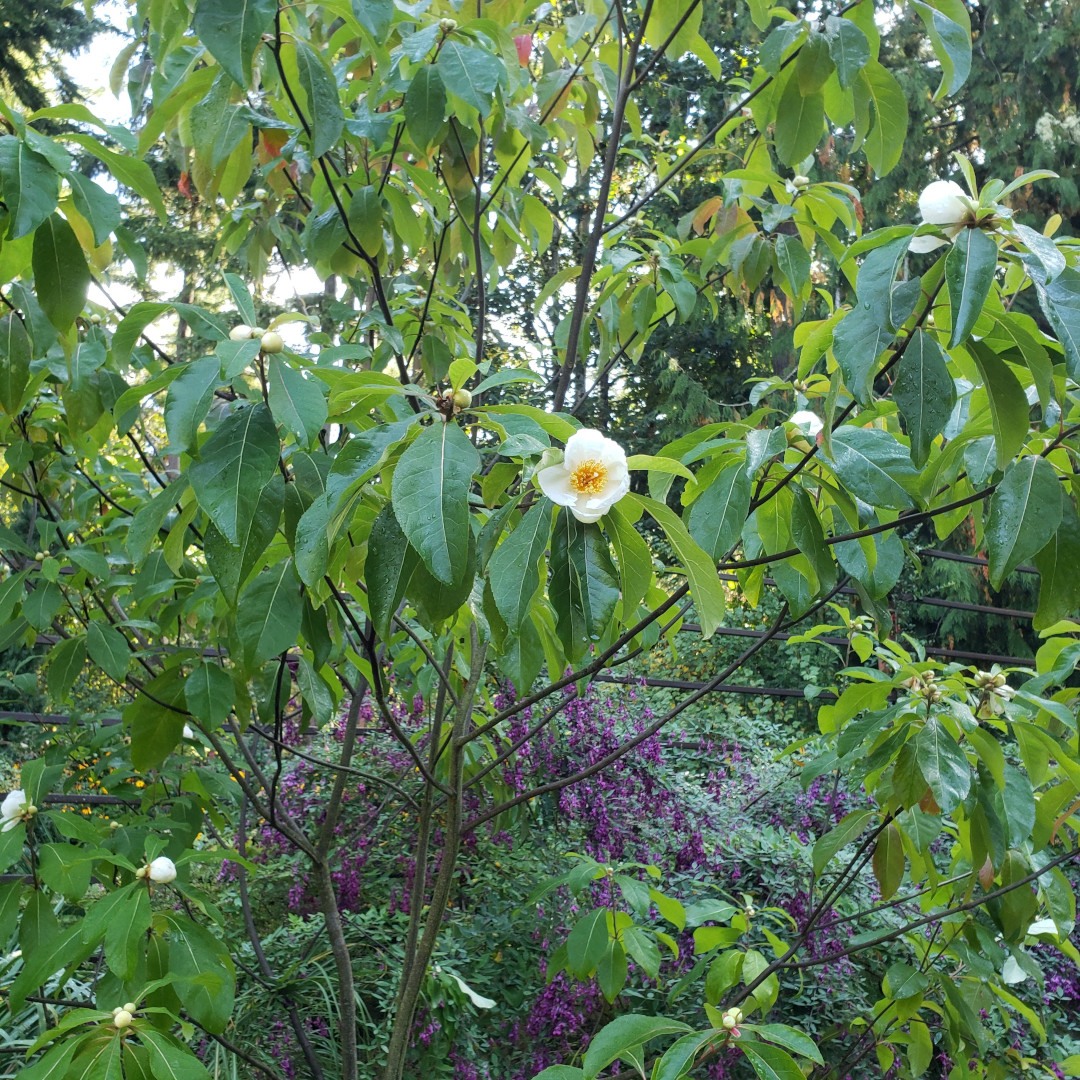 The beautiful white flowers of Franklinia alatamaha (Zones 5–8) are backed up by the purple Lespedeza thumbergii' Gilbratar' (Zones 4–9).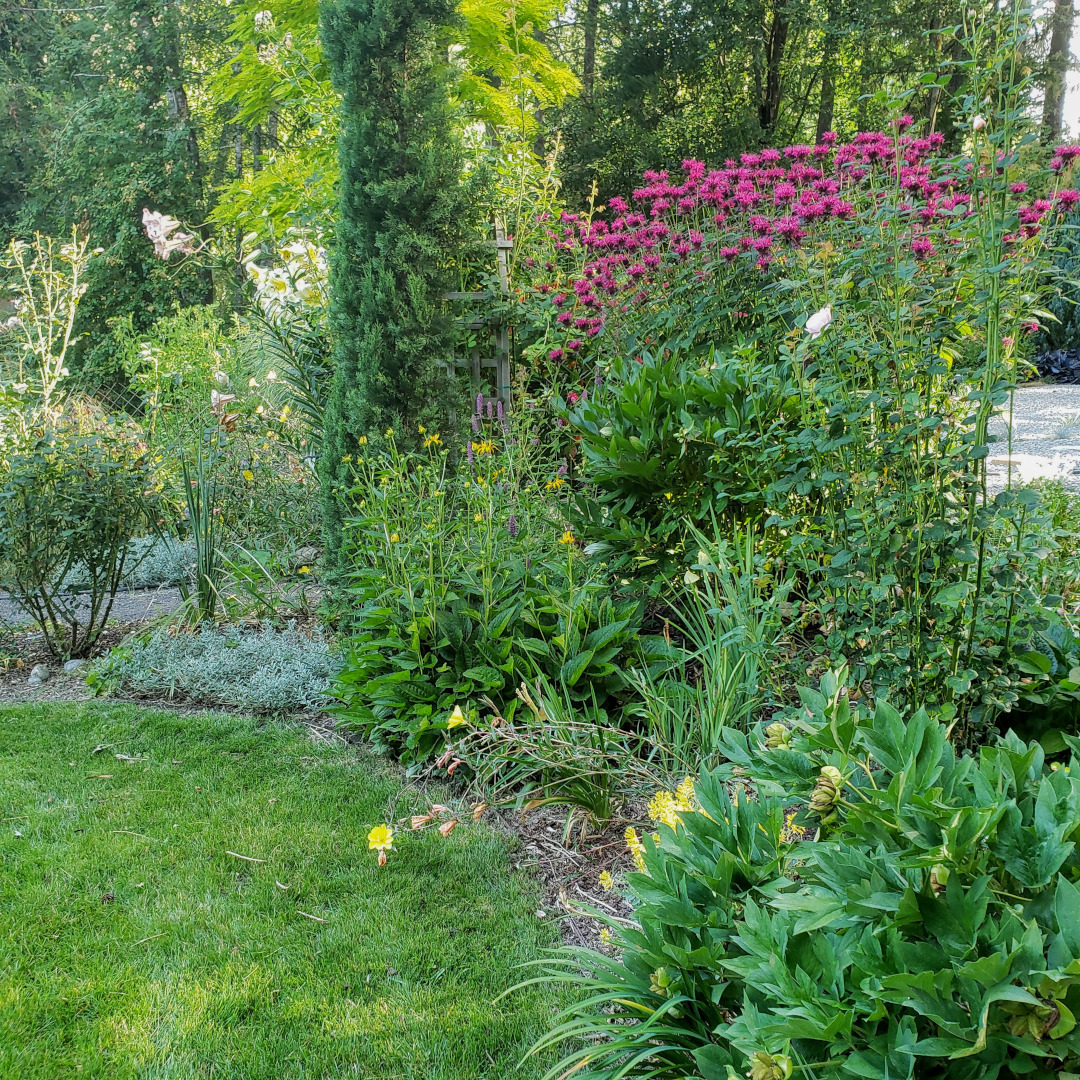 Monarda 'Raspberry Wine' is the star of this scene at the moment, taking over from the peonies (Paeonia hybrids, Zones 3–8) that have finished flowering.
Have a garden you'd like to share?
Have photos to share? We'd love to see your garden, a particular collection of plants you love, or a wonderful garden you had the chance to visit!
To submit, send 5-10 photos to [email protected] along with some information about the plants in the pictures and where you took the photos. We'd love to hear where you are located, how long you've been gardening, successes you are proud of, failures you learned from, hopes for the future, favorite plants, or funny stories from your garden.
Have a mobile phone? Tag your photos on Facebook, Instagram or Twitter with #FineGardening!
Do you receive the GPOD by email yet? Sign up here.