For years, my mom cooked magnificent meals with an old-school brown enamel Caloric oven. It was so vintage that you half expected to find Duck à l'Orange roasting inside. I always asked, "Mom, why don't you buy something new?" Her steadfast response always was, "Because it still works." A few years ago, she finally decided to purchase a brand new oven. This contemporary model included upgrades such as convection cooking and a self-cleaning capability, and her culinary creations have reached an even higher level. Like my mom, some folks cling to old habits, such as keeping plants they've had for years. But those plants may no longer fulfill their function, become diseased, or lose their aesthetic appeal. As gardeners, though, we're brokers of style, beauty, and creativity. These dynamic concepts rarely lend themselves to complacency. Landscapes are expanded, plants need replacing, or sometimes we just want to experiment. In order to enhance our gardens, we need to be inspired by new ideas and new choices. Below are some unique varieties of common plants that will not only boost your plant palette, but also help you see beyond traditional beauty.
A daylily that looks like an orchid from the Amazon
Name: 'Carolina Octopus' spider daylily (Hemerocallis 'Carolina Octopus')
USDA hardiness zones: 3 to 9
Size: 28 inches tall and wide
Conditions: Full sun; well-drained soil
I'm a daylily fan, but with thousands of varieties, how do you find a standout? I try to look beyond the typical frou-frou types and dive into the remarkable realm of 'Carolina Octopus'. This variety is classified as a spider daylily, a group characterized by petals that are four times as long as they are wide, and spawn some of the most exotic flowers in the temperate world. It is a star—even in this flashy bunch. The enormous 10-inch blooms are sensational; pinot noir–colored petals streak toward a radiant, sun-bleached center. The color combination is thrilling, but stare too long and you may start to feel your pupils dilate.
Bloom color and habit set this perennial apart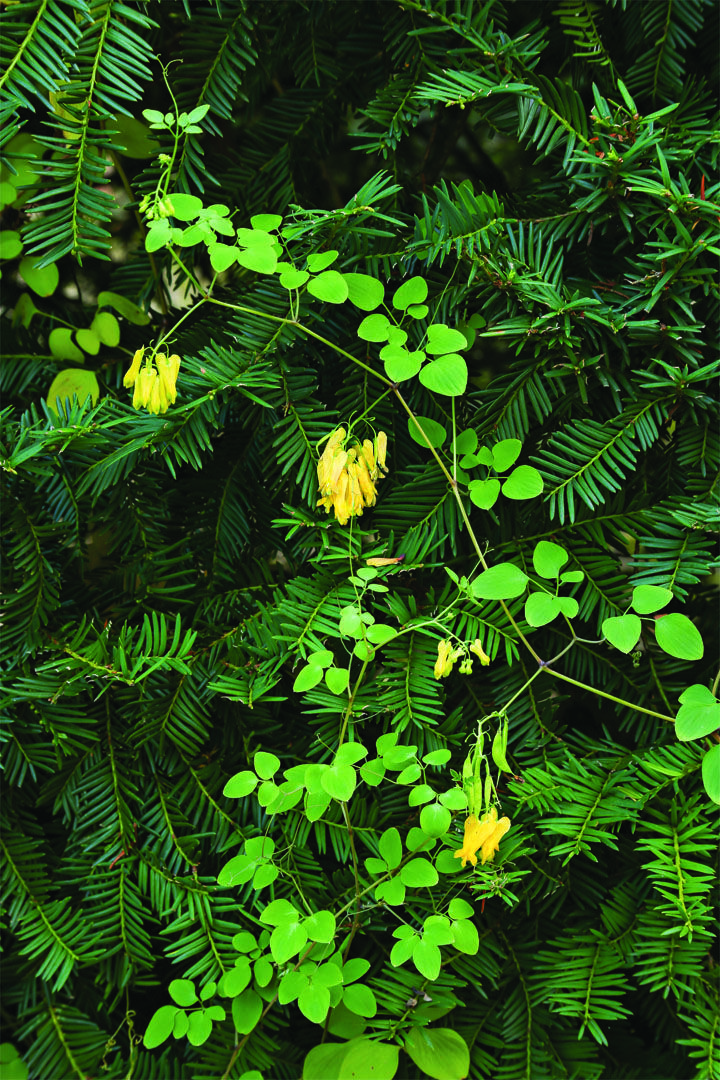 Name: 'Athens Yellow' bleeding heart vine (Dactylicapnos scandens 'Athens Yellow')
Zones: 7 to 10
Size: Climbing up to 10 feet tall and 5 feet wide
Conditions: Partial shade; moist soil
Bleeding heart (Lamprocapnos spectabilis, Zones 3–9) was the first plant I ever loved. As a boy, I'd pluck the little pink blossoms through the fence in the schoolyard and give them to my latest crushes. It's a time-honored, traditional plant, so imagine my surprise upon seeing a new species that has yellow flowers and is a vine! Mind blown. 'Athens Yellow' bleeding heart vine grows vigorously and captivates when scrambling over, around, and through trees and shrubs. The bluish-green foliage is an effective foil for the golden flowers, which appear throughout summer. This plant is a different form and a different color, but romantic as ever.
If spiders looked this pretty, we'd all be fans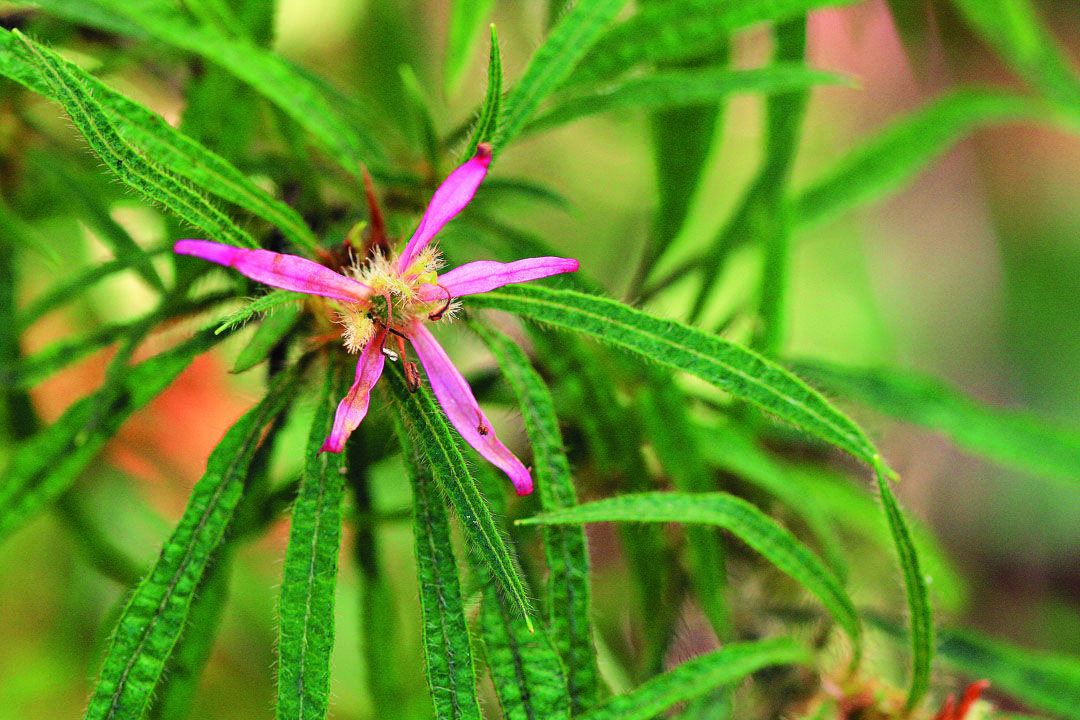 Name: Spider azalea (Rhododendron stenopetalum 'Linearifolium')
Zones: 6 to 9
Size: 2 to 3 feet tall and wide
Conditions: Full sun to partial shade; moist, rich, acidic, well-drained soil
So you're a fan of common azaleas (Rhododendron spp. and cvs., Zones 5–9) and grow every color in the rainbow, but have you tried the spider azalea? This astonishing shrub is readily distinguished by its long, thin, and hairy leaves, but it's not until spring that its inner arachnid is truly revealed. That is when slender, hot pink flowers emerge, almost perfect mimics of the strappy foliage. In northern regions, this species is semi-evergreen and more diminutive. In warmer zones, it retains its leaves and grows to at least 6 feet tall. With its fine, fuzzy foliage, spider azalea is an essential textural plant, and should be paired with large, glossy-leaved stalwarts like fatsia (Fatsia spp. and cvs., Zones 7–10) or giant leopard plant (Farfugium japonicum 'Giganteum', Zones 7–10).
The perfect ground cover for dry shade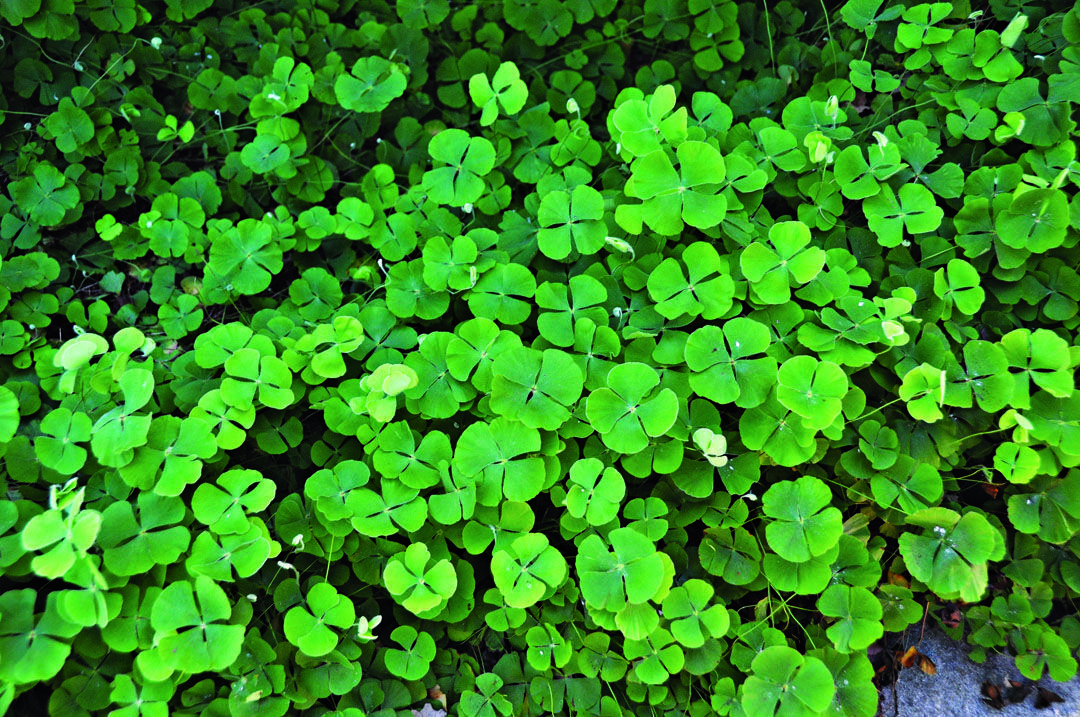 Name: Clover fern (Marsilea macropoda)
Zones: 8 to 10
Size: 10 inches tall and spreading 2 to 3 feet wide
Conditions: Full sun to partial shade; well-drained soil
There's nothing typical about this fern, including the scientific name. Marsilea (mar-SIL-ee-ah) sounds more like a Portuguese model than a ground-huggin', mud-lovin' Texas native. Instead of long lacy fronds, this curious species sports rounded leaves that appear nearly identical to a four-leaf clover. Luckily for water-wise gardeners, clover fern is drought tolerant despite its aquatic origins. Plant this plush perennial wherever you may want some ground coverage in full sun or shade. Though seemingly innocuous, this little fella colonizes faster than Starbucks, making it perfect for beautifying problem areas. Clover fern will defoliate in areas with cold winters, but is evergreen elsewhere.
There's no way you can miss the blooms on this redbud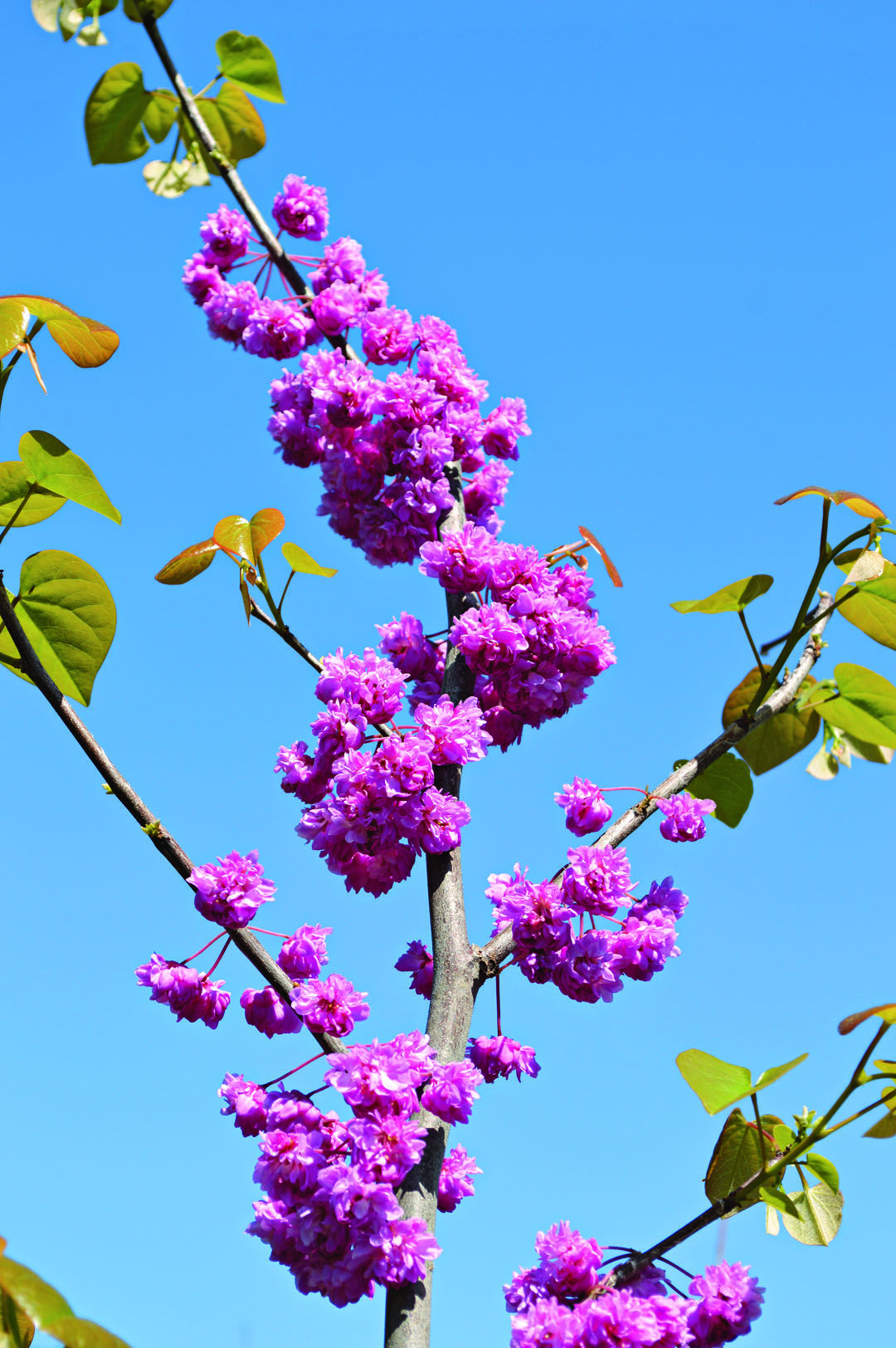 Name: 'Pink Pom Poms' double-flowered redbud (Cercis × 'Pink Pom Poms')
Zones: 5 to 9
Size: 18 to 20 feet tall and 15 feet wide
Conditions: Full sun to partial shade; moist, well-drained soil
Thanks to recent breeding efforts, there are many exciting new redbud varieties on the market. One is 'Pink Pom Poms', a hybrid of the Texas redbud (C. canadensis var. texensis) and eastern redbud (C. canadensis). While not as overtly showy as the weeping or multicolored foliage forms, I prefer 'Pink Pom Poms' for the simplicity of its charm. Its most compelling attributes are its lovely double flowers, which are larger than the species and hang from pendant petioles. With the focus squarely on the iconic pink blooms, this redbud represents perhaps the purest distillation of the reason to grow this genus. Additionally, no seed pods are produced on this sterile selection.
A lily turf to light up the darkest of corners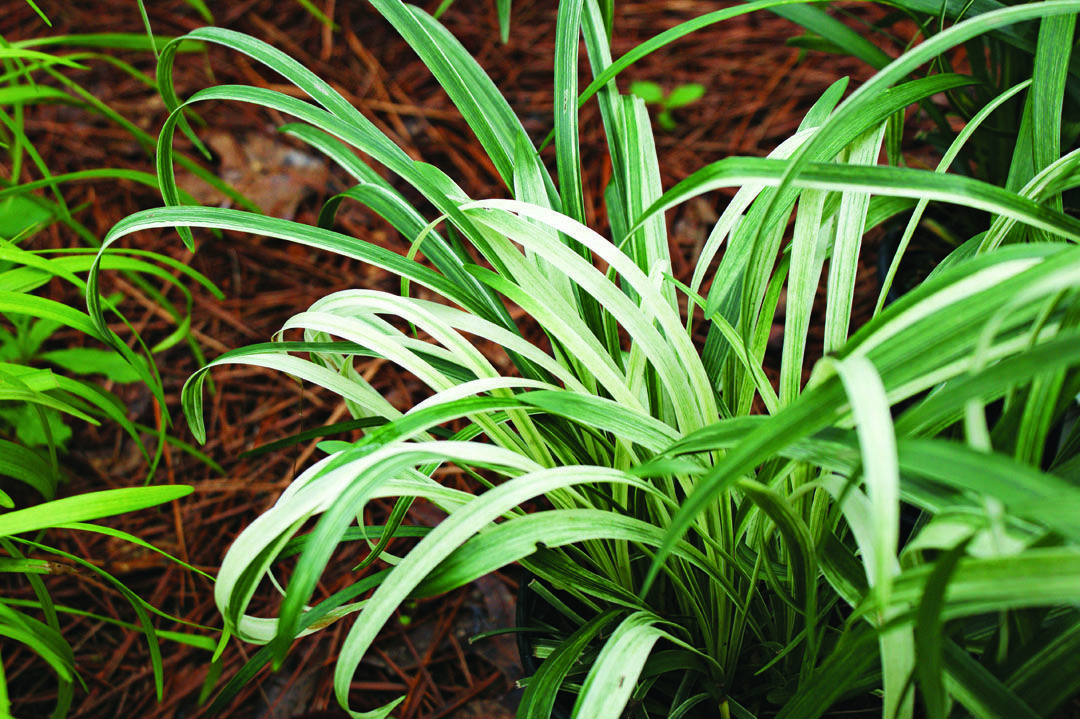 Name: 'Okina' lily turf (Liriope muscari 'Okina')
Zones: 6 to 10
Size: 10 to 12 inches tall and wide
Conditions: Full sun to partial shade; moist, well-drained soil
Liriope is usually green, grassy, and breathtakingly boring. It's so common in certain regions of the country that it disappears into landscapes like a brick into a building. But that's not the case with the 'Okina' variety. Amazingly, this special liriope sports an entire crown of sparkling white leaves in spring. The clump slowly reverts to green by autumn, but not before its shocking display has illuminated the garden. Almost an afterthought, lovely purple flower spikes appear in summer, followed by insignificant black berries. One plant makes for an interesting specimen, but a mass is a selfie-inducing spectacle. Just when you were about to give up on the entire genus, 'Okina' liriope is bringing sexy back.
A smaller version of the quintessential spring tree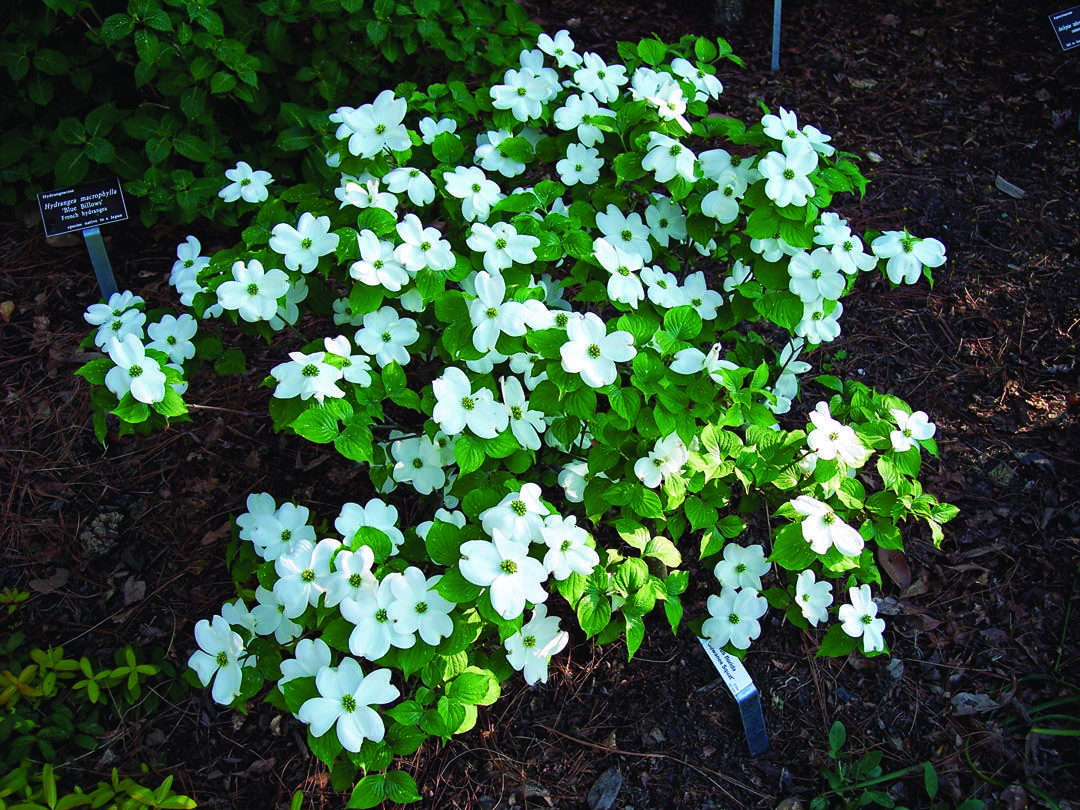 Name: 'Suwanee Squat' flowering dogwood (Cornus florida 'Suwanee Squat')
Zones: 5 to 8
Size: 4 to 6 feet tall and 12 to 18 feet wide
Conditions: Partial shade; moist, well-drained soil
Few native trees can rival the sheer magnificence of a flowering dogwood in spring. Draped in their brilliant white livery, the branches cascade in soft layers, forming a glistening temple of a tree almost as wide as tall. Additionally, dogwoods have attractive red drupes and spectacular crimson foliage in fall. Now, what if you could concentrate all these remarkable features into a miniature version? You can, and its name is 'Suwanee Squat'. Ostensibly a shrub, this "honey-I-shrunk-the-dogwood" has an overall habit resembling a giant green cake dome. The rather dense foliage provides an admirable backdrop for the impressive floral display. It's an ideal choice if you have limited space.
Splashes of unexpected color on a tough-as-nails holly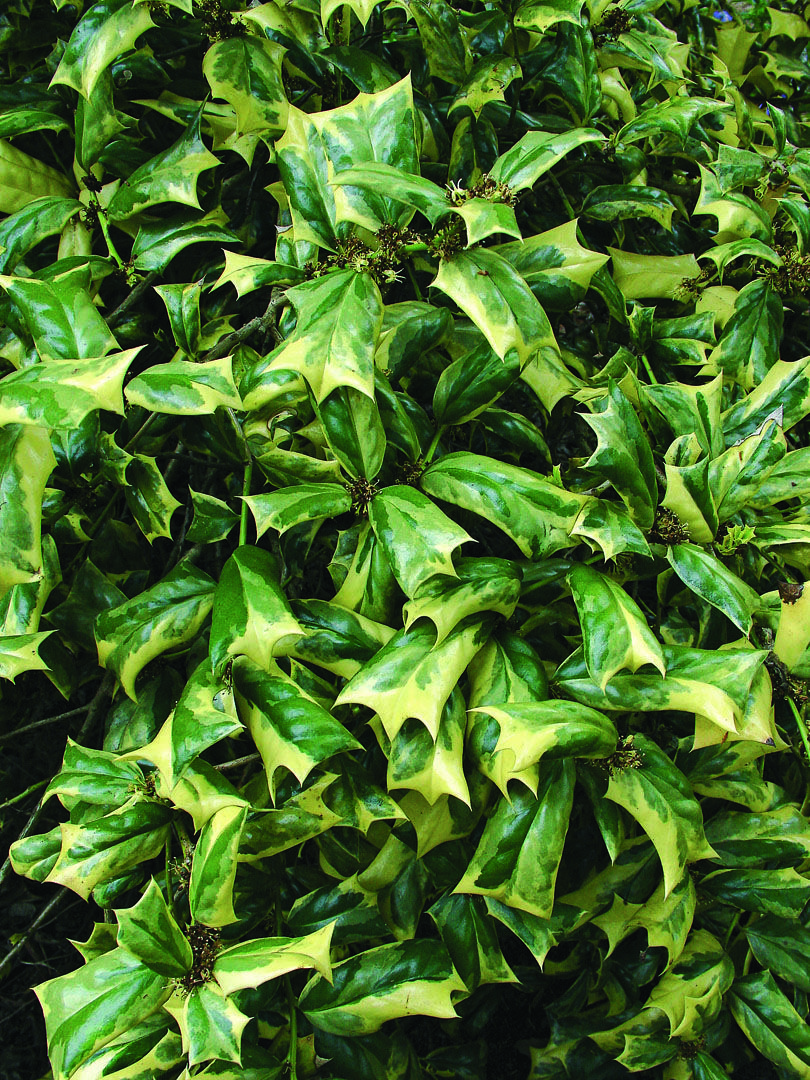 Name: 'O'Spring' variegated Chinese holly (Ilex cornuta 'O'Spring')
Zones: 6 to 9
Size: 8 to 10 feet tall and 4 to 6 feet wide
Conditions: Full sun to partial shade; slightly acidic soil
Although Chinese holly is often relegated to yeoman's work of greening and screening, this stunning variegated selection screams to be seen. Each waxy leaf has irregular, bright yellow margins, creating some serious sizzle in the landscape. With its vibrant profile, 'O'Spring' works well as an accent or to provide needed contrast. Typical of the species, it flourishes in hot, dry sites in full sun. Dazzling color, sun loving, and heat thriving? O my!
Grow this hydrangea for the foliage over the flowers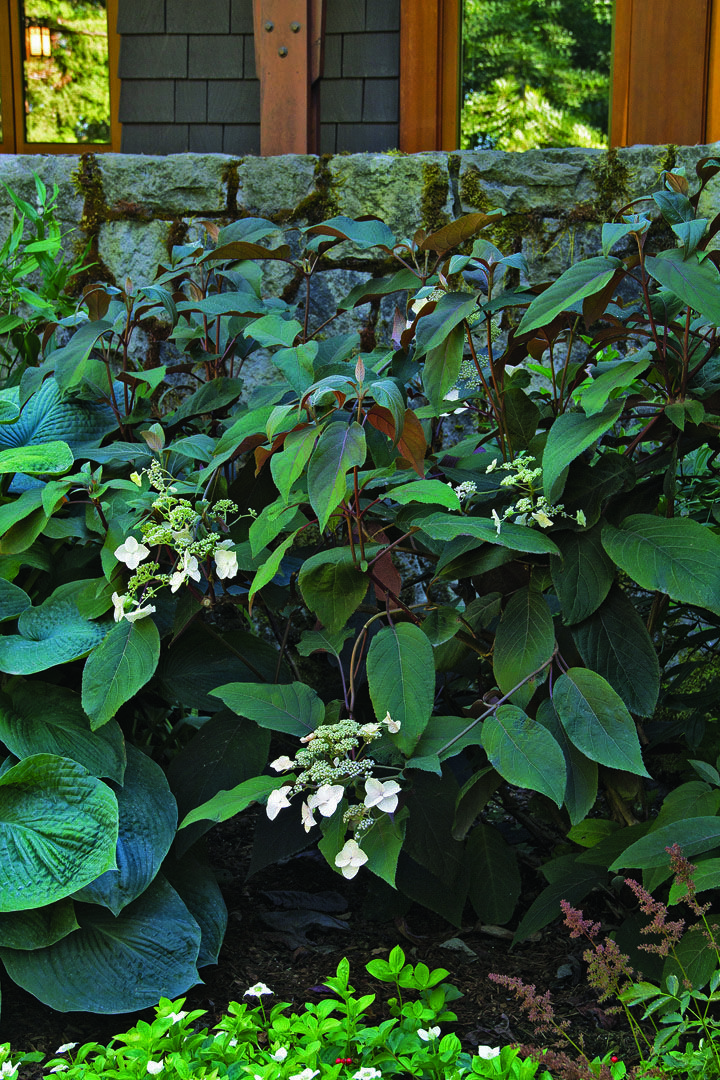 Name: Plum Passion® rough-leafed hydrangea (Hydrangea aspera 'Plum Passion')
Zones: 7 to 10
Size: 5 to 6 feet tall and wide
Conditions: Partial to full shade; moist, well-drained soil
Rare is the hydrangea that's grown more for its foliage than flowers, but that's exactly the case with Plum Passion®, a startling new cultivar. With brooding purple on top and rose blush below, its leaves appear soft and sophisticated, like a vintage velvet gown. The color is most intense on new growth, as older leaves age to greenish purple. Such unusual color was unknown among hydrangeas until this selection was found in China several years ago. In the garden, it resembles the tropical Persian shield (Strobilanthes dyerianus, Zones 10–11) but with the bonus of large pink lacecap flowers.