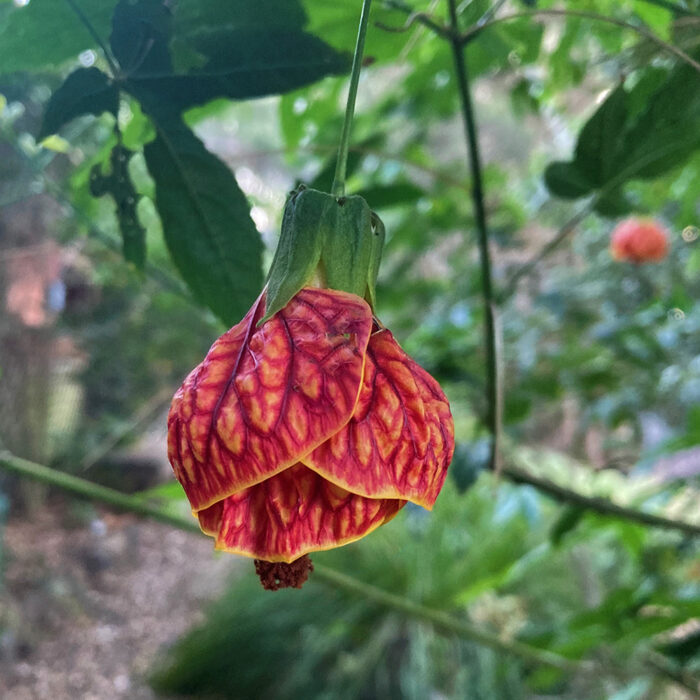 Evergreen plants contribute life, texture, and color to the landscape all year long. But these plants are particularly valuable during the winter months when deciduous branches are bare, most of the blooming annuals are spent, and herbaceous grasses and perennials have either entirely disappeared for the season or whose crispy, dead foliage is desperately in need of severe pruning back.
In a shaded woodland garden or perennial border, it is even more important to grow plants that will help avert wintertime gloom by giving life to the area. With shorter days, and the winter sun barely making it above the horizon, an already shady area is often thrust into even deeper shade. Including a variety of evergreens that also flower provides year-round interest, fabulous companions for herbaceous and annual plants, and—most importantly—vital splashes of color.
Aside from camellias (Camellia spp. and cvs., Zones 6–10), a variety of ground covers, shrubs, and evergreen perennials are out there to contribute color, texture, and seasonal interest to the shaded border or garden. All of the plants below perform better if they receive at least a few hours of gentle morning sun during the main growing season, but they should be well shaded from the hottest afternoon sun. To get your new additions off to a great start, make sure you plant them in rich, well-amended soil, and water regularly to get them established. As always, drip irrigation is the most effective way of getting water to your plants, and adding a layer of mulch is a great way to help conserve moisture.
Great flowering evergreen ground covers
Just because a plant is low to the ground doesn't mean it can't make a year-round impact on Northern California gardens. The following are my favorite picks for short, spreading, evergreen options.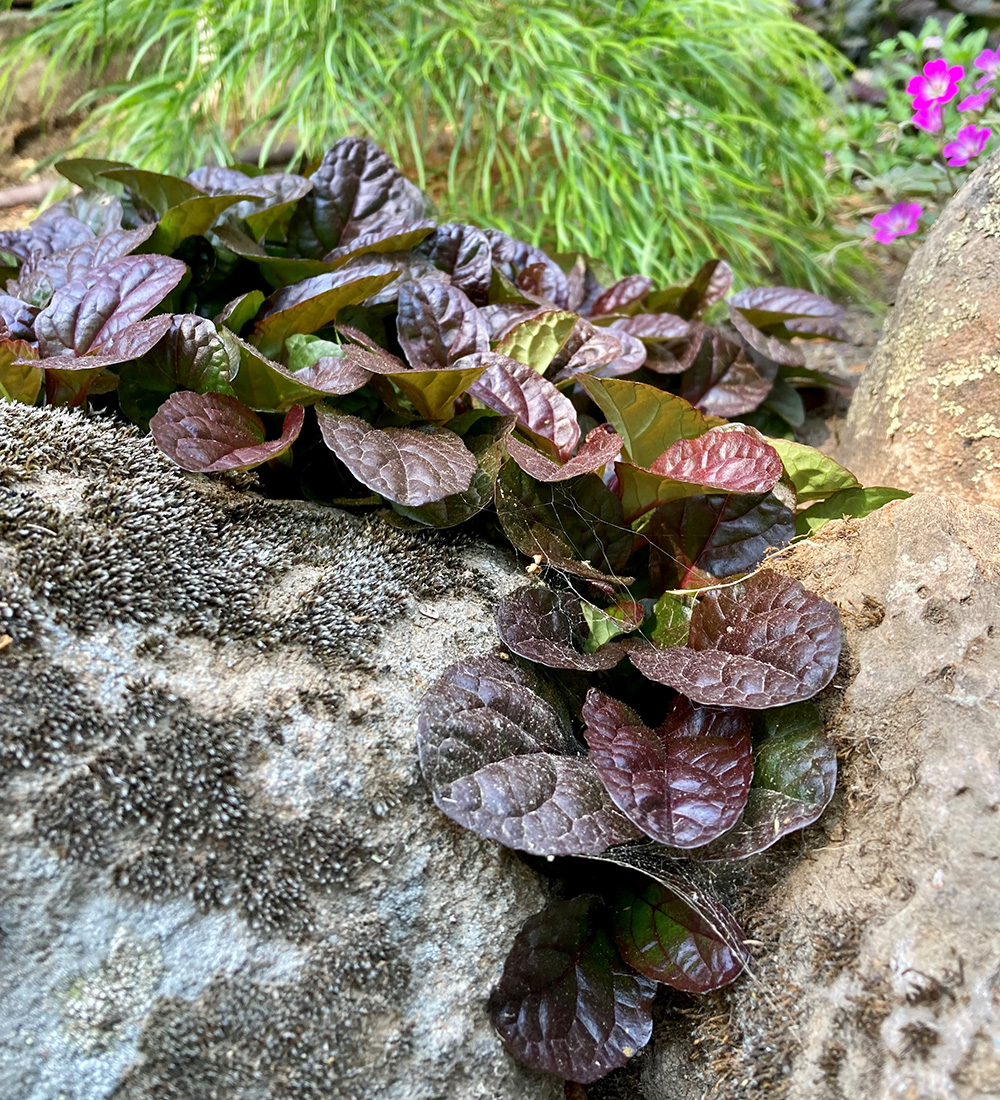 'Black Scallop' ajuga (Ajuga 'Black Scallop', Zones 4–9)
Short, fat, showy spikes of deep violet blooms top the dense, glossy mat of the almost-black scalloped foliage of this plant from spring through summer. The entire plant gets no more than 4 to 6 inches tall. 'Black Scallop' ajuga is a wonderful weed-suppressing, perennial ground cover to grow under shade-loving trees or shrubs. It is also fabulous in rock gardens and is perfect for filling in gaps between shaded stepping-stones.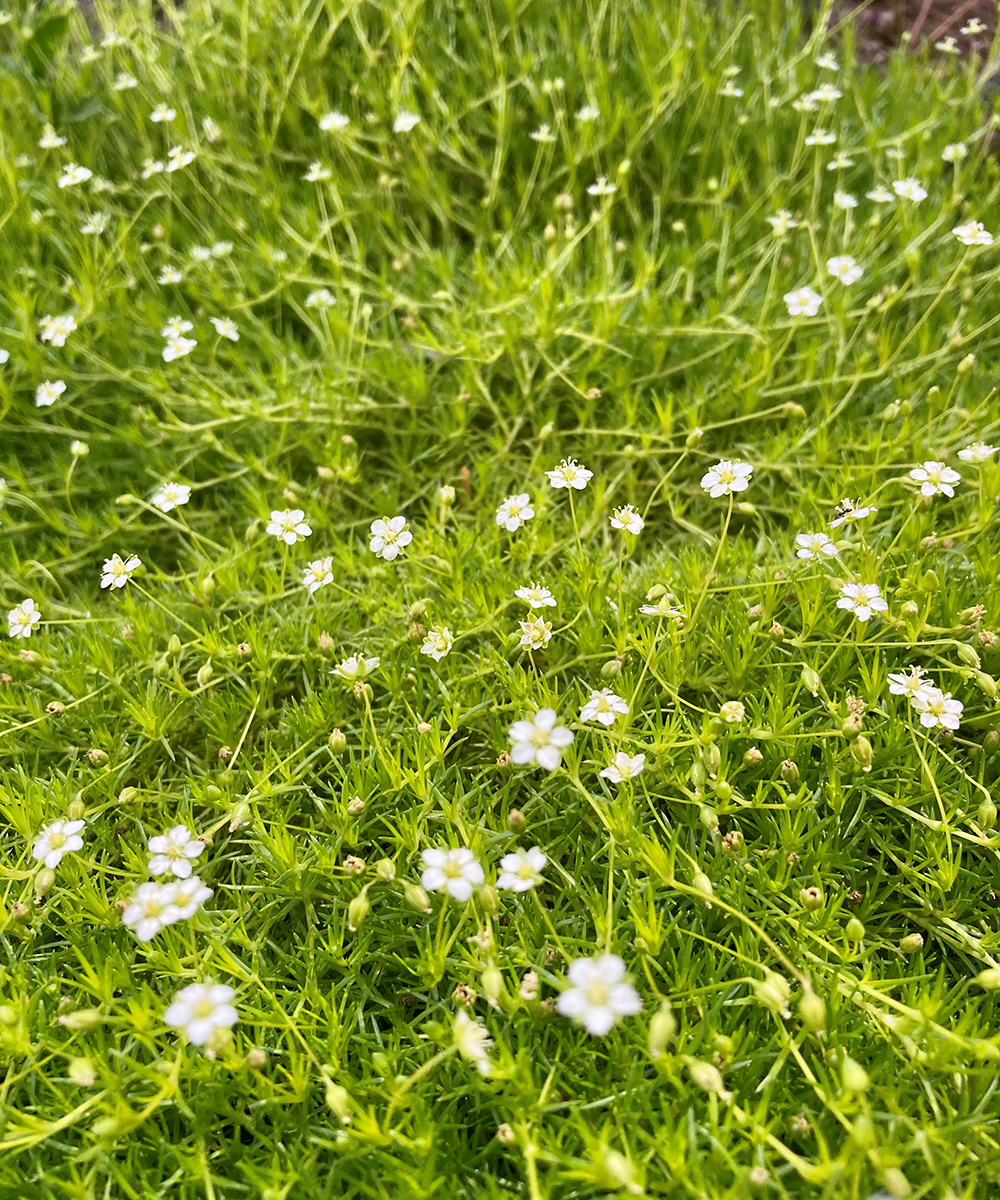 Golden scotch moss (Sagina subulata 'Aurea', Zones 5–9)
It's not a true moss, but it certainly looks and acts like one until the sprinkling of dainty white blooms arrives in spring. Golden scotch moss has bright chartreuse, mosslike foliage that forms an extremely short (1 inch tall), spreading carpet. This is a great plant for brightening up rock gardens, walkway edges, or the gaps between perennials or stepping-stones. Scotch moss can take a little foot traffic and—just like actual moss—requires evenly moist soil.
Beautiful evergreen grasses with subtle flowers
Although not technically ornamental grasses, these two evergreen selections are certainly grasslike in appearance and texture. As a bonus, both get interesting flowers, which only adds to their appeal.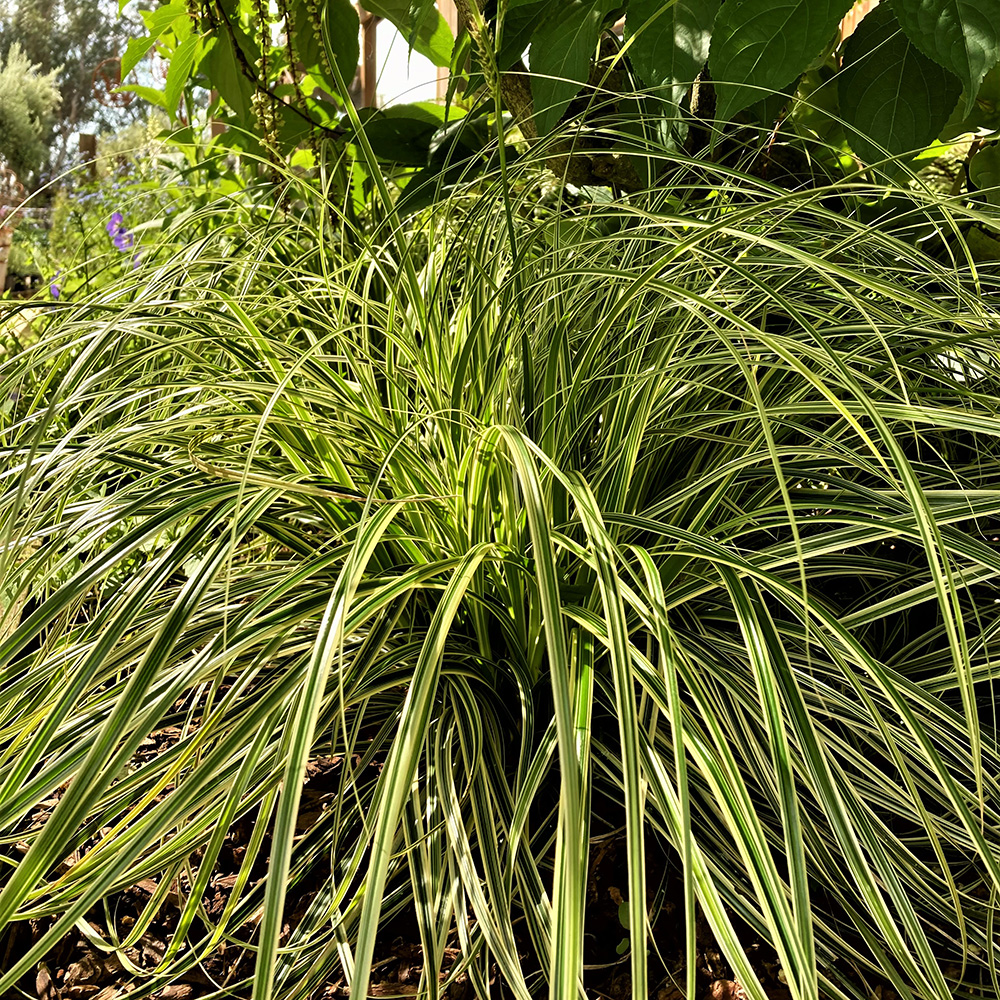 Feather Falls™ Japanese sedge (Carex oshimensis 'ET CRX01', Zones 5–9)
This is one spectacular sedge! Its glossy green leaves are edged in bright white and arch dramatically outward from the plant's dense center in an almost fountain-like fashion. Beautiful plumes of feathery flower stems emerge in spring. Whether it is cascading gracefully from a container or hanging basket, edging a walkway, or flowing over the edges of a rock wall, the 12- to 18-inch-tall and 18- to 24-inch-wide Feather Falls™ is a fabulous choice for brightening up any shaded area.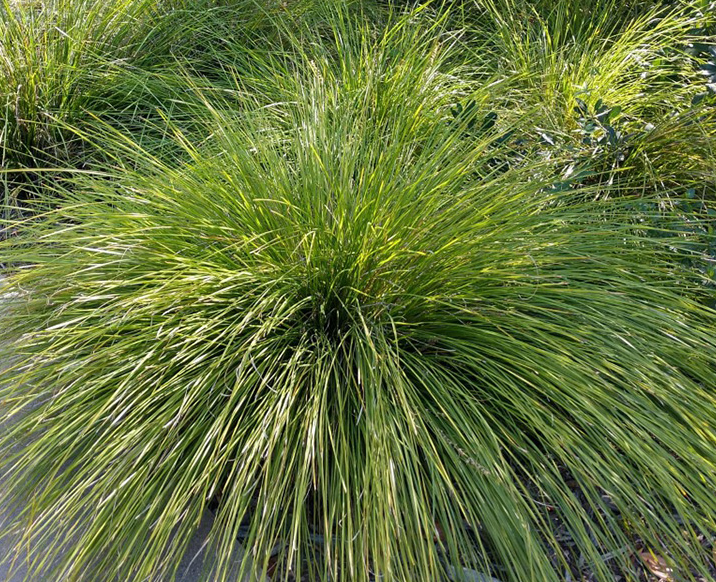 'Shorty' mat rush (Lomandra confertifolia 'Shorty', Zones 7–10)
The lime-green tufts of grasslike foliage of this stunner form dense, somewhat upright, tidy mounds. Little spikes of honey-scented blooms hidden among the narrow, grassy blades show up from summer through fall. One of the easiest plants you can grow, 'Shorty' is tough, drought tolerant, pest- and deer-proof, reaches a well-behaved 18 to 24 inches tall and wide, and can tolerate some afternoon sun if given a little more water.
Stunning flowering evergreen perennials
Perennials make up the bulk of many gardens, but these ever-present options do more than just add substance. Their showy blooms add a new level of interest in the dimmer areas of beds and borders.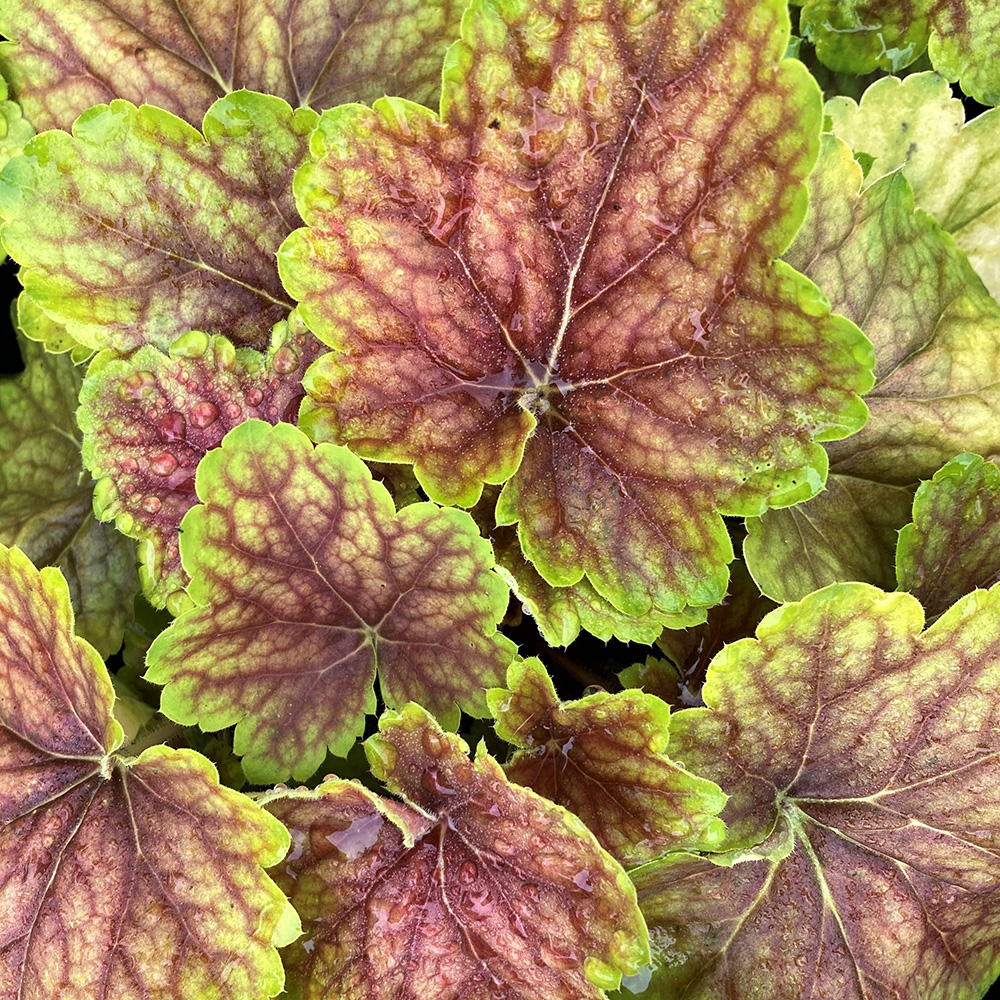 'Delta Dawn' heuchera (Heuchera 'Delta Dawn', Zones 4-9)
The large, rounded, palmate leaves of this heuchera have crimson centers and pronounced veining. The color intensifies in summer, but the gorgeous golden-lime background leaf color positively glows all year long. Dainty, creamy-green spring and summer blooms are a bonus and are adored by pollinators. Showy and one of the more vigorous varieties of heuchera, 'Delta Dawn' grows 8 to 12 inches tall and spreads to 14 inches wide.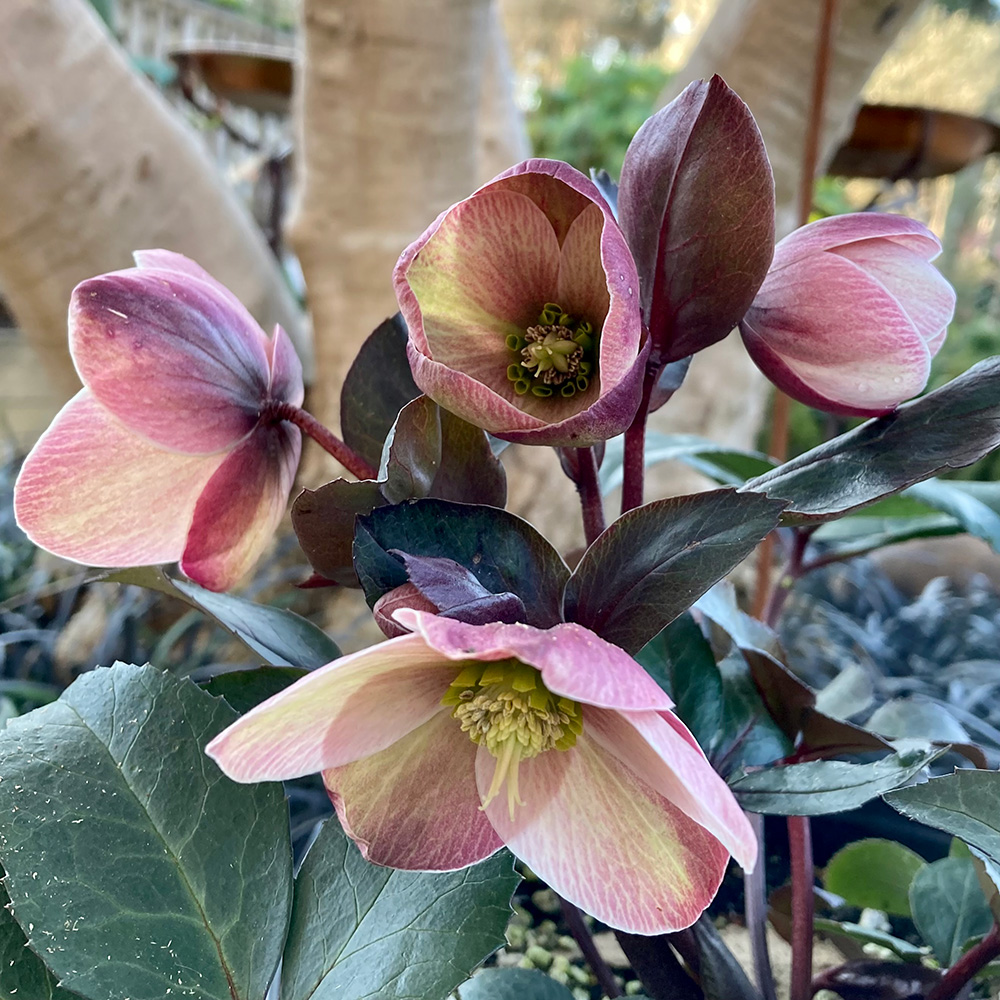 Frostkiss® Penny's Pink hellebore (Helleborus hybridus 'ABCRD01', Zones 5–8)
Sturdy, silver-etched, deep-green marbled foliage is the star attribute of this hellebore. Handsome in its own right, it also provides a dramatic backdrop to the stunning, chartreuse-blushed, smoky-pink winter blooms that are carried on burgundy stems. Drought tolerant and pest-proof, Frostkiss® Penny's Pink grows 18 to 24 inches tall and wide.
Amazing evergreen shrubs that flower
The following are some lesser-known options for evergreen woodies that sport show-stopping blooms.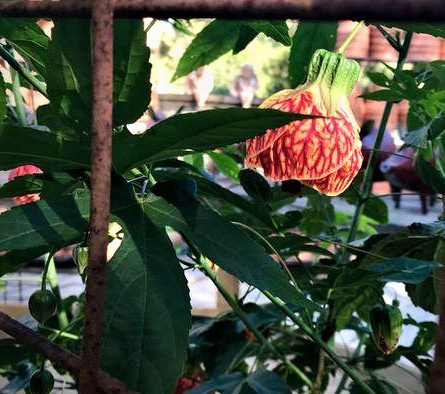 'Tiger Eye' flowering maple (Abutilon 'Tiger Eye', Zones 9–11)
These blooms are simply gorgeous. The golden-orange bells are richly veined in deep red, and they positively glow against the lush, deep-green, maple-like foliage. Hummingbirds adore the nectar-rich flowers, which are produced all year long on this tall, rangy shrub. Reaching at least 8 feet tall and wide, this flowering maple appreciates a severe pruning once a year to keep it from getting too out of hand and to encourage more branching and even more blooms.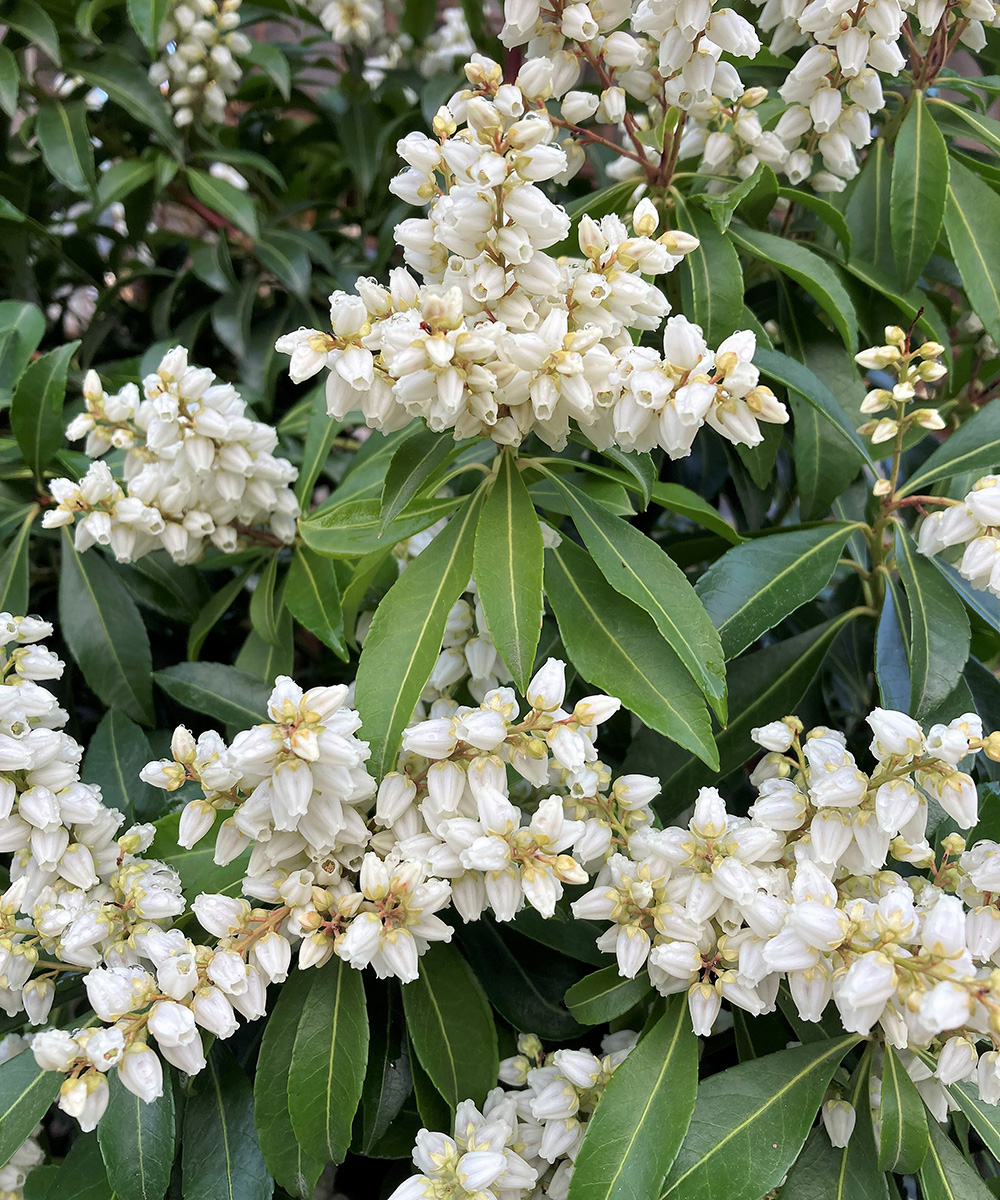 'Purity' andromeda (Pieris japonica 'Purity', Zones 5–9)
The glossy, deep green foliage of this attractive, slow-growing shrub is adorned with profuse showy, deep pink buds from summer through winter. The buds eventually transform in early spring into big, bright, long-lasting clusters of dainty, bell-like, snow-white blooms. It's a spectacular shrub for the shaded woodland garden and an excellent foundation plant, reaching only 3 to 4 feet tall and wide.
For more on evergreen perennials, click here.
—Fionuala Campion is the owner and manager of Cottage Gardens of Petaluma in Petaluma, California.
Photos: Fionuala Campion