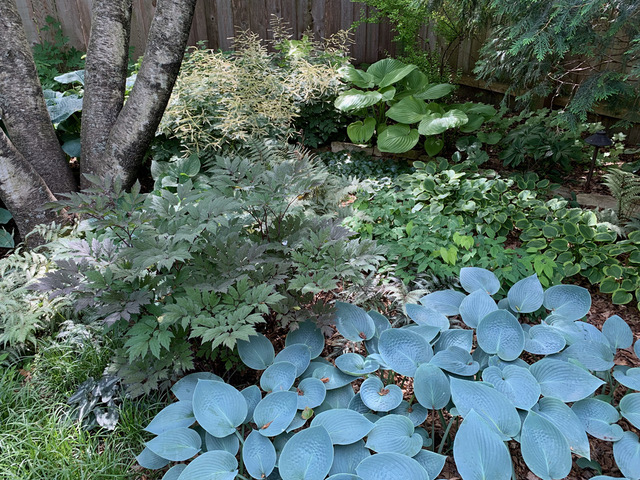 My name is John Cannon, and I garden in Madison, Wisconsin, Zones 4b–5a. I have been gardening on this residential lot for more than 30 years, and I am working to create a four-season garden. Like many of you, I travel and visit gardens often to observe and learn all that I can. I can translate and use ideas that will work in my own garden. Although there are now established bones in the garden, it is always a work in progress. I really enjoy fine-tuning by creating plant vignettes and interesting combinations using harmonizing or contrasting foliage colors, shapes, and textures. If the plant has flowers, it is considered a bonus! I'm looking forward to making more changes to other parts of the garden as this spring unfolds. I have enjoyed seeing other gardener's gardens on GPOD for years, but I haven't posted until now. These pictures were all taken in the garden in the last few years in June. In these times, as ever, the garden is a refuge that I am so very thankful for and enjoy daily.
A north-facing garage bed with Hydrangea petiolaris (climbing hydrangea, Zones 4–8) and Virginia creeper (Parthenocissus quinquefolia, Zones 3–9) scrambling up the garage walls, Hakonechloa macra 'Aureola' (golden Japanese forest grass, Zones 5–9), a massive Hosta montana 'Aureomarginata' (Zones 3–9), lacy Adiantum pedatum (northern maiden hair fern, Zones 3–8), and Hosta sieboldiana 'Elegans' (Zones 3–9).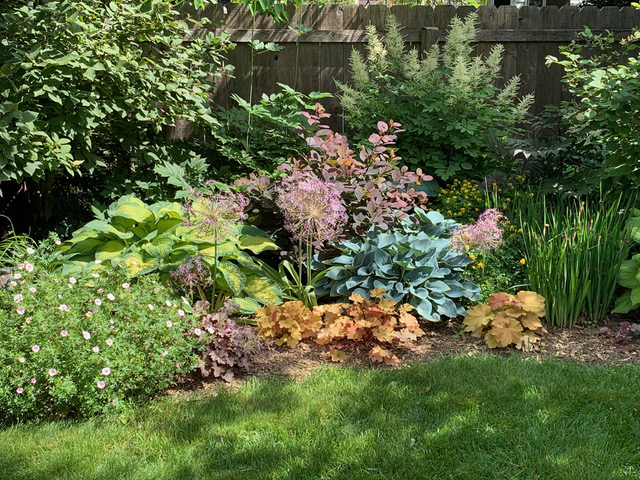 Border left to right: A spring favorite for fragrant blooms is Viburnum × juddii (Judd viburnum, Zones 4–8) with the pink-flowered Geranium striatum (bloody geranium, Zones 4–8) in front, Actaea racemosa (black cohosh, Zones 3–8), Hosta 'Paul's Glory', Heuchera 'Frosted Violet' and 'Caramel', Hosta 'Halcyon', Cotinus 'Nordine' (smoke bush, Zonse 5–8), creamy plumes of Aruncus dioicus (goat's beard, Zones 4–8), Actaea 'Brunette' (bugbane, Zones 3–8), Corydalis lutea (yellow corydalis, Zones 4–8), Iris 'Ego' ('Ego' Siberian iris, Zones 3–8) and Fothergilla gardenii (dwarf fothergilla, Zones 4–8) for wonderful autumn color. Giant Allium christophii (star of Persia, Zones 4–8) with flower heads reminiscent of fireworks add to the fun.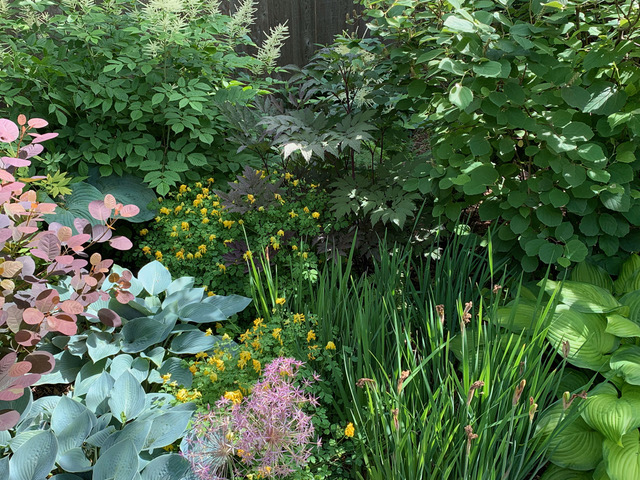 Detail of above border with the Cotinus that I coppice every year in spring, along with Hosta 'Halcyon', Corydalis lutea, Allium christophii flowers, Siberian iris seed heads, and Hosta 'Guacamole' along the front. Aruncus dioicus, Cimicifuga 'Brunette', and Fothergilla gardenii are in the background.
In another corner, left to right: Actaea racemosa, Hosta 'Krossa Regal' and 'Regal Splendor' with Athyrium, Hakonechloa 'All Gold', a bronze Heuchera, Tricyrtis 'Gilt Edge' (toad lily, Zones 4–9), and a pink astilbe in front of a hedge of Taxus hicksii (yew, Zones 4–7).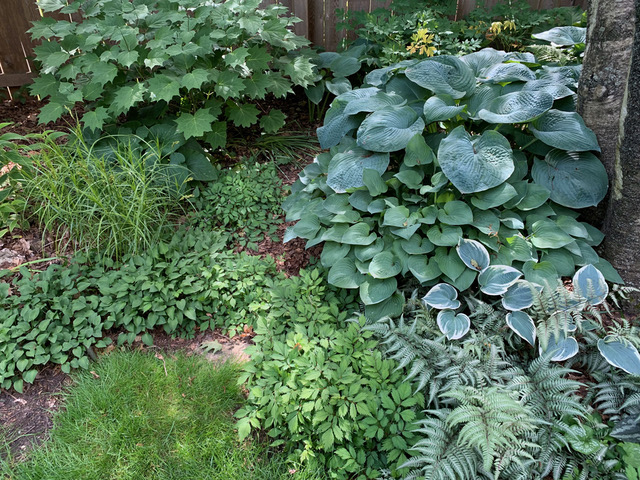 Border left to right: Tricyrtis, Carex muskingumensis 'Oheme' (Oheme sedge, Zones 4–7), Kirengeshoma palmata (yellow wax-bells, Zones 5–8), Dicentra spectabilis (bleeding heart, Zones 2–8) in back of Hosta 'Big Daddy' with a dwarf hosta, Astilbe chinensis pumila (dwarf astilbe, Zones 4–8), Hosta 'Pearl Lake' and 'El Niño', and Athyrium nipponicum (Japanese fern, Zones 3–8) along the front edge.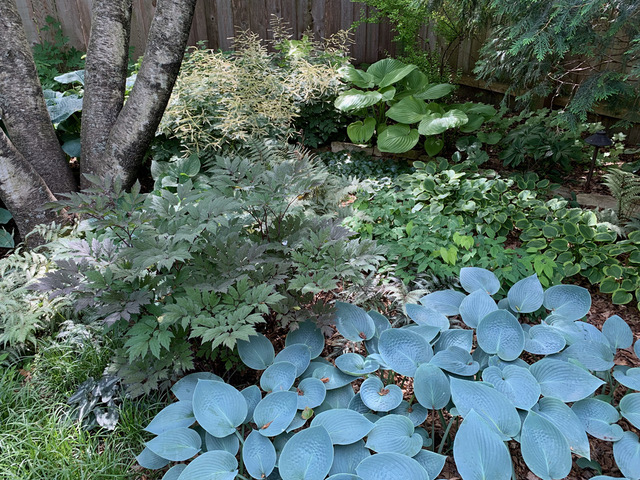 Continuing along the back border with Actaea atropurpurea, Carex 'Silver Sceptre' ('Silver Sceptre' sedge, Zones 5–9), Hosta 'Halcyon', Aruncus 'Misty Lace', Hosta 'Sum and Substance', with smaller hostas, ferns, and epimediums. I love the color echoes, harmonies, and textural contrasts provided by the perennials' fresh foliage.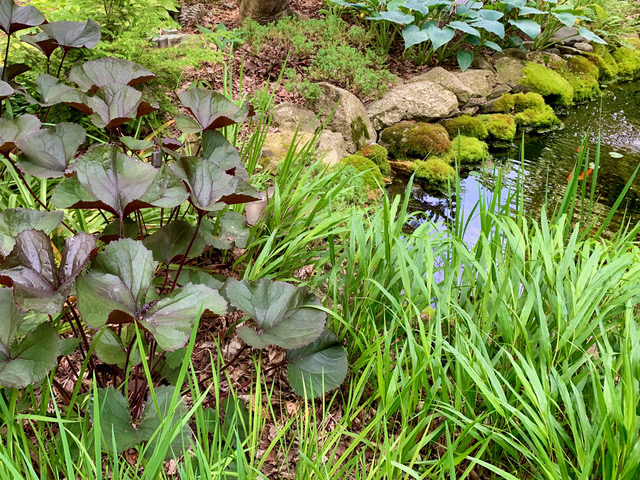 This is one corner of my pond surrounded by Hakonechola macra, bronze-leaved Ligularia 'Britt Marie Crawford' (leopard plant, Zones 4–8) with Tsuga canadensis 'Golden Dutchess' (eastern hemlock, Zones 3–7) behind, Juniperus chinensis (Chinese juniper, Zones 3–9), and Hosta 'Blue Umbrellas' along the edge of the pond.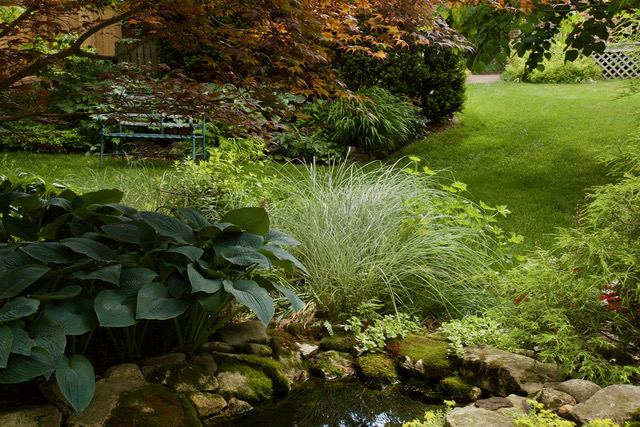 Another glimpse of the pond and garden with Hosta 'Blue Umbrellas', Miscanthus sinensis 'Morning Light' (Japanese silver grass, Zones 4–9), and Chamaecyparis 'Gold Mop' ('Gold Mop' false cypress, Zones 5–7). A 25-year-old Acer palmatum (Japanese maple, Zones 4–9) provides a focal point and dappled shade for the pond and plantings in this bed.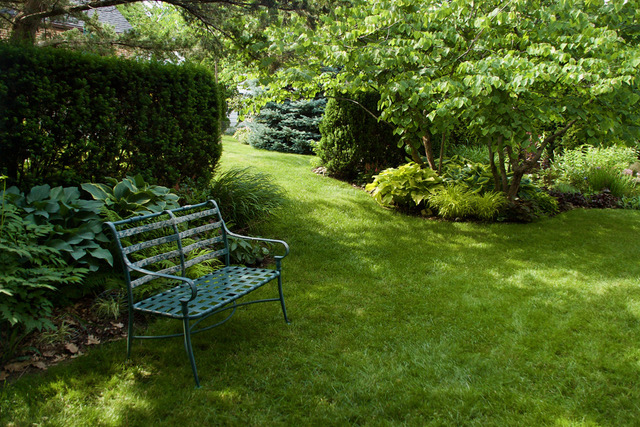 This bench provides a great spot to relax and take in the surrounding garden.
Have a garden you'd like to share?
Have photos to share? We'd love to see your garden, a particular collection of plants you love, or a wonderful garden you had the chance to visit!
To submit, send 5-10 photos to [email protected] along with some information about the plants in the pictures and where you took the photos. We'd love to hear where you are located, how long you've been gardening, successes you are proud of, failures you learned from, hopes for the future, favorite plants, or funny stories from your garden.
If you want to send photos in separate emails to the GPOD email box that is just fine.
Have a mobile phone? Tag your photos on Facebook, Instagram or Twitter with #FineGardening!
You don't have to be a professional garden photographer – check out our garden photography tips!
Do you receive the GPOD by email yet? Sign up here.