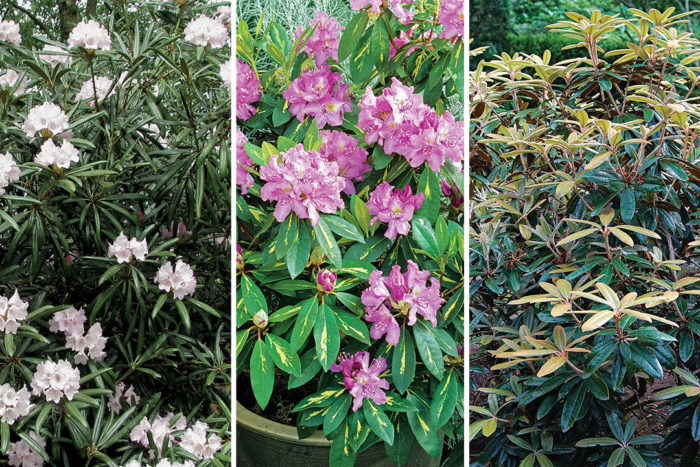 I think my favorite rhododendrons are those that make statements with their foliage. Most plants have a window of flowering time within a growing season, and as spectacular as that presentation may be, it can seem ephemeral. Good foliage can give your garden value for at least three seasons, if not longer.
Thick-flowered rhododendron takes fuzziness to the extreme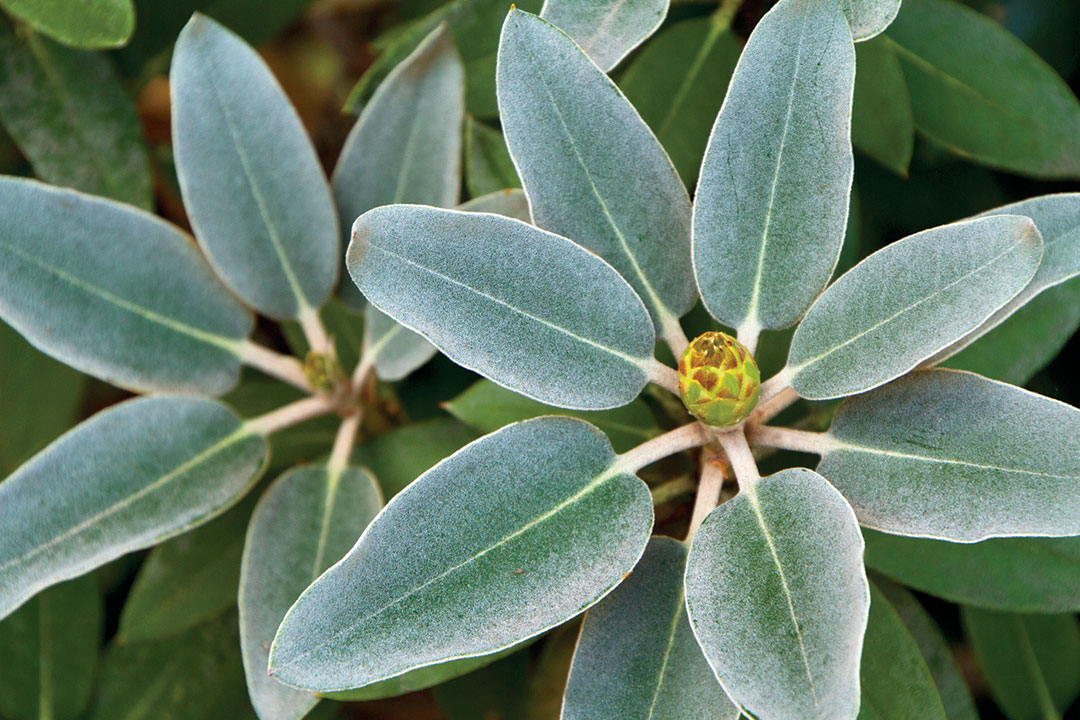 Thick-flowered rhododendron (R. pachysanthum, Zones 6–9) is a species that should be grown more widely. It may be the best example of textured rhodie foliage. The 3-to-4-inch leaves are arrowhead shaped, and they exhibit a gray-blue color (due to dense white hairs) with a fuzzy, rust orange reverse. In spring, the new foliage emerges with the same strong rust colors on the upper side of the leaves—an odd color combination but very eye-catching without being too loud or garish. This incredibly showy species is a great foil for any perennial with interesting foliage color or texture.
There are very few rhododendrons that can match this one for foliar interest, and few are as adaptable. I have grown this species in more than seven hours of direct full sun through the heat of summer (albeit in Maine) and have never seen any foliar damage. Add in a smaller size and slower growth rate (reaching 4 to 6 feet tall and wide), and thick-flowered rhododendron is suitable for most landscapes. For all the fuzz this one maintains, it seems to never have a bad-hair day.
Makino rhododendron is truly an otherworldly rhodie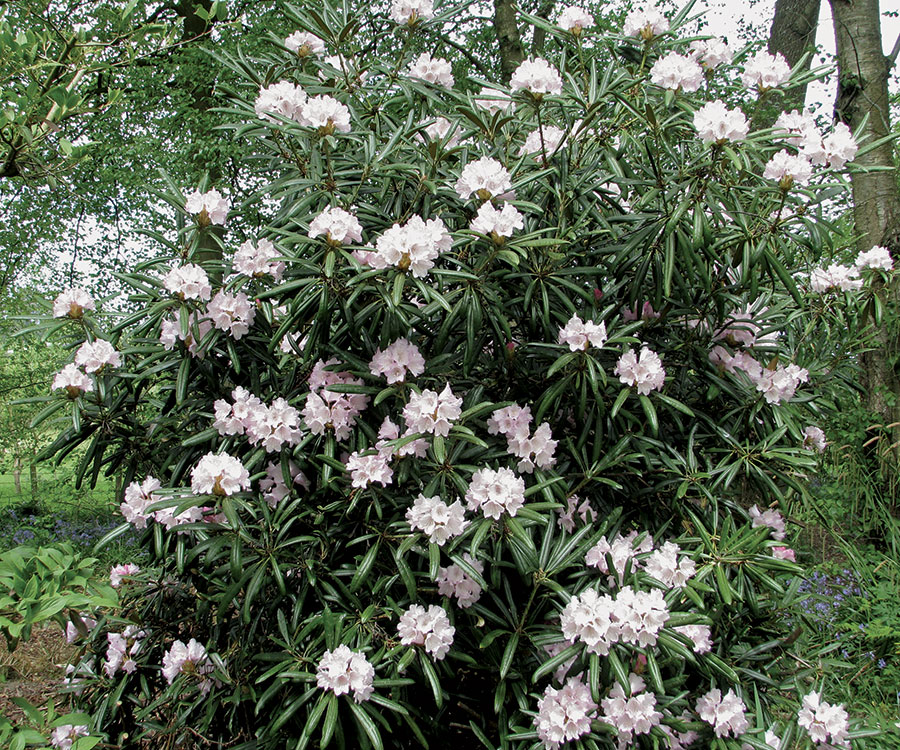 The foliage flaunted by makino rhododendron (R. makinoi, Zones 5–8) is incredibly distinct. Whorls of slender, fingerlike leaves are presented with a gray frost of tomentum (fuzz). At first glance, this plant is so wild that it's hard to believe it's even a rhododendron. A mature 4-to-5-foot-tall-and-wide specimen will seem like it has a much more open and airy form due to the narrow foliage. It is magnificent when paired with any of the multitudes of wide-leaved shade perennials, which creates a great contrast. In spring, dark rose-pink buds open to a bright pink, then mature to a lighter, more delicate, blushed hue. The color is variable, and there are cultivars with darker colors, but the species is the more precocious and trusted bloomer in cooler zones. Reliable and different, this rhodie is a great conversation piece for garden visitors.
'Goldflimmer' sparkles with unexpected variegation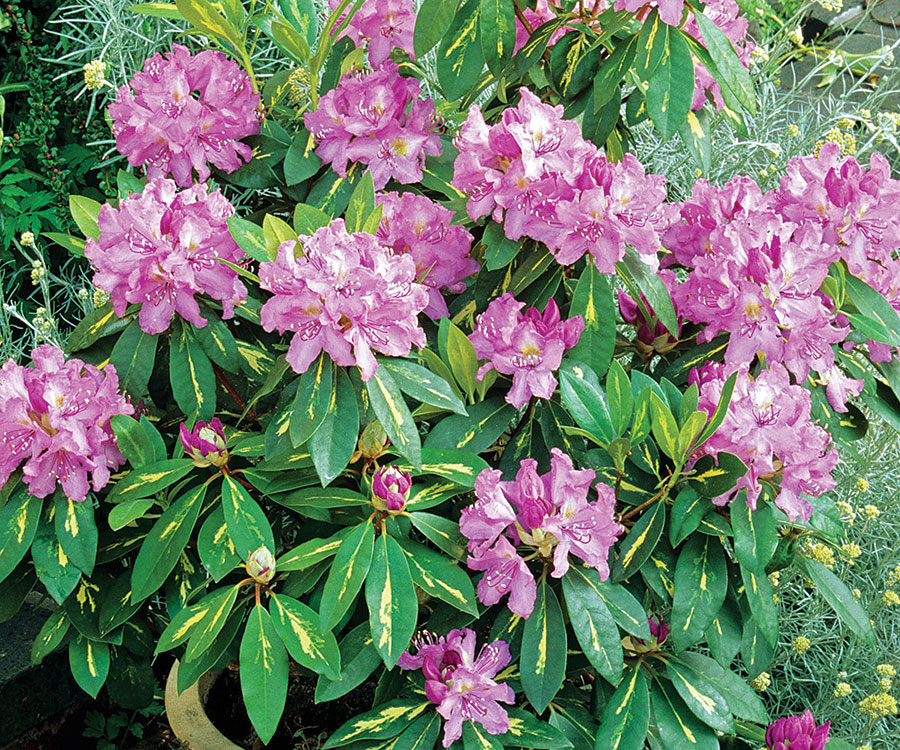 We can't discuss the foliar group without mentioning variegated rhodies. "Hold the phone," you shout. Yes, indeed, there are many on the market. As if rhodies weren't already the garden's drama queens in the back half of spring, painting the faces of leaves with golden stardust puts them well into diva status. One of the best-known of the variegated rhodies is 'Goldflimmer' (R. 'Goldflimmer, Zones 5–8), with its lick of yellow flame in the center of a dark green leaf. Reversion is rarely seen in the stems of this cultivar, which blesses its growers with a stable and dependable leaf pattern.
A German selection introduced to the trade in the early 1980s, 'Goldflimmer' is very popular in Europe but still underused in the United States. At 4 to 6 feet tall and wide, this rhodie has deep, rich, wine purple buds that open to pale lavender, with subtle golden flares, mirroring the leaves below them. While this variegation is distinct, it can be lost from a distance. Pairing 'Goldflimmer' with other plants with chartreuse foliage can really get the rhodie leaves to stand out more. Beware of hot sun in siting this cultivar, though, as it might burn the foliage.
'Teddy Bear' sports great foliage and flowers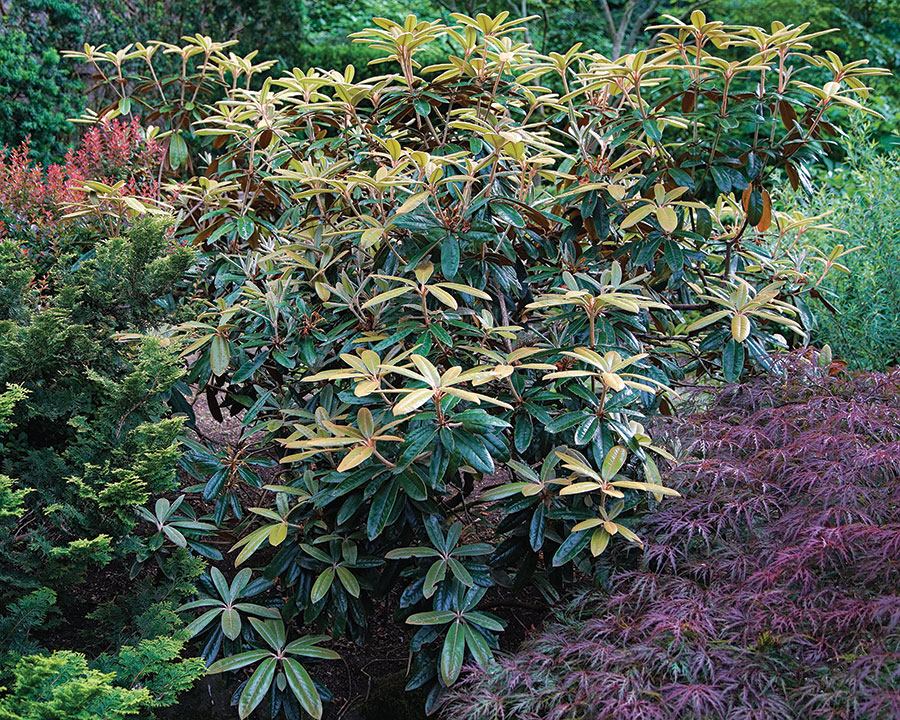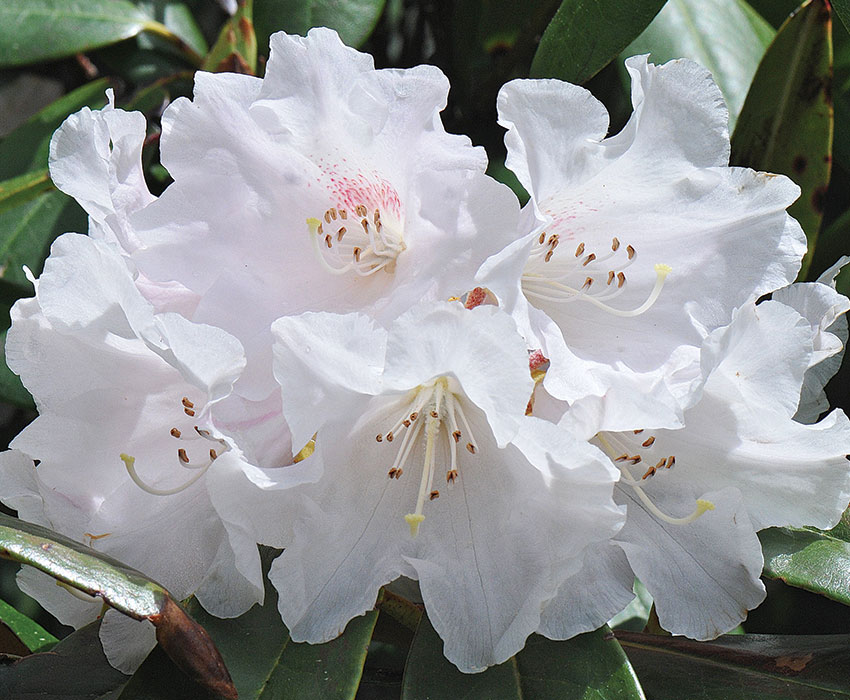 When I think about plants with valuable foliage, I am reminded of the commercial for De Beers: "Blooms come and blooms go, but pretty leaves (or diamonds, if you like that kind of thing) are forever." This diamond of an interspecific cross seems to have gotten the best traits from both parents—cold hardiness from the maternal side (R. degronianum subsp. yakushimanum) and the rusty colors of daddy's foliage (R. bureavii). Put them together and you have the happy little (just 3 to 4 foot tall and wide) love shrub 'Teddy Bear' (R. 'Teddy Bear', Zones 6–9), with handsome foliage that is fuzzy coming and going.
I have grown this cultivar in almost full-day sun, where I can say it performs better than either parent with that much direct light, though its performance might be even better with some cover. The icing on the cake is the flower power of this hybrid. I'm not sure if it would beat makino rhododendron, but it is not shy about flaunting its deep pink buds, which open to a soft pink-white. What's not to love?
Five-leaved azalea has excellent fall color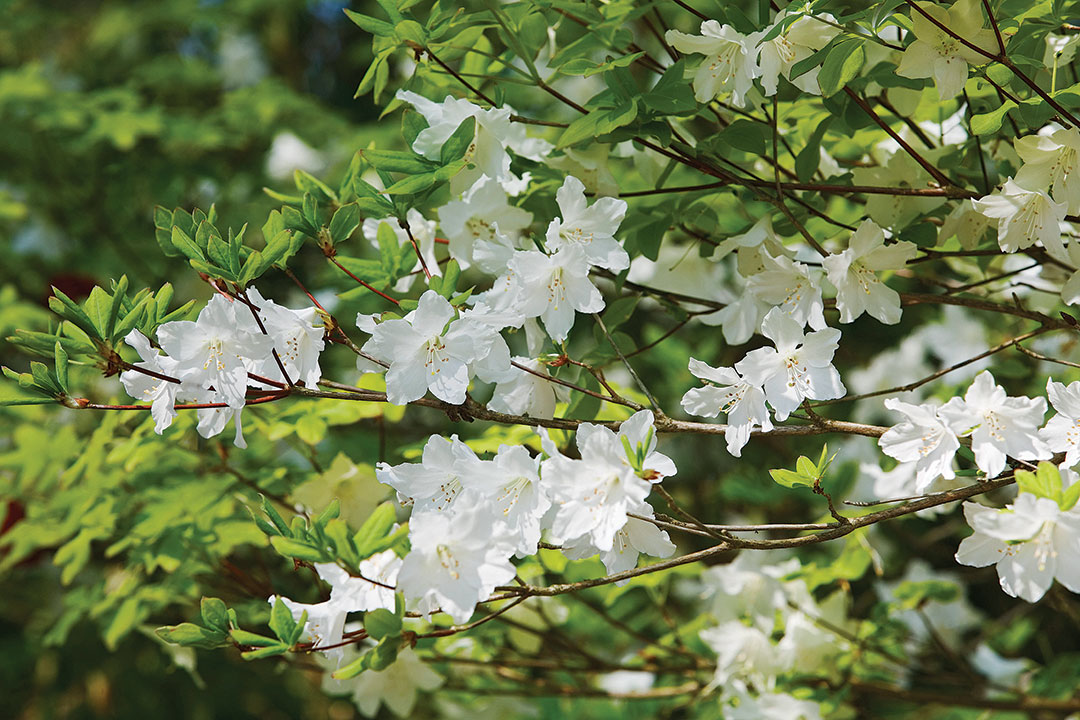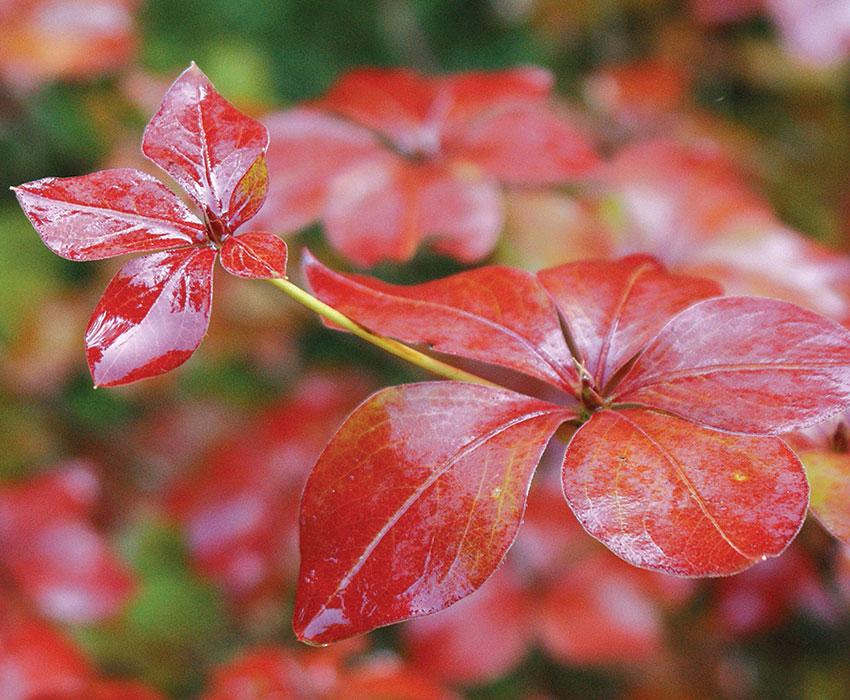 Evergreen plants (such as rhododendrons) are rarely included in discussions of fall color—and rightly so, because they are green, green, green. But many deciduous azaleas (in the rhododendron family) have interesting foliar transformations in temperate climates with the onset of colder temperatures and shorter days. Like most of the selections in this group, the five-leaved azalea (R. quinquefolium, Zones 6–9) is a slow grower that extends its branches only an inch or two a year—maybe. It can eventually become a small tree (10 feet tall and 8 feet wide) in the wilds of its native Japan, but this is after many decades of growth. Come fall, every leaf-covered inch of those delicate branches is priceless. The chartreuse leaves are often rimmed in red during the main season, but in fall they age to a raging scarlet red. The flowers are a lovely bonus as far as I am concerned—delicate white, down-facing bells, hung like ornaments. Hardy to at least Zone 6, this finely branched species is aided by protection from desiccating winter winds.
---
Did you know? Rhododendrons are native to the temperate regions of Asia, North America, and Europe, as well as to the tropical regions of Southeast Asia and northern Australia.
---
Daniel Robarts is a horticulturist and plant propagator/breeder at Coastal Maine Botanical Gardens in Boothbay.
Sources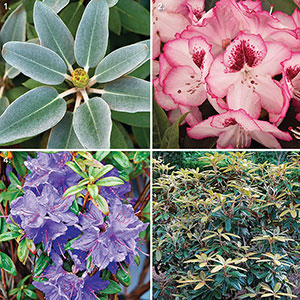 To learn more about rhododendron, view the entire collection: