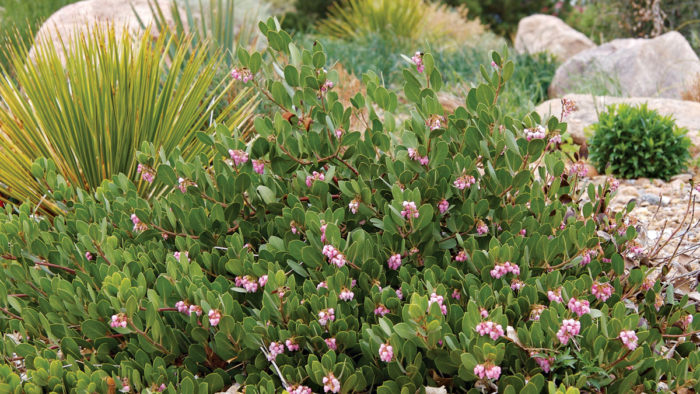 We all want the newest, jazziest plants available, but a garden is not complete without a backbone of infallible plants that provide interest whether your new investments flourish or fail.
Find some tough, multiseason stars for the Southwest below. And discover even more reliable performers in Plants to Build a Bed Around.
---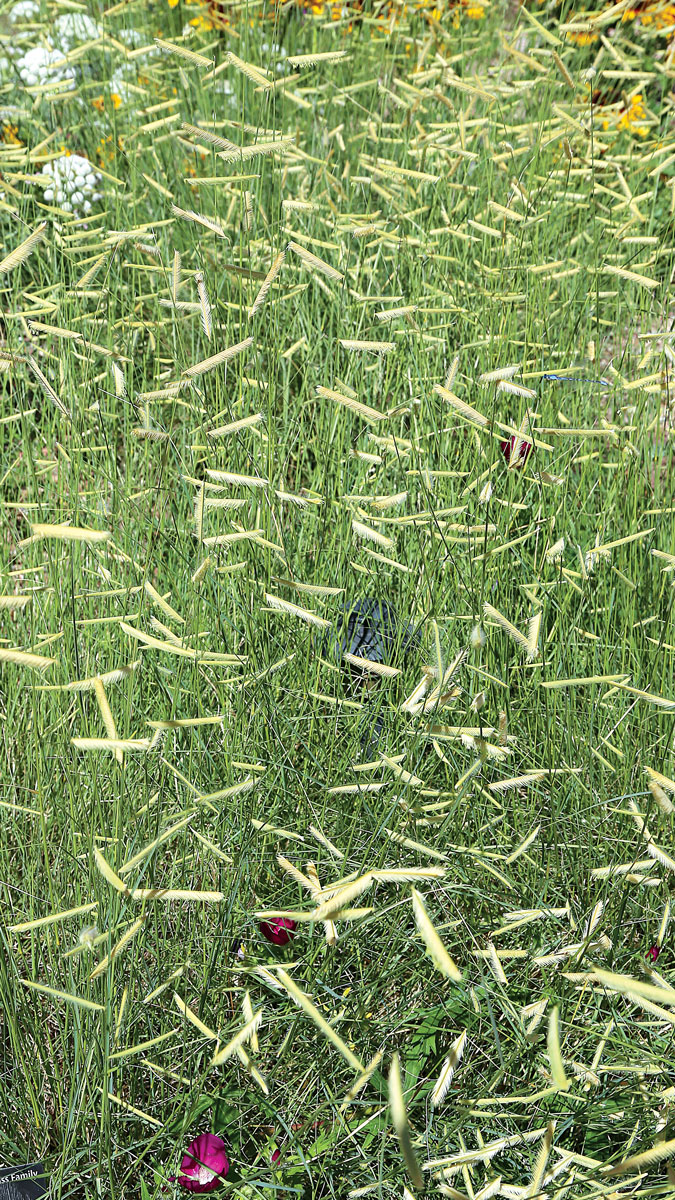 1. 'Blonde Ambition' blue grama grass
Name: Bouteloua gracilis 'Blonde Ambition'
Zones: 4–9
Size: 2 to 3 feet tall and 1 to 2 feet wide
Conditions: Full sun to partial shade; well-drained soil
Native range: North America
When I first saw 'Blonde Ambition' blue grama grass, I fell in love. This is a warm-season grass with a clumping habit. Horizontal, one-sided seed heads resembling eyelashes are produced on long stems, emerging chartreuse and changing to blonde as they age. 'Blonde Ambition' is incredibly versatile. I planted a mass of them along a stubborn pathway where a canopy of Colorado pinyon (Pinus edulis, Zones 5–8) above cast a significant amount of afternoon shade. They took off right away with very little care, giving the underwhelming pathway the punch it needed. This grass's drought tolerance makes it a good candidate for the Southwest's xeric conditions. It is deer and rabbit resistant and will tolerate highly ­exposed areas and residential heat islands.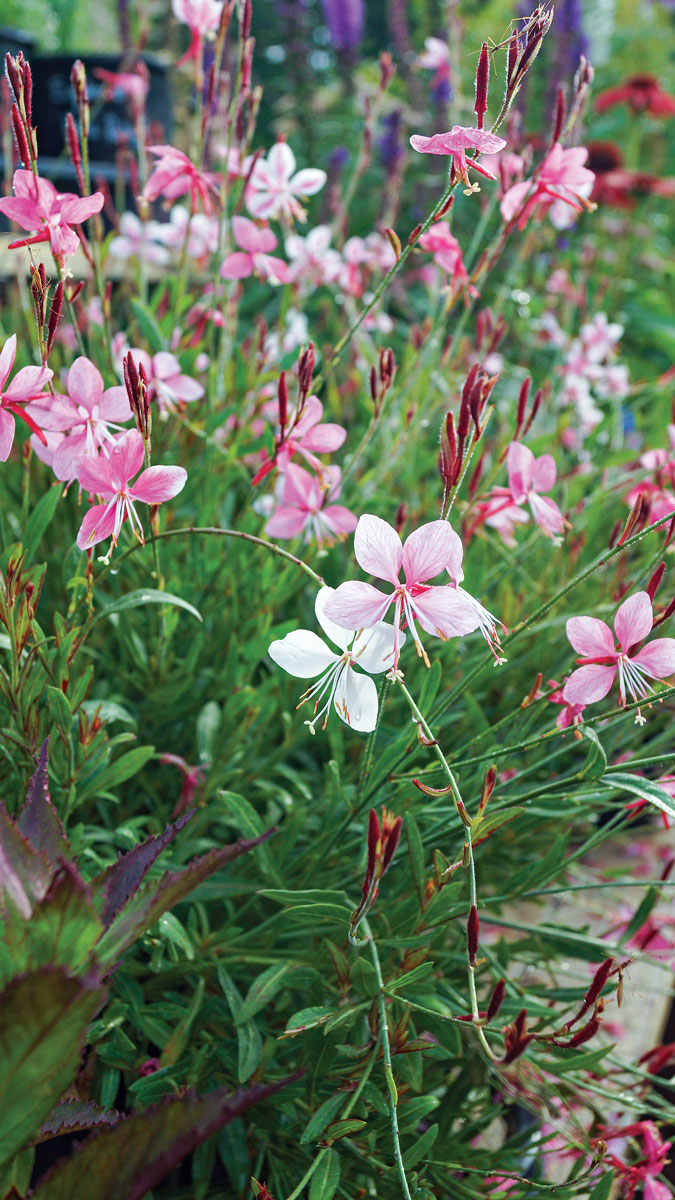 2. 'Siskiyou Pink' gaura
Name: Oenothera lindheimeri 'Siskiyou Pink'
Zones: 5–8
Size: 2 to 3 feet tall and wide
Conditions: Full sun; well-drained soil
Native range: Texas and Louisiana
'Siskiyou Pink' gaura is an airy, wispy plant that dances. A long-bloomer, this herbaceous perennial with red-tinged green foliage also tolerates heat and humidity well. The airy masses of deep pink flowers are a stunning accent to any planting where you want to complement reds, yellows, or orange flowers. I love that the height and width of this plant allow you to mix it with bulkier perennials like Russian sage (Salvia yangii, Zones 5–8) and sand sagebrush (Artemisia filifolia, Zones 4–8) without it being swallowed up and lost in the mix. That the dramatic foliage is beautiful in its own right just adds to the plant's flexibility.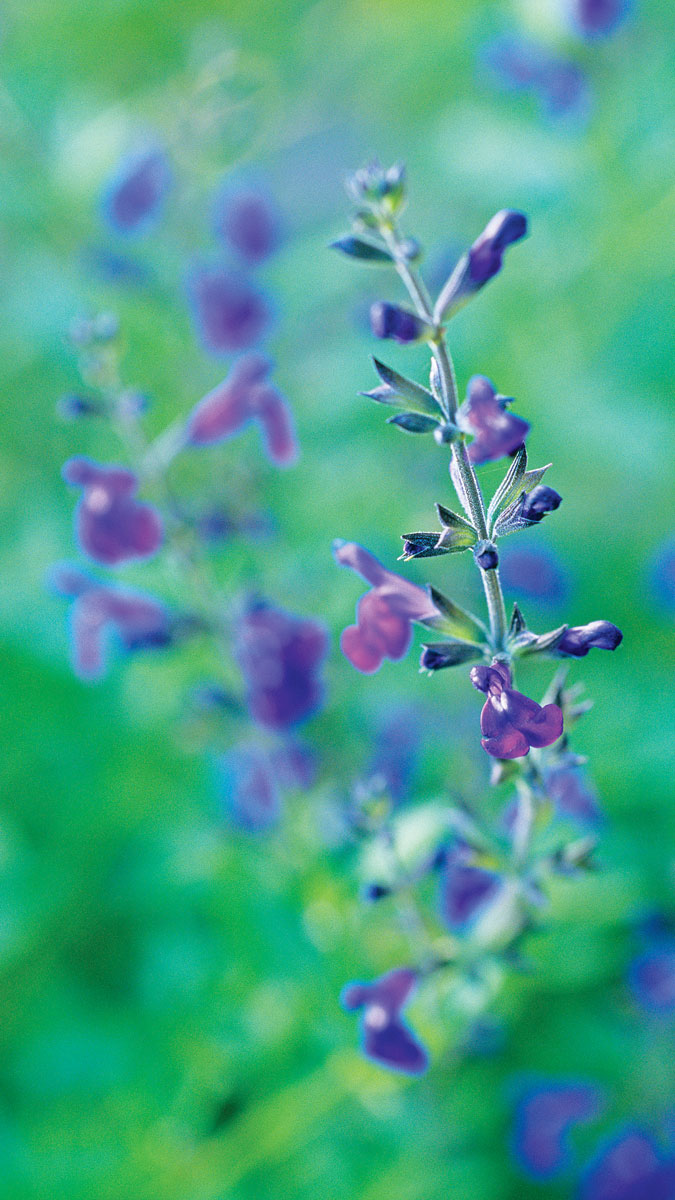 3. 'Ultra Violet' salvia
Name: Salvia 'Ultra Violet'
Zones: 6–9
Size: 18 to 20 inches tall and 24 to 28 inches wide
Conditions: Full sun; well-drained soil
Native range: Hybrid
A group of 'Ultra Violet' salvias are planted outside my office window and bring me joy all summer long. The deep purple blooms are a lovely addition to a hummingbird or butterfly garden, attracting both pollinators in great number. This little marvel blooms from May to November. The southwest exposure outside my ­office is a furnace in July and August, but 'Ultra Violet' perseveres, checking all the boxes for a high desert arid environment. It has low water needs and beautiful flowers, is wildlife resistant (deer, rabbits), and has a long bloom time. It will even thrive in spots with lots of radiated heat.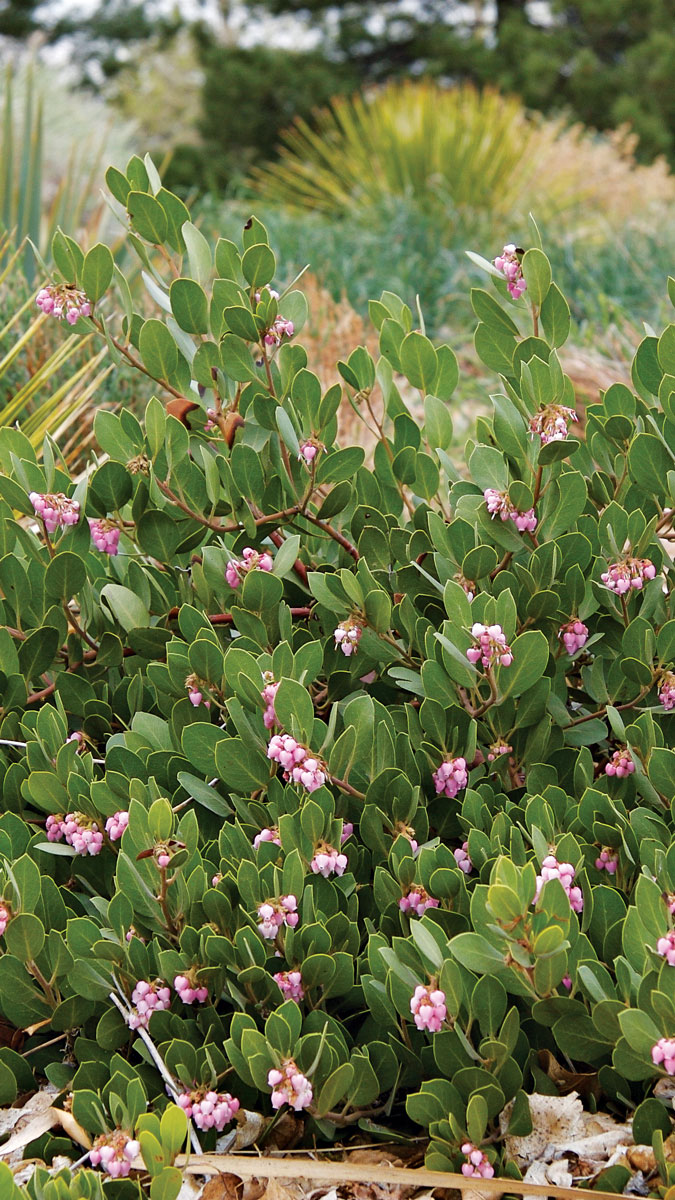 4. 'Panchito' manzanita
Name: Arctostaphylos × coloradensis 'Panchito'
Zones: 4–8
Size: 2 feet tall and 3 to 5 feet wide
Conditions: Full sun to partial shade; well-drained soil
Native range: Mountain West
I started planting this wonderful xeriscape evergreen in the Santa Fe area a few years ago. Everything about this Colorado native is attractive, from its leaves to its branches to its small clusters of pink flowers in spring. 'Panchito' manzanita has waxy green foliage that comes from deep-red-to-mahogany-colored bark within its undulating stems. The changing climate in northern New Mexico has made low-growing junipers, in most cases, a bad choice due to persistent drought. 'Panchito' is a great alternative, thriving as long as it has well-drained soil. The lovely, small, heather-like pink flowers hang from the branches for six weeks in late winter and early spring. It's a great choice to add winter interest too.
---
Mark Brotton is the owner and principal designer at Living Water Irrigation and Landscape in Santa Fe, New Mexico.
View Comments