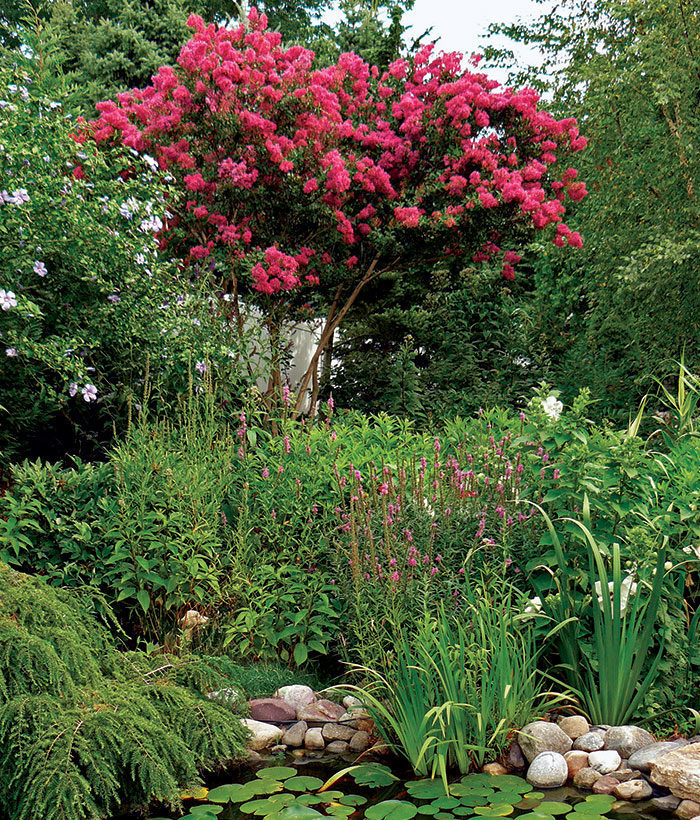 Not every plant in a garden can take center stage. A landscape needs an assortment of trees, shrubs, and grasses that will fade into the background during the growing season while maintaining the garden's structure in winter. Plantings that fulfill this role are commonly called "anchor plants." When strategically placed, they give a landscape balance, form, and continuity. In essence, they're the backbone of a garden.
When shopping for anchor plants, buy ones that you want around for the long haul, and use them to create the framework of your design. Look for plants with year-round appeal that are large enough to effectively anchor—but not overpower—surrounding perennials when they mature. Here are eight of my favorites, along with some guidelines on how to use them.
This tree blooms from July to October
Name:

Indian series crape myrtle (

Lagerstroemia

cvs., such as 'Cheyenne', 'Comanche', or 'Muskogee')
Admittedly a favorite of mine, Indian series crape myrtles offer a profuse, long-lasting floral display in shades of lavender, red (as with 'Sioux', pictured above), or coral. They don't grow as tall as other crape myrtles, making them less susceptible to wind damage. In winter, their exfoliating bark begs to be seen. Consider planting them along walkways or near windows so that you can easily admire their decoratively patterned trunks.
USDA Hardiness Zones: 7 to 9
Size: 8 to 12 feet tall and 6 to 8 feet wide
Conditions: Full sun; moist, fertile, well-drained soil
My trusty standby
Name: Globe Colorado blue spruce (

Picea pungens

'Glauca Globosa')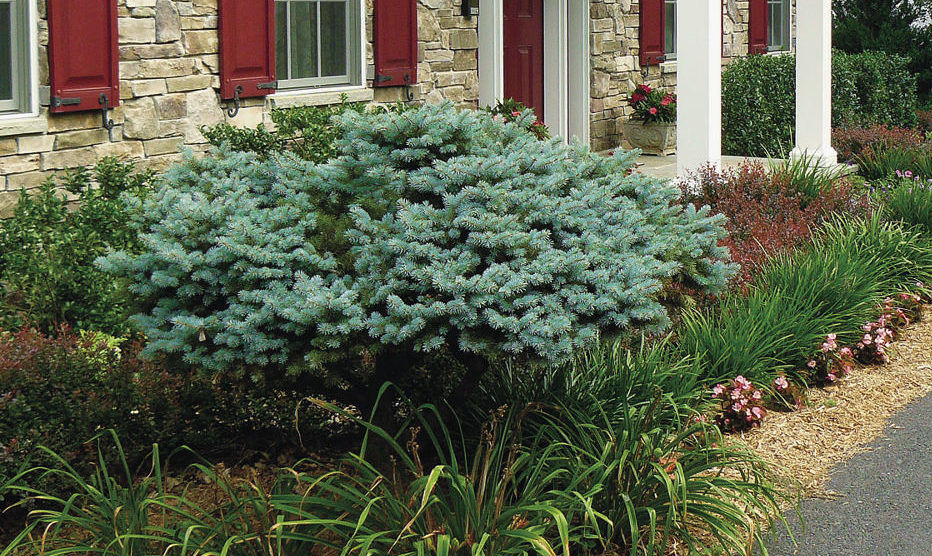 Sometimes I get stuck in a rut of planting this conifer in pairs, but that's only because it works so well in formal gardens. You can't go wrong using globe Colorado blue spruce to flank walkways or to act as a bookend for low beds. Low maintenance and dependable, this spruce com­plements a variety of plants. Two of my favorite companions are 'Crimson Pygmy' Japanese barberry (Berberis thunbergii 'Crimson Pygmy', Zones 5–8) and 'Happy Returns' dwarf daylily (Hemerocallis 'Happy Returns', Zones 3–10).
Zones: 2 to 8
Size: 3 to 4 feet tall and 4 to 5 feet wide
Conditions: Full sun to partial shade; moist, fertile, well-drained soil
A small tree for large spaces
Name:

Kousa dogwood (

Cornus kousa

and cvs.)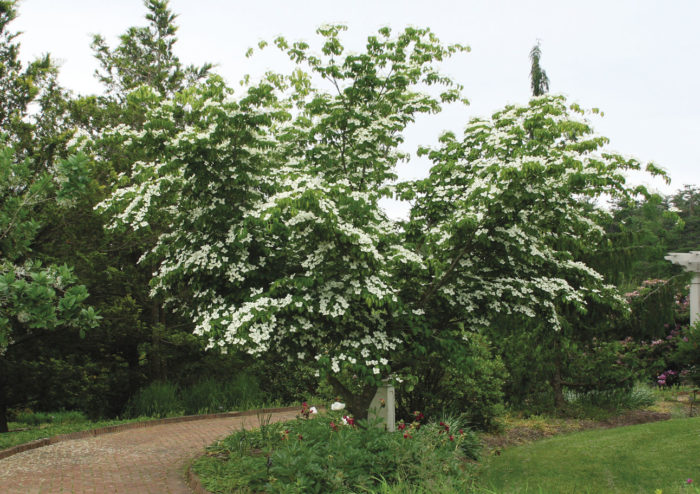 Kousa dogwood has it all: bright red fall foliage, exfoliating winter bark, and light green spring flowers. As a small tree, it can effectively anchor large beds and borders without overwhelming surrounding plants. This dogwood is far more disease and pest resistant than the more common flowering dogwood (Cornus florida and cvs., Zones 5–8). Its low branches, however, make it less practical as a lawn tree and better suited for perennial beds. To prevent perennials from growing into the Kousa dogwood's bottom branches, select plants that are less than 3 feet tall.
Zones: 5 to 8
Size: 16 to 25 feet tall and 12 to 20 feet wide
Conditions: Full sun to partial shade; moist, fertile soil
Discourage deer and attract birds with this shrub
Name:

Doublefile viburnum (

Viburnum plicatum

f.
tomentosum

)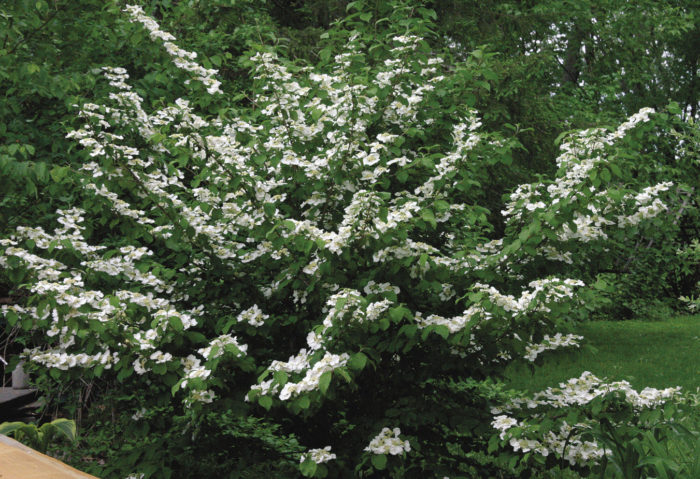 Due to their size and shape, viburnums typically don't make the best anchors, but doublefile viburnum is an exception. It is larger than most viburnums, is wider than it is tall, blooms heavily in spring, and puts on a stunning display of purple and gold foliage in fall. As an anchor plant, its vase shape lures the eye downward, drawing attention to low-growing perennials. I find that it works especially well when planted in the middle of beds or along borders.
Zones: 4 to 8
Size: 10 feet tall and 10 to 12 feet wide
Conditions: Full sun (partial shade in the South); moist, fertile, well-drained soil
A tropical accent for shady spots
Name:

Gold dust plant (

Aucuba japonica

'Variegata')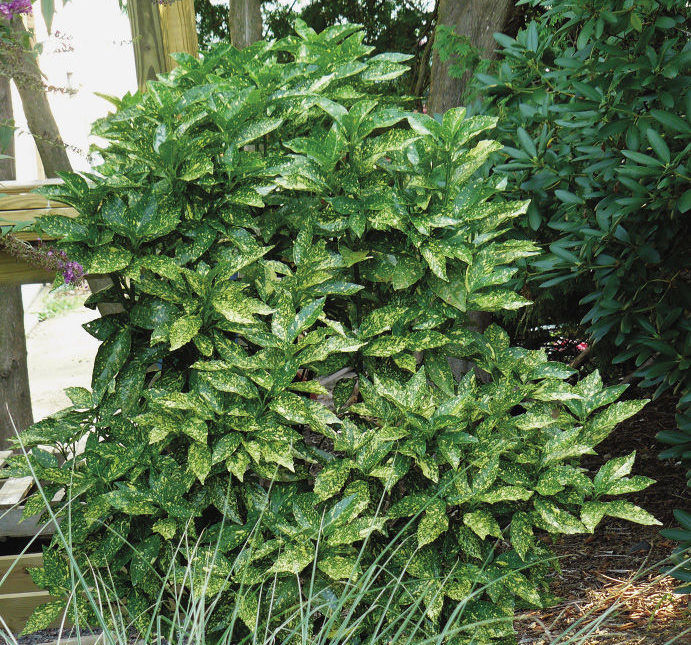 This option is for anyone who loves tropicals but lives in a climate where it is too cool to grow them. When I first saw this broad-leaved evergreen in my grandmother's Pennsylvania garden, I couldn't believe it was a hardy, drought-tolerant shrub. With its waxy, yellow-flecked leaves, gold dust plant offers year-round color to spots in a garden that need it most: the shade. As an anchor plant, this shrub works well toward the back of a perennial border or adjacent to a pathway. Although gold dust plant overwinters in northern climates, it needs some protection from dry, frigid winds.
Zones: 6 to 10
Size: 6 to 10 feet tall and 5 to 8 feet wide
Conditions: Full sun to full shade; moist, fertile, well-drained soil
A slender shrub that doesn't need pruning
Name: 'Sky Pencil' Japanese holly (

Ilex crenata

'Sky Pencil')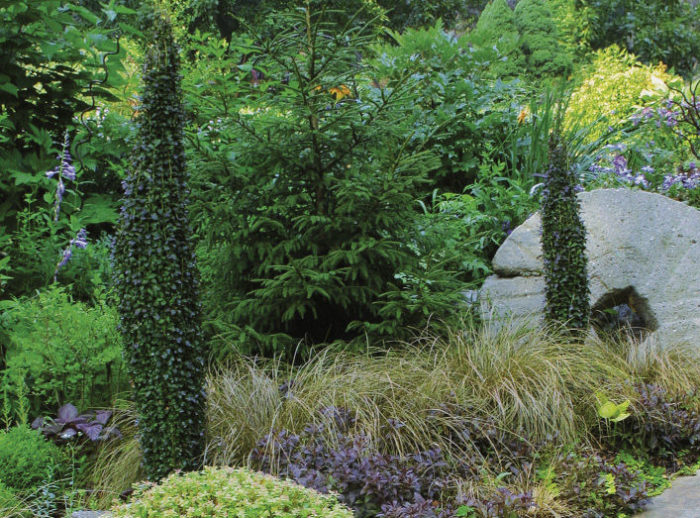 Unlike most shrubs, the branches of this evergreen naturally grow upright. With its tight columnar shape, the fast-growing 'Sky Pencil' Japanese holly is perfect for adding height to gardens that are short on space. Use one as a central pillar in a bed, plant pairs to define a driveway, or place a row of them along a back border for a Tuscan look.
Zones: 5 to 7
Size: 8 to 10 feet tall and 2 to 3 feet wide
Conditions: Full sun to medium shade; moist, light (acidic), well-drained soil
Shop for anchor plants that you want around for the long haul, and use them to create the framework of your design.
An exceptionally big grass
Name:

Ravenna grass (

Erianthus ravennae

, syn.

Saccharum ravennae

)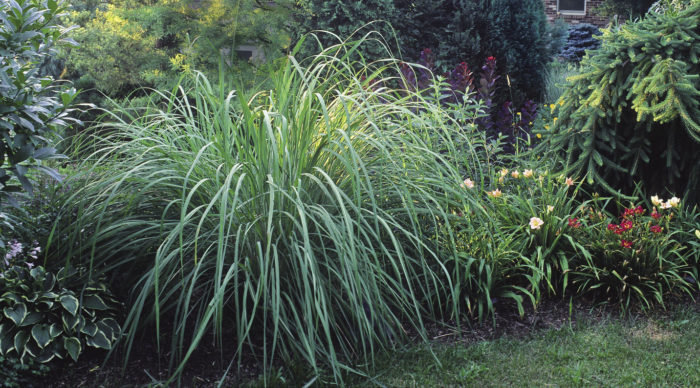 Ornamental grasses make unconventional yet effective anchor plants. For me, ravenna grass conjures thoughts of sea breezes and sand dunes. With its 12-foot-tall stems and silvery plumes, it looks best in spaces without many trees and offers a striking contrast when paired with low-growing conifers and small-leaved shrubs. Ravenna grass works well in the center of an island bed or along the back of a border. The one drawback is that you will need to cut back the dried grass in late winter, which will leave your bed without an anchor in spring.
Zones: 6 to 9
Size: 8 to 12 feet tall and 4 to 5 feet wide
Conditions: Full sun; moist, fertile, well-drained soil
A deciduous tree with year-round appeal
Name:

Red laceleaf Japanese maple (

Acer palmatum

'Dissectum Atropurpureum')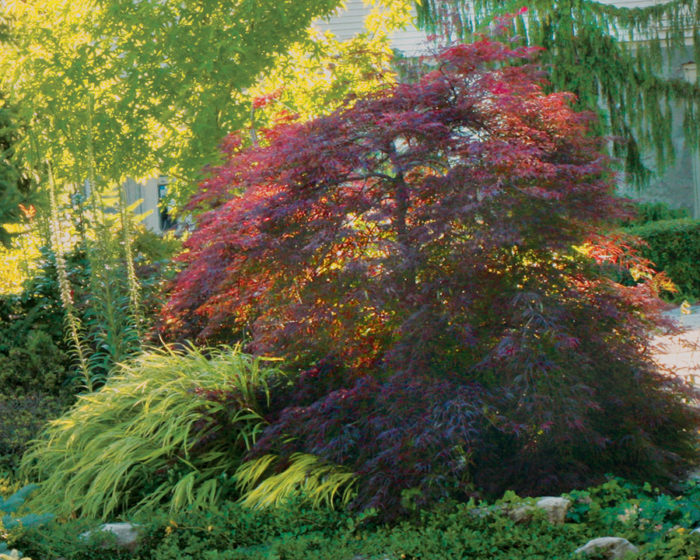 The foliage of this Japanese maple drapes to the ground in spring, summer, and fall, making it an effective anchor for low-growing plants. If judiciously pruned, the branches will develop an incredible sculptural quality, which is best appreciated in winter. Use this tree as a center­piece for a bed in an open front lawn, or situate one near a house to counter­balance a dominant architectural feature.
Zones: 5 to 8
Size: 8 to 12 feet tall and wide
Conditions: Full sun; moist, fertile, well-drained soil
---
Put your Anchor Plants to Work
Designing garden beds is easy if you understand how many problems can be solved by using anchor plants. Here are a few common situations:
There is no consistent element that visually ties your beds together.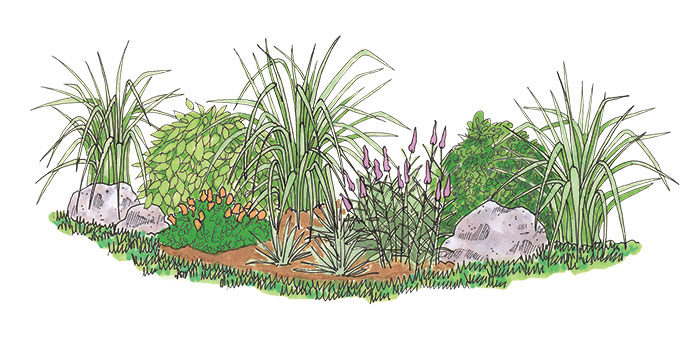 Solution: Repeating the same anchor plant throughout your garden will create a cohesive look.
Your beds are overpowered by a dominant house feature, such as a bay window or front chimney.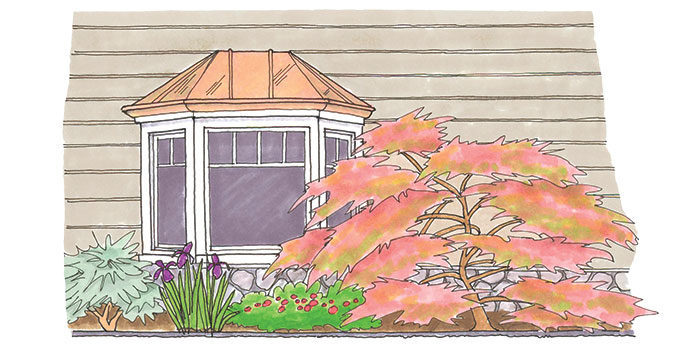 Solution: Planting an anchor plant, such as a large rounded shrub or small tree, in close proximity to a prominent architectural feature will lessen the latter's impact.
Your beds are all one height.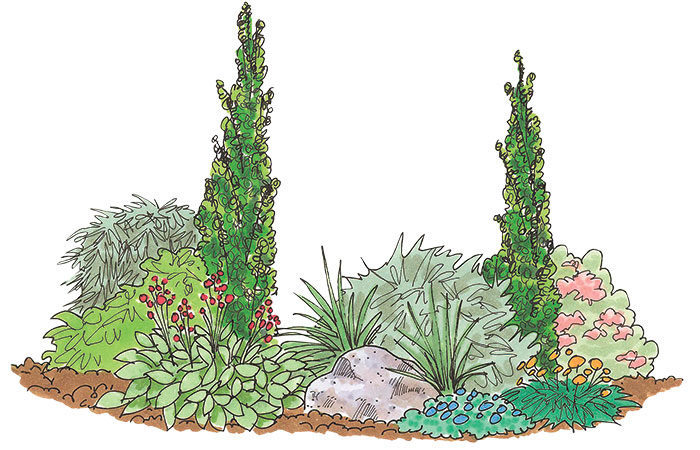 Solution: Adding tall vertical plants will provide contrast and add interest to your landscape. Invest in some trees or several column-shaped shrubs. (Ranch-style houses are particularly susceptible to this problem.)
There is nothing in your beds to catch the eye.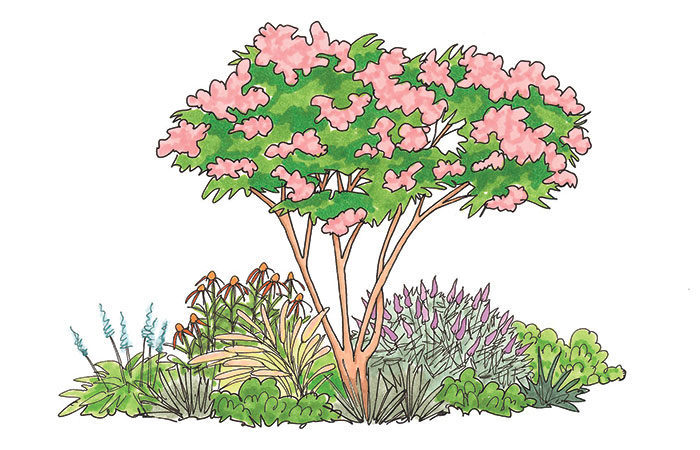 Solution: Place an anchor plant in that spot. Beds in open areas, for instance, warrant at least one large central anchor plant to draw attention to the surrounding perennials. If a bed borders a neighboring property, plant a row of tall anchors to keep the viewer's eyes from wandering past your beautiful blooms.
---
Todd Phillippi is a professional designer and plant enthusiast who gardens in Bucks County, Pennsylvania.
Photos: courtesy of Todd Phillippi; Michelle Gervais; Steve Aitken; Saxon Holt; Kerry Ann Moore. Illustrations: Martha Garstang Hill