Design
How to Stage a Container Plant Display
Use behind-the-scenes props to create a tiered arrangement with multiple pots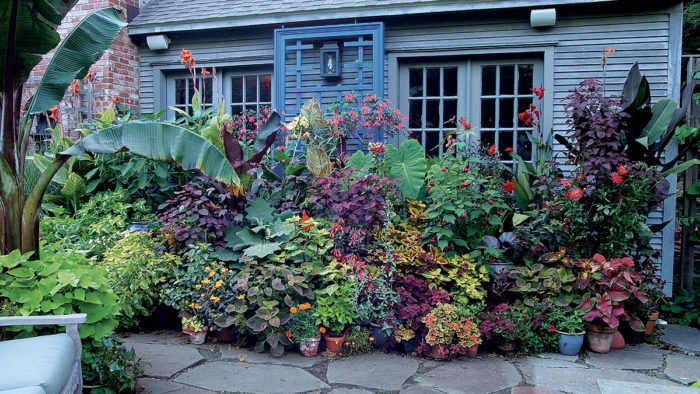 I have a passion for plants in pots. I grow them by the score in a sprawling garden of containers arranged like a border on my patio. By early summer, my garden of 50 or so pots of annuals, tender perennials, and the odd hardy plant has become an extravaganza of texture, fragrance, and color. To keep things lively as the plants grow, I simply move the containers—farther apart, up, down, to the front, to the rear—to create a display that is always evolving. The portability of plants in pots frees me from some of the constraints of traditional earthbound gardening. It gives me the flexibility to tweak my jungle all season, adding bits of color as something new comes into prominence or removing anything that's past its prime.
And although I take a more-is-merrier approach to container gardening, numbers alone don't mean much. Five pots are enough to create a dramatic composition on a porch or patio. The trick is not how many pots you have, but what you do with them. And for raising my container garden's beauty to new heights, the use of simple staging—by which I mean the overturned nursery pots, bulb crates, logs, and homemade plant stands that give plants and ornaments a boost—has been the greatest trick of all.
Overturned pots play a supporting role
Anything that is sturdy and stable can be used as a support to elevate pots.
| | |
| --- | --- |
| Overturned pots of various sizes create subtle height differences. The author uses a customized drip irrigation system (the black tubing) to meet the basic water and fertilizer needs of his display. Photo: Michelle Gervais | An empty blue pot is propped up on a sturdy 5-gallon bucket. Photo: Jennifer Brown |
By placing short but stellar plants atop staging that's hidden amid other plants, I can create compelling combinations that wouldn't be possible with plants grown in the ground. I especially like a combination of rubylike Euphorbia cotinifolia foliage and the coral-colored flowers of Fuchsia 'Coralle'. Unfortunately, the euphorbia is about 4 feet tall and the fuchsia, a mere 2 feet. But by giving the fuchsia a boost on a foot-tall support, I can unify the two, adding a few coleus—also piggy-backed on stands of varied heights—to round out the combination.
I've also found that staging can be a real boon to creating color echoes in my container border. Coleus and dahlias, for example, seem made for each other since it's easy to find a coleus with colorful foliage to match the hue of almost any dahlia. But the dahlias I like are 3 or 4 feet tall, while few coleus top 30 inches. By giving the coleus a boost of a foot or two, their decorative foliage becomes a colorful companion to the dahlias' floral fireworks.
Staging is also a good way to make the most of fast-growing plants in a container display. Golden fruit of the Andes (Solanum quitoense), the big-leaved plant in the center of the display in the opening photo, is a plant I love for its huge, furry, spiked leaves, but it grows so quickly it's hard to maintain it in a starring, close-up role. So early in the season I raise it on staging to a position of prominence, then as the plant grows, move it to shorter platforms until finally, by late August, there's no need for any staging at all. Small, slow-growing plants as well as plants that display flowers with strong visual appeal or fragrance can also benefit from staging by bringing them closer to eye level.
| | |
| --- | --- |
| An overturned bulb pot gives a plant just a little lift. Photo: Jennifer Brown | The author's favorite props are sturdy black nursery pots, which he keeps hidden behind other pots and plants to create a display on his patio every summer (opening photo). Photo: Michelle Gervais |
Staging can also be an effective way to display ornaments such as small fountains, sculptures, or handsome empty pots.In a container garden it's easy to place ornaments where they look best, and with staging, the options are unlimited. I have a fountain of copper pots but it's only about 18 inches tall and would be immediately overwhelmed by a surround of abutilon, dahlias, and coleus. So, I just piggyback the fountain on some staging, and it rises to a place of honor.
Almost anything can serve as a plant stand, provided it's tall enough to lift the plant to the desired height, stable enough not to topple in the wind, and sturdy enough not to collapse when the pot on top gets a heavy watering. I've found that heavy-duty black plastic nursery pots work well, the kind that usually contain small trees or large shrubs. Their only drawback is their rather limited range, typically 10 to 18 inches high. For something taller, I often use logs that measure a foot or so in diameter, cut to length. For larger supports that will hold several pots at once, I sometimes use overturned bulb crates, the hard plastic containers used for shipping bulbs. If need be, they can be stacked one atop another. I've also built benchlike stands using 2×10 or 2×12 pressure-treated lumber. All it takes is a length of lumber and two shorter pieces for legs.
To further the illusion that some of my plants are of unusual height, I hide supports behind a rank of containers planted with sprawling lantanas or coleus, which act as a ground cover. For plant stands that will be visible, options include attractive concrete or ceramic supports available at many garden centers. In winter, I sometimes retreat to my basement workshop to build plant stands out of pine lumber. I make them whatever height I want, embellish them with ornamental molding, then add a coat of paint. All these supports really give my garden a boost and give me the chance to rejigger a border without digging anything up.
Setting the stage
The key to visual appeal is elevating plants to different heights, which the author accomplishes by using risers in a variety of heights. Potted plants placed in front of the risers hide them from view.
Raise plants and objects to eye level
By elevating pots with various props, the author creates combinations that wouldn't be possible in the ground, like the grouping in the third photo: 'Kingwood Kritter' coleus, 'Wyoming' canna, and an unknown yellow dahlia. He also changes the display throughout the season to highlight plants that are in bloom.
A container display worthy of an art gallery
In this array from the author's landscape you'll find no less than 38 different potted plants grouped together in a near perfect scene.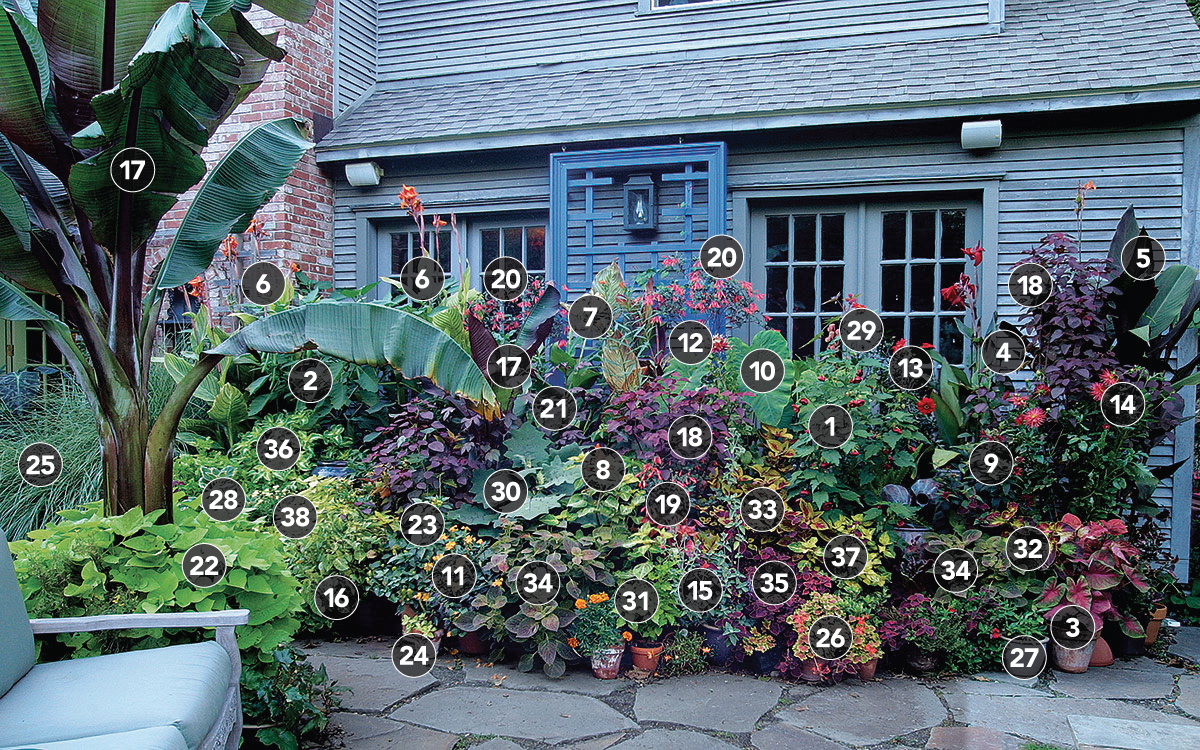 1. Abutilon 'Voodoo'
2. Brugmansia 'Charles Grimaldi'
3. Caladium bicolor cv.
4. Canna 'Black Knight'
5. Canna 'Intrigue'
6. Canna 'Pretoria'
7. Canna 'Tropicanna'
8. Celosia argentea cv.
9. Cestrum elegans 'Newellii'
10. Colocasia esculenta
11. Costus sp.
12. Dahlia 'Akita'
13. Dahlia 'Bishop of Llandaff'
14. Dahlia 'Red Devil'
15. Dicliptera suberecta
16. Duranta erecta 'Golden Edge'
17. Ensete ventricosum 'Maurelii'
18. Euphorbia cotinifolia
19. Fuchsia 'Coralle'
20. Fuchsia 'Gartenmeister'
21. Hibiscus acetosella 'Red Sheild'
22. Ipomoea batatas 'Margarita'
23. Justicia 'Fruit Cocktail'
24. Lysimachia conjestiflora 'Outback Sunset'
25. Miscanthus sinensis 'Morning Light'
26. Pelargonium 'Vancouver Centennial'
27. Petunia 'Avalanche Red'
28. Plectranthus 'Green and Gold'
29. Ricinus communis 'Carmencita'
30. Solanum quitoense
31. Solenostemon scutellarioides 'Amazon'
32. Solenostemon scutellarioides 'Atlas'
33. Solenostemon scutellarioides 'Bronze Pagoda'
34. Solenostemon scutellarioides 'Coal Mine'
35. Solenostemon scutellarioides 'Garnet Robe'
36. Solenostemon scutellarioides 'Lime Ruffles'
37. Solenostemon scutellarioides 'Schizophrenia'
38. Solenostemon scutellarioides 'The Line'
---
Steve Silk is a contributing editor.
From Fine Gardening #91
View Comments