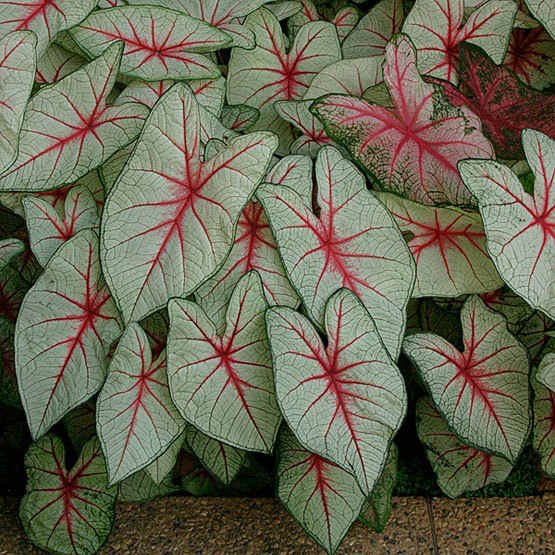 From woodland edges in tropical South America come 7 species of tuberous-rooted perennials with leaves variegated in white or shades of red and pink. They are very popular as container plants and as bedding, or grown in a warm greenhouse. Green flowers and white berries play second fiddle to the interestingly mottled leaves, often with prominent veining. Contact with all plant parts may irritate skin, and ingestion may cause mild stomach upset.
Noteworthy CharacteristicsVariegated, arrow-shaped leaves.
CareIn the garden, grow caladiums in moist but well-drained, organically rich, slightly acidic soil in part to full shade. Lift in winter and start into growth in spring with high humidity and temperatures from 55° to 70°F. In the greenhouse, grow in bright filtered light. Pot up in spring and provide warm temperatures and high humidity. Reduce water in fall.
PropagationDivide in spring and dust with fungicide.
ProblemsTuber rot, Southern blight, leaf spots, root-knot nematodes. In the greenhouse, watch out for aphids and spider mites.