Design
Go for Grasses to Soften Late-Season Containers—Planting Plans
No fall container collection would truly be complete without these plants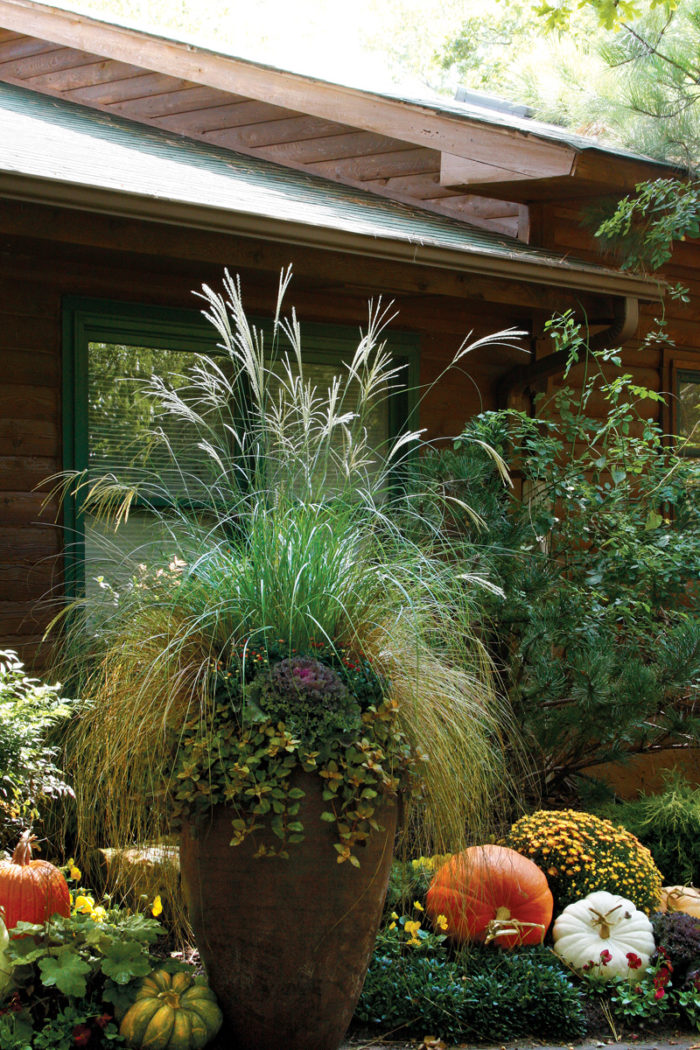 Autumn is the time when grasses finally get their moment, so no fall container collection would truly be complete without giving them their due. With feather-like seed heads that catch the breeze so hypnotically, any grass is a wonderful addition for a fall container. Purple fountain grass (Pennisetum setaceum 'Rubrum', Zones 8–11), in particular, packs a punch when paired with a plant that sports complementary hues, such as coneflowers. A fragrant patch of lemongrass (Cymbopogon citratus, Zones 10–11) can be added to create an experience not only for the eye but also for the nose. Switchgrass turns a lovely shade of gold, and when paired with berries of  'Orange Glow' firethorn (Pyracantha 'Orange Glow', Zones 6–9; below), it creates a cheerful autumn display.
Let plants evoke a mood (seen above)
This miscanthus would look stunning alone, but flanking it with a brawny sedge and the drooping golden leaves of the loosestrife renders the arrangement a bit somber. A pop of purple and a few barely visible mums ensure that the planting is lush and not lugubrious.
1. Miscanthus (Miscanthus sinensis cv., Zones 4–9)
2. 'Fox Red' curly sedge (Carex buchananii 'Fox Red', Zones 5–9)
3. 'Osaka Red' ornamental cabbage (Brassica oleracea 'Osaka Red', annual)
4. Chrysanthemum (Chrysanthemum cv., annual)
5. Walkabout Sunset® dense-flowered loosestrife (Lysimachia congestiflora 'Aurea', Zones 7–11)
Lime lights up dark plants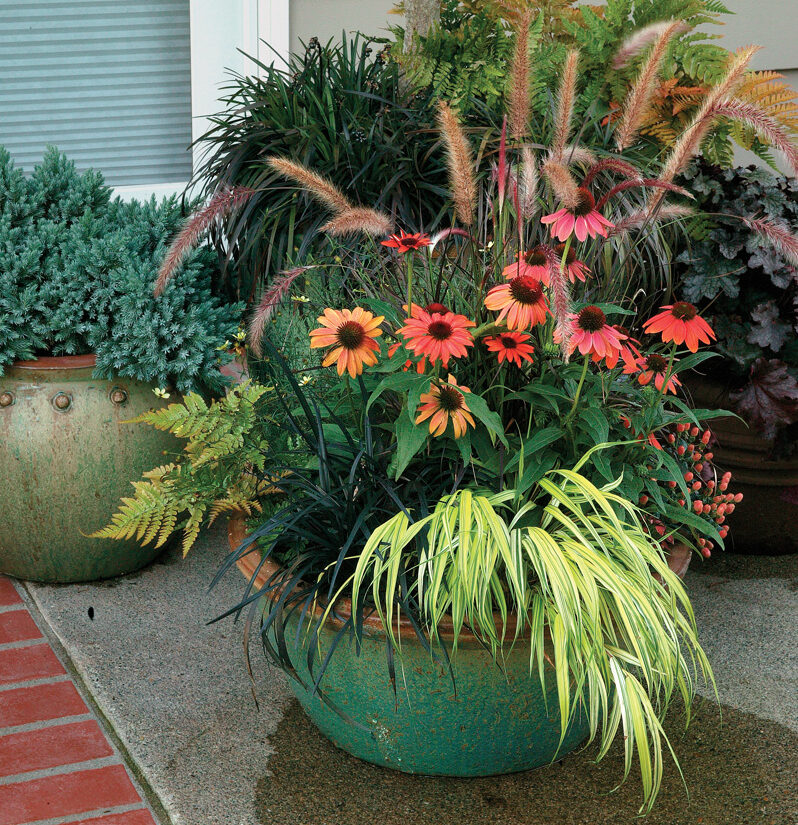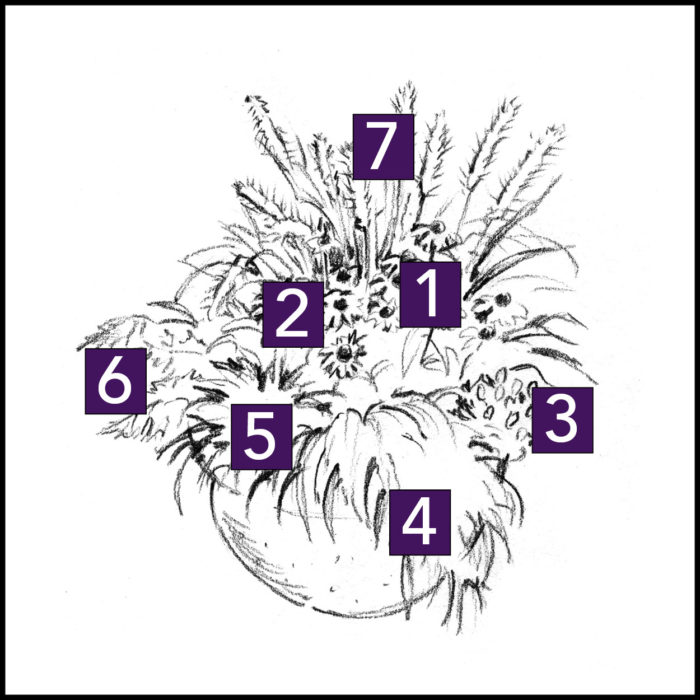 Without a shot of citrus front and center, this planter might fade into the background. But the placement of the lime Japanese forest grass draws attention to the orange coneflower, the purple fountain grass, and the red berries of St. John's wort.
1. 'Flame Thrower' coneflower (Echinacea 'Flame Thrower', Zones 4–9)
2. Sombrero® Hot Coral coneflower (Echinacea 'Balsomcor', Zones 6–9)
3. Hypearls™ Olivia St. John's wort (Hypericum 'Hypearls Olivia', Zones 6–9)
4. 'Aureola' Japanese forest grass (Hakonechloa macra 'Aureola', Zones 5–9)
5. Black mondo grass (Ophiopogon planiscapus 'Nigrescens', Zones 6–11)
6. Autumn fern (Dryopteris erythrosora, Zones 5–9)
7. Purple fountain grass (Pennisetum setaceum 'Rubrum', Zones 8–11)
No one wants to see a lonely mum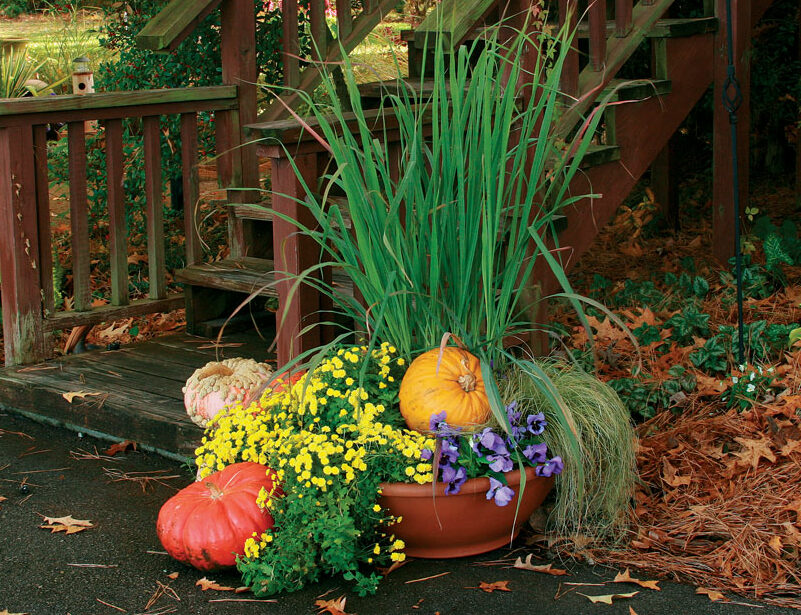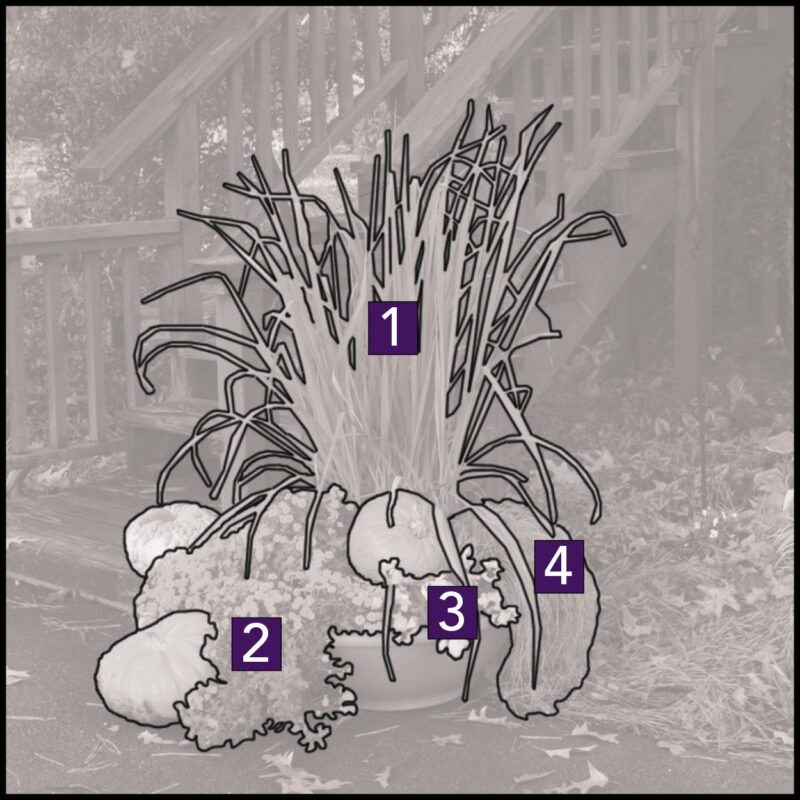 Chrysanthemums need friends—those companion plants that meld a combo together. By adding a splash of lemongrass, you'll spice up even the most mundane mum. Grasses of all sizes are a natural fit with mums, their fine foliage adding height to the mix. 'Frosted Curls' sedge and a few seasonal pumpkins complete this fall combo, making it a great look from any angle.
1. Lemongrass (Cymbopogon citratus, Zones 10–11)
2. 'Seizan' chrysanthemum (Chrysanthemum 'Seizan', annual)
3. Pansy (Viola × wittrockiana cv., Zones 8–11)
4. 'Frosted Curls' sedge (Carex 'Frosted Curls', Zones 7–9)
Fall favorites create a seasonal sensation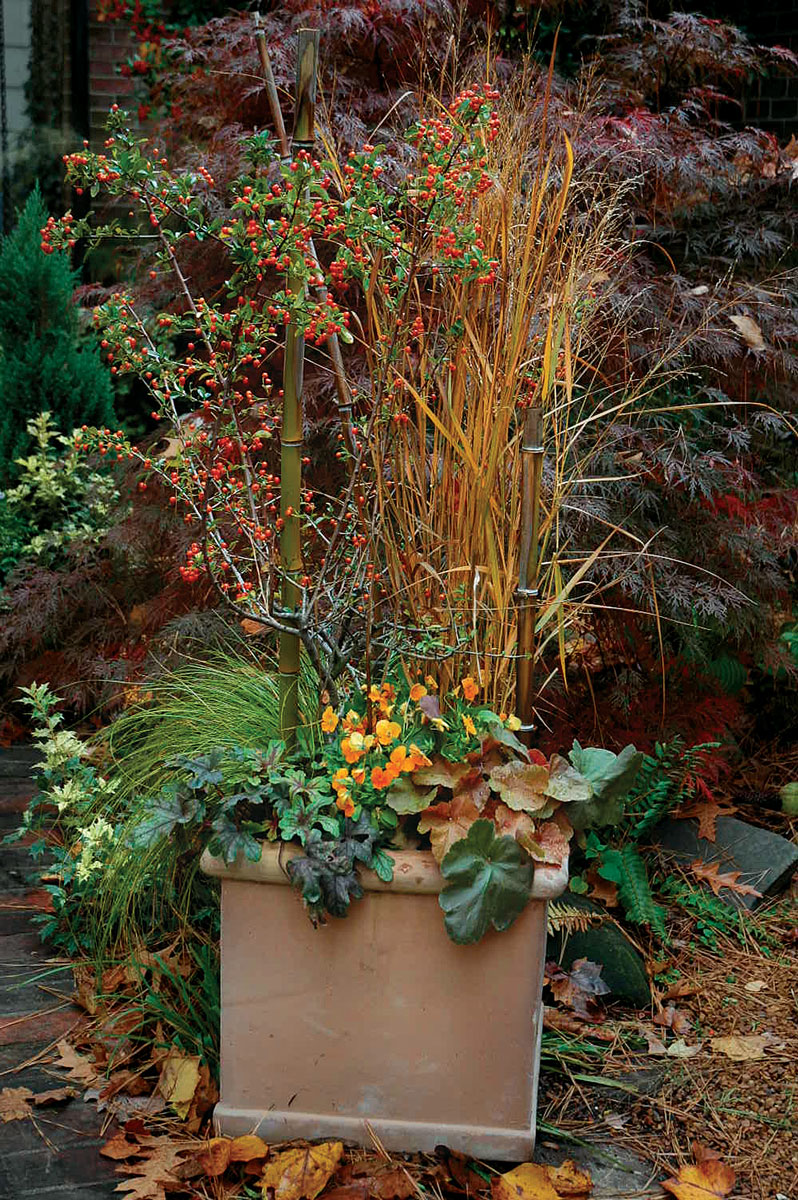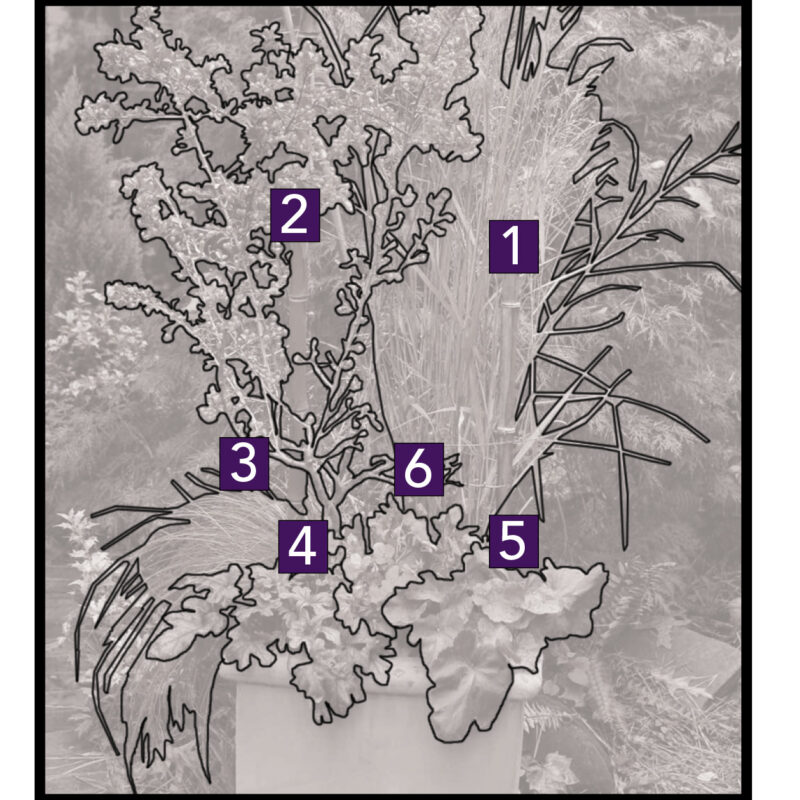 This container encompasses all that is autumn. The golden glow of grasses sets the backdrop for the fruiting firethorn. My favorite perennials add an extra splash of color along the container's edge. This arrangement will grace my walkway all winter long, supplying a view for me and some fruit for the local birds.
1. 'Northwind' switchgrass (Panicum virgatum 'Northwind', Zones 5–9)
2. 'Orange Glow' firethorn (Pyracantha 'Orange Glow', Zones 6–9)
3. Orange hair sedge (Carex testacea, Zones 8–9)
4. 'Tapestry' heucherella (× Heucherella 'Tapestry', Zones 4–9)
5. 'Southern Comfort' heuchera (Heuchera 'Southern Comfort', Zones 4–9)
6. 'Delta Citrus Mix' viola (Viola × wittrockiana 'Delta Citrus Mix', Zones 8–11)
---
Illustrations: Elara Tanguy
View Comments