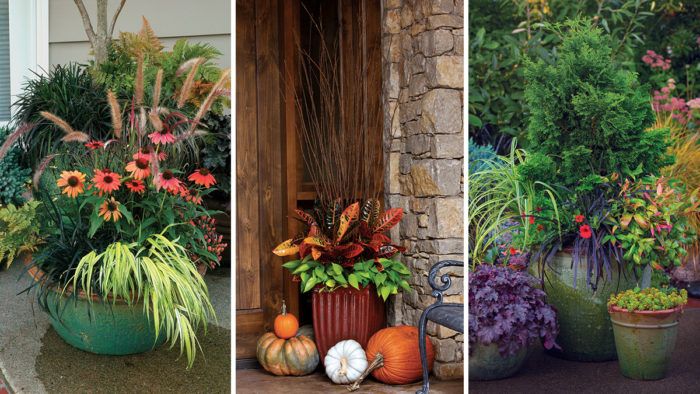 Are those summer-planted annuals looking a little haggard right about now? Or perhaps you've already experienced a dip in temperatures that prompted the moving of tender treasures inside. If either of these sounds familiar, then it's time to freshen up those outdoor containers for fall.
Autumn is the time when you can break out of your typical color mold. A lot of gardeners shy away from the strong, hot colors of fiery orange or blazing yellow in their beds and borders, but when fall sets in, these colors are easier to embrace. By this time of year many of the softer, and more popular, pinks and lavenders we gravitate toward are gone, leaving room to go wild.
Of course, you can fill your pots with traditional mums and asters, but there are many other interesting options out there for adding a little spice to your designs. In this collection, you'll find fall container recipes from talented designers that utilize unexpected plants. If you are looking for a splash of eye-catching color, why not try planting 'Salsa Orange' ornamental pepper (Capsicum annum 'Salsa Orange', annual)? Or if a subdued color palette is more your speed, 'Fox Red' curly sedge (Carex buchananii 'Fox Red', Zones 5–9) is a good choice. There are also plenty of showy late-season perennials like 'Fire Chief' heuchera (Heuchera 'Fire Chief', Zones 4–9) and 'Amethyst Falls' oregano (Origanum 'Amethyst Falls', Zones 5–9), as well as cold-hardy edibles like 'Rebor' kale (Brassica oleracea 'Redbor, annual) and 'Osaka Red' ornamental cabbage (Brassica oleracea 'Osaka Red', annual) to choose from.
You'll find a design to fit every style and mood in this vast collection.
Create Fall Containers With Evergreen Backbones
Spice Up Autumn Containers With Spikey Silhouettes
Go for Grasses to Soften Late-Season Containers
Cold-Hardy Edibles Add a Unique Flare to Fall Containers
Tough Tropicals Make Great Thrillers in Fall Containers