Design
Spice Up Autumn Containers With Spiky Silhouettes—Planting Plans
The contrasts in shape, texture, and color in these containers call for a celebration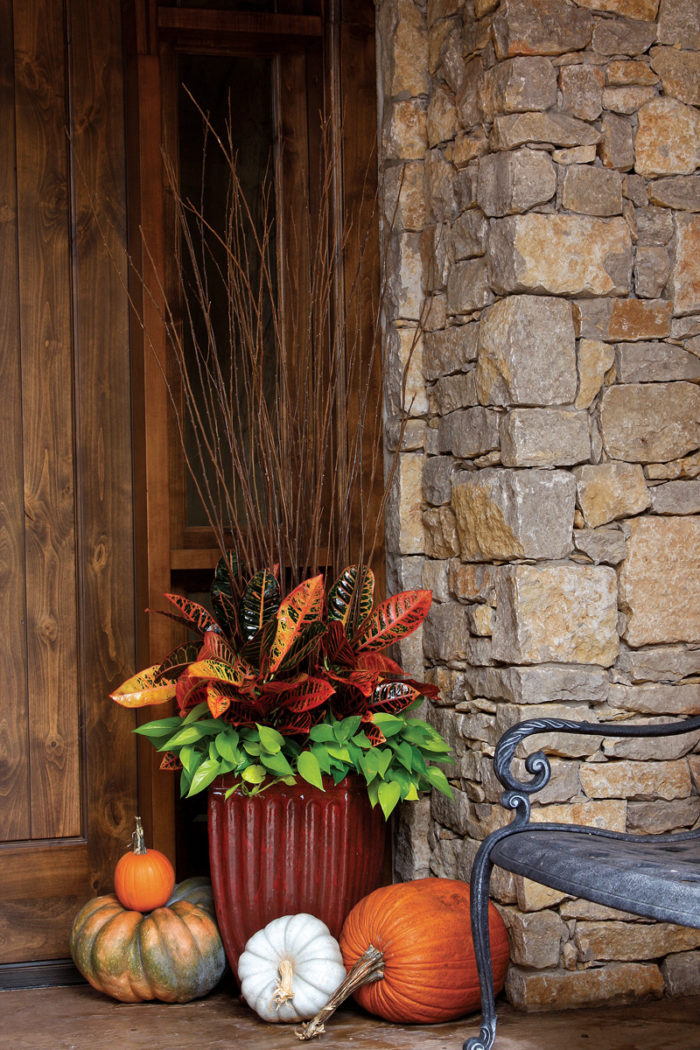 Include spiky silhouettes in containers to lend a celebratory feel to your front stoop. Plants such as cordyline, featured in two of the containers below, can easily be paired with plants that offer pops of red, such as red fuchsias and burgundy heucheras, for a brilliant fall container that speaks to the deepening of the season's colors. Or pair your cordyline with blazing orange coneflowers for a pairing that will get you excited for nights by the fire. To easily add a more upright habit to any container, use dried branches from your favorite tree, which creates an organic, natural feeling to the display.
A little contrast goes a long way (seen above)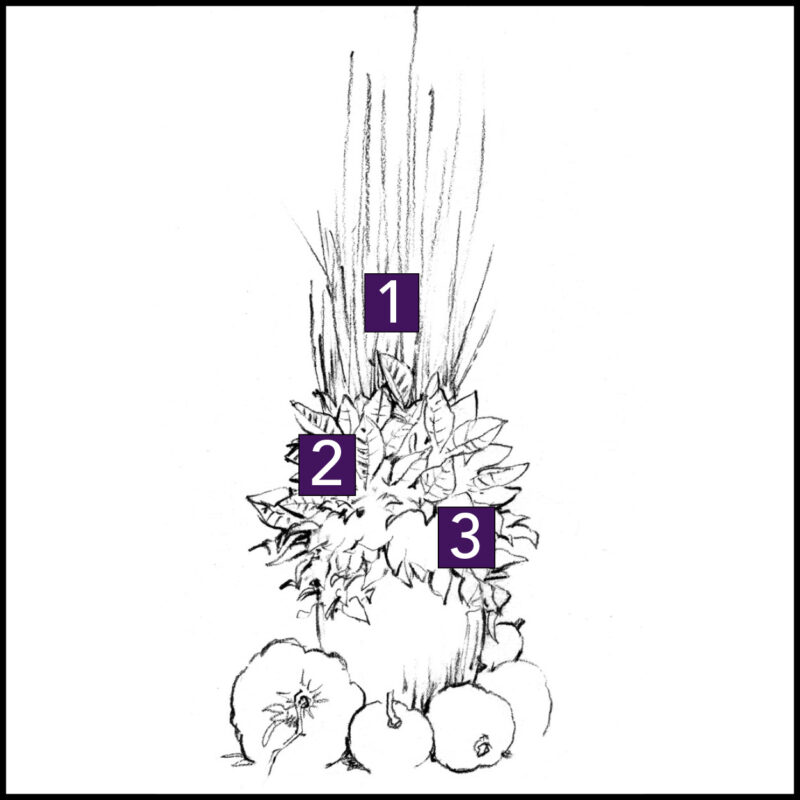 The rich brown door, stone entry, and branches in the planter set the tone for this earthy arrangement. Even the colors in the croton pick up on the natural theme. But the 'Neon' pothos is what lights up this corner and container, demonstrating that a single contrasting plant can change the mood of an entire area.
1. Dried branches
2. 'Petra' croton (Codiaeum variegatum 'Petra', Zone 11)
3. 'Neon' pothos (Epipremnum aureum 'Neon', Zone 13)
 

More can be merry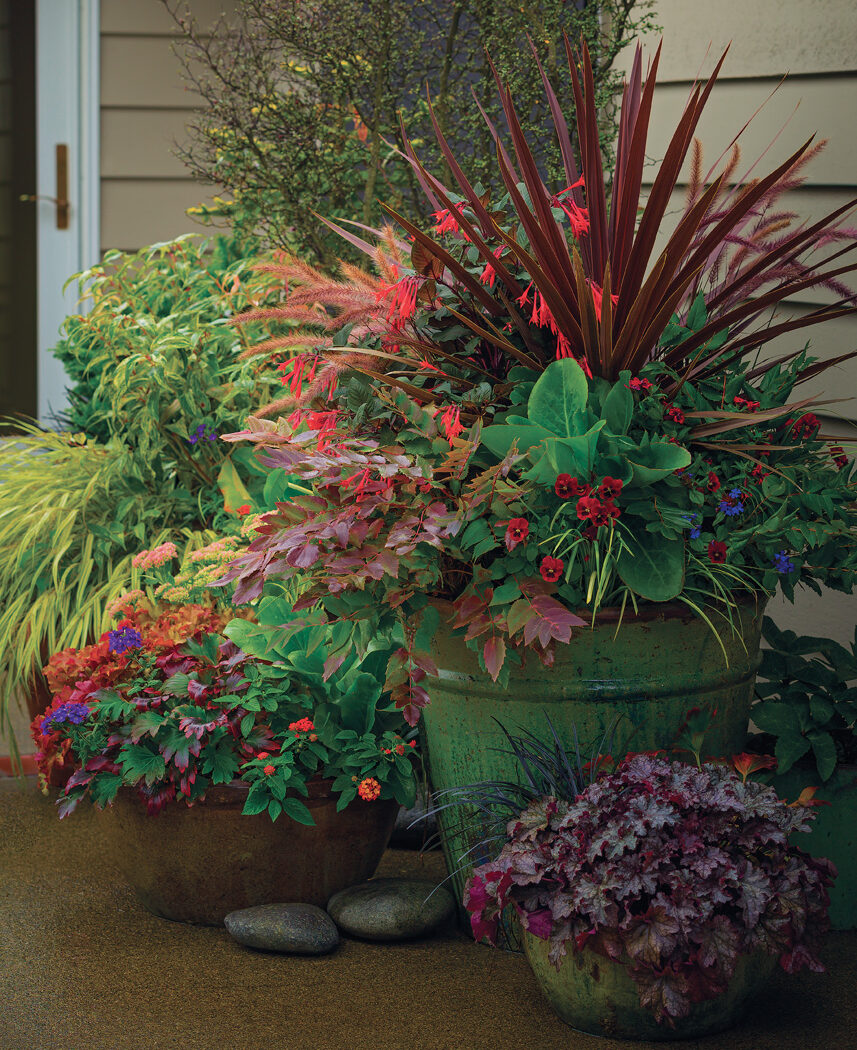 A color theme of brown and red connects this trio of planters. A steady supply of green—red's complementary color—brings the composition into balance.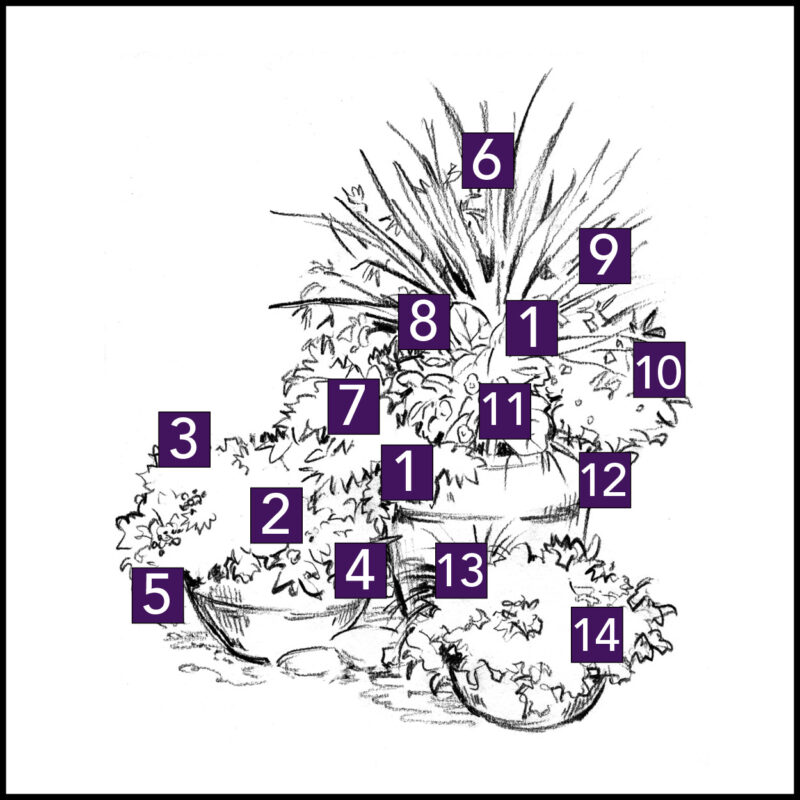 1. 'Winter Glow' bergenia (Bergenia cordifolia 'Winter Glow', Zones 3–8)
2. 'Karasuba' crimson fans (Mukdenia rossii 'Karasuba', Zones 4–8)
3. 'Marmalade' heuchera (Heuchera 'Marmalade', Zones 4–9)
4. Bandana™ Orange Sunrise lantana (Lantana camara 'Orange Sunrise', Zone 11)
5. 'Homestead Purple' vervain (Verbena canadensis 'Homestead Purple', Zones 4–7)
6. 'Red Star' cordyline (Cordyline 'Red Star', Zones 9–11)
7. Cascades mahonia (Mahonia nervosa, Zones 5–7)
8. 'Gartenmeister Bonstedt' fuchsia (Fuchsia 'Gartenmeister Bonstedt', Zones 9–10)
9. Purple fountain grass (Pennisetum setaceum 'Rubrum', Zones 8–11)
10. Plumbago (Ceratostigma plumbaginoides, Zones 5–9)
11. Pansy (Viola × wittrockiana cv., annual)
12. 'Ogon' sweet flag (Acorus gramineus 'Ogon', Zones 6–9)
13. Black mondo grass (Ophiopogon planiscapus 'Nigrescens', Zones 6–11)
14. 'Plum Pudding' heuchera (Heuchera 'Plum Pudding', Zones 3–8)
Flaunt flashy colors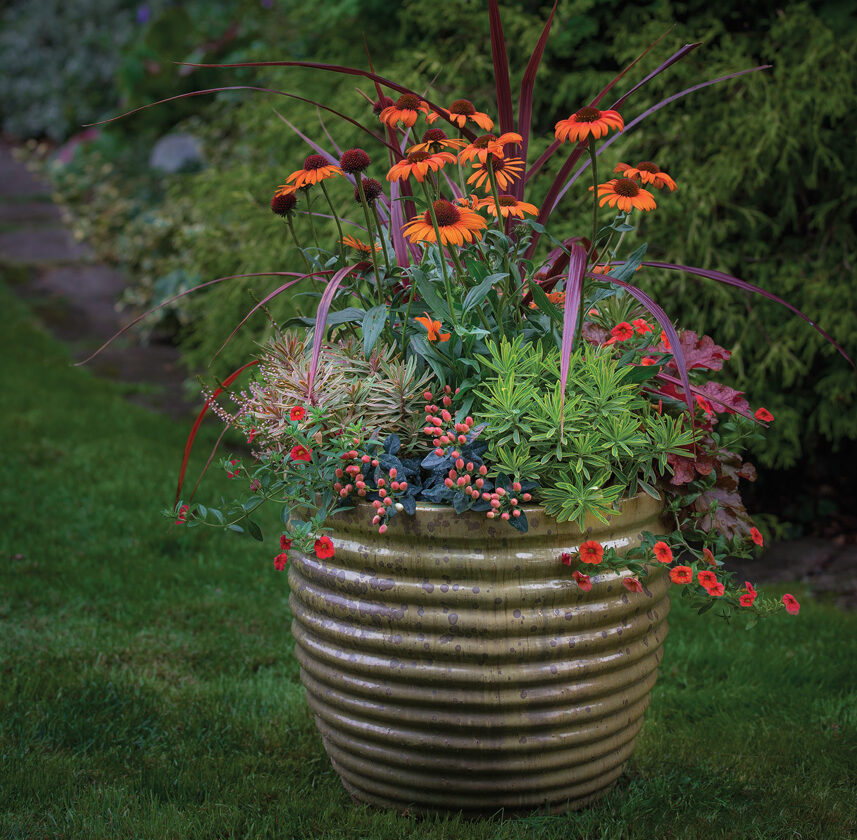 Neon reds and oranges command attention in this fiery container, but they are balanced perfectly with dark leaves and just the right touch of light mounding foliage. Together the plants form an arrangement that is bright but not blinding.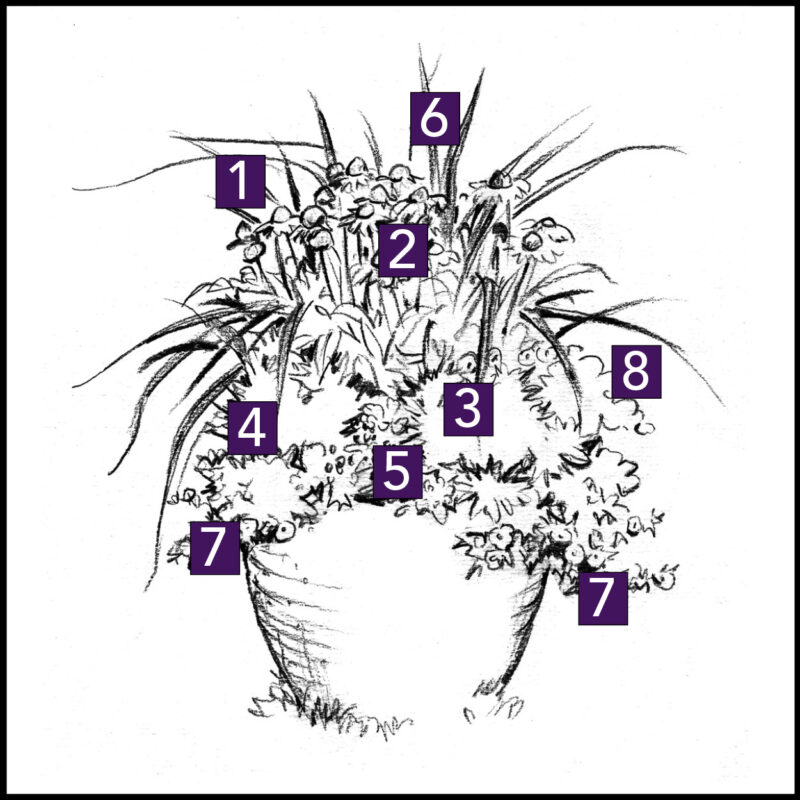 1. 'Flame Thrower' coneflower (Echinacea 'Flame Thrower', Zones 4–9)
2. Sombrero® Hot Coral coneflower (Echinacea 'Balsomcor', Zones 6–9)
3. 'Ascot Rainbow' euphorbia (Euphorbia × martinii 'Ascot Rainbow', Zones 5–9)
4. Wood spurge (Euphorbia amygdaloides cv., Zones 6–9)
5. Hypearls™ Olivia St. John's wort (Hypericum 'Hypearls Olivia', Zones 6–9)
6. Festival Grass™ cordyline (Cordyline 'JURred', Zones 8–11)
7. Calibrachoa (Calibrachoa cvs., annual)
8. 'Fire Chief' heuchera (Heuchera 'Fire Chief', Zones 4–9)
---
Illustrations: Elara Tanguy
View Comments