Design
How to Design Great Containers at the Nursery
A little experimenting at the garden center yields better combinations at home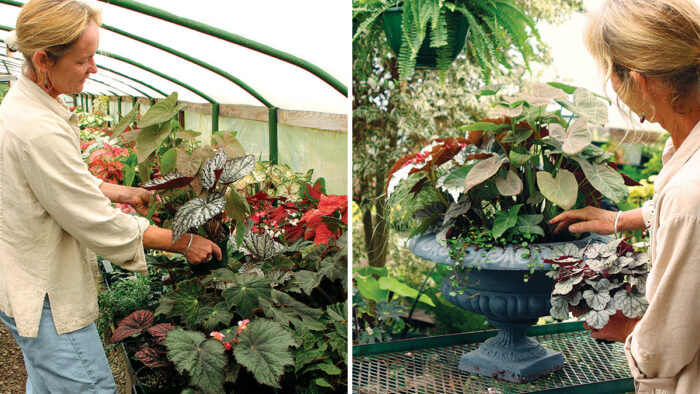 It doesn't take long for a fun adventure at the local garden center or greenhouse to become an overwhelming, hair-pulling experience. With the bazillion plant and pot choices available, it can be difficult to pick just the right elements for the perfect container planting. Oceans of begonias, impatiens, coleus, petunias, salvias, and Cape daisies can leave anyone dumbfounded. Then there are the rows of colorful terra-cotta, fiberglass, glazed, metal, and plastic pots to contend with. It's not easy when faced with so many options, but don't let that intimidate you. Rather than wince, embrace the variety and have fun. As with finding the perfect clothes, shoes, and accessories for a special occasion, you have to try a few things on in the store before you find the right outfit. The best way to assemble a winning container combination is not to be shy about mixing and matching plant and container options at the garden center. You'll soon find a composition that strikes your fancy. Here's how I go about finding mine.
Go for foliage, not flowers
When putting together a container, I zero in on leaves first. Flowers are nice, but they come and go. If you can assemble a con­tainer combination that looks good with the foliage alone, then flowers are a bonus. Plants with interesting foliage can bring structure, texture, or color to the design; the best foliage plants have all three qualities. I like to let the first plant that catches my eye take the lead. I then seek out foliage and flower companions by walking around the greenhouse and holding my prime contender up to other plants. Much like shopping for fabric or matching a shirt and tie, I look for color compatibility.
1. Silver foliage catches the eye
The striking begonia leaves will last longer than any blooms, so they are perfect for building a combination around. The caladium's foliage complements the begonia's, and its bold form can dominate the container.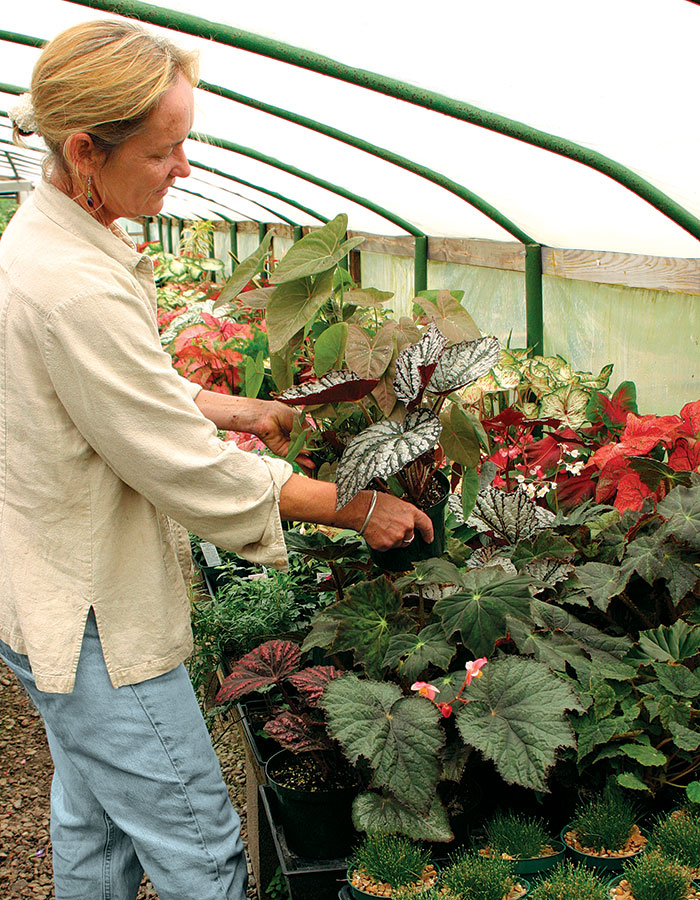 I have studied color theory and design, but I find it easier to just play and wait for a reaction. When you put plants together, they seem to say, "I want to be with that one" or "yuck, no way." The combinations we generally like have a pleasing harmony or contrast. Pay attention to intensity, avoiding the combination of too many different pale pastels and saturated pure hues, which can make a combination look chaotic. Likewise, don't mix together too many different warm and cool colors. Stick with two or three—maybe four—agreeable colors.
2. Add some supporting players
Don't forget to pick up some smaller plants that create a mix of shapes and textures that help bring the combination together.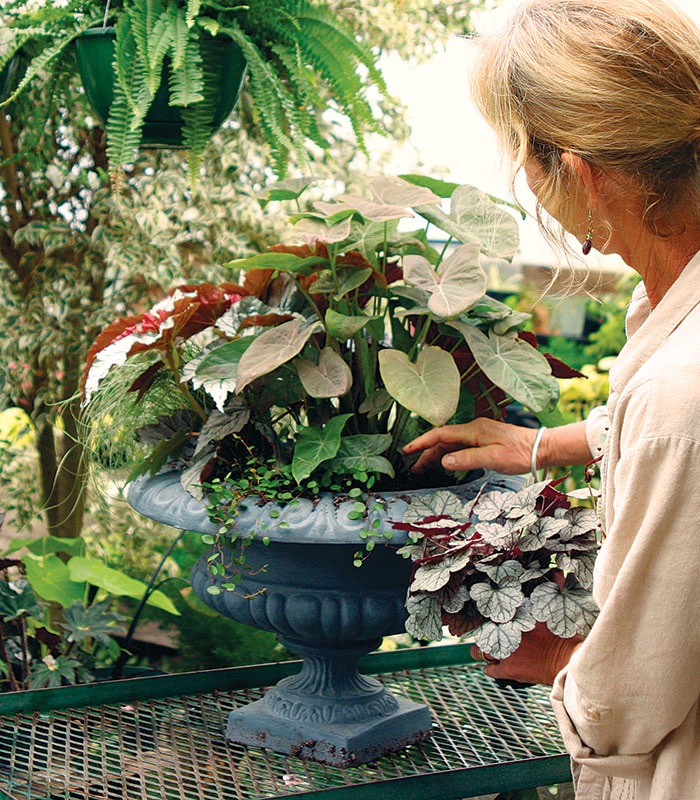 When mixing and matching plants, also keep their textures in mind. Choosing a blend of glossy, matte, or fuzzy leaves adds another level of interest, as does combining fine, broad, rounded, or jagged foliage. I like to use contrasting texture to create dramatic container plantings. The hefty, bold leaves of elephant's ear (Colocasia spp. and cvs., USDA Hardiness Zones 8–11) paired with lacy fern foliage are dynamite together, as are the distinguished leaves of rex begonias (Begonia Rex Cultorum group, not hardy below Zone 11) with slender fiber-optic grass (Isolepis cernua, Zones 8–10). The key is to choose a variety of textures. Too much of one texture, such as large, chunky leaves, is like colorful pieces of a jigsaw puzzle that don't quite go together until you find the connecting pieces in the form of fine-textured plants.
3. The payoff is worth the planning
Instead of a chaotic container with a mishmash of plants you liked individually, your pot will spill over with an exciting yet harmonious combination.
'Excalibur' caladium (Caladium bicolor 'Excalibur', USDA Hardiness Zones 10–11)
'Fairy' rex begonia (Begonia 'Fairy', not hardy below Zone 11)
'Mint Frost' heuchera (Heuchera 'Mint Frost', Zones 4–9)
Creeping wire vine (Muehlenbeckia axillaris, Zones 8–10)
Take a cue from texture
1. Frilly foliage comes first
The airy form of a golden elderberry can inspire countless combinations, especially with plants that echo its yellowish tones.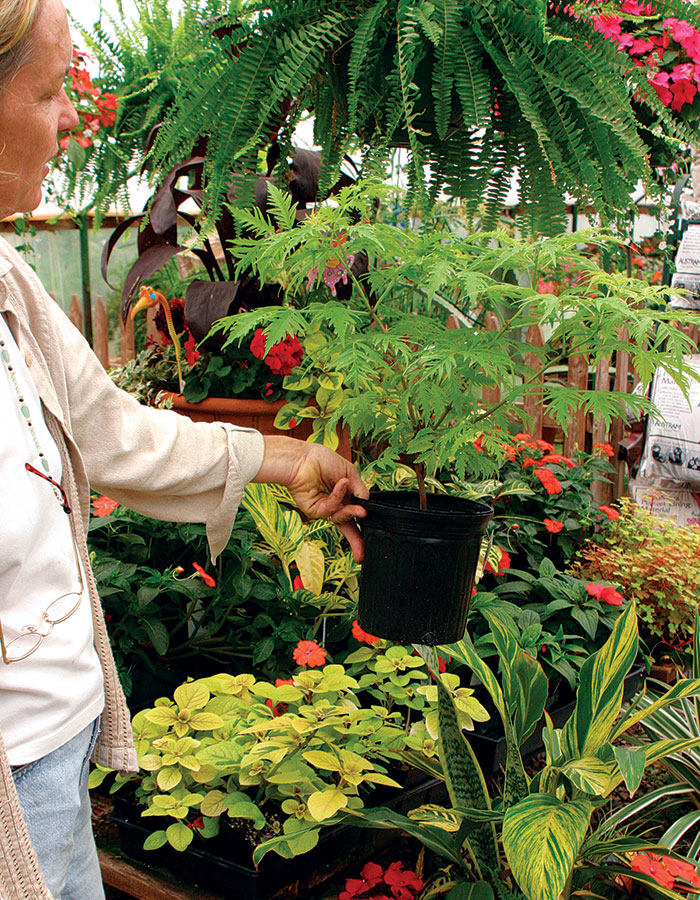 2. Keep colors simple
To avoid looking too busy, this color palette doesn't go further than chartreuse and some hints of red. The variety of textures and habits livens everything up.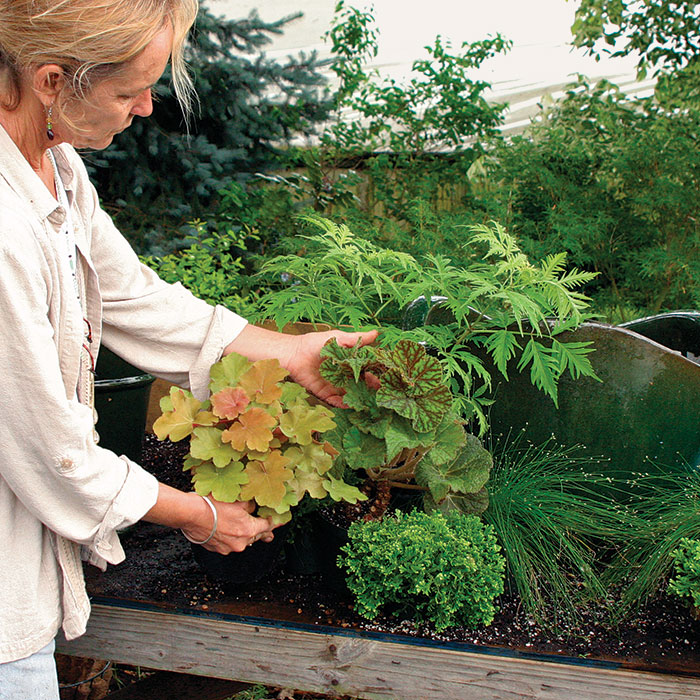 3. The right pot is the final touch
A tall green pot suits the combination in shape and color. The result is a composition that has impact because it is charming rather than ostentatious.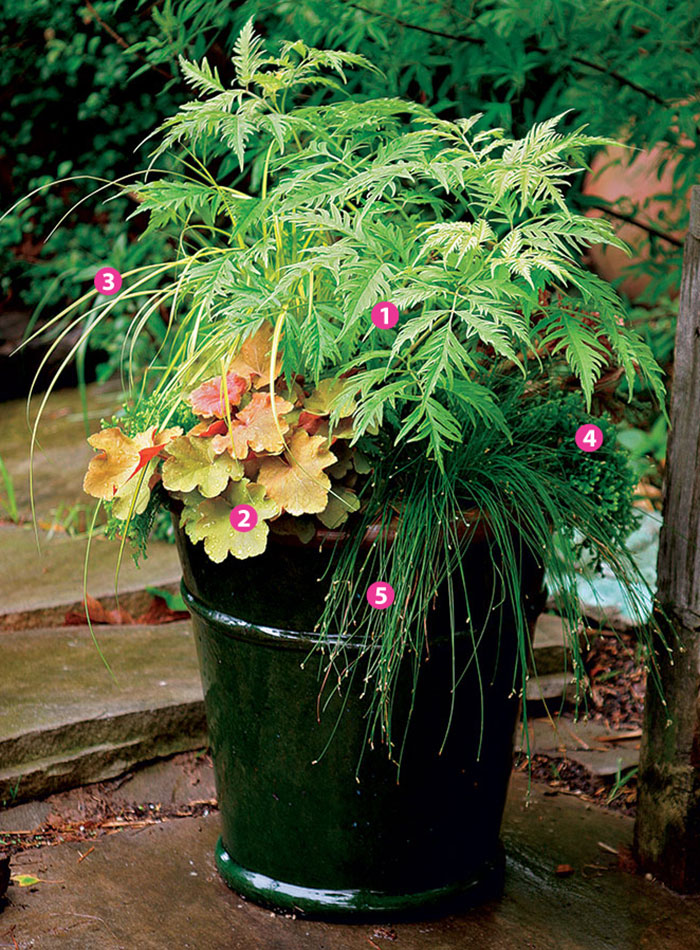 'Sutherland Gold' elderberry (Sambucus racemosa 'Sutherland Gold', Zones 3–7)
'Caramel' heuchera (Heuchera 'Caramel', Zones 4–9)
Bowles' golden sedge (Carex elata 'Aurea', Zones 5–9)
'Gold Tips' spikemoss (Selaginella kraussiana 'Gold Tips', Zones 6–10)
Fiber-optic grass (Isolepis cernua, Zones 8–10)
View Comments