Design
Cold-Weather Combinations for Fall Containers
Bright berries and flowing grasses deserve their time to shine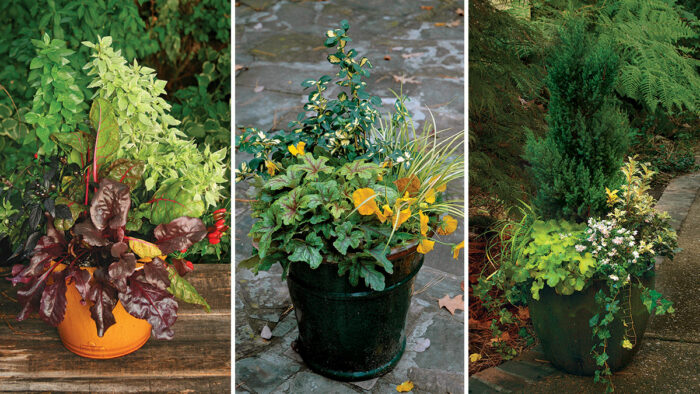 I don't agree with gardeners who think fall and winter are the time to throw in the towel. Oncoming cooler weather tells me it's time to find a warm place to bring in my most treasured tropicals and to get going on my next task: creating cool-weather combos.
If my hardier summer containers are kept watered and healthy, sometimes all I have to do to perk them up for the season is add an ornamental grass. Dwarf grasses are my favorites because I can tuck them in anywhere.
After sprucing up my older containers, I start observing maturing fruit and berries and watch for developing autumnal color so that I can pair them with flowers and foliage. Many of my end-of-the-year creations skip autumn altogether and go right for the deep, crisp colors of winter in the form of evergreens or fruiting shrubs. Nothing is more satisfying to me than looking out my window midwinter and still seeing living green things.
No matter where my imagination takes me, I always start fall and winter combos together with the arrival of the first cold spell. The earlier I create my cold-weather combos, the sooner I can sit back, enjoy their beauty, and wait for the first snowflakes to fall.
No one wants to see a lonely mum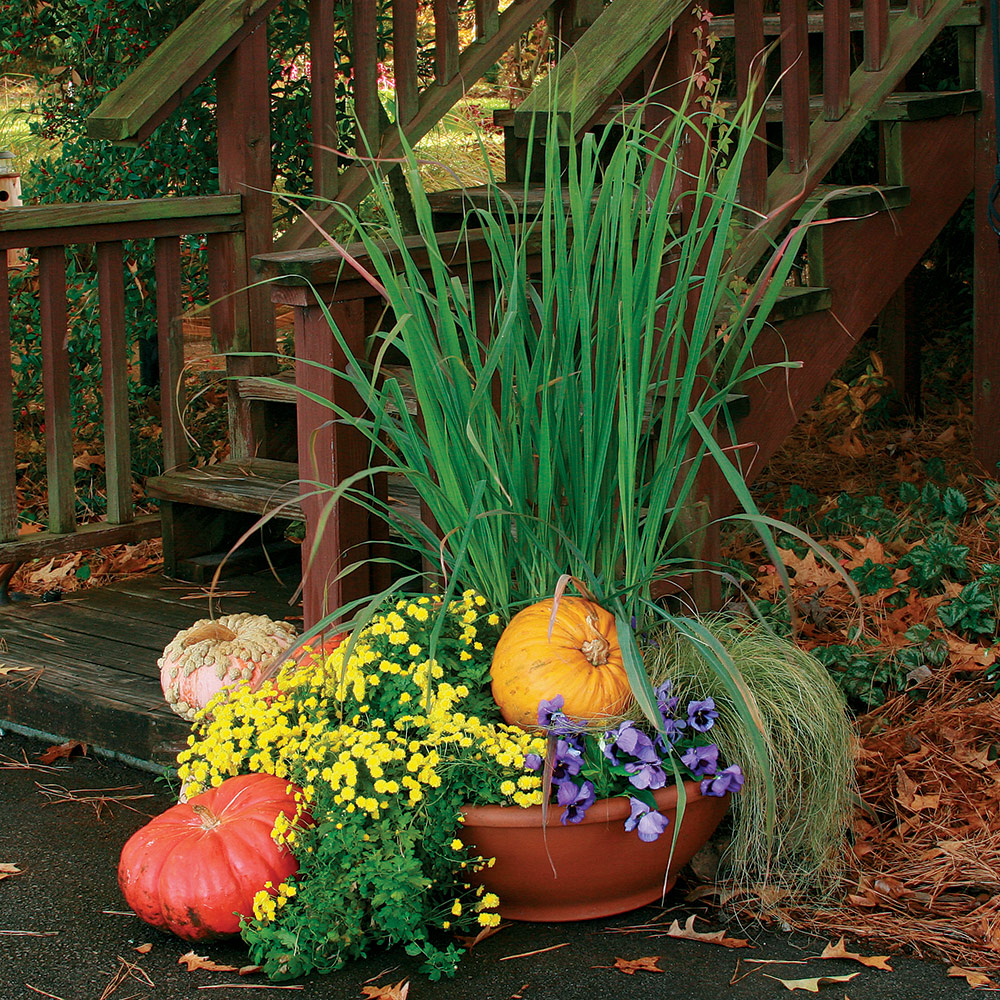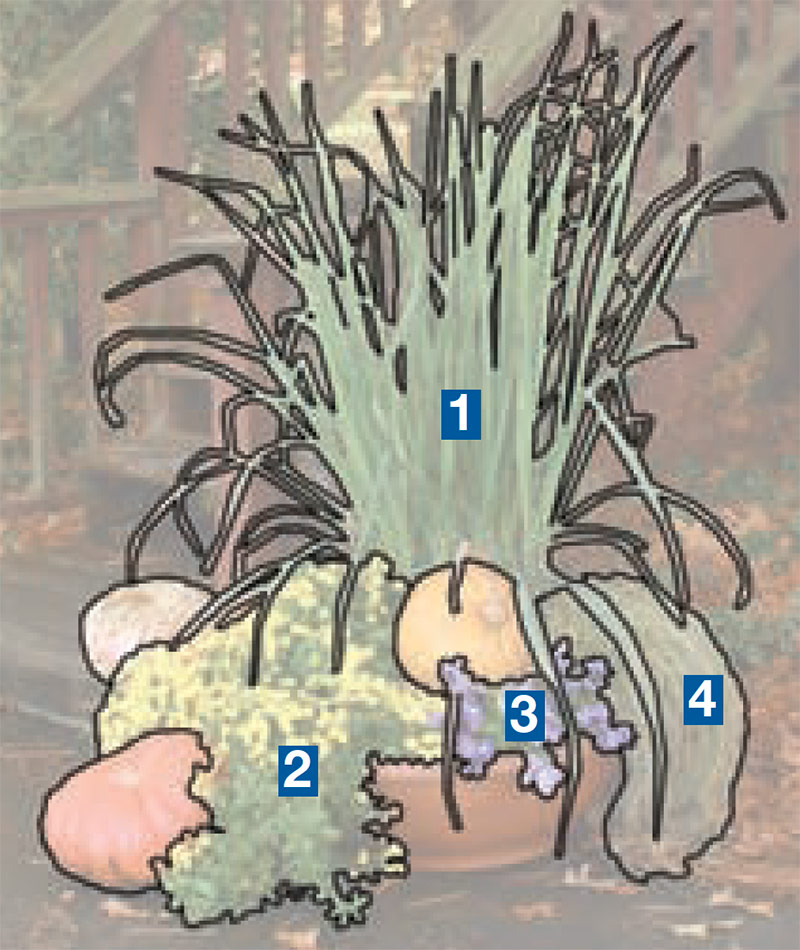 Chrysanthemums need friends—those companion plants that meld a combo together. By adding a splash of lemongrass, you'll spice up even the most mundane mum. Grasses of all sizes are a natural fit with mums, their fine foliage adding height to the mix. 'Frosted Curls' sedge and a few seasonal pumpkins complete this fall combo, making it a great look from any angle.
Lemongrass (Cymbopogon citratus, USDA Hardiness Zones 10–11)
'Seizan' chrysanthemum (Chrysanthemum 'Seizan', annual)
Pansy (Viola × wittrockiana cv., Zones 8–11)
'Frosted Curls' sedge (Carex 'Frosted Curls', Zones 7–9)
Greens look good and taste great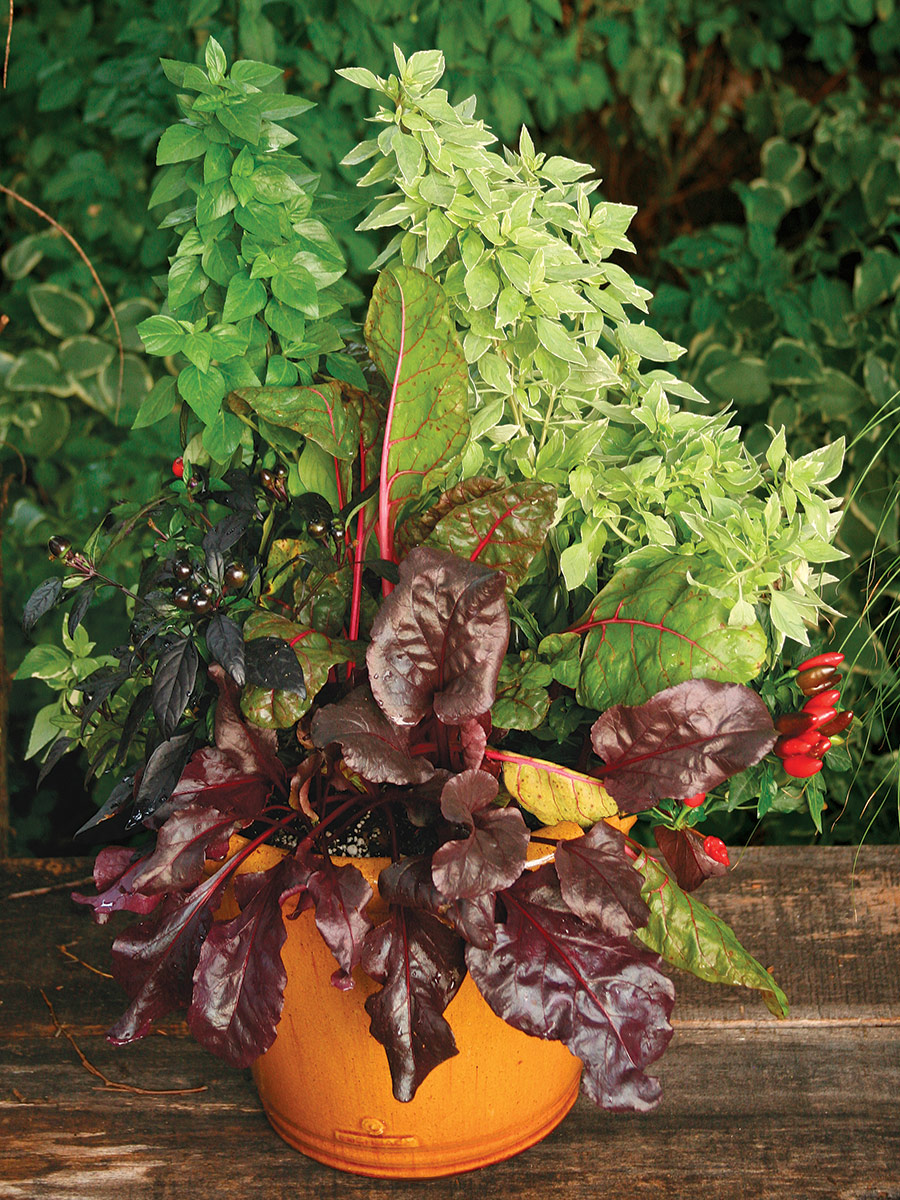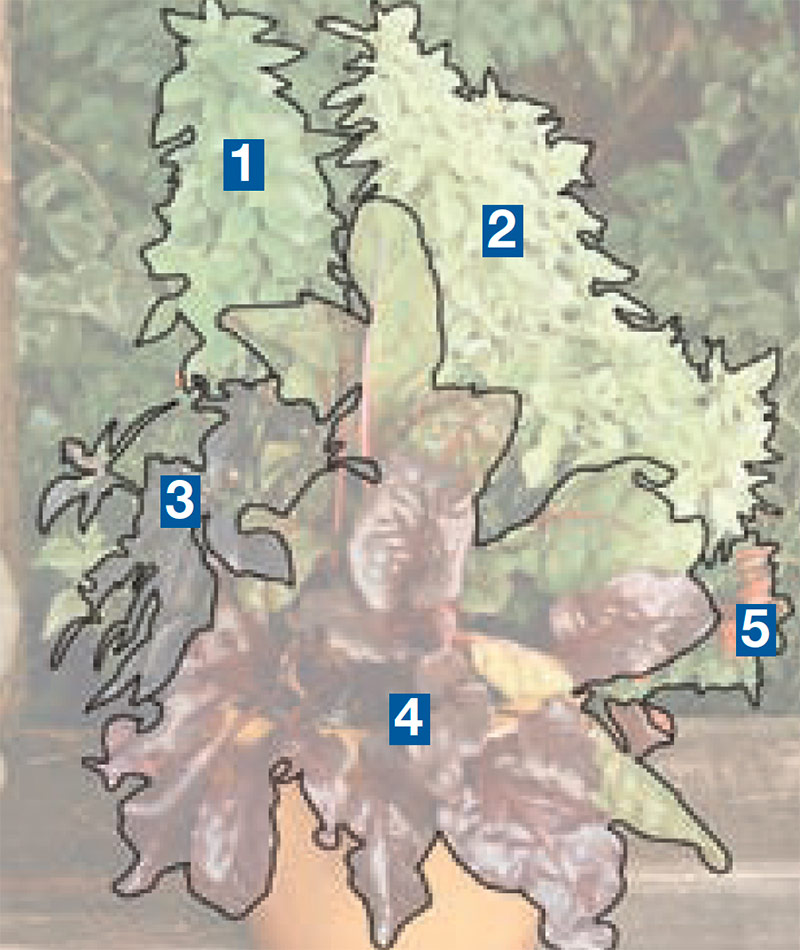 What better container ingredients are there than those you can both admire and eat? Many leafy greens and veggies have beautiful foliage color, last all summer, and pack a flavorful punch. I only use the safest potting mixes and fertilizers for these plants because I don't want toxins showing up in my salad bowl.
'Lesbos' Greek columnar basil (Ocimum basilicum 'Lesbos', annual)
'Pesto Perpetuo' basil (Ocimum × citriodorum 'Pesto Perpetuo', annual)
'Black Pearl' ornamental pepper (Capsicum annuum 'Black Pearl', annual)
'Bull's Blood' beet (Beta vulgaris 'Bull's Blood', annual)
'Calypso Red' ornamental pepper (Capsicum annuum 'Calypso Red', annual)
Containers revitalize empty corners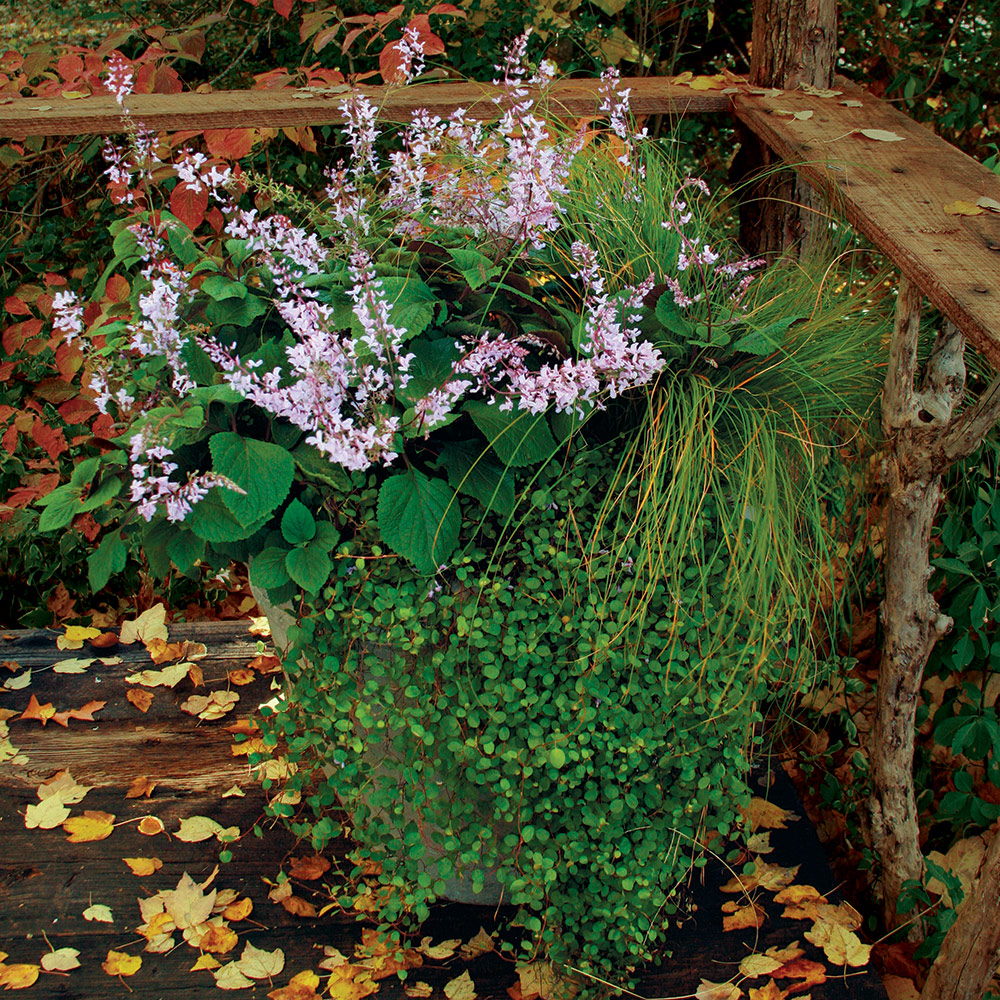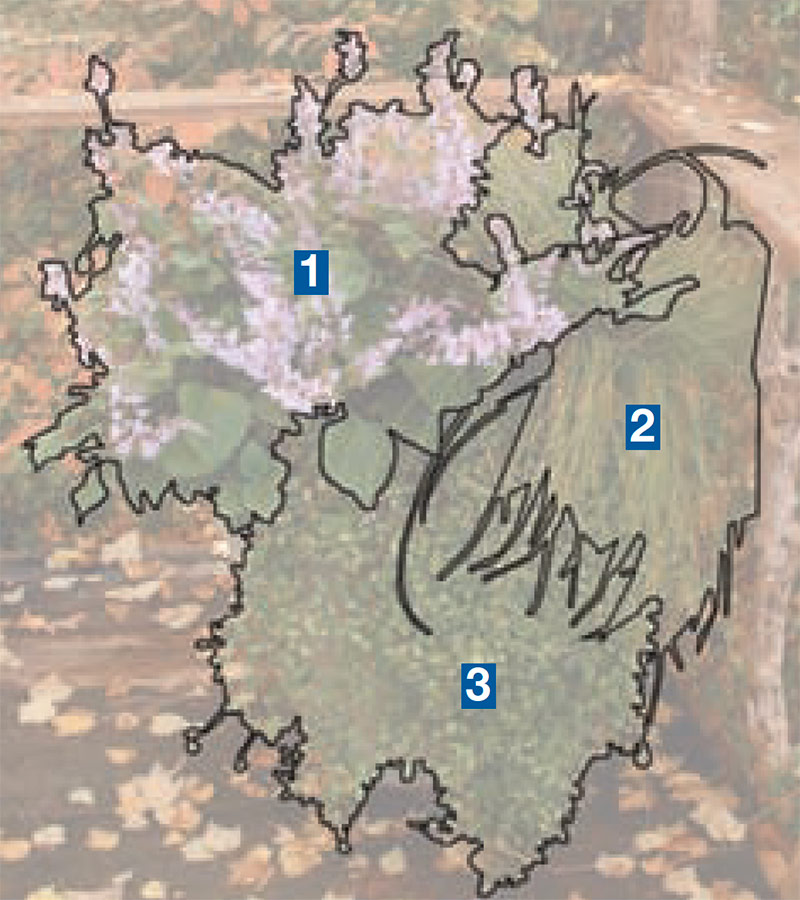 You can soften the sharp, angular points of a patio or deck with a full, lush container. I also use pots to offset the often monotone brown of a full deck or the slate gray of a concrete patio. This lavender combo is twice as effective when set against a backdrop of orange fall leaves.
'Drege' plectranthus (Plectranthus ciliatus 'Drege', annual)
Orange hair sedge (Carex testacea, Zones 8–9)
Creeping wire vine (Muehlenbeckia axillaris, Zones 8–10)
Yellow highlights make a big splash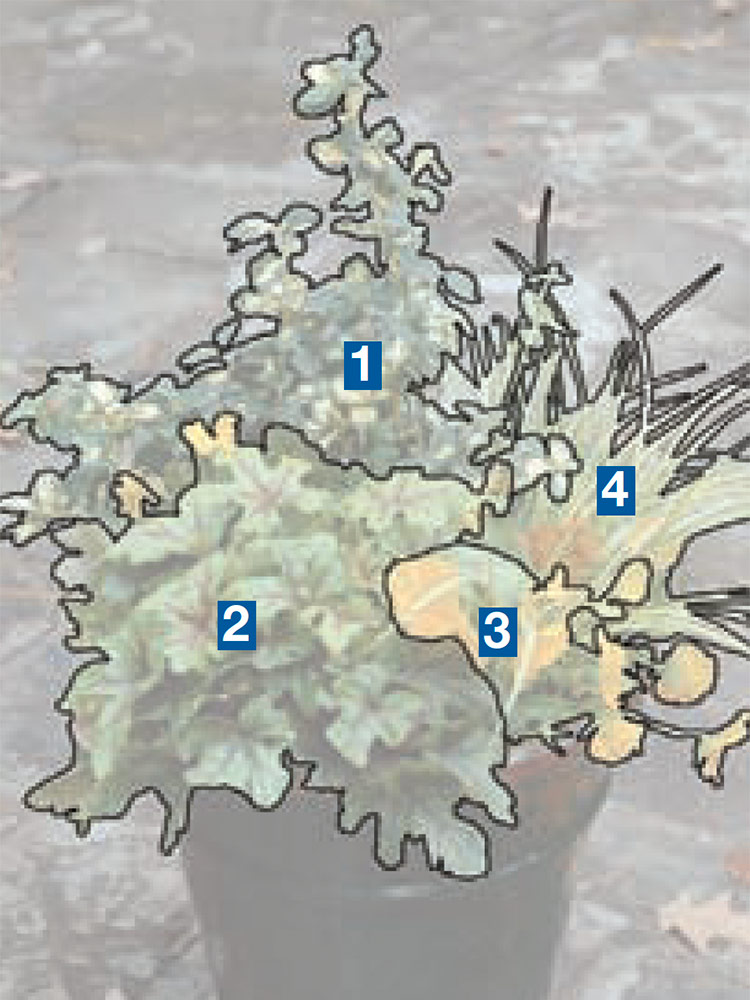 This small but well-rounded arrangement on my patio contains lush, persistent perennials and evergreen foliage. Dashes of yellow and gold weave the plants together into a colorful, textural tapestry. A mere 2 feet tall, this container is great next to a step or a back-door entry—or as a wonderful gift.
'Raulston's Gold' wintercreeper (Euonymus fortunei* 'Raulston's Gold', Zones 5–9)
'Alabama Sunrise' heucherella (× Heucherella 'Alabama Sunrise', Zones 4–9)
Panola™ primrose pansy (Viola × wittrockiana Panola™ Primrose, Zones 8–11)
'Ogon' Japanese sweet flag (Acorus gramineus 'Ogon', Zones 6–9)
Fall favorites create a seasonal sensation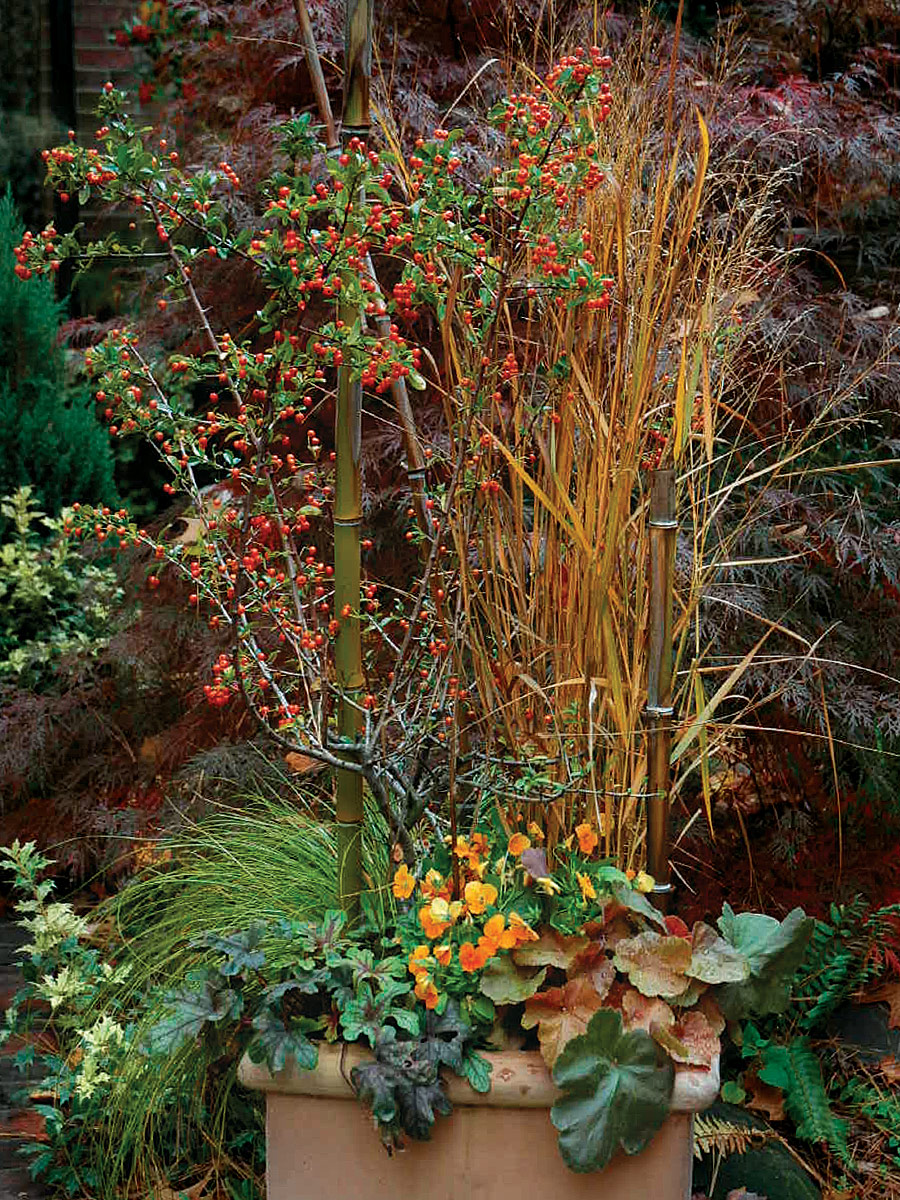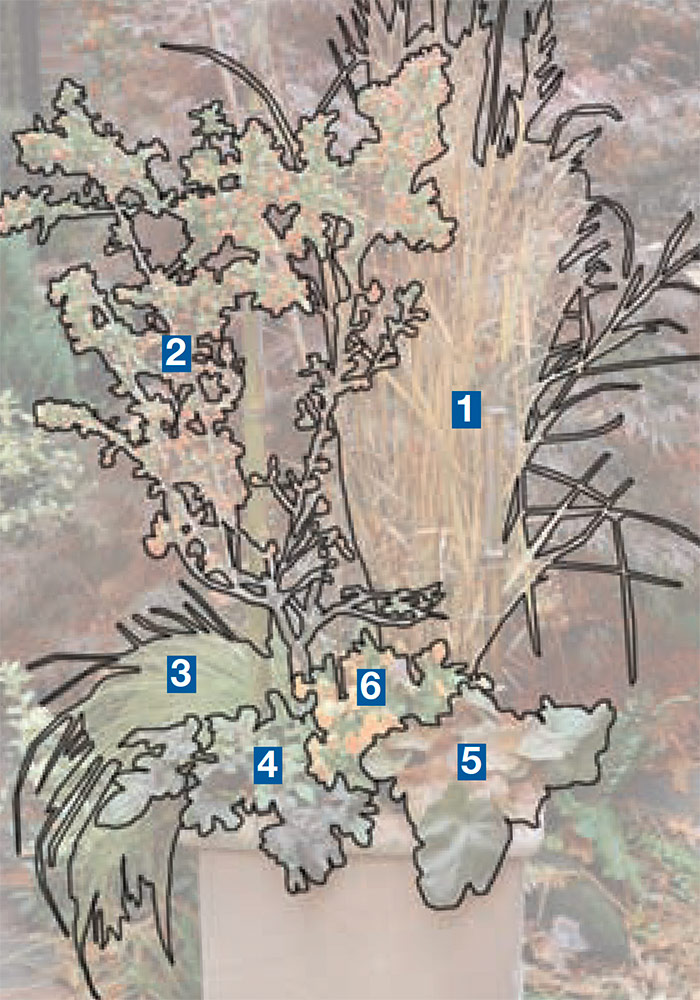 This container encompasses all that is autumn. The golden glow of grasses sets the backdrop for the fruiting firethorn. My favorite perennials add an extra splash of color along the container's edge. This arrangement will grace my walkway all winter long, supplying a view for me and some fruit for the local birds.
'Northwind' switchgrass (Panicum virgatum 'Northwind', Zones 5–9)
'Orange Glow' firethorn (Pyracantha 'Orange Glow', Zones 6–9)
Orange hair sedge (Carex testacea, Zones 8–9)
'Tapestry' heucherella (× Heucherella 'Tapestry', Zones 4–9)
'Southern Comfort' heuchera (Heuchera 'Southern Comfort', Zones 4–9)
'Delta Citrus Mix' viola (Viola × wittrockiana 'Delta Citrus Mix', Zones 8–11)
---
Design tips
Outdoor treasures create indoor interest
At the end of summer, I recommend making strict decisions about which plants to keep and which to compost. If there is a plant I can easily get again next year and it isn't really suitable for growing indoors, I'll let it go. I bring in anything that's hard to find and small enough to handle, especially plants that are happy with the lower light levels. This bird's nest fern (Asplenium nidus, Zone 11), rex begonia, and peacock spikemoss look so full that there's no reason not to bring the combo indoors.
Houseplants make great combos too
Houseplants make great gifts and year-round centerpieces. I don't usually plant them together but, rather, leave them in their growing container and simply arrange them in a larger decorative pot. I employ many of the design concepts that I use outdoors to create these indoor combos, like the "thriller, filler, spiller" concept. Often I simply eye everything to see what looks good together. I then cover the pots that have been dropped down into larger containers with decorative dried moss to keep the black plastic pots from showing.
---
Impromptu designs don't have to end in disaster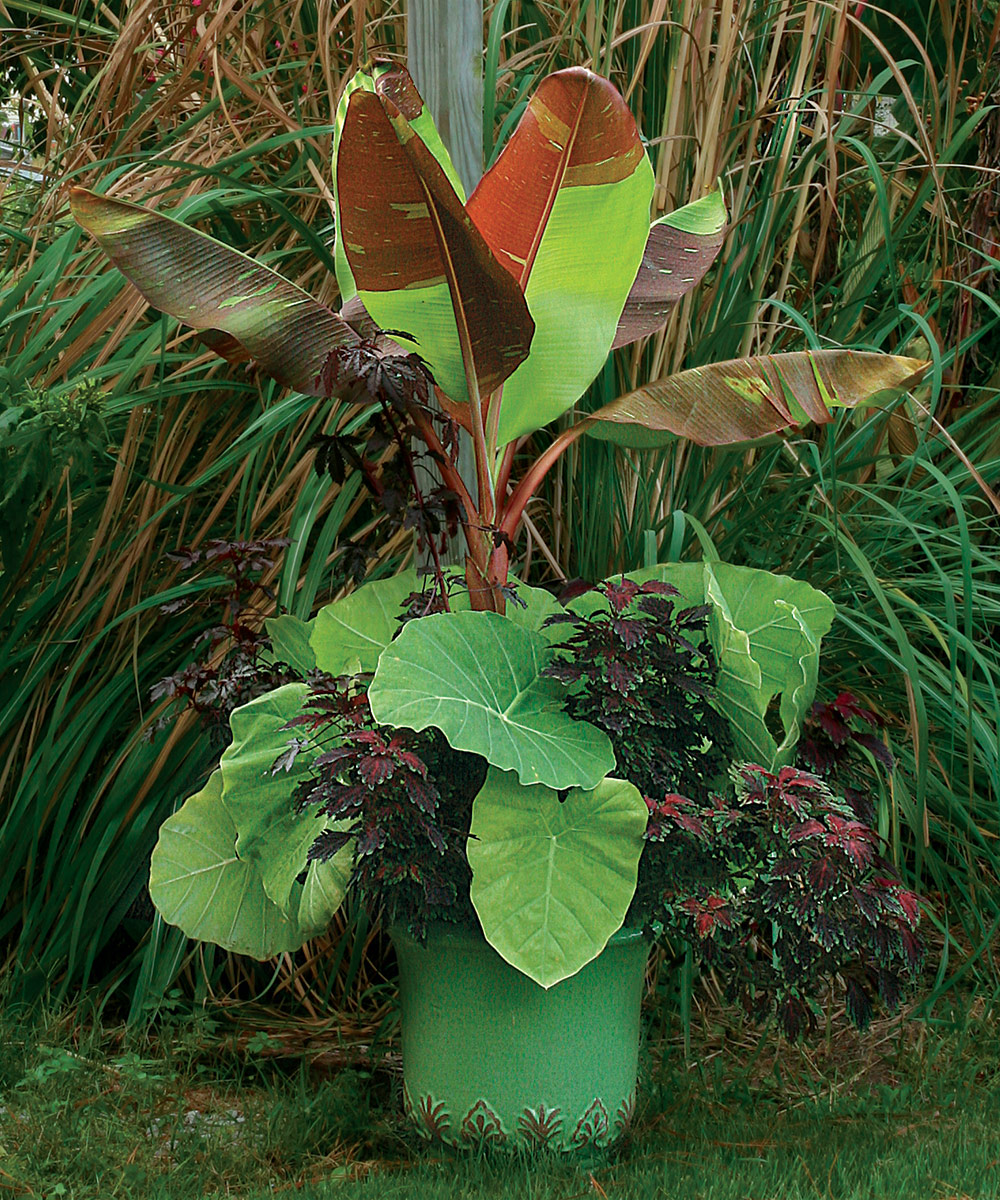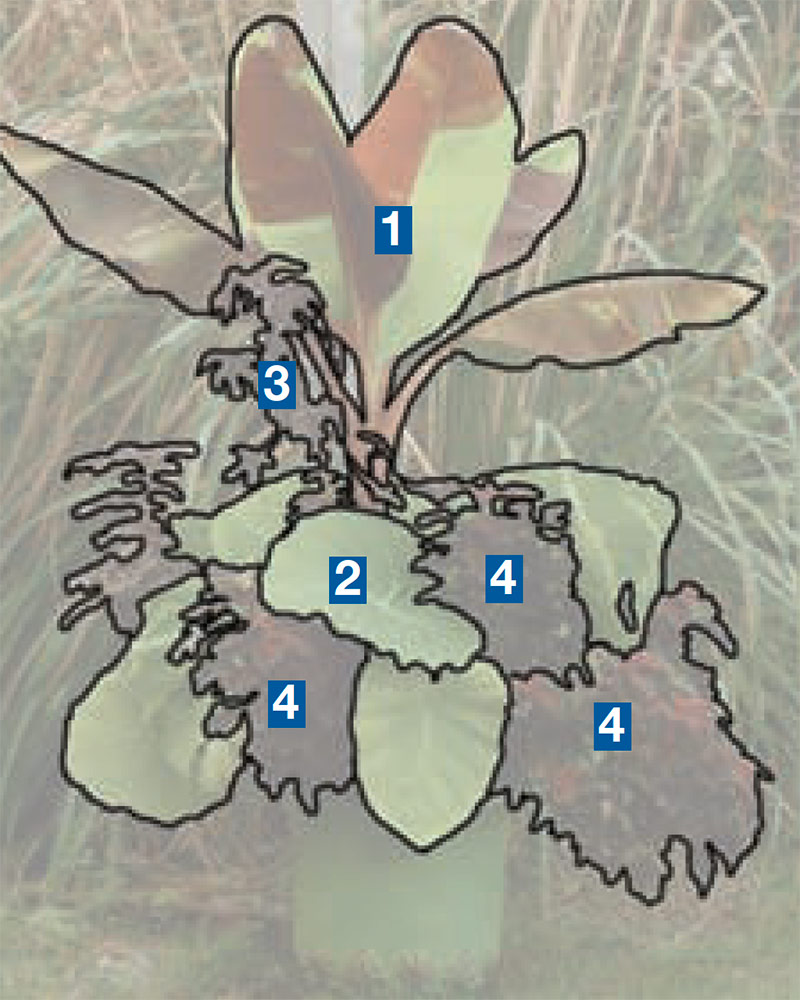 An out-of-town trip led to this accidental arrangement—temporarily thrown together because I wasn't sure where I was going to use my new and hard-to-find plants. The repeating shades of green and red foliage all go together, and the light green pot has an intricate maroon border that completes the look. For winter, I'll cut most of the foliage off and bring the entire mix inside, keeping it relatively dry with just enough moisture to maintain the plants until the next growing season.
You can't beat ornamental and edible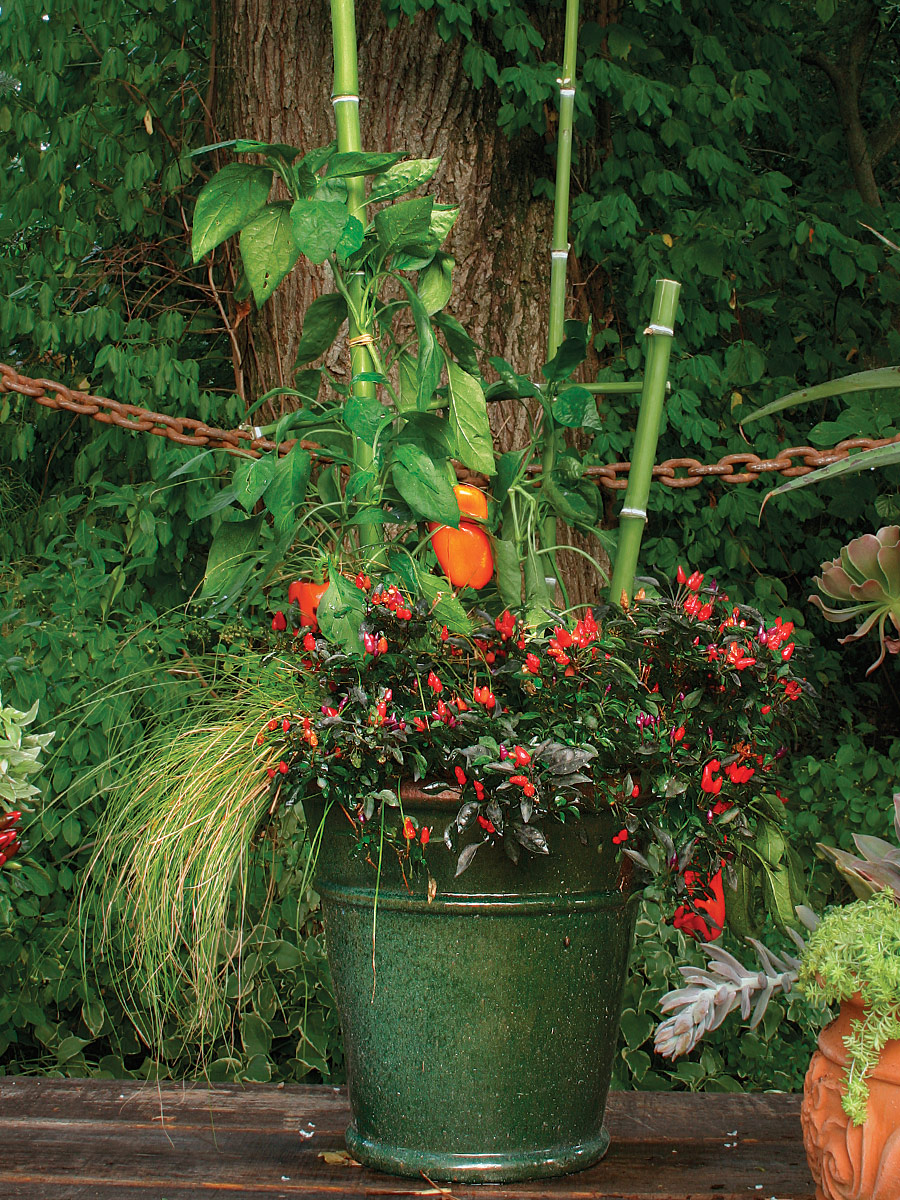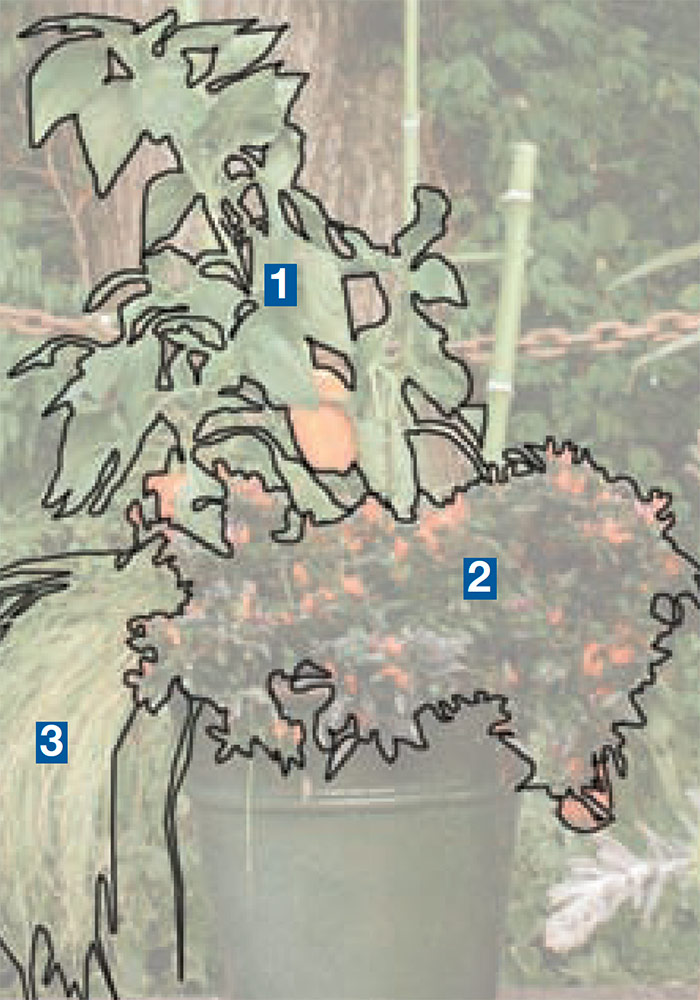 Ornamental edibles are favorite plants of mine because they are easy to design with. Plus, containers lift the veggies up to you, so you can get your garden fix without having to bend over all the time. Many vegetables, such as peppers, can grow happily in containers all season long. With the right fertilizer—pref­erably organic and made for this purpose—they won't mind being in a pot. They may actually prefer it.
'Mandarin' bell pepper (Capsicum annuum 'Mandarin', annual)
'Explosive Ember' ornamental pepper (Capsicum annuum 'Explosive Ember', annual)
Mexican feather grass (Stipa tenuissima, Zones 7–11)
Some kitchen herbs can bear the cold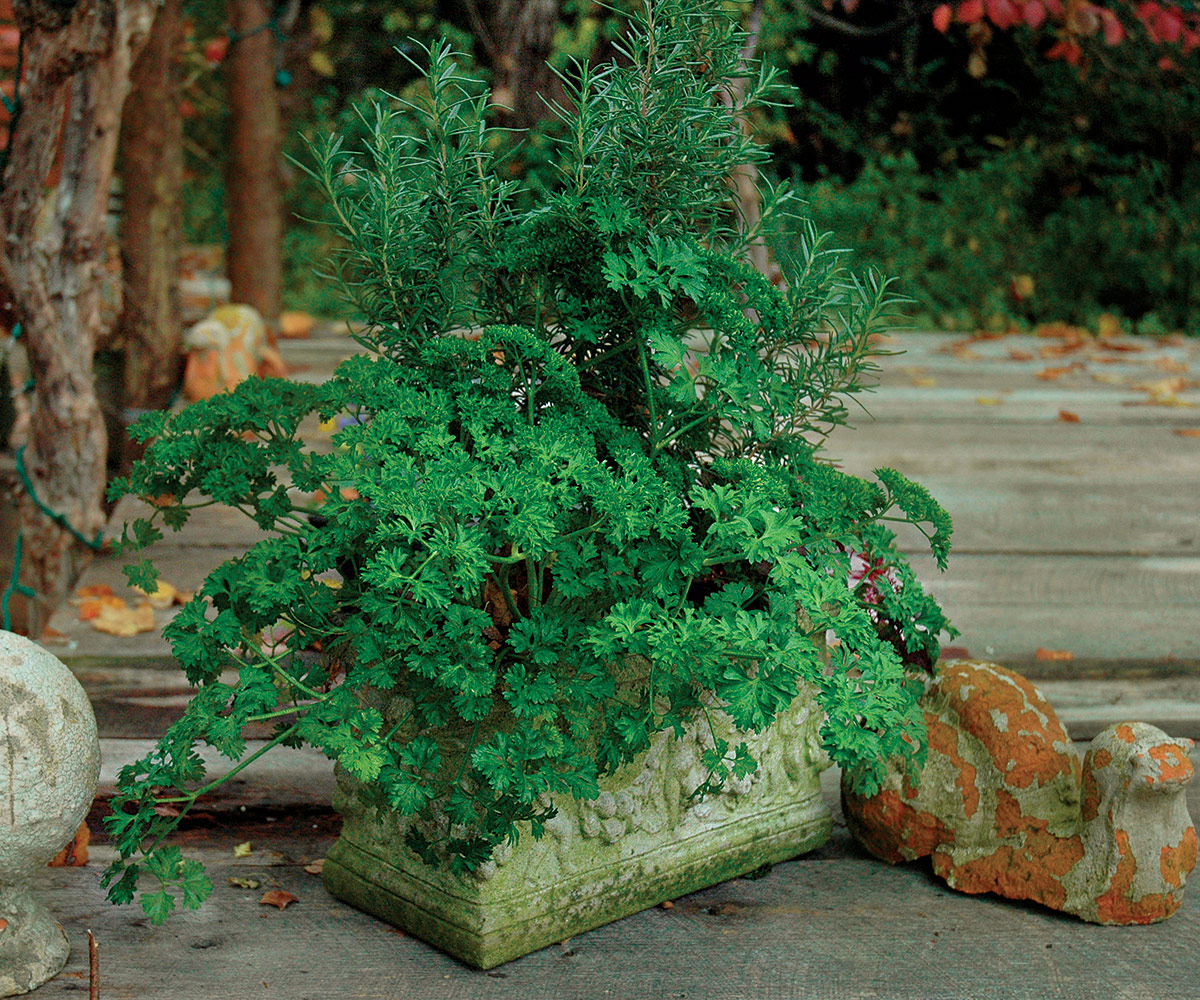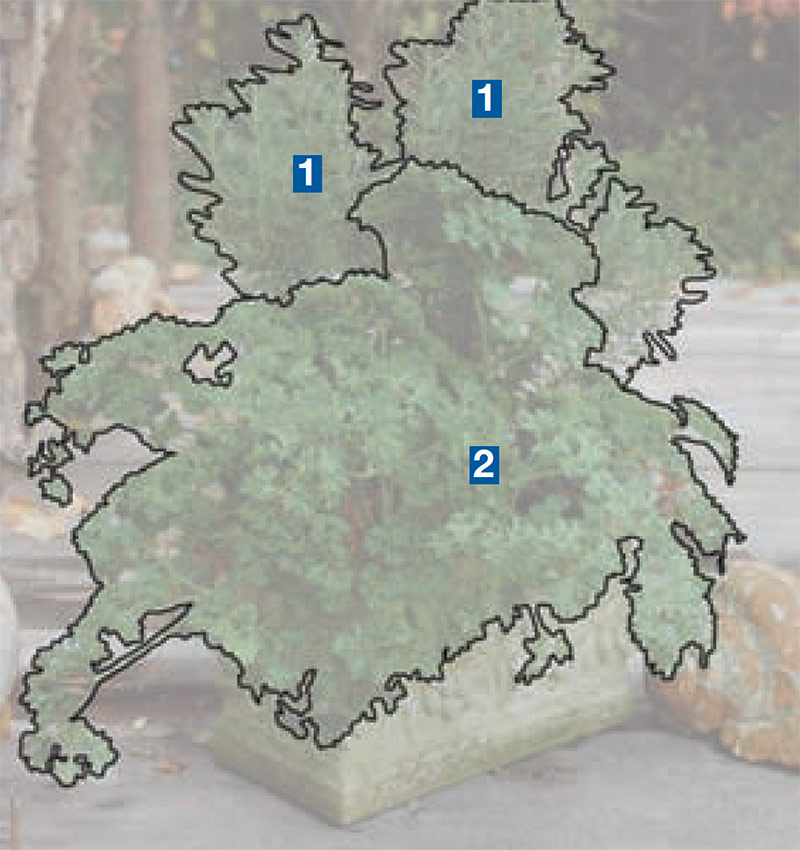 In a season where so much foliage is deciduous, I find it refreshing to know that I can grow evergreen rosemary and parsley. These are two of the most essential herbs in my recipes, and with just a little protection from the elements, they will grow wonderfully through the winter. They both thrive in a relatively small pot that I only pull indoors during the worst weather—which gives me the incentive to pick up what I need to make potato soup and rosemary bread.
Rosemary (Rosmarinus officinalis cv., Zones 8–11)
Parsley (Petroselinum crispum cv., Zones 5–9)
A subtle structure creates added interest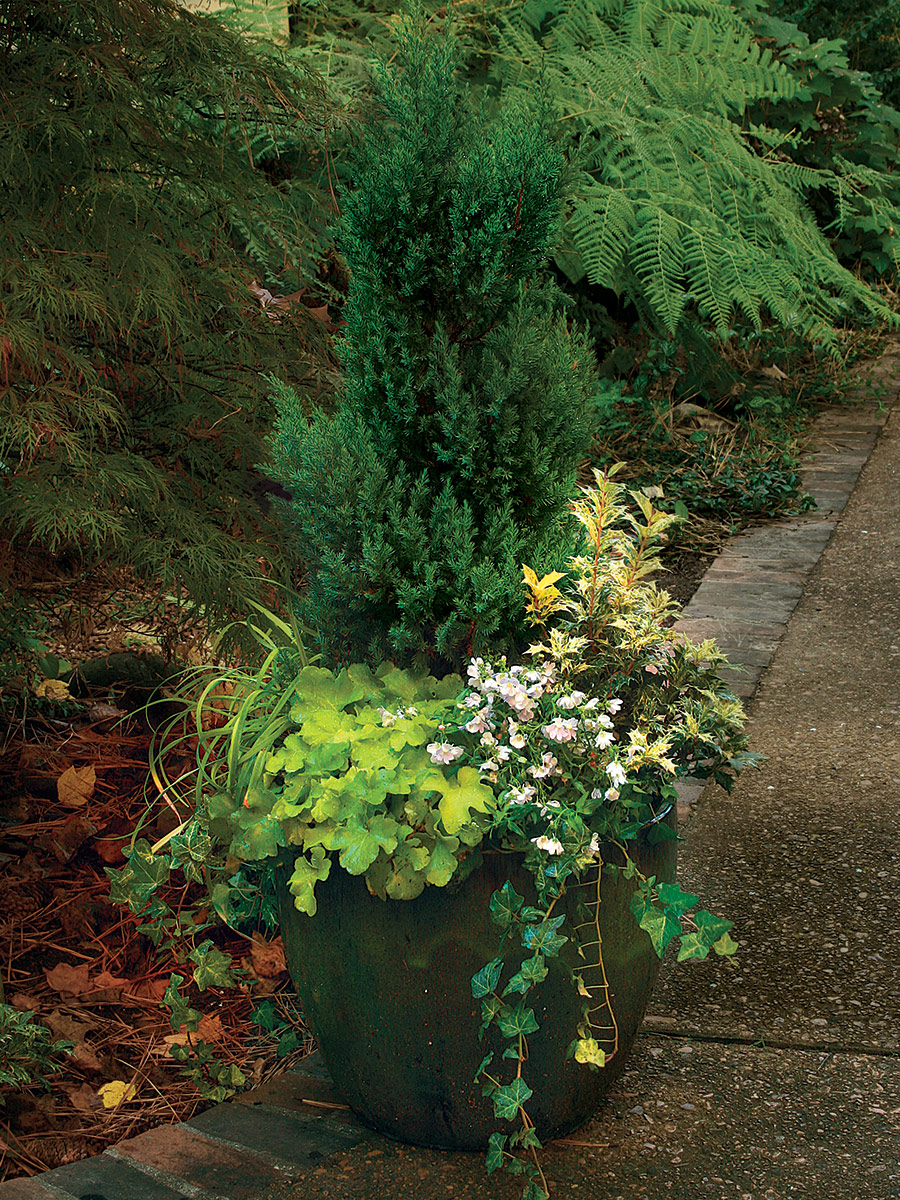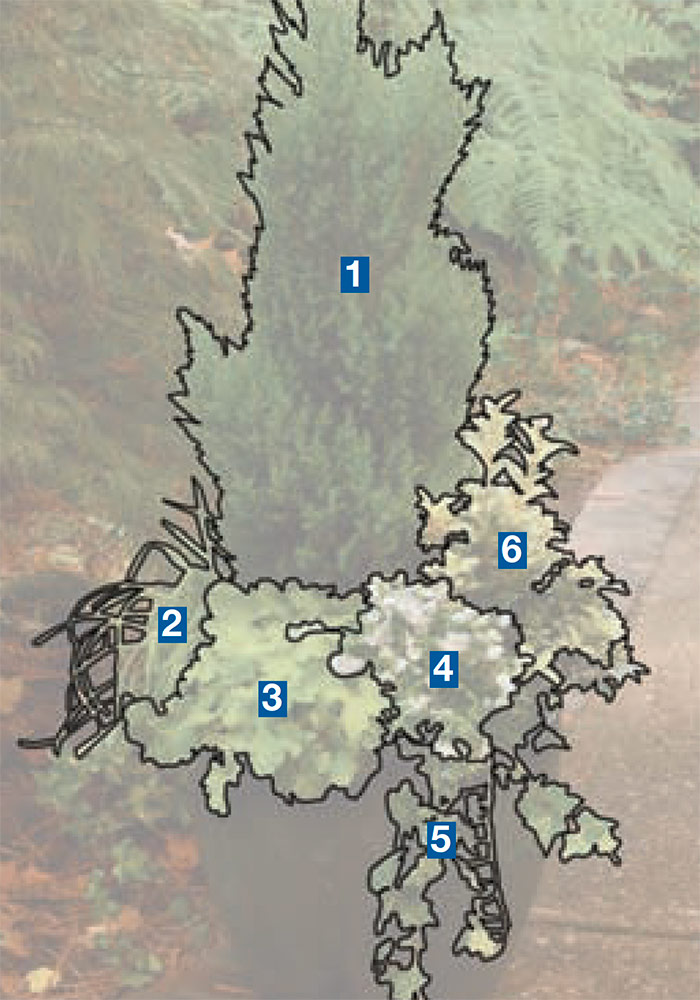 This combo boasts deep greens separated by lighter greens, and—though not obvious at first—the three-tiered spiral of this red cedar is complemented by a reverse spin of under­planted perennials and false holly. This turn gives the arrangement balance and interest, even after flowers fade or die.
Red cedar (Juniperus virginiana* cv., Zones 3–9)
'Pee dee Ingot' liriope (Liriope muscari 'Pee Dee Ingot', Zones 6–10)
'Citronelle' heuchera (Heuchera villosa 'Citronelle', Zones 4–9)
Compact Innocence® nemesia (Nemesia fruticans 'Tiktoc', annual)
English ivy (Hedera helix* cv., Zones 5–11)
'Goshiki' variegated false holly (Osmanthus heterophyllus 'Goshiki', Zones 7–9)
Artistically placed stones create a miniature forest in a pot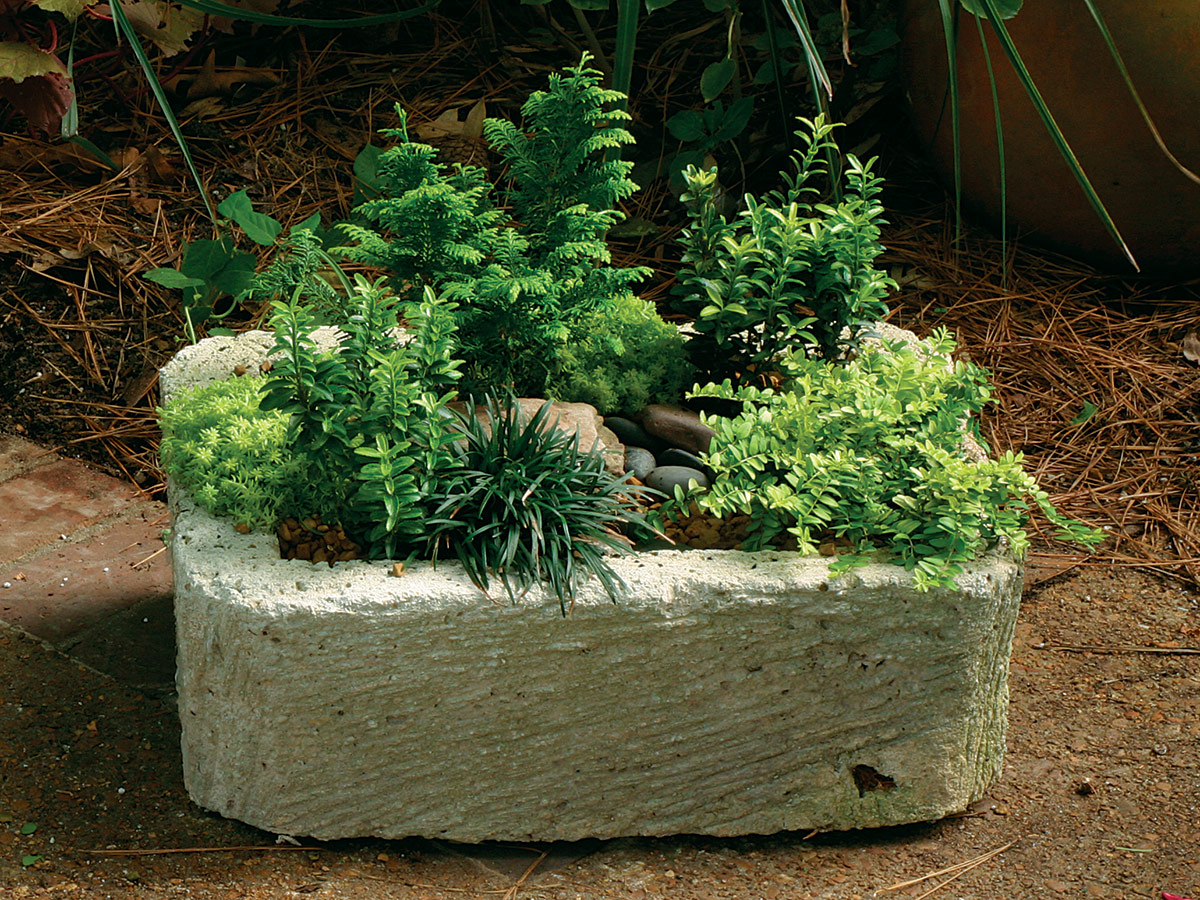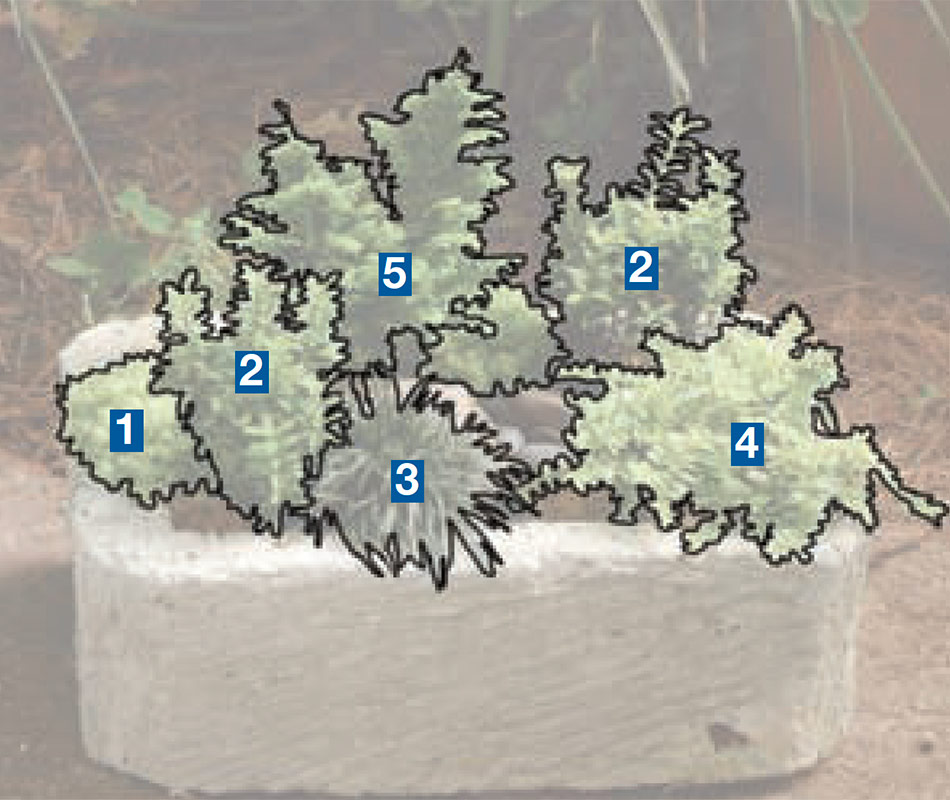 A collection of some of my smallest treasures, which fit neatly into an alpine trough, forms a miniature landscape. Arranged like a small garden, with rocks and smooth stones to symbolize a creek, the plants in this concrete trough will grow nicely for at least a year or two. It always entices visitors to investigate, sometimes leading them to give it a pat or two.
Sedum (Sedum cv., Zone 6–11)
'Butterscotch' euonymus (Euonymus japonicus 'Butterscotch', Zones 6–9)
'Nanus' dwarf mondo grass (Ophiopogon japonicus 'Nanus', Zones 7–10)
'Baggesen's Gold' boxleaf honeysuckle (Lonicera nitida 'Baggesen's Gold', Zones 6–9)
'Fernspray' hinoki cypress (Chamaecyparis obtusa 'Fernspray', Zones 4–8)
A mini pine has the look of an extralarge bonsai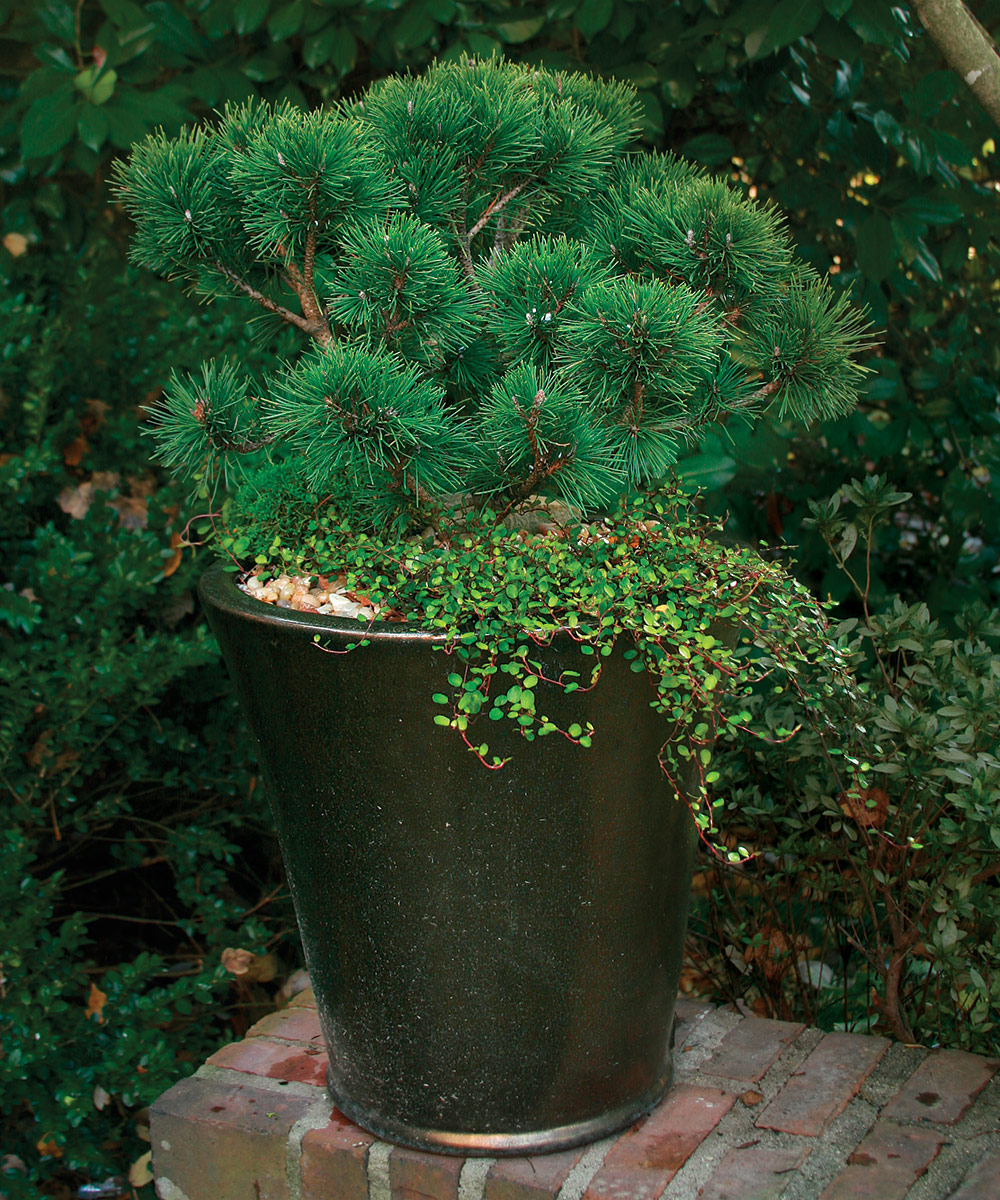 A mugo pine can transform into an Asian bonsai with no trimming or training. Its natural, stunted growth and good looks are enough to draw attention. It's paired with a creeping wire vine that will persist until next spring, even if it freezes back to the soil. Top-dressing the pot with gravel will keep it looking nice when the peren­nials go dormant.
Mugo pine (Pinus mugo, Zones 3–7)
Creeping wire vine (Muehlenbeckia axillaris, Zones 8–10)
Twiggy spikemoss (Selaginella sanguinolenta var. compressa, Zones 6–8)
---
Extend container life with cool-weather techniques
When the temperature has cooled off, I spend some extra time with my containers to clean house. Some of my combinations don't need a lot of help, but others are ready for the compost heap. I cut a lot of my leggy blooming plants one more time and bring the cut flowers inside as centerpieces. I replace the plants and combos that won't make it through to the next season with evergreens, grasses, and other hardy perennials. If I end up with empty containers, I apply a few cool-weather techniques before I plant them up with fall and winter combos.
Freshen up pots by separating the good plants from the ugly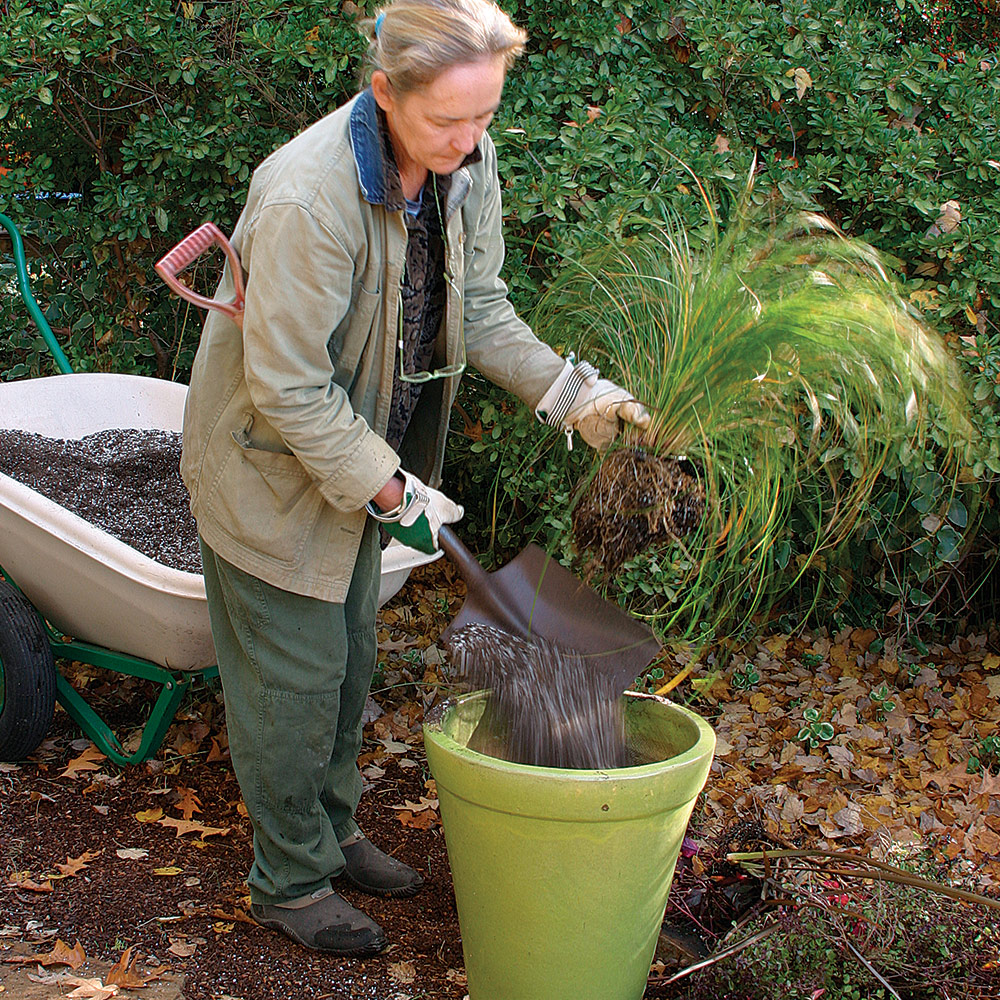 If an arrangement looks a little ragged, I'll separate all the components to decide which ones look healthy enough to use in new combinations. The specimens I reuse have had an entire season to grow, which ensures that my new creations will look full right from the start. With spent annuals removed and the soil freshened up, I'm ready to transform both old and new plants into stunning fall and winter arrangements. I'll sometimes simply pot up a single large specimen that I've pulled from an old container, like this now fully grown orange hair sedge.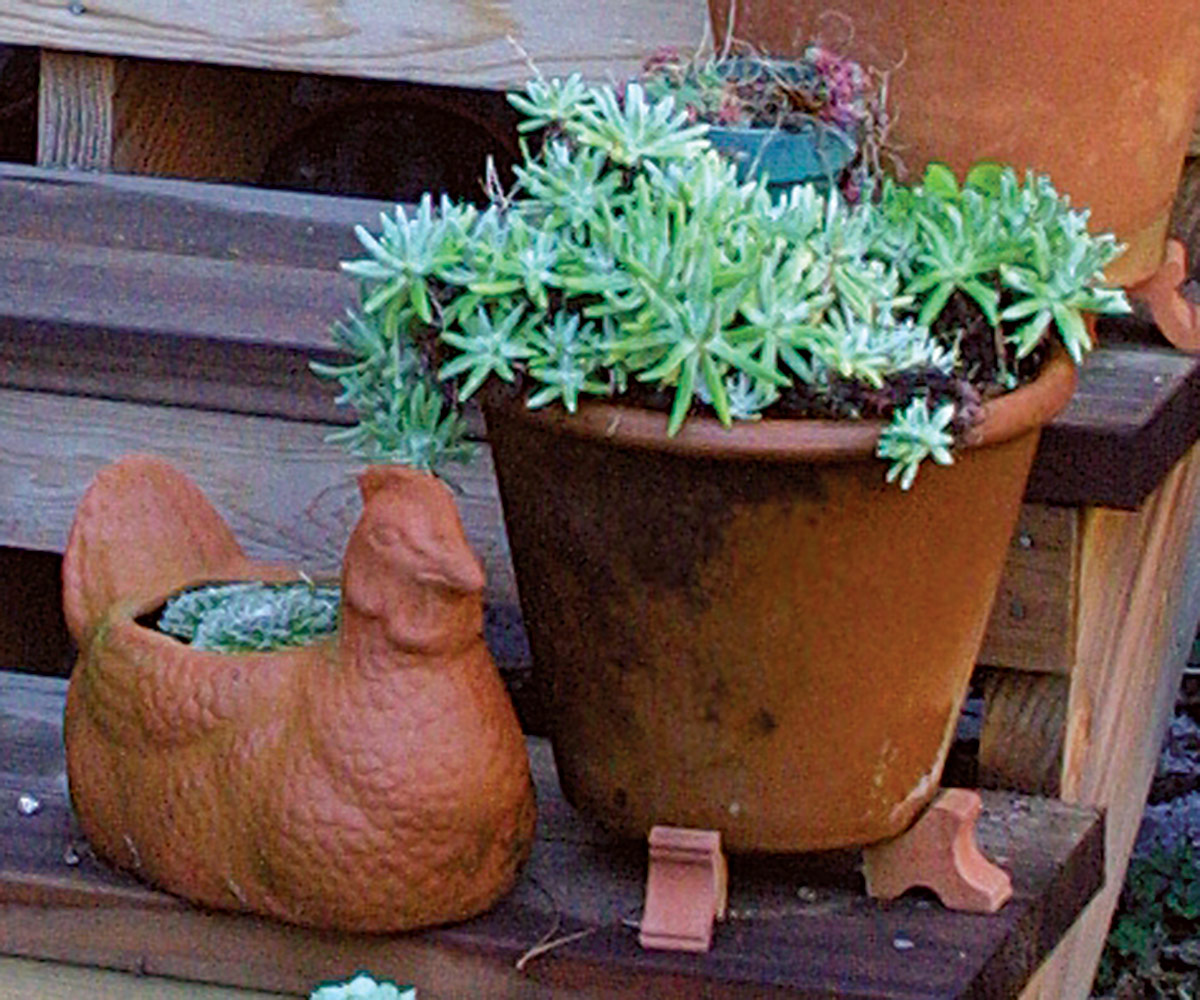 Pot feet protect your containers from freezing
Freezing temperatures make it absolutely necessary to lift containers off the ground to keep the base from freezing and breaking. Pot feet do the lifting and ensure that potentially freezing water will drain off quickly and not collect in or under the container.
Add gravel to soil mixes for excellent winter drainage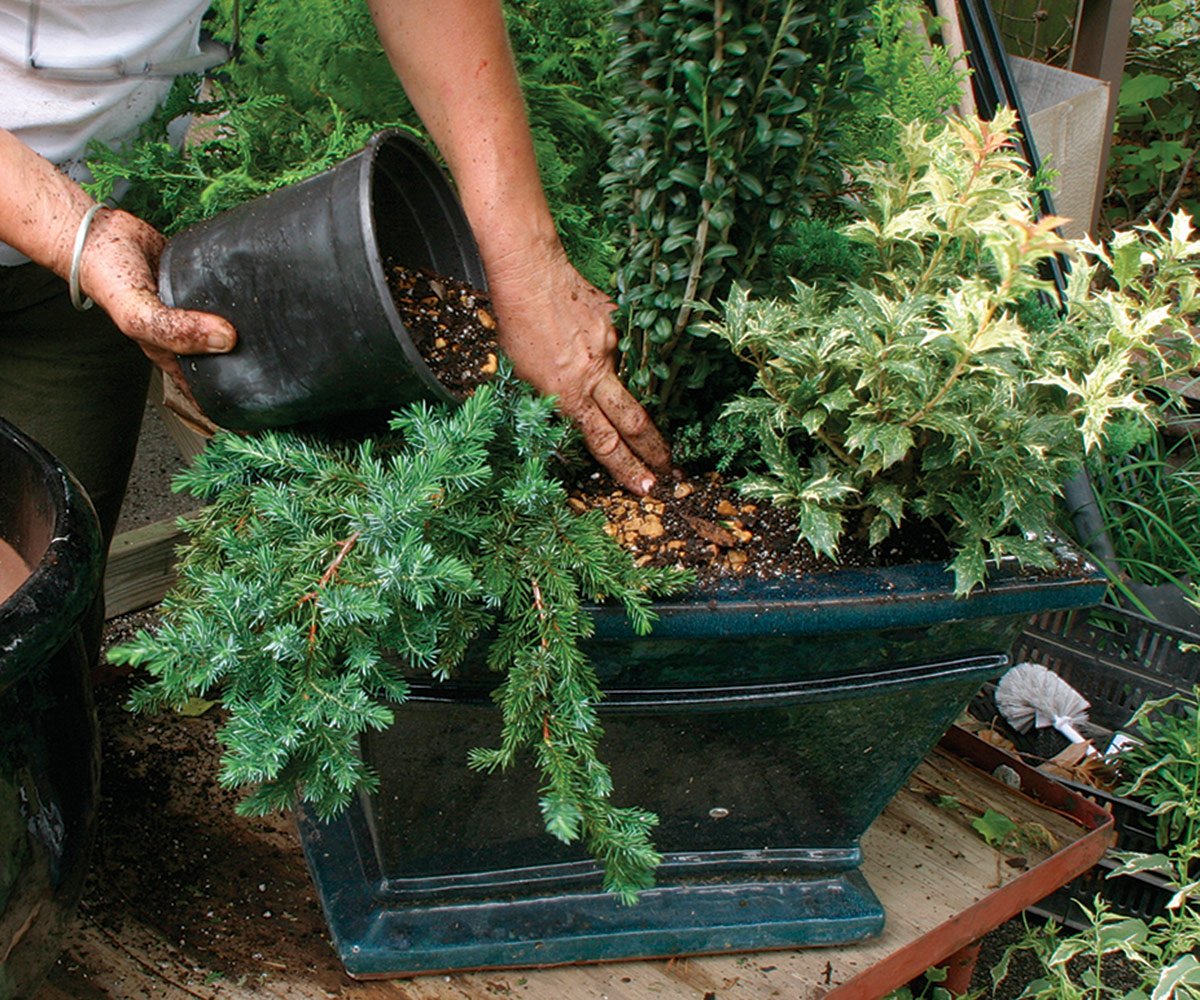 Add a little gravel to the potting media when planting conifers. They appreciate rich soil and regular watering but require excellent drainage. Choose an inert gravel of a color that complements your container and plant choices. A large stone is a nice architectural touch. Top-dressing with stones and gravel or a piece of driftwood also helps retain your potting soil during winter weather.
Protect winter containers by leaving room for soil expansion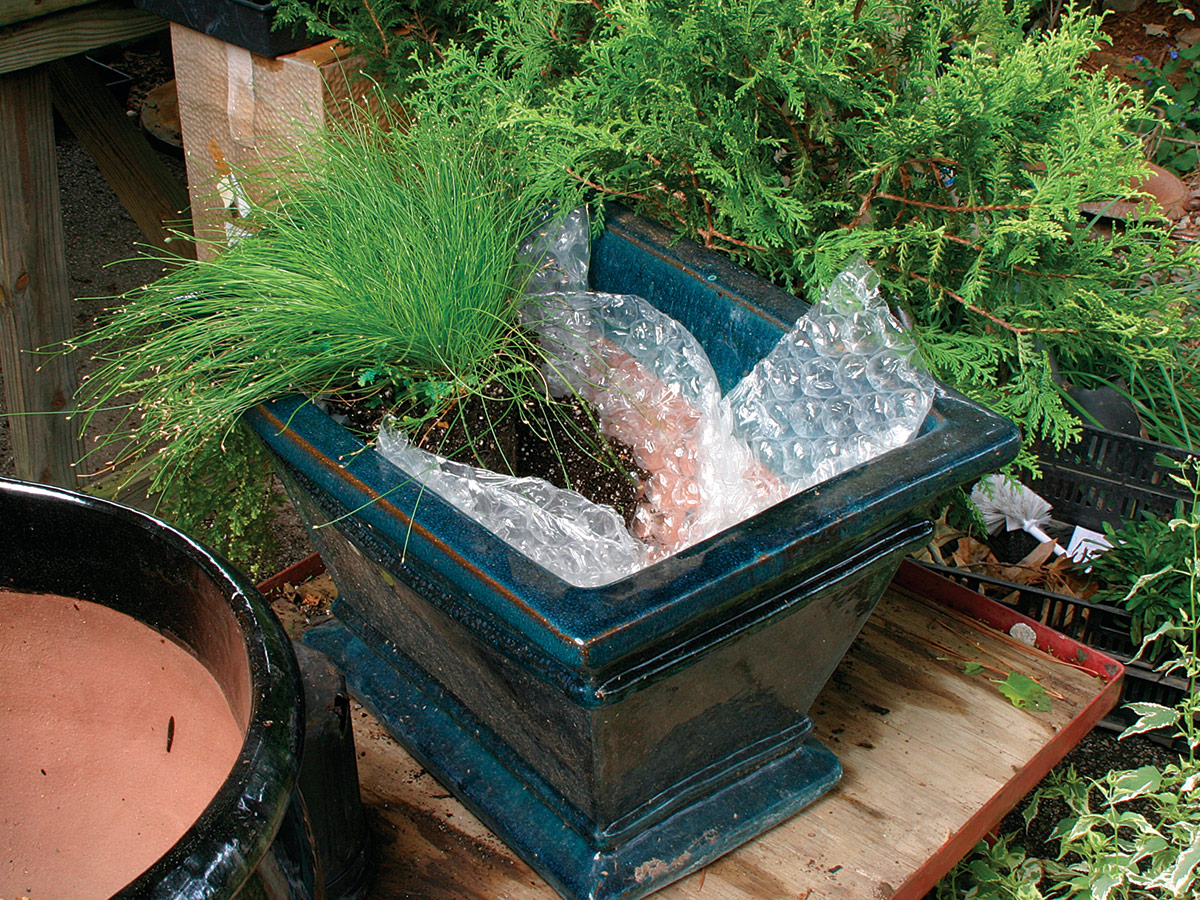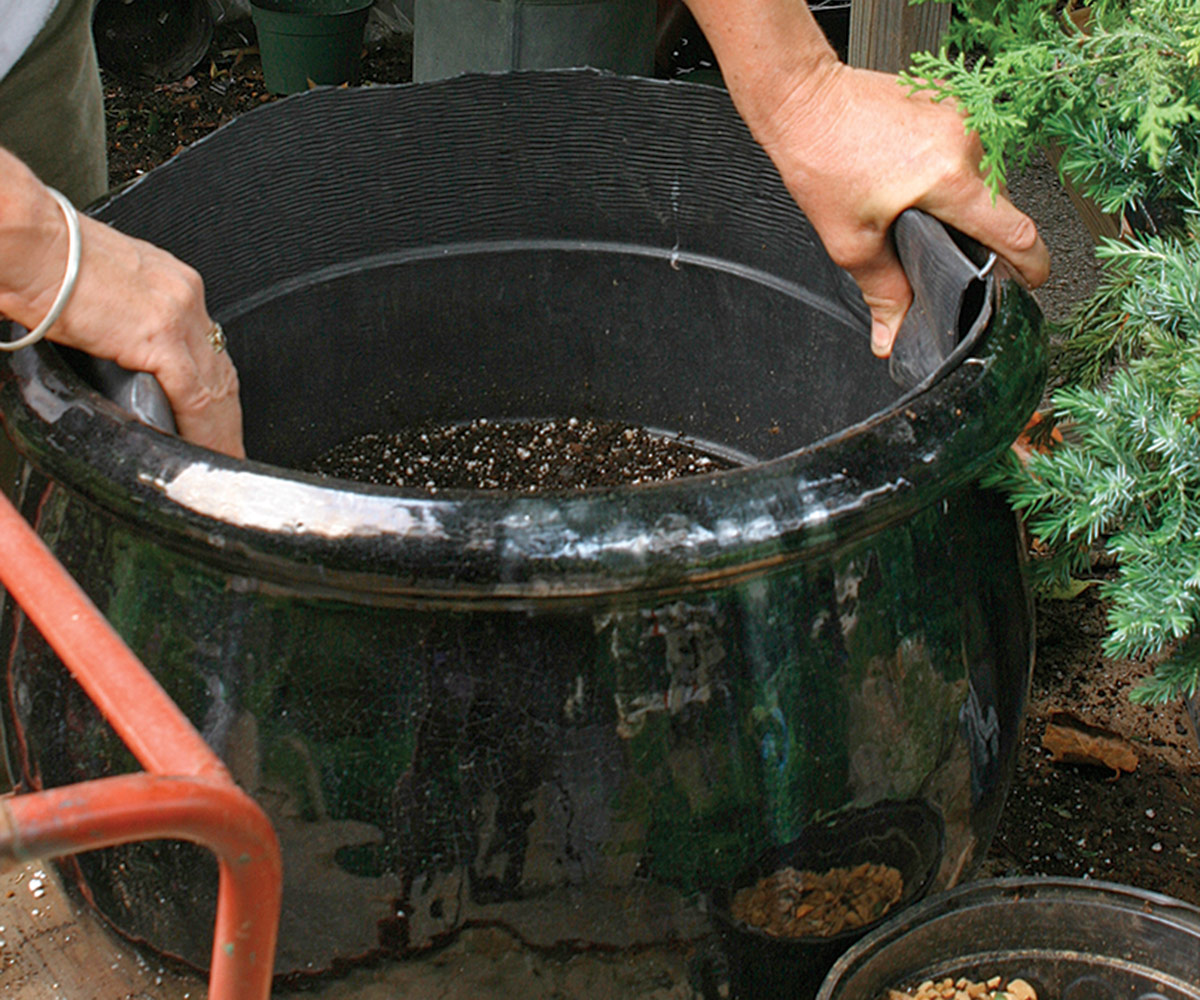 When using high-fired stoneware that will remain outdoors in winter, consider using one such pot with a vase-shaped sidewall so that moist, freezing soil will have room to expand, both upward and outward. Lining the sides of your container with bubble wrap provides extra room for expansion and helps hold in moisture (above).
If your container is urn shaped and tapers in at the top, however, it will not be able to handle any expansion from freezing. You'll need to find a properly fitted liner, such as a nursery bucket or other plastic pot, to drop into it (right). I pick a liner that leaves about an inch or two of space between itself and the pot walls. The liner also allows you to easily remove the entire plant combo when necessary.
---
*These plants are considered invasive in some areas. Please check invasiveplantatlas.org or your state's list of invasive plants for more information.
Photos, except where noted: Michelle Gervais
View Comments