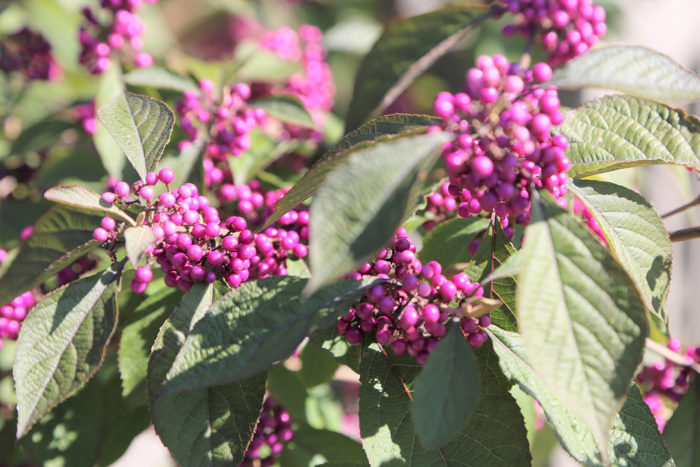 Winter walks are a great way to beat cabin fever and see plants from a different perspective. You might even discover something new while you're on a walk! On a recent weekend walk, I noticed a lot of amazing berries. There are so many types of beautiful evergreens, deciduous shrubs, and trees that carry an amazing spectrum of beautiful berries in winter. These plants are rather useful at this time of year, as the branches can also be used for winter decorating and flower arrangements. Here are a few that would be great additions to any garden.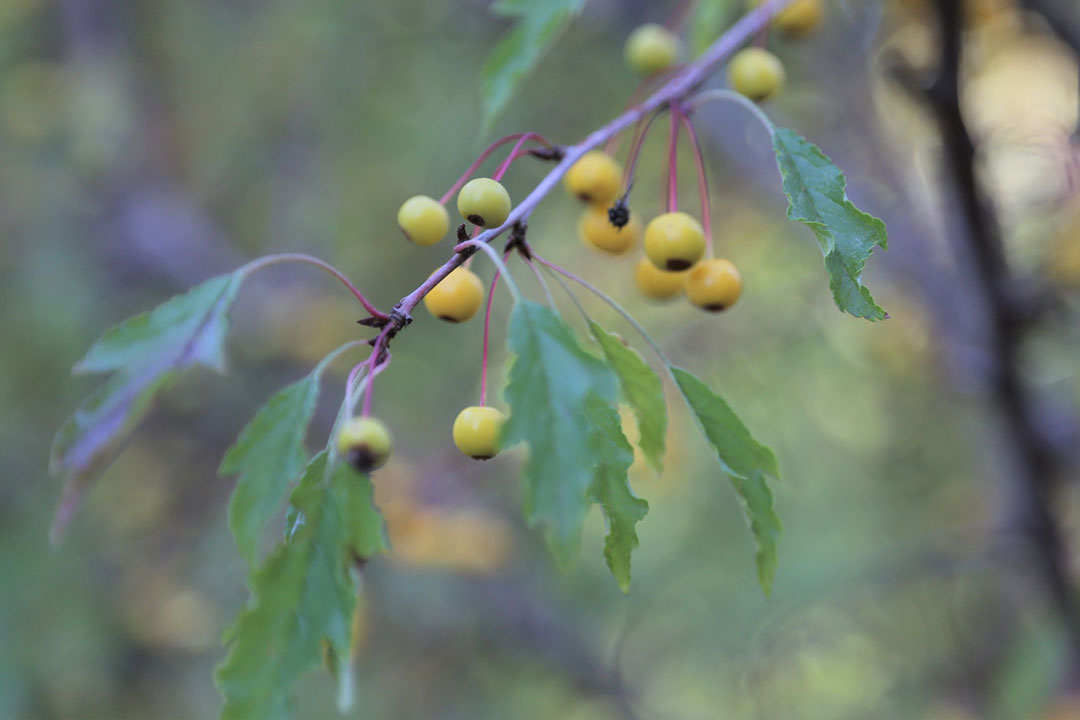 Golden Raindrops® crabapple, Malus transitoria 'Schmidtcutleaf'
Mature size: 20 feet tall and 20 feet wide
Zones: 4–8
This small, deciduous tree is great for any size garden. Its branches are loaded with tiny pea-size crabapples in fall and winter. The crabapples are a golden yellow with a light blush of red. Golden Raindrops® crabapple is a great year-round tree. In early spring, its pink buds open to bright white flowers. When the flowers drop, they coat the surrounding area with what looks like a dusting of snow. This crabapple has unique dark green leaves on horizontal branches that help accentuate the crabapples in fall and winter. It was also bred to be quite disease resistant. Golden Raindrops® crabapple would be equally suited to a small city garden where multiseason interest is in demand or in a large garden planted in a group.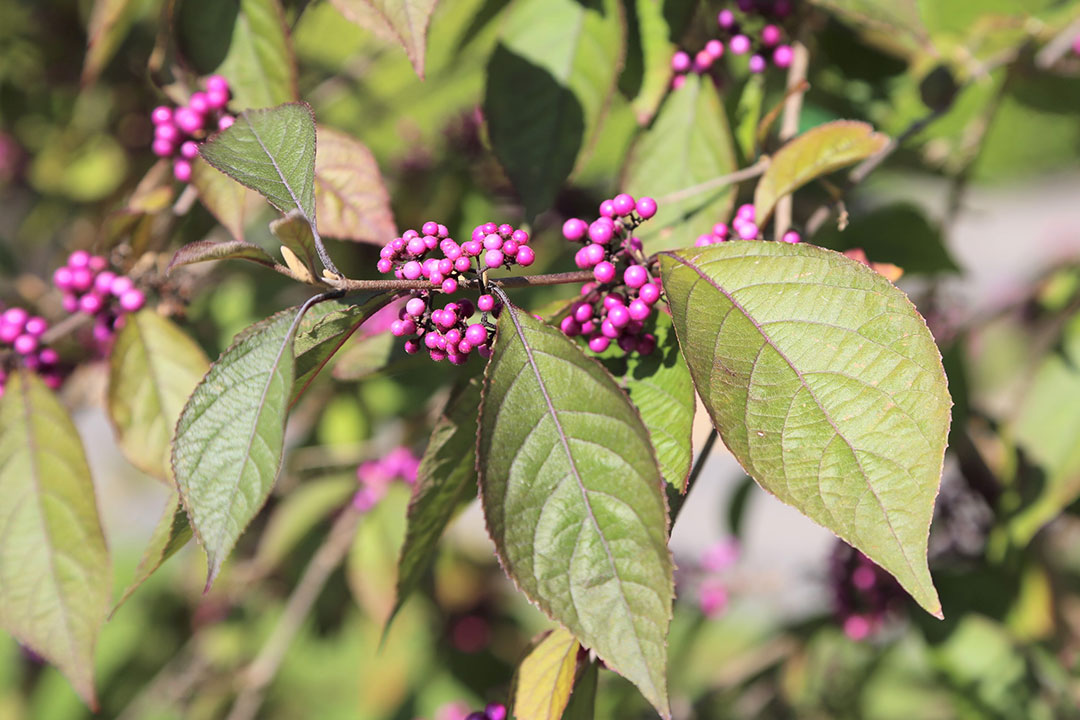 'Profusion' beautyberry, Callicarpa bodenereii 'Profusion'
Mature size: 6 to 10 feet tall and 6 to 10 feet wide
Zones: 6–8
'Profusion' beautyberry is an excellent deciduous shrub that adds amazing winter interest to a garden. While its appearance during the growing season is rather understated, it really struts its stuff in fall and winter. Its green leaves turn a beautiful golden yellow in fall that complement violet-blue pearlescent berries. After the leaves drop, this plant becomes a true standout. The branches are covered with tiny grapelike bunches of berries. This hardy shrub would work well in hedging plantings, en masse plantings, or in a mixed border. It is monoecious, meaning it has both male and female flowers that will self-pollinate; however, it has better berry production with more than one of itself in a garden. Its berries are not the most sought after by birds until late winter, when they finally settle for the bitter berries. Make sure to position this shrub where you can really enjoy viewing the berries from inside or out.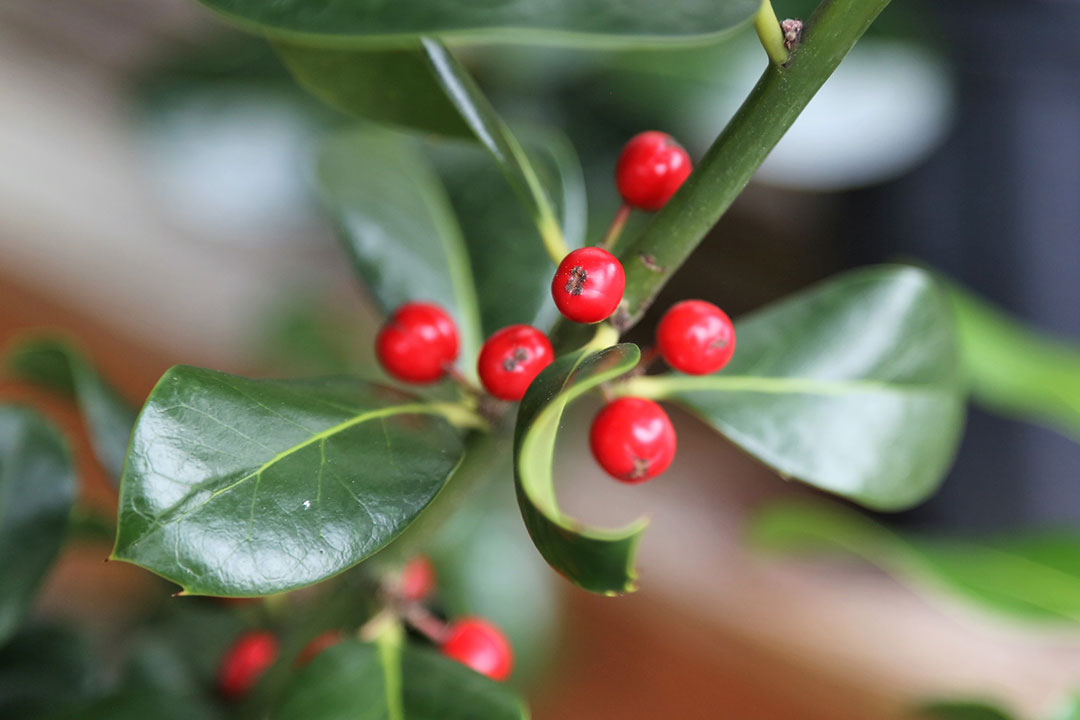 Wilson holly, Ilex × altaclarensis 'Wilsonii'
Mature size: 10 to 15 feet tall and 15 to 20 feet wide
Zones: 7–11
Wilson holly is a beautiful, large evergreen shrub that's perfect for hedging. It is a hybrid of two hollies, English holly (Ilex aquifolium, Zones 6–9) and Madeira holly (Ilex perado, Zones 8–9). Its leaves stand out; they are dark green and glossy. This shrub would be an amazing backdrop to a mixed perennial border or formal hedge. One added benefit of this hybrid is the lack of sharp leaf margins typically seen in hollies and hated by most gardeners. Anyone who has had to care for an overgrown English holly knows what I'm talking about! In late fall and winter the branches are covered in small clusters of bright red holly berries. This plant is dioecious, meaning plants have either male or female flowers. To ensure an abundant supply of red berries in winter, you will need at least one male shrub to pollinate the female berry-producing shrubs.
As you can see, and contrary to what many may say, winter is a great time to explore beauty in the garden. There are many more plants with great berries that shine in winter, but I hope the ones mentioned above will give you a good starting point to help create year-round interest. While most plants in the Pacific Northwest are still dormant and gearing up for late winter and spring, these berry-filled plants will help start the garden season in early winter. Of course, if you're not wanting to garden just yet, you can always go for a winter walk.
—Jason Jorgensen is a landscape designer in Seattle.