Design
Add Herbs to Your Container Designs
Tucking in tasteful additions can make your designs more attractive
Containers offer a simple solution for anyone who likes to have delicious, fresh herbs close at hand. You could pot up parsley, sage, rosemary, and thyme in a single container and call it ­done, but wouldn't it be more fun to try some unexpected combinations instead? To jump-start your creative process, I have put together six designs, each incorporating at least one culinary herb.
A pot built for the mojito lover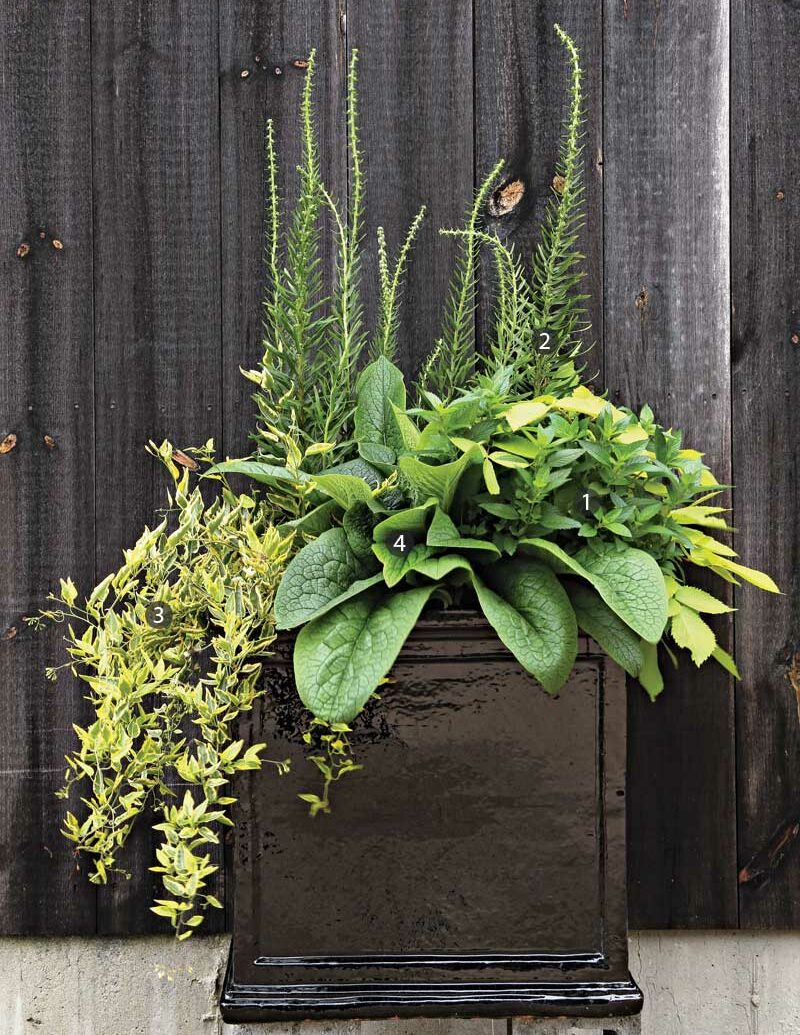 Peppermint is banned from many gardens due to its invasiveness, but regular harvesting will keep it from getting too pushy in a container. Here it is joined by blazing star, an eastern North American native, which adds height at the back of the design and attracts butterflies and hummingbirds with purple blooms in late summer to early autumn. The remaining plants provide plenty of eye-catching foliage to fill out the planter. (The leaves, stems, and fruit of the potato vine are toxic and should not be consumed.)
Peppermint (Mentha × piperita*, Zones 5–9)
Blazing star (Liatris aspera, Zones 3–8)
Variegated potato vine (Solanum laxum 'Album Variegatum', Zones 8–10)
Comfrey (Symphytum officinale, Zones 4–8)
'Sun King' aralia (Aralia cordata 'Sun King', Zones 4–8)
*See invasive alert below.
Grow gourmet garnishes on your patio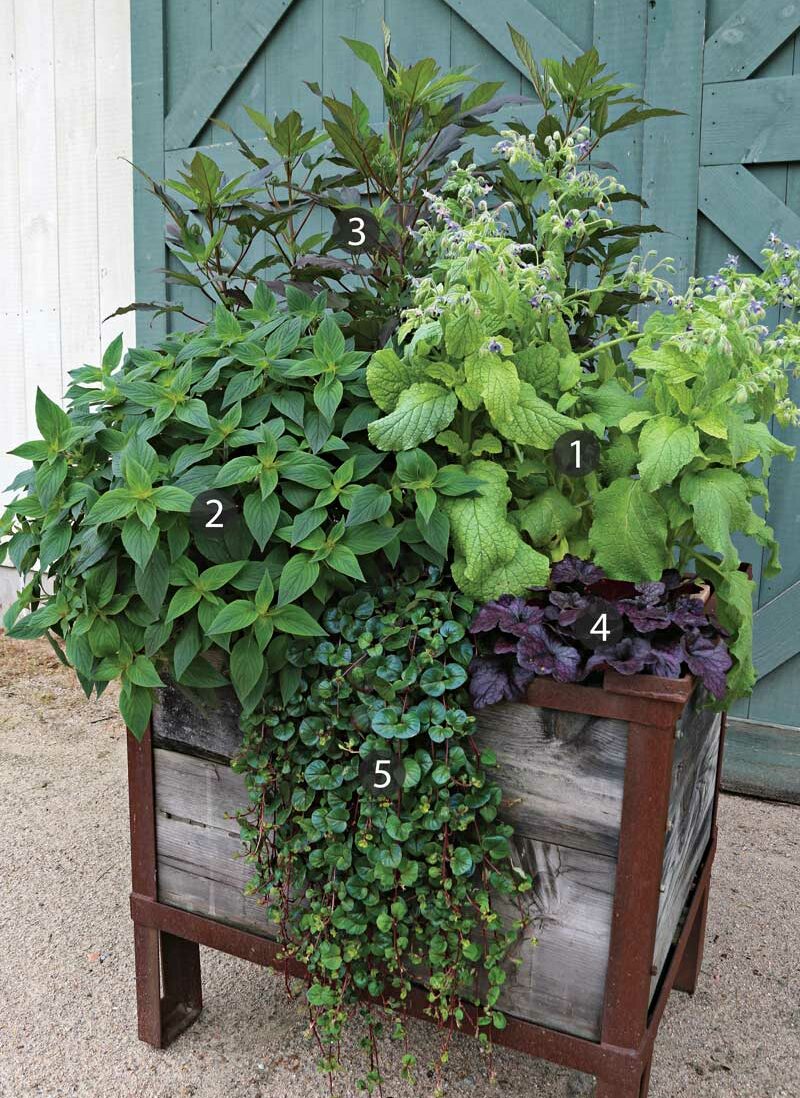 The cucumber-scented flowers of borage are as beautiful on the plant as they are sprinkled on a salad. This plant performs best in the cooler weather of spring and early summer, so add a heat-loving pineapple sage to keep the container productive. A sprig of it makes the perfect swizzle for a summer drink, or its minced leaves can add a fruity, herbal note to fruit salads and marinades. The red, late-summer flowers are also edible. Both herbs look great alongside strictly ornamental plants like hibiscus and heuchera.
Enjoy fresh pesto all summer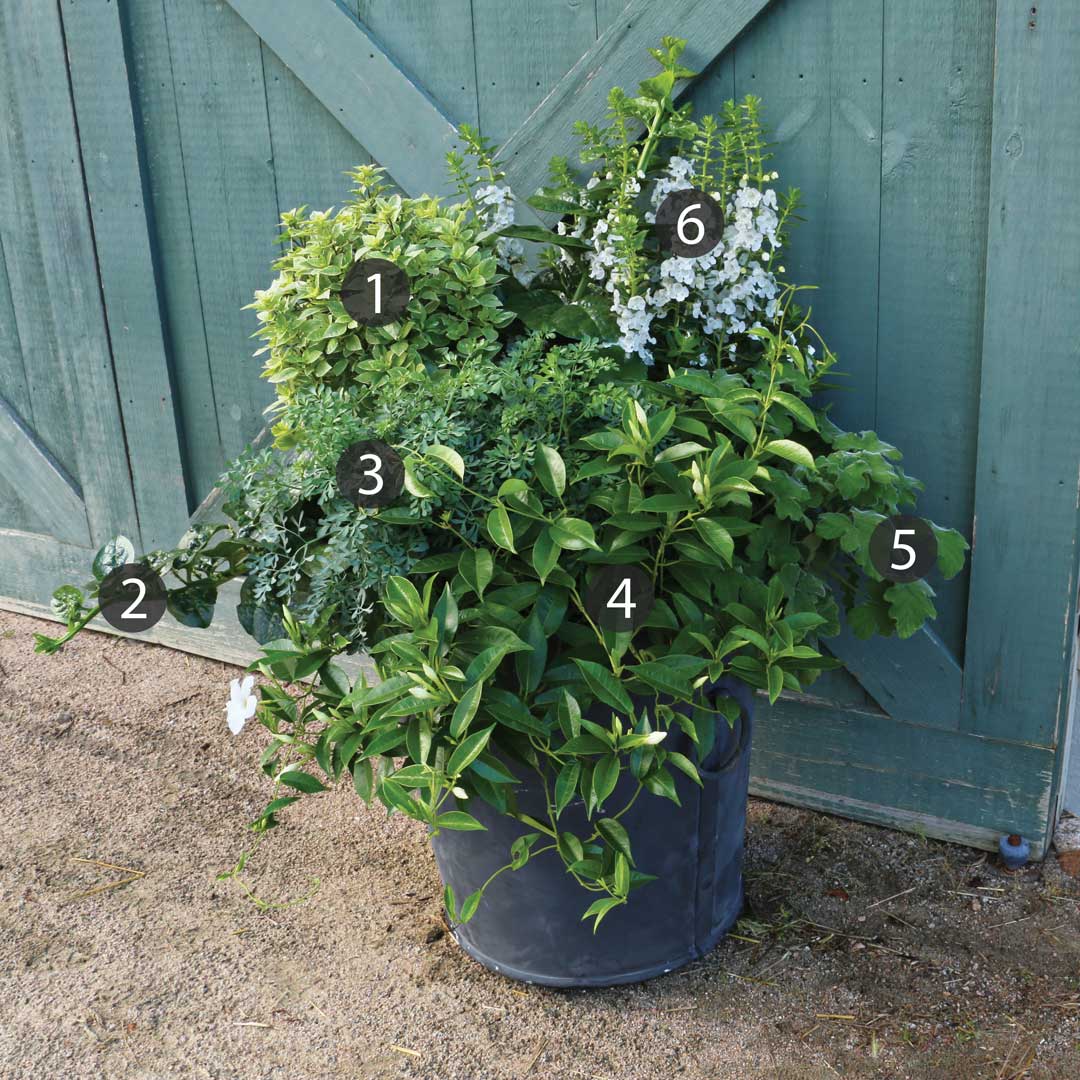 'Pesto Perpetuo' basil has attractive, variegated leaves and a columnar habit, and since it never flowers, you can harvest it all season long. Malabar spinach is another productive plant that loves the heat and will provide leaves for salads, sautes, and stir-fries when other greens are bolting and wilting. Peppermint geranium is technically edible, but you will more likely find yourself brushing the leaves for impromptu aromatherapy. The rue, angelonia, and dipladenia, which are not edible, add floral and textural interest to this grouping. Be aware that some people can experience skin irritation from handling rue.
'Pesto Perpetuo' basil (Ocimum × citriodorum 'Pesto Perpetuo', annual)
Malabar spinach (Basella alba, annual)
Rue (Ruta graveolens, Zones 6–11)
White dipladenia (Mandevilla boliviensis, Zones 10–11)
Peppermint geranium (Pelargonium tomentosum, Zones 9–11)
Angelface® White angelonia (Angelonia 'Anwhitim', Zones 10–11)
|
Harvesting Tip
|
Basil tastes best before it bolts
Most basils have the best flavor when plants are young and have not yet flowered. To prolong the harvest window, pinch flowers back as soon as they emerge, or buy a nonflowering variety such as 'Pesto Perpetuo'. Basil flowers can be used as an attractive, edible garnish.
Plant sweet bay for its savory leaves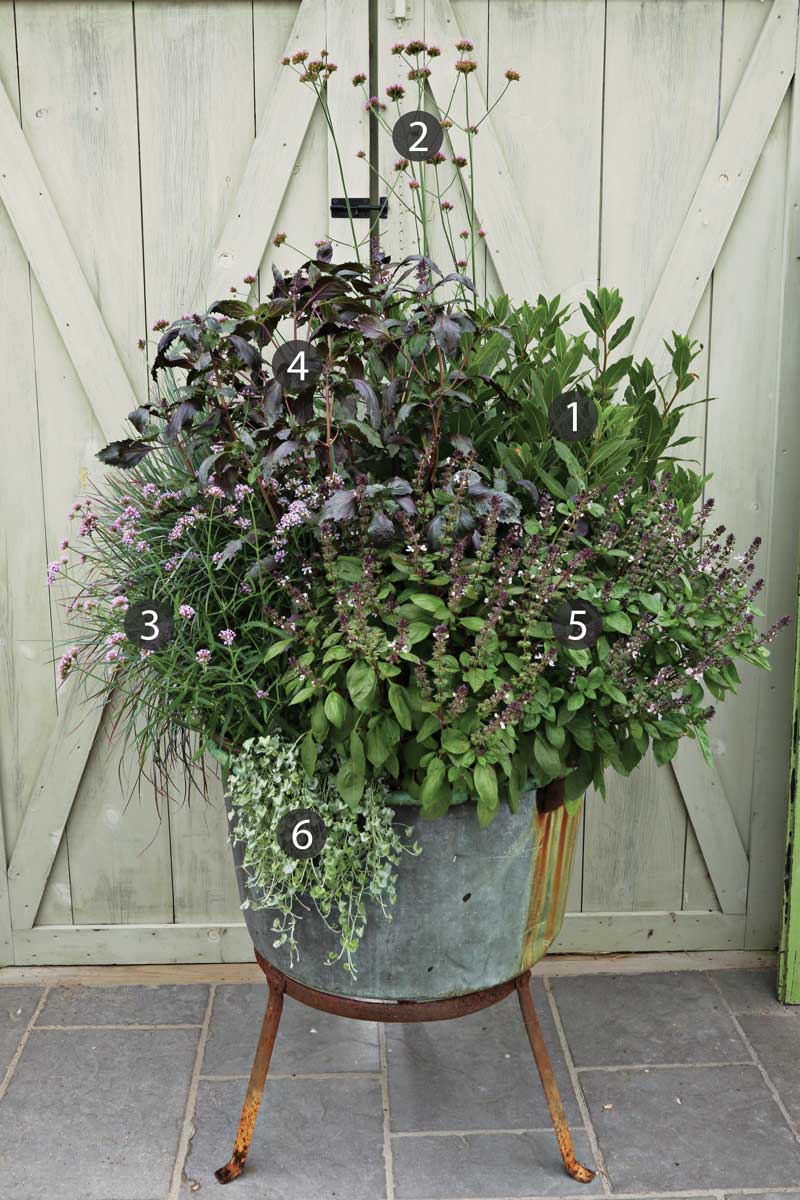 Go ahead, tuck sweet bay into one of your designs and rest on your laurels. This Mediterranean evergreen must spend its winters indoors, but it will earn its keep by seasoning stews and other cold-weather comfort foods. In summer, use it to add structure in a mixed pot. Here it anchors an airy composition that includes two spice-scented basils that will surely find their way into your summer recipes.
Sweet bay (Laurus nobilis, Zones 8–11)
Tall verbena (Verbena bonariensis, Zones 7–10)
Blue Heaven® little bluestem (Schizachyrium scoparium 'Minn BlueA', Zones 3–9)
'Aromatto' basil (Ocimum basilicum 'Aromatto', annual)
'Cinnamon' basil (Ocimum basilicum 'Cinnamon', annual)
'Silver Falls' dichondra (Dichondra argentea 'Silver Falls', Zones 9–11)
| Harvesting Tip
|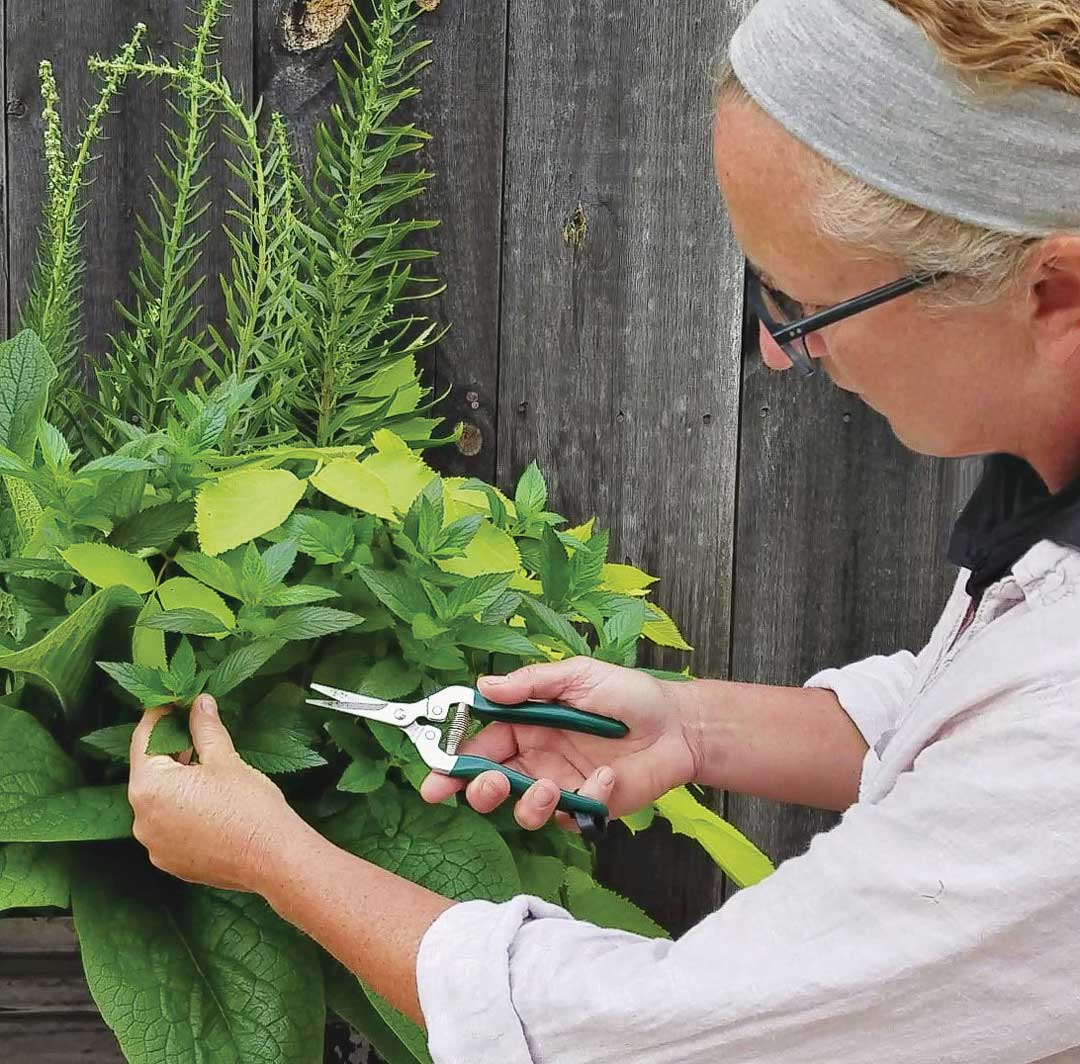 Cut just above vigorous new growth
Mint, stevia, basil, and sage often develop new shoots at leaf nodes. Cut just above a node, and new shoots should emerge quickly.
Lemongrass adds fine foliage and Southeast Asian flavor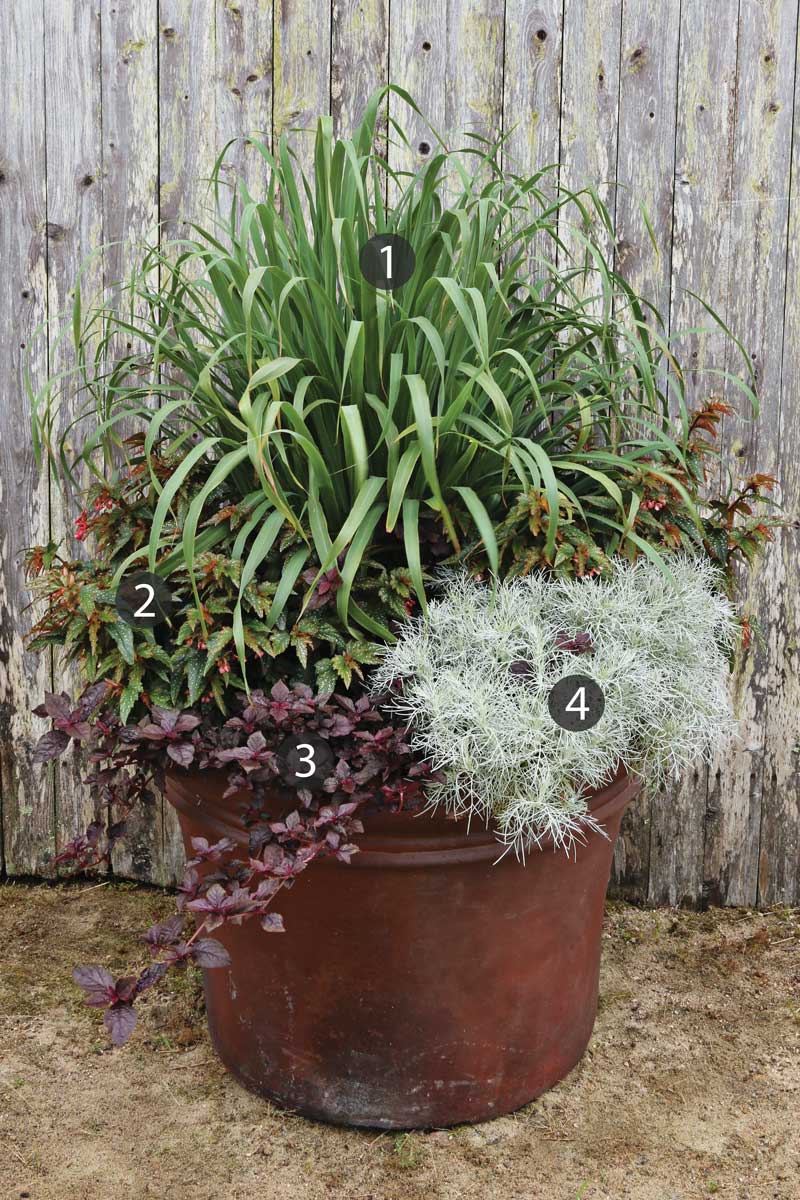 This container holds a culinary surprise: The fountainlike ornamental grass at the back is edible. Given full sun and plenty of moisture, lemongrass is a vigorous grower, so you can harvest fresh stalks for soups, curries, or marinades without detracting from the plant's good looks. Its strappy, medium-green leaves make a subdued foil for plants with flashier foliage, like the begonia, bloodleaf, and Maui wormwood used here.
Lemongrass (Cymbopogon citratus, Zones 10–11)
'Medora' angel wing begonia (Begonia 'Medora', Zones 9–11)
'Purple Lady' bloodleaf (Iresine herbstii 'Purple Lady', Zones 9–10)
Makana™ silver Maui wormwood (Artemisia mauiensis 'TNARTMS', Zones 9–11)
| Harvesting Tip
|
Trim lemongrass stalks before use
Remove the roots, lower bulb, and upper leaves from a lemongrass stalk, and you will be left with a pale, tightly wrapped section that looks like a trimmed leek. Peel off the tough outer leaves, then mince, chop, or grate the fragrant inner stalk for use in recipes. Instead of discarding the upper leaves, try steeping them in hot water to make a refreshing, lemony tea.
Mix sweet and savory spices in one pot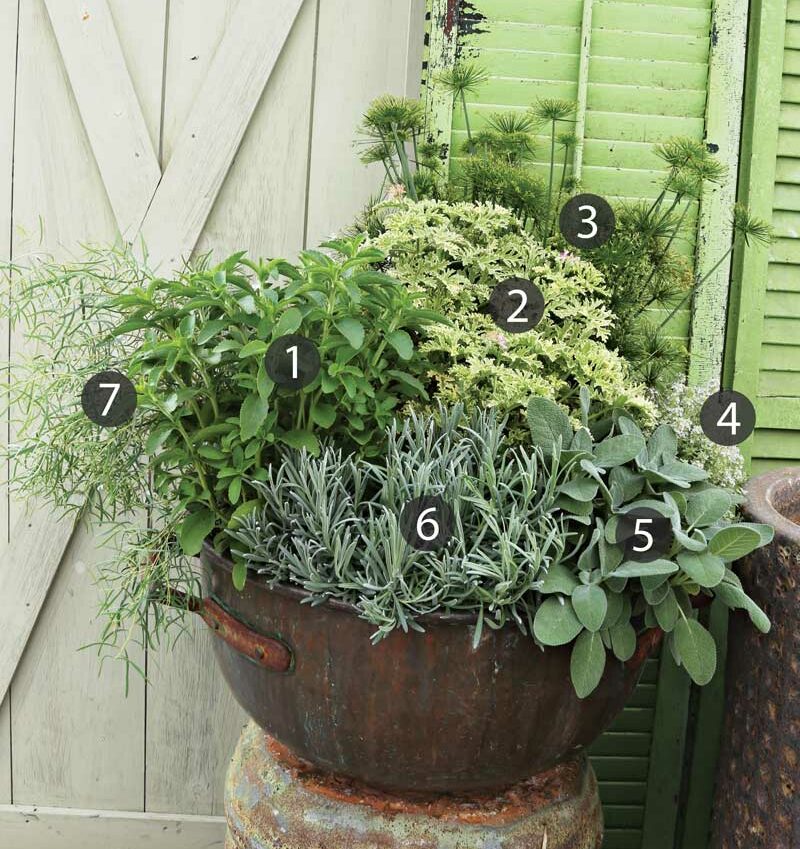 Stevia is easy to grow and easy to use; just snip a sprig or two to sweeten lemonade or iced tea. Silver thyme, 'Berggarten' sage, and 'Grosso' lavender make beautiful, flavorful garnishes, and leaves from the scented geranium can be used to flavor sugar. The sedge and willow-leaf eucalyptus add ornamental sizzle to this fragrant combination.
|
Harvesting Tip
|
A little stevia goes a long way
Ounce for ounce, stevia extract is hundreds of times sweeter than sugar. Fresh leaves have less concentrated sweetness than extract, but it should only take a leaf or two to sweeten a sauce or beverage. Experiment to see what amount works best for you.
---
Sarah Partyka is the owner of the Farmer's Daughter, a garden center in South Kingstown, Rhode Island.
View Comments