The Dirt
2012 Container Design Challenge Results: Fantastic Foliage
You won't miss the flowers in these designs that feature the stunning variety of leaves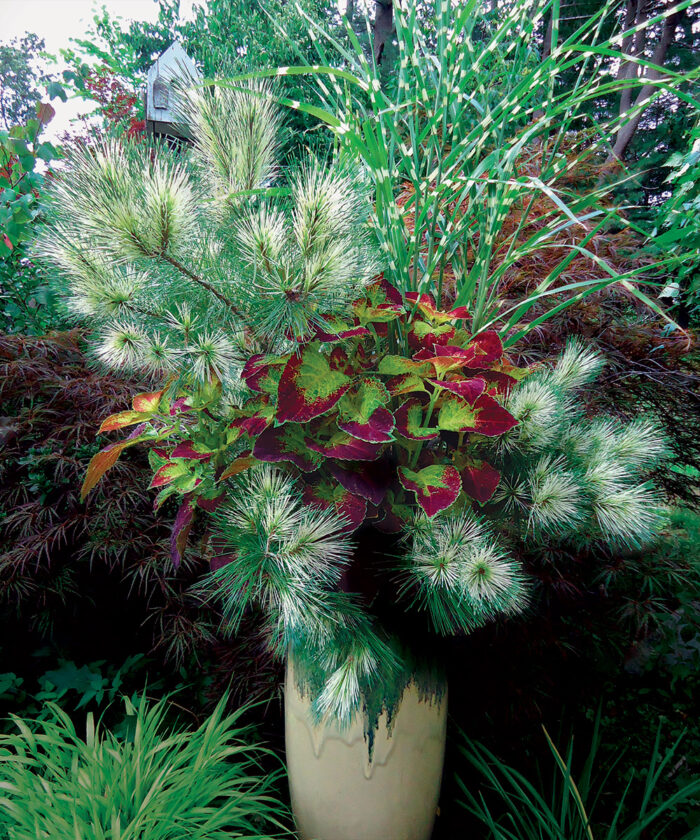 Last spring, we decided to revisit one of our most popular themes and challenged you to create a spectacular container that relies on foliage alone—no flowers allowed. The rules were to select three to five distinct varieties of plants and pot them up to showcase what colorful foliage and exciting texture could do on their own without the benefit of blooms. The results are in, and we couldn't be more excited by what you created. Enjoy!
---
The Winner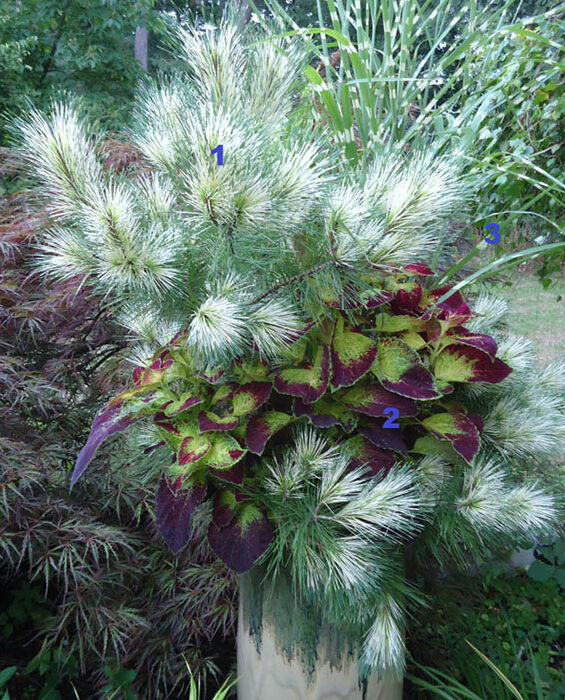 Moira McQuarrie, Hanson, Massachusetts
Dragon's eye black pine (Pinus thunbergii 'Oculus Draconis', USDA Hardiness Zones 5–8)
'Dipt in Wine' coleus (Solenostemon scutellarioides 'Dipt in Wine', Zones 12–13)
Porcupine grass (Miscanthus sinensis 'Strictus', Zones 4–9)
Congratulations, Moira!
You've won a $250 gift certificate from Garden Artisans and a $250 Visa gift card from Tropicanna cannas.
---
Heather Sazama Geiser, Charlotte, North Carolina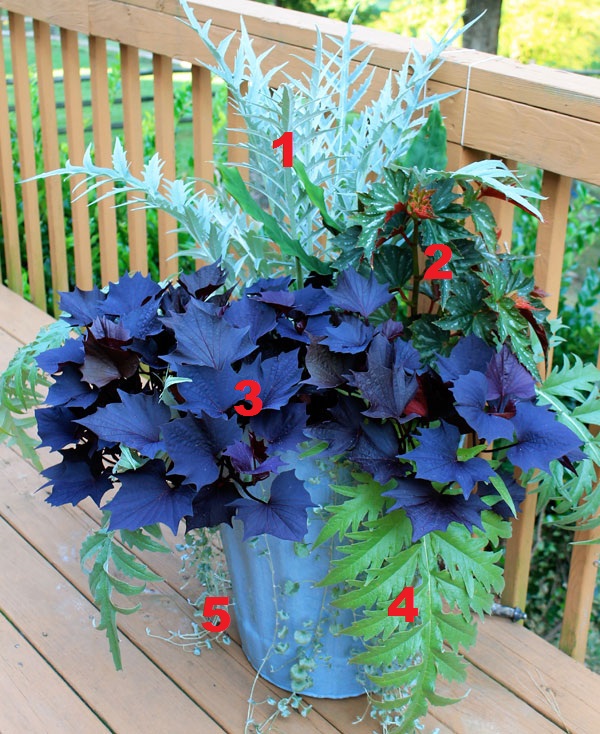 Cardoon (Cynara cardunculus 'Gigante', Zones 7–9)
'Lana' angelwing begonia (Begonia 'Lana', Zones 10–11)
'Sweet Caroline Bewitched' sweet potato vine (Ipomoea batatas 'Sweet Caroline Bewitched', Zone 11)
'Baroque Sword' elephant's ear (Alocasia lauterbachiana 'Baroque Sword', Zone 11)
'Silver Falls' dichondra (Dichondra argentea 'Silver Falls', Zones 10–11)
Judy Dean, Centralia, Washington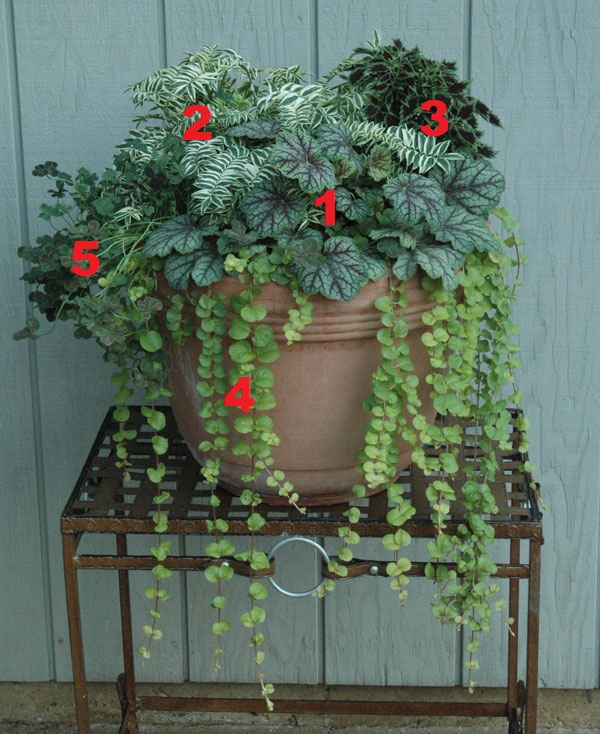 'Green Spice' heuchera (Heuchera 'Green Spice, Zones 4–9)
'Brise d'Anjou' variegated Jacob's ladder (Polemonium 'Brise d'Anjou', Zones 4–8)
'Mosaik Thin Mint' coleus (Solenostemon scutellarioides 'Mosaik Thin Mint', Zones 12–13)
Golden creeping Jenny (Lysimachia nummularia 'Aurea', Zones 4–8)
'Atropurpureum' white clover (Trifolium repens 'Atropurpureum', Zones 4–8)
Pam Watkins, Independence, Kansas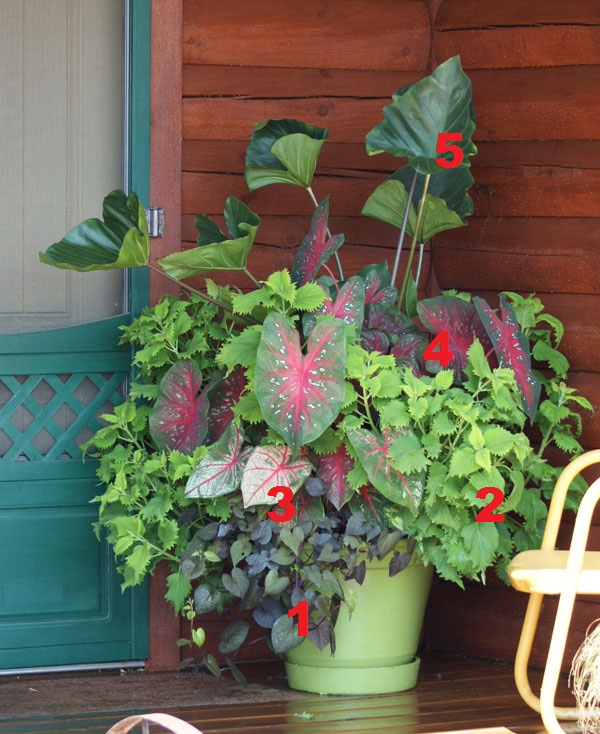 'Ace of Spade' sweet potato vine (Ipomoea batatas 'Ace of Spades', Zone 11)
'Wabashi Lime' coleus (Solenostemon scutellarioides 'Wabashi Lime', Zones 12–13)
'Mrs. Arno Nehrling' caladium (Caladium bicolor 'Mrs. Arno Nehrling', Zones 10–11)
'Red Flash' caladium (Caladium bicolor 'Red Flash', Zones 10–11)
'Coffee Cups' elephant's ear (Colocasia esculenta 'Coffee Cups', Zones 8–11)
Ellen Mann, Fox Point, Wisconsin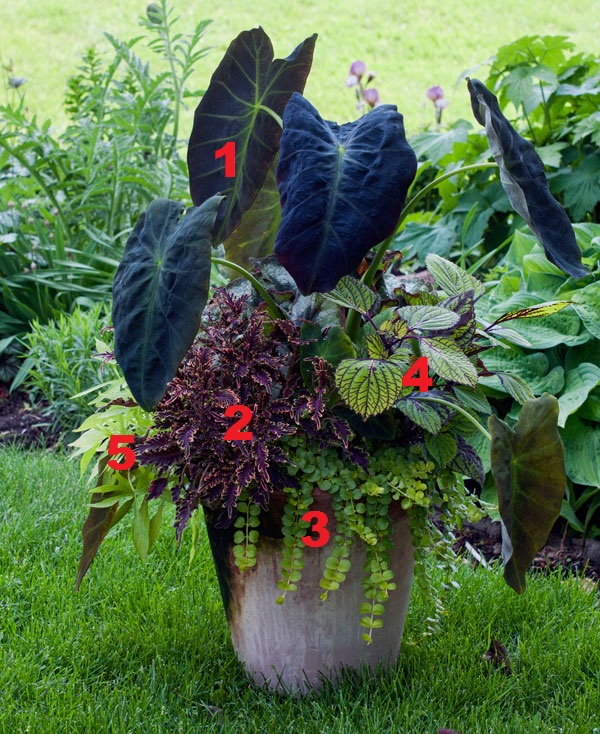 Elephant's ear (Colocasia esculenta cv., Zones 8–11)
Coleus (Solenostemon scutellarioides cvs., Zones 12–13)
Golden creeping Jenny (Lysimachia nummularia 'Aurea', Zones 4–8)
Rex begonia (Begonia cv., Zones 12–13)
Sweet potato vine (Ipomoea batatas cv., Zone 11)
View Comments