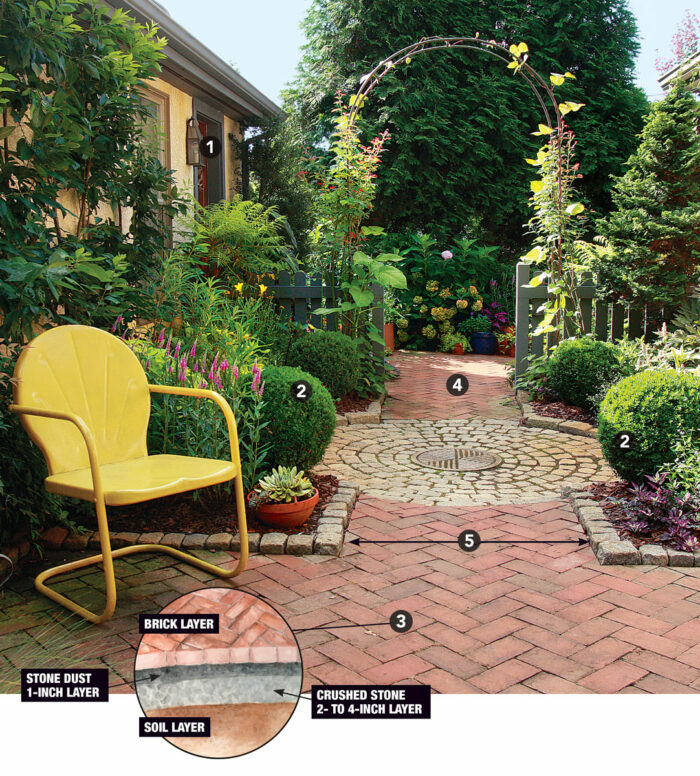 No matter if you are looking to navigate a small city lot or some rural acreage, there are a few rules of thumb to follow when building effective pathways. Keep these things in mind during your planning and you will be well on your way to years of wandering enjoyment in your garden. Learn more about creating picture-perfect garden pathways here.
1. Locate underground pipes and power lines. Before you dig, be sure to find any pipes, power lines, or other utility structures below the soil surface. The damage caused by a misplaced shovel can be costly at best or deadly at worst.
2. Give plants space to grow. As tempting as it is to arrange young plants as tightly as possible so that the plantings are full from the get-go, space them out to allow for growth. This will help to prevent a lot of maintenance-and-pruning woes and unsightly paths later.
3. Install a solid base. No matter if you are laying down peastone gravel, brick, or even slabs of bluestone, it's important to lay a foundation to stabilize your path. Begin by digging a flat trench for your path (4 to 12 inches deep, depending on your final path material). Then add a sublayer of crushed stone (compacted to 2 to 4 inches thick), followed by an inch layer of sand or stone dust (if you are installing brick, pavers, or stone slabs). 
4. Select a coarse texture. Losing your footing is never a fun experience. When selecting your pathway material, choose one with a coarse surface texture. A slick surface, especially when wet, is a recipe for disaster.
5. Go as wide as possible. Although some spaces will only accommodate a narrow path, if you have the space for a wide berth, take it. If you want people to be able to wander your garden side-by-side, make your path a minimum of 4 to 5 feet wide. For smaller, single-file paths, don't go any smaller than 3 feet wide—unless you enjoy wrestling wheelbarrows or other large garden objects through tight spaces.
---
Jennifer Benner is content editor for Fine Gardening. She has a bachelor's degree in horticulture from The Ohio State University.