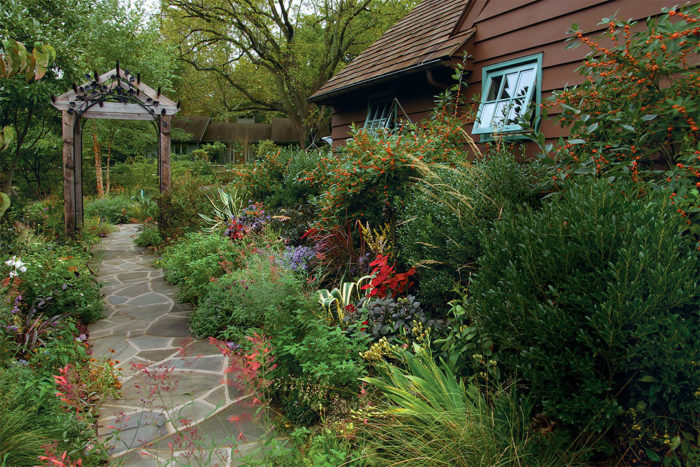 When I'm asked what makes my entry garden so compelling, I have to laugh because it is a particularly hard question to answer. When I force myself to think about it, maybe the garden is enticing because of the feeling it evokes. My front garden sets an interesting tone and lets people know that a gardener who loves plants, wildlife, and her family lives here. And because our entry garden is a reflection of who we are, it makes people feel instantly welcome in our space. It doesn't matter if you know every genus and species in the beds because the beds create a relaxing, inviting, and intriguing atmosphere.
Walking down the path to our front door is always an experience; you never know what will catch your eye next—be it a turquoise-colored rock, a dive-bombing butterfly, or a twisted agave. No matter what you're drawn to during your journey, you have to slow down and take it all in as you walk. The entry garden might be the only outdoor space that people get to see during their visit, so it's important to make it dynamic—something that they enjoy and never forget, making them want to come back. Selecting plants with special attributes and infusing personal touches into the garden are the keys to designing an entry that will make everyone happy.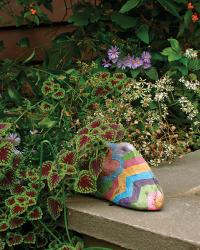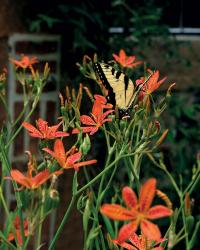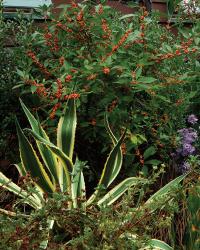 Choose plants with specific roles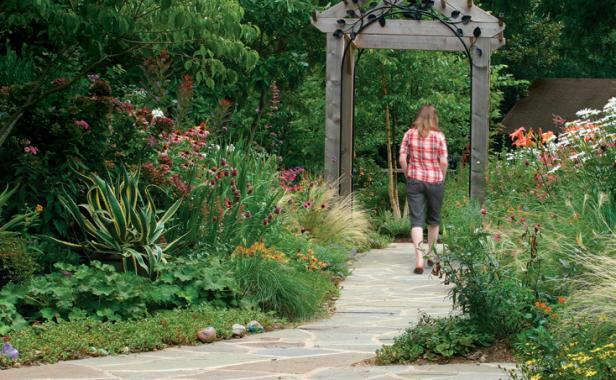 It's important for your garden to make a good first impression. The passage from our driveway to the entrance of our house isn't a quick trip: There's a long stone pathway that takes some twists and turns, so it is crucial that visitors enjoy the journey, not be annoyed by it. I chose to flank both sides of the path with continuous, bending borders. This approach avoids abrupt breaks in the scenery, which would stop people from feeling at ease. The dual borders also ensure that travelers down the path, even if it is just my son's friend on his skateboard, are always surrounded by interesting stuff.
The smooth and flowing lines of the beds and the path add to the comfort level, making sure that everyone has a positive experience (even if it is subconscious) while walking from the driveway to the door. In the entry garden, it's not about the uniqueness of individual plants as much as it's about the appeal that's created when they are grouped together. That said, certain plants do play specific roles in making the garden engaging. I intentionally chose plants that have attractive vertical forms, produce berries for fall and winter interest, and attract wildlife that animate the garden.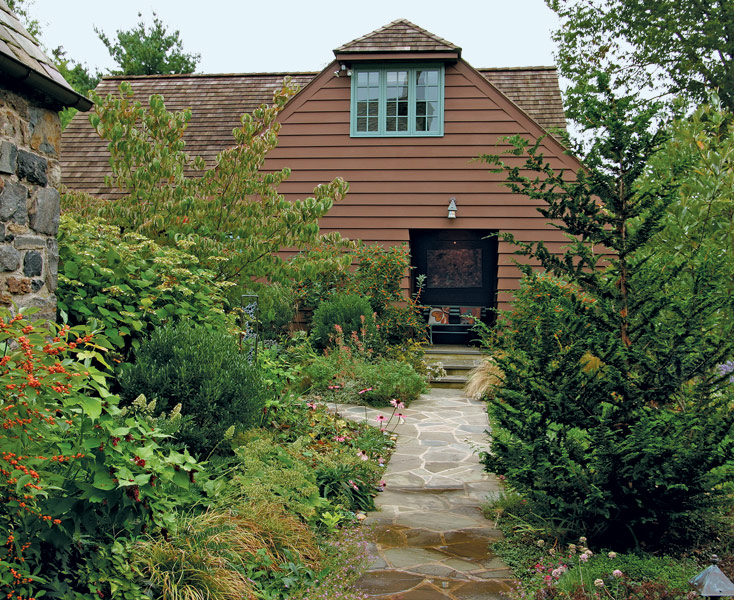 Because entry gardens can often be narrow with limited space, vertical plants act like visual exclamation points along the journey, drawing people from one point to the next. I incor­porate irises (Iris spp. and cvs., Zones 3–9), red-hot pokers (Kniphofia spp. and cvs., Zones 5–9), ornamental grasses, and agaves (Agave spp. and cvs., Zones 9–11). These selections add a perpendicular punch to the mix but don't take up a lot of precious space.
I incorporate perennials and shrubs that produce berries in my entry space because they offer color interest when most flowers have vanished. This seasonality is especially important in our entry garden because people might not wander off in fall or winter to see our other gardens, but they will always see the entry. Berries also provide food sources for birds and other wildlife, which add another level of activity and excitement to the garden. My favorite berried shrub is 'Winter Gold' winterberry (Ilex verticillata 'Winter Gold', Zones 5–8) because its glowing orange fruit pop against the brown siding of my house. Whatever option you choose, it's important in an entry garden to be sure that the berries complement yet stand out against the backdrop of your home.
No entry border would be complete without a variety of plants that attract hummingbirds and butterflies. The flurry of activity and interest that these flying wonders add is priceless. I'm partial to hyssops, especially sunset hyssop (Agastache rupestris, Zones 5–9). Although they aren't showstoppers in terms of color, hyssops are fragrant and attract flying creatures to the garden, which give visitors another way to experience the space. Hummingbirds, moths, and butterflies are constantly floating about in our garden, delighting our visitors and my kids.
Make an appealing entry garden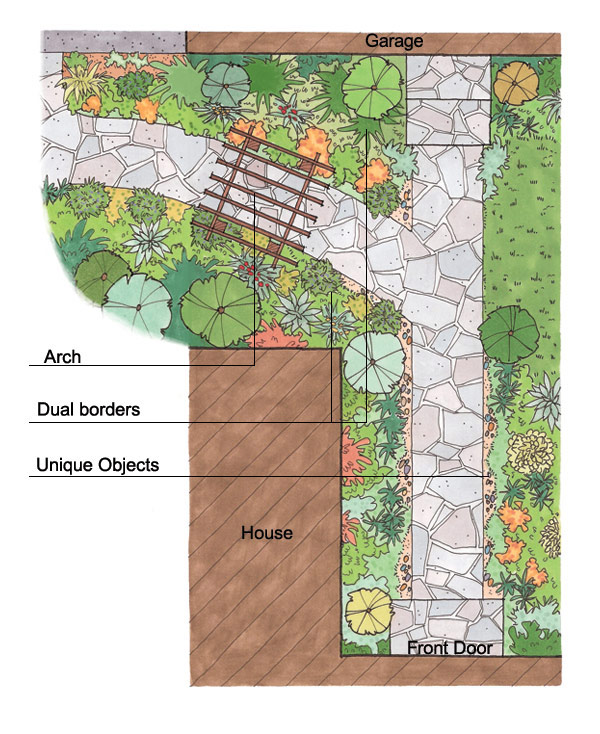 It takes visitors more than just a few steps to get to the front door, so it is essential that entryway elements lead them down the path. The archway at the head of the walk signals the start of the journey, while alluring plants and out-of-the-ordinary objects along the way draw people down the path to the home's entrance.
Inviting arch
It's important to begin the journey in the right direction, and this unique arbor does the trick. It shows visitors the way to go and suggests that the trip is going to be a one-of-a-kind experience.
Dual borders of interesting plants
Throughout the memorable journey to the front door, people are surrounded on both sides by amazing plants. These gardens ensure that visitors are never bored.
Unique objects
Handmade sculptures, painted pebbles, and mosaic bowling balls (below) indicate that the family is exciting and full of life. Visitors often find themselves looking farther down the path to see if they can spot the next fas­cinating object.
Objects add even more interest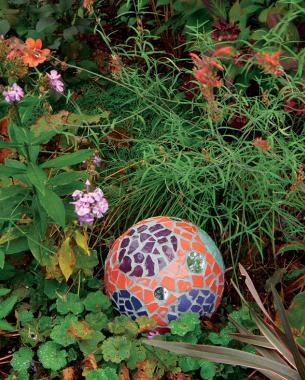 A few summers ago, we hosted a tour of our garden, during which a few hundred people stopped in for a visit. One of the comments I received that day was that the garden "had so much life" and that it wasn't just about the plants. Rather, it was about the pleasant feeling created by the flow of the beds and the addition of some personal touches.
The personal details that we've incorporated into the mix set our garden apart from others. At the head of the entry path, there's a large arbor with custom-made iron flowers on top. It sets the mood for visitors, not only telling them where to go but also suggesting that their journey will be unique. It signals that they should be on the lookout for other interesting objects. Along the way, there are copper sculptures and glass artwork that I've made and nestled into the garden beds.
It is also essential for my kids to be represented in the entry garden—after all, this is their home, too. They've painted colorful rocks that look like jewels and have placed them among the beds. These rocks are scattered along the edges of the gardens, adding a year-round punch of color. All of these objects add personality to the space and give visitors a sense of who the people are who live inside this house. Because of these subtle addi­tions, the garden—and our home—feels friendly, a place that people might like to visit again and again.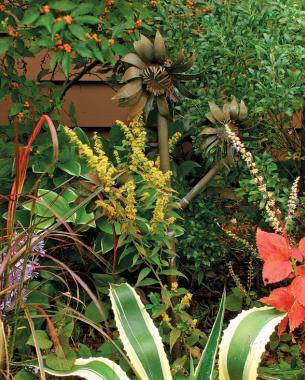 In the end, the entrance is just one piece of the puzzle. The gardens that surround our house are connected and relate in some way to each other. But experienced by itself, the entry garden is capable of leaving people with a positive feeling. So even if visitors never see any other part of our home, they will remember their visit as being enjoyable.
Great plants for entryways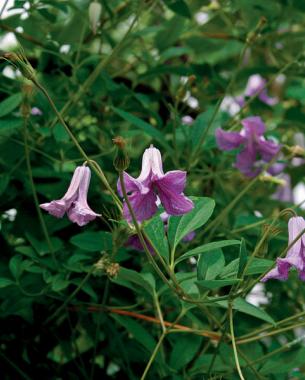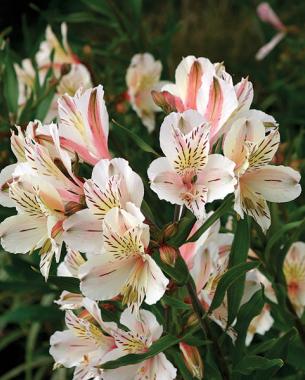 There is no limit to what types of plants you can use in your entry garden. I use perennials, vines, and even a few small shrubs—each with its own unique attributes, which leave visitors with a positive lasting impression.
'Betty Corning' clematis
Name: Clematis 'Betty Corning'
Zones: 4 to 11
Size: Climbing to 6 feet tall and 3 feet wide
Conditions: Full sun to partial shade; rich, well-drained soil
Entrance appeal: Delicate, fragrant, bell-shaped flowers bloom all summer long. Its vertical habit is eye-catching.
Peruvian lilies
Name: Alstroemeria spp. and cvs.
Zones: 7 to 11
Size: 18 to 36 inches tall and wide
Conditions: Full sun to partial shade; well-drained soil
Entrance appeal: They are one of the few, truly continuous-blooming perennials out there. Flowers, such as those on 'Casablanca' (pictured), are fragrant and appear from spring through late fall.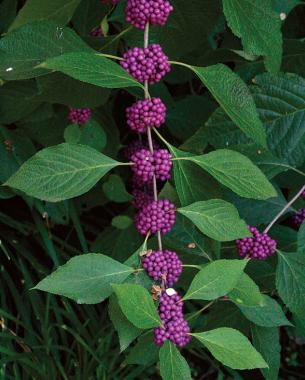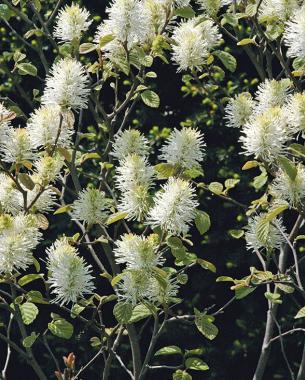 Beautyberries
Name: Callicarpa spp. and cvs.
Zones: 5 to 9
Size: 6 feet tall and wide
Conditions: Full sun to partial shade; moist, well-drained soil
Entrance appeal: Brilliant white or purple berries give these shrubs nice fall and winter interest.
Fothergillas
Name: Fothergilla spp. and cvs.
Zones: 4 to 8
Size: 3 to 8 feet tall and wide
Conditions: Full sun to partial shade; rich, moist, well-drained soil
Entrance appeal: Spectacular bottlebrush-like flowers in spring are followed by stunning fall color. Their small size is perfect for cramped spaces.