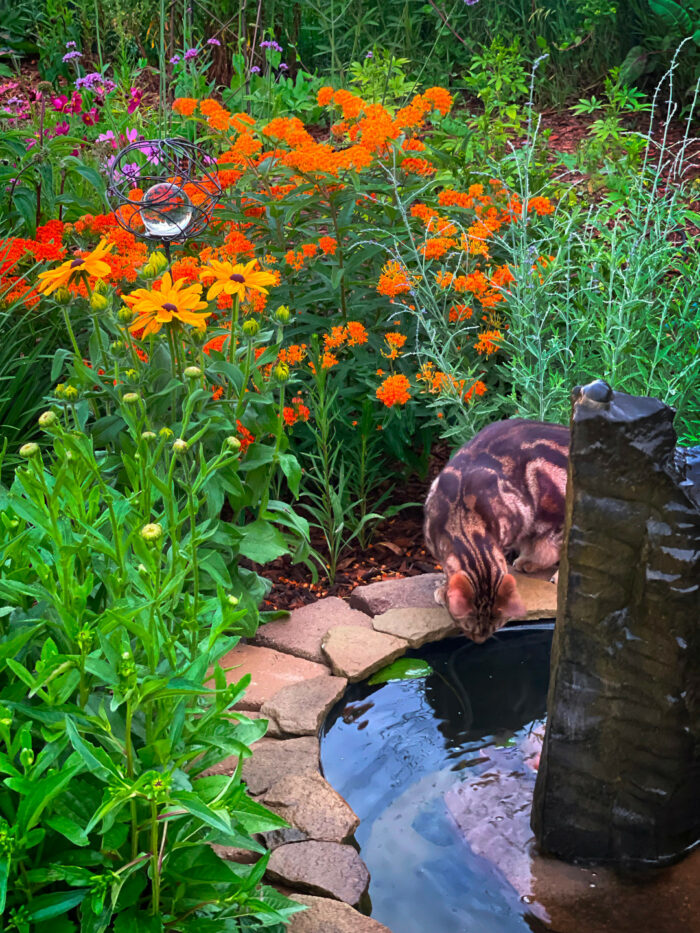 Today we're revisiting John Blair's beautiful garden in Michigan.
I thought Garden Photo of the Day might enjoy seeing some updates on the progress of my pollinator gardens since my previous submissions (John's Butterfly Garden in Michigan and More From John's Butterfly and Hummingbird Garden in Michigan). After filling all available sunny space in my original southeastern Michigan gardens, my wife and I decided to move to a beautiful rural area with nine acres in the middle part of southern Michigan in early 2019 with lots of room for new gardens. Since then, we have created three large pollinator gardens focused on blending native plants with our favorite nonnative (and noninvasive) nectar plants. The first garden we made in 2019, the Back garden, is outside of our walkout basement. In 2020, we made the Front garden inside of our driveway circle, and in 2021, we created what we call the "Monolith" garden. There is a sandstone mine about 10 miles away, where we picked out a 10-foot-tall monolithic stone and had our landscaper erect it on our property to be the centerpiece of the new third garden. It has been fun seeing the gardens get more beautiful as they mature each year and thought folks here might like to see.
There is a wide variety of plants used in the three gardens. Here are some of the highlights: Native plants include Joe Pye weed (Eupatorium dubium, Zones 3–9), swamp milkweed (Asclepias incarnata, Zones 3–6), butterfly weed (Asclepias tuberosa, Zones 5–9), Rudbeckia and goldenrods (Solidago spp.) of several kinds, purple coneflower (Echinacea purpurea, Zones 4–8), liatris (Liatris spicata, Zones 3–8), cardinal flower (Lobelia cardinalis, Zones 3–9), Monarda, asters (Symphyotrichum spp.), garden phlox (Phlox paniculata, Zones 4–8), and others. Nonnative favorites used are Zinnia (California Giant, State Fair, Profusion, and Zowie Yellow Flame), Mexican sunflower (Tithonia rotundifolia, annual), Verbena bonariensis (Zones 7–10 or as an annual), 'Victoria Blue' salvia (Salvia farinacea 'Victoria Blue', Zones 8–10 or as an annual), cleome (Cleome hassleriana, annual), Shasta daisy (Leucanthemum × superbum, Zones 5–9), Sedum, black and blue salvia (Salvia guaranitica 'Black and Blue', Zones 7–11 or as an annual), Veronica, and others.
We are pleased to see numerous pollinators visiting throughout the season, including butterflies, moths, bees of all sorts, and also hummingbirds! We look forward to increasing and expanding the gardens more each year as we are able. We have included a selection of photos from each of the three gardens for you to see. We hope you enjoy!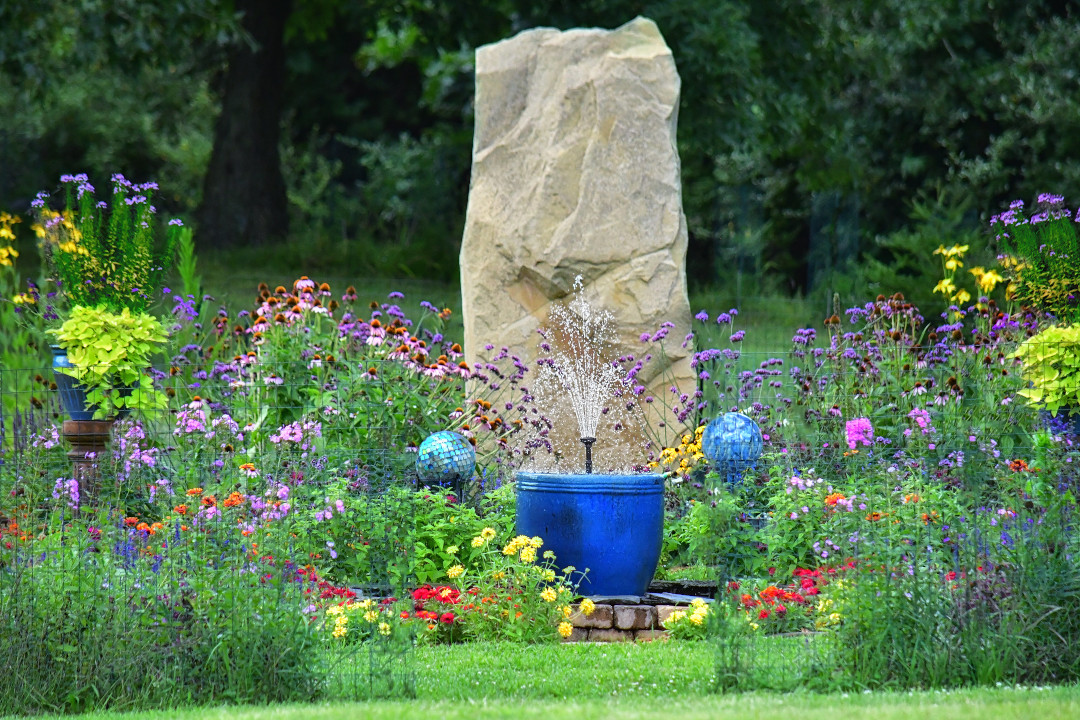 The monolith in the new front garden makes a dramatic statement, surrounded by clouds of flowers.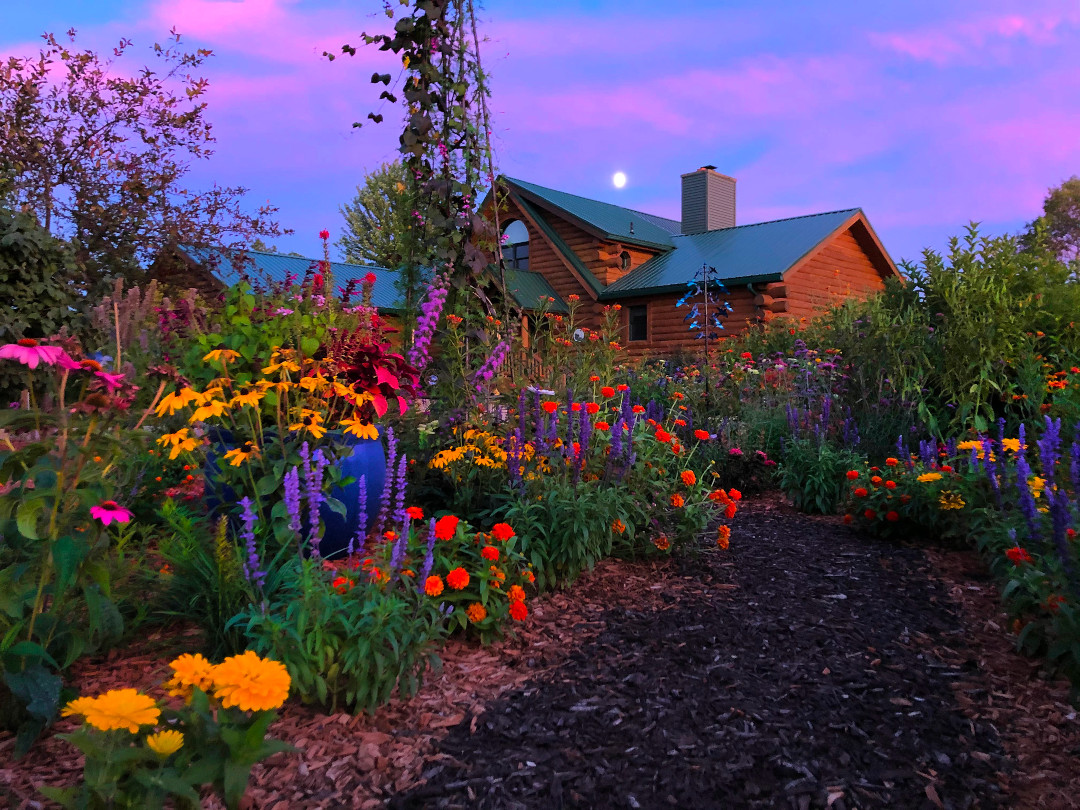 The dramatic light at the beginning and end of a day turns any garden in a magical space.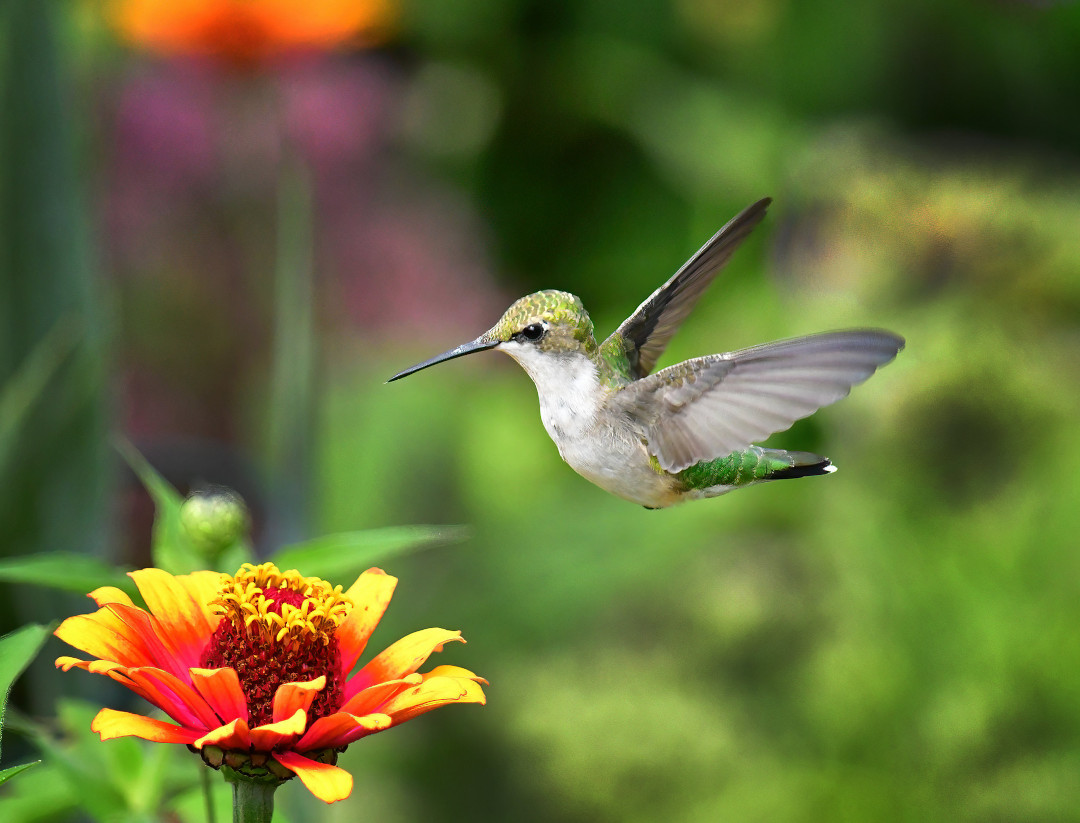 A hummingbird comes in to nectar at a zinnia bloom.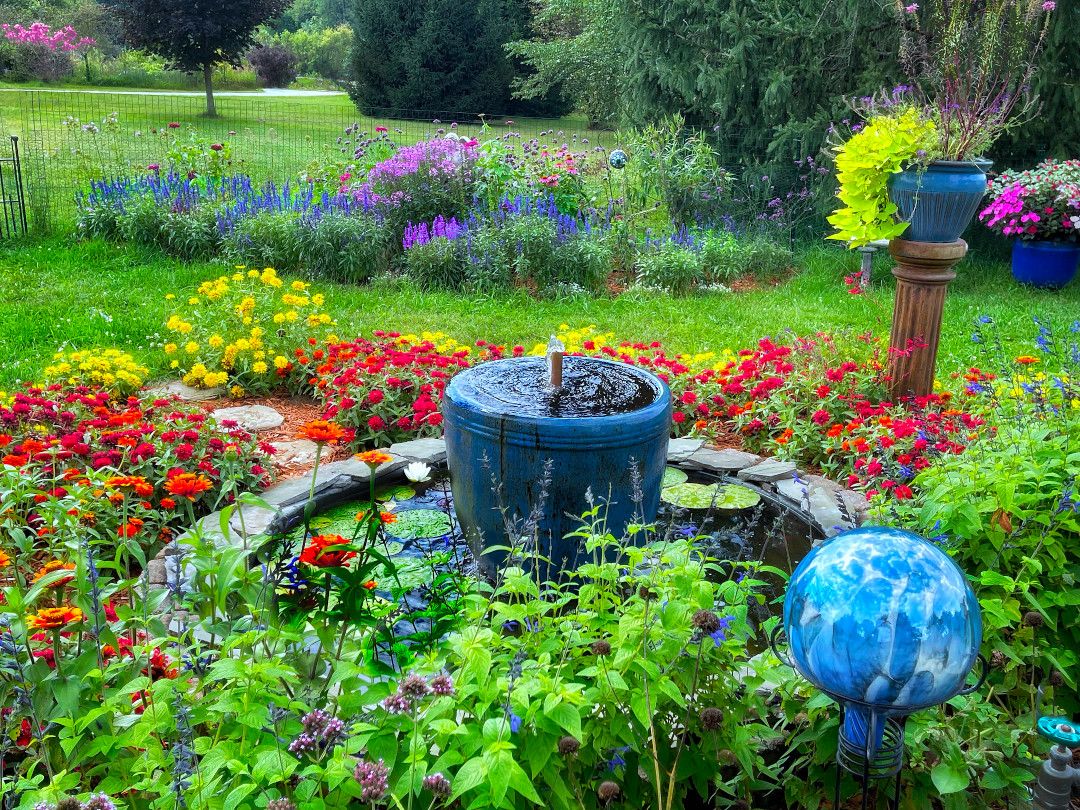 A burbling water feature takes center stage, surrounded by low-growing zinnia hybrids and tall black and blue sage.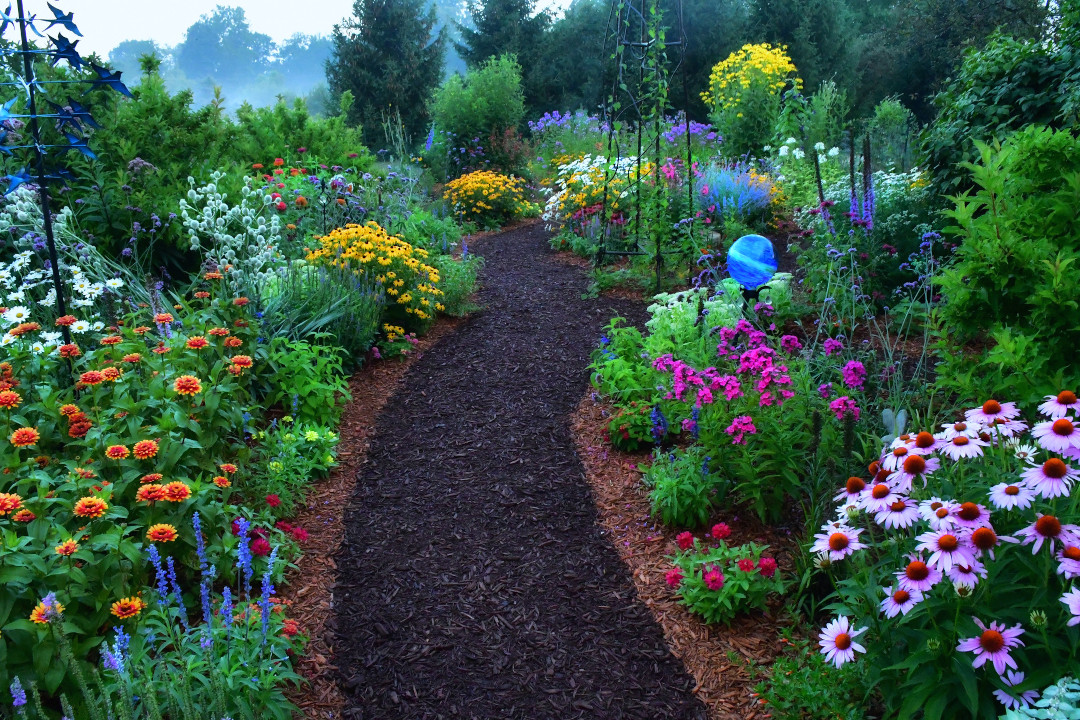 A tidy mulched path leads through the lush displays of flowers.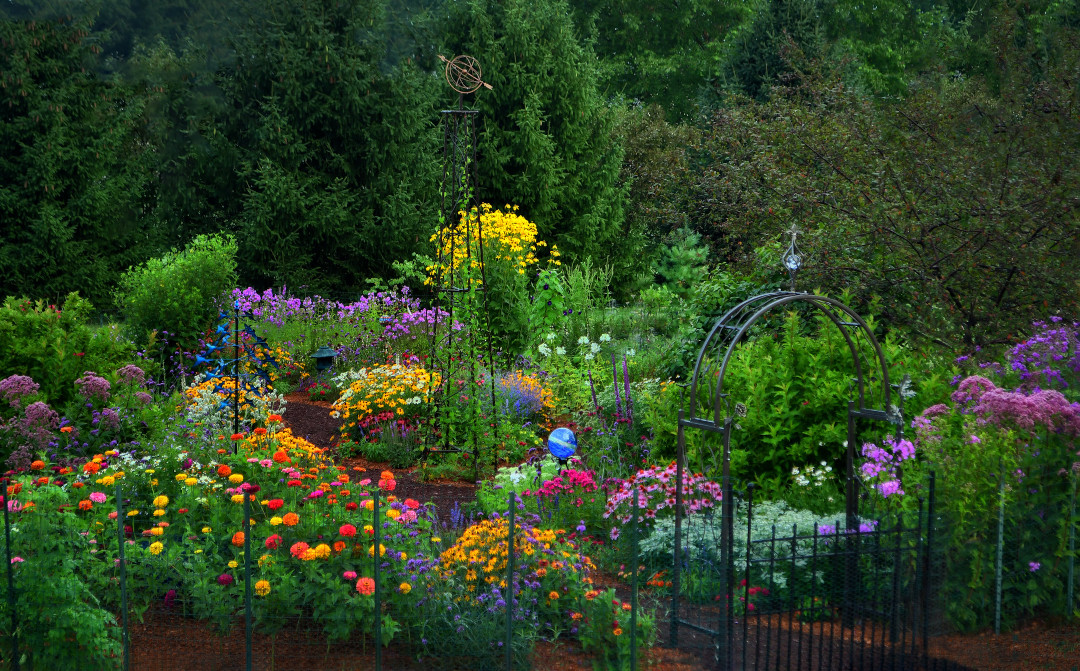 No wonder pollinators love this garden. Look at all the blooms!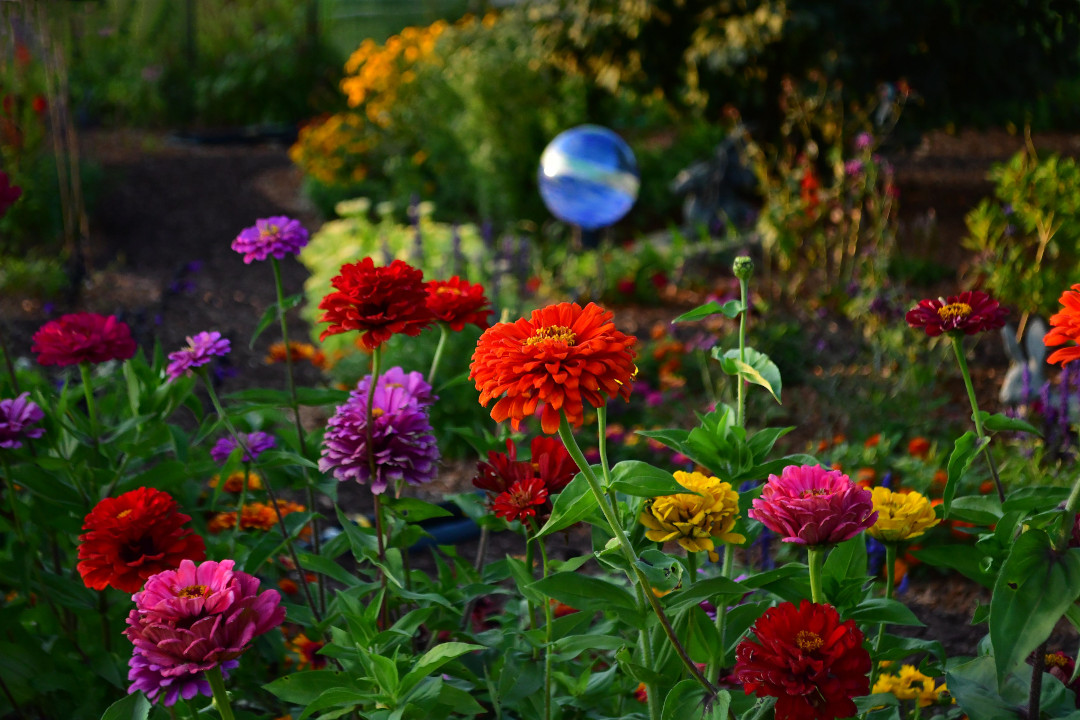 It's hard to beat good-old zinnias for their ease of growth, beautiful colors, and popularity with pollinators.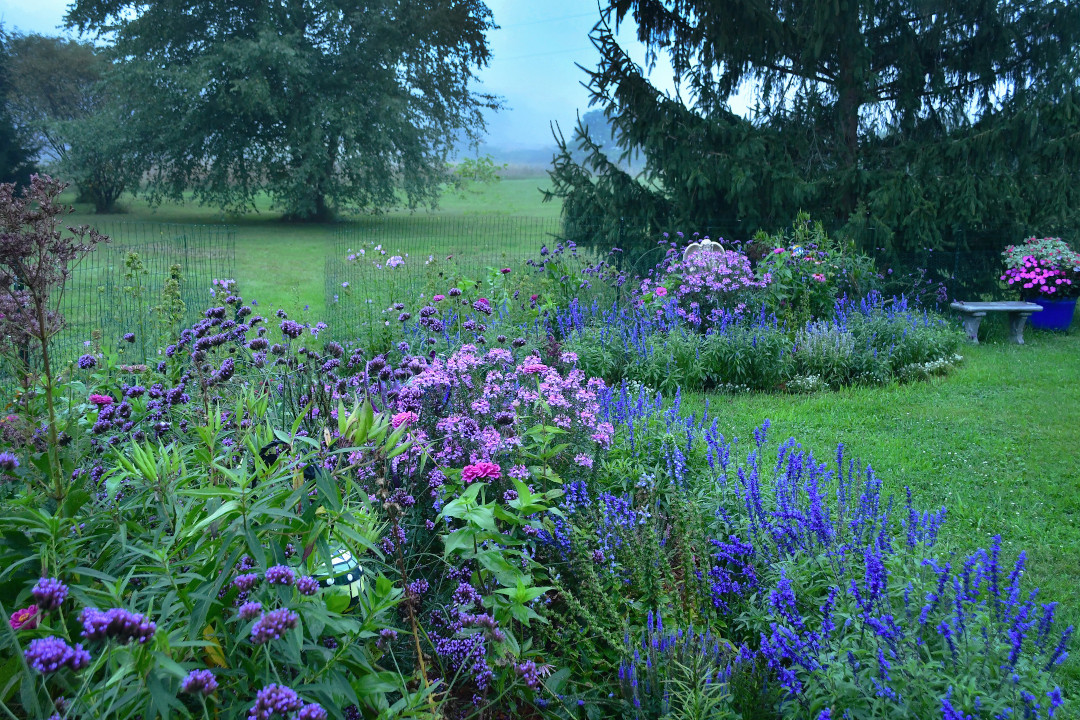 This section is all shades of blue, purple, and mauve flowers, anchored by Verbena bonariensis, Salvia 'Victoria Blue', and cleome.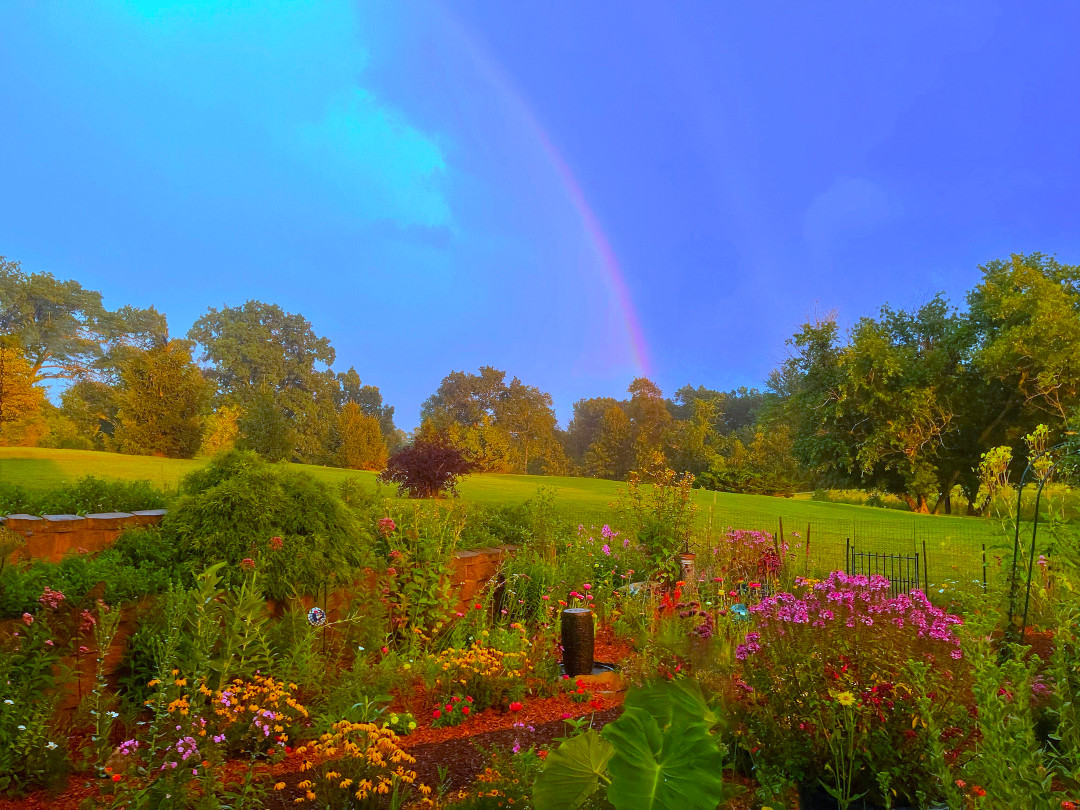 A rainbow over the garden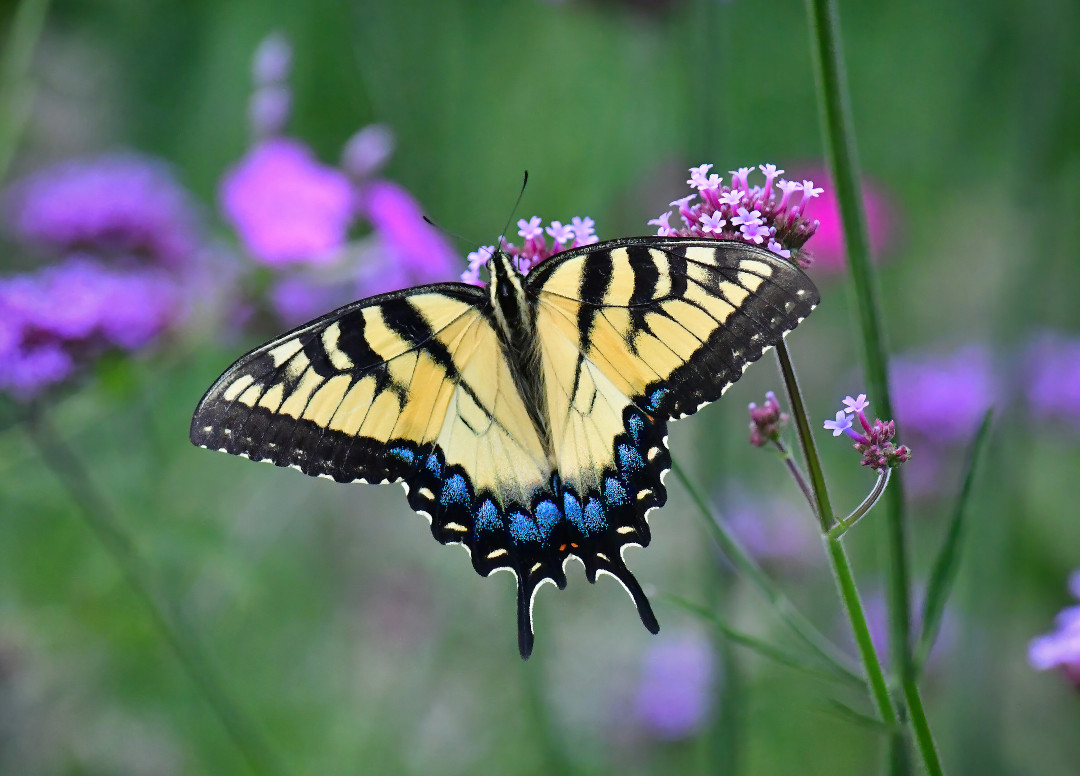 A swallowtail butterfly nectars on the flowers of Verbena bonariensis.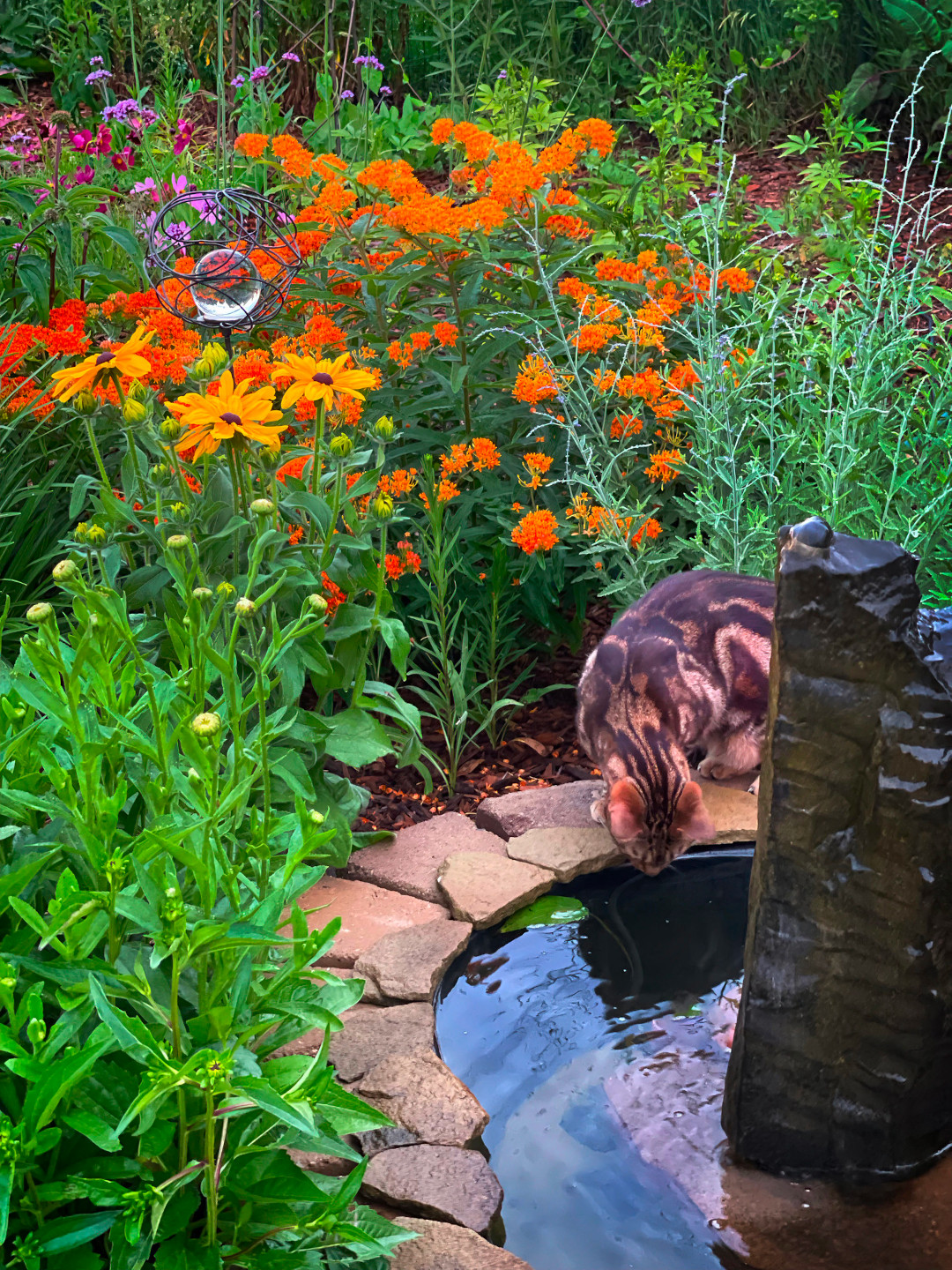 A four-legged garden resident sips at the water feature in front of a blazingly bright clump of butterfly weed.
Have a garden you'd like to share?
Have photos to share? We'd love to see your garden, a particular collection of plants you love, or a wonderful garden you had the chance to visit!
To submit, send 5-10 photos to [email protected] along with some information about the plants in the pictures and where you took the photos. We'd love to hear where you are located, how long you've been gardening, successes you are proud of, failures you learned from, hopes for the future, favorite plants, or funny stories from your garden.
Have a mobile phone? Tag your photos on Facebook, Instagram or Twitter with #FineGardening!
Do you receive the GPOD by email yet? Sign up here.gpod