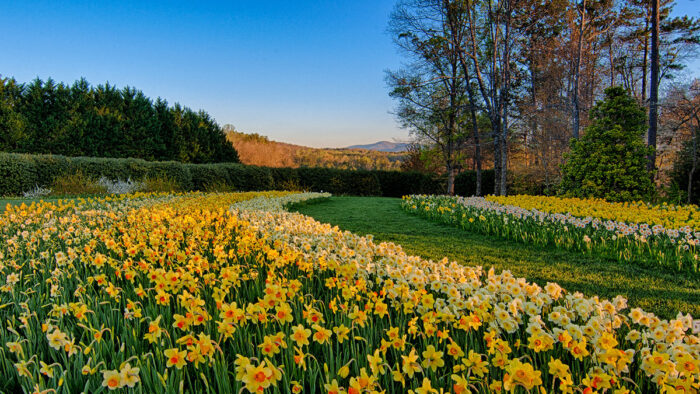 I was lucky enough to visit the Gibbs Gardens many years ago before they were fully open to the public. I was immediately struck by the meticulous maintenance the gardens received. That first visit was in high summer, and I remember being completely taken by the water lily garden. This garden is still one of my favorites and honors the impressionistic paintings of Claude Monet. This section has five ponds showcasing hundreds of water lily (Nymphaea spp. and cvs., Zones 3–11) varieties. It's just one of many features that make this garden wonderful.
I think a visit any time of year is worthwhile. However, I particularly recommend March through April for a planned visit. The Gibbs Gardens are known for their daffodil (Narcissus spp. and cvs., Zones 3–9) displays each year. They have over 20 million daffodils planted on over 50 acres of hillsides and valleys that put on a spectacular show.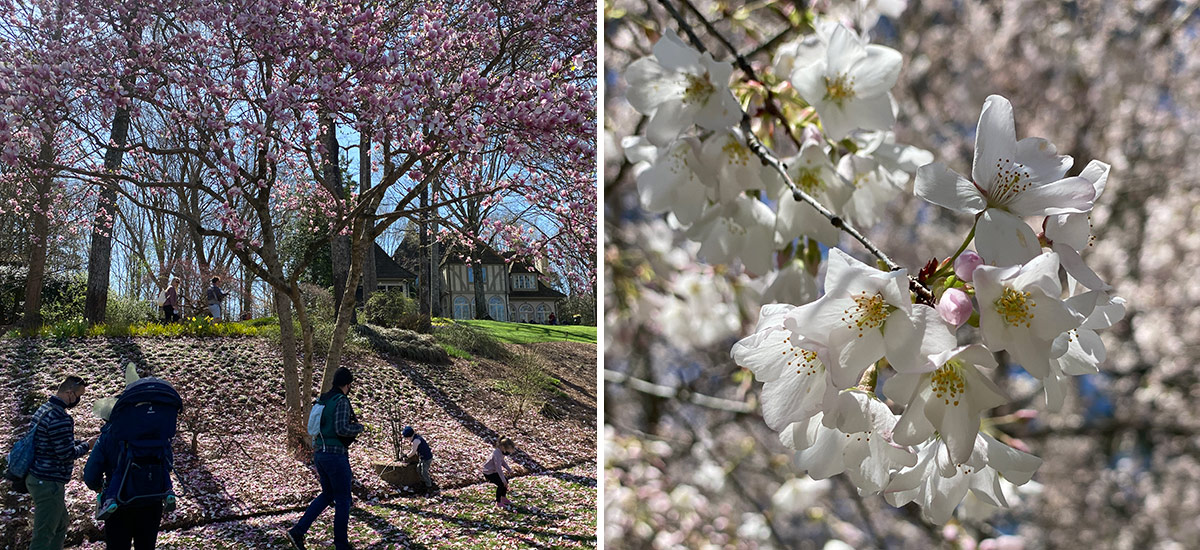 Background on the gardens
The second thing I remember from my first visit was the vastness of the gardens. The property owner (Jim Gibbs) and staff maintain over 300 acres! Without a doubt, this is one of the largest residential gardens I have ever visited. Located in Ball Ground, Georgia, less than an hour northeast of Atlanta, the Gibbs Gardens are now fully open to the public and welcome visitors six days a week. There is a proper gift shop and café, and parking is relatively easy to use and convenient.
I reached out to Jim Gibbs, who is still a part of the day-to-day operations of the Gibbs Gardens, about the overall design of the gardens. Jim said, "I like to design and install plant collections as a way to inspire and educate future generations." The gardens are designed to show displays of color and texture throughout the seasons.
I love visiting gardens where I can take home ideas. Gibbs can inspire visitors with ideas to use in their own gardens. During a more recent visit, I wanted to focus on how Gibbs treats their daffodils after they bloom. They have millions of daffodils, but the garden needs to look good year-round.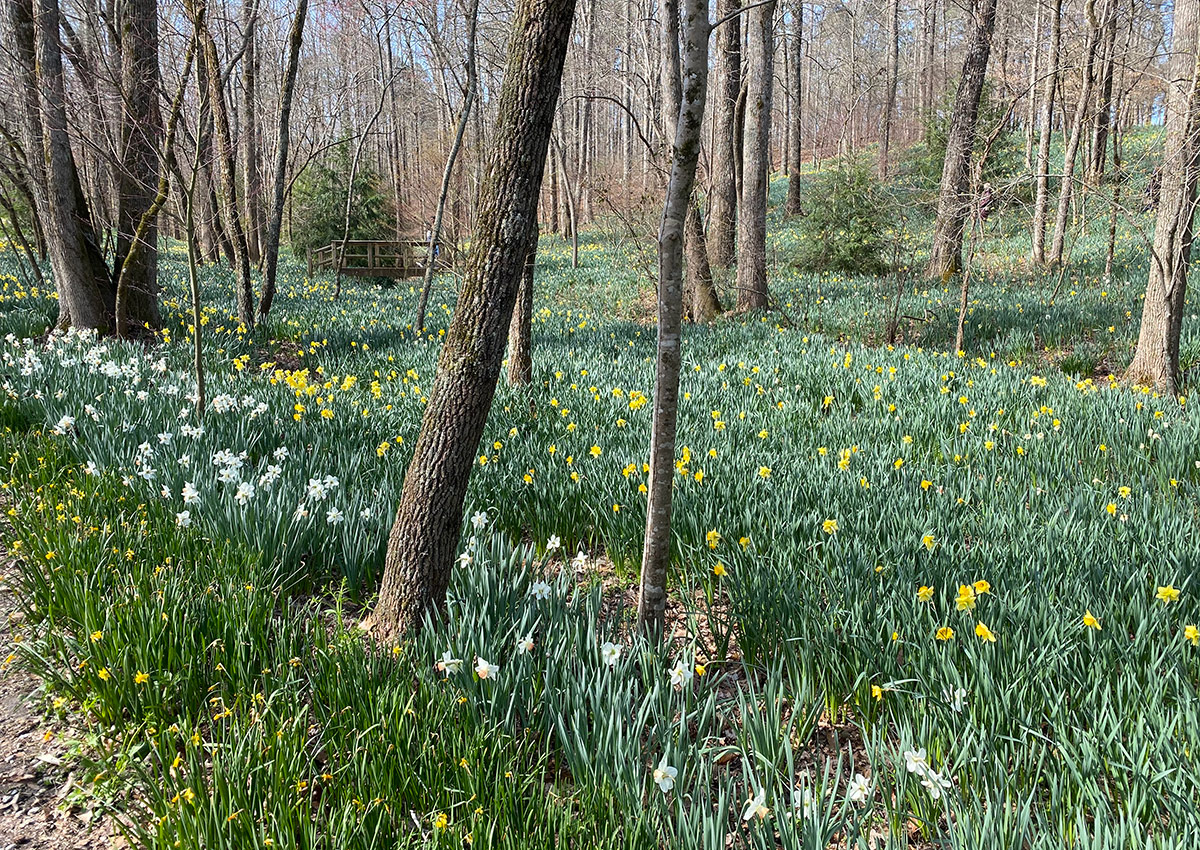 Dealing with fading daffodils
Daffodils are without a doubt one of the most reliable spring-flowering bulbs we can grow in the South and Southeast. They look wonderful planted en masse and bring just the right feeling to our spring gardens. After flowers have faded in the spring, it's advisable to leave foliage intact to help bulbs regenerate for the following year. This can take a while, and the foliage can look rather shabby just a few weeks after bloom.
A large portion of the daffodils planted at Gibbs are incorporated in and around large deciduous trees in a woodland setting. Plants thrive before trees put on their leaves. The foliage is then left as a ground cover and eventually dies back completely to the ground. In full-sun open settings at Gibbs, daffodil foliage is allowed to remain, while grasses and wildflowers fill in the spaces as the bulb foliage fades. This creates a wonderful early spring meadow feeling as you wander the gardens.
Gibbs extends their spring
The genius of Gibbs' spring displays is how they incorporate daffodils throughout the garden that bloom at different times. When you are shopping for daffodils or other spring-flowering bulbs, you may see they are classified as early-, mid-, or late-season bloomers. Gibbs has a good mix of all three, which means they can have blooms from the end of February through April. You can do this in your home garden too. You can even find daffodils that look nearly identical but that bloom at different times throughout the spring. To make this happen, you most likely will need to shop online, or find an independent garden center with a good bulb selection in the fall.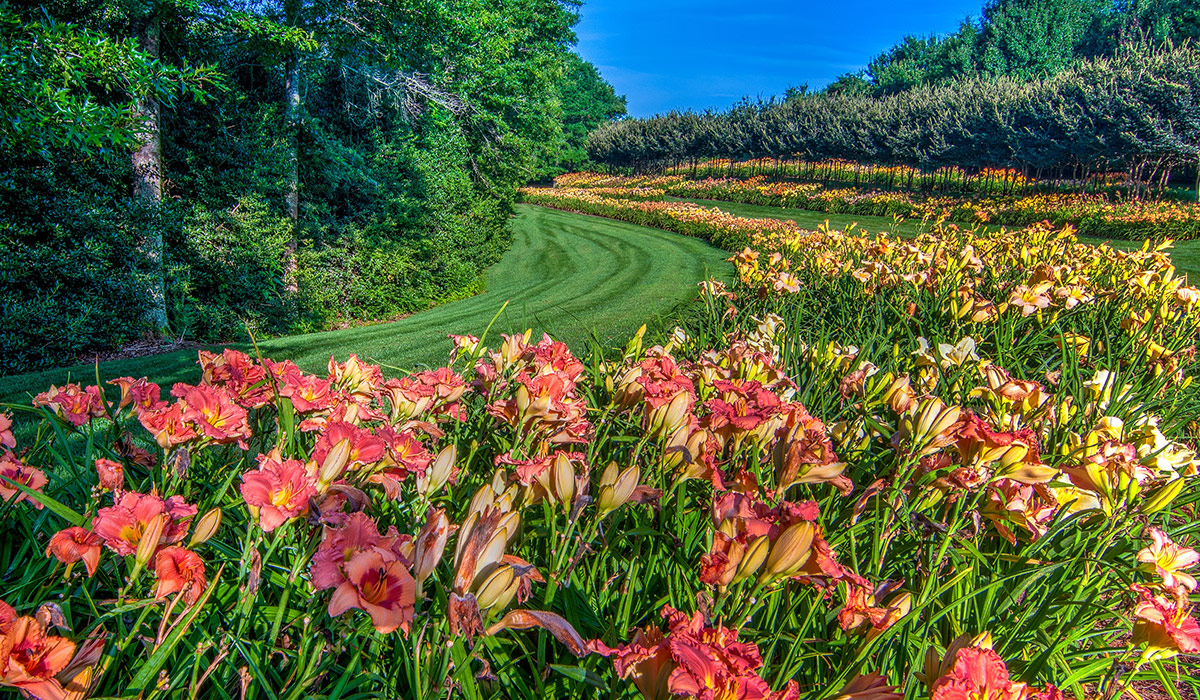 Spectacular displays in our home gardens
Gibbs is a wonderful garden to visit during any season. However, daffodils are one of the main things they are known for in the public garden world, for good reason. It is without a doubt one of the most spectacular displays on the planet. They create a display that can only be referred to as a spectacular. My mind wanders to how we can think about creating spectacular impacts in our own gardens. Every garden needs a crescendo! For Gibbs that climax is spring. Your garden might find its peak in high summer or in the shortening days of fall. Whenever it is, it's worth creating those moments where we allow ourselves to go overboard.
For information on other stunning public gardens in the Southeast, check out:
And for more Southeast regional reports, click here.
—Andy Pulte is a faculty member in the plant sciences department at the University of Tennessee.
Photos, except where noted: Andy Pulte