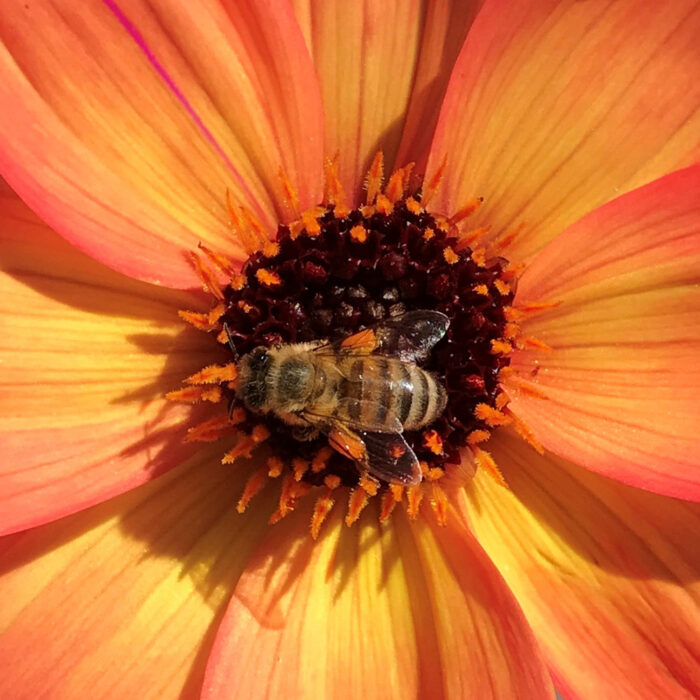 Growing and maintaining a healthy pollinator garden begins with a commitment to organic practices (including complete avoidance of pesticides) and to supplying year-round nourishment for your garden's beneficial insects. From late spring through fall, open-faced, daisy-like dahlias (Dahlia spp. and cvs., Zones 8–11) are ideal for this purpose. Fancy double, ruffled dahlias are beautiful, but with so many layers of florets, both pollen and nectar are completely inaccessible for insects. Old-fashioned, open-faced dahlias have a wide central disk that not only makes a great landing spot for insects but also allows easy access to the flower's pollen and nectar. Our native butterflies and bees find them incredibly attractive, and gardeners do too! The long-stemmed blooms are totally delightful and as charming in the flower border as they are in a summer bouquet. See the best dahlias for pollinators below.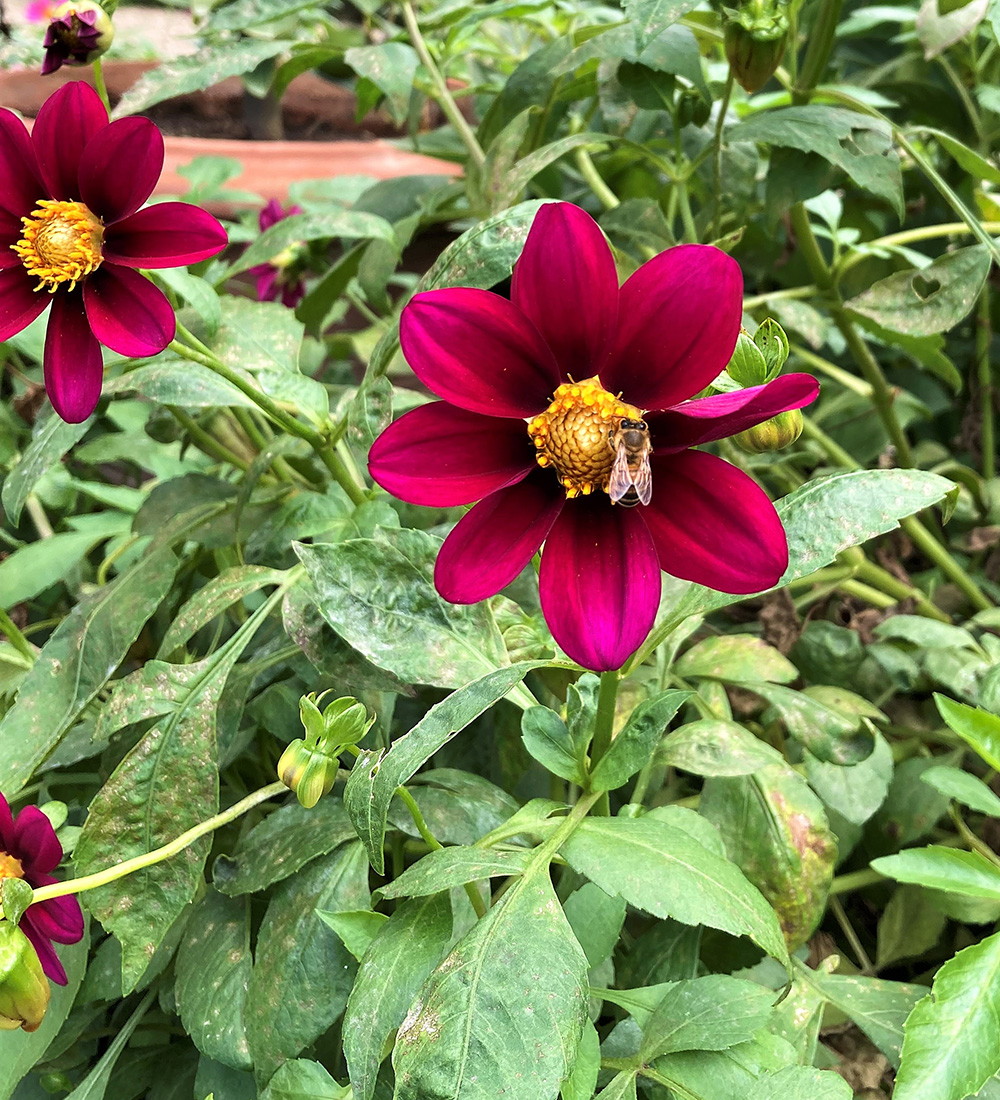 How to grow happy dahlias in Northern California
The following are some tips and tricks for raising gorgeous, pollinator-friendly dahlias in our tricky climate.
1. Purchasing
Dahlia tubers are most readily found online and in garden centers from late winter through early spring, while the plants themselves become available from late spring through fall in Northern California.
2. Planting
Time your planting so that the tender foliage does not get hit by frost. Wait until all danger of frost has passed before planting the dahlias outside, or until three to four weeks before the last average frost date for your area if you're starting with tubers. Locate your dahlias in a sunny spot, in well-drained soil enriched with compost. If gophers are a problem (they can be troublesome in our region), protect the roots by planting them in gopher baskets. Dahlias can perform well in a container if the pot is big enough. Research your dahlia's ultimate height size (and imagine how big the tuber and root system must be to support it) when choosing the containers to guarantee that the plants reach their full, bloom-filled potential. If you're growing any of the bigger dahlia varieties (taller, wider plants or bigger, heavier blooms), staking is important.
3. Watering
Regular, deep watering is vital for your dahlia's optimal health and best bloom, nectar, and pollen production, but overwatering can lead to rotting tubers, so you've got a "fine line" situation when it comes to your dahlia's moisture requirements. Check the soil periodically down around a depth of 3 to 4 inches. It should not be visibly wet or soggy. Instead, the top 1 inch of soil should be dry and the soil beneath should be evenly moist—feeling like a well-wrung washcloth when tested.
4. Feeding
Once the foliage is lush and bushy and the first buds have formed, side-dress your dahlia with a fertilizer low in nitrogen and higher in phosphorous and potassium. EB Stone Organics Ultra Bloom is my recommendation for continuous flower production all the way through fall.
5. End-of-season care
Your dahlias will bloom from June through October and longer still with a mild Northern California fall. Don't be surprised when flowering stops and the foliage begins to turn brown and die back in November. In January, cut the whole plant back to about 4 to 5 inches and mulch well. Dahlias are winter hardy in Zones 8–11, so the tubers can stay in place unless it's been particularly rainy (in which case you can dig and store the tubers to prevent rot). Or you can move the tubers and divide them to make more plants in January. My advice? Make your life easy and leave your dahlia tubers in place. Mark the location, keep the area mulched and weed-free, and be ready to protect new growth if it begins to emerge before the last frost date has passed. Feed your dahlia once its bushy foliage is up around 6 inches or so.
Tried-and-true dahlia varieties for Northern California
The following are some of my favorite open-faced dahlias for attracting and sustaining a healthy population of our native beneficial insects.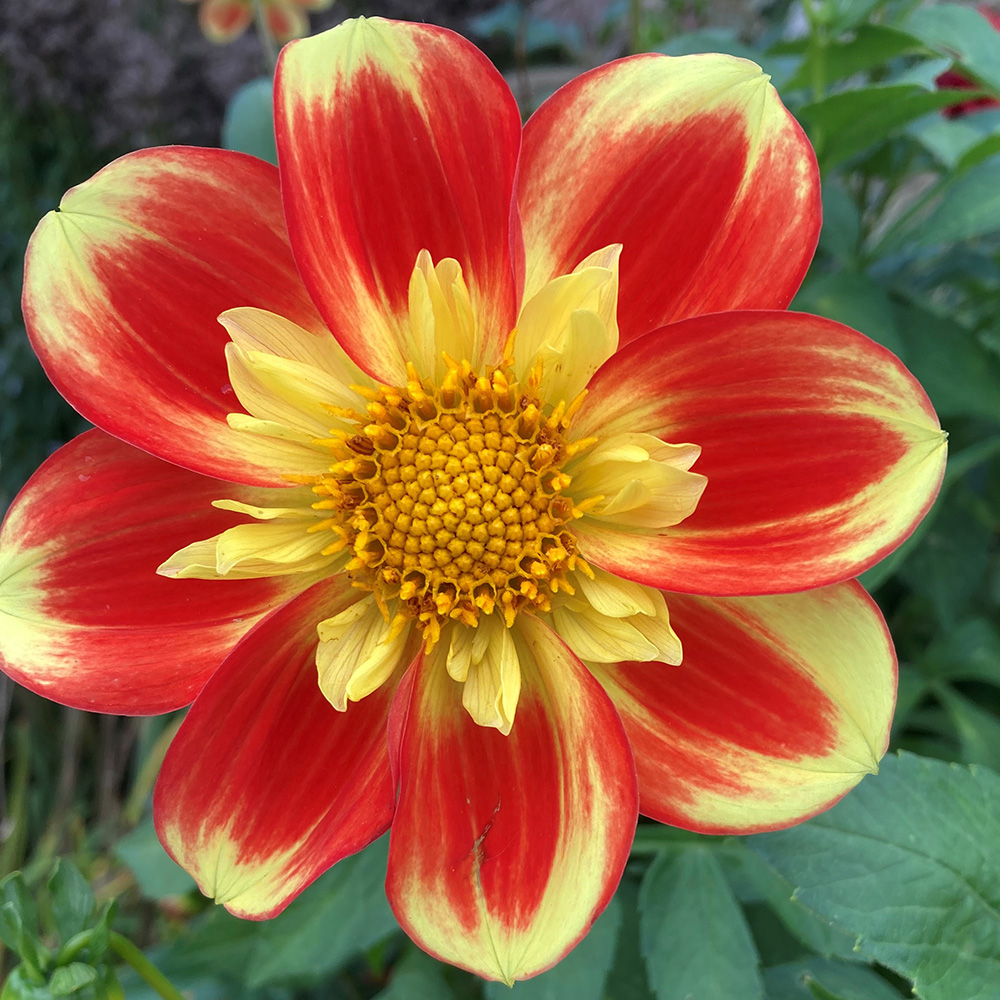 'Pooh-Swan Island' dahlia
This long-blooming, collarette-type dahlia grows 4 feet tall and just as wide and generously produces the most delightful flowers over the lush mounds of green foliage. Beloved by gardeners young and old—and by pollinators too—each 3½-inch bright orange bloom is outlined in bright yellow, with a bonus little golden collar around the central disk.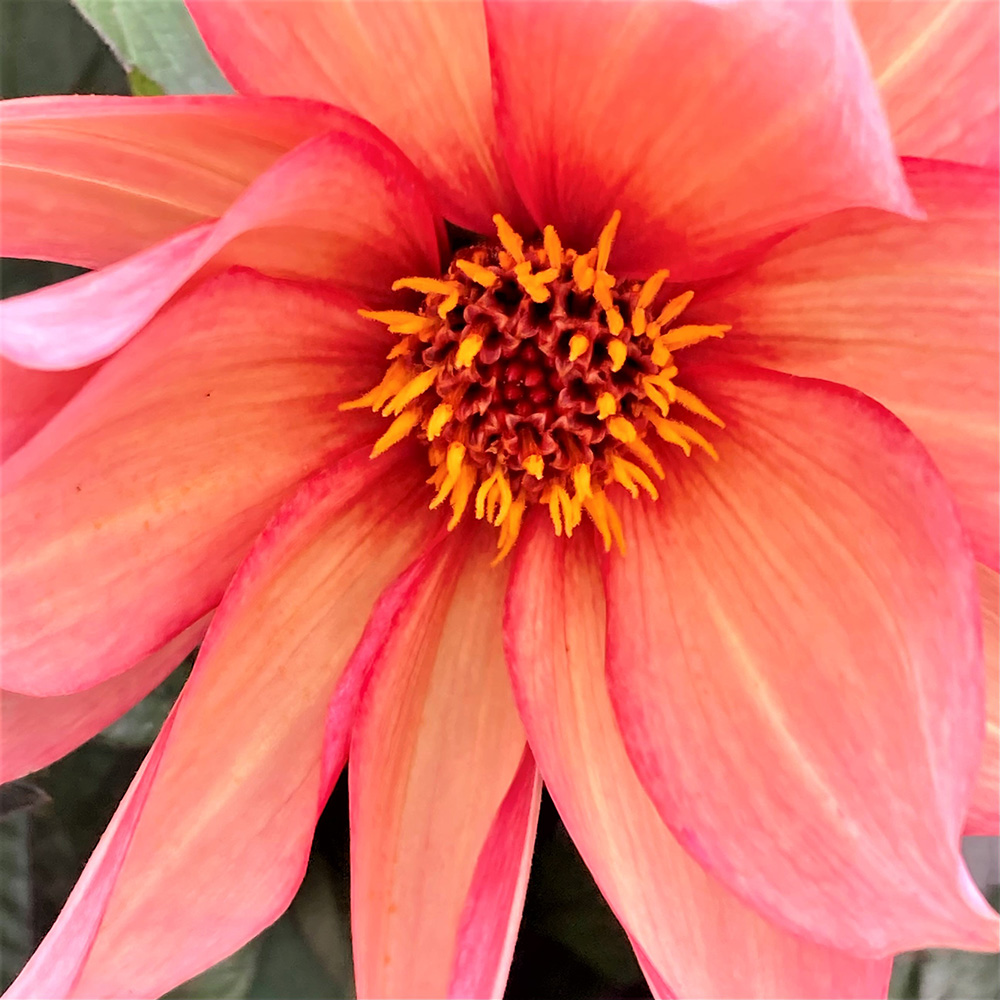 'Waltzing Mathilda' dahlia
One word to describe this dahlia: luscious. Each 4-inch wide, semi-double, open-faced, golden-striped bloom boasts rich, peachy-coral-golden hues. The flowers are borne on long, strong stems over mahogany-purple foliage. It's a beautifully relaxed flower, gorgeous in the garden and indispensable in bouquets. The plants will grow 24 to 30 inches tall and wide.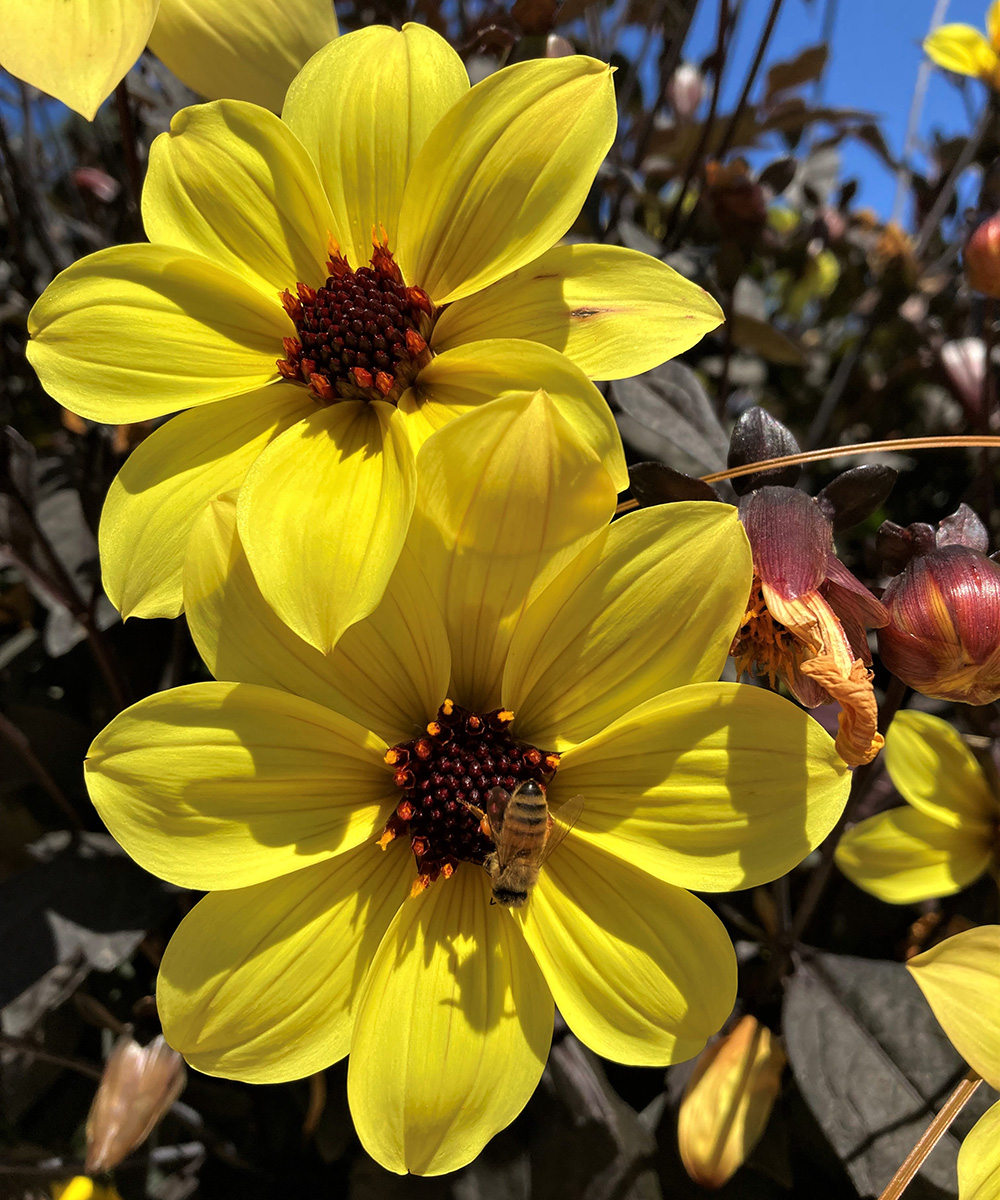 'Mystic Illusion' dahlia
Spring through fall, vibrant, acid-yellow, daisy-like blooms hover above the filigreed, almost ebony foliage of this variety. This big, robust stunner is fabulous in container combinations, cutting gardens, or perennial borders. A very vigorous grower, 'Mystic Illusion' will reach 2 to 3 feet tall and wide.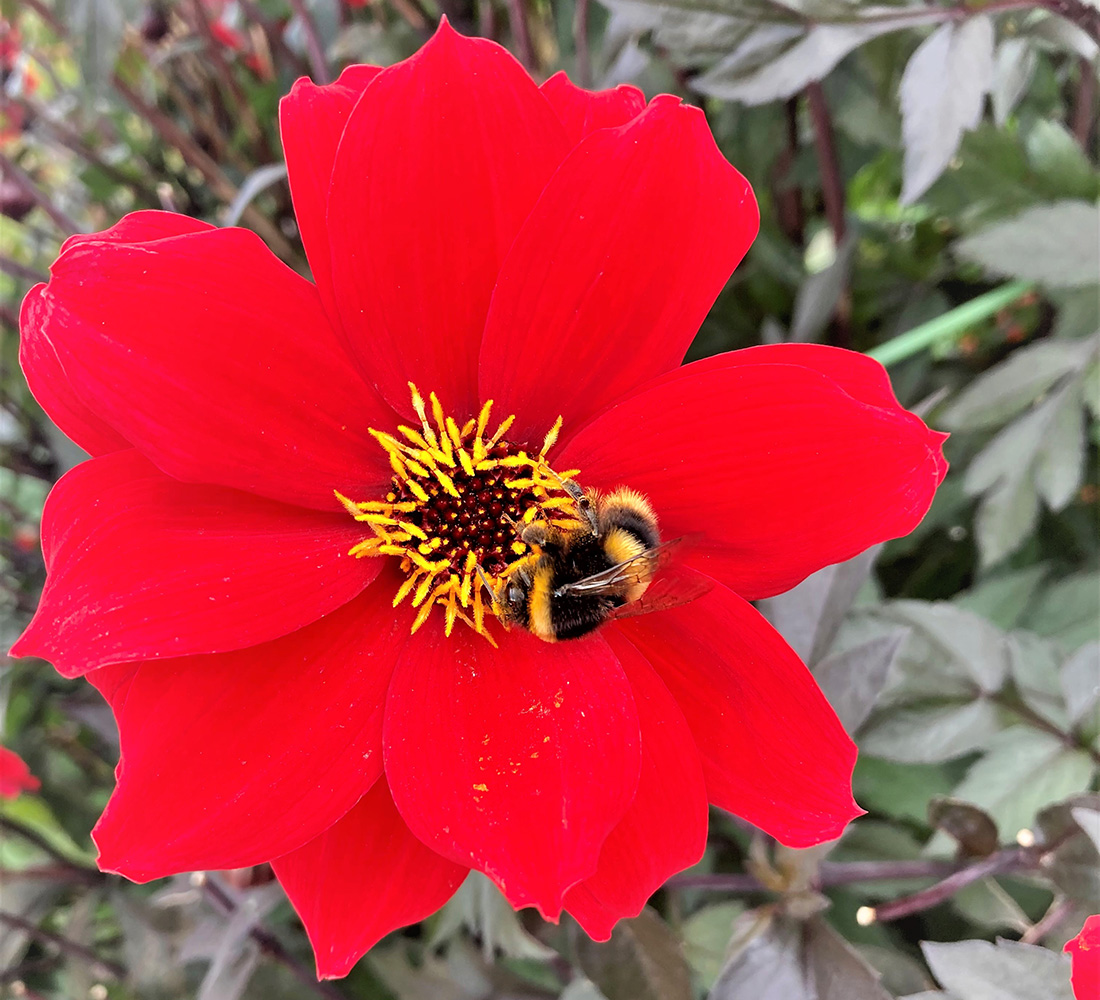 'Bishop of Llandaff' dahlia
The deep, dark chocolate–colored foliage of this gem makes the perfect backdrop for the exquisite, semi-double, 3-inch scarlet blooms that are produced in abundance from late spring through fall. This healthy, bushy plant is an old-fashioned favorite and grows 36 inches tall and wide.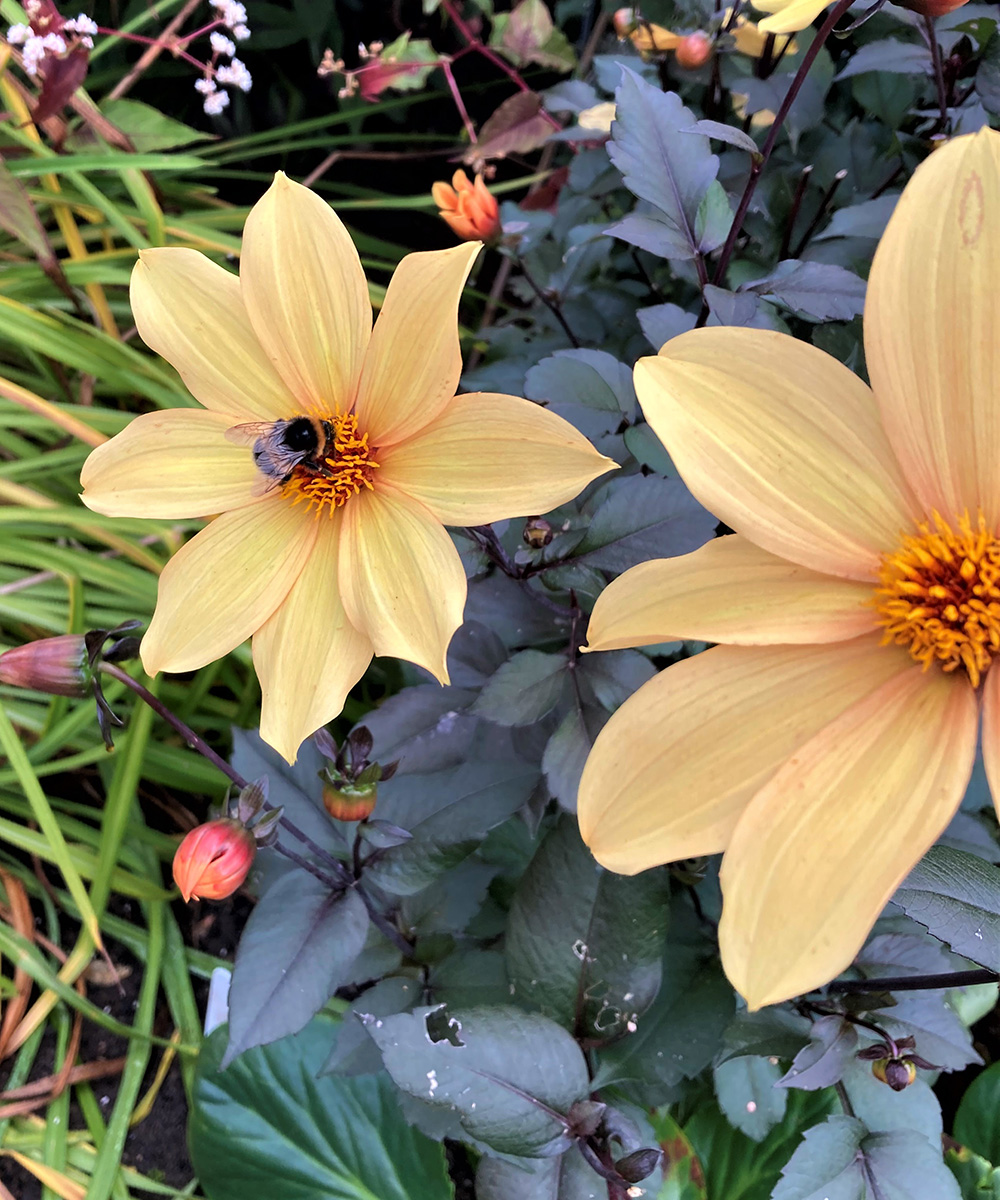 'Bishop of York' dahlia
Mounding, purple-green foliage contrasts brilliantly with the beautifully bright blooms of this stunner. Apricot hues imbue each bright yellow flower, making the flowers almost glow against the lush foliage. This beauty grows 2 to 3 feet tall and wide.
—Fionuala Campion is the owner and manager of Cottage Gardens of Petaluma in Petaluma, California.
Photos: Fionuala Campion