When summer is in full swing, most gardens are full of color and lush foliage. As the warm days continue, however, some plants start to flag and get tired looking—but not dahlias (Dahlia spp. and cvs., Zones 8–11). Late summer is the time of year when these bounteous bloomers really start to get their groove on in the Northwest—making them a worthy addition to any garden.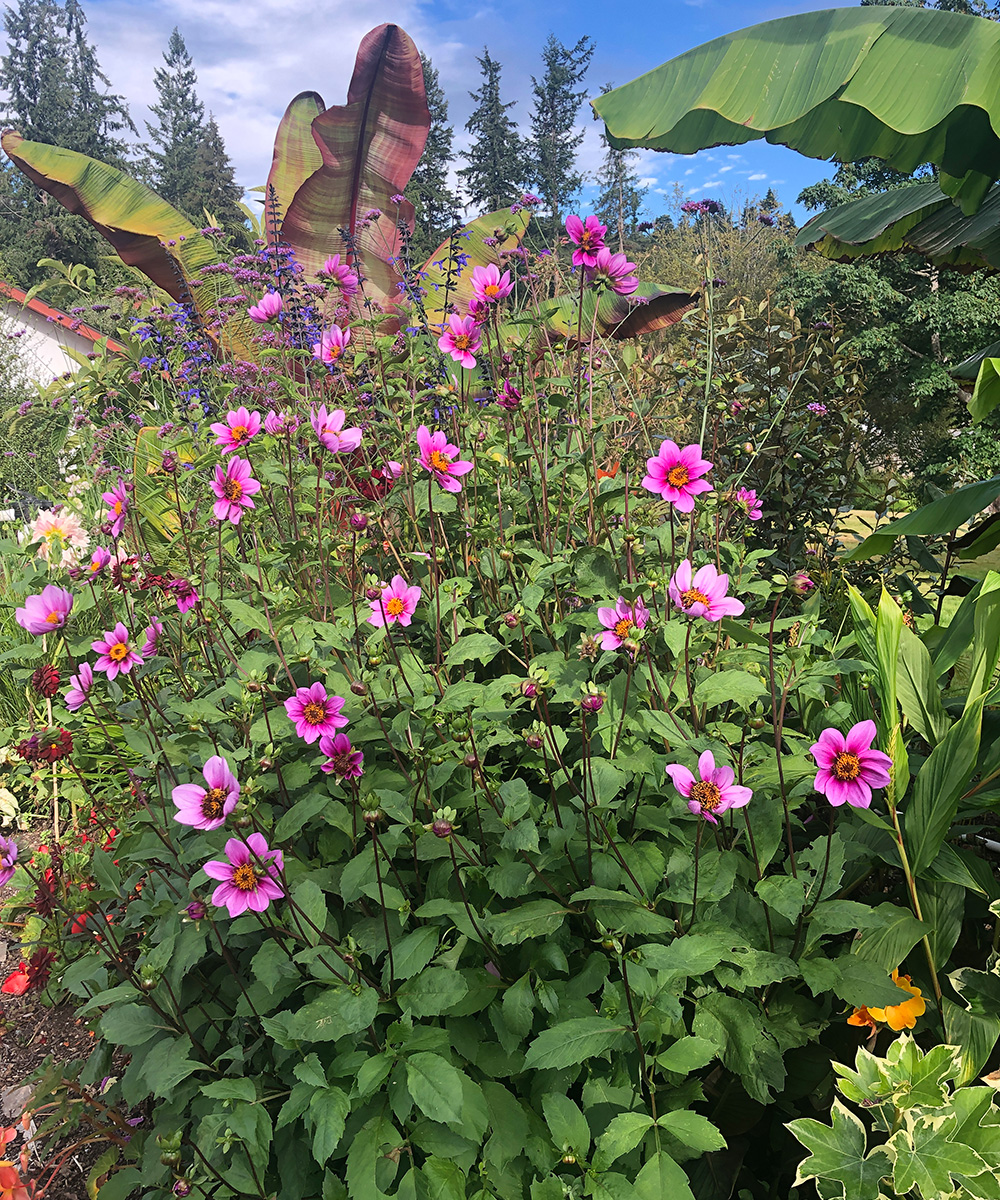 Dahlias play nicely with others in a mixed border
Historically thought of as the perfect prized flowers presented at county fairs and shows by collectors, dahlias are starting to make a comeback after being out of fashion for several years. These tuberous perennials are no longer being relegated to "dahlia-only" beds (laid out in rows and staked to ensure good flowers and straight stems for cutting). An explosion of dahlia breeding has resulted in different flower forms and better plant attributes that are easily integrated into mixed beds and borders.
Different dahlia sizes, foliage, and flower colors have made it fun to include them in perennial beds for late summer interest lasting until frost. In the Northwest, dahlias can often be left in the ground and covered with mulch until they sprout again in late spring. In colder areas, they can be dug up, dried out, and stored in a cool, frost-free place over the winter before being replanted in the spring.
Choose from a mix of dahlias to create beautiful plantings and bouquets
There are a few dahlias out there with a cult following. You will know you've come upon one if it's expensive and when you try to order it you find out that it sold out early in the season. Here are some of my favorite dahlias. They don't necessarily have a cult following, but they are beautiful additions to garden plantings and cut-flower bouquets.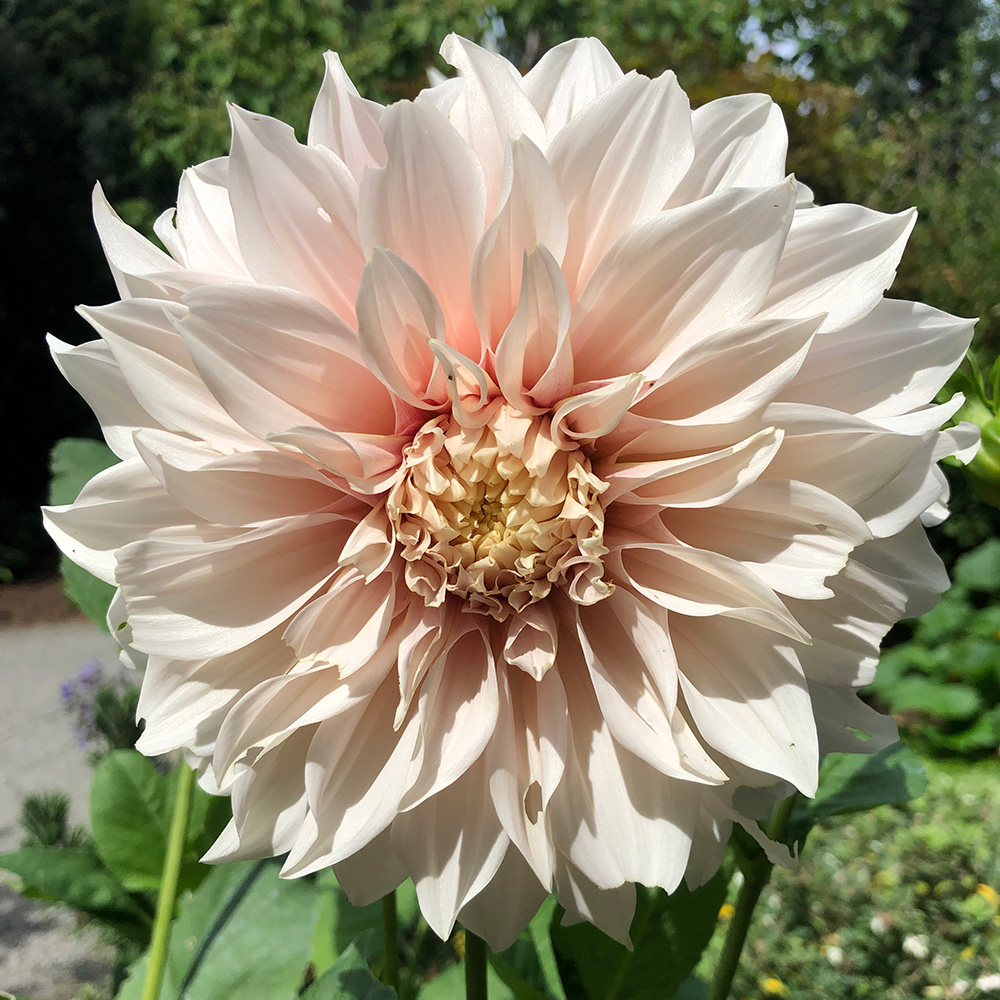 'Café au Lait'
This beautiful brown dahlia with pink tones (or sometimes soft peach) is a big favorite in the Northwest. It has an attractive plant structure that reaches up to 5 feet tall and up to 2 feet wide. It does benefit from staking, which can be easily hidden in the foliage. The color of the blooms, much like that of a coffee latte, blends well with other, more-subdued late-season hues and deep green foliage. The flowers of this decorative formal (style) dahlia grow quite large, to about 8 to 10 inches wide.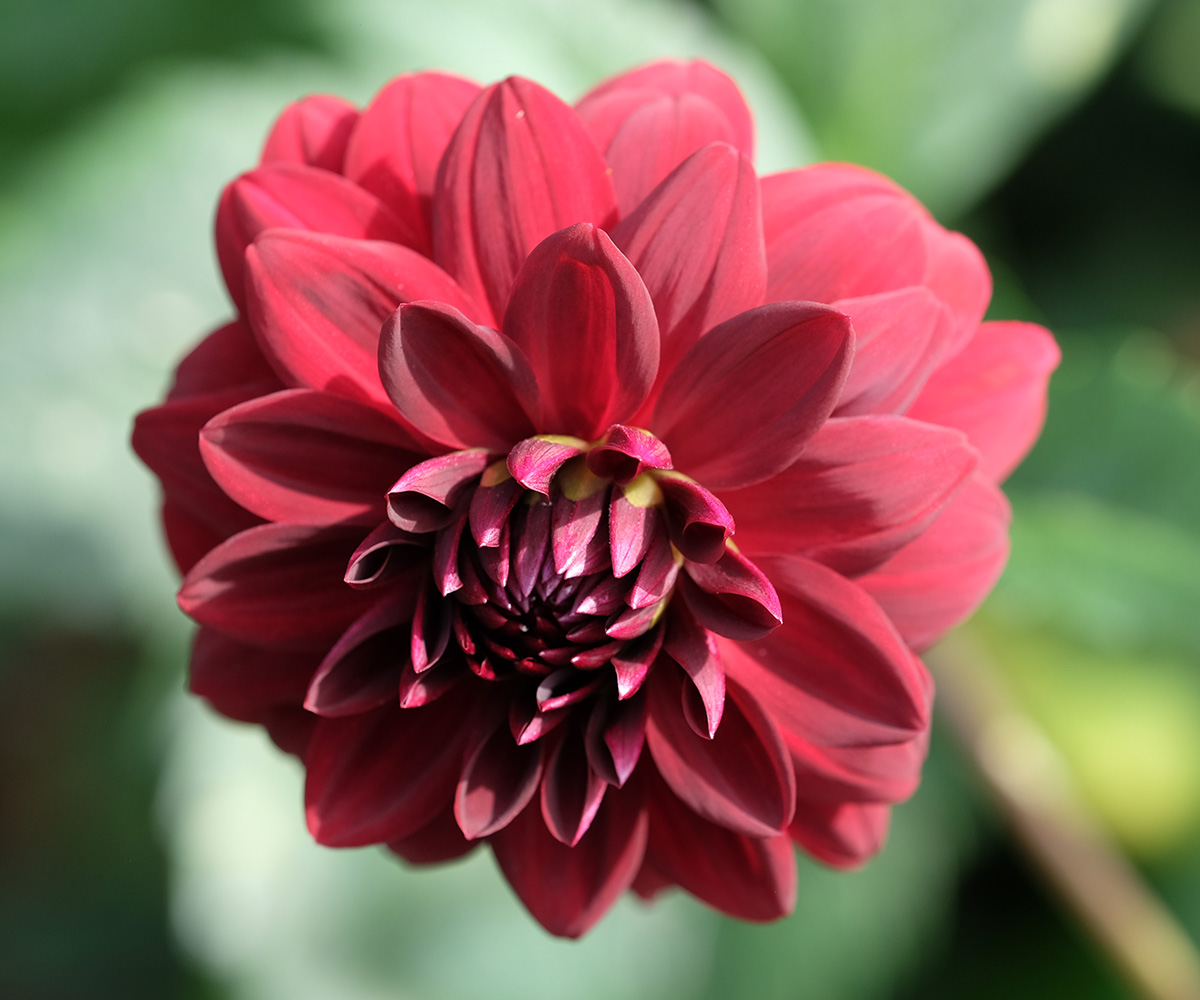 'Arabian Night'
Sometimes it is not the size of a flower but the intricate petals and colors that make it stand out. 'Arabian Night' is a striking water-lily-style dahlia with smaller blooms, around 4 to 5 inches wide, that rarely need staking. Intense purple when open, it fades to red-purple. It is a great accent in a tropical garden with red banana (Ensete ventricosum 'Maurelii', Zones 9–11) and various gingers (Hedychium and Zingiber spp. and cvs., Zones 7–11).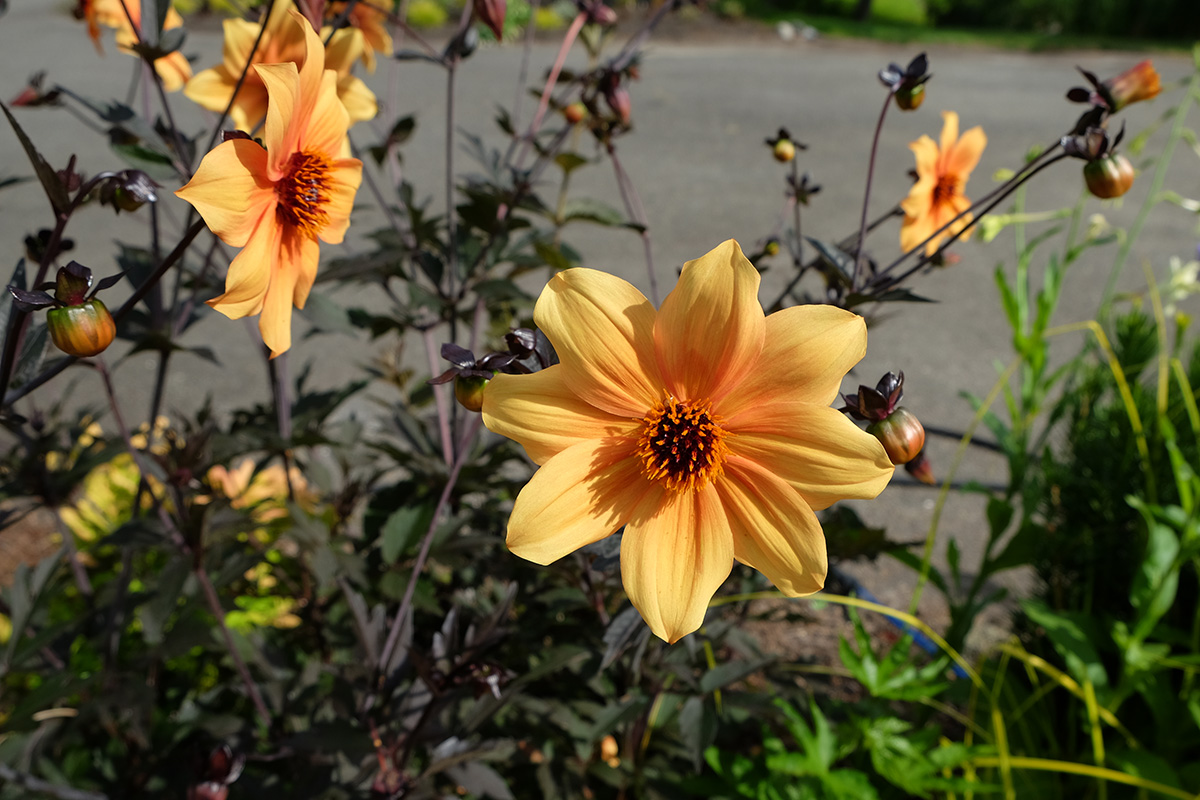 Mystic Spirit ('Hamspirit')
Some of the more recent variations of dahlia are the purple-leaf forms. Mystic Spirit has richly dark foliage with unusual warm, muted orange flowers that are about 4 inches across. A Mignon single-flower-style dahlia with an open growth habit that reaches up to 30 inches tall and 24 inches wide, it blends well with other dark-foliage plants such as Tuxedo™ weigela (Weigela 'Velda', Zones 4–9) and in a tropical-style garden.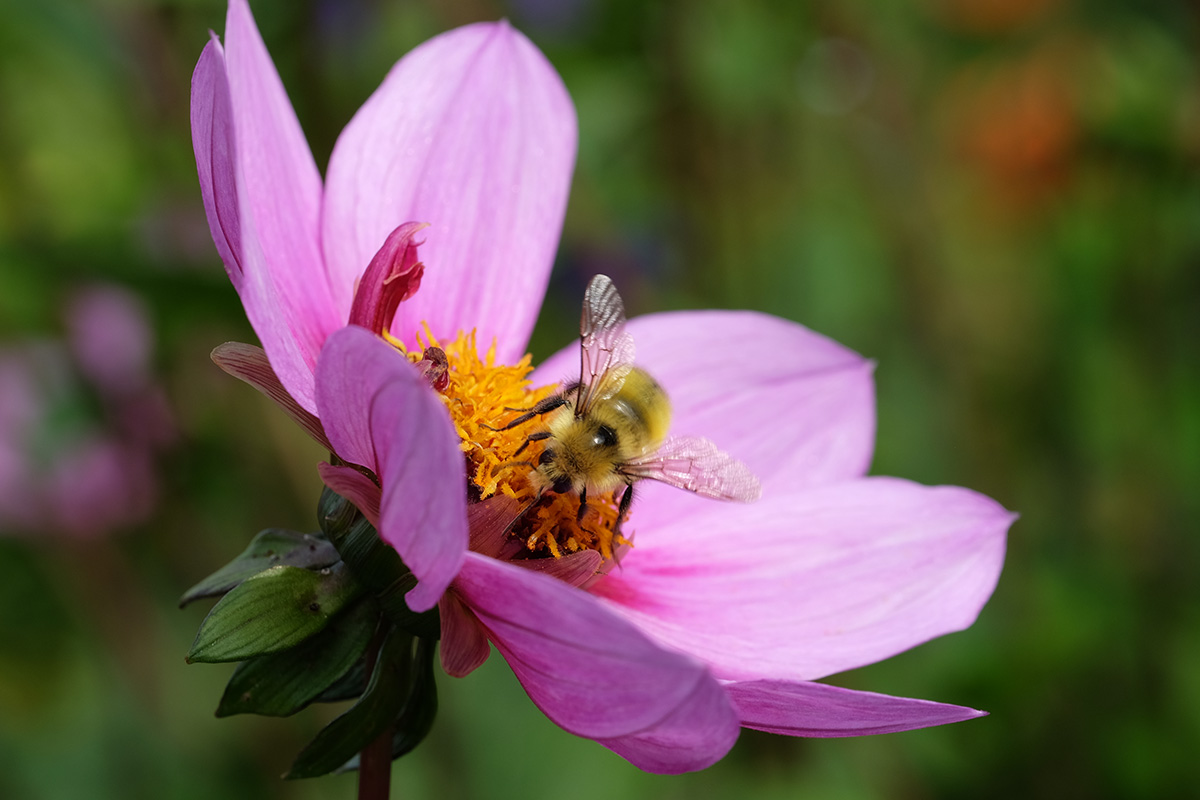 'Blue Bayou' (syn. 'Bayou')
There aren't any true-blue dahlias, but 'Blue Bayou' is still a striking plant. It is a strong grower with masses of single-style flowers. The blooms mature to about 4 inches in diameter and start out a dark lavender that fades to lighter tones. At about 5 feet high and wide, this dahlia looks great at the back of the border with other purples and yellow. I sometimes stake mine because it gets so big.
---
4 tips for growing dahlias in the Pacific Northwest
1. Protect your plants from slugs and snails early.
These pests can eat the new shoots before you ever see the foliage. For best results, continue with protection throughout the growing season.
2. Deadhead for continued flowering.
3. Avoid wet soil.
Overwintering can be done in the ground with mulch protection in a free-draining soil. However, wet soil or cold exposure can cause rot and mean the kiss of death. If this is your circumstance, lift your dahlia tubers and store them in a frost-free location over winter. Then replant in spring after all chance of frost is gone.
4. Divide regularly.
Clumps can get really large and should be divided when congested. Use caution to prevent damaging the tubers when clumps. Once tubers are separated from the main clump, they can be replanted, overwintered inside, or given away to friends.
Give some of these great dahlias a chance in your borders. They are excellent for cutting and bringing in the house to enjoy with other blooms from your garden. Just be warned—these prized plants can fast become a wonderful obsession.
—Susan Calhoun is the owner of Plantswoman Design in Bainbridge Island, Washington.