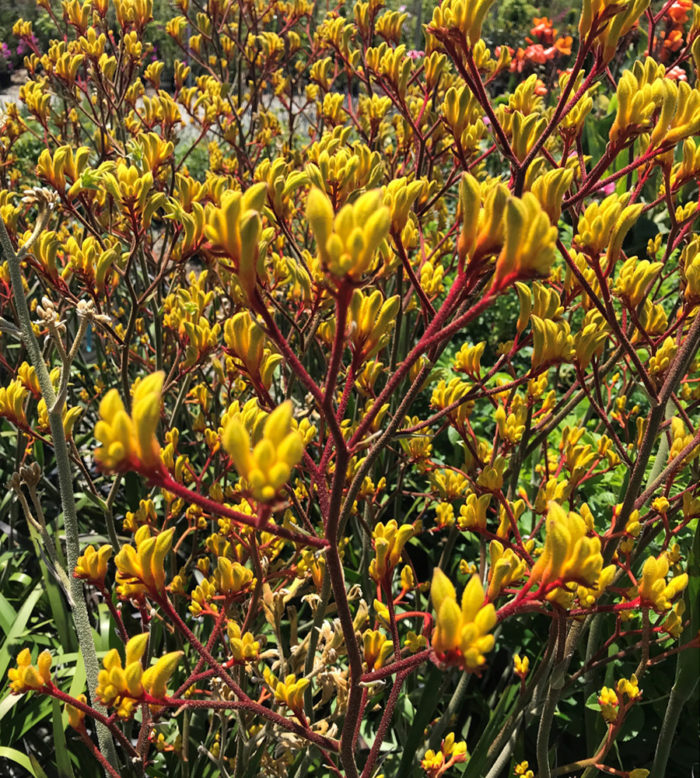 Australia is a diverse and colorful continent with some of the most beautiful plants on the planet. Tough as nails and often accustomed to nutrient-poor soils, drought conditions, and even coastal winds, many Australian plants are particularly valuable to Northern California gardeners aiming to make their gardening lives a little easier. The rugged, easy-care Australian shrubs and perennials here are among my favorites.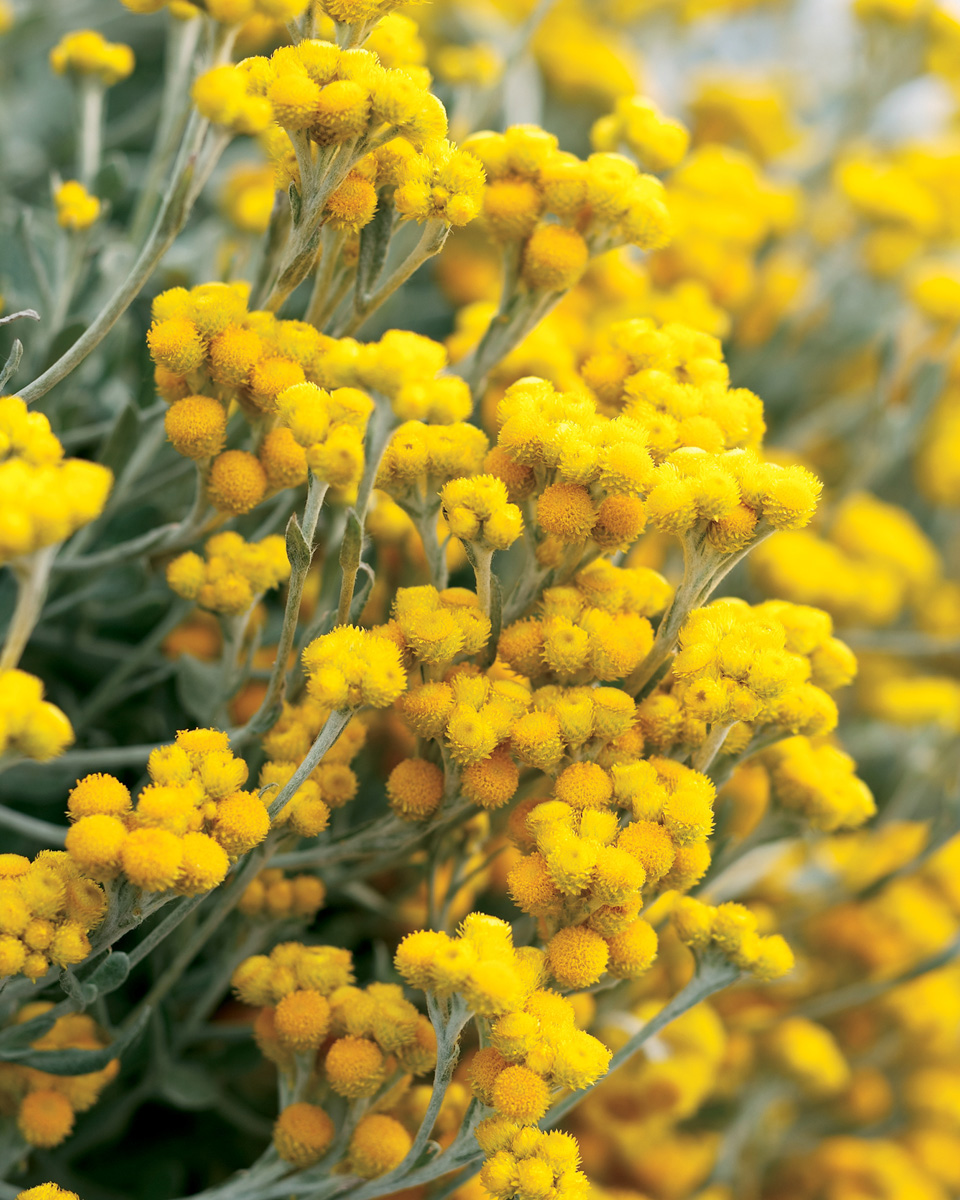 Flambe® Yellow strawflower
Chrysocephalum apiculatum 'Flochryel', Zones 9–10
When this drought-tolerant and deer-resistant Australian beauty is in full bloom, it will stop you in your tracks with its profusion of vibrant blooms. Flowers are low-growing, golden yellow, and pearl-like, and they sit atop a blanket of dazzling silver foliage. Blooming almost continuously from late spring through the first frost of winter, this bright and happy tender perennial grows 10 to 14 inches high and trails up to 2 feet wide. It looks delightful in mixed containers, rock gardens, or perennial borders. Plant in full sun and in well-drained soil, and irrigate lightly during the hotter summer months. Flambe® Yellow is extremely rewarding with minimal care, but if it looks tired toward the end of summer, refresh by cutting it back by a third and side-dressing with a handful of compost. Protect from frost in the winter. It makes a great annual below Zone 9.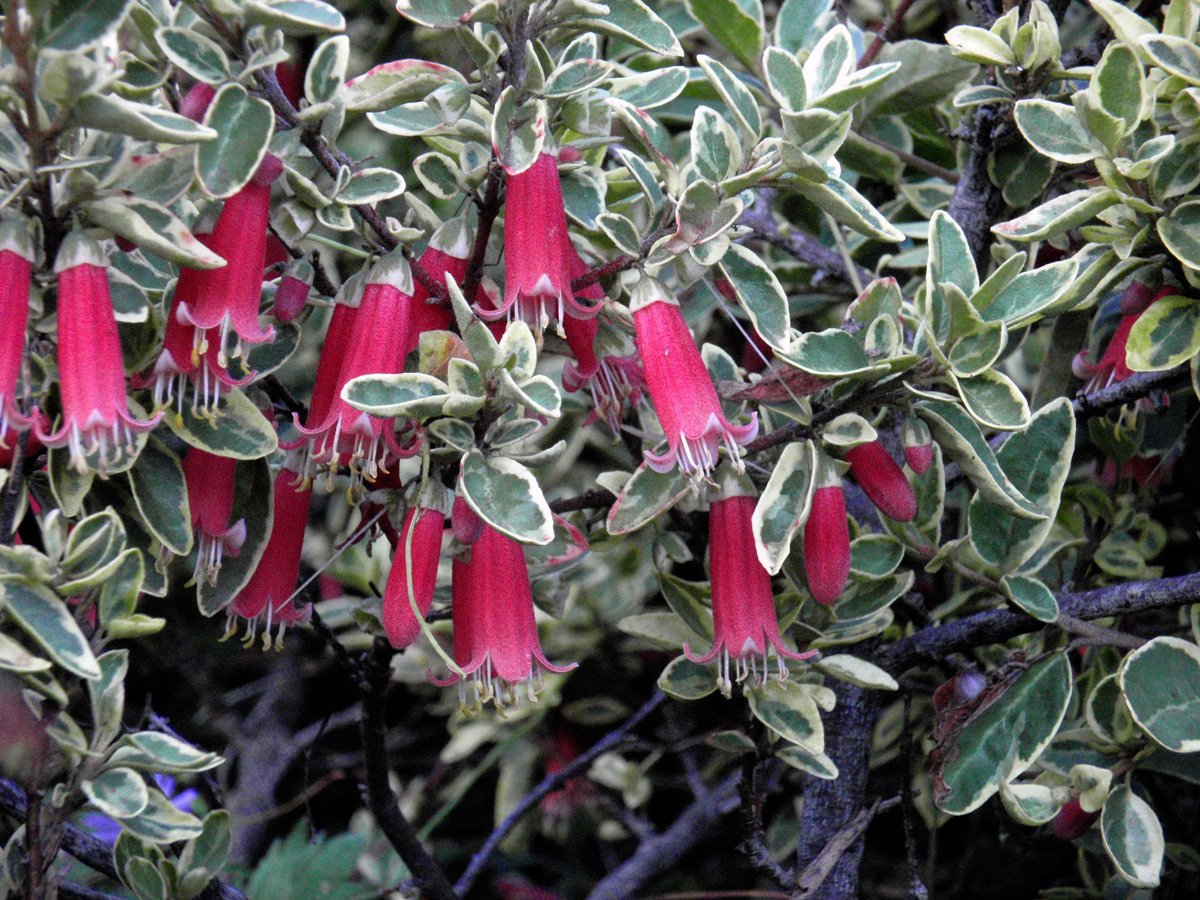 'Wyn's Wonder' variegated Australian fuchsia
Correa pulchella 'Wyn's Wonder', Zones 8–11
'Wyn's Wonder' variegated Australian fuchsia is an evergreen, no-fuss shrub with chocolatey, ground-hugging stems densely clothed in waxy green leaves. Its leaves are olive green with a cream-colored edge. It blooms from fall through midspring with abundant 1-inch-long blooms sprinkled through the bright foliage. These flowers are tubular, rosy pink, and nodding. This Australian fuchsia provides year-round color and textural interest and works as beautifully in a large container as it does in the landscape. Hummingbirds adore the long-lasting flowers, making it an excellent addition to a habitat garden. Plant in sun to light shade in amended, well-drained soil, and irrigate lightly to regularly, being sure to water more frequently if planted in full sun. 'Wyn's Wonder' reaches 2 to 3 feet tall with a spread of up to 4 feet wide.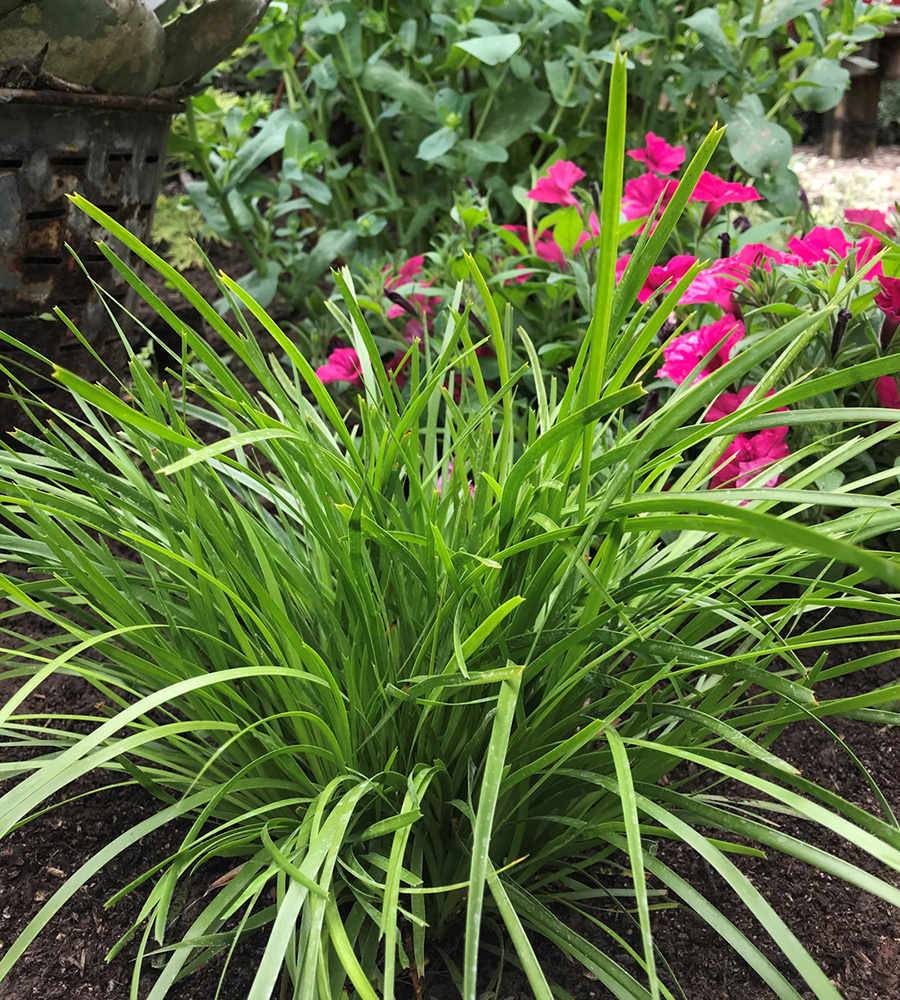 Lime Tuff™ dwarf matt rush
Lomandra longifolia 'Lomlon', Zones 8–11 (syn. Lomandra confertifolia ssp. rubiginosa 'Lomlon')
This rugged, evergreen perennial has narrow, grasslike foliage that forms a bright, tidy tuft that grows 24 to 30 inches tall and just as wide. Lush and healthy with minimal care, dwarf matt rush is tolerant of a wide range of soil conditions and sun exposures as well as coastal winds and all kinds of watering regimens. It will offer a bright punctuation of lush greenery all year long to your perennial border or container garden and looks particularly effective when planted en masse. Lime Tuff™ is said to be the most fragrant of the matt rushes, with short bloom spikes appearing among the foliage from late spring through summer. Though extremely forgiving of adverse conditions, this rewarding ornamental performs best when planted in full sun to moderate shade in well-draining soil and when watered at least weekly during the hottest parts of summer.
'Harmony' kangaroo paw
Anigozanthos 'Harmony', Zones 9–11
'Harmony' kangaroo paw is evergreen and blooms from late spring through fall. It's a magnet for hummingbirds and honeybees, and it makes a dramatic and unique accent for the back of a sunny border. The upright fans of strappy, dark green foliage stand 2 to 3 feet tall, with each dense clump producing towering, sturdy, red-tinted stems bearing abundant blooms that look like fuzzy, yellow kangaroo paws. Cut the spent flower wands to ensure repeat blooms and to add to flower arrangements. Grow 'Harmony' kangaroo paw in full sun and well-drained soils, and irrigate regularly for best results. Like many Australian plants, kangaroo paws don't appreciate phosphorous, so fertilize sparingly and avoid high phosphorous-based feeds. Each fan of leaves only blooms once, so cut by two-thirds in winter to promote new growth, new fans, and new blooms.
—Fionuala Campion is the owner and manager of Cottage Gardens of Petaluma in Petaluma, California.