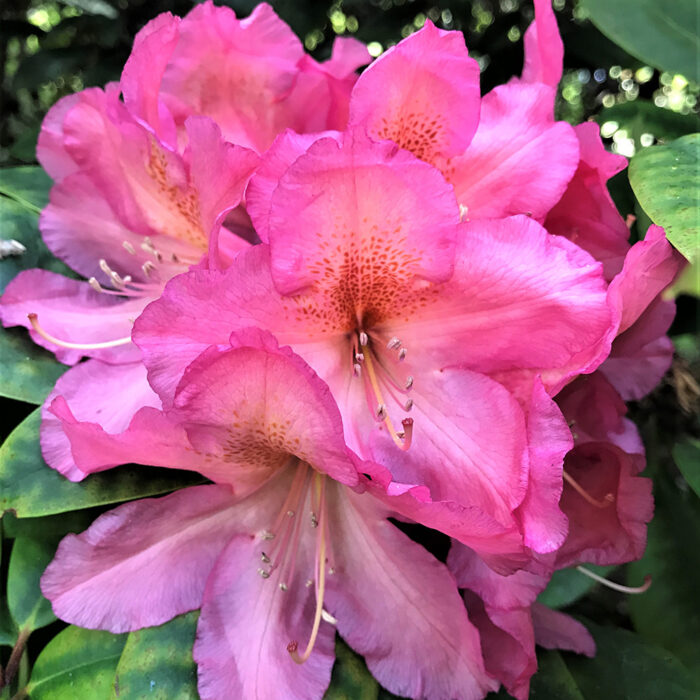 Rhododendrons (Rhododendron spp. and cvs., Zones 4–9) are colorful, ornamental woody plants that are most at home in damp climates with mild temperatures. The Rhododendron genus is a large one, with over a thousand species and more than 28,000 cultivars listed in the International Rhododendron Registry held by the Royal Horticultural Society. Native to Asia, rhododendrons are best-loved for their huge, spectacular clusters of brightly colored, showy blooms, which are beautifully highlighted by their backdrop of large, leathery leaves. Whether used as a foundation plant, added as an accent in a shaded border, planted in a container, or clustered en masse in a woodland planting, a rhododendron makes a valuable and highly ornamental contribution to the landscape.
Northern California is blessed with the milder temperatures favored by rhododendrons. With attention to the water, exposure, pH, and soil requirements of these plants, most Northern California gardeners can successfully grow these amazing plants and delight in their brilliant displays of extraordinary blooms. A rhododendron in full flower is such a stunning sight!
Below are some tips for planting and caring for your rhododendrons, interspersed with a few of my favorite rhododendrons for Northern California.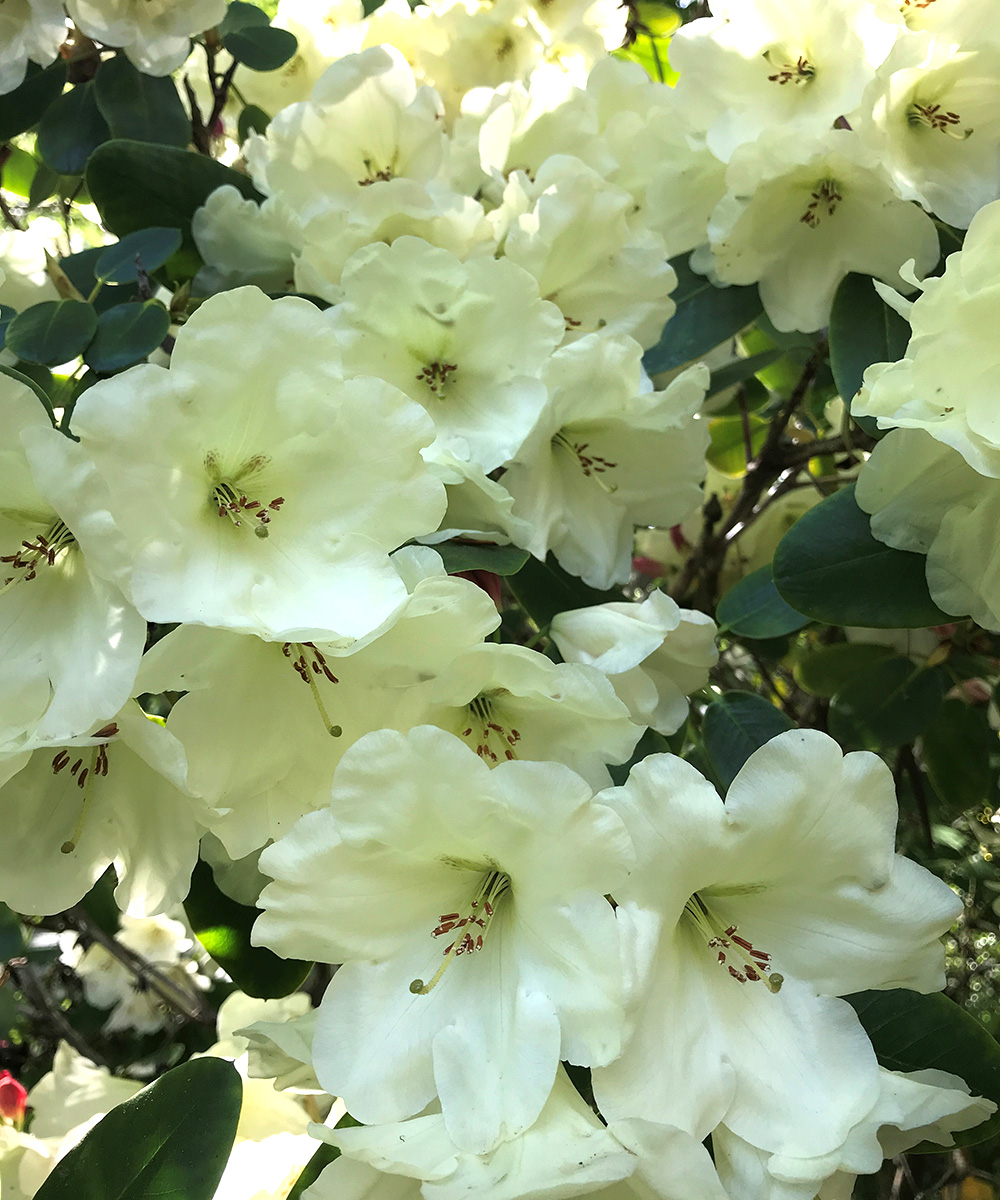 Growing guide for best performance
Purchasing: Spring, when most rhodies are budding or blooming, is the ideal time to select the perfect plant for your shade garden. This is also when rhodies are most readily available at your local nursery. Rhododendrons come in a range of sizes—from low-growing, ground-cover types, to midsize shrubs, all the way to trees—ensuring that there is a rhododendron for just about every garden. And they bloom in a multitude of colors, including vibrant purples, reds and pinks, luscious corals and apricots, pastel yellows, and pristine white. While the huge clusters of flowers are truly traffic-stopping, it's important to assess the attractiveness of the foliage too. A rhodie's bloom period is relatively short, and you'll be enjoying the unadorned foliage for the remainder of the year! Of course, consideration should also be given to the mature height of your rhododendron when planting.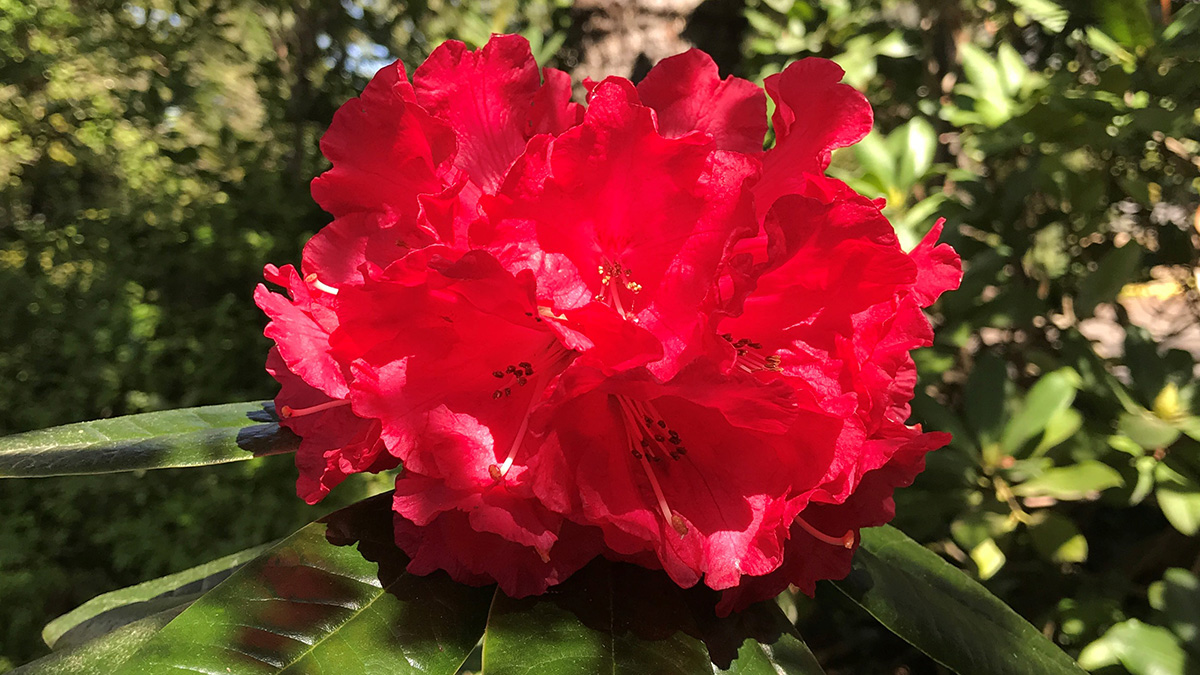 Planting: Plant your rhodie in a location sheltered from the heat of the afternoon sun. They do best with all-day, bright, filtered light—under a tree canopy for example—or planted in an east-facing garden bed that receives morning sun. For more info, watch 7 Mistakes to Avoid When Planting a Rhododendron.
Soil: Rhododendrons love rich, well-aerated, moist, acidic soil with perfect drainage. The moisture should be consistent and regular, with soil remaining as moist as a wrung-out sponge, but never soggy. Plant your rhododendron with the top of the root mass slightly above soil level. If your soil has too much clay or is too alkaline, you might consider planting your rhodie in a raised bed or large container.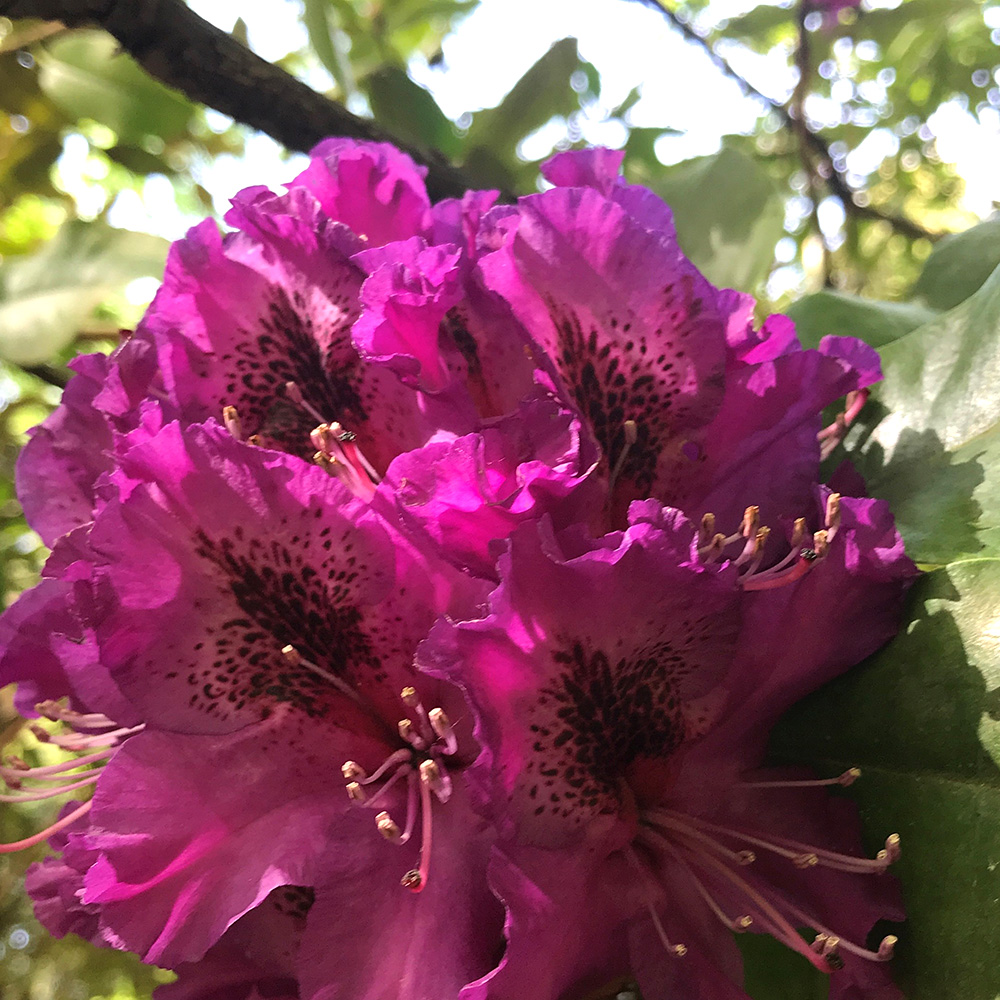 Mulch: The roots of rhododendrons are shallow, so mulching is beneficial to their health. Fine fir or redwood bark, pine needles, or oak leaves are all excellent choices.
Fertilization: An application of mulch usually provides adequate nutrients (as it breaks down) to your growing rhododendron, but if you need to lower the pH of your soil further, feed with a specially formulated organic, acidic fertilizer in late winter or early spring, and again in late summer. Be careful to use only the amounts recommended for rhododendrons, which do not need as much fertilizer as other plants. Excessive fertilization can result in damaged roots and leaves, and some rhododendron varieties are very sensitive to overfertilization.
Weeding: Because the roots are so close to the surface, you should not cultivate around these plants, or disturb the roots in any other way. Weed by hand if needed.
Pruning: Tip-pinch young rhododendrons to encourage bushy new growth and more blooms. Maintenance trimming involves removing spent flower clusters and unsightly foliage or dead branches and is usually done immediately after flowering as the flowers fade. Older, overgrown, gangly, leggy plants can be rejuvenated with a hard pruning; you can cut down to as low as 2 feet from ground level or lower still if necessary in late winter or early spring. You might not get flowers for a couple of years afterward, but feed, tend, and nurture your refreshed rhododendron and it will bounce back; you'll be rewarded with bounteous blooms before long!
—Fionuala Campion is the owner and manager of Cottage Gardens of Petaluma in Petaluma, California.