Video by Danielle Sherry, Edited by Kara Demos
In Designing a Stylish Pollinator Garden, author John Gwynne shared with us his tips for growing a pollinator-friendly garden. However, his design makes this garden a lovely spot for humans as well, not only the bees, butterflies, and other pollinators that he had in mind when the idea was first conceived. By designing for these two very different types of visitors, John sets this garden apart from other pollinator gardens, which tend to serve more for function than form.
He says, "A few years ago, in an effort to try to help dwindling butterfly and bee populations, my partner Mikel and I plowed up an acre of invasive bittersweet on the edge of our coastal Rhode Island home to create a sunny pollinator garden. Rather than designing a wild-looking space that might look messy to some, we thought a larger, more interesting challenge might be to create a more stylish garden that could nevertheless still help buoy insect populations. We asked ourselves, should our space look like a naturalistic meadow, or like a more-polished perennial border? Deep digging into garden literature resulted in the pollinators themselves answering this question." Read more.
In this video, executive editor Danielle Sherry takes us on a tour of the garden that John and Mikel built, highlighting the plants and design features that make this garden such a pleasure.
The plan: A pollinator paradise
This garden sprang out of an abandoned corner of the property that was overrun with invasives. Within just a few years the spot went from a mess to a bustling meeting space for bees, butterflies, parasitic wasps, and innumerable hummingbirds.
Don't forget the extras
A few additional things (aside from the plants) can ensure a bustling pollinator garden:
Insect housing (natural or man-made, pictured)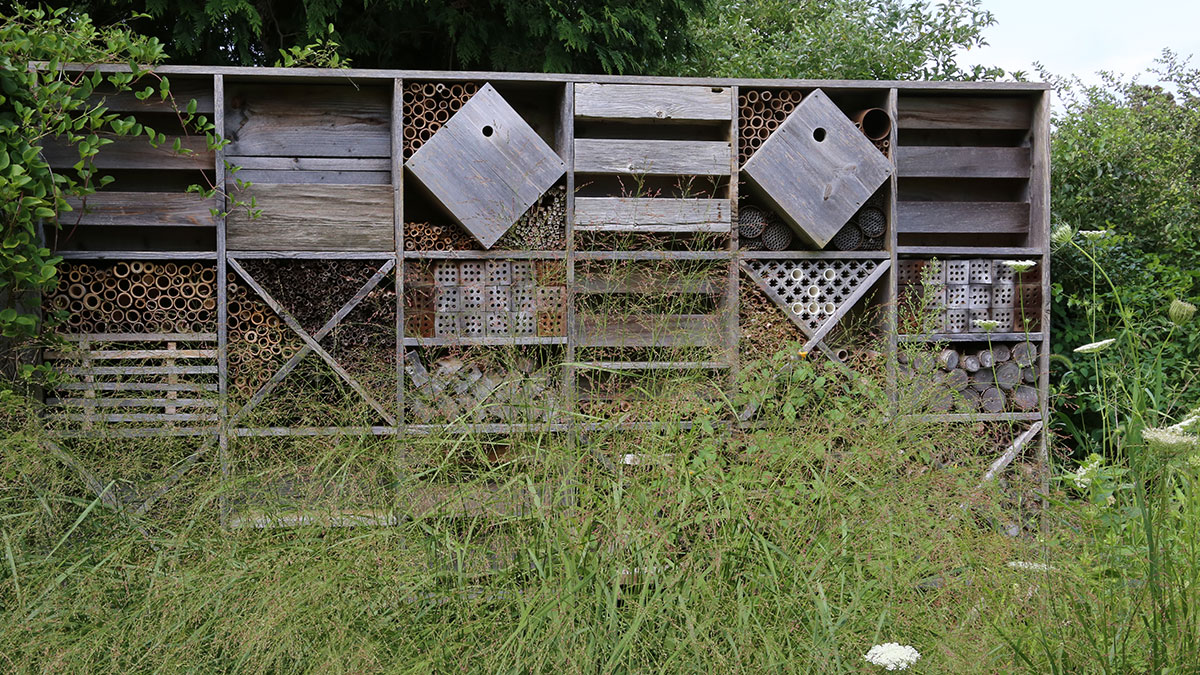 Want to mimic John's design in your own garden?
Read his article to learn more about how the pollinators' preferences guided his design, and see some of his favorite pollinator plants.
See even more on pollinators
Garden Helpers: Bring in the Beneficials