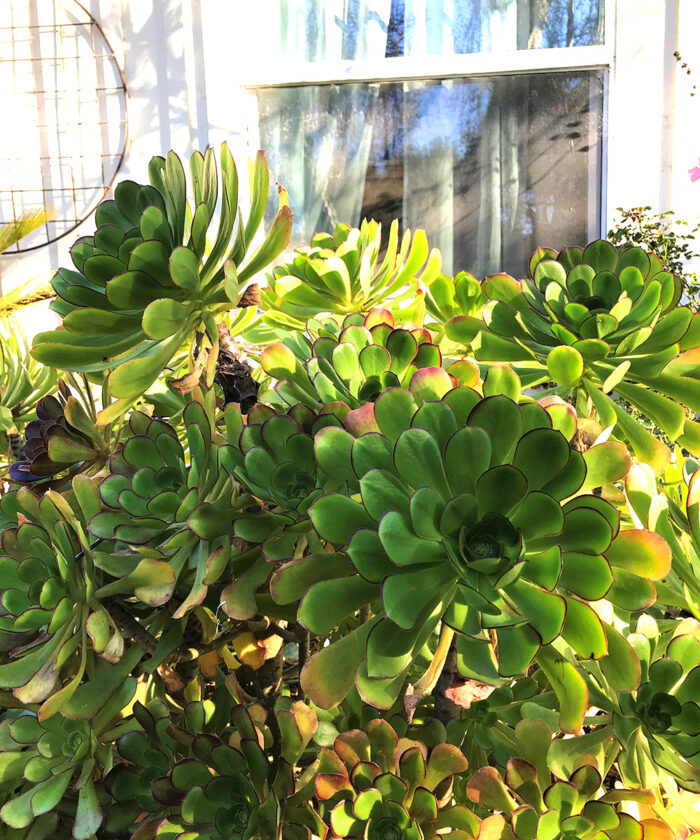 "Fire season" is a reality for Northern California gardeners beginning in late summer through fall, with fire concerns mounting steadily each year. Wildfires threaten—and sometimes consume—wildlands, farmlands, and homes. Though it might feel impossible, homeowners can employ a number of strategies to defend their houses and gardens against wildfires. Creating a fire-resistant landscape—also known as firescaping—is a vital start.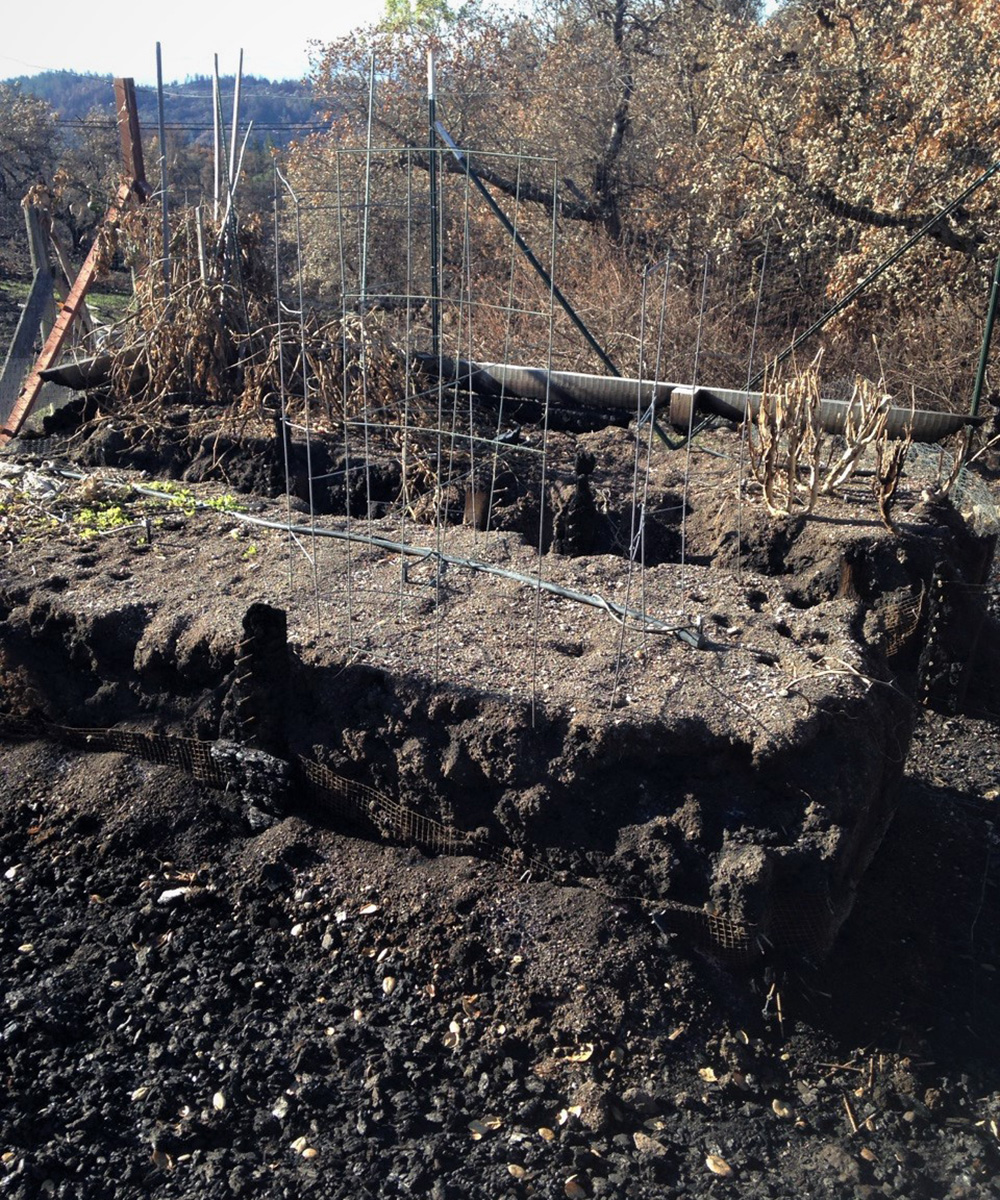 Where to start
A fire-resistant landscape uses fire-resistant practices, fire-retardant landscape materials, and fire-resistant annuals, perennials, vines, trees, and shrubs to impede the spread of flames. Creating and maintaining a defensible space—a buffer between your house and the surrounding, less-manicured lawn, trees, and shrubs around the buffer area—also vastly decreases your home's chance of catching fire. This defensible space is broken up into zones (see below) and, when well done, reduces the risk of flames spreading from one part of the property to another. It also provides firefighters access to your property and a safe staging area from which to defend your home should the need arise.
Hardscaping near the home provides a buffer zone
Hardscaping with flagstone patios, water features, stone walls, concrete drives, or gravel pathways—all attractive additions—go a long way toward creating a safety zone and halting a blaze in its tracks. And as for greenery, be sure to design your landscape with the idea of minimizing vegetative fuel sources, using fire-conscious spacing and pruning techniques, engaging in vigilant cleanup and maintenance, and planting fire-retardant plants.
Zone 1 requires preventive maintenance
Zone 1 extends 30 feet from your home (and any surrounding decks, porches, and building extensions) in all directions. Within zone 1, be sure to remove all dead vegetation and dry leaves, and prune back all overhanging tree branches in the summer before wildfire warnings start. Trim trees and shrubs regularly throughout the year, keeping branches a minimum of 10 feet from your house. Monitor and clean leaves out of your rain gutters regularly, being extra cautious as fall approaches. Take out dry, brushy, resinous plants, and replace them with more fire-resistant plants—plants that wilt, "cook," and blacken when exposed to heat and fire rather than burst into flames.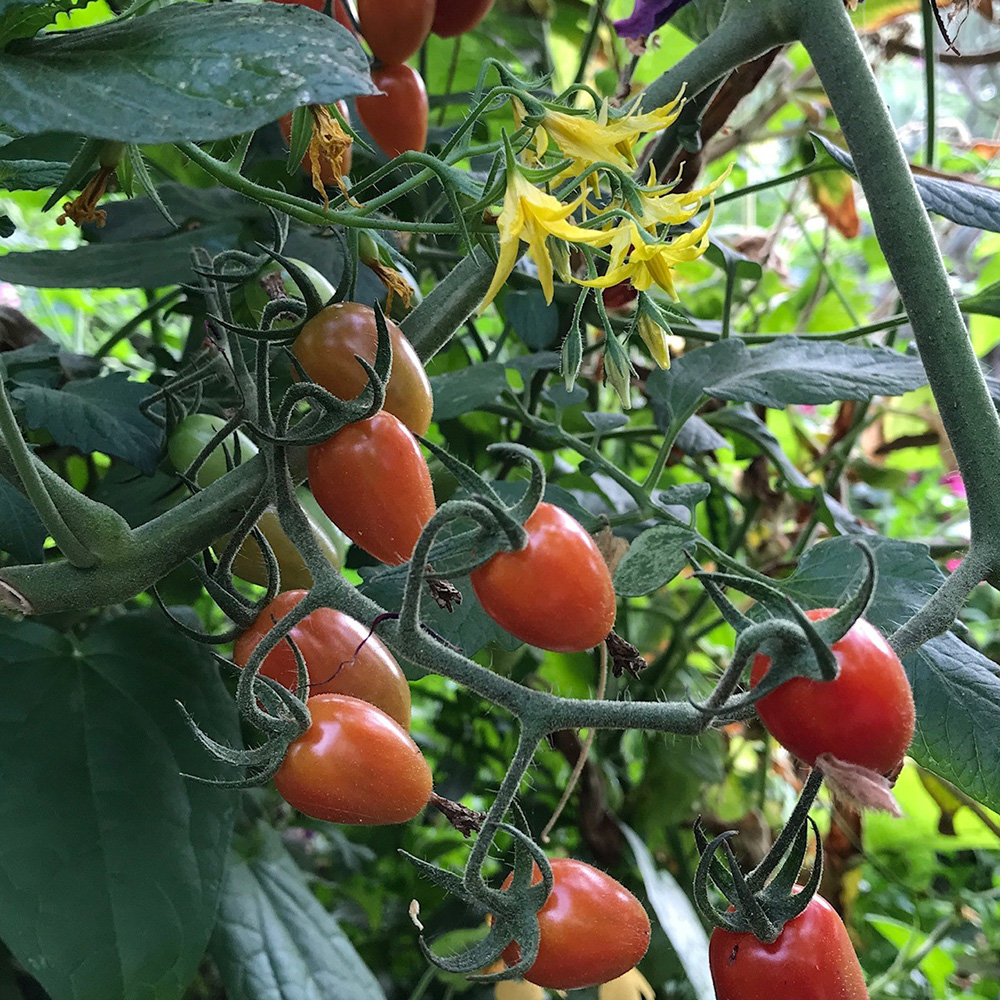 High-moisture plants don't burn as easily
Though there are truly no fireproof plants, high-moisture, ground-hugging plants with low resin or oil content are more fire-retardant and are a blessing when a blaze approaches. A well-irrigated, well-maintained flower border filled with colorful nasturtiums (Tropaeolum spp. and cvs., annual), snapdragons (Antirrhinum majus, Zones 7–10), cosmos (Cosmos bipinnatus, annual) and zinnias (Zinnia elegans, annual) is a delight to behold, and also fire-resistant. Zone 1 plants should be on the thirstier side and have fleshy, moist, and broad leaves. Succulents are ideal, and leafy perennials such as heuchera (Heuchera spp. and cvs., Zones 3–8), bear's breeches (Acanthus spp. and cvs., Zones 5–10), bergenia (Bergenia spp. and cvs., Zones 3–8), penstemon (Penstemon spp. and cvs., Zones 4–10) and yarrow (Achillea spp. and cvs., Zones 3–9) are all high on the fire-resistant list. Due to their high-water content, edibles of all kinds make wonderful fire-retardant choices for zone 1 planting, with the added benefit of being close by at snacking or harvesting time. Fabulous grassy choices for your buffer zones include sedges (Carex spp. and cvs., Zones 3–10) and mat rushes (Lomondra spp. and cvs., Zones 8–11) of all types.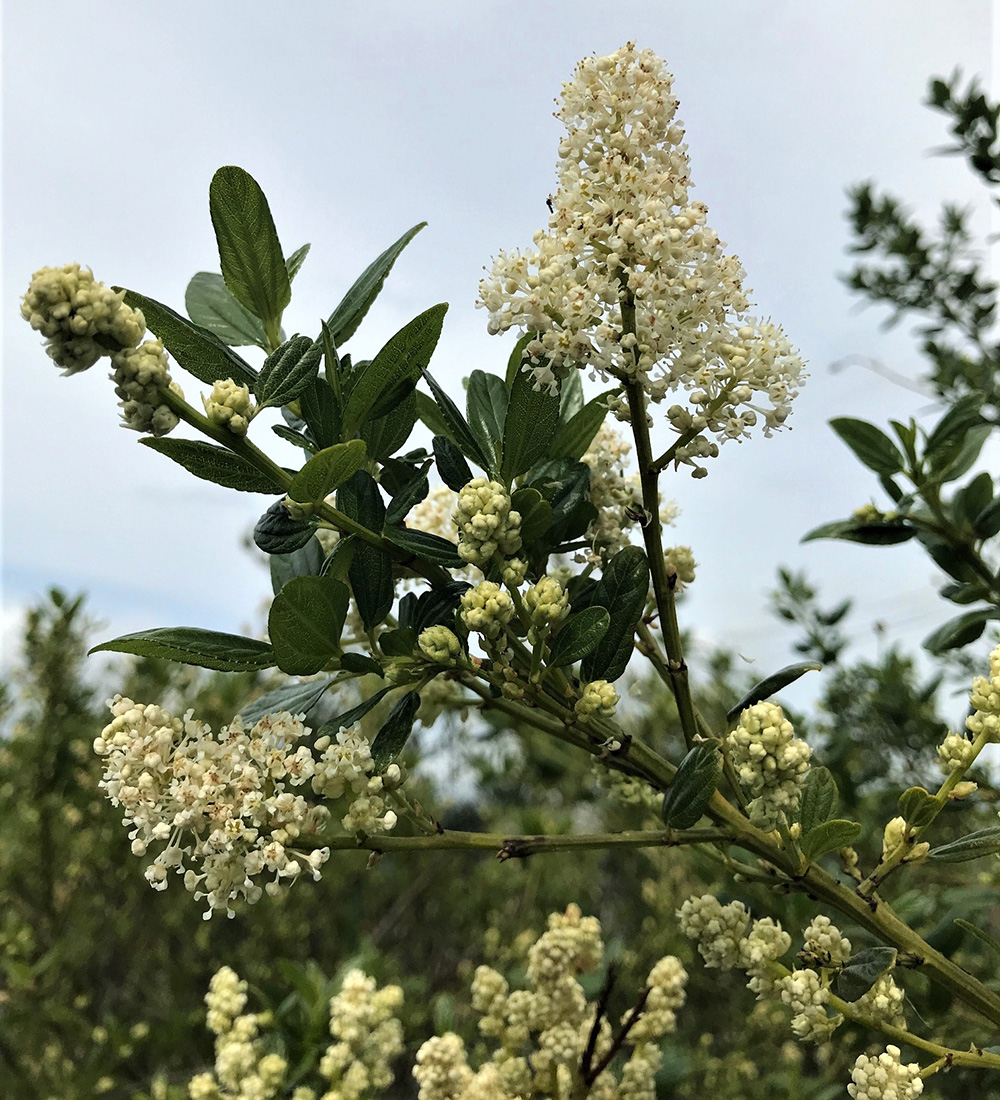 Zone 2 requires spacing between trees and shrubs
Zone 2 extends 100 feet out from your home, deck, or outbuildings. Though you can relax slightly in zone 2, vigilance is still vital, so be sure to stay on top of landscape management and keep fallen leaves, twigs, pine needles, or bark from piling up. Mow all grass and remove weeds, keeping piles under 4 inches high as fall fire season approaches. Thin brushy shrubs, removing dead twigs and low-hanging branches. Interruption of a possible fire path to your home is a major focus of zone 2 landscaping. Watch for potential areas where touching plants could create a fire bridge. Site and maintain plants appropriately to make the spread of flames more difficult. Prune trees and shrubs in both zones to have a more open-branched growth habit and so that the lowest branches are at least 8 inches off the ground. Need some shrub options for the sunny spots of your defensible space? Roses, ceanothus (Ceanothus spp. and cvs., Zones 4–10), lilacs (Syringa spp. and cvs., Zones 3–8), and flowering currants (Ribes spp. and cvs., Zones 2–8) are all fire retardant. For shadier locations, plant European cranberrybush (Viburnum opulus, Zones 3–8), or rhododendrons (Rhododendron spp. and cvs., Zones 4–9).
Proper irrigation is essential
Maintain and irrigate all of your plants in your defensible space for fire safety, bearing in mind that thirsty, old, bug-infested, badly-cared-for shrubs and perennials are far more flammable than healthy, well-watered plants. Remove them, replace them, or take appropriate measures to restore their health. Avoid woody mulches anywhere within your defensible space. Instead, spread a nourishing compost-based mulch directly around your fire-retardant plants and noncombustible gravel, decomposed granite, or river rocks for weed suppression.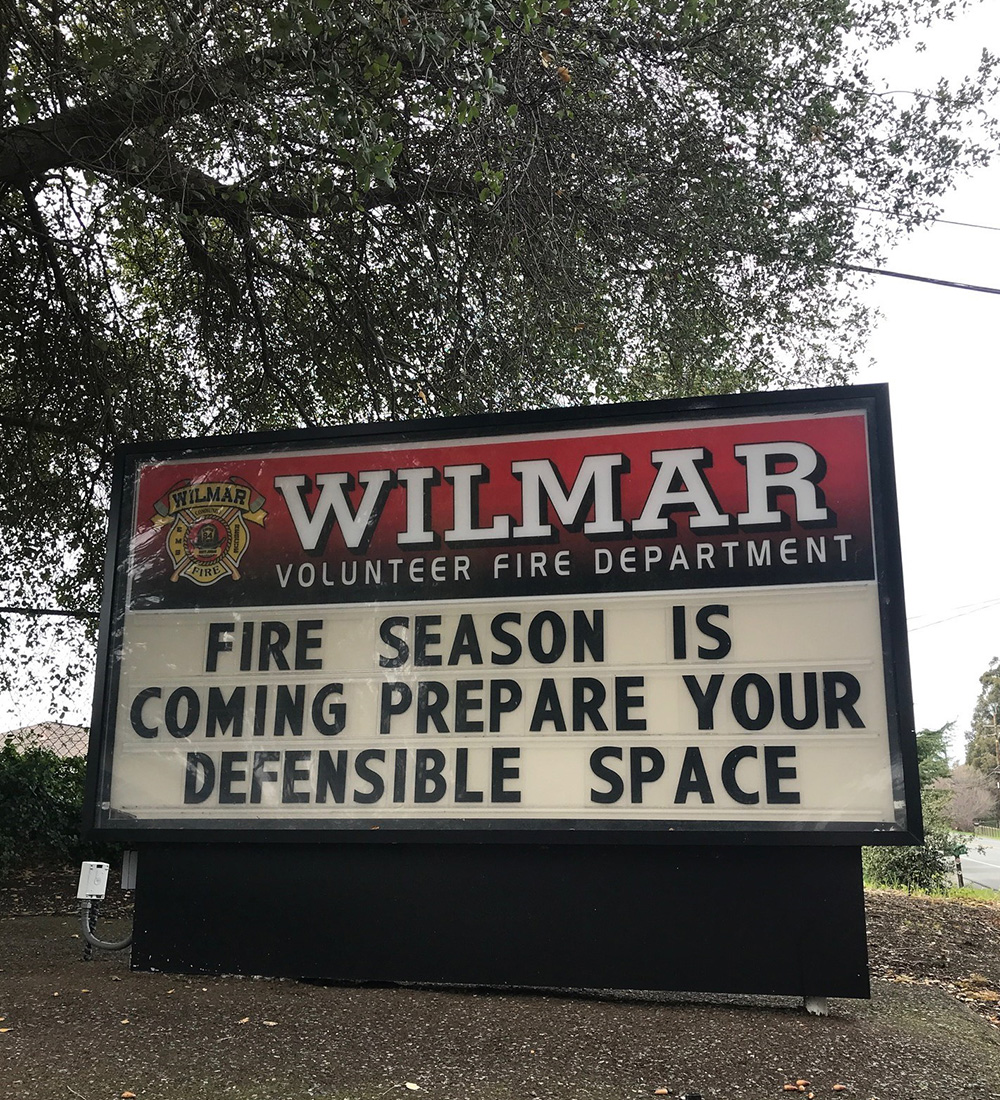 Don't ever forget that a "fire-resistant" landscape is not a "fireproof" landscape. We've all learned over the past few years that even though sometimes you do everything you can, there are times when a wildfire is way too wild and far too big to contain. When that happens, it's time to flee. Be wise, be prepared, and be sure to have an escape plan in place for your family, your pets, and your livestock for wildfire season. Have important documents and your most precious photos and belongings handy, and be ready to pack up and leave at a moment's notice. Please remember that the most important thing is to survive the fire. You can always start another garden another day. Be safe.
For more information on firescaping and fire-resistant plants for your garden, check out the following articles:
—Fionuala Campion is the owner and manager of Cottage Gardens of Petaluma in Petaluma, California.