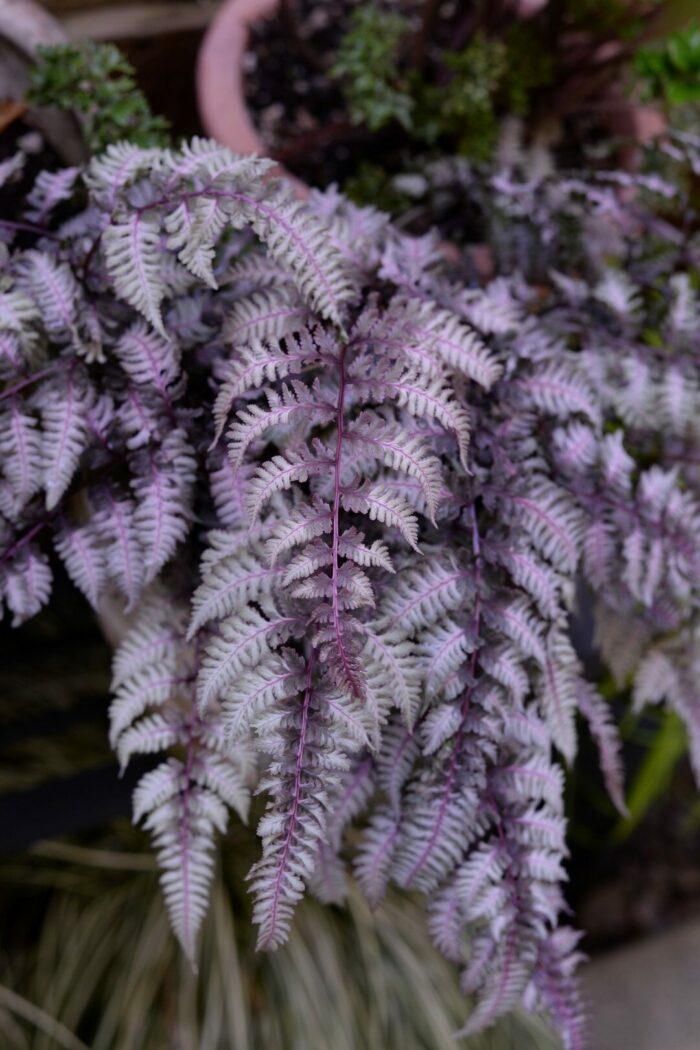 GPOD regular Cherry Ong (Cherry's Containers Day 1 and A Clean Slate Transformed) is inviting us back to her garden in Richmond, British Columbia.
It is a bit cold here still right now, so half of my annuals are stored in the garage (sadly). Hope it warms up, but we've had some years where the summer stayed cool and therefore was disappointing for summer gardening with annuals. Fingers crossed that won't be the case this year, as I have crossed over to the other side and planted dahlias and a rose for the first time ever. (Wish me luck!).
Thought I would send some spring photos of the Fern Fairway. I sent some photos of this strip in 2019 (The Fern Fairway).
The Fern Fairway is a very narrow side yard, about 50 feet long and 3 feet across, with only 14 inches of gravel for planting, or more accurately, sitting containers on. I developed this side garden out of desperation for gardening space! Given the dimensions, the area remains challenging to photograph.
I've made some costly mistakes planting in this full shade corridor—namely, the demise of one of my full moon maples (Acer japonicum, Zones 5–7). I situated them in the middle of the corridor more for aesthetics rather than consideration of their needs, and they surely showed their misery in 2020. Fortunately, the other has bounced back after relocation and repotting. I have two Japanese maples welcoming visitors to the strip on the north (Acer palmatum 'Katsura', Zones 5–9) and the south ends (Acer palmatum 'Ariadne').
The middle of the strip has mostly shorter plants now given the limited lighting, and I continue to study how the perennials behave in order to provide them with the best growing conditions.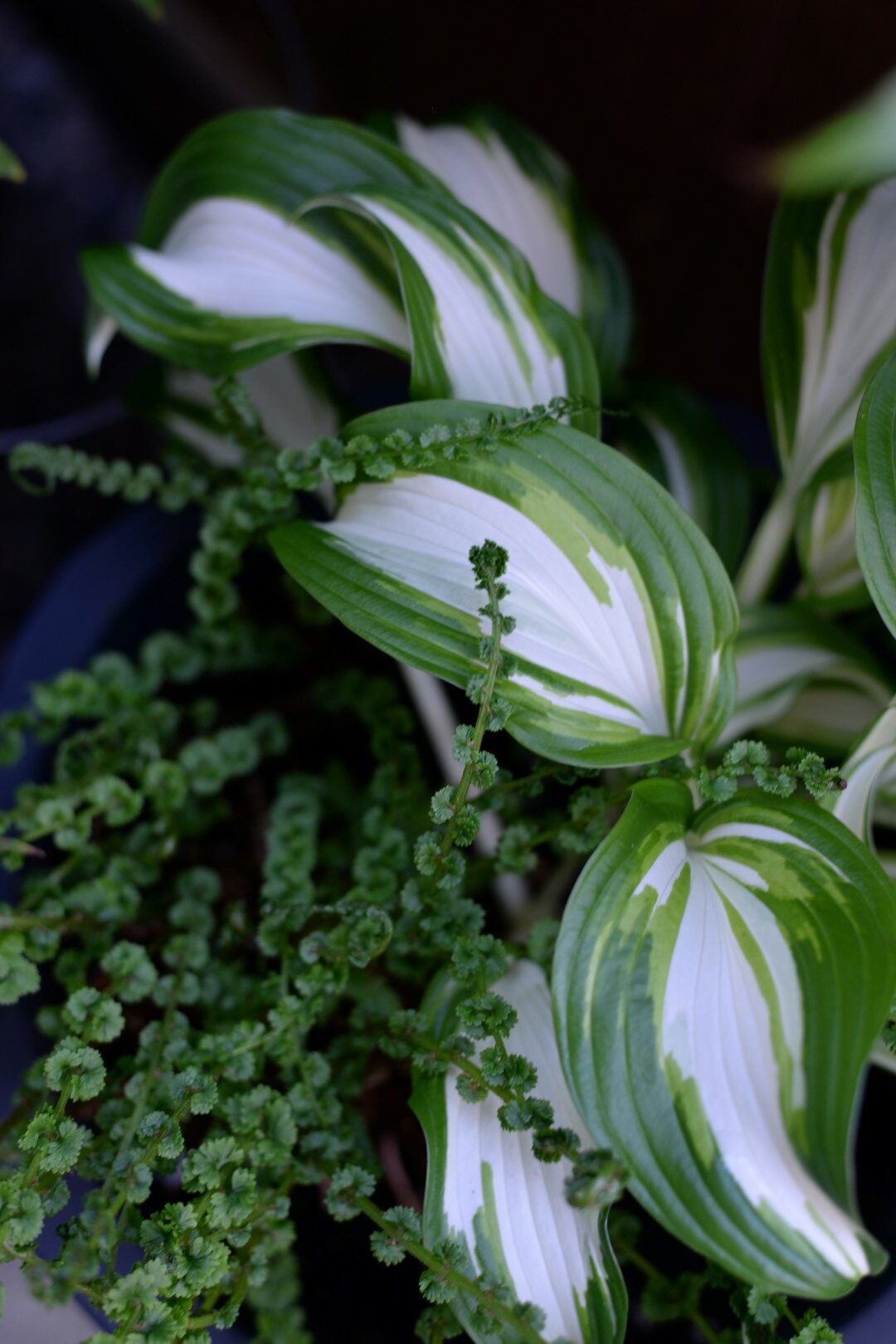 A hand-me-down hosta identified as Hosta 'Fire and Ice' (Zones 3–9) by my social media gardening friends and tatting fern (Athyrium filix-femina 'Frizelliae', Zones 4–8) are among the earlier spring risers.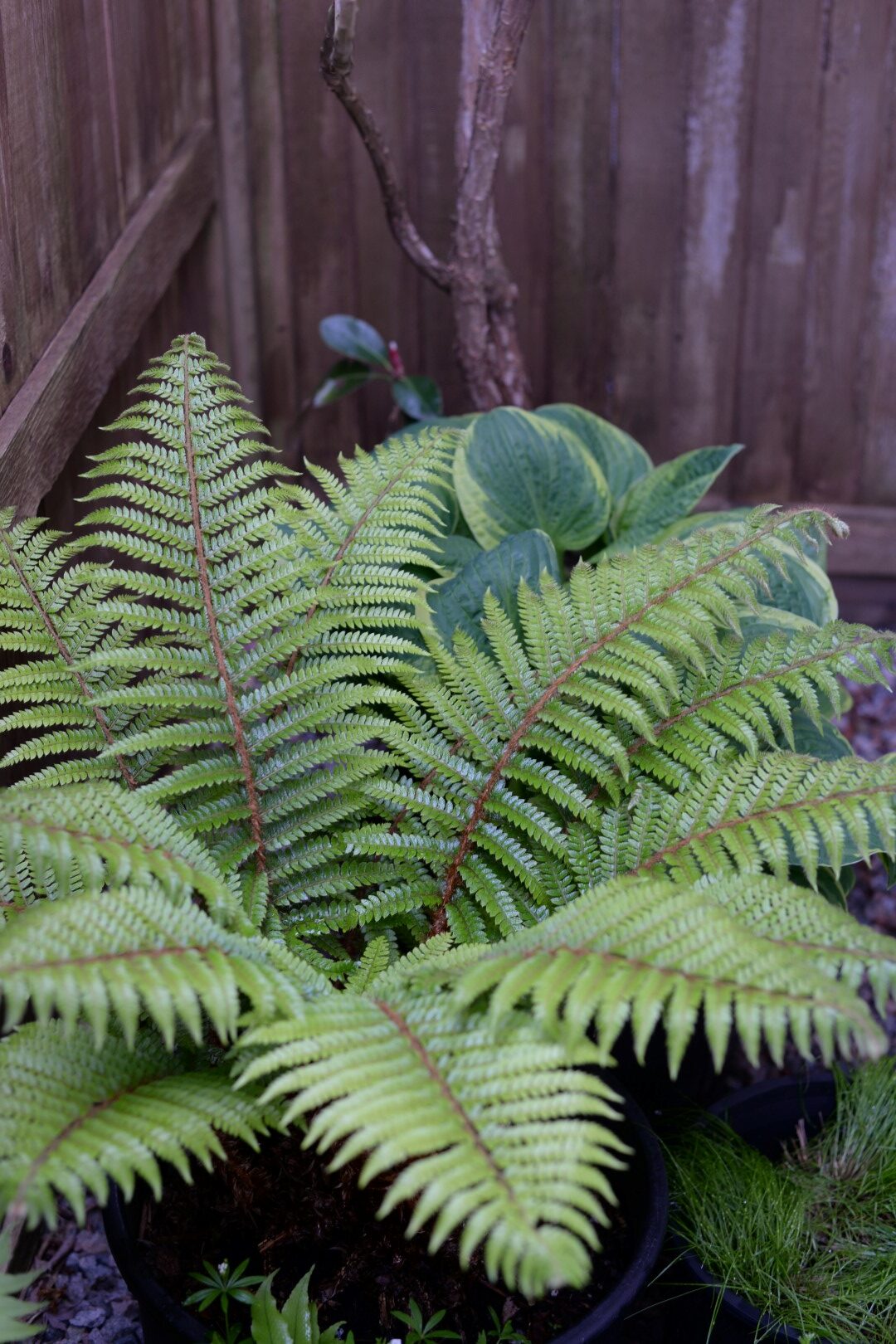 I've had this giant tassel fern (Polystichum polyblepharum, Zones 5–8) growing in a landscaper pot for many years, and it seems to be happy.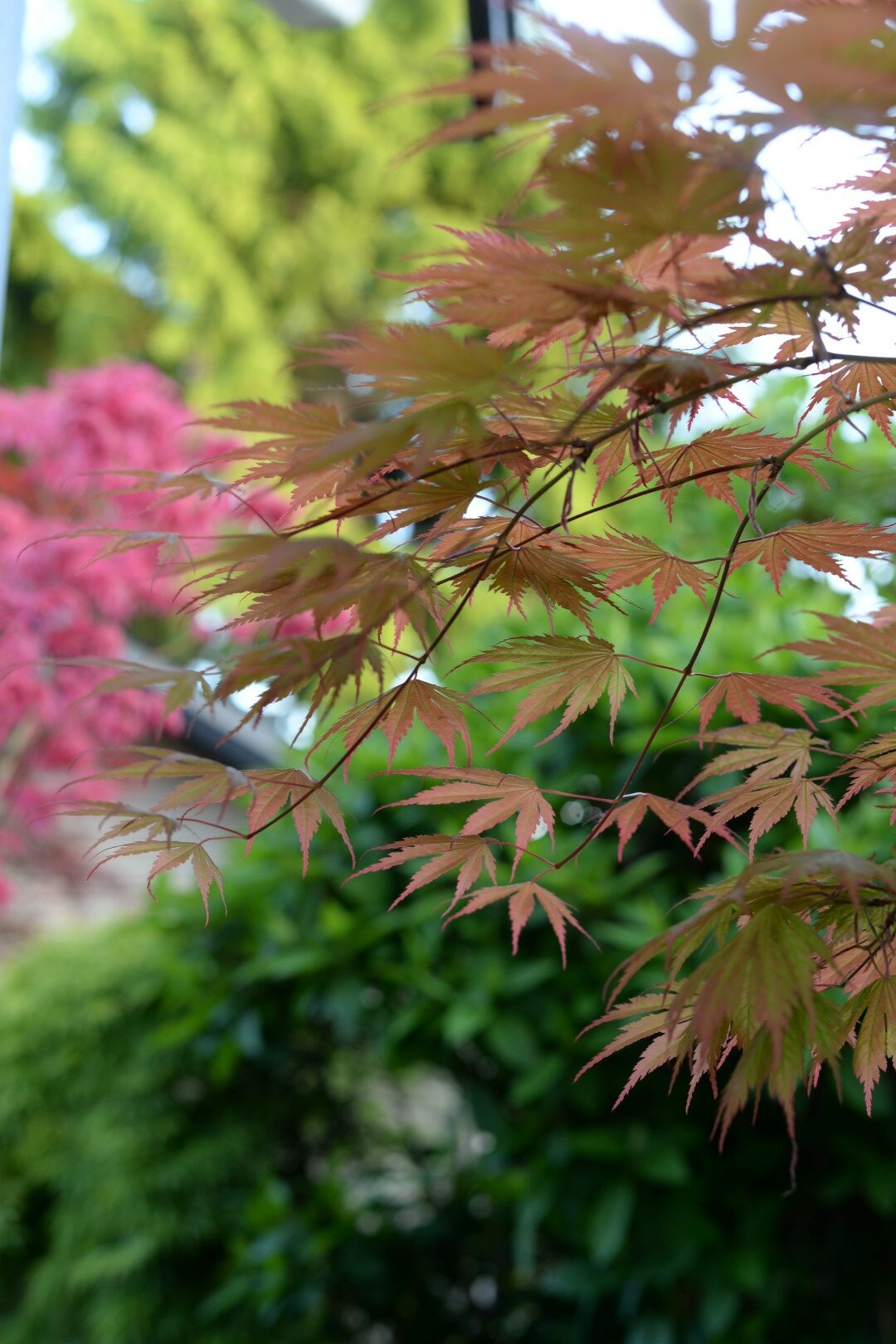 Acer palmatum 'Ariadne' (Zones 5–9) on the south end of the Fern Fairway.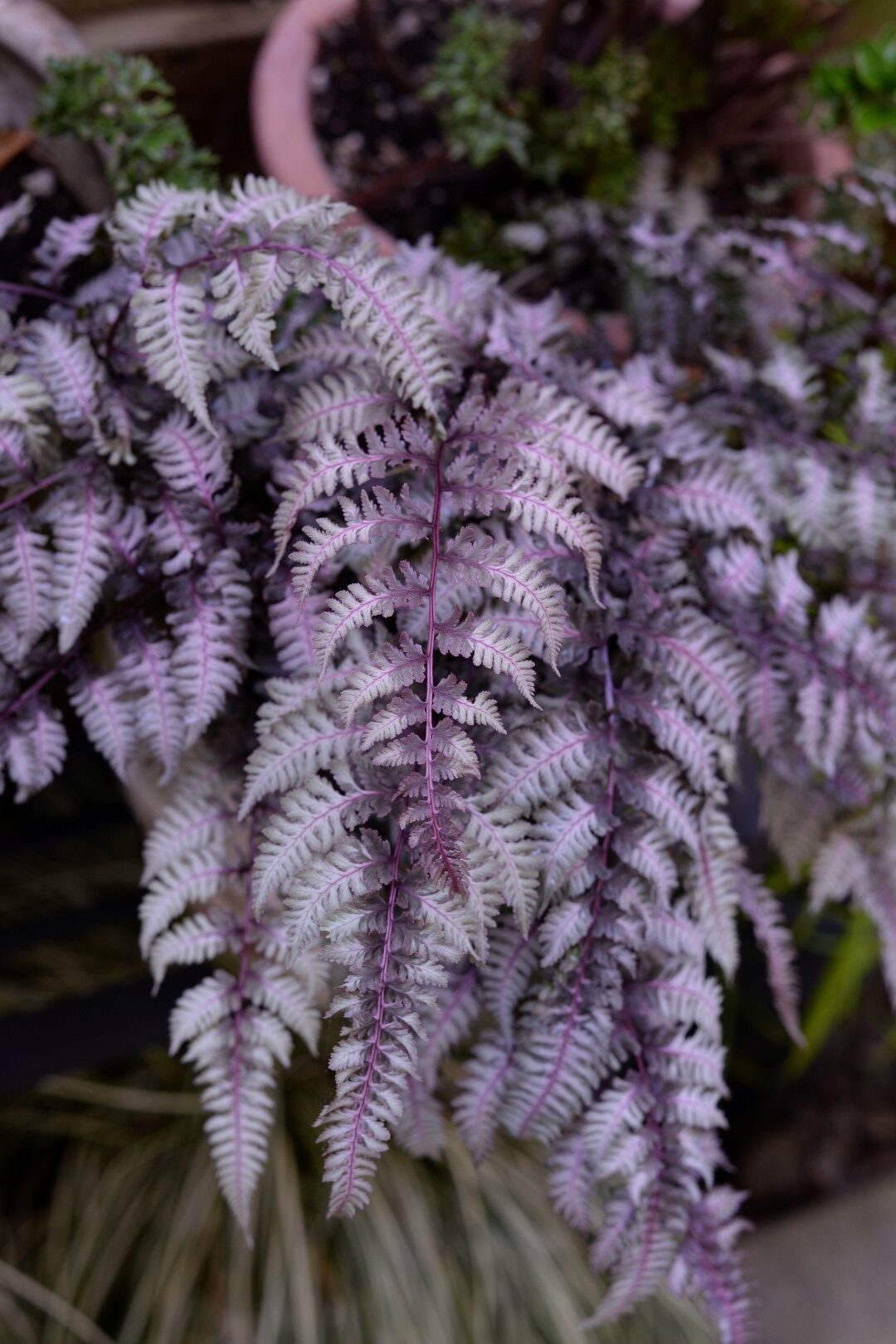 A painted fern to love: Athyrium niponicum 'Regal Red' (Zones 4–9)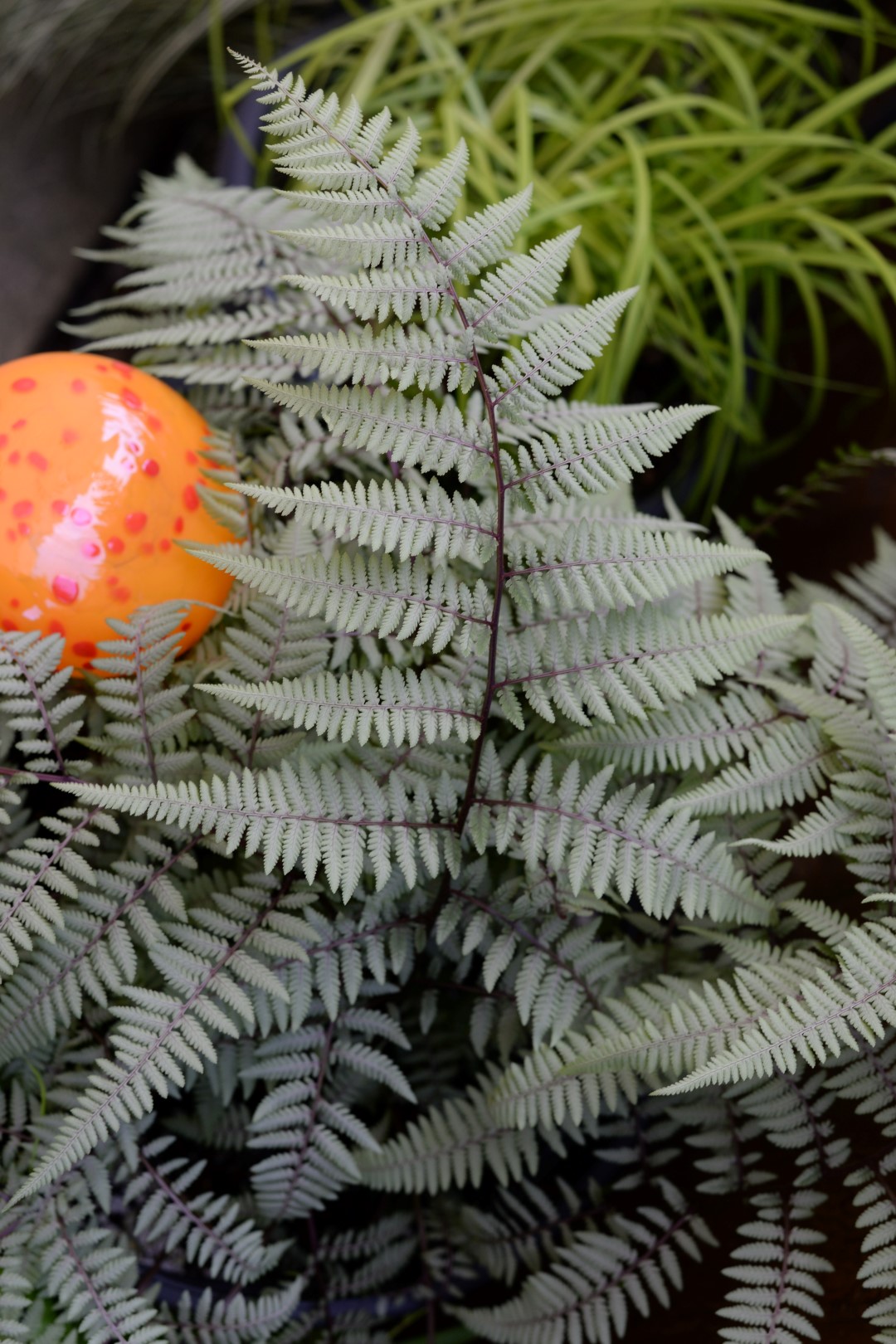 A happy resident of the Fern Fairway even before it was born: Athyrium 'Ghost' (Zones 3–8). The glass mushroom is the beautiful work of Andrew Holmberg, a Portland glass artist. I finally met him at Sorticulture in Everett, Washington, one year and got to see all his amazing garden glass.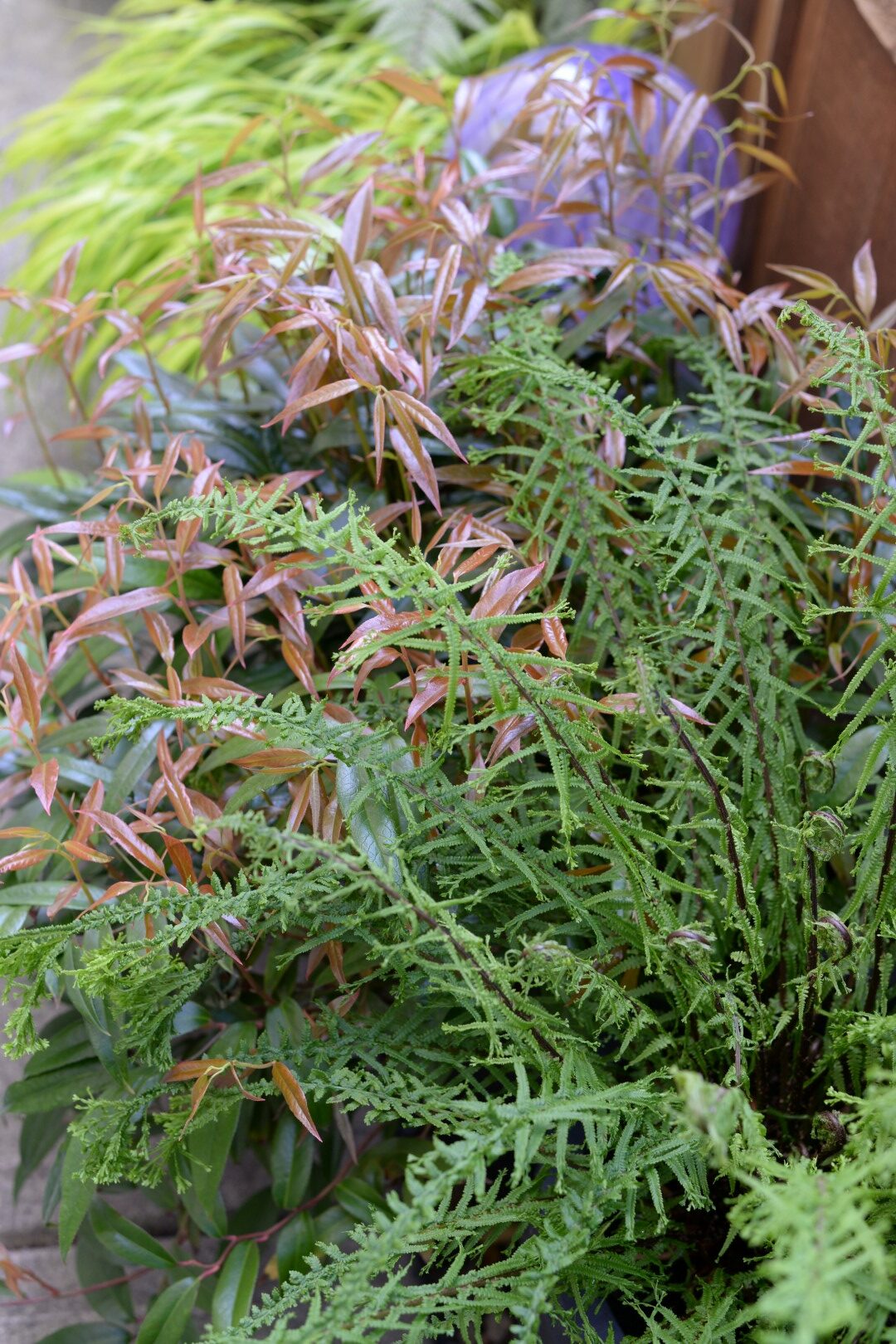 Criss-cross fern, or Athyrium filix-femina Dre's Dagger (Zones 4–8) is one of the coolest ferns ever! The shrub behind it is Leucothoe fontanesiana (Zones 5–8). I have found that it performs well under this full-shade garden, though it would definitely be more beautiful in a sunny situation. From a color standpoint, dotting the strip with gold-foliaged ornamental grass helps to brighten the area and acts as a nice foil for all the other foliage. I'm thankful for all the divisions from my Hakonechloa macra 'Aureola' (Zones 5–9), Carex elata 'Bowles Golden' (Zones 5–8), and Carex oshimensis 'Everillo' (Zones 5–9). I've tried to incorporate Carex siderosticha 'Banana Boat' (Zones 5–9), but it is a slow grower.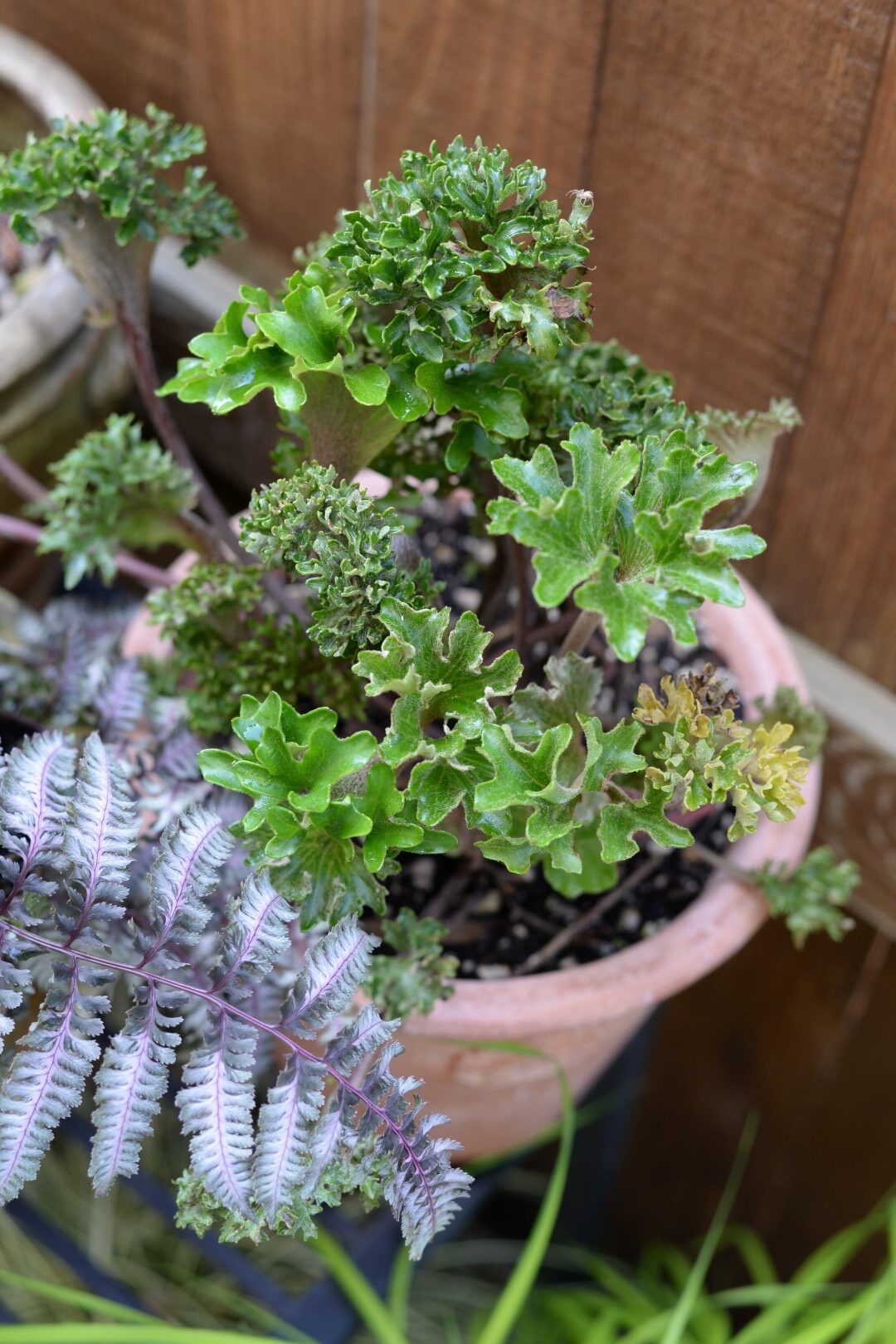 A newer and more exciting addition to the strip is Farfugium japonicum 'Shishi Botan' (Zones 7–10). It made it through winter, so hopefully it'll be a happy resident in the space for many years to come.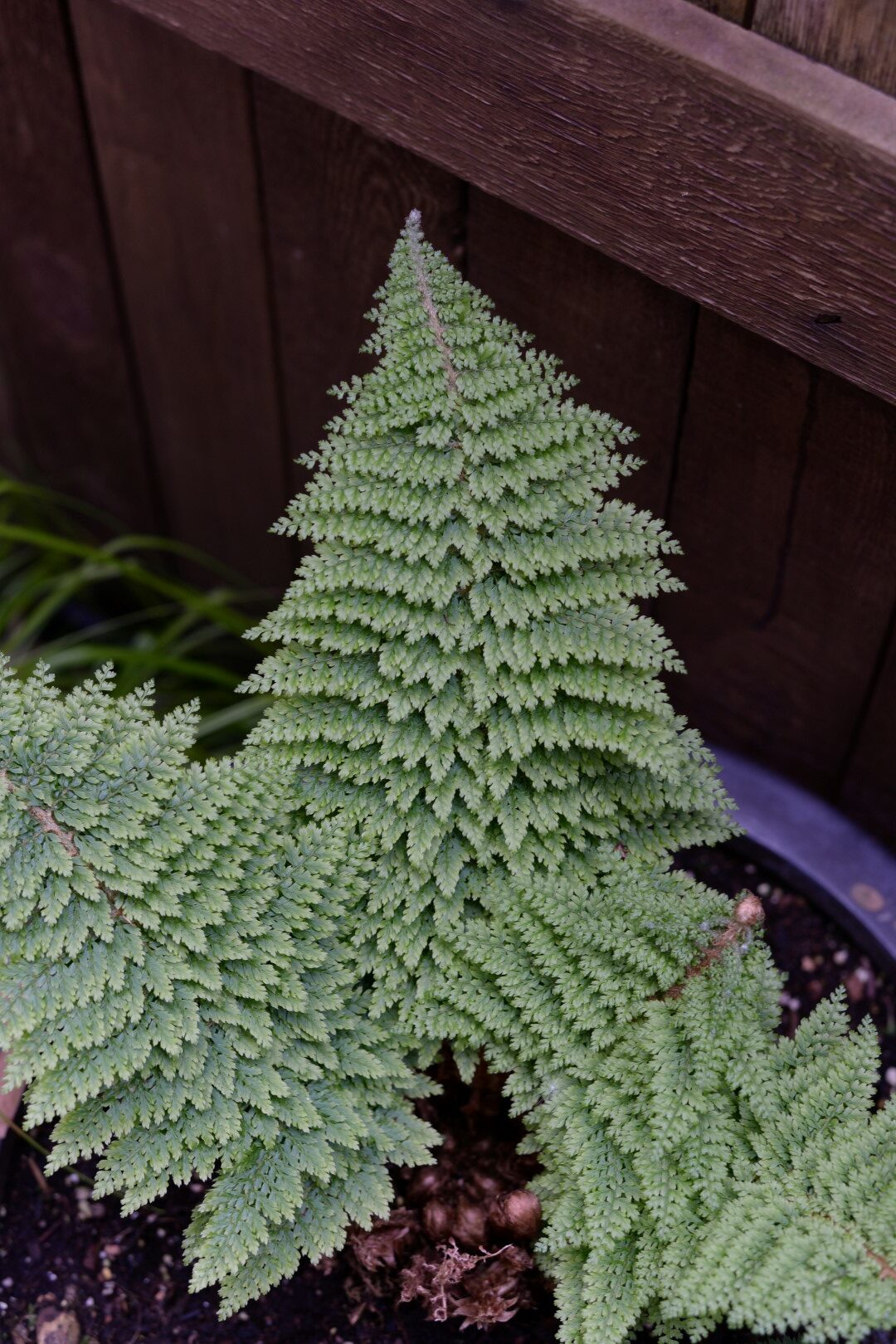 Nature knits the best sweater! I'll definitely be moving this soft shield fern (Polystichum setiferum 'Plumosomultilobum', Zones 6–8) to a brighter location this year.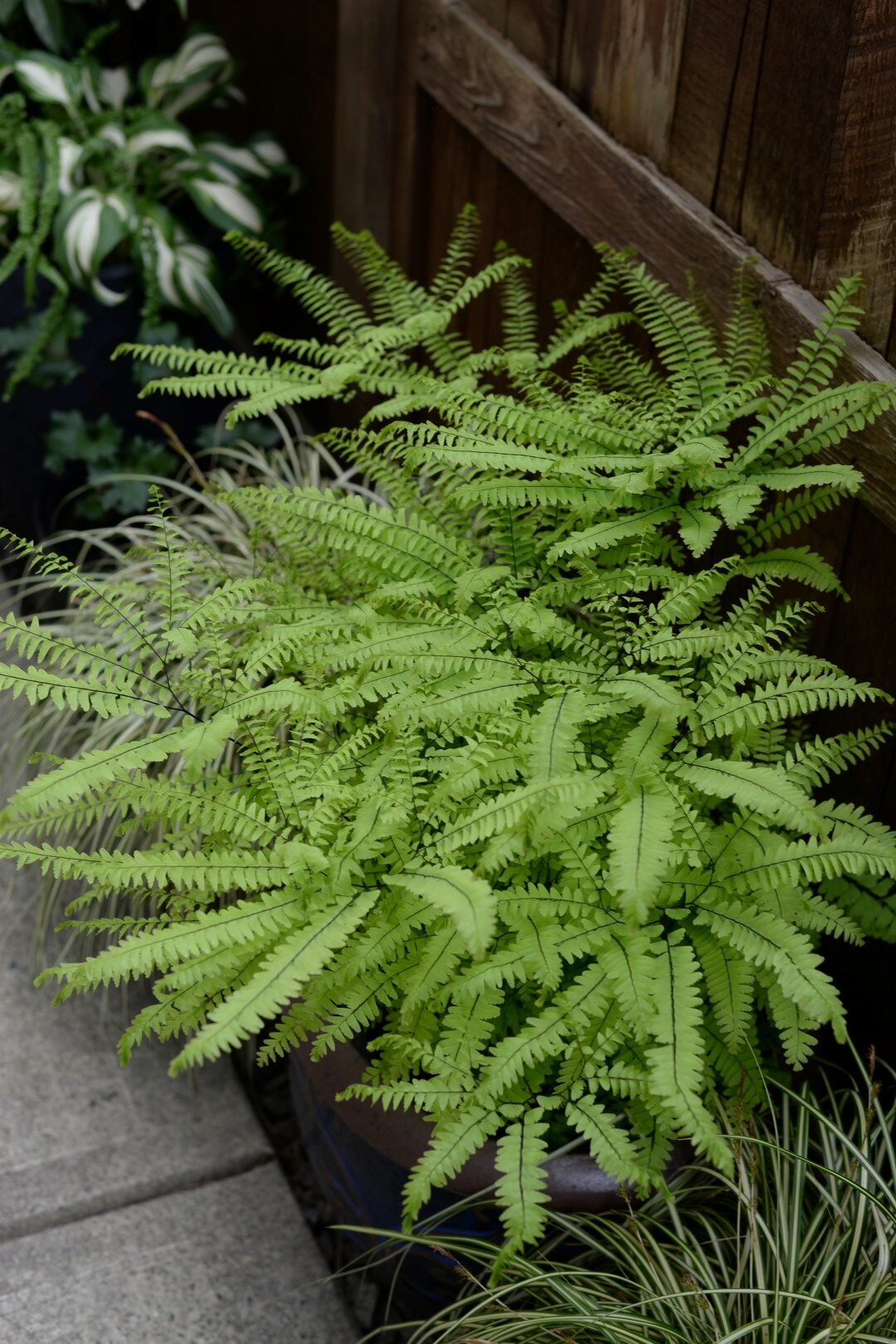 Feathery is fabulous! Free is also fabulous! This Adiantum pedatum (Zones 3–8) is a division from the garden.
Corrugation is a beautiful thing! This Hosta sieboldiana 'Big Daddy' (Zones 3–9) used to be a resident in the back garden. It was doing well and suddenly declined. I dug it out and transferred it to a container. It seems to have bounced back and now is a newer resident of the Fern Fairway. It makes a great foil for the tassels of the 'Dre's Dagger'.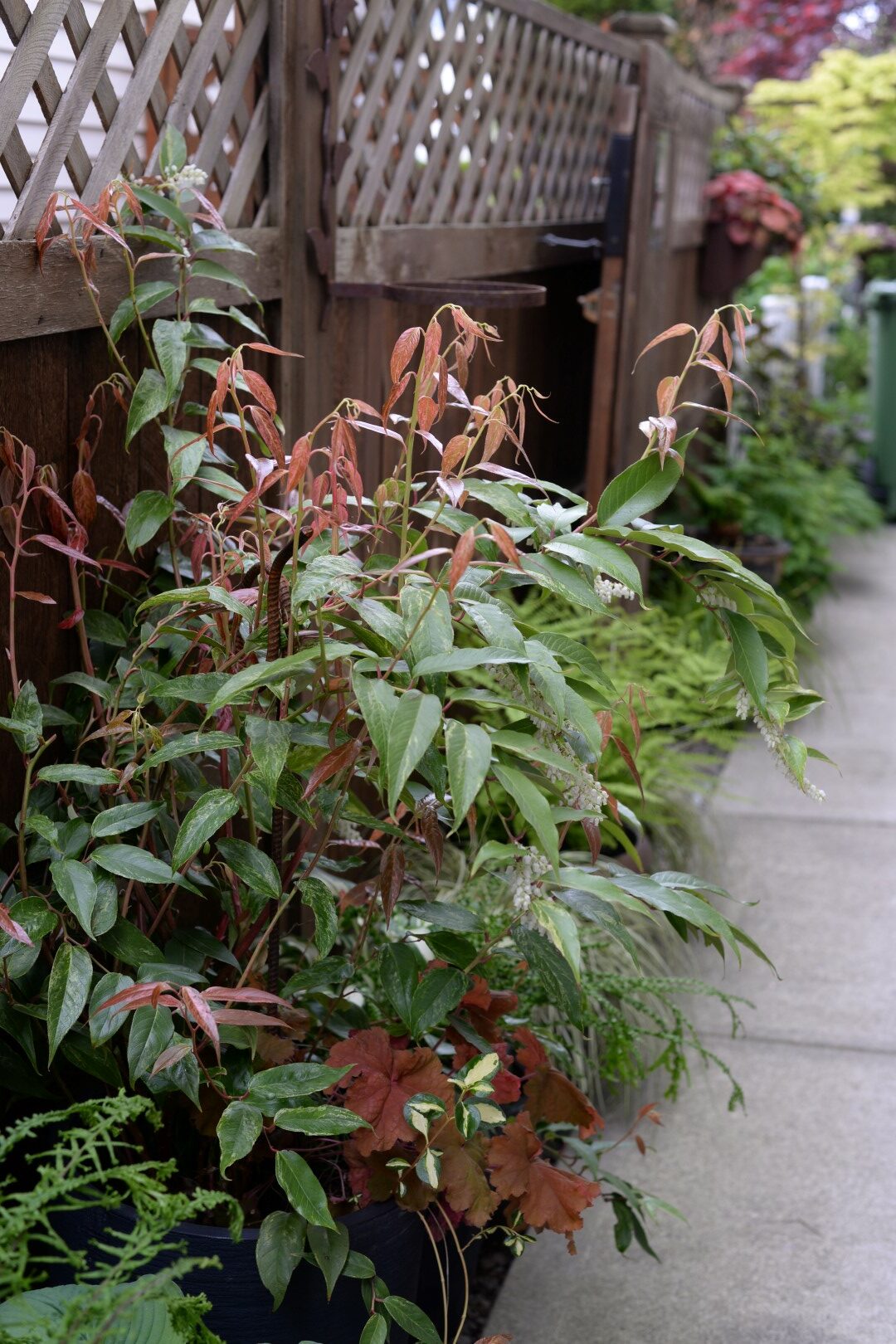 It is difficult to photograph the long, narrow space of the Fern Fairway.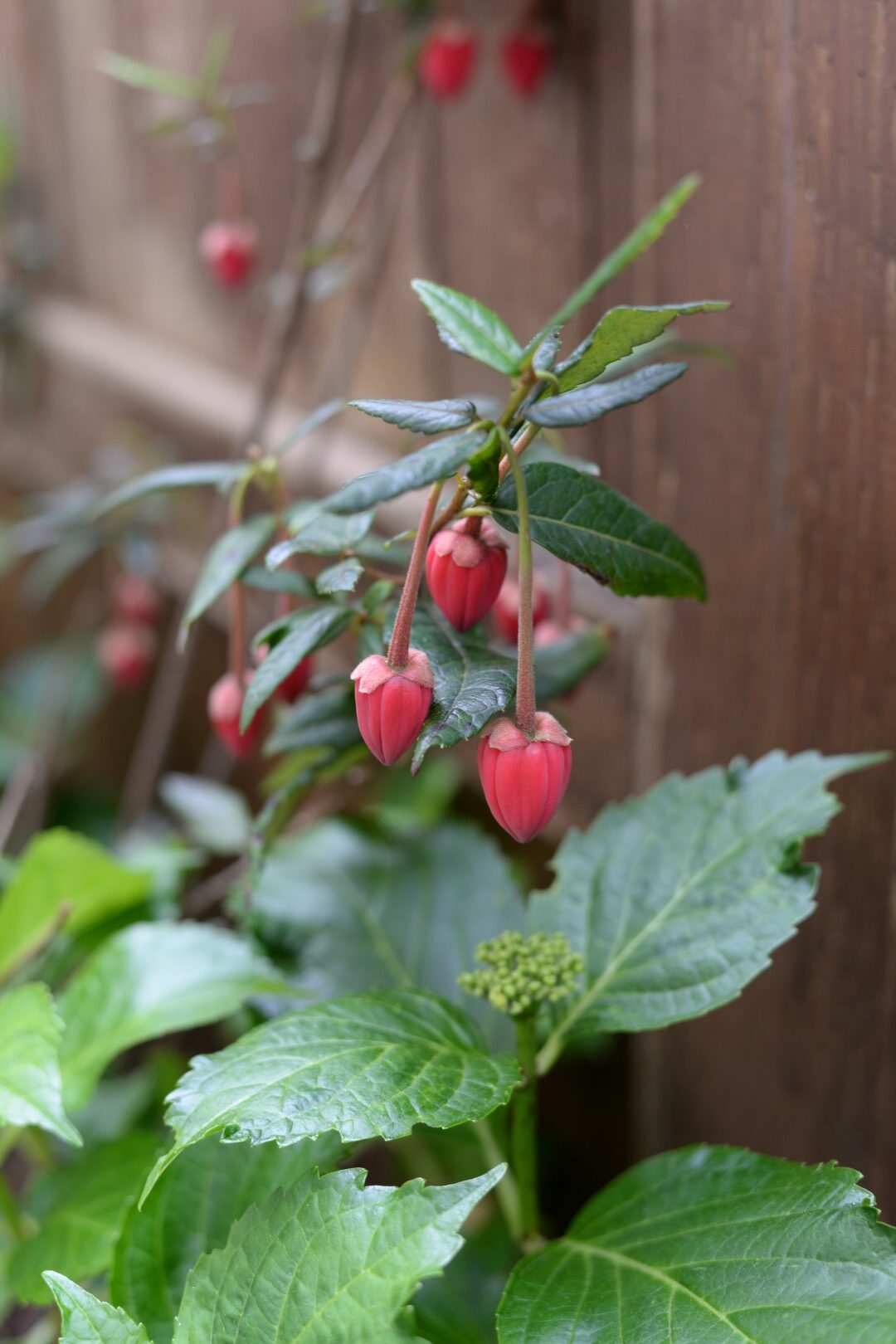 One of the benefits of having a protected side garden is storing borderline hardy perennials during the winter. It seems this crinodendron (Crinodendron hookerianum, Zones 9–11) is happy where it is. I do try to move it to a sunnier locale during spring to show off its flowers and to allow the plant to get some sun.
If you want to see more of Cherry's beautiful garden, check out her instagram: @cherry.ong
Have a garden you'd like to share?
Have photos to share? We'd love to see your garden, a particular collection of plants you love, or a wonderful garden you had the chance to visit!
To submit, send 5-10 photos to [email protected] along with some information about the plants in the pictures and where you took the photos. We'd love to hear where you are located, how long you've been gardening, successes you are proud of, failures you learned from, hopes for the future, favorite plants, or funny stories from your garden.
If you want to send photos in separate emails to the GPOD email box that is just fine.
Have a mobile phone? Tag your photos on Facebook, Instagram or Twitter with #FineGardening!
You don't have to be a professional garden photographer – check out our garden photography tips!
Do you receive the GPOD by email yet? Sign up here.