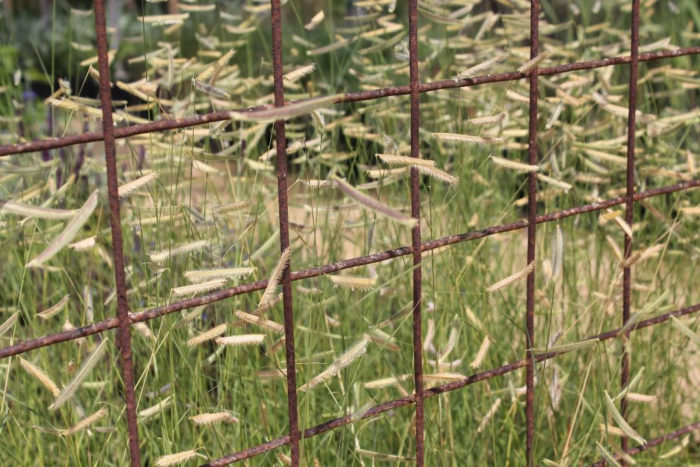 Ornamental grasses come in different heights, habits, forms, and colors—from low-growing, tidy tufts and arching mid-height mounds to tall, towering, back-of-the-border beauties. They differ in light, soil, water, and care requirements, but all offer the gardener the opportunity to enliven garden borders and containers with their distinctive texture and grace. Fine-textured foliage, intriguing blooms, and long-lasting seed heads add interest to garden beds. They soften hard edges of boulders, walls, or buildings and provide a refreshing contrast to foliage plants and blooming perennials alike.
Contrary to popular opinion, many ornamental grasses differ radically from their moisture-loving lawn-grass relatives and are quite drought tolerant once established. Check out my top four favorites for the Northern Californian water-wise landscape.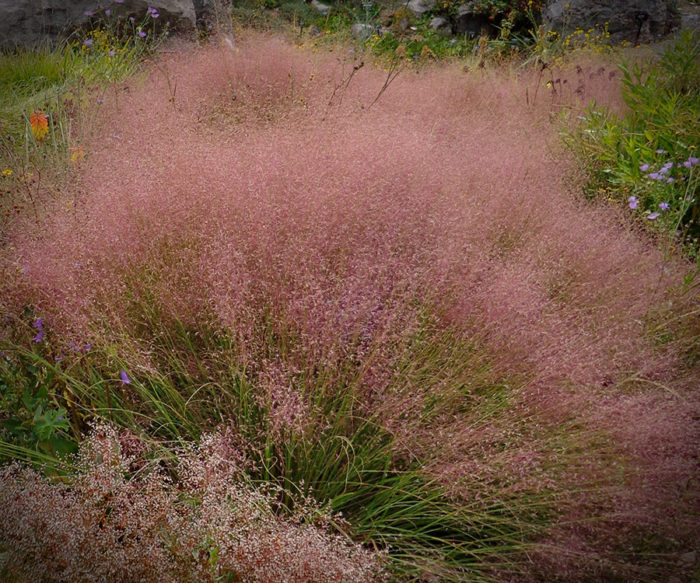 'Undaunted' pink muhly grass (Muhlenbergia reverchonii 'Undaunted', Zones 5–10)
This is a long-lived, low-maintenance, heat- and drought-tolerant warm-season grass that begins the growing season quietly with a tidy, well-behaved tussock of arching, soft green foliage. In late summer it puts on a breathtaking show with shimmering clouds of soft, ruby-pink flower spikes that rise up and over the fine-textured foliage. This grass is truly dazzling when planted in multiples or as a compelling accent grown among other water-wise choices in your mixed border. If you can plant this beauty in a location where it's backlit by the afternoon sun, be prepared to be completely awestruck. Tolerant of most soils, this North American native will reach 30 inches tall in bloom, prefers full sun, and has minimal water requirements once established. Maintenance is easy: just cut the whole plant back in the late winter or early spring before any new growth appears.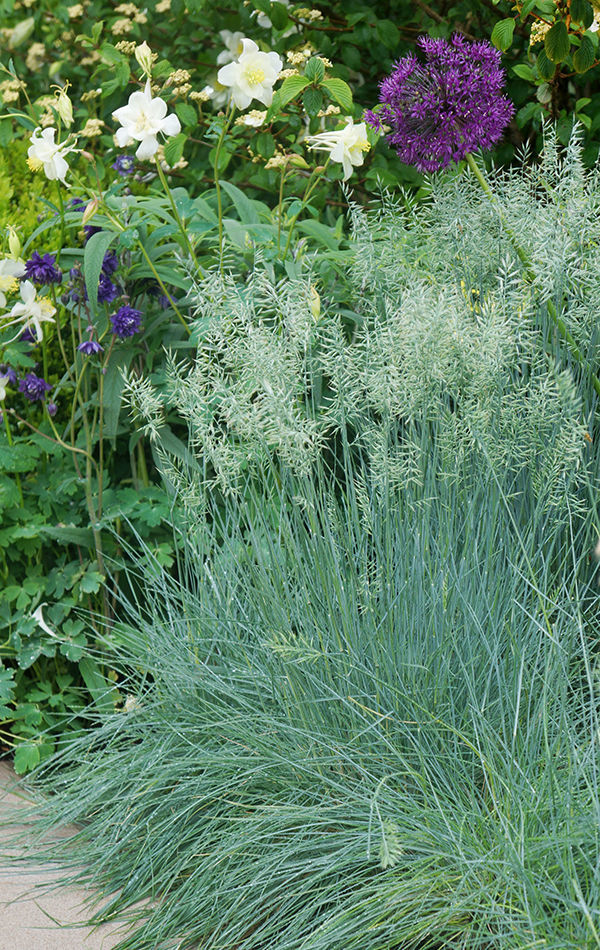 'Beyond Blue' blue fescue (Festuca glauca 'Beyond Blue', Zones 4–10)
From the Netherlands comes 'Beyond Blue'—the bluest of the blue fescues and a sport of the much loved 'Elijah's Blue' blue fescue (Festuca glauca 'Elijah's Blue', Zones 4–8). Growing 10 to 12 inches tall and a little wider, this tidy, tufting evergreen forms a dense mound of fine-textured, icy-blue foliage. This is topped in late spring and early summer by upright, feathery, wheaten bloom spikes. Perfect for edging walkways or tucked in front of a sunny border, 'Beyond Blue', with its intense year-round color, makes an exceptional accent and contrasts well with greens or darker-foliaged plants. Drought tolerant, deer resistant, sun loving (tolerating shade but with its color most intense in full sun), and easily maintained, this dwarf ornamental grass is a valuable addition to any water-wise garden. Keep it attractive by hand-combing through the foliage in late winter or early spring. Be sure to wear your gardening gloves to tease out any dead blades of grass or spent flower heads.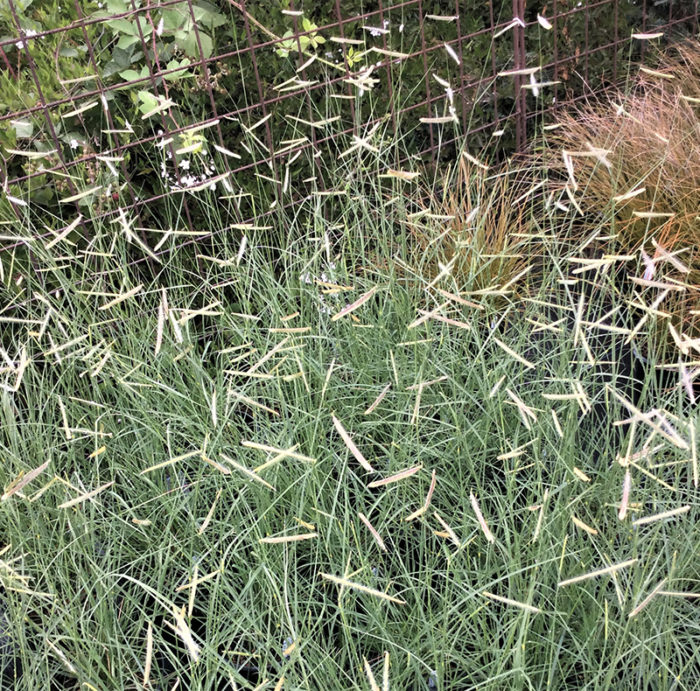 'Blonde Ambition' blue grama (Bouteloua gracilis 'Blonde Ambition', Zones 4–9)
This rugged heat-, cold-, and drought-tolerant sport of a North American native features semi-evergreen clumps of upright, fine-textured, blue-green foliage topped with a summertime profusion of golden blooms that are held above the foliage on upright stems. These remarkable flowers mature to soft blonde seed heads as the season turns to fall and will remain on the plant all the way through winter, providing close to year-round interest. Perfect for mixing in with other low-maintenance, sun-loving perennials or massed in a meadow garden, 'Blonde Ambition' grows 2 to 3 feet tall and wide, prefers full sun, is tolerant of most soil types, and has very low water requirements once established. Cut to the ground in early spring before new shoots appear for a clean, fresh start to the new growing season.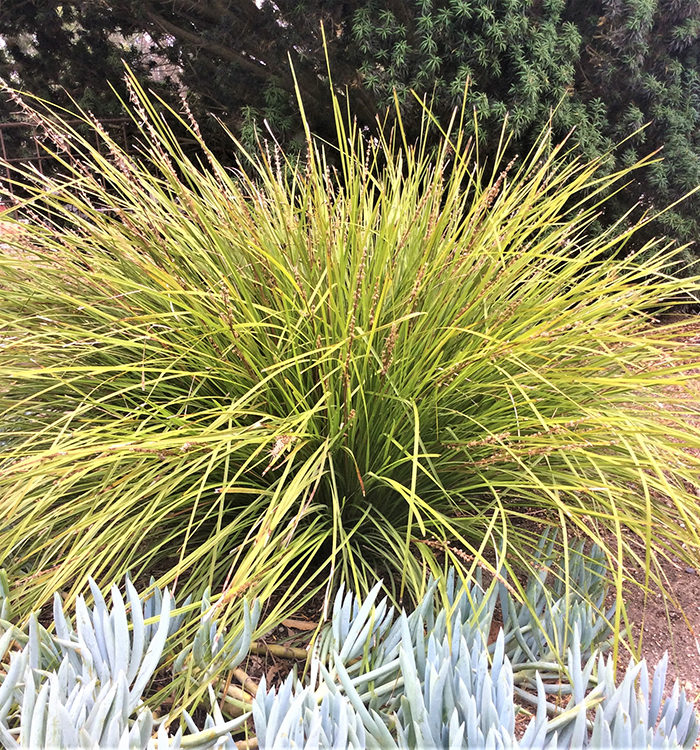 'Breeze' dwarf mat rush (Lomondra longifolia 'Breeze', Zones 7–10)
As tough, versatile, drought tolerant, and attractive as it is, 'Breeze' dwarf mat rush, though technically not a grass, deserves a place high on any list of the best drought-tolerant grasses for Northern California. With its grassy green, arching foliage and tussock-esque growth habit, this handsome evergreen possesses all the attributes of an ornamental grass and is appropriate for any place where that look or texture is needed, especially when it comes to difficult areas. 'Breeze' is extremely drought tolerant but manages fine with regular irrigation or boggy conditions. It performs as well in sun as it does in shade and will tolerate adverse soil conditions, sea breezes, and even salt spray from coastal gardens. This remarkable "grass" grows 3 feet tall and arches out to 4 feet wide. It is accented in spring by prickly flower spikes holding tiny, creamy yellow, lightly scented flowers. It will need little to no maintenance ever.
I'd be remiss if I didn't sneak in the following drought-tolerant honorable mentions:
Pheasant's tail grass (Stipa arundinacea, Zones 8–11)
'Toffee Twist' sedge (Carex flagellifera 'Toffee Twist', Zones 7–10)
Sapphire fountain blue oat grass (Helictotrichon sempervirens 'Saphirsprudel', Zones 4–9)
'Campo Verde' autumn moor grass (Sesleria autumnalis 'Campo Verde,' Zones 6–8)
Mexican feathergrass (Nassella tenuissima, Zones 7–10)
Blaze™ dianella (Dianella tasmanica 'NPW2′, Zones 8–11)
—Fionuala Campion is the owner and manager of Cottage Gardens of Petaluma in Petaluma, California.