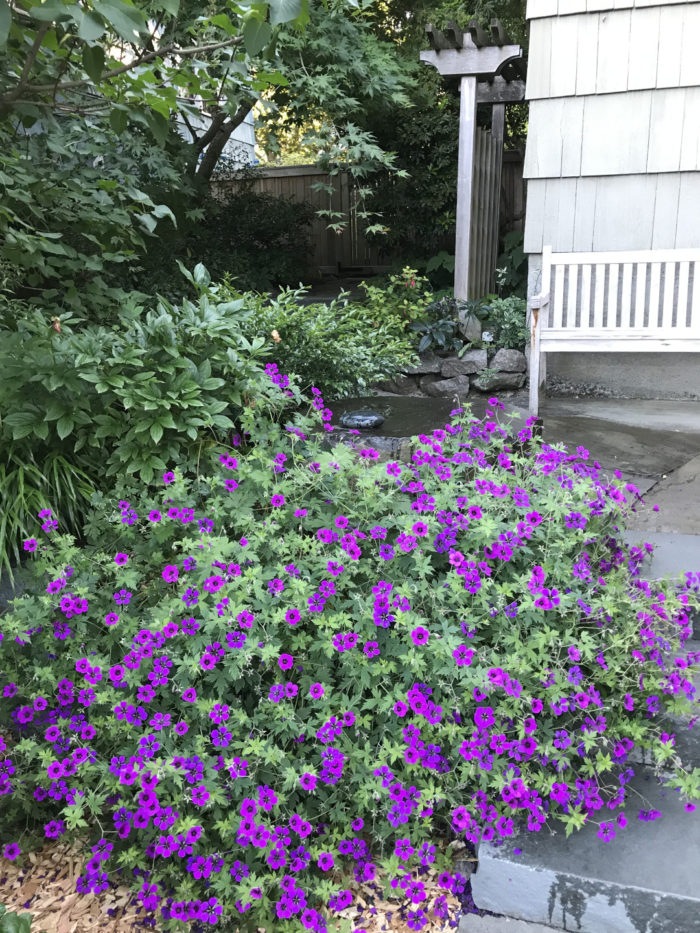 My name is Angela O'Brien-Ruff, and I live in Seattle, Zone 8b. I have been gardening for over 30 years, 15 of those years at our current home on a small lot in a neighborhood 20 minutes from downtown.
We get lots of foot traffic in front of our house, and after I noticed people bending down to get a closer look at something, I decided to put out plant labels. Working in my garden gives me a window onto my neighborhood, and my husband is amazed that I know so many people and their names. It's because I'm outside gardening, and people stop to chat, ask questions, and share plants, and over time they become familiar. I think most would agree that gardeners are generally a friendly lot and are optimistic by nature. "Who would buy a stick in a pot?" as a friend once said.
So during this trying time of self-isolation due to the coronavirus, I feel very fortunate to be able to work outside in my garden and would like to share some photos. And thank you to all the other gardeners out there who take the time to share as well.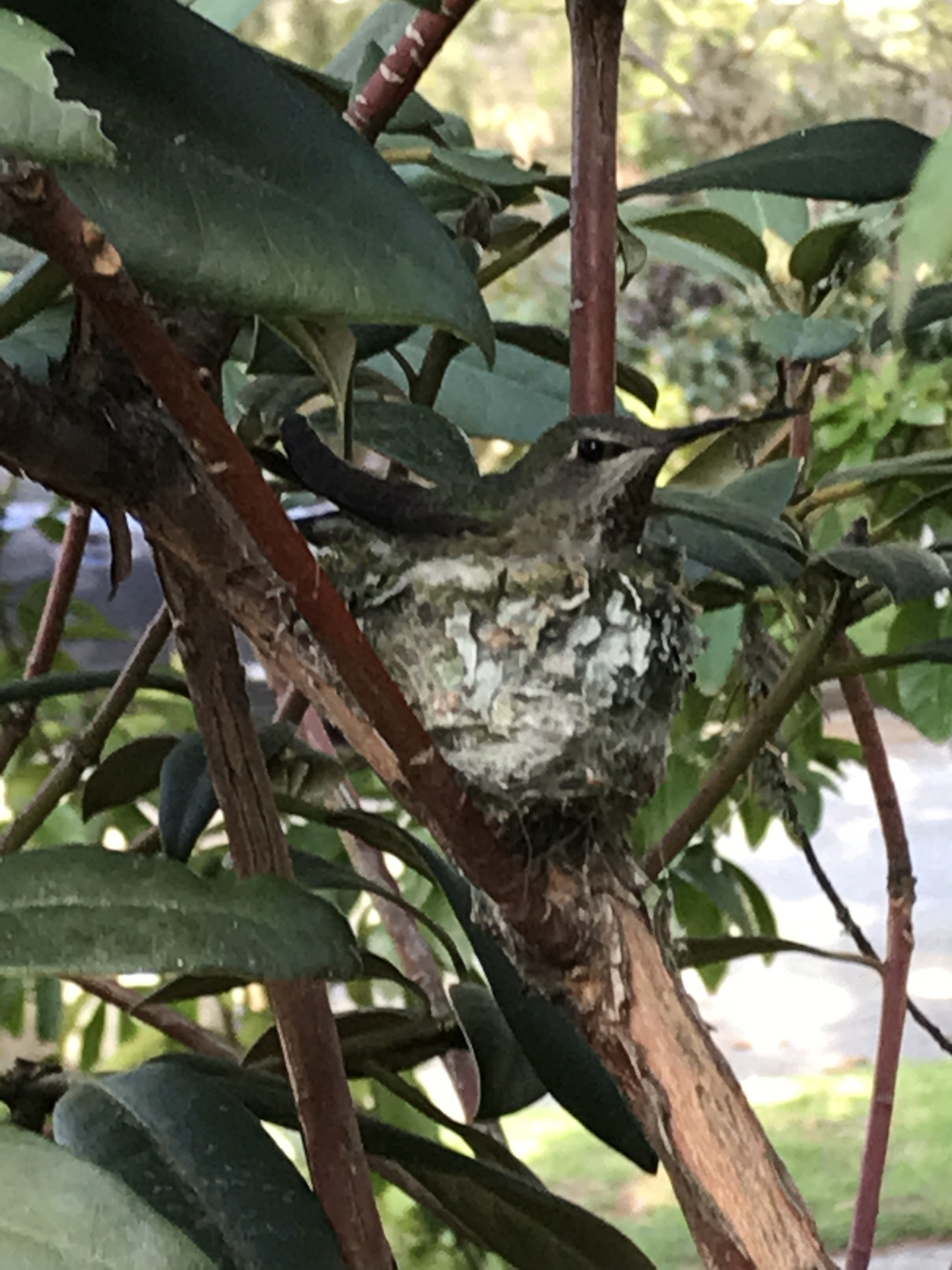 Look closely. An Anna's hummingbird decided to build her nest in a rhododendron in our front yard. It was so well camouflaged that we almost missed it.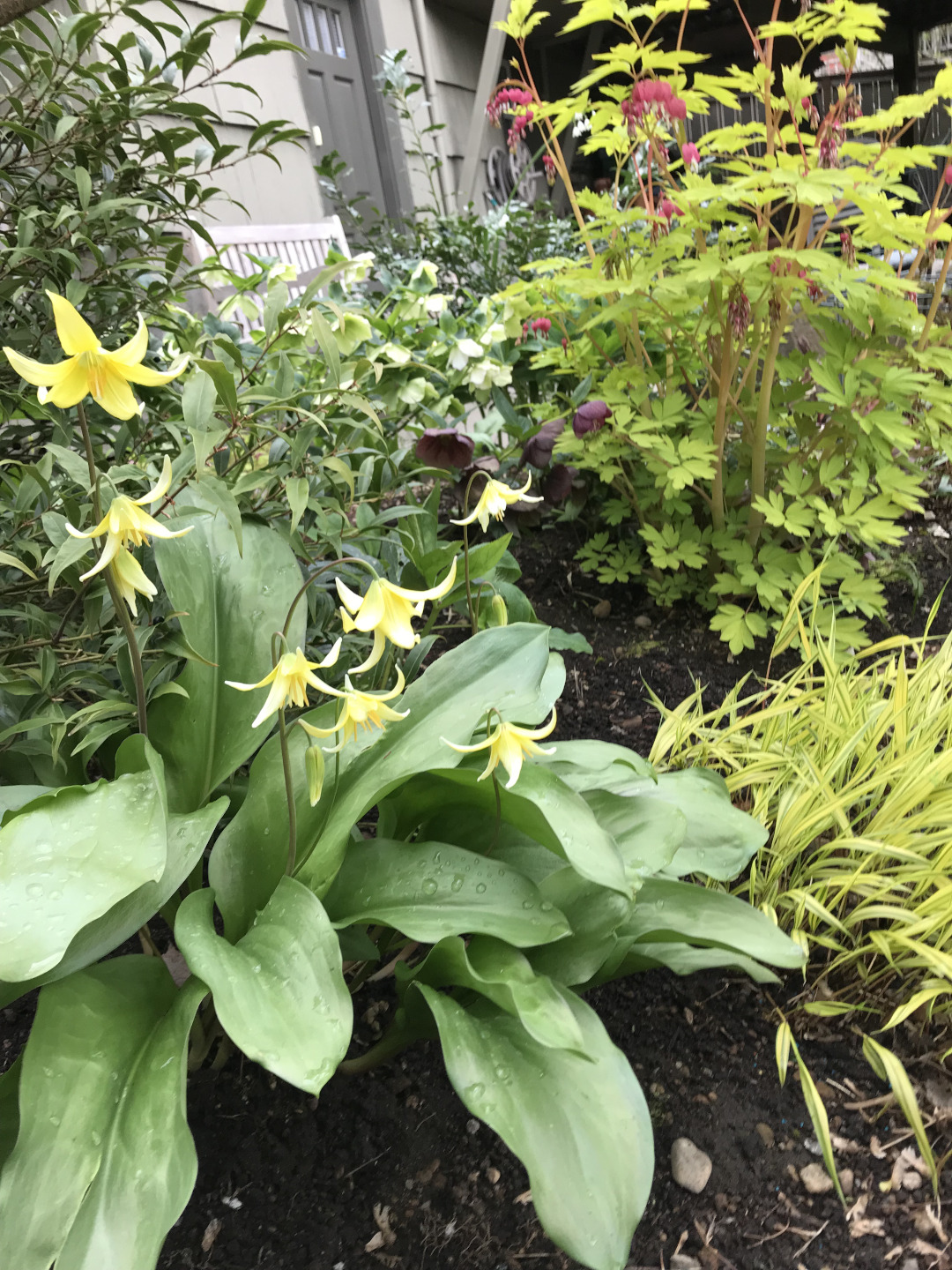 Bleeding heart (Dicentra spectabilis 'Gold Heart', Zones 3–9) goes dormant in late summer, but it's so pretty alongside the hellebores and Japanese forest grass (Hakonechloa macra 'Aureola', Zones 5–9).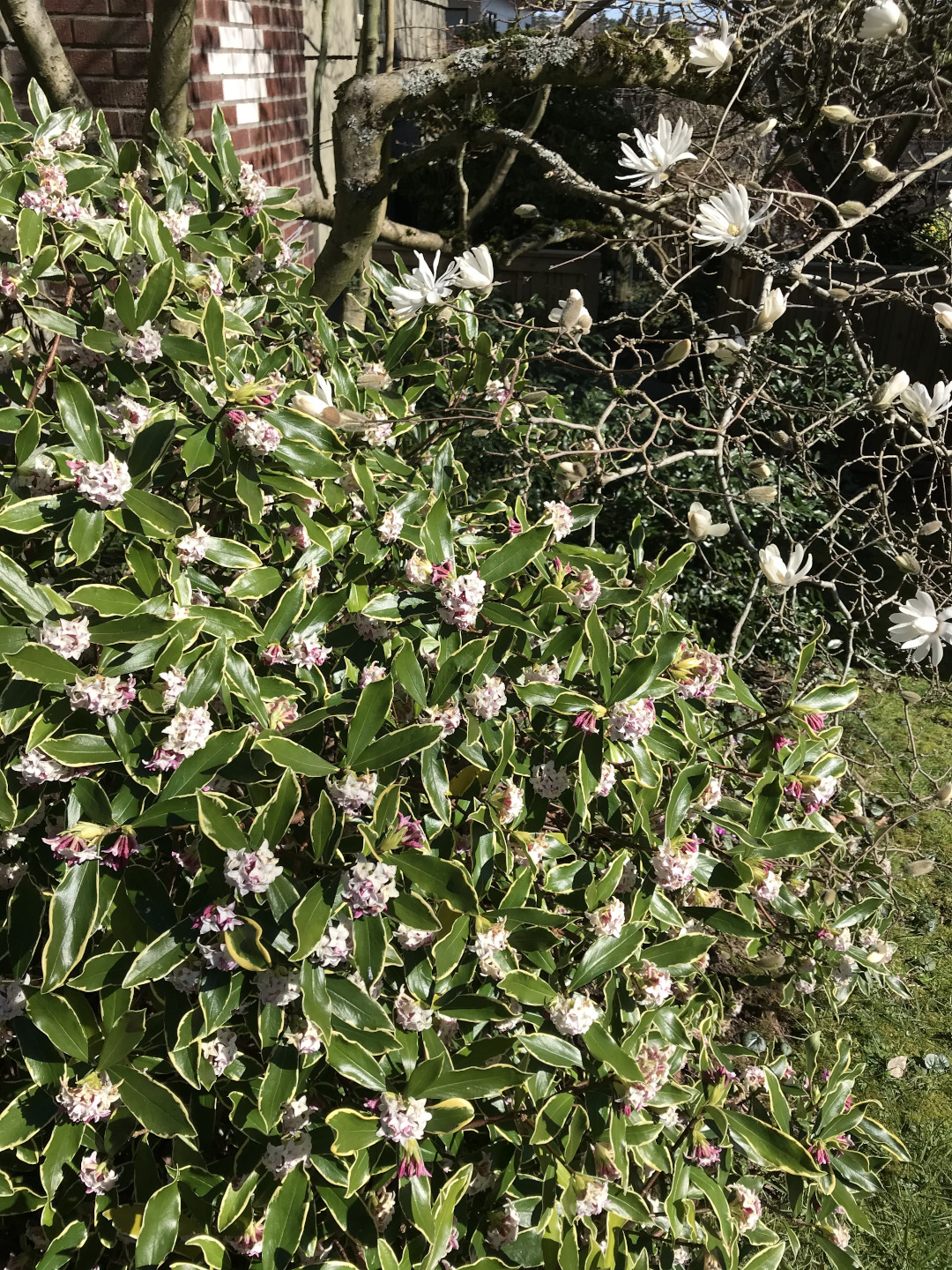 On a sunny day in March the citrusy fragrance of Daphne odora (Zones 7–9) can stop you in your tracks. I have several planted around my garden, and they make great bouquets to bring inside. Another fragrant evergreen shrub is Sarcococca hookeriana (sweetbox, Zones 6–8), which is nice to plant close to pathways. Its sweet vanilla fragrance fills the air in winter.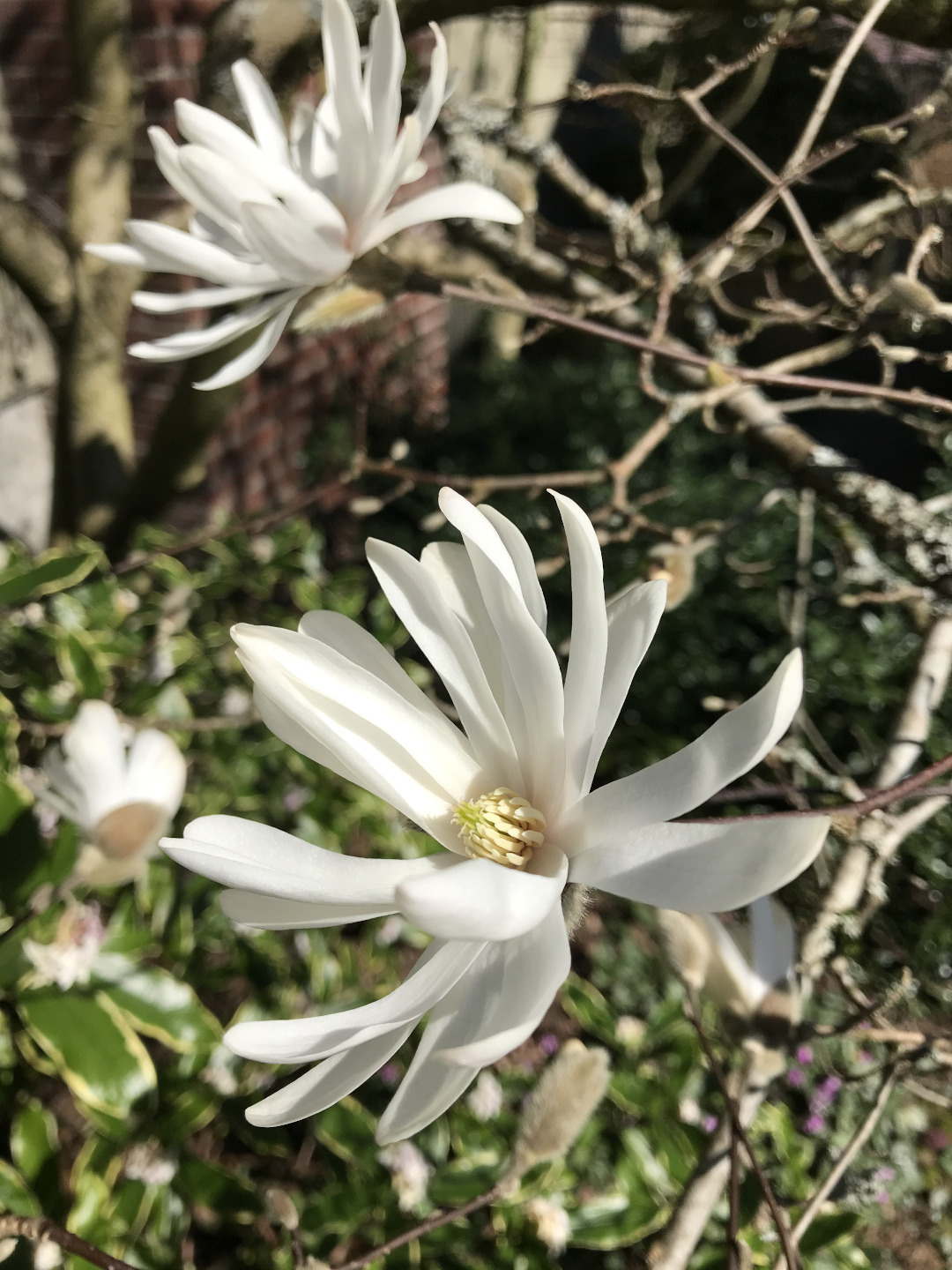 Star magnolia (Magnolia stellata, Zones 4–8) is a small tree at the corner of our house and blooms at the same time as the Daphne odora.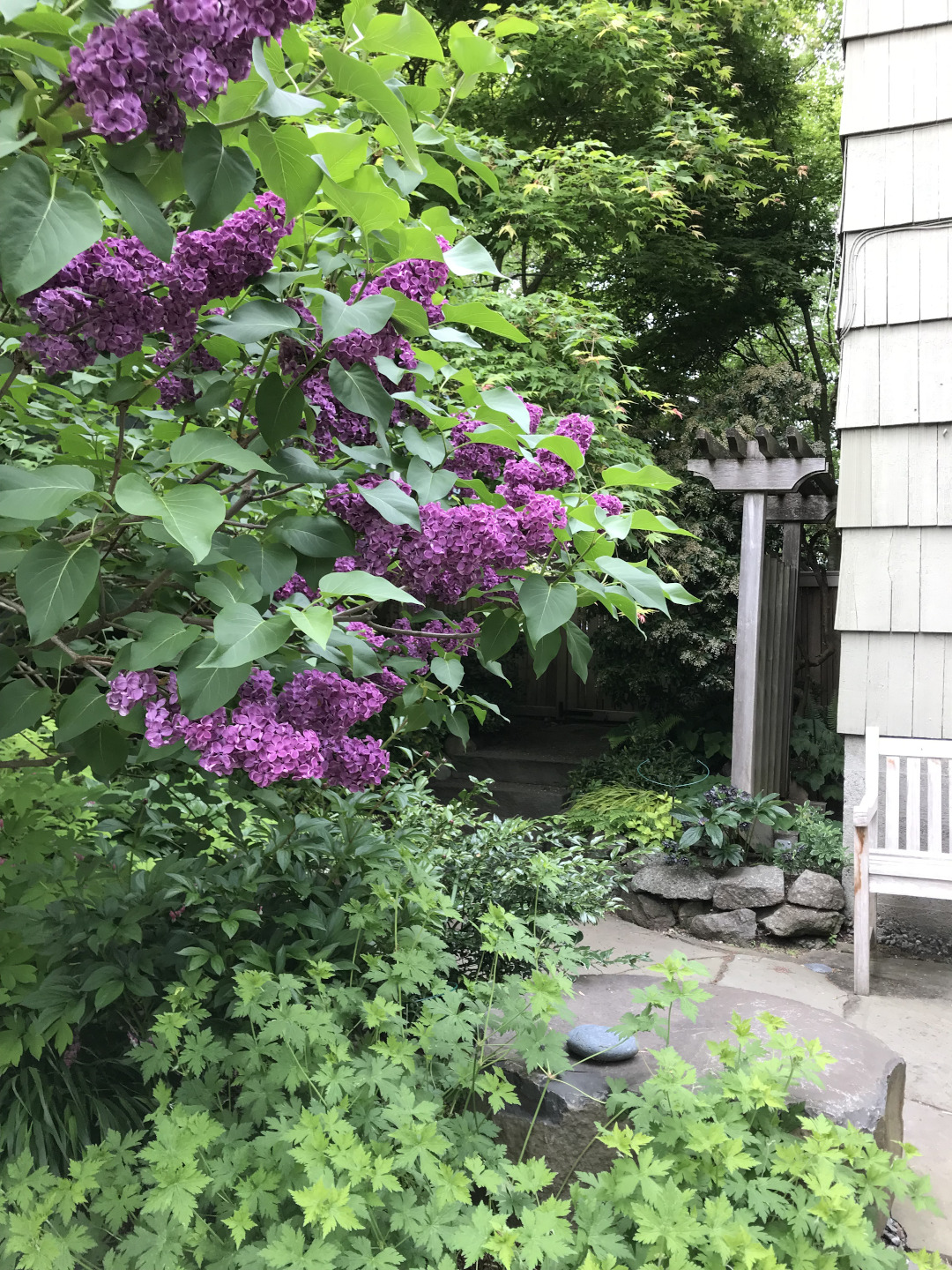 Branches of a purple lilac 'Ludwig Spaeth' (Syringa vulgaris, Zones 3–7) perfume the air near a basalt sitting rock.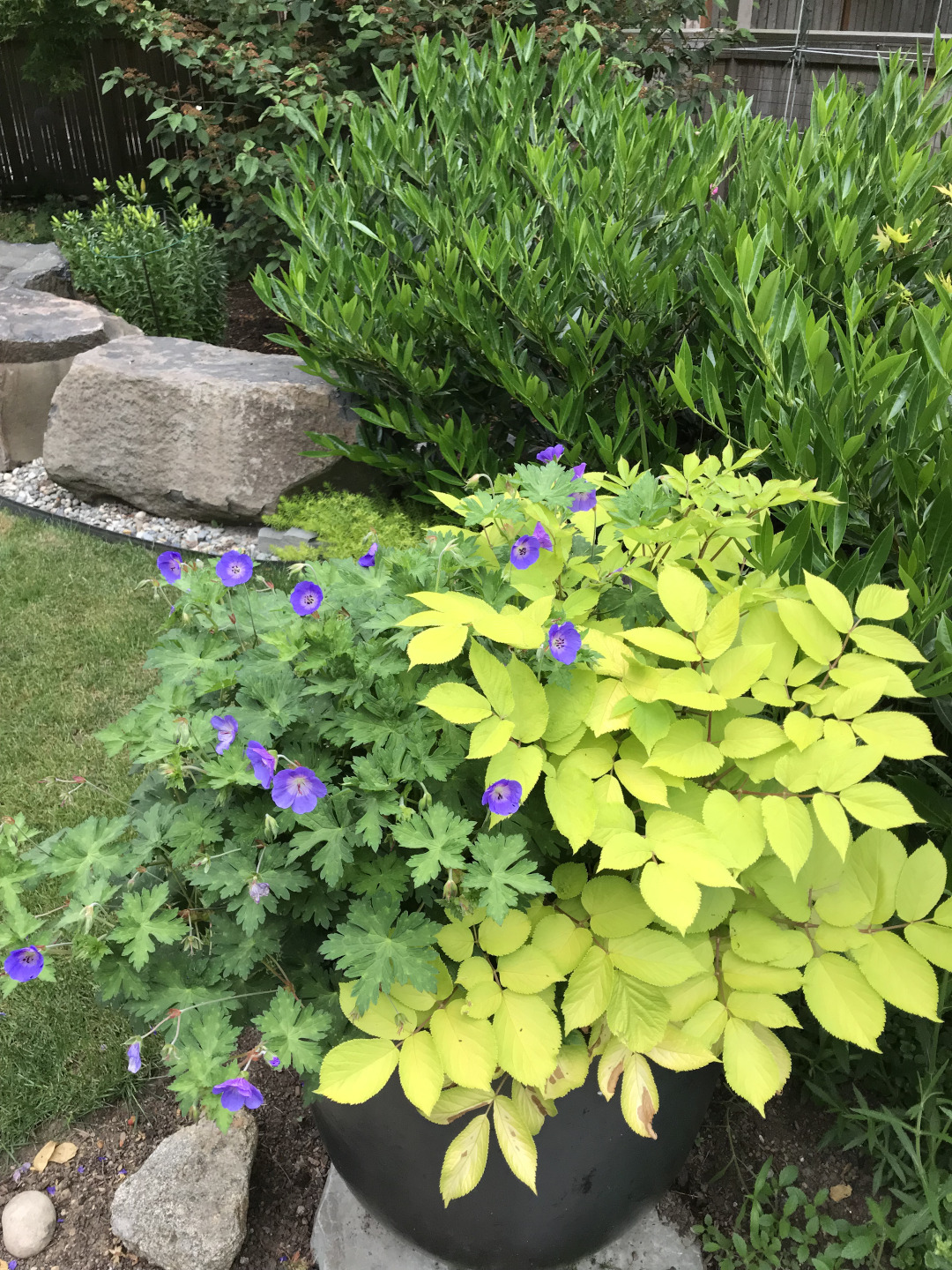 I saw this container combination of Aralia cordata 'Sun King' (Zones 4–8) and Geranium 'Roseanne' (Zones 5–8) at one of our local nurseries, so I can't take credit for it. 'Otto Lukyn' laurel (Prunus laurocerasus 'Otto Luyken', Zones 6–8) shrubs are next to the basalt sitting rocks in the background.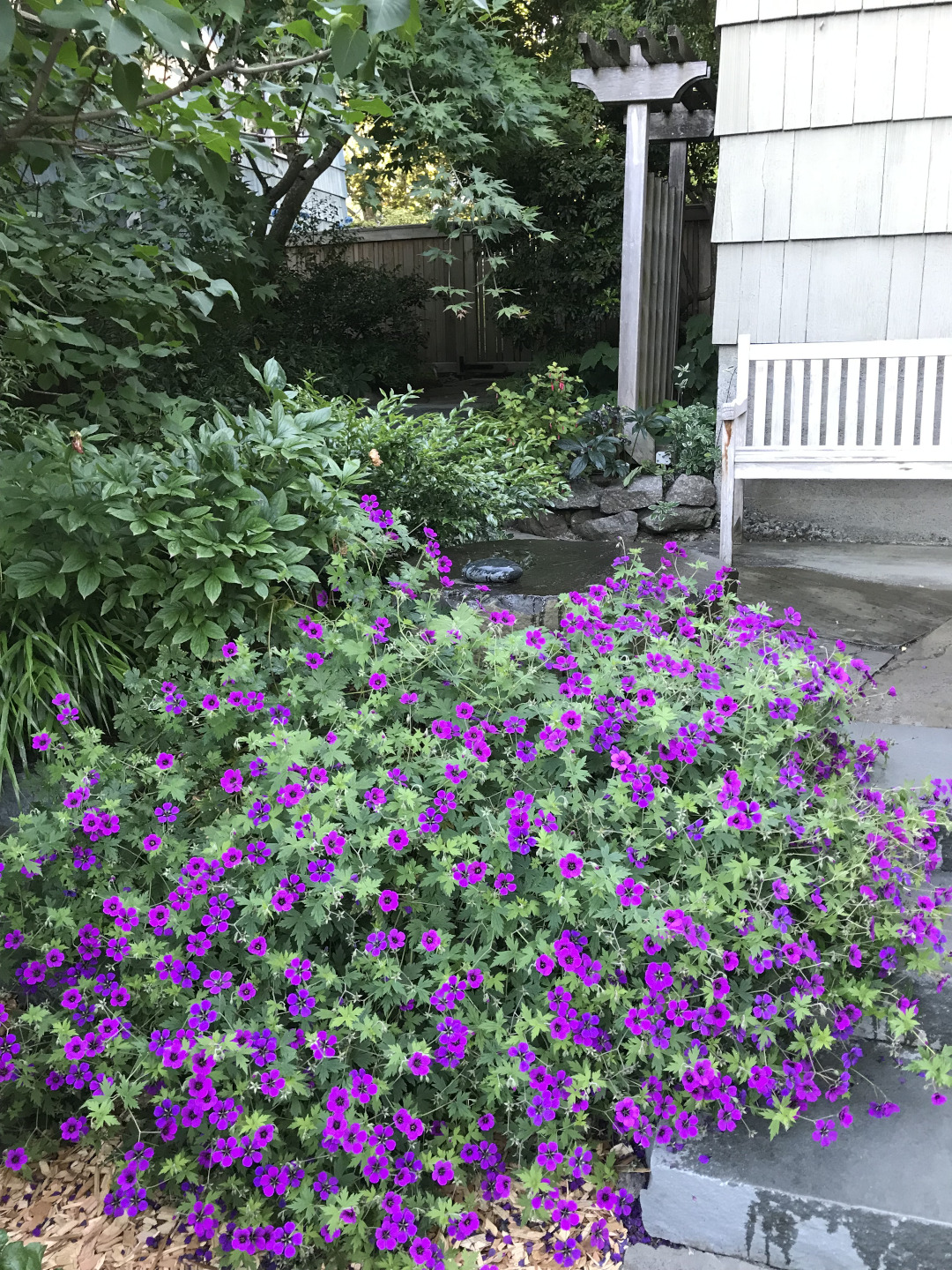 The bees love this 'Ann Folkard' geranium (Geranium × procurrens 'Ann Folkard', Zones 5–10), which cascades over the stone rockery. The bench looks out onto the back garden, and I often stop and rest there when I'm gardening. My husband built the trellis.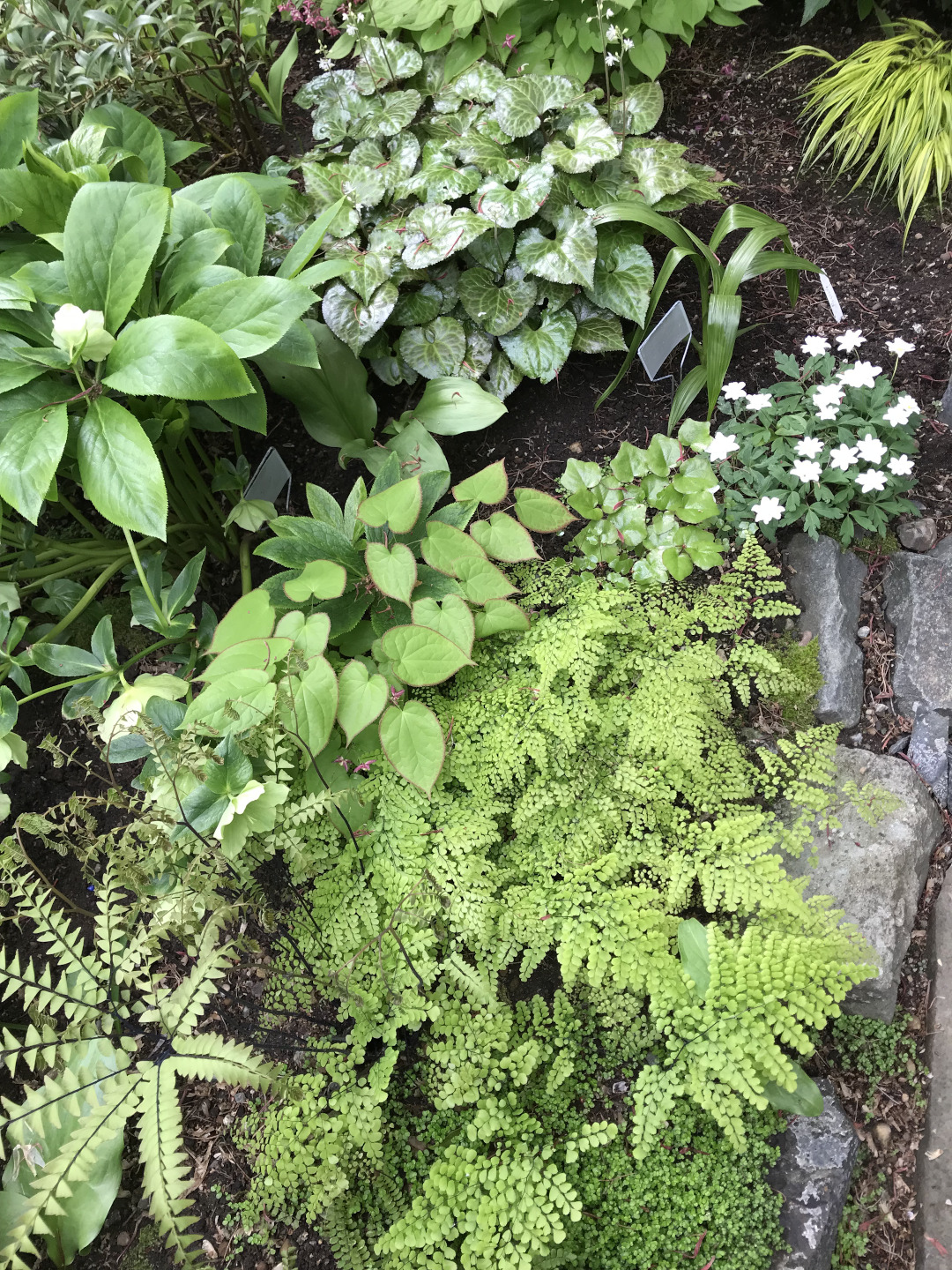 In the summer the shade garden provides cool relief from the sunny back garden. This is a grouping of white wood anemone (Anemone nemorosa, Zones 5–8), Beesia, hellebores, Epimedium, hardy ground orchid (Bletilla × yokohama, Zones 6–9), Japanese forest grass, and maidenhair and Himalayan ferns. I'm afraid I'm guilty of the "one of everything" curse of gardening sometimes.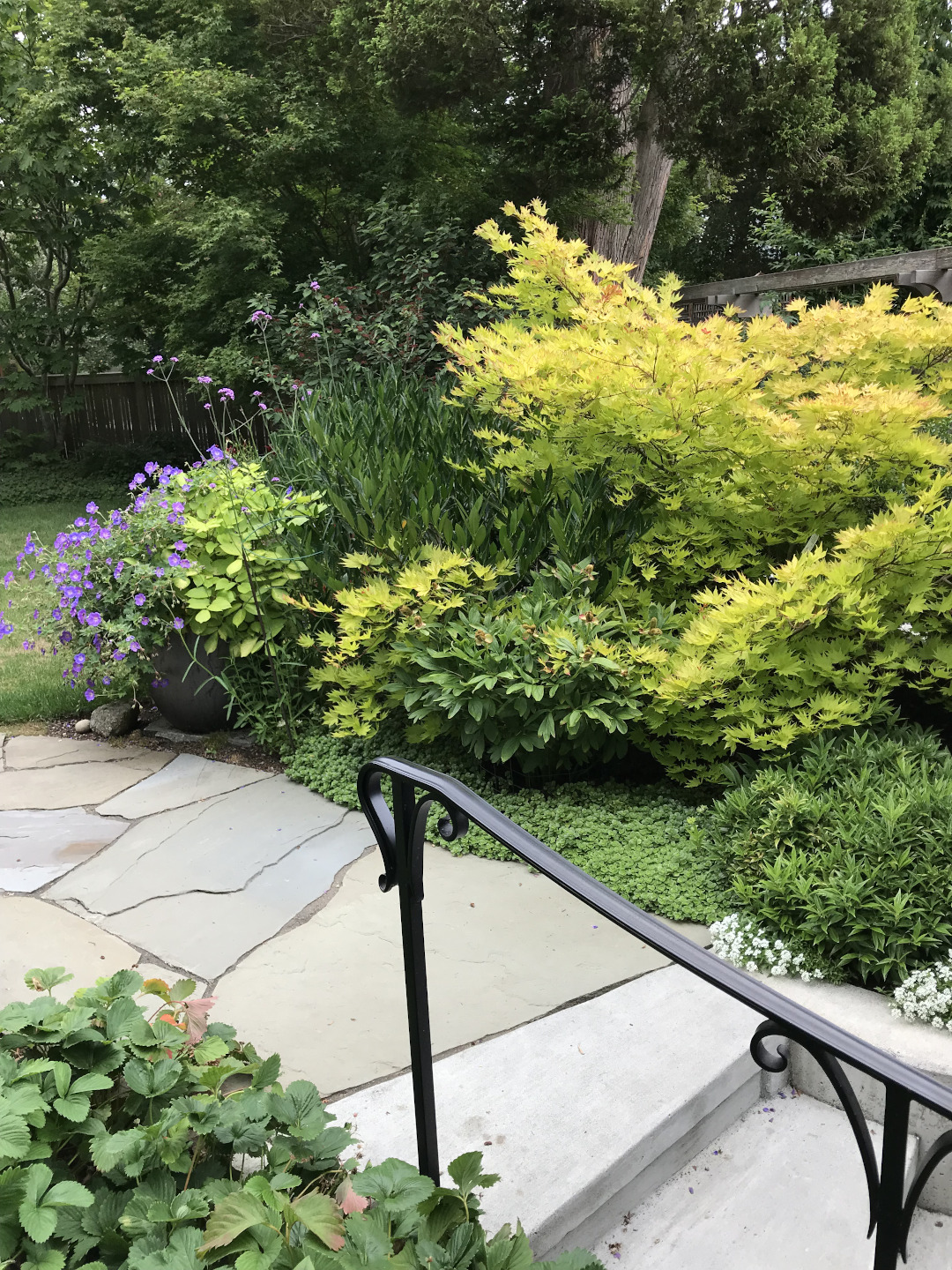 Strawberry plants by the hand rail, 'Autumn Moon' Japanese maple (Acer shirasawanum 'Autumn Moon', Zones 5–7), peony, sedum ground cover, and sweet alyssum (Lobularia, annual) line the path to our back gate.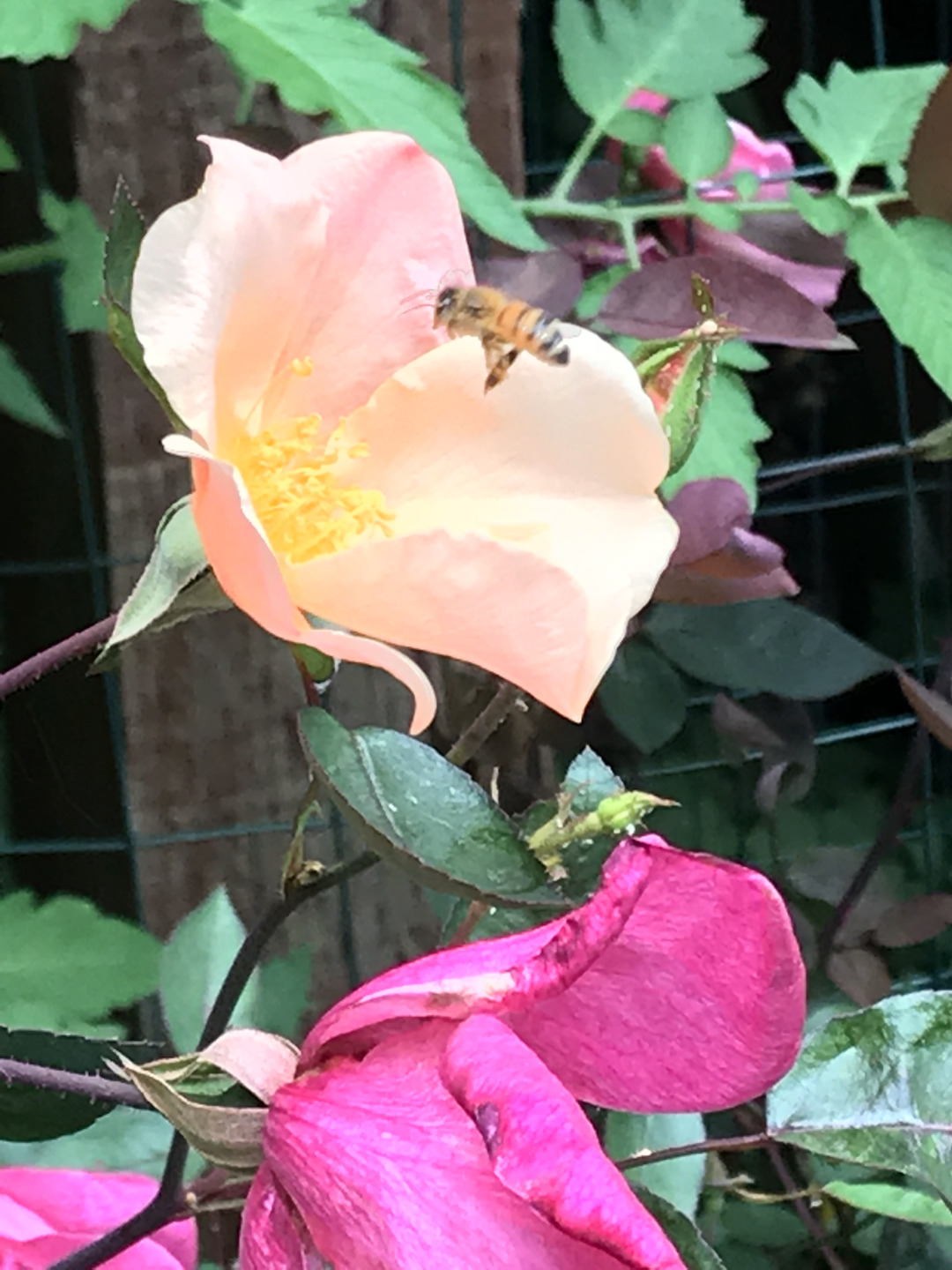 This bee was visiting pollen-laden blooms on the 'Mutabilis' rose. The blossoms change colors as they age, from yellow to pink to orange, with all colors on the plant at the same.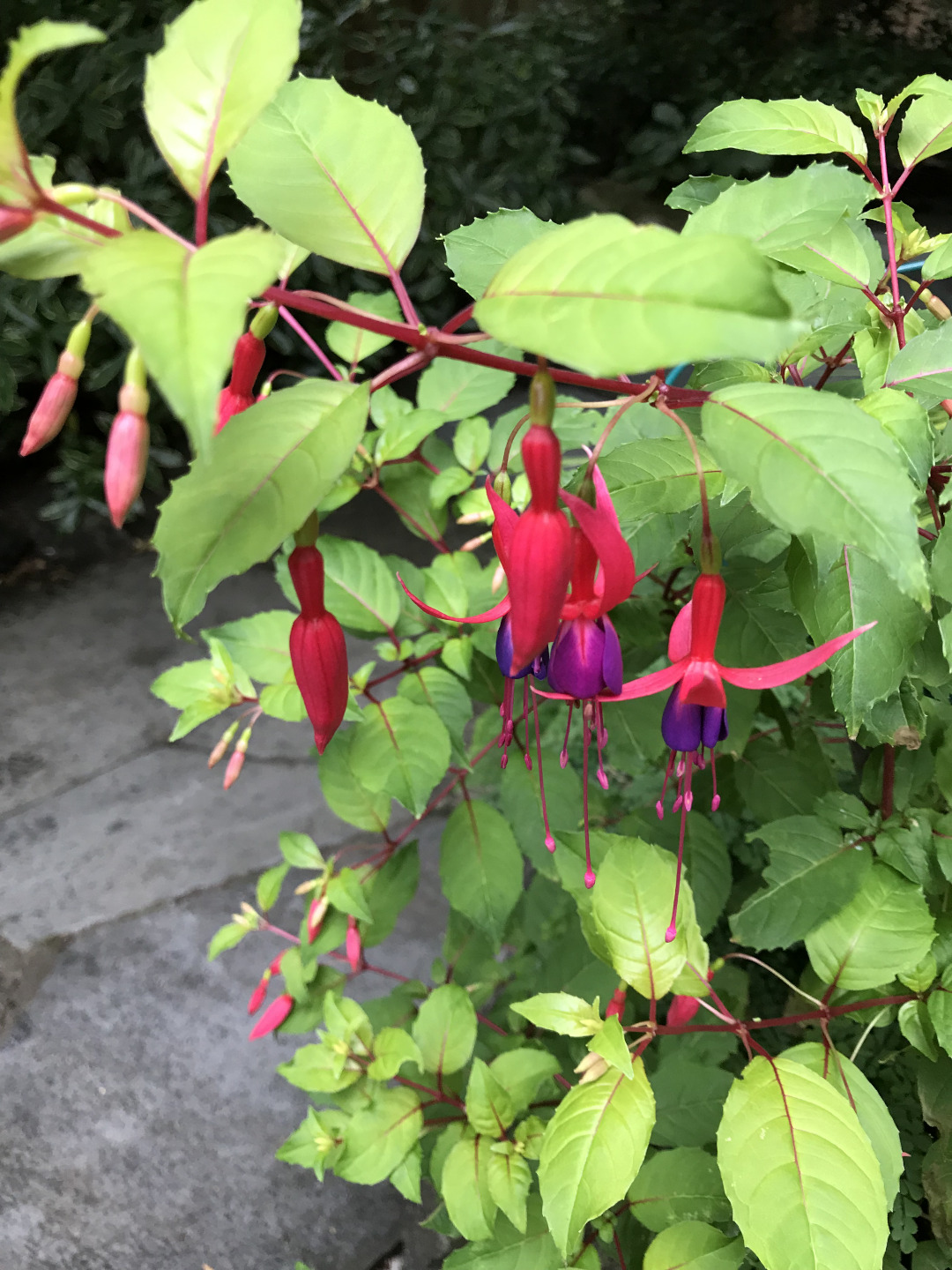 This hardy fuchsia with its red stems, lime green leaves, and beautiful blossoms comes back year after year. Unfortunately, I have lost track of the name. (Editor's note: Most hardy fuchsia are selections or hybrids of Fuchsia magellanica, which is hardy from Zones 6 to 9 but not particularly tolerant of hot summers.)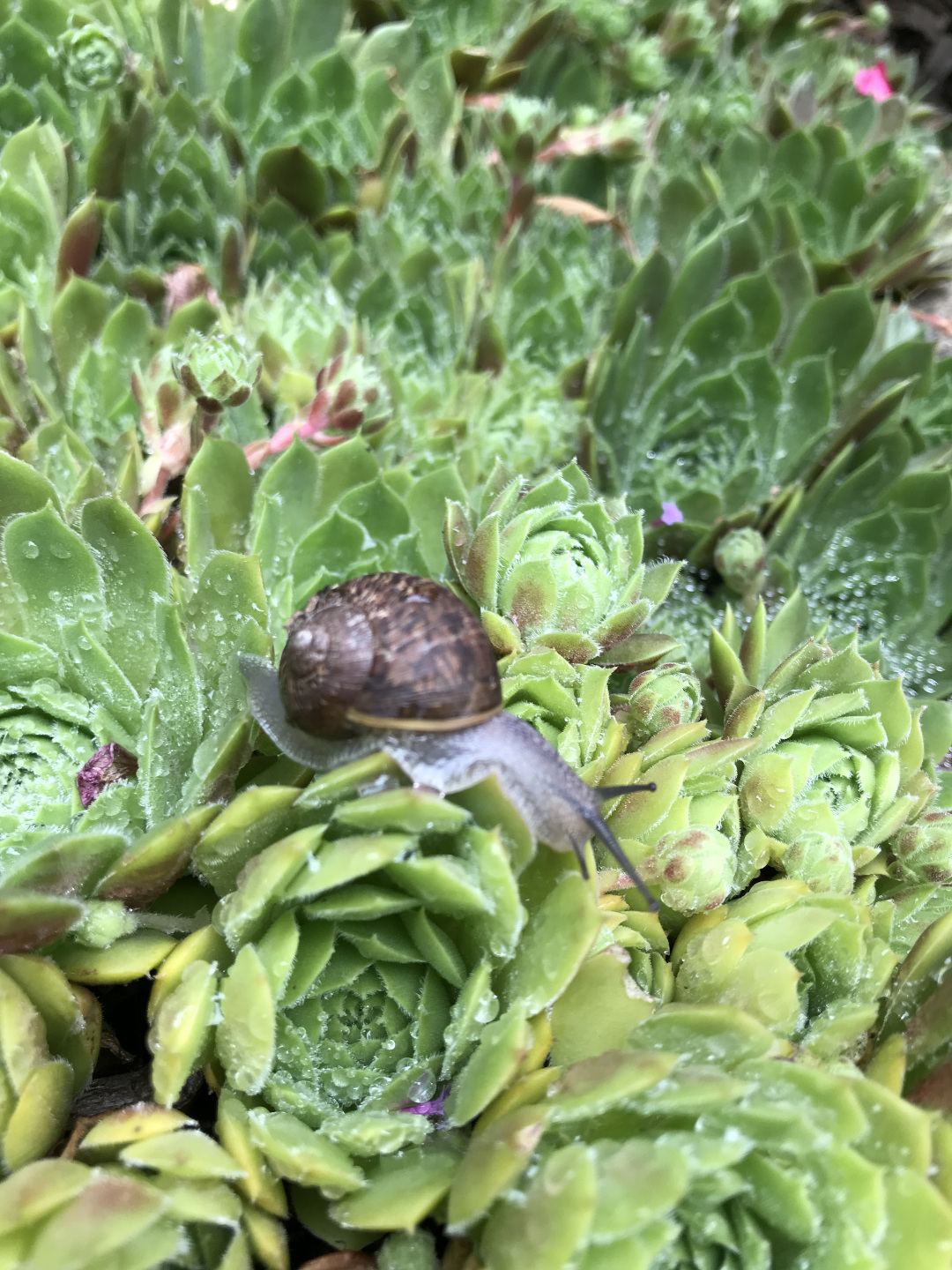 I could not believe a snail was crawling over this very prickly mound of hens and chicks! Undoubtedly it was lost and had made a wrong turn. Snails are my enemies in the garden. They can turn hostas into lace in a matter of days. After spending a small fortune on slug bait, I have finally given up on hostas (for the near term anyway)—until I am lured again by their irresistible beauty.
Have a garden you'd like to share?
Have photos to share? We'd love to see your garden, a particular collection of plants you love, or a wonderful garden you had the chance to visit!
To submit, send 5-10 photos to [email protected] along with some information about the plants in the pictures and where you took the photos. We'd love to hear where you are located, how long you've been gardening, successes you are proud of, failures you learned from, hopes for the future, favorite plants, or funny stories from your garden.
If you want to send photos in separate emails to the GPOD email box that is just fine.
Have a mobile phone? Tag your photos on Facebook, Instagram or Twitter with #FineGardening!
You don't have to be a professional garden photographer – check out our garden photography tips!
Do you receive the GPOD by email yet? Sign up here.