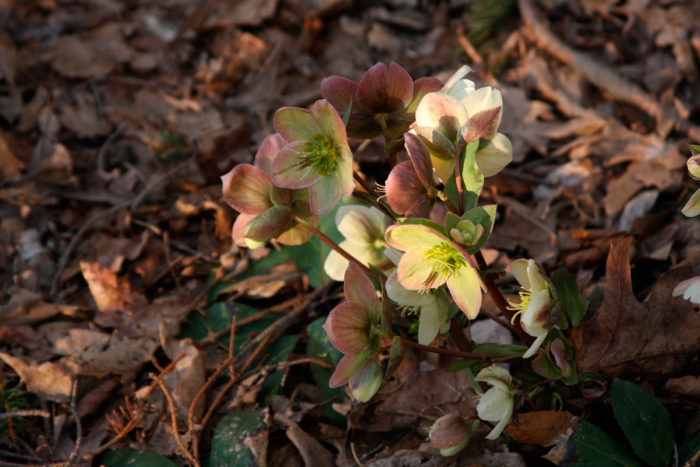 I took my own advice after shooting photos for my last regional report and spent some time walking around the Joseph A. Witt Winter Garden in the Washington Park Arboretum in Seattle. I was amazed at the large selection of hellebores growing at that garden and in other areas of the arboretum. Hellebores (Helleborus spp. and cvs., Zones 4–9) will grow in a variety of conditions—from woodland gardens, to bright mixed borders, to sunny dry Mediterranean-inspired gardens. They are very tough and long-lived plants given the right conditions, and they bloom when other plants are in their winter slumber. One thing they all appreciate is neutral-to-alkaline soil. I have seen bags of lime chips sold at nurseries and garden centers to help combat the Pacific Northwest's typically acidic soils. One method that does the job twice over is using gravel mulch, which helps neutralize the soil and helps with mud splashing on the flowers and leaves. Removing the spent flowers later in spring also helps lessen the number of seedlings produced that are not true copies of the parent plants; it also helps with aphid control, since aphids seem attracted to the faded flowers. Here are a few hellebores that are just starting to bud up and get ready to bloom now in early winter (hence their nickname: Christmas rose).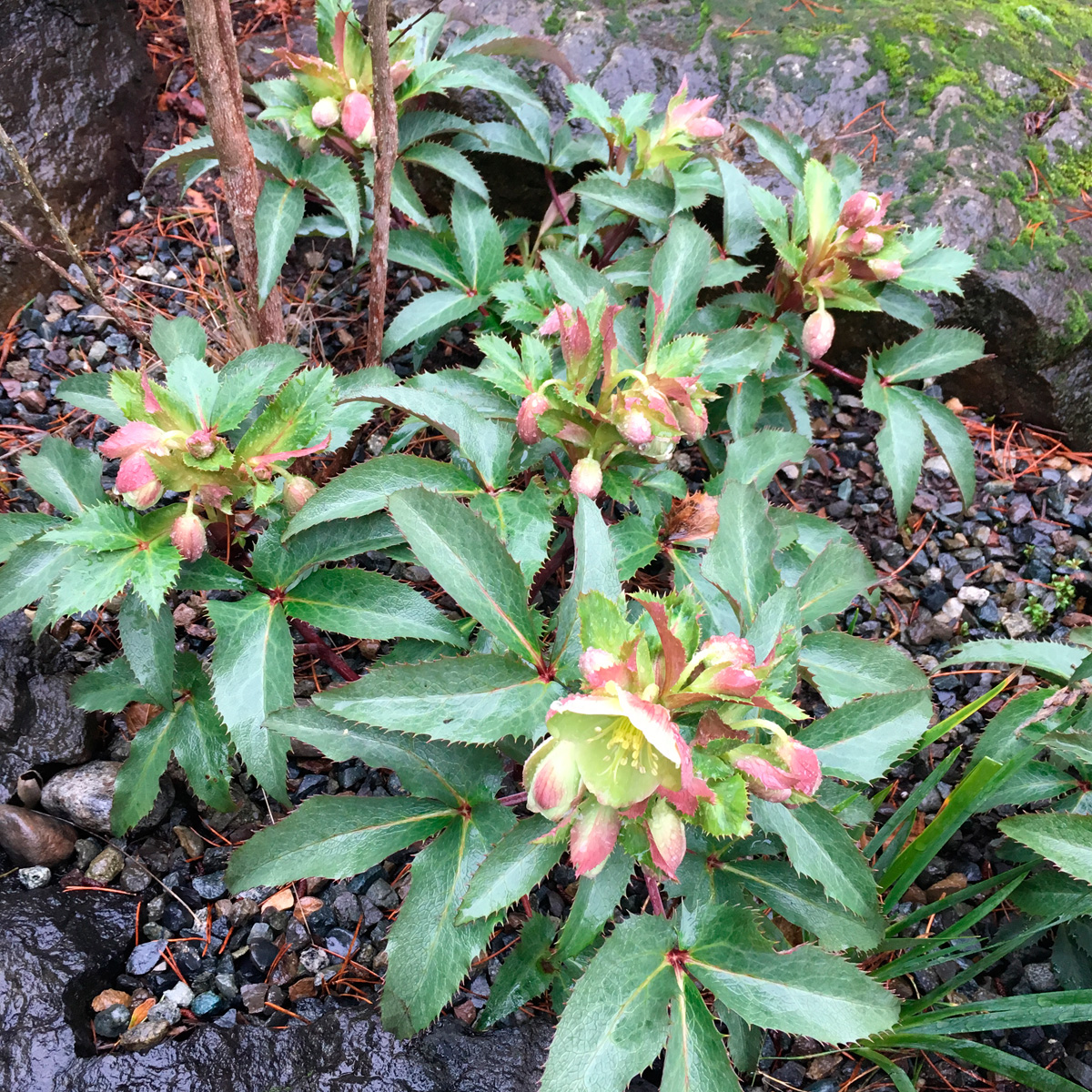 'Blackthorn Strain' hellebore
Helleborus × sternii 'Blackthorn Strain', Zones 7b–9
Mature size: 12 to 24 inches tall and 12 to 24 inches wide
'Blackthorn Strain' hellebore is a great addition to any garden. This hybrid is a cross between two Mediterranean species of hellebores: Corsican hellebore (Helleborus argutifolius, Zones 6–8) and Majorcan hellebore (Helleborus lividus, Zones 7b–9). This plant carries many of the wonderful traits of its parents. Large, three-lobed evergreen leaves with deep veining and toothed edges come from the Corsican hellebore. The amazing blue-gray coloring on its leaves and pink-to-mauve flowers, which bloom from December to February, come from the Majorcan hellebore. Depending on the grower and source, the variations of this cross are endless. My version of this cross also has beautiful pink-tinged new leaves that darken up to green as they mature. The flowers also change color as they mature (this is common for many hellebores), so be mindful of this when you are purchasing them. This hellebore is growing extremely well in my summer-dry garden with its limited water consumption. Its yearly new growth will develop from new flower stalks, so be careful when pruning back this plant. Make sure you're removing the old growth and not the current season's new leaves and flowers.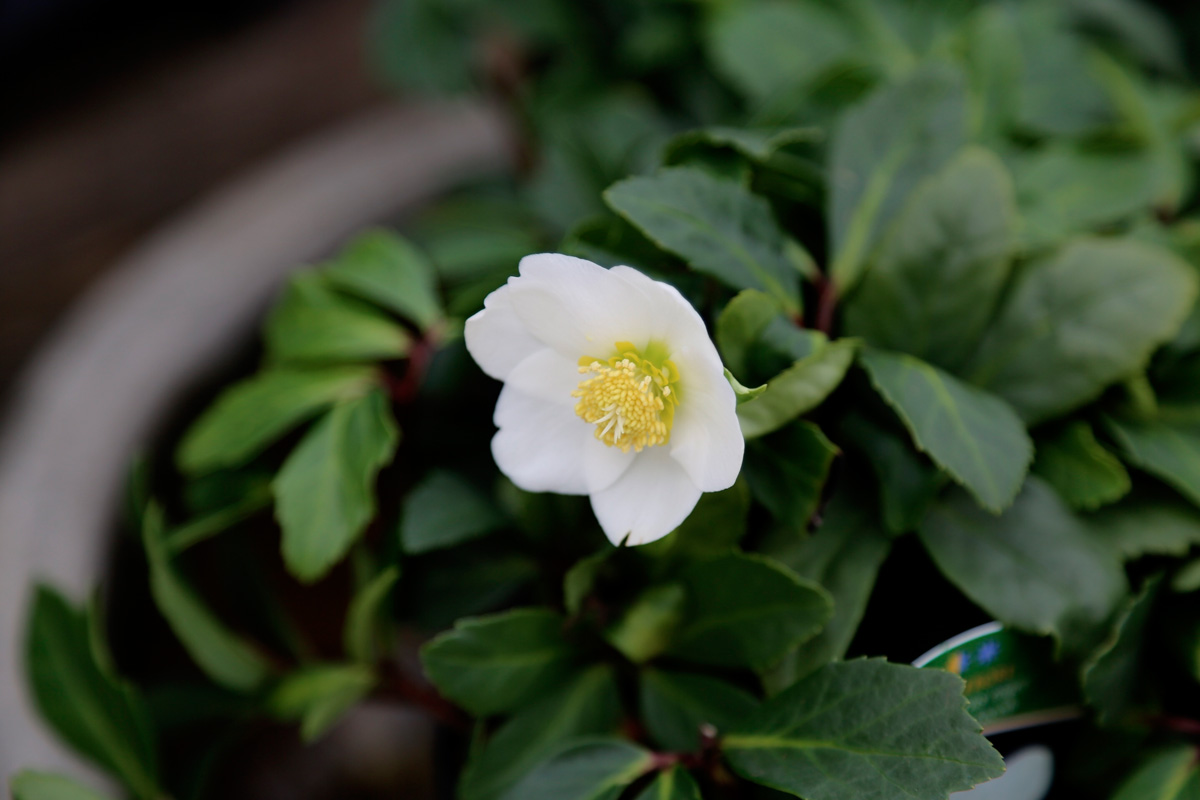 HGC 'Jacob' hellebore
Helleborus niger 'Jacob', Zones 3–8
Mature size: 12 inches tall and 12 inches wide
This lovely and reliably early-blooming hellebore is sold at most garden centers and local nurseries. It has dark leathery green leaves that complement cheery, bright white flowers with yellow centers. This hellebore starts to bloom in early November and will continue through January, helping to brighten the darkest winter days. I grow mine interplanted with black mondo grass (Ophiopogon planiscapus 'Nigrescens', Zones 6–9) to create a contrast between black and white. While those colors together may not be to everyone's liking, I certainly enjoy the combination.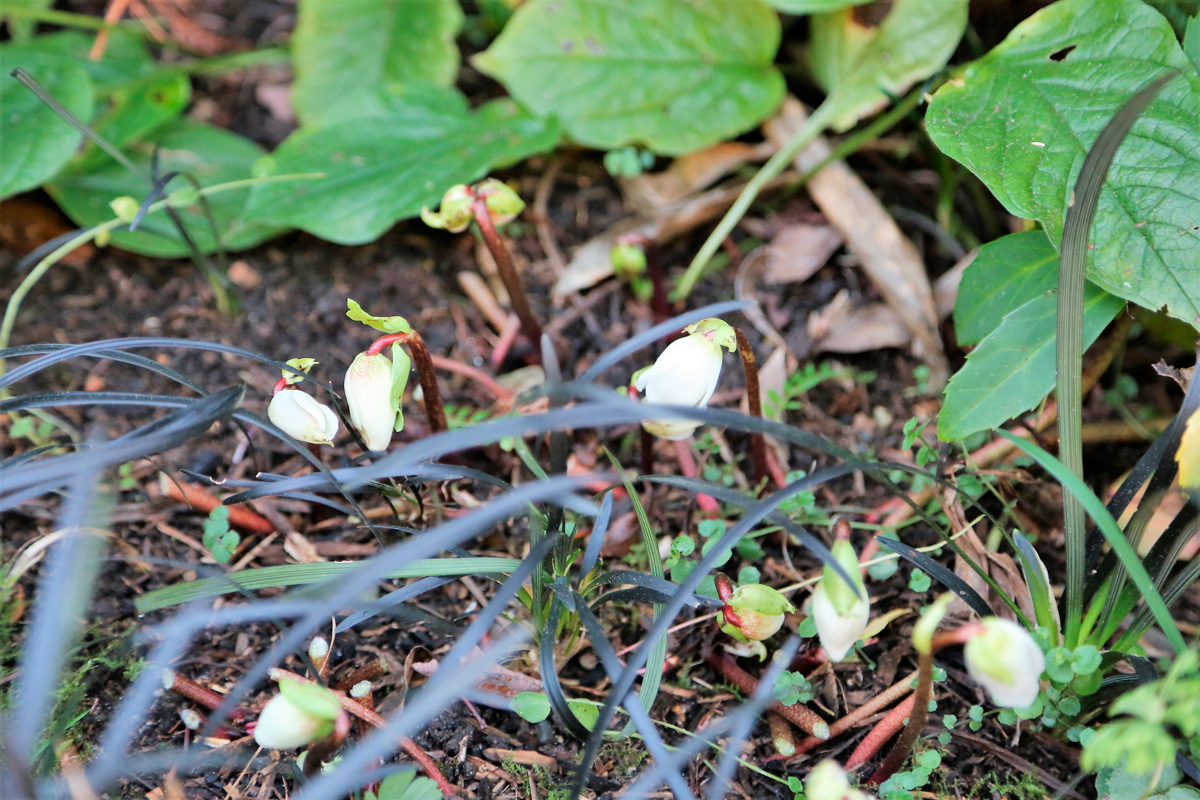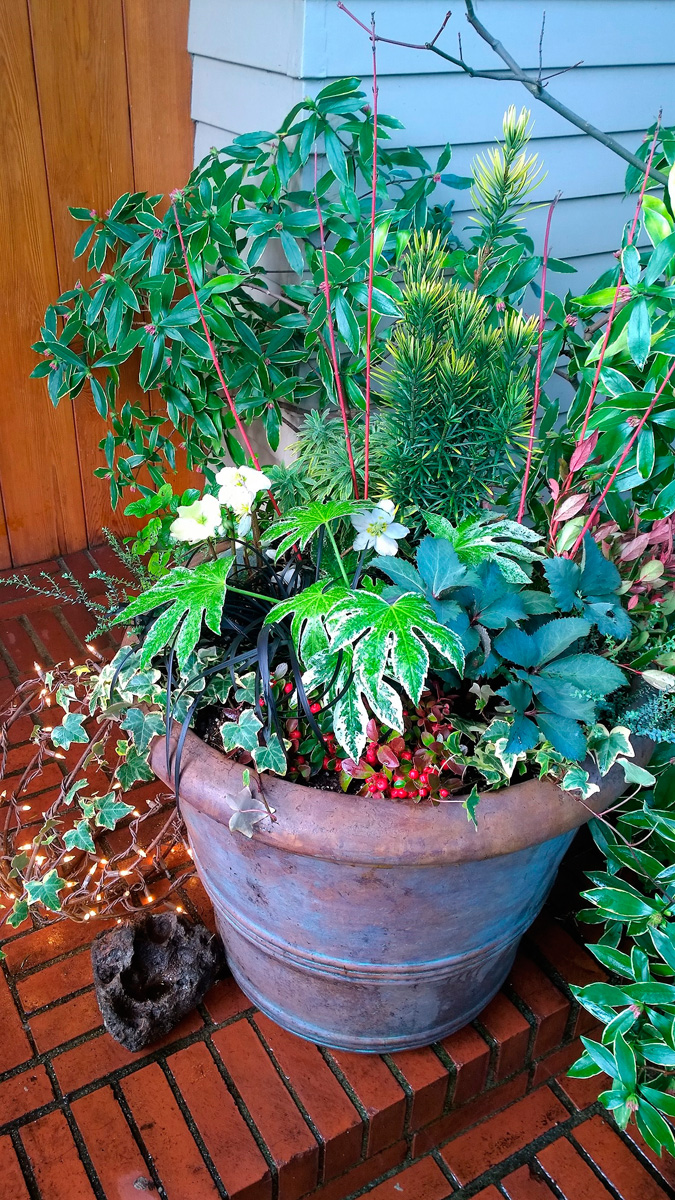 This hellebore grows its leaves and flower stalks separately. Cut away the previous year's tattered and browning leaves in fall to show off new flowers and help with slug and snail control. Don't worry—the new leaves will emerge shortly after the flowers start to open. This hellebore does a great job of brightening the front of a mixed border, especially if it can be seen from the house. It also is eye-catching filling an entrance walkway or decorating a winter container.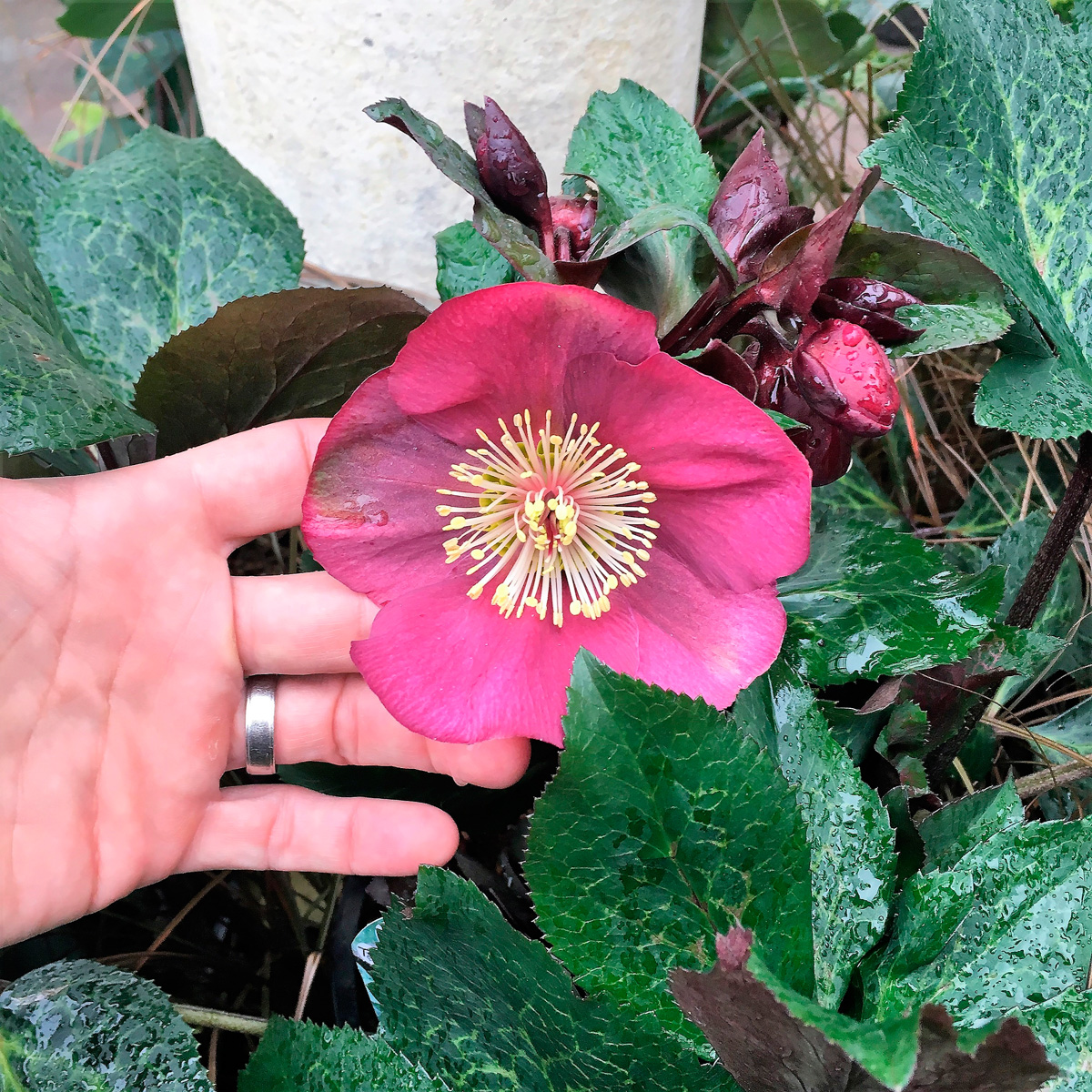 'Anna's Red' hellebore
Helleborus × hybridus 'Anna's Red', Zones 4–9
Mature size: 18 to 24 inches tall and wide
'Anna's Red' is a beautiful hybrid hellebore named after the famous and prolific U.K. garden writer and plantswoman Anna Pavord. It has some of the largest and darkest royal red-purple of any of the hybrid hellebores I've seen. The flower buds and stems are almost black and very striking. The stems are a wonderful contrast to the thick leathery leaves that are equally striking with deep veins of pink red. The rich dark red–purple flowers are perhaps 3 inches in diameter with lovely yellow centers. These flowers bloom from January to March. This hellebore also has separate leaves and flower stalks, making it a good candidate for yearly removal of the previous year's leaves to keep it tidy and fresh looking. 'Anna's Red' would look wonderful en masse in a woodland garden setting, especially underplanted with snowdrop bulbs (Galanthus nivalis, Zones 3–7).
I hope these hellebores will encourage you to keep gardening with the few hours of daylight available in winter. One additional benefit of growing these wonderful plants in your garden is the lovely evergreen leaves that will create another layer to your garden and carry it into another season.
Happy gardening!
—Jason Jorgensen is a landscape designer in Seattle.