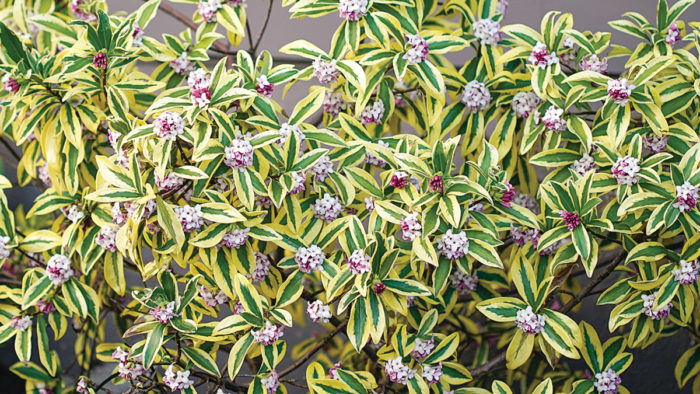 See regional picks for variegated plants for shade, and read the article by Andy Brand for even more ideas.
"While the cool, shady areas have provided me with the opportunity to grow some of my favorite genera, they also have presented me with a fair share of challenges. One of the trickiest issues is figuring out how to brighten the border growing under a dense canopy or in those dark corners. Plants with showy flowers are an obvious solution, but usually their effect is transient, and all too often flowering is diminished with too much shade. An even better option is to incorporate plants with variegated foliage and let their leaves of white, cream, gold, and green bring light to the shade." Read more in Plants That Shine in the Shade.
---
1

. 'Angyo Star' Tree Ivy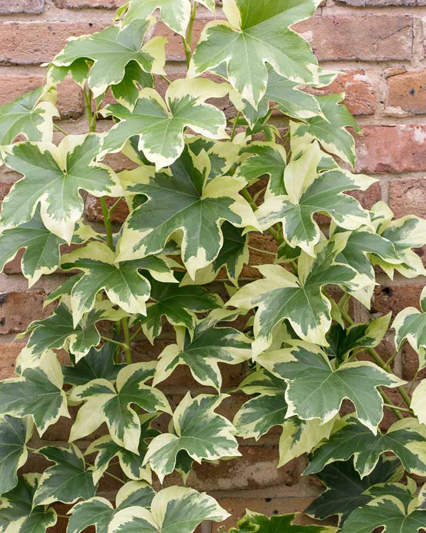 Name: Fatshedera lizei 'Angyo Star'
Zones: 7–10
Size: 5 to 6 feet tall and 4 to 5 feet wide
Conditions: Partial to full shade; average to dry, well-drained soil
Native range: Bigeneric hybrid selected in Japan
This cross between Japanese aralia (Fatsia japonica, Zones 8–10) and English ivy (Hedera helix, Zones 4–9) looks right at home in many styles—from cottage to formal, and even tropical. With a liberal splash of cream on the margins of waxy, star-shaped leaves, 'Angyo Star' lends painterly fl air to darker spaces. And although large foliage usually belies a vulnerable nature, this deer-resistant, semi-evergreen shrub is quite durable. Retaining ivy's bulletproof composure without the nightmarish invasive tendencies, this is a problem solver for adverse conditions such as dry shade. Its flexible shape, growing upright if staked or sprawling if left unchecked, is also a valuable asset.
2.

'Maejima' Winter Daphne
Name: Daphne odora 'Maejima'
Zones: 7–10
Size: 2 to 3 feet tall and wide
Conditions: Partial to full shade; average to dry, well-drained soil
Native range: China and Japan
The bold and sassy stripes on this poisonous beauty will ensure notice by all, except your local deer. Its yellow-edged foliage held in a compact package pops among green neighbors, adding vibrant year-round color to any planting. In late winter, deep pink buds open to pale pink-lavender clusters, releasing an intoxicating citrusy fragrance. Plant it near entries, windows, and patios to take full advantage, or in a less immediate location—the scent is powerful enough to waft far and wide. Daphnes resent root disturbance, so avoid the usual root-ball prep at planting time, and site them wisely so you don't need to transplant them later. The key to success for this finicky genus is to provide good drainage and to not overwater, especially in heavier soils.
3.

'River Mist' Northern Sea Oats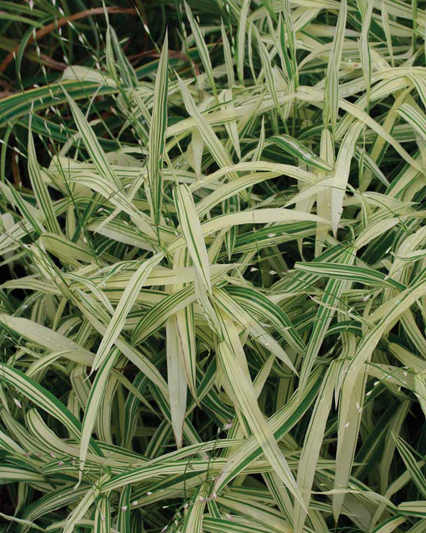 Name: Chasmanthium latifolium 'River Mist'
Zones: 5–9
Size: 30 to 36 inches tall and 24 to 36 inches wide
Condtions: Partial shade; average to wet soil
Native Range: Eastern United States
Delicate, arching stems of dangling oats and creamy white ribbon-like foliage striped with apple green make this Eastern native hard to resist, especially if you enjoy making wild bouquets or dried posies. Cool fall nights guild the pale foliage and seed heads with rosy tints, eventually giving way to the warm coppery shade of dormancy. As with most variegated selections, 'River Mist' is a tamer, less aggressive version of the species, and is even more at home in shade. Despite that, it still tolerates a broad range of conditions. For a lovely four-season, deer-resistant vignette, try it with 'Biokovo' geranium (Geranium × cantabrigiense 'Biokovo', Zones 5–8) and Pink Frost hellebore (Helleborus × ballardiae 'COSEH 710', Zones 5–9).
4.

'Seafoam' Rupturewort
Name: Herniaria glabra 'Seafoam'
Zones: 4–9
Size: 2 inches tall and 1 to 2 feet wide
Condtions: Dappled to partial shade; average to dry, well-drained soil
Native range: Europe
Sometimes a diminutive ground cover, though undemanding of attention, can easily be just as important in highlighting a focal point as the dynamics of the feature itself. Such is the case with this tiny-leaved variegated thyme look-alike. It works fabulously as an evergreen edger, between stepping-stones, or pooled around the base of a specimen shrub, tree, or even a sculpture. If you live in a hot, dry summer climate and struggle to keep moss happy, but you relish the tight, cushiony carpet it provides, try rupturewort instead. 'Seafoam' has bright creamy-to-golden color that lights up shadowy spaces as if they were aglow, and it can work wonders to set off burgundy foliage.
—Bonni Criswell is a landscape designer in southern Oregon.
From Fine Gardening #194