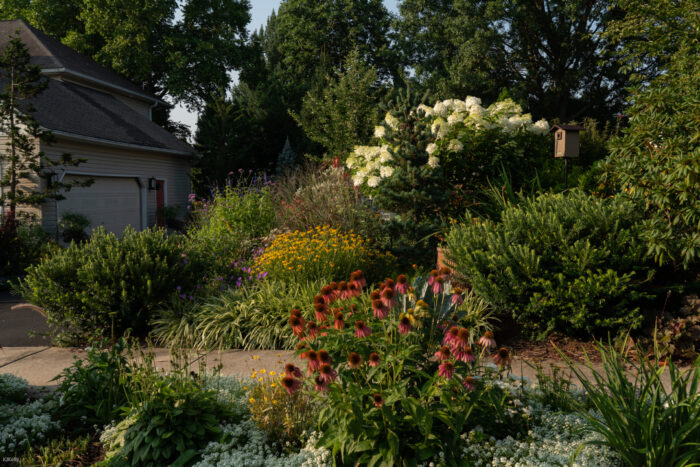 My name is Kevin Kelly, and I garden in Harrisburg, Pennsylvania (Zone 6b). My property is on 1/3 acre in a suburban neighborhood. I have lived here for 25 years. My garden is my place to relax and connect with nature. I have learned the importance of layering, texture, and repetition to create what I think is a pleasing design. Here are some photos of the garden as we are about to enter into autumn. The garden fared well over the summer, as we had abundant rainfall. Enjoy the images.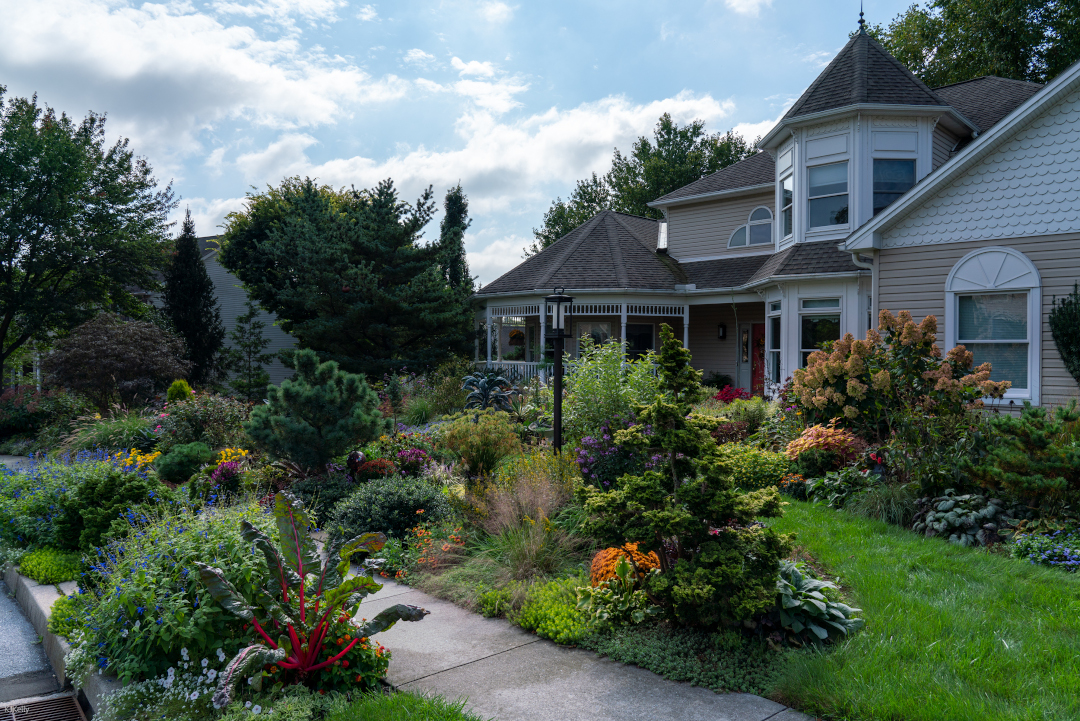 Here is an image of the front garden. This is on the north side of the house and gets the most sun. The grass serves mostly as a path. I have planted out most of the strip between the sidewalk and the curb.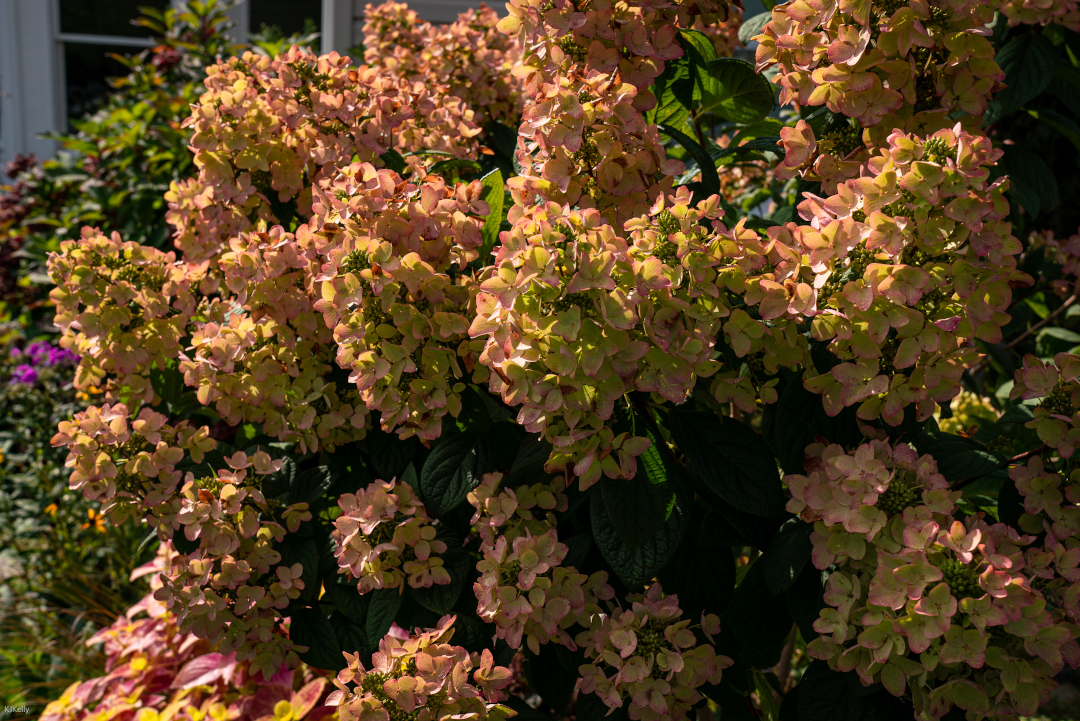 Hydrangea paniculata White Diamonds® (Zones 3–9) looking awesome into September. The blooms were white in early July.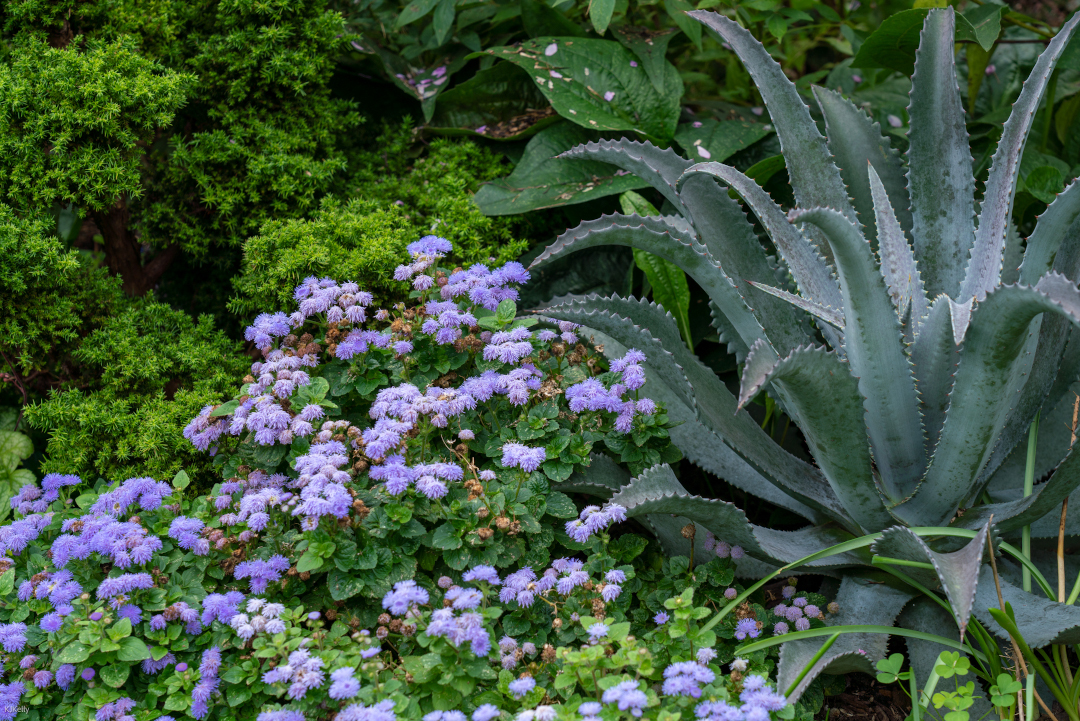 Combination of ageratum (Ageratum houstonianum, annual), mangave (Agave hybrid, Zones 8–10), and cryptomeria (Cryptomeria japonica, Zones 5–9)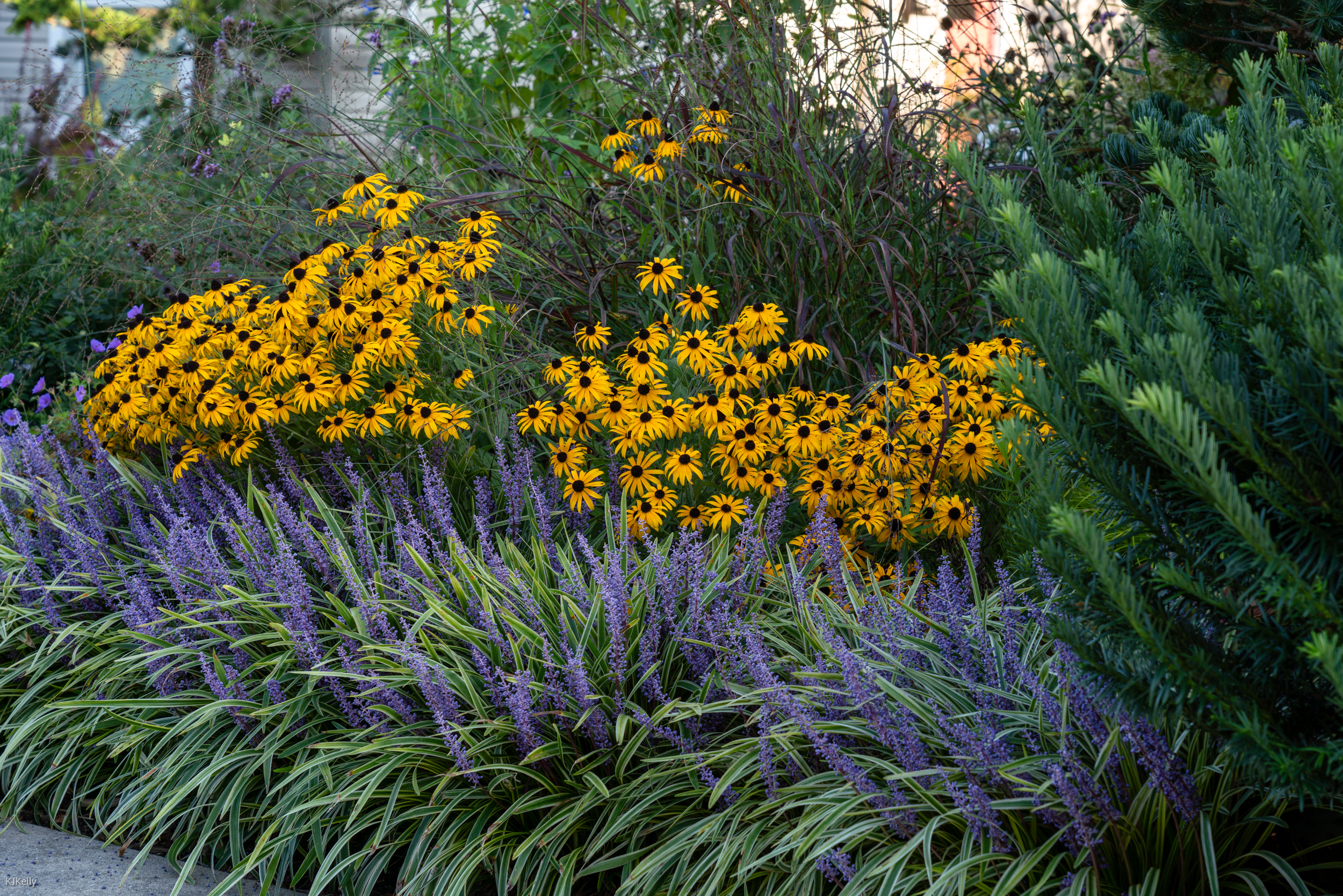 I planted this combination of Rudbeckia 'American Gold Rush' (Zones 3–9), Liriope muscari 'Variegata' (Zones 5–10), and Panicum virgatum 'Ruby Ribbons' (Zones 3–9) along the sidewalk to be enjoyed by those passing by.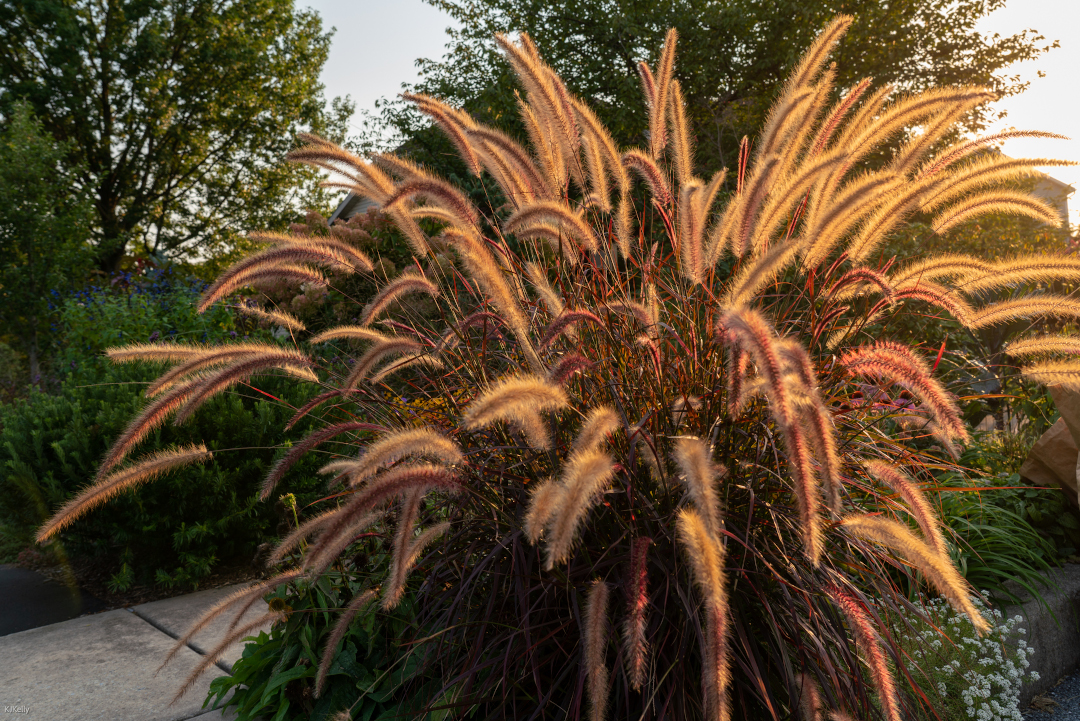 Pennisetum setaceum 'Rubrum' (Zones 9–10 or as an annual) glowing in the setting sun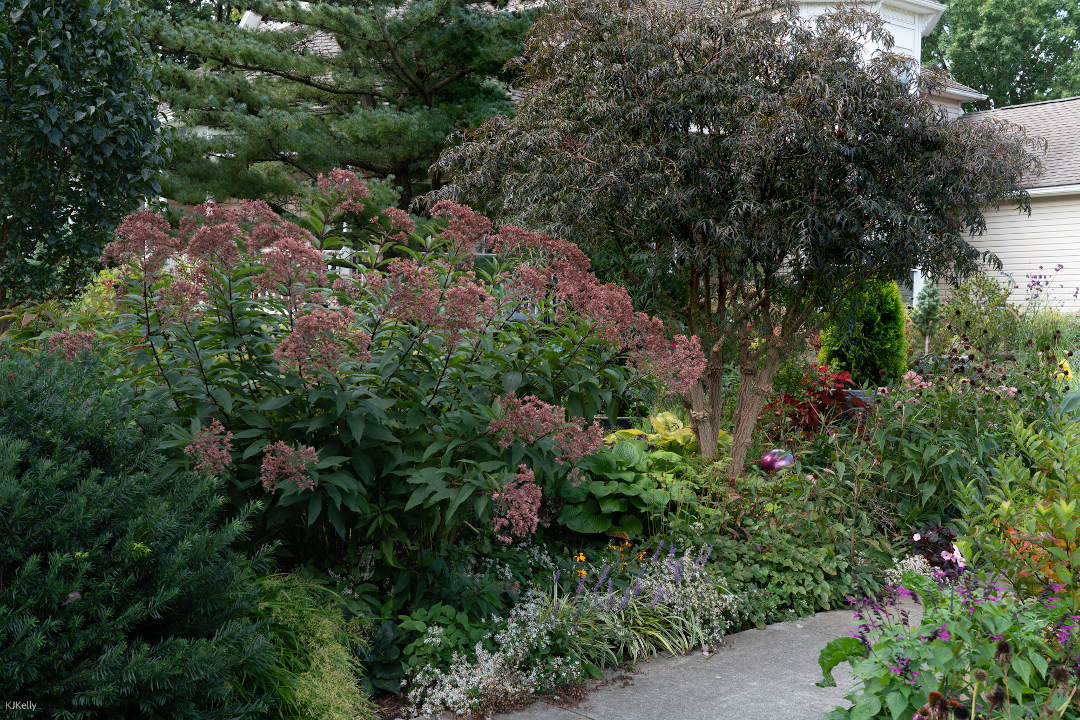 I think this image of Eutrochium purpureum 'Little Red' (Zones 4–9) and Sambucus nigra 'Black Lace' (Zones 4–7) shows the importance of layering as part of a design.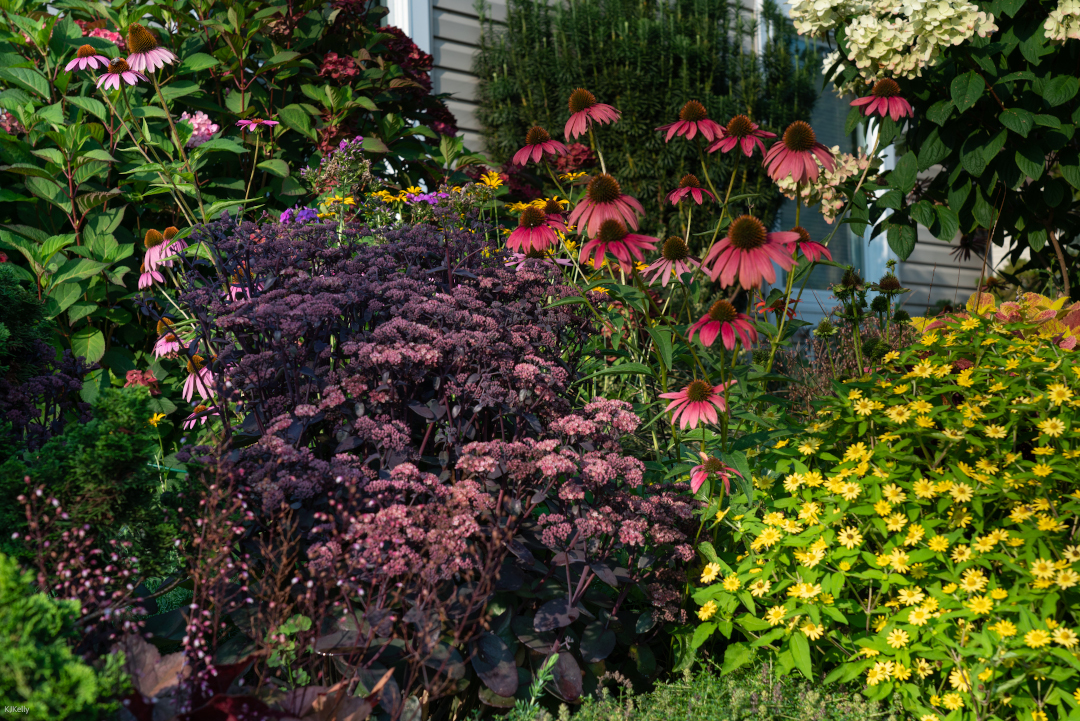 Hylotelephium 'Purple Emperor' (Zones 3–9) and Melampodium divaricatum (Zones 2–11)
Nasella tenuissima (Zones 6–10), Gaillardia (annual or short-lived perennial), Lemon Coral® sedum (Sedum mexicanum 'Lemon Coral', Zones 7–11 or as an annual), and New Guinea impatiens (Impatiens hawkeri, Zones 10–11 or as an annual)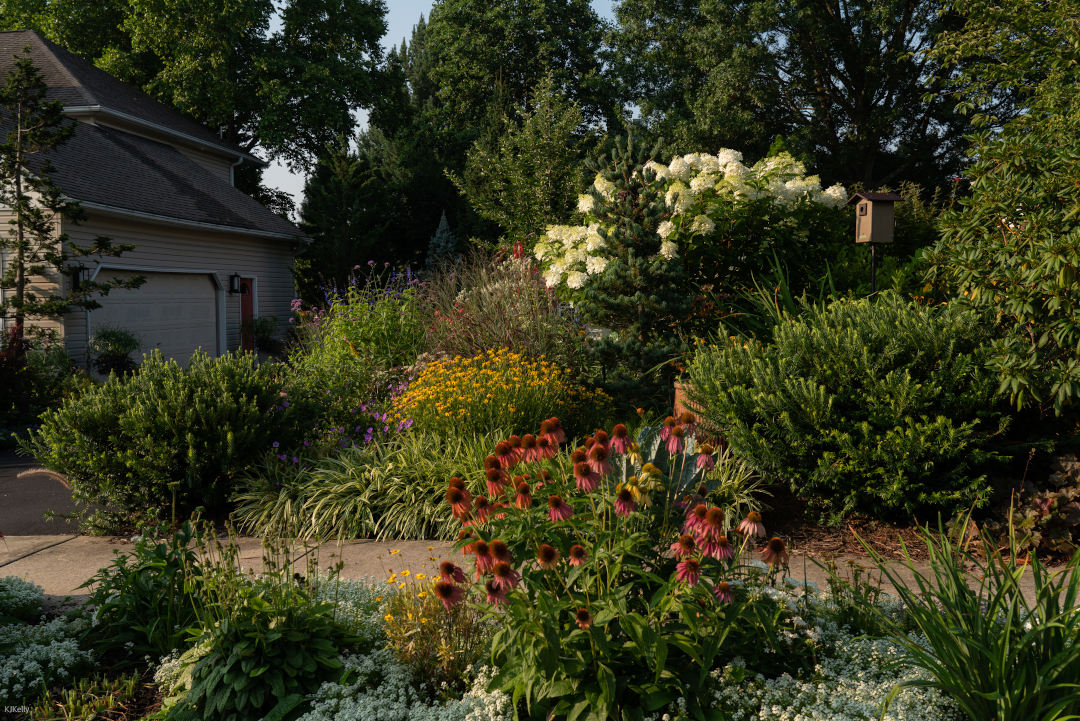 This was a full-shade garden until three years ago when I took down two Callery pears (Pyrus calleryana, Zones 5–9) due to their invasive nature. I have been reworking this area into a pollinator garden.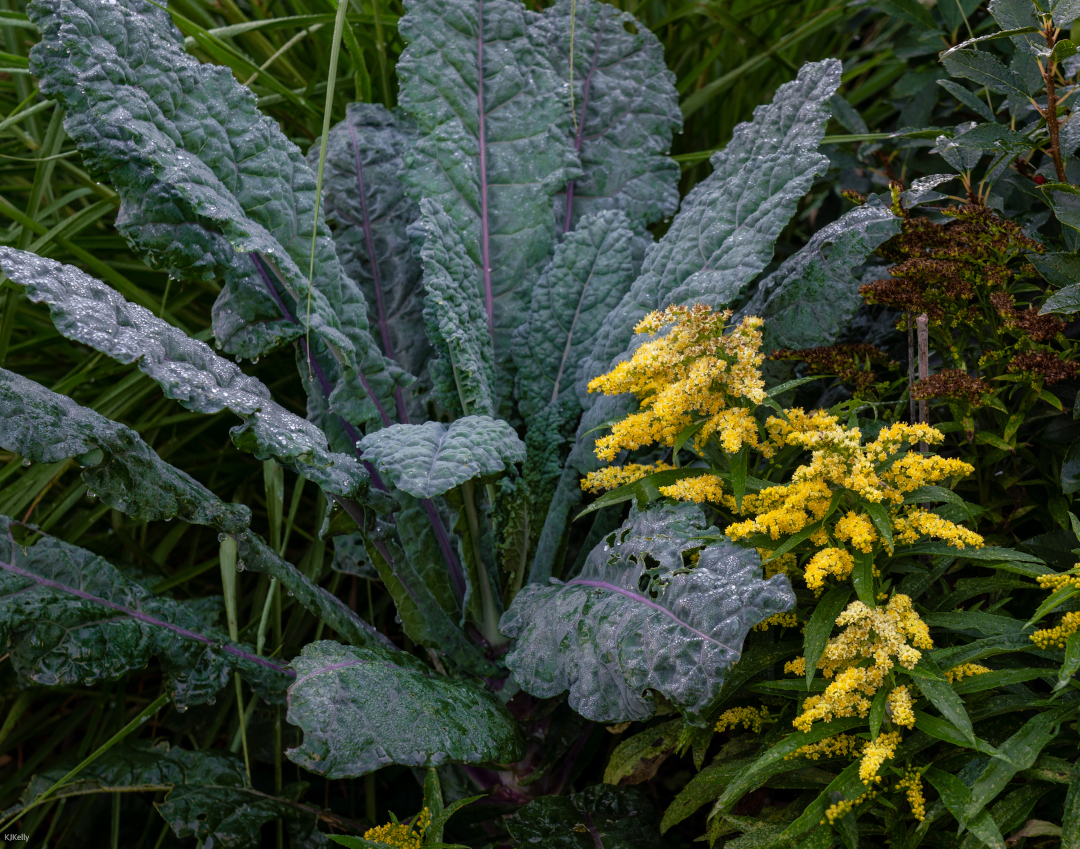 Solidago and dinosaur kale (Brassica oleracea, annual) create a captivating combination of texture and color contrast.
Have a garden you'd like to share?
Have photos to share? We'd love to see your garden, a particular collection of plants you love, or a wonderful garden you had the chance to visit!
To submit, send 5-10 photos to [email protected] along with some information about the plants in the pictures and where you took the photos. We'd love to hear where you are located, how long you've been gardening, successes you are proud of, failures you learned from, hopes for the future, favorite plants, or funny stories from your garden.
If you want to send photos in separate emails to the GPOD email box that is just fine.
Have a mobile phone? Tag your photos on Facebook, Instagram or Twitter with #FineGardening!
You don't have to be a professional garden photographer – check out our garden photography tips!
Do you receive the GPOD by email yet? Sign up here.