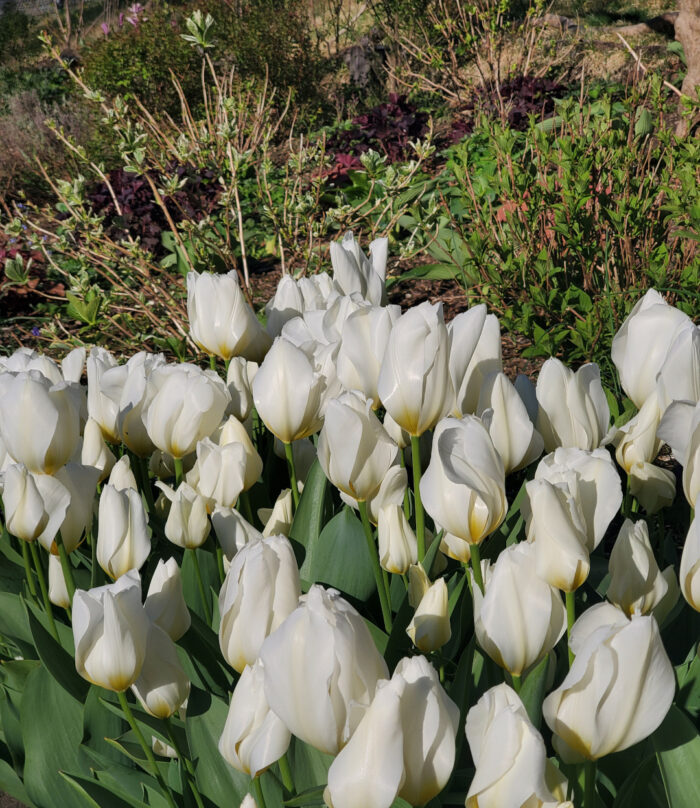 Today Jason and Grace are sharing their garden with us.
Our garden is located in Long Island, New York. We really started working on planting in the summer of 2019. The backyard is bi-level and divided in thirds. One-third is lawn off of the house, then the slope up which is the garden bed, and at the top is a pool, shed, and firepit area. There are some beautiful established limbed-up oak trees and a dogwood that we love about the property. Unfortunately, our first spring in the garden was spent ripping out and removing tons of overgrown weeds, pachysandra, and an entire garden full of poison ivy. We city folk learned the hard way when we were half-covered in blisters that jumping into gardening was not going to be easy.
But creating a garden was a lifelong desire, so we covered over a third of the garden in cardboard and tarp for the entire first year and half of the second growing season just to smother the poison ivy. The rest of that second summer in the house was spent improving the soil and being diligent about removing any poison ivy that popped up. Then in 2019, out of pure temptation while visiting a local nursery, we left with two 'Tiny Tuff Stuff' hydrangea (Hydrangea serrata 'Tiny Tuff Stuff', Zones 5–9) and haven't looked back since. We thought we had a design-and-color scheme but quickly learned that the beauty of plants was a better guide. So we visited every local nursery, read tags, watched as many gardening YouTube programs as possible, and started creating our garden.
The garden this spring is certainly still a work in progress, but to think this is only its third year and has come this far is very inspiring. It has been exciting learning to fill in the blanks as well as leaving room for more plants that we do not have yet.
We mistakenly cut back what we think was a group 1 clematis last fall, so our tuteur may be bare this year. We are also planting from seed for the first time this spring. So far we have direct-sown cosmos, borage, hyacinth bean, and copper plume, and naturally we are hoping for the best. It is such a source of pleasure, and all you invest and do in the garden will never match how much joy it gives in return. We've learned you are never finished, and that's a good thing.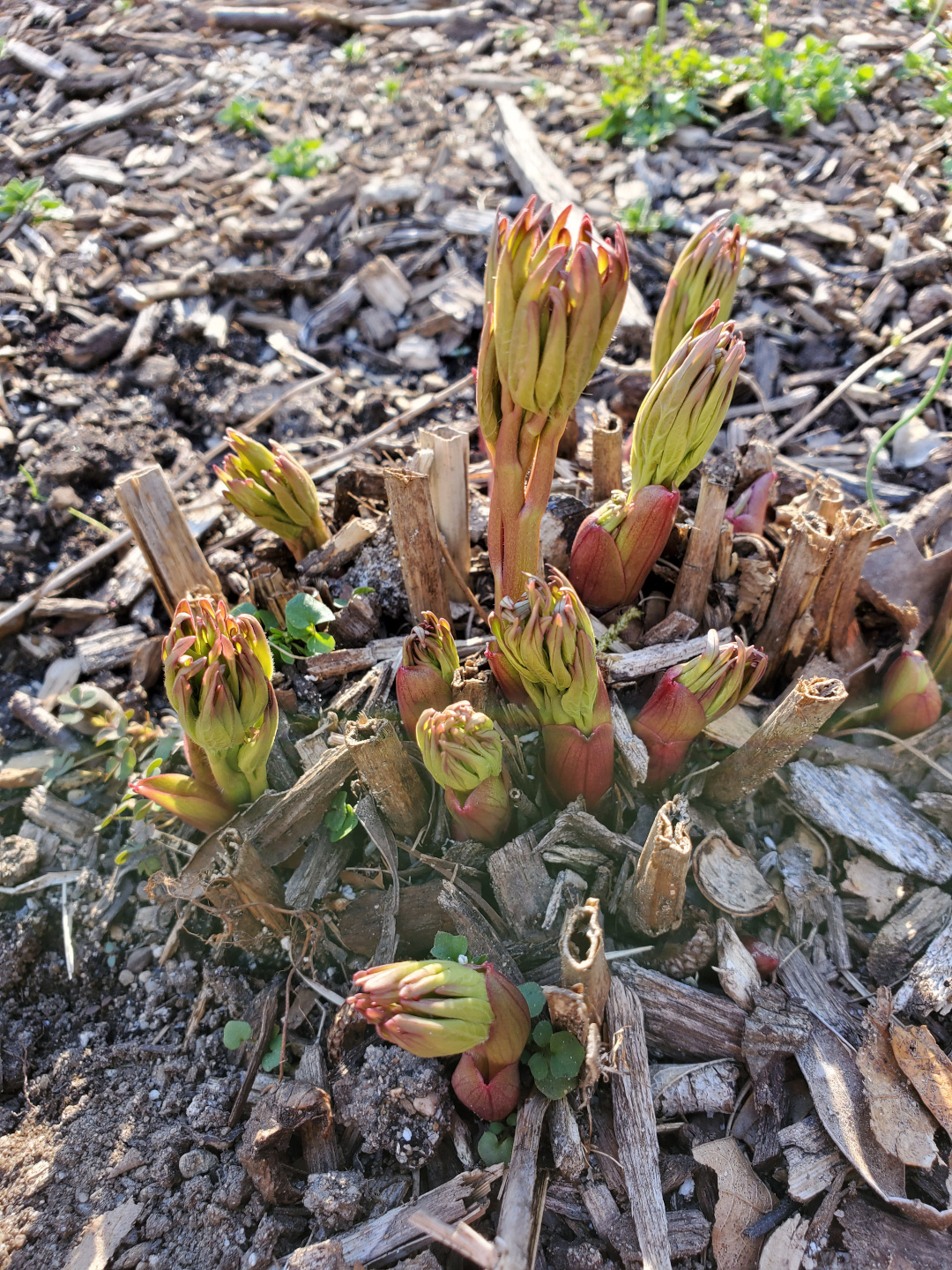 We love having peonies in the garden. From early spring to when they bloom, each day they present something exciting. From those alien curled fronds when they first begin to break up from the soil to those generous globe buds floating atop the dark leafy greens just before they bloom, they are such a joy. Certainly they are our favorite harbinger of summer and one of the best spring garden plants.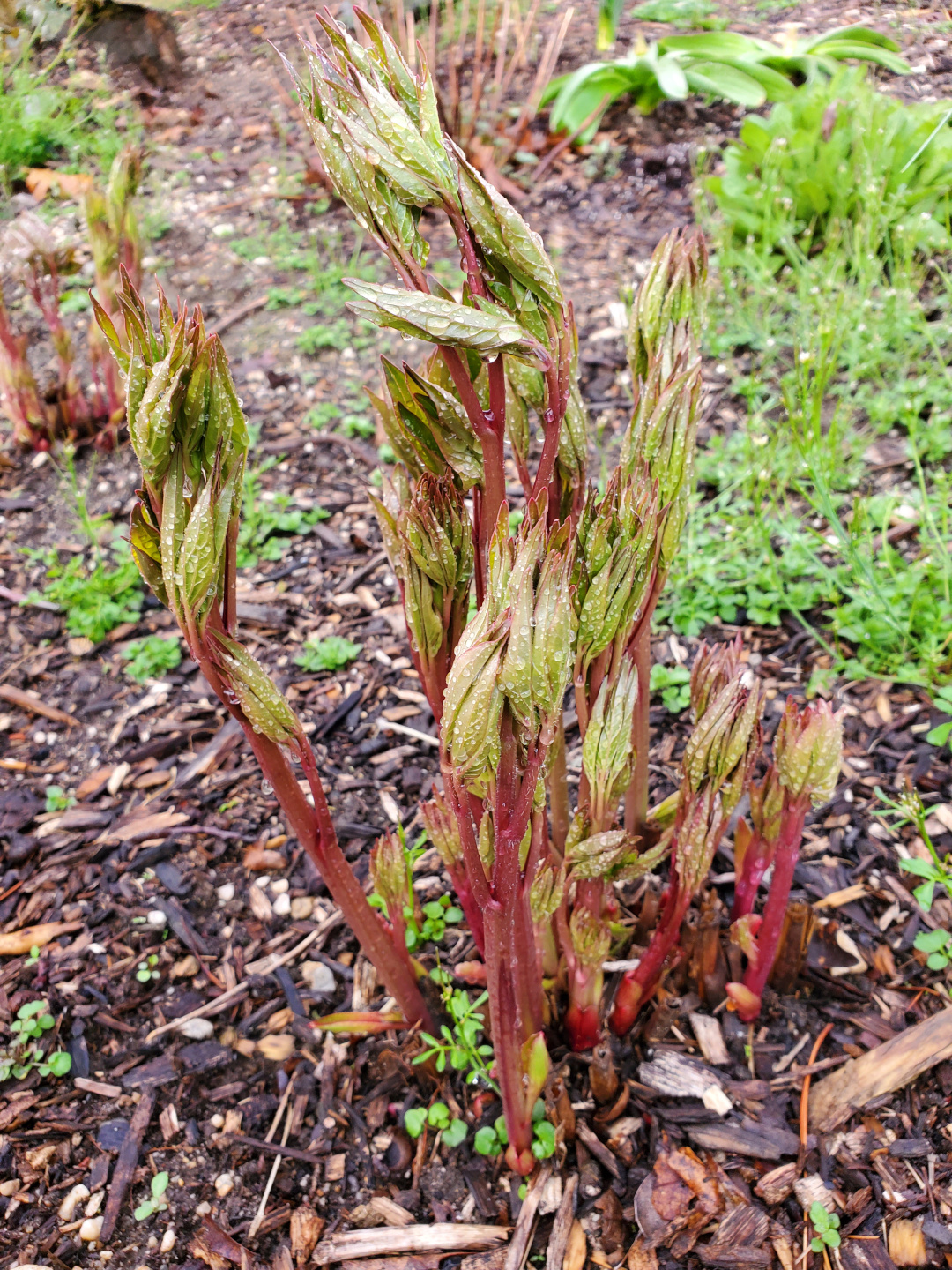 Peony shoots beginning to unfurl.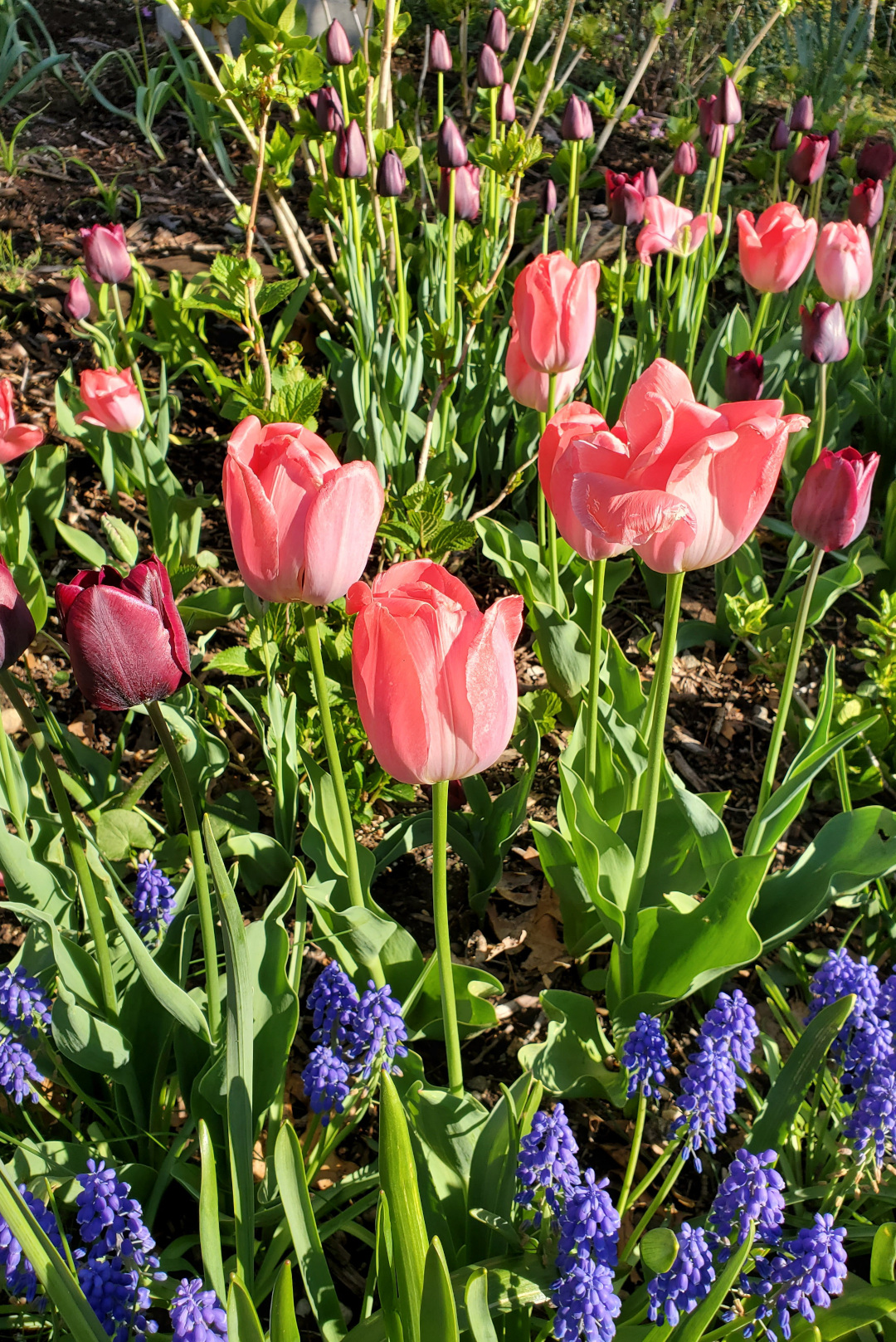 To our great surprise this spring, some of the white tulips we planted last fall from an online source came up in a deep pink. It was almost an "off with his head" moment, but for now we are rolling with it.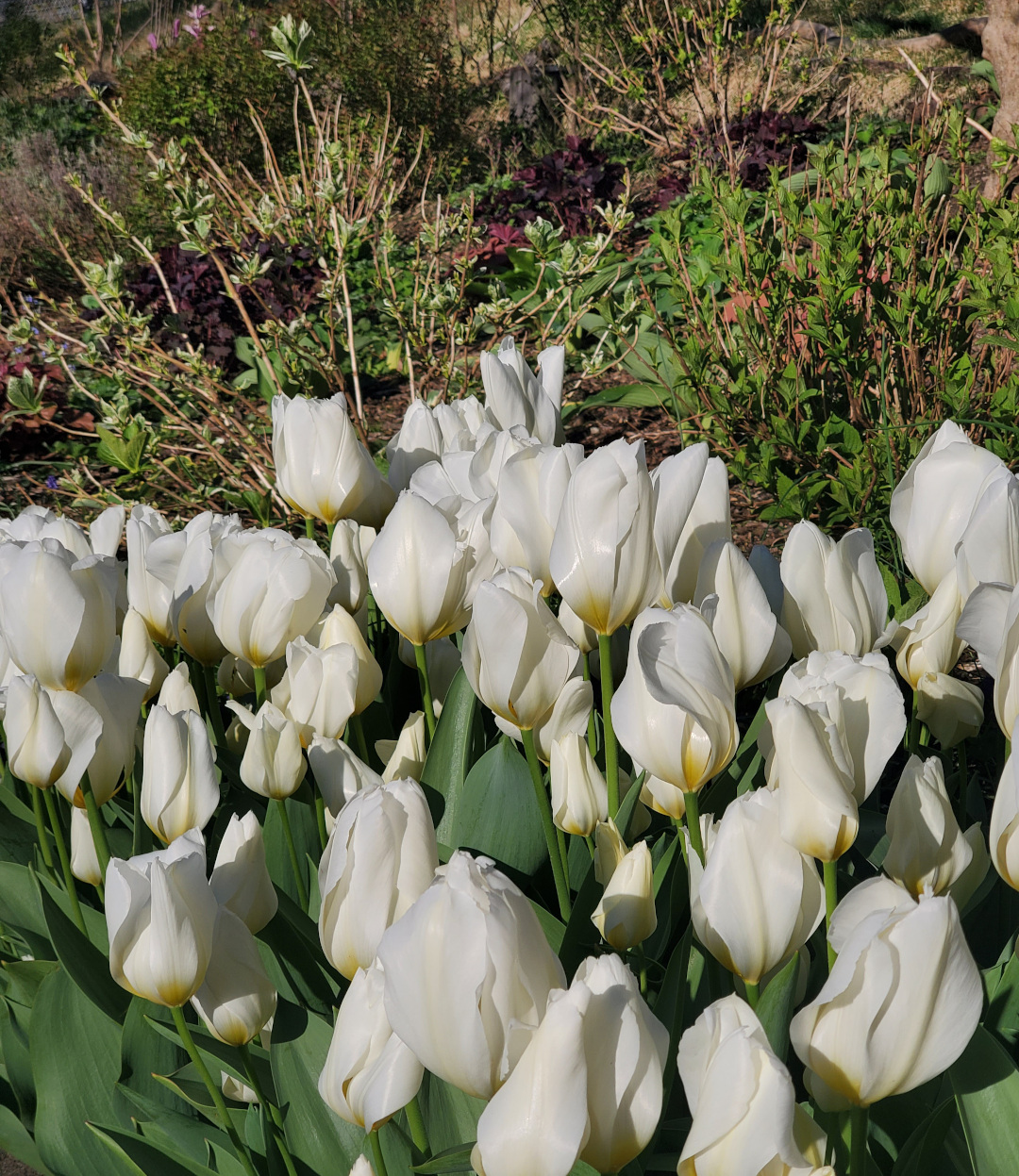 The white purissima tulips (Tulipa 'Purissima', Zones 2–8) that we correctly received have been glorious!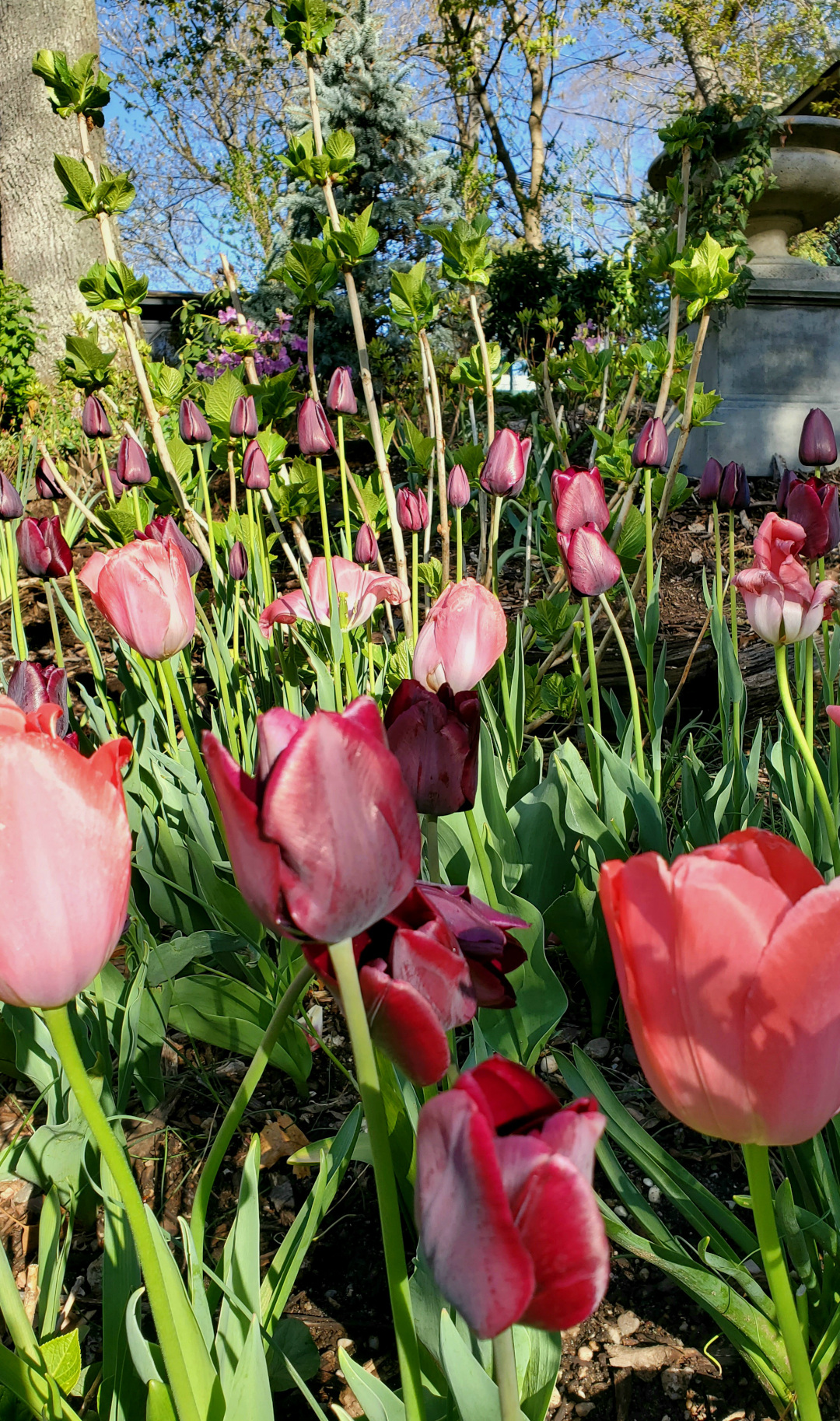 Our 'Queen of Night' tulips (Tulipa 'Queen of Night', Zones 2–8) are back too, and we are planning to add many more of them this year.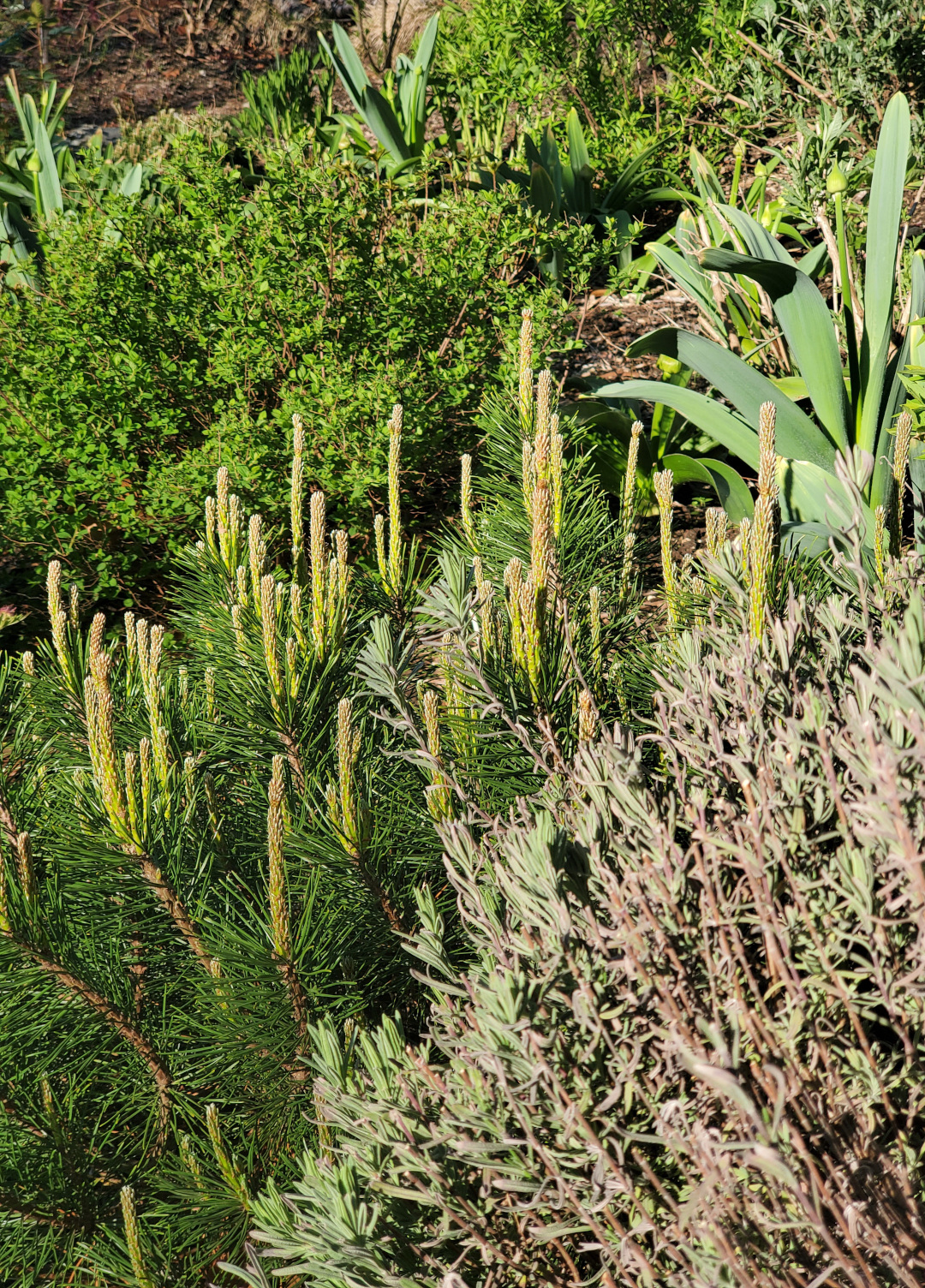 Last fall was our first time planting allium. Seeing them pop up has been a thrill, and the anticipation for seeing them in bloom is wonderful. The border was framed by a lovely lavender hedge to one side, but it looks like it may not have survived our heavy snow and cold weather this winter.
The broad leaves and developing flower heads of allium are full of the promise of flowers to come.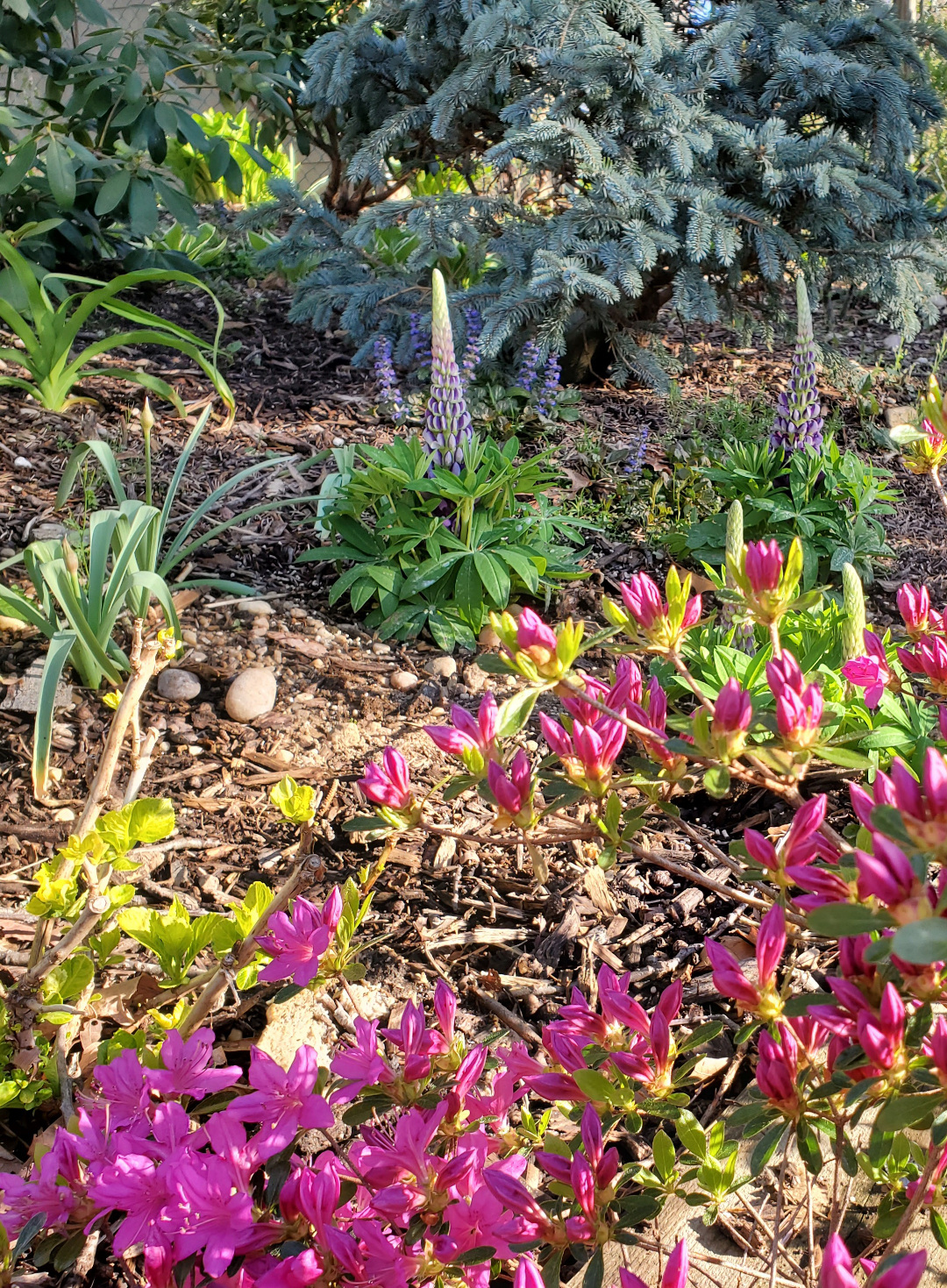 Lupines (Lupinus polyphyllus, Zones 4–8) beginning to put up their spires of purple bloom behind an azalea.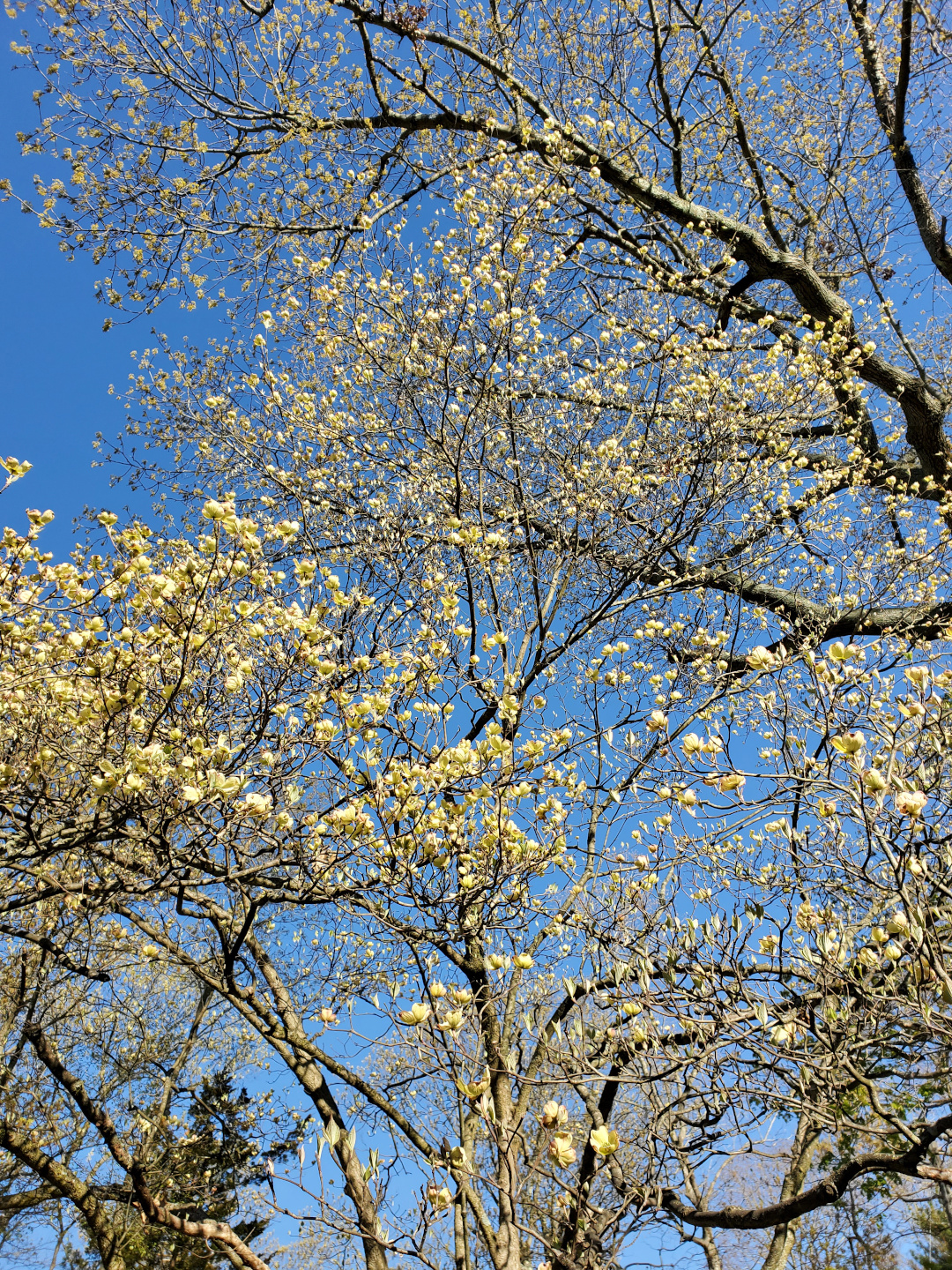 Dogwood tree (Cornus florida, Zones 5–9) beginning to bloom.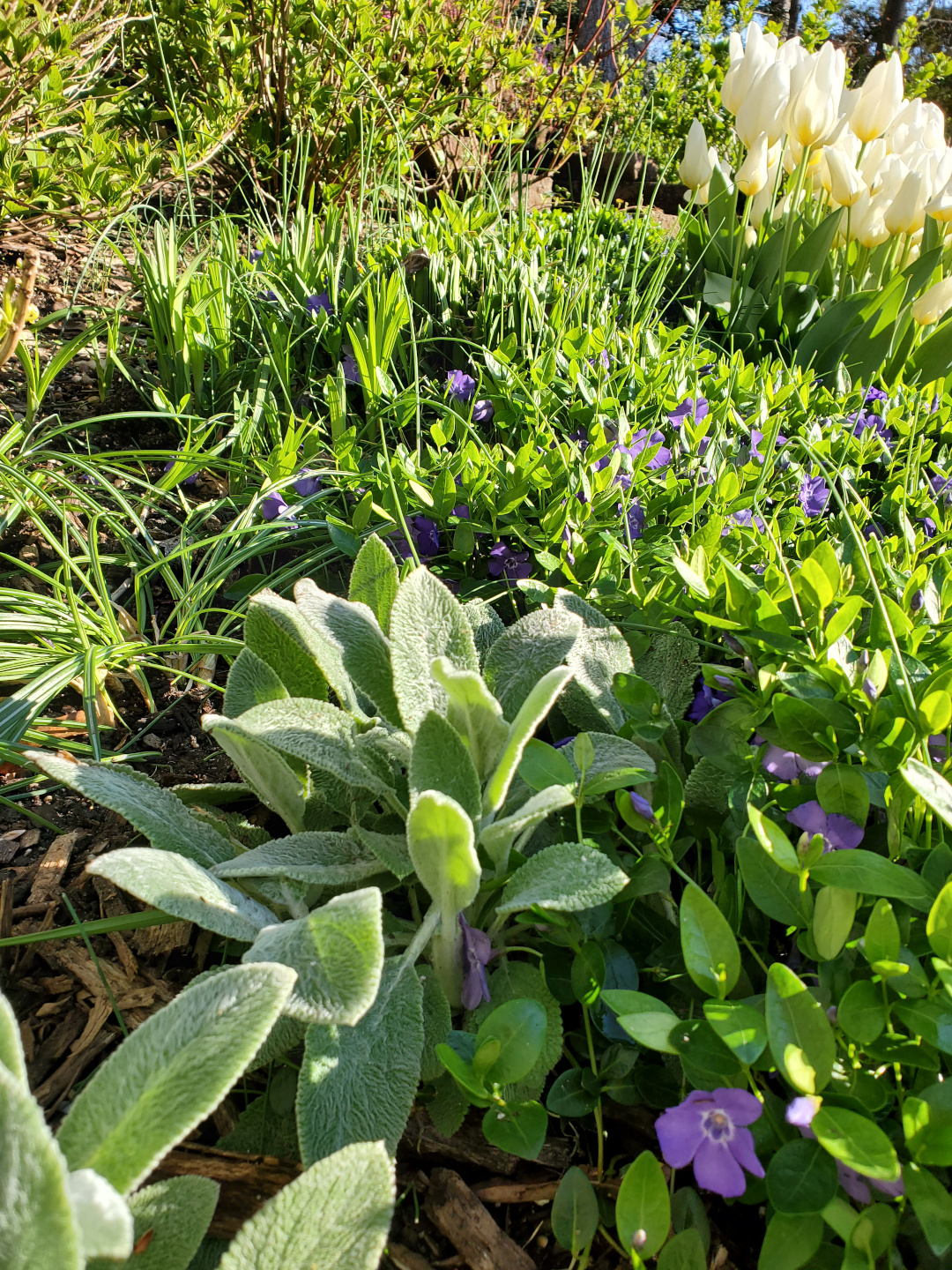 White 'Purissima' tulips in the back, with vinca (Vinca minor, Zones 4–9) and lambs' ears (Stachys byzantina, Zones 4–10) in front.
Have a garden you'd like to share?
Have photos to share? We'd love to see your garden, a particular collection of plants you love, or a wonderful garden you had the chance to visit!
To submit, send 5-10 photos to [email protected] along with some information about the plants in the pictures and where you took the photos. We'd love to hear where you are located, how long you've been gardening, successes you are proud of, failures you learned from, hopes for the future, favorite plants, or funny stories from your garden.
If you want to send photos in separate emails to the GPOD email box that is just fine.
Have a mobile phone? Tag your photos on Facebook, Instagram or Twitter with #FineGardening!
You don't have to be a professional garden photographer – check out our garden photography tips!
Do you receive the GPOD by email yet? Sign up here.