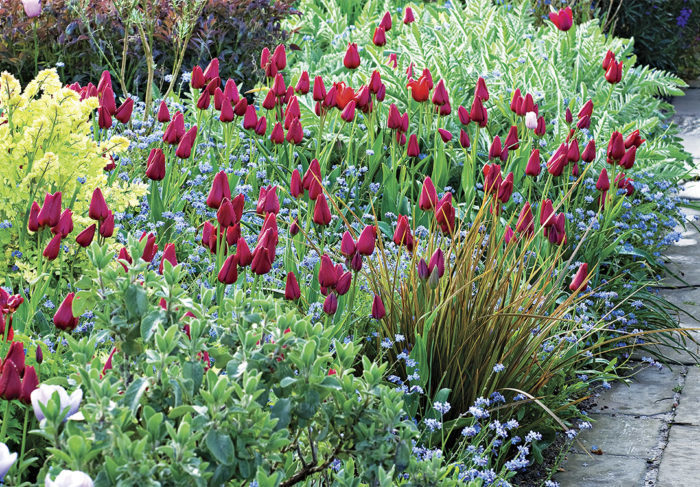 Bulbs are always an afterthought in my garden. I really don't have any excuse for this, other than by the time fall rolls around and it's time to plant those spring-blooming beauties, I'm too tired to do the work. If I do happen to throw a few bulbs into the ground, there is no rhyme or reason to their placement. It's a miracle that any got into the soil at all. But when March arrives, I always regret my laziness. I'm especially sad when I visit a friend whose garden has a lovely assortment of tulips (Tulipa spp. and cvs., USDA Hardiness Zones 4–8) blooming in unison with showy spring perennials. Too often, gardeners rely on a few clumps of lone daffodils to give their space early-season oomph. But tulips are the true queens of spring, and no garden should be without them. The following is an array of striking tulips and a few combinations that served as inspiration for me; I hope they do the same for you.
Yellow can be calming, with the proper partners
The daffodils take a backseat in this vignette, acting simply to highlight the buttery blooms of the 'Garant' tulip as well as the unique light yellow edges of its foliage. Because there's only one dominant color at play here, the scene is quite serene.
Hot hues help heat up a sea of green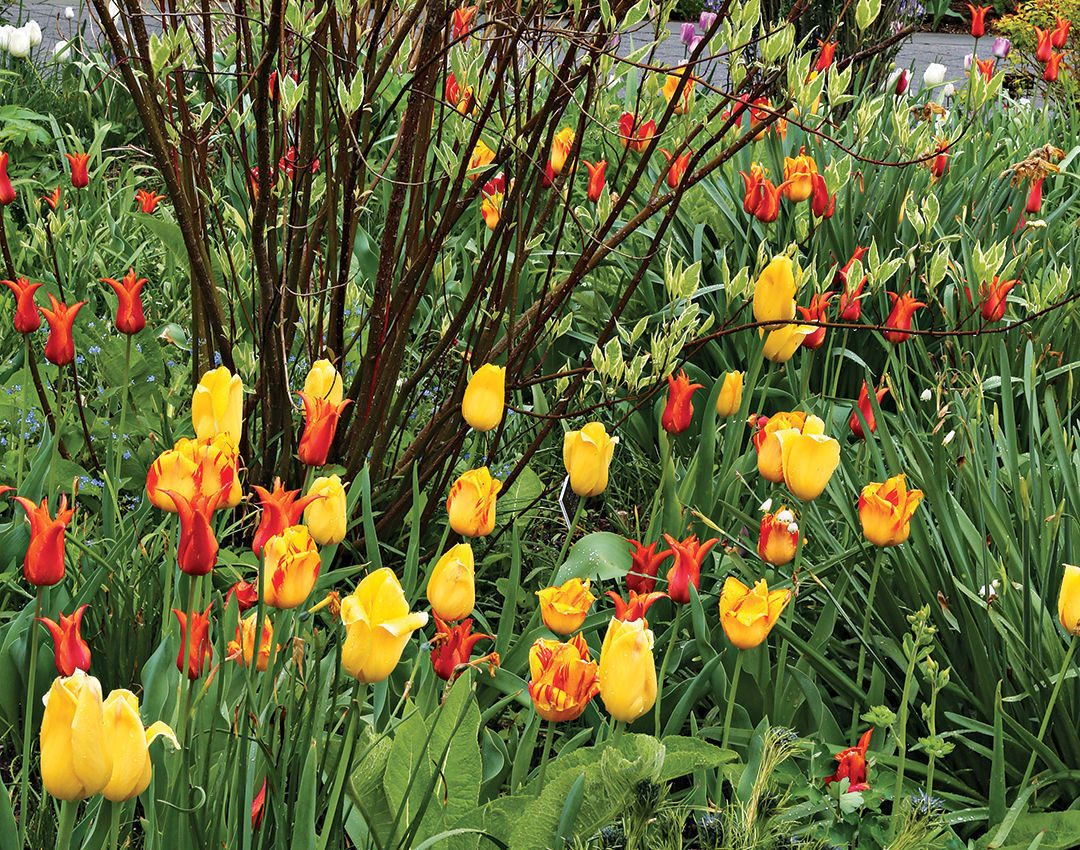 If you feel like spring is too tame with all of its pastel flowers, tulips with fire-colored blooms can be a way to liven things up. Here, the fluted 'Aladin' tulip and bicolored 'Olympic Flame' steal the show, while the variegated red twig dogwood (Cornus alba 'Elegantissima', Zones 2–8) adds a little extra color to the background.
Chartreuse is the perfect foil for orange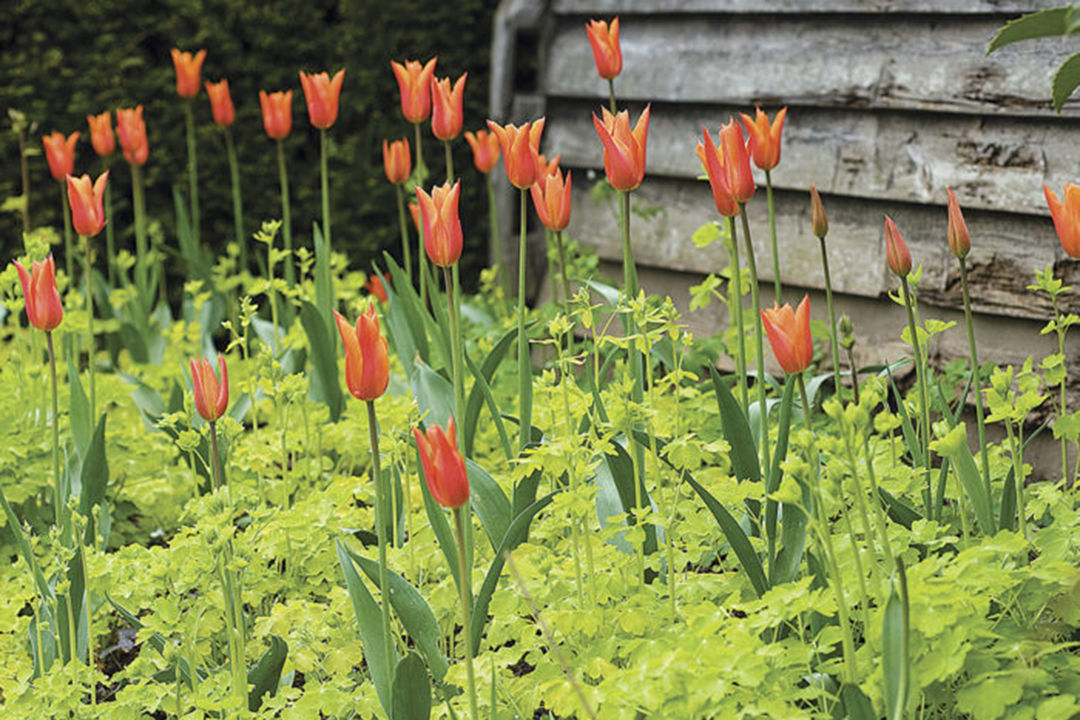 A carpet of 'Mellow Yellow' columbine (Aquilegia vulgaris 'Mellow Yellow', Zones 3–10) helps set off the searing orange blooms of 'Ballerina'. If there were just boring green foliage hiding the legs of the tulips, the combination wouldn't be nearly as striking.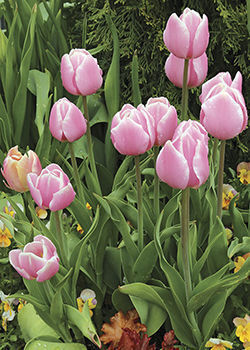 Color echoes lead to successful combos
This 'Mango Charm' tulip was planted in fall with the idea of adding a colorful pansy at its base in spring. The 'Peach Melba' pansies (Viola 'Peach Melba', Zones 4–9) were the perfect choice because they are able to blend the bright pink of the tulips and the copper color of the nearby 'Peach Flambe' heuchera (Heuchera 'Peach Flambe', Zones 4–9).
Orange helps make a neutral-toned area interesting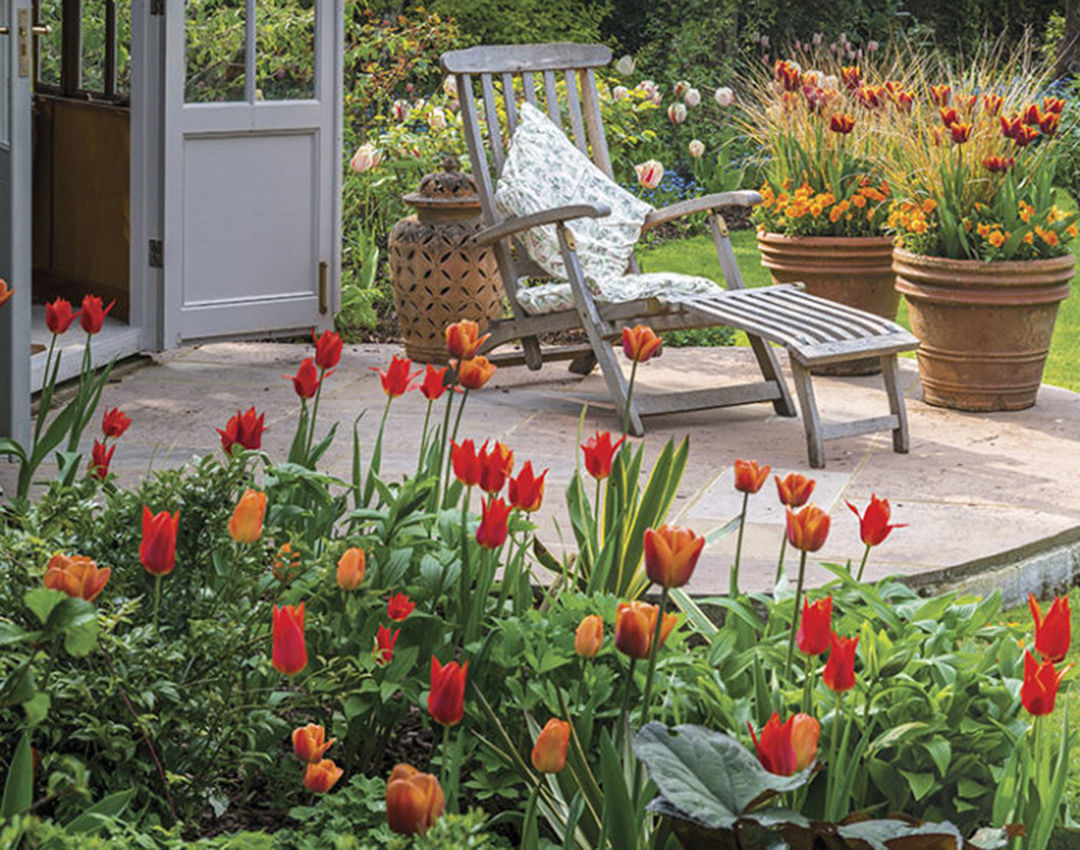 A brown stone patio, beige wooden furniture, and terra-cotta pottery might be considered a bland assortment if it weren't for the raucous surrounding hues provided by the 'Brown Sugar', 'Generaal de Wet', and 'Orange Cassini' tulips.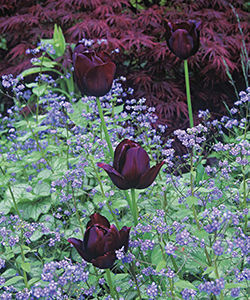 The ultimate contrast comes by pairing dark with light
Dark purple can look like a black hole in the garden, but when you surround it with a light, silvery hue, it truly pops. Pairing 'Queen of Night' tulip, 'Garnet' Japanese maple (Acer palmatum var. dissectum 'Garnet', Zones 5–9) and 'Jack Frost brunnera (Brunnera macrophylla 'Jack Frost', Zones 4–9) proves that theory true.
---
Plant Anatomy
Why you shouldn't cut Tulip Greens
In late spring, it might be tempting to cut back tulip foliage once it has started to yellow. Don't do it. The fading foliage is actually still gathering sunlight and sending energy back into the bulb belowground. The bulb needs as much energy as possible so that it can overwinter and rev itself into action the following spring. If you've ever wondered why your tulip bulbs produce only wimpy foliage after their first year, you might be able to blame premature foliage trimming the prior year.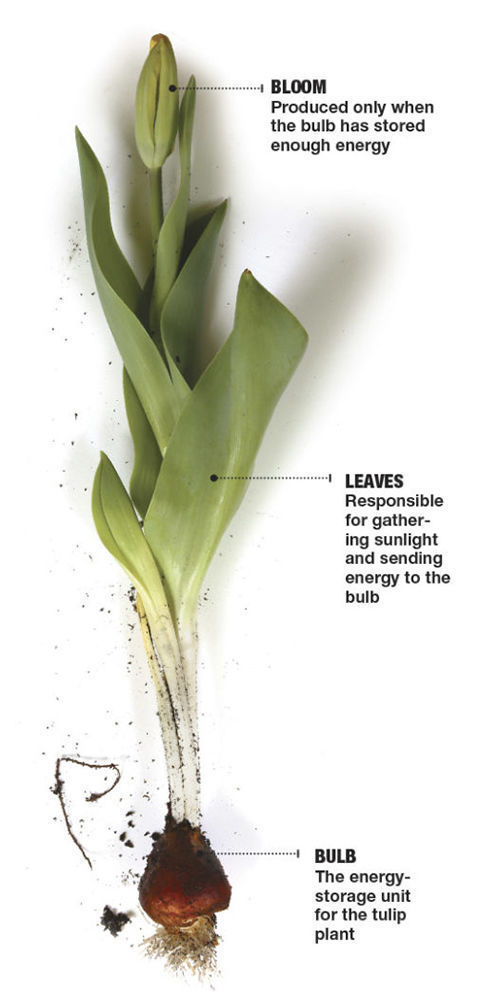 ---
Tips for Under-Planting Bulbs
 The key to a successful bulb vignette is underplanting, but many gardeners are fearful of cutting into the root systems of their existing perennials to accomplish the look of integrated bulbs. Below are some tips for underplanting that will help take your combinations to the next level. Think of it as a blueprint for planting.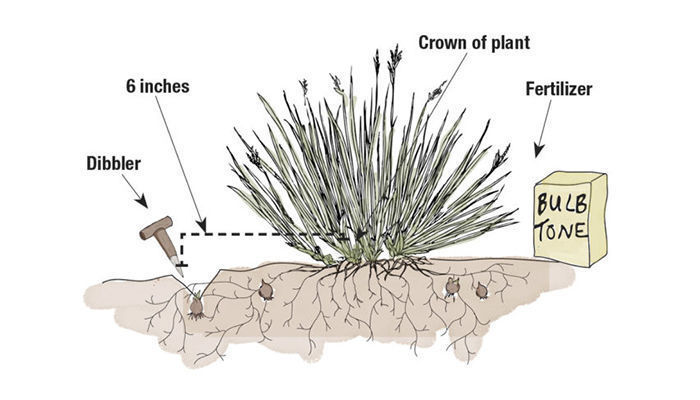 1. Fall is the perfect time to get perfect placement of your bulbs because most of your perennials and shrubs will be at their mature size for the season.
2. For established perennials, plant the bulbs no closer than 3 inches from the perennial plant's crown, but not more than 6 to 8 inches away. This avoids damaging the perennial during planting, but keeps the bulb close enough to be integrated in the vignette.
3. Use a dibbler, not a shovel to ensure you're not causing permanent damage to the perennial's root system. A dibbler will enable you to gently pry the roots apart enough to slip the bulb into the ground.
4. Give everything a dose of Bulb-tone because the fertilizer will help get the bulbs off to a good start and will give the perennials and surrounding plants a little boost, too.
5. Ornamental grasses and ground covers make ideal partners for bulbs. Many are quick to emerge in spring and provide the perfect foil for bulbs. These perennials keep going after the spring bulbs fade, and easily cover and envelop the waning bulb foliage.
---
Tulip Planting Basics
Plant in fall.
Bulbs should be planted 8 inches deep.
Soil should be well-drained; tulips rot in soggy conditions.
Don't feed them in the growing season.
Surround the bulbs with gravel underground if voles are a threat.
| | | | |
| --- | --- | --- | --- |
| 'Orange Princess' | 'Gavota' | 'Queen of Marvel' | 'Daydream' |
| 'Westpoint' | 'Cum Laude' | 'Dordogne' | 'Ivory Floradale' |
| 'Sweet Lady' | 'Rembrandts Favorite' | 'Schoonoord' | 'Peer Gynt' |
| 'Golden Apeldoorn' | 'Maytime' | 'Zurel' | 'Garant' |
| 'Ballerina' | 'Orange Cassini' | 'Clearwater' | 'Artist' |
| 'Apricot' | 'Unicum' (T. praestans 'Unicum') | 'Dreamland' | |
---
Danielle Sherry is the senior editor.
Photos: Jennifer Benner, Richard Bloom, Steve Aitken, Danielle Sherry, Stephanie Fagan, Michelle Gervais, Nicola Stocken/gapphotos.com. Illustration: Kate Gosselin