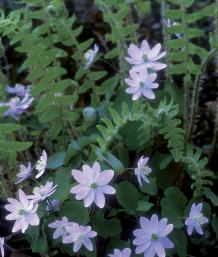 I literally fell into gardening by accident. One morning, after purchasing an old farm in southern Indiana limestone country, I mounted my shiny, new lawn-and-garden tractor to cut the grass. While crossing the side of a hill above a rock ledge, the wheels skidded on the dew-laden green and the tractor slipped down to the ledge, coming to rest on an old cedar tree stump. As I hung there looking over the ledge, I resolved never to mow grass there again.
Since one does not usually have to cut grass in a forest, I made the decision to plant trees and shrubs on my rocky hillside. I started with fast-growing plants like dogwoods (Cornus spp. and cvs., USDA Hardiness Zones 2–9) and redbuds (Cercis spp. and cvs., Z 4–10), and before long, I was considering a woodland garden to accompany the maturing woody plants. Looking to natural settings for guidance, I quickly became hooked on the blooming plants I found growing without care on the woodland floor. Jack-in-the-pulpit (Arisaema triphyllum, Z 4–9) was one of my first successes, which quickly led to the planting of other native shade lovers.
While I am a plant collector at heart, I do not care for "collections" in the garden. I prefer to use perennials in combination with other perennials or flowering shrubs instead of grouping similar species or cultivars in one area. When chosen carefully, a mix of two or more perennials can be used to bring out the best in each other. Like all good relationships, the total effect becomes more than one plus one. The result is a cohesive partnership between plants with striking foliage, flowers, and sometimes even fruit.
Two woodland charmers with graceful beauty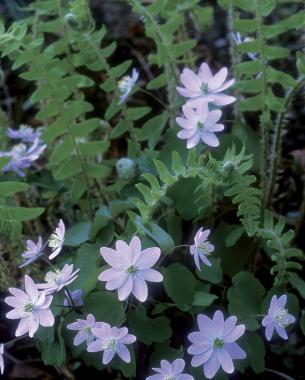 No shade garden should be without a good patch of evergreen ferns, especially one of my favorites: the Christmas fern (Polystichum acrostichoides, Z 3–8). A commonly found native plant, it performs reliably when given adequate moisture and good, rich soil. Its lustrous deep green fronds are arranged in tight colonies and can grow up to 18 inches tall. The foliage begins to show wear around the end of January but is renewed in early spring just as our native rue anemone (Anemonella thalictroides, Z 4–7) appears.
The rue anemone reaches 6 to 8 inches tall, with foliage resembling that of delicate meadow rues (Thalictrum spp. and cvs., Z 3–10). Blooms are large in relation to the overall size of the plant. The first blooms grow more than an inch across, with subsequent flushes being a bit smaller. The flower color can range from glistening white to rich pink, but I most commonly witness a transformation of white to light pink. The beauty of rue anemone is fleeting as the plant goes dormant after setting seed, but the Christmas fern will dependably fill the space until next spring. Both plants grow well in shallow, rocky soils or in good, rich garden soil, and they are often found growing together in nature.
Forest-floor gems for early-season splendor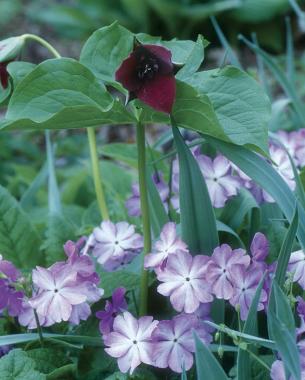 In my garden, I have groupings of two plants that I especially enjoy when in bloom: Japanese woodland primrose (Primula sieboldii, Z 4–8) and sweet wakerobin (Trillium vaseyi, Z 5–8). Unfortunately, both plants go dormant early, leaving an open space from July onward. I cannot imagine my garden without their beauty, so I place these plants between large hostas, which fill the vacated space.
Japanese woodland primrose is easy to grow. If you think you can't grow primroses, this will be the one exception. Its crinkled foliage reminds me of leaves of lettuce. Its flowers are highly variable in form and color. The scapes can be more than a foot tall and carry a whorl of flowers numbering a dozen or more. The flower color can range from snow white to rose-red to purple. When the weather turns hot and dry, the plant goes dormant and returns to bloom the following March and April.
Sweet wakerobin, the tallest trillium in my garden, has a stunning chocolate red bloom with a slight fragrance. The large bloom opens above the three large leaves and then nods its head to just below the leaf canopy. Sweet wakerobin stands at about 2 feet tall. The various shades of white to pink of the primrose create a complementary background for this exquisite trillium.
A dynamic duo for moist conditions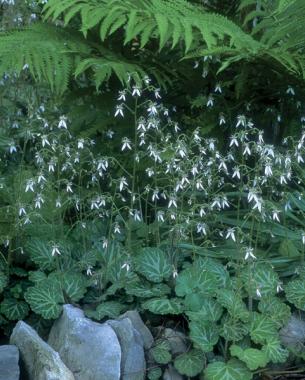 If you have a bit of a damp spot in the garden, ostrich fern (Matteuccia struthiopteris, Z 3–8) is a must. It does not demand extra moisture but performs at its best in consistently moist conditions. Ostrich fern needs room to grow, as it can get from 3 to 5 feet in height when fully mature. It is stiffly upright and vase shaped, and it sends out underground runners that pop up at random.
A perfect place for ostrich fern to pop up is right next to strawberry begonia (Saxifraga stolonifera, Z 6–9). The two plants are like peas in a pod, as strawberry begonia also revels in moist, rich soil. By July, when the ferns reach their maximum height, the strawberry begonia will creep between the stands of fronds. The rounded and hairy silver-green leaves of the strawberry begonia create a small sea of silver for the sails of ferns to ride above. This ground cover's airy white blooms appear on wiry stems, which fill the space between the carpet of silvery green and the towering fronds.
An elegant treasure paired with bold companions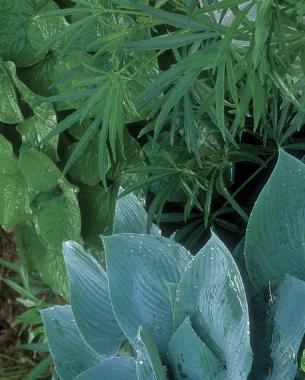 Unlike most other hellebores that have separate stems for blooms and foliage, stinking hellebores ( Helleborus foetidus and cvs., Z 6–9) place blooms and foliage on the same stem. This unusual characteristic becomes especially interesting in winter, when the new chartreuse bloom stalks rise and then bloom above the elegant olive black serrated leaves. For a study in texture and shades of green, combine the olive black stinking hellebore with the blue-green quilted leaves of 'Halcyon' hosta ( Hosta 'Halcyon', Z 3–9) and our native Canadian wild ginger ( Asarum canadense , Z 2–8), with its heart-shaped leaves. All three plants benefit from well-drained, humus-rich soil.
Two popular natives that stand out in a crowd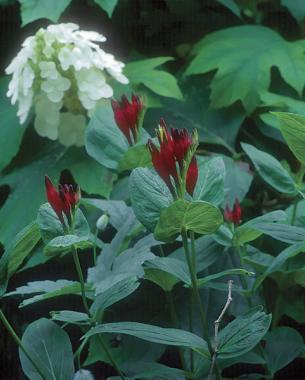 My favorite native shrub is the oakleaf hydrangea ( Hydrangea quercifolia , Z 5–9). Its peeling bark, snow white panicles, and large leaves, which turn deep purple in fall, give it year-round interest. When the blooms are at their peak, from summer into fall, pinkroot ( Spigelia marilandica , Z 5–9) also makes an appearance. Also known as Indian pink, this southern native has scarlet red tubular-shaped flowers with yellow highlights. Pinkroot is slow to mature, but with a bit of patience, it will reach 2 feet tall and nearly just as wide. The red and yellow at the base of the hydrangea makes me think of a roaring fire, especially as the hydrangea's flowers turn to pink and tan as they fade.
A perfect union of similar forms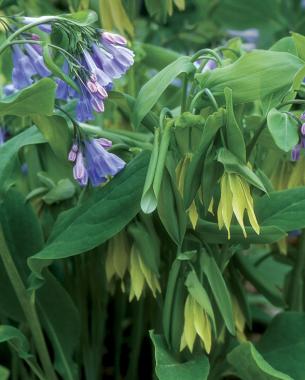 The pairing of large-flowered merrybells (Uvularia grandiflora, Z 3–7) and Virginia bluebells (Mertensia virginica, Z 3–7) makes for a classic color combination of yellow and blue. Merrybells bloom in early April, but the foliage remains until a hard frost. It reaches more than 2 feet in height, forming tight clumps in the garden. The leaves have a distinctive wilted appearance as they dangle from the top half of the stiffly upright but drooping stems. The 18-inch-tall bluebell flower clusters reflect the relaxed habit of the merrybells. As the bluebell flowers age, they turn pink, giving the effect of two different colors on the same spray. Their large and oblong pale green leaves wither away after the seed has matured in early July.
A dramatic combination of textures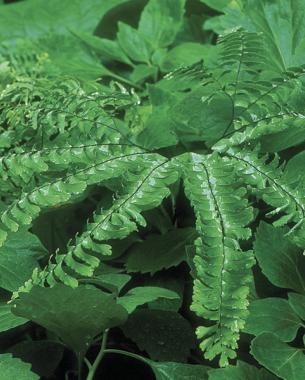 Allegheny spurge (Pachysandra procumbens, Z 5–9) is at the top of my short list of gardenworthy ground covers. Its evergreen leaves are arranged in circular patterns around the plant's 10- to 12-inch-long stems. In spring, new leaves have showy silver mottling along the veins, which appear more pronounced when the distinctive white flowers bloom in early April. My favorite companion is the deciduous American maidenhair fern (Adiantum pedatum, Z 3–8). Maidenhair appears graceful and delicate but is a tough-as-nails native. The 15-inch-tall woody stems resemble polished mahogany and support a half circle of shiny green fronds at the top. These two plants make a dramatic combination of textures that lasts from spring through a hard frost.
A splash of bright blooms to welcome spring
I always find the bright yellow blooms of yellow wood anemone ( Anemone ranunculoides , Z 4–8) a welcome sight come the end of winter and beginning of spring. For a combination that really shines, pair yellow wood anemone with fumewort ( Corydalis solida 'George Baker', Z 5–7). The brick red to salmon pink flowers of 'George Baker' beautifully contrast with the yellow anemone. Just be sure to plant it away from other corydalis species or it will readily cross and produce varying results from seed. Both plants go dormant by mid-July, so I've placed these two plants at eye level on an embankment that is anchored year-round by a dwarf hemlock.