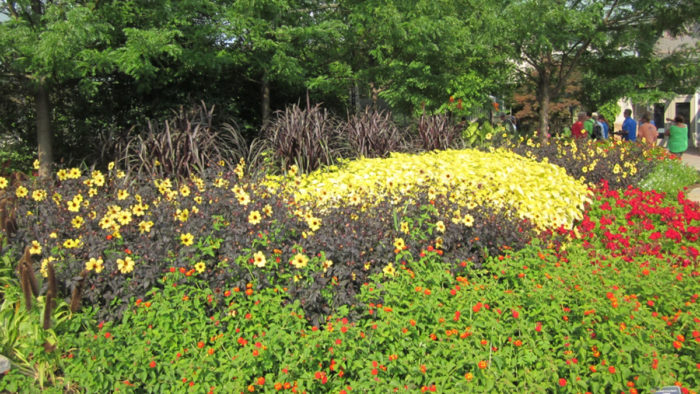 Midwesterners are fortunate to live in a region near many of the best public gardens around. In February I attended a full-day symposium at Newfields in Indianapolis that featured some of the exceptionally talented people employed by these institutions. Covering a range of topics, they enlightened and entertained the audience, which was made up of both avid gardeners and industry professionals. They treated us to dazzling images of natural landscapes, cultivated gardens, and the plants (and people) that are found in those settings. We were also introduced to new plants that have only recently become or are not yet available in the marketplace. If the opportunity presents itself in the future, take advantage of hearing from these great representatives of regional talent whose knowledge and experience have resulted in reputations that reach far beyond their home bases.
Top-shelf perennials
Richard Hawke, plant evaluation manager at the Chicago Botanic Garden, is well-known to Fine Gardening readers for his significant work in plant trials. This information is particularly helpful to gardeners in the region because these trials duplicate the processes many gardeners go through: weeding, mulching, and watering. These trials also have site conditions similar to what many of us have: a native clay-based soil on the alkaline side that can also remain saturated for extended periods. Richard's presentation at this event, titled "Top-Shelf Perennials" focused on the Chicago Botanic Garden's rigorous testing of hardy herbaceous plants for a minimum of four years, most of them suitable for sunny exposures. We can look forward to increased guidance in the future as Chicago Botanic Garden presents results from new trials, because the garden has embarked on an expansion of its test plots to incorporate additional shade-loving plants, as well as more vines, shrubs, and small trees. Some of the top-performers Richard mentioned in his talk are pictured below. Read here for more information on the plants that aced these trials.
'Midnight Marvel' rose mallow, Hibiscus 'Midnight Marvel', Zones 4–9
'Millenium' allium, Allium 'Millenium', Zones 5–8
Indian pink, Spigelia marilandica, Zones 5–9
Nature's inspirations and Japanese native plants
Chad Franer is the Tom and Nora Hiatt Director of Horticulture at Newfields, which comprises a large, encyclopedic art museum surrounded by contemporary gardens, a historic and well-conserved Country Place–era estate, and a nature-inspired art park. In recent years, he was awarded a Creative Renewal Arts Fellowship by the Arts Council of Indianapolis, which enabled him to travel extensively in Japan and experience many of the most beloved ornamental plants in their native settings. He and his wife, Jennifer, began their tour in the north of the country on the large island of Hokkaido and gradually meandered down to the former capital of Kyoto and farther south, to the remote tropical island of Ishigaki.
As Chad described in his talk, "Nature's Inspirations," much of the native flora of Japan, an archipelago stretching some 2,000 miles, is suited to landscapes in many parts of North America because of similarities in climates and latitudes. Weather patterns and geologic formations there also dictate that only the strong survive (the couple dodged two typhoons while on their visit), making it possible for us to cultivate these species in areas that are buffeted by our own extremes in temperature and rainfall. Chad shared additional highlights, featuring some of the people, methods, and architectural details that are endemic to this country of ancient beauty and modern conveniences. Some Japanese ornamentals highlighted by Franer included these three:
| | | |
| --- | --- | --- |
| Katsura tree in full autumn color on the island of Hokkaido. Photo courtesy of Chad Franer | | |
Katsura tree, Cercidiphyllum japonicum, Zones 4–8
Hardy begonia, Begonia grandis, Zones 5–9
Japanese forest grass, Hakonechloa macra, Zones 5–9
Planting in a changing world
Paul Bouseman, deputy director of Mesker Park Zoo and Botanic Garden in Evansville, Indiana, presented his talk, "Planting in a Changing World," in recognition not only of changing weather patterns but of the altered compositions of our home landscapes. With the various demands on our time, as well as a different aesthetic, homeowners have been trending toward having landscapes that are simpler and that utilize just a few different plant types. This is amplified by the simple fact that we are gardening less on average, or at least maintaining gardens of smaller size.
Climate alterations have also brought us higher average temperatures, which are continuing to increase, and more rainfall is occurring in larger events. Current and future threats to our landscapes are also coming from the recent or potential arrivals of highly destructive insect pests, including emerald ash borer (Agrilus planipennis), Asian long-horned beetle (Anoplophora glabripennis), and spotted lanternfly (Lycorma delicatula). It is therefore imperative to more densely populate our landscapes with a diverse palette of plants, one of the advantages of which is supporting a larger variety of beneficial, or at least minimally harmful, animals and insects. Consider plants that perform well in areas that currently have the type of climate that we are inevitably moving toward, generally meaning those that are found farther south. The right choices will be those that are "higher value/lower effort" as Bouseman says, tolerant of extremes in moisture levels and resistant to damage and destruction by outside factors. At the same time, vigilance will remain a key factor in heading off problems before they become insurmountable. Here are a few of these high-value/low-effort plants mentioned in the talk:
Pond cypress, Taxodium ascendens, Zones 5–9
Sweet Thing® sweetbay magnolia, Magnolia virginiana var. australis 'Perry Paige', Zones 5–9
Willow oak, Quercus phellos, Zones 5–9
Annuals for a purpose
Cincinnati Zoo and Botanical Garden is a highly popular destination, attracting visitors of all ages to engage with plants and animals that are both exotic and beautiful. The manager of Botanical Garden outreach, Scott Beuerlein, was the perfect advocate to share his organization's story, entertain his audience with light-hearted humor, and encourage incorporating annuals into our landscapes via his presentation, "Annuals for a Purpose." For over sixteen years, the zoo has experimented with hundreds of varieties and regularly shares its "Zoo's Best" annuals for any given year, as well as inducting some of its consistently high performers into its hall of fame.
Scott hoped to dispel the somewhat common belief that the utilization of annual plants in the landscape is not sustainable by asking us to expand our preconceived notions of that term's definition. Many of these plants are attractive not just to humans but also to insect pollinators, which is a critical component of sustainability. Not to be overlooked are the equally important enhancements to the mental and physical health of visitors. One can observe this on a daily basis as younger generations are drawn to the beautiful plantings incorporated throughout this 65-plus-acre property and in the community pride that comes from having this wonderful institution in its midst. Some great high-performing annuals in the zoo's hall of fame include these:
| | | |
| --- | --- | --- |
| | 'Redhead' coleus (right) next to 'Vino' coleus (left). Photo: Jim Kincannon | Baby Tut® umbrella grass in a container planting. Photo: Cindi Reiss |
'Mystic Illusion' dahlia, Dahlia 'Mystic Illusion', Zones 8–11
'Redhead' coleus, Plectranthus scutellarioides 'Redhead', Zones 10–12
'Baby Tut' umbrella grass, Cyperus involucratus 'Baby Tut', Zones 9–12
This symposium is annual, so look out for it next year!
—Jim Kincannon is a graduate of the School of Professional Horticulture at The New York Botanical Garden where he also earned a certificate in landscape design. He is a Master Gardener and was a horticulturist at Newfields in Indianapolis where he now volunteers.