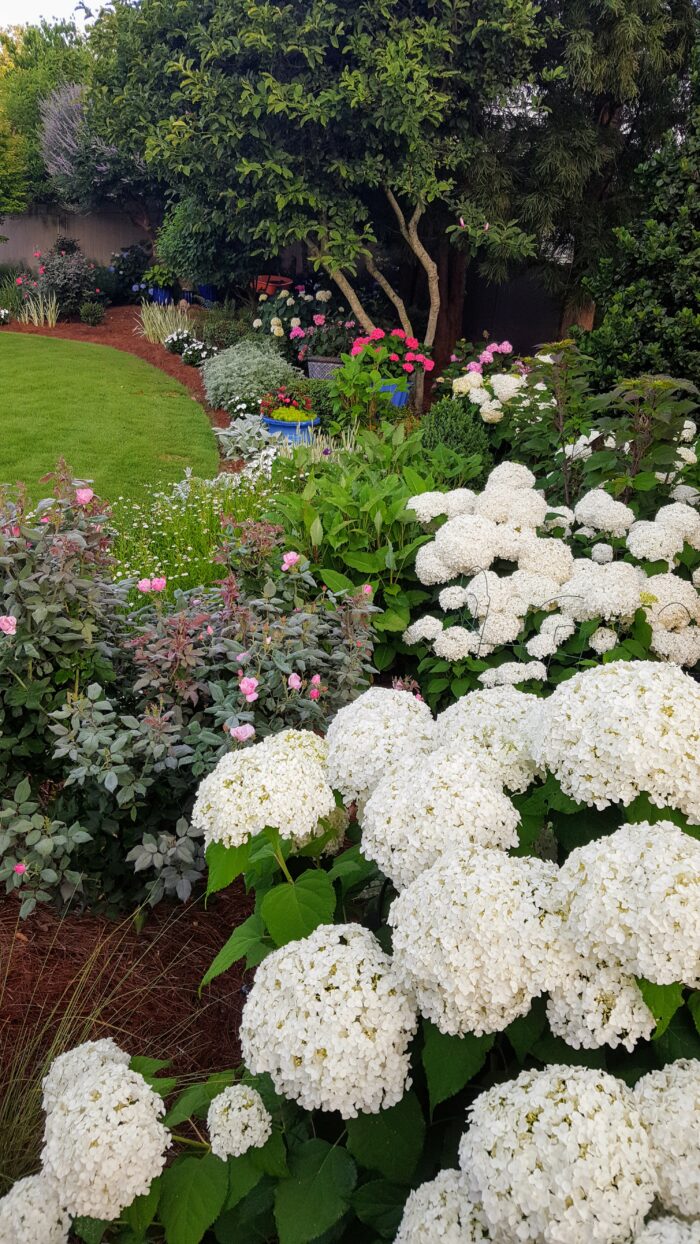 Today we're visiting Betsy Keith's garden.
I am a retired teacher who has enjoyed doing lots of catch-up dividing and rearranging of my garden in the past two years. As I eagerly await the arrival of spring here in Marietta, Georgia, I have reflected back on some of the seasonal highlights from the past year. At this time of year, I need to reassure myself that there really will be a burst of color in the landscape in the near future.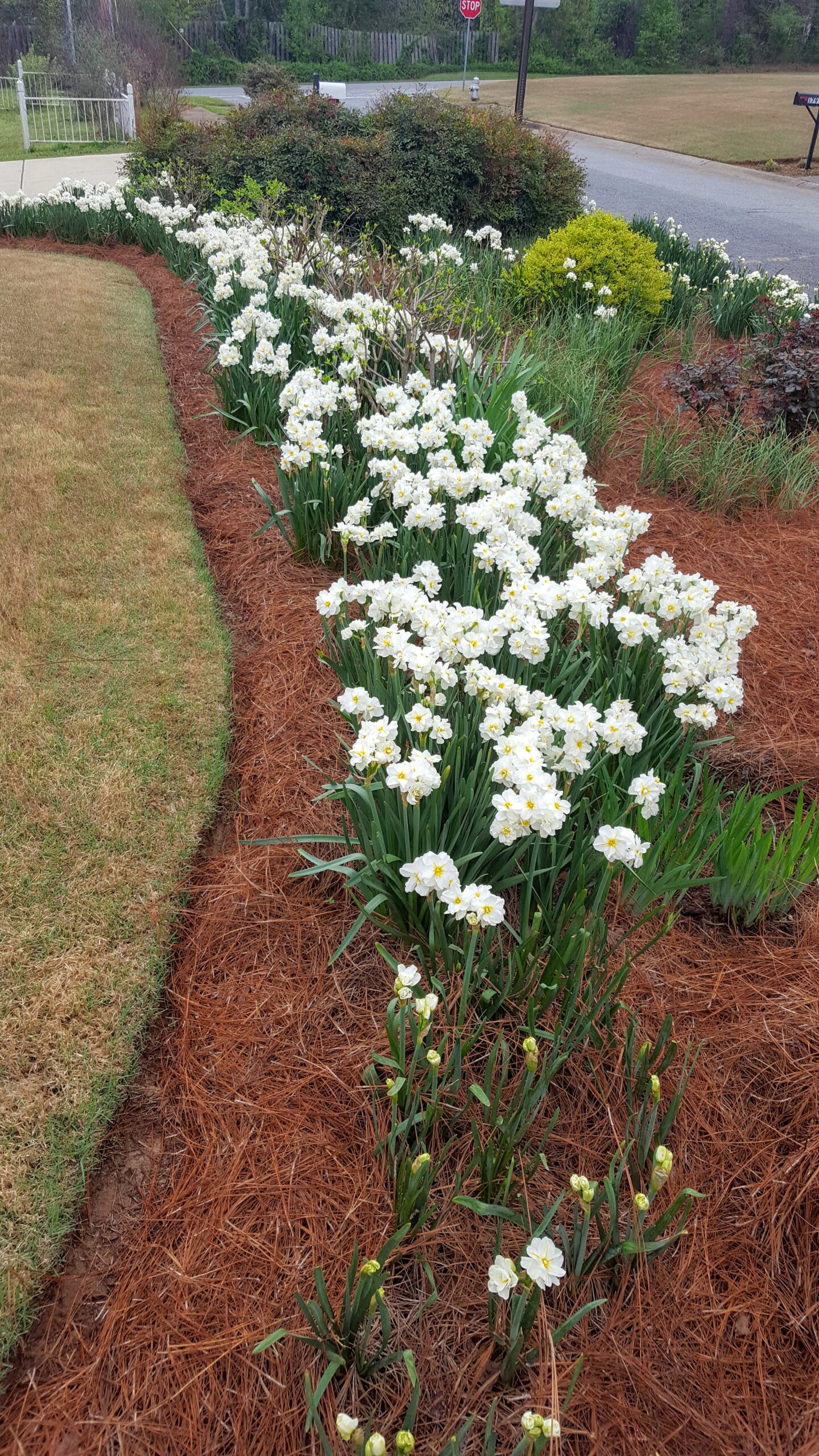 All is at rest now, but the daffodils will be starting their cheery show soon. This is the variety Narcissus 'Sir Winston Churchill' (Zones 5–8).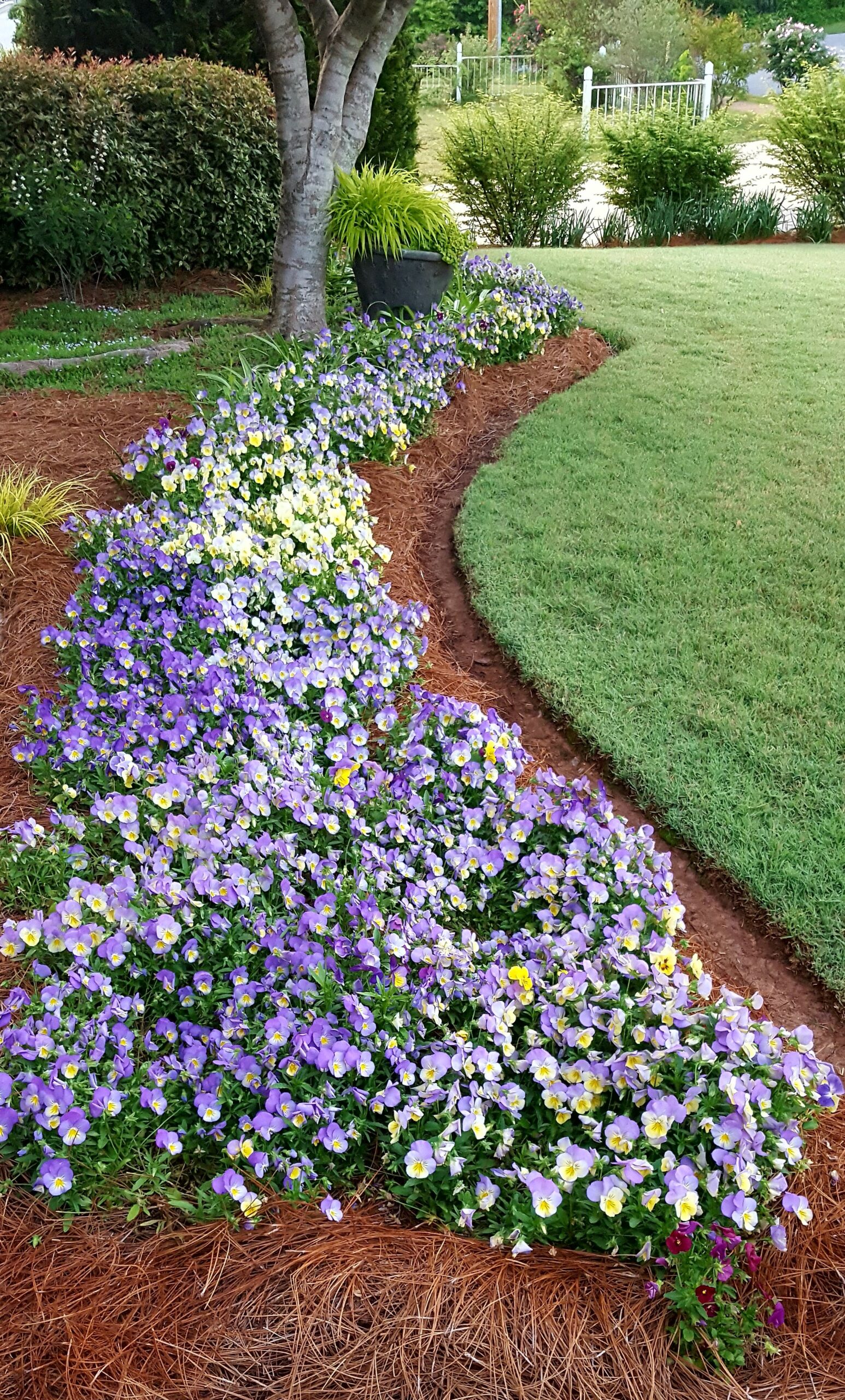 Here in the sunny South, we enjoy our pansies and violas (Viola × wittrockiana, cool-season annual) all fall, winter, and spring. These are the 'Cool Wave' pansies, which form clumps up to 2 feet wide.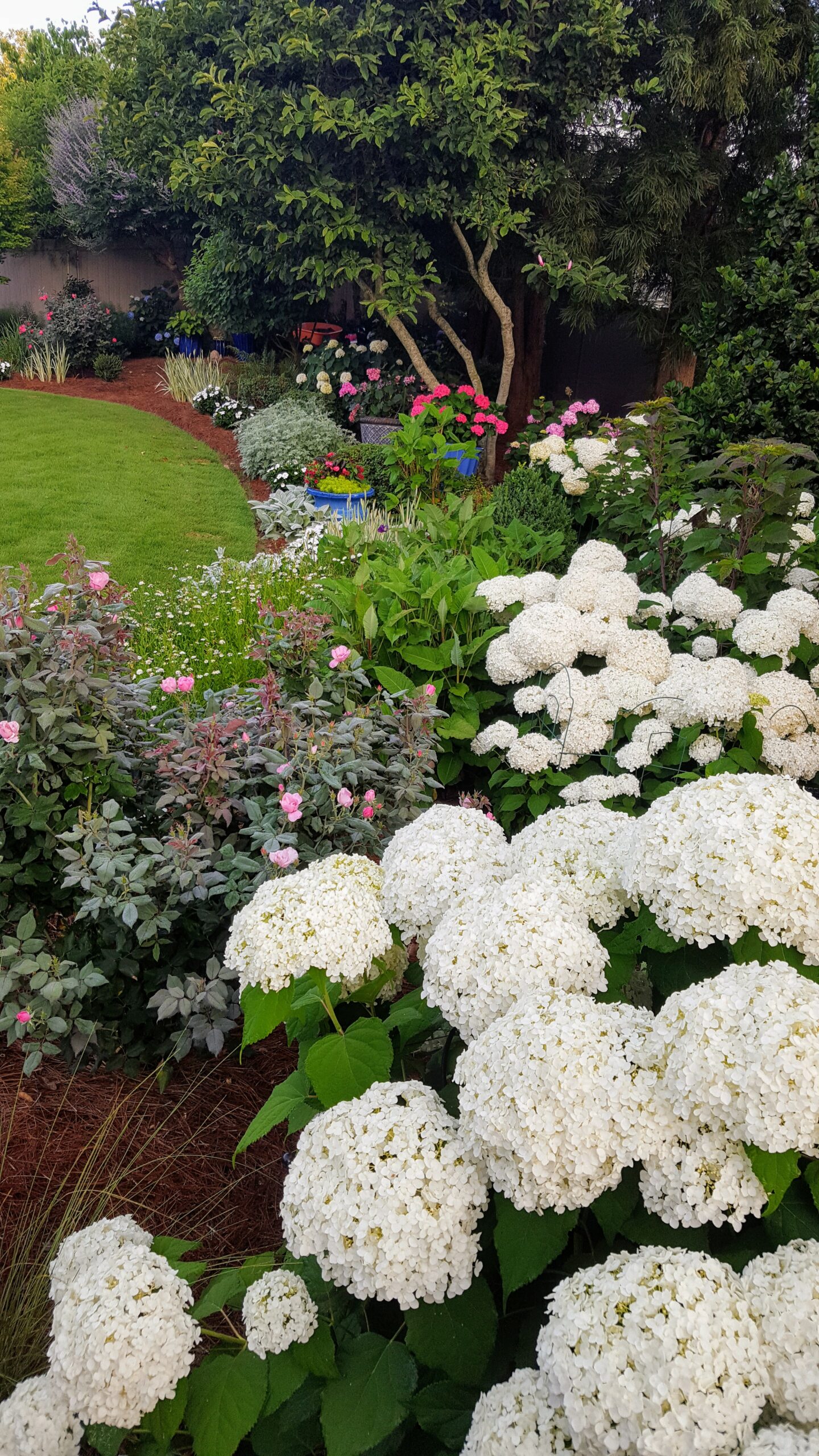 As spring gives way to early summer, the hydrangeas put on their inimitable show in pinks, whites, and blues. I have 'Annabelle' (Hydrangea arborescens 'Annabelle', Zones 3–9), 'Endless Summer' in both blue and pink, 'Penny Mac', 'Bloomstruck', 'Masja', 'Wedding Gown', 'Queen's Lace', 'Merritt's Pride', 'Merritt Supreme', and 'Summer Crush' (varieties of Hydrangea macrophylla, Zones 5–9).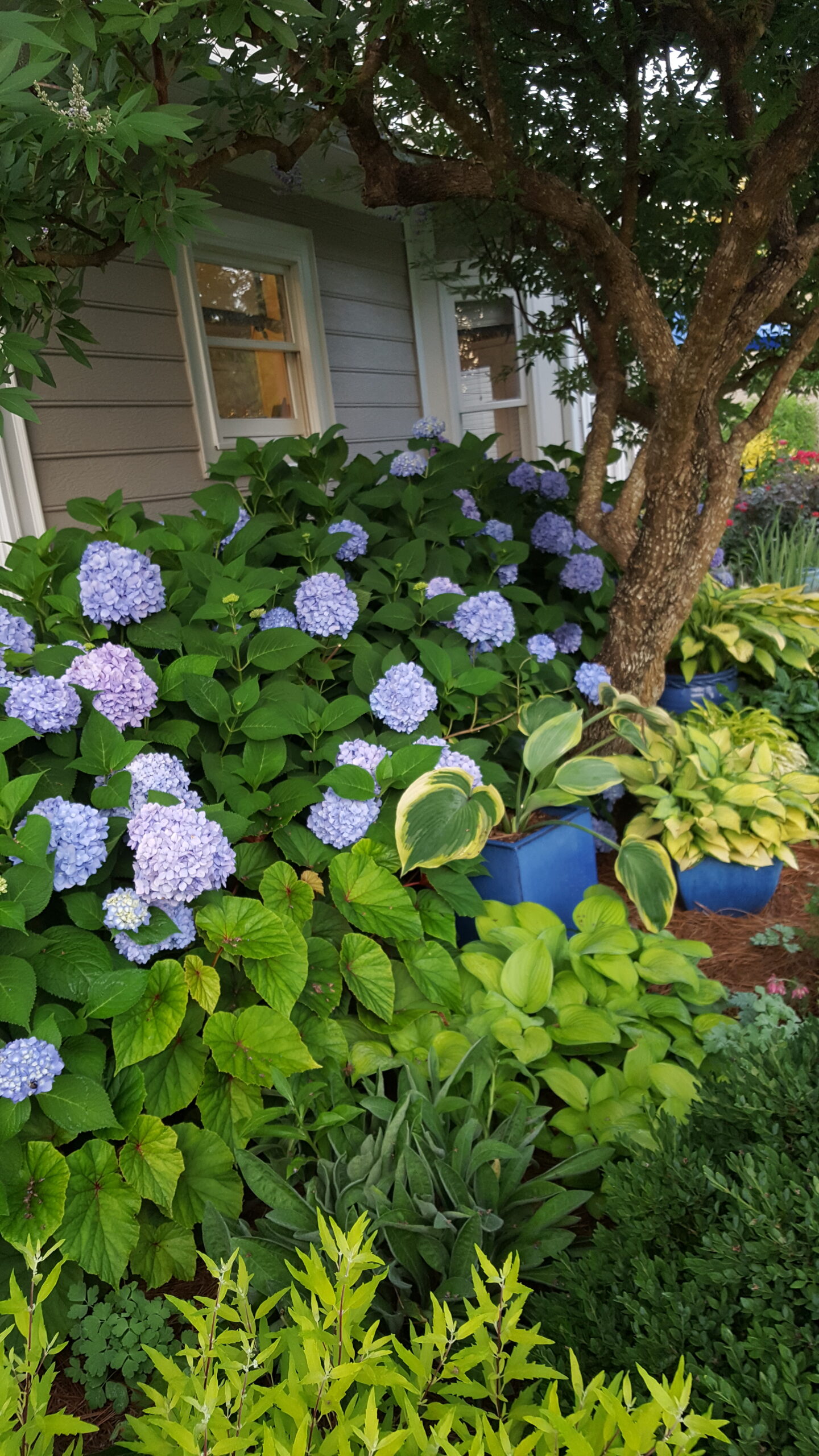 'Endless Summer' hydrangeas in blue contrast nicely with the hostas under a vitex tree (Vitex agnus-castus, Zones 6–9).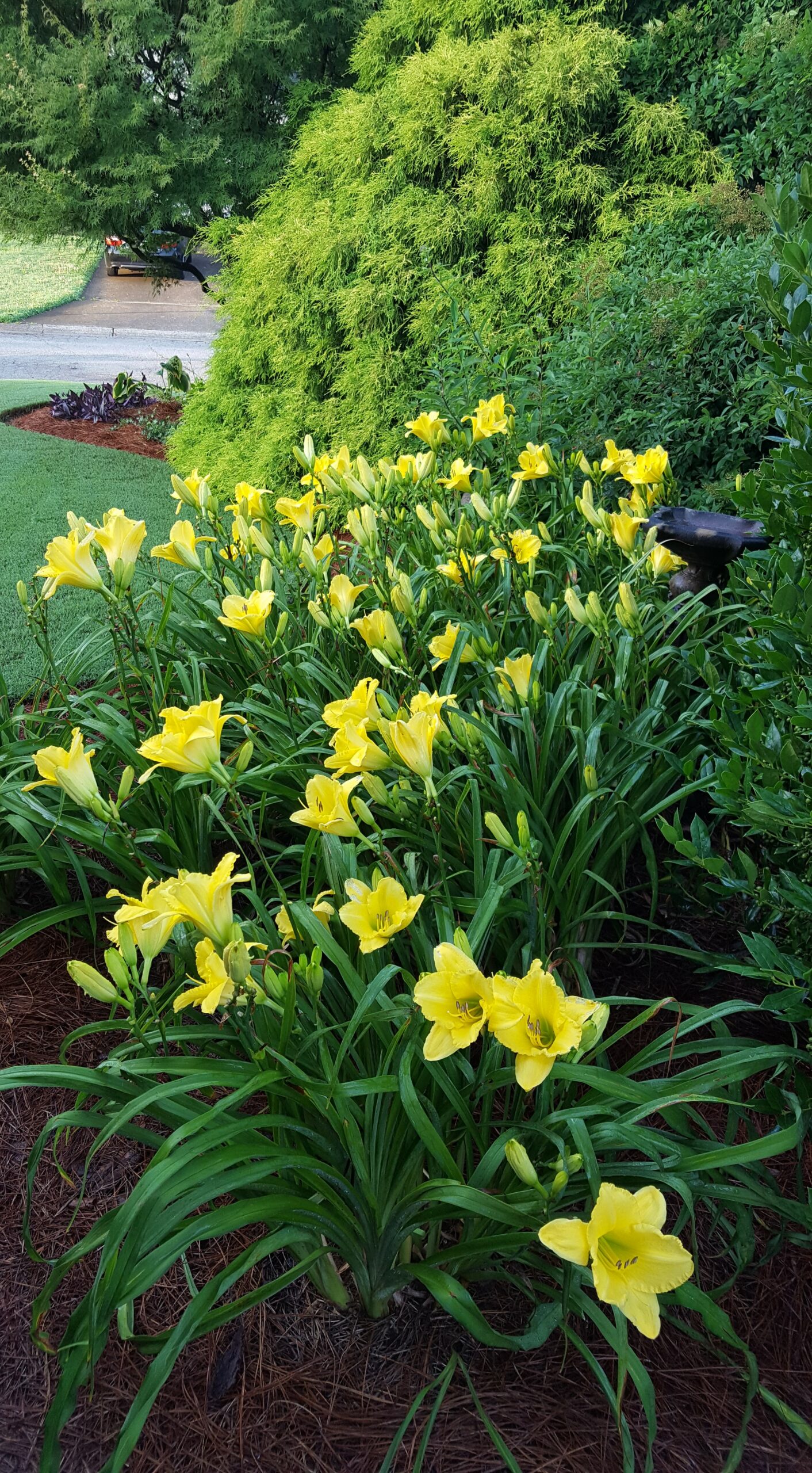 Another early summer delight is the cheery 'Chicago Gold Strike' daylilies (Hemerocallis 'Chicago Gold Strike', Zones 3–9) that greet guests as they enter the side garden. Typically these bloom from June 1 until late July. They contrast nicely with the 'Needlepoint' holly (Ilex cornuta 'Needlepoint', Zones 7–9) that they are in front of and echo the golden color of the Chamaecyparis pisifera 'Aurea' nearby.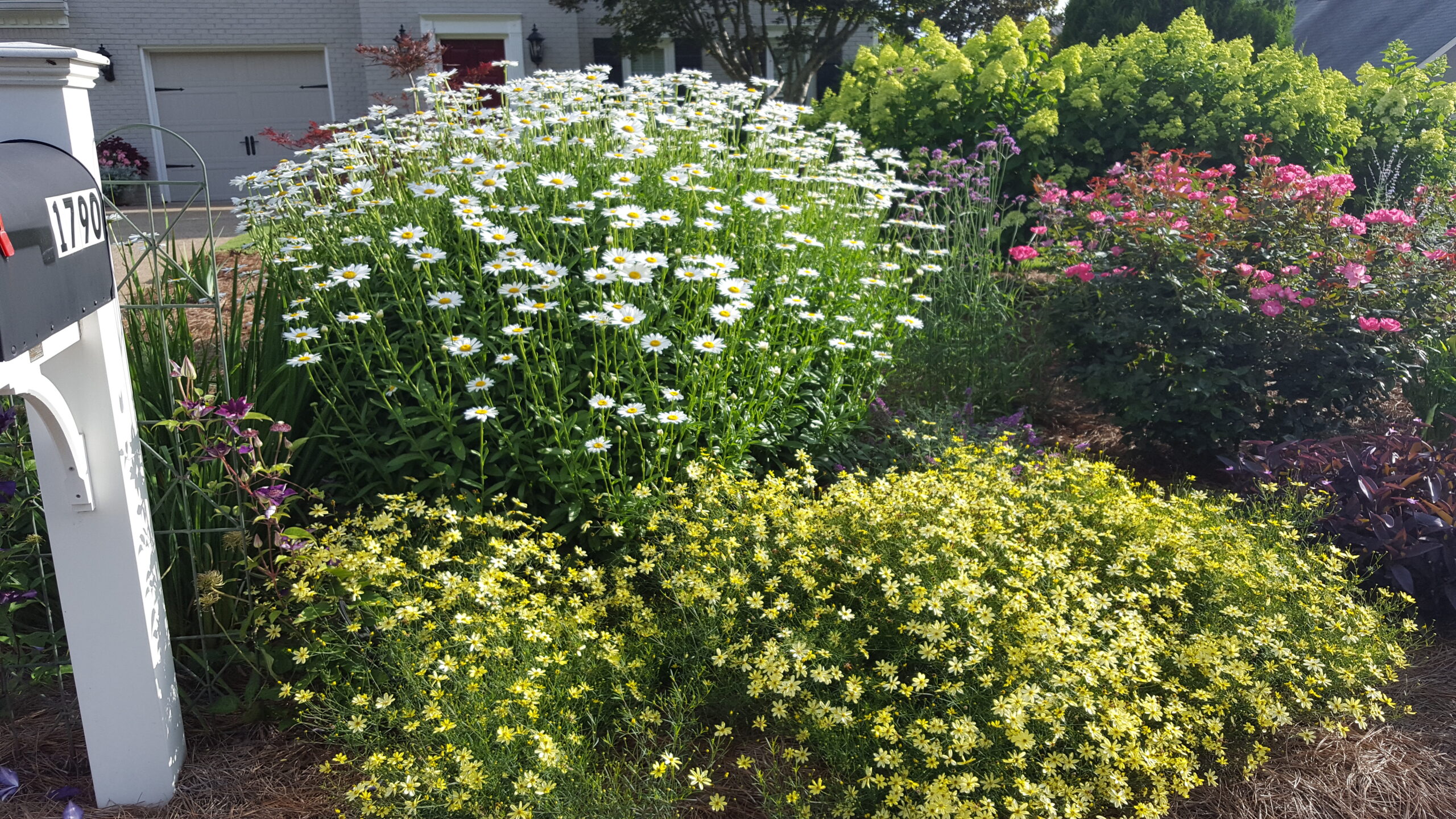 Becky daisies (Leucanthemum × superbum 'Becky', Zones 5–8) and 'Moonbeam' coreopsis (Coreopsis verticillata 'Moonbeam', Zones 4–9) form a color echo at the entrance to the front garden. Both bloom continuously all summer. The Becky daisies are an excellent cut flower, lasting two weeks in a vase if cut when they first open. They have also remained standing without staking even through hurricane-force winds. They are hard to beat!
Yellow lilies (Lilium hybrid, Zones 4–9) put on quite a show for the birds feeding nearby. They reach over 6 feet tall at maturity and bloom for about three weeks. They bloom at the same time as the vitex tree, which provides a feast for the bees.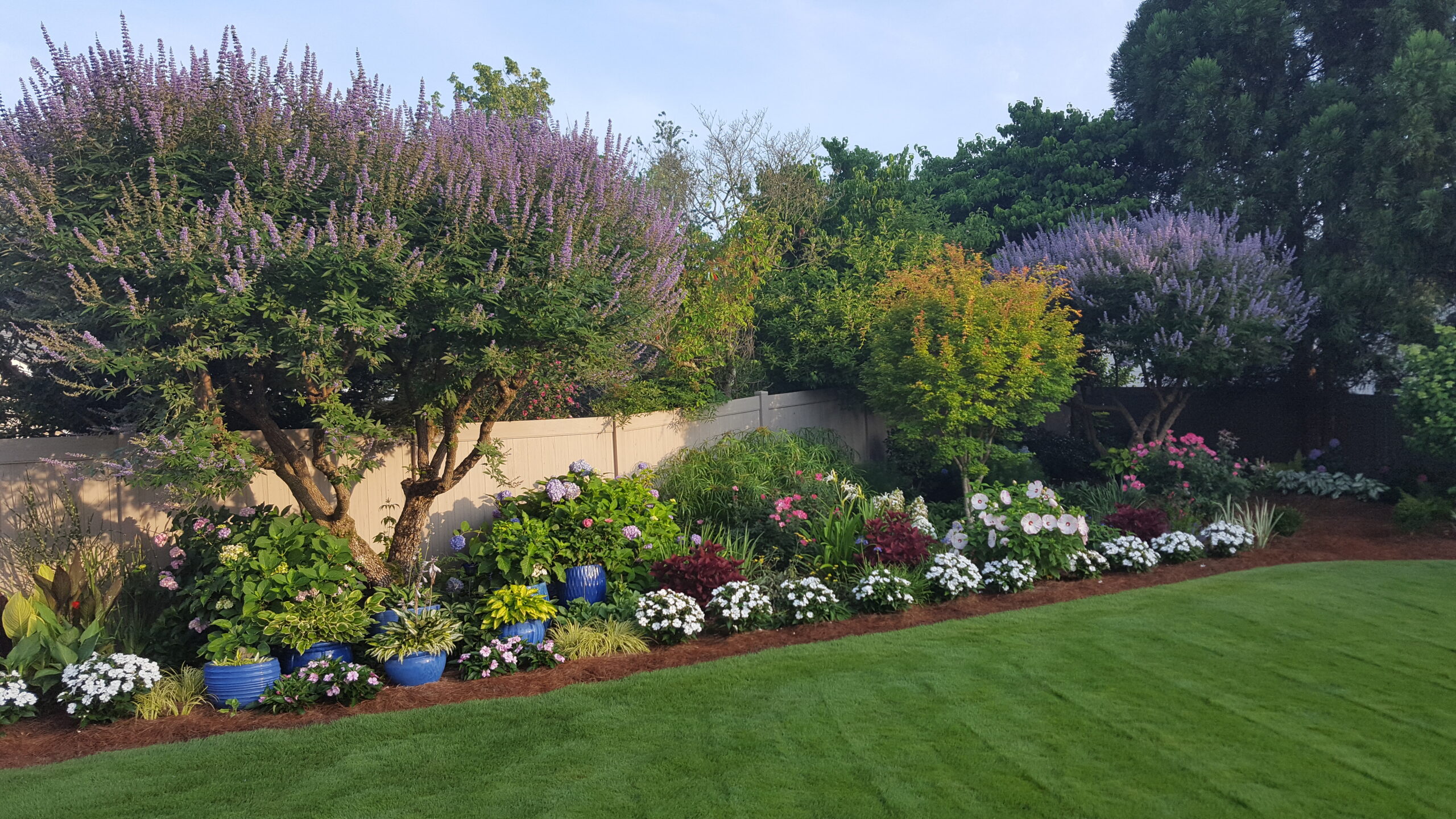 The garden reaches its summer peak when the vitex trees are in their initial full bloom along with the 'Disco Belle' hibiscus (Hibiscus moscheutos 'Disco Belle', Zones 4–9), roses, Peruvian daffodils (Hymenocallis festalis, Zones 8–10), hydrangeas, hostas in pots, red coleus for depth, and white SunPatiens (Impatiens hawkeri, annual), which glow both day and night.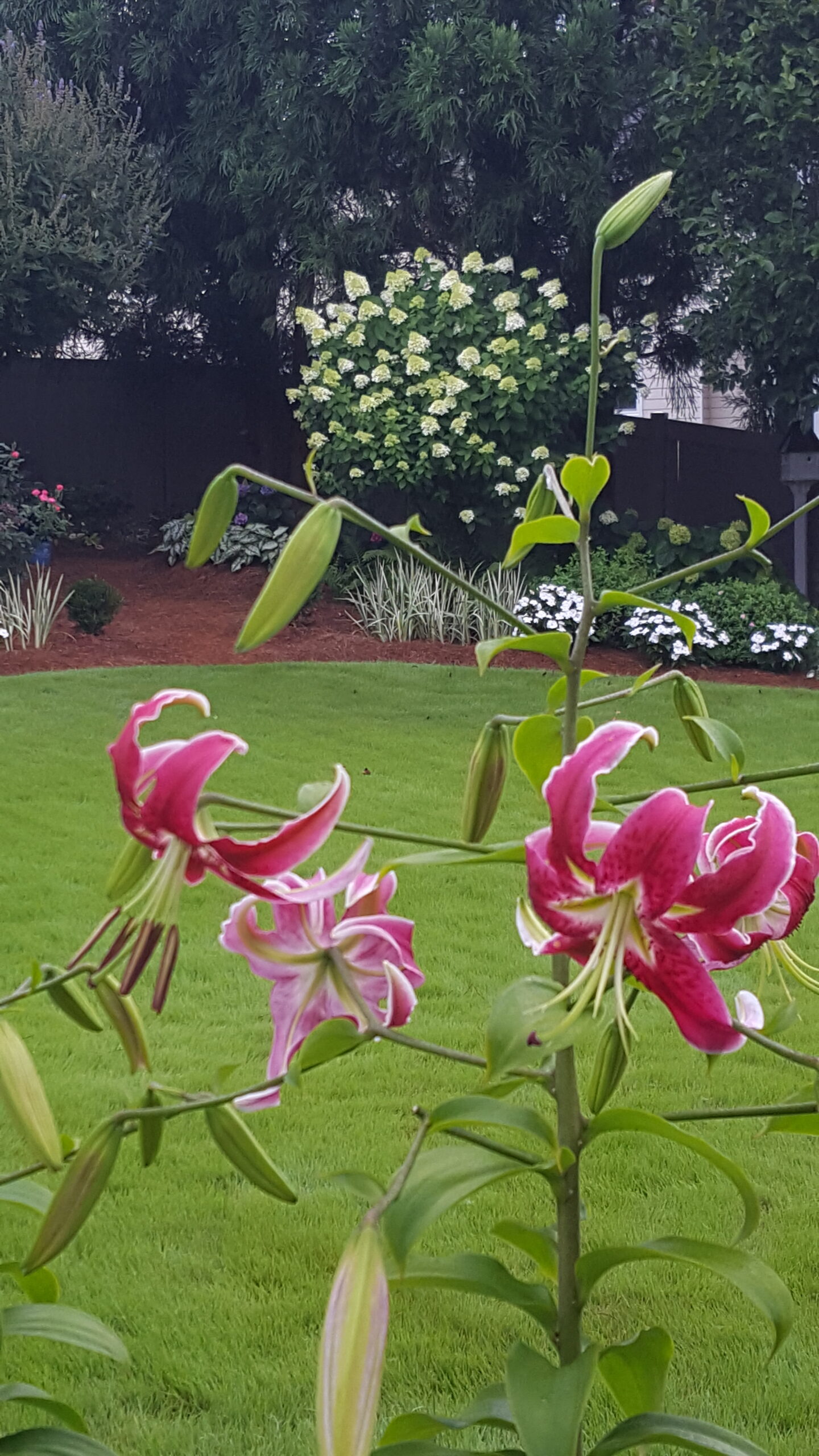 The view from my kitchen window shows an Orienpet lily (Lilium hybrid, perhaps 'Black Beauty', Zones 3–8) framing the treeform 'Limelight' hydrangea (Hydrangea paniculata 'Limelight', Zones 3–8) as it comes into bloom. My coffee tastes even better when I get to enjoy newly opened lilies and roses right outside the window. Variegated Japanese iris (Iris ensata 'Variegata', Zones 5–9), white SunPatiens, and a couple types of green and white caladiums (Caladium hybrids, Zones 9–10 or as annuals or tender bulbs) echo the white of the 'Limelight' and are easily visible at night.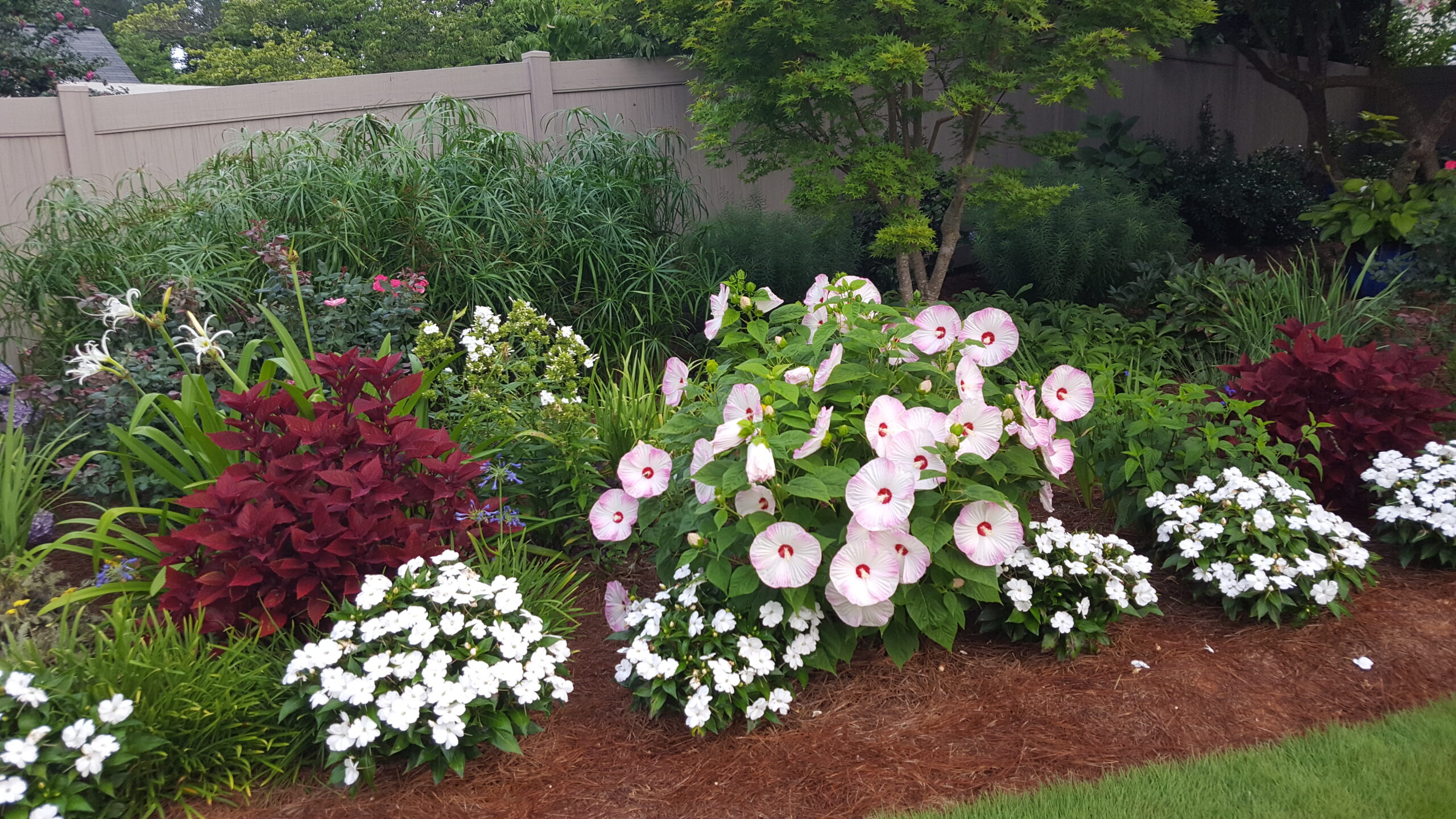 A close-up of the west bed shows the 'Disco Belle' hibiscus in full bloom as well as the Peruvian daffodils, red coleus, 'David' phlox (Phlox paniculata 'David', Zones 4–8), SunPatiens, and blue agapanthus (Agapanthus hybrid, Zones 8–10). The back of the border features papyrus (Cyperus involucratus, Zones 8–12), which reaches over 6 feet by the end of the summer. A coral bark maple (Acer palmatum 'Sango Kaku', Zones 5–9) adds wonderful texture and color all season.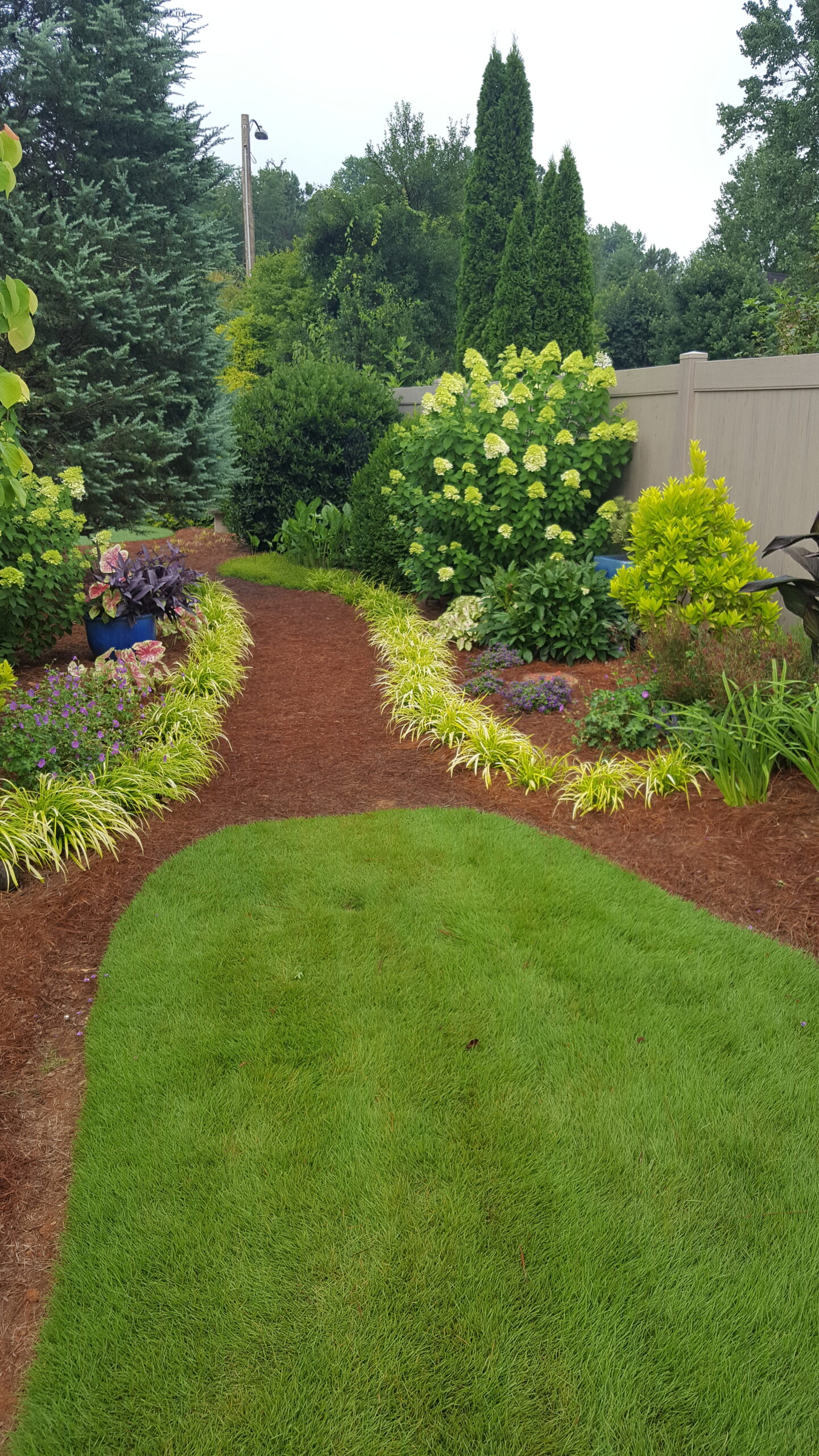 One of my first projects after retirement was to divide my 'Pee Dee Gold Ingot' liriope (Liriope muscari 'Pee Dee Gold Ingot', Zones 6–10) and extend the border of the path on the side yard. A 'Limelight' hydrangea is flanked by 'Miss Muffet' caladiums on one side, and another one has 'Raspberry Moon' caladiums at its base, echoing the flowers in the pot. A 'Florida Sunshine' anise (Illicium parviflorum 'Florida Sunshine', Zones 6–9) continues the golden theme. Purple 'Rozanne' geraniums (Geranium 'Rozanne', Zones 5–9) bloom continuously from spring to a hard frost.
Have a garden you'd like to share?
Have photos to share? We'd love to see your garden, a particular collection of plants you love, or a wonderful garden you had the chance to visit!
To submit, send 5-10 photos to [email protected] along with some information about the plants in the pictures and where you took the photos. We'd love to hear where you are located, how long you've been gardening, successes you are proud of, failures you learned from, hopes for the future, favorite plants, or funny stories from your garden.
If you want to send photos in separate emails to the GPOD email box that is just fine.
Have a mobile phone? Tag your photos on Facebook, Instagram or Twitter with #FineGardening!
You don't have to be a professional garden photographer – check out our garden photography tips!
Do you receive the GPOD by email yet? Sign up here.