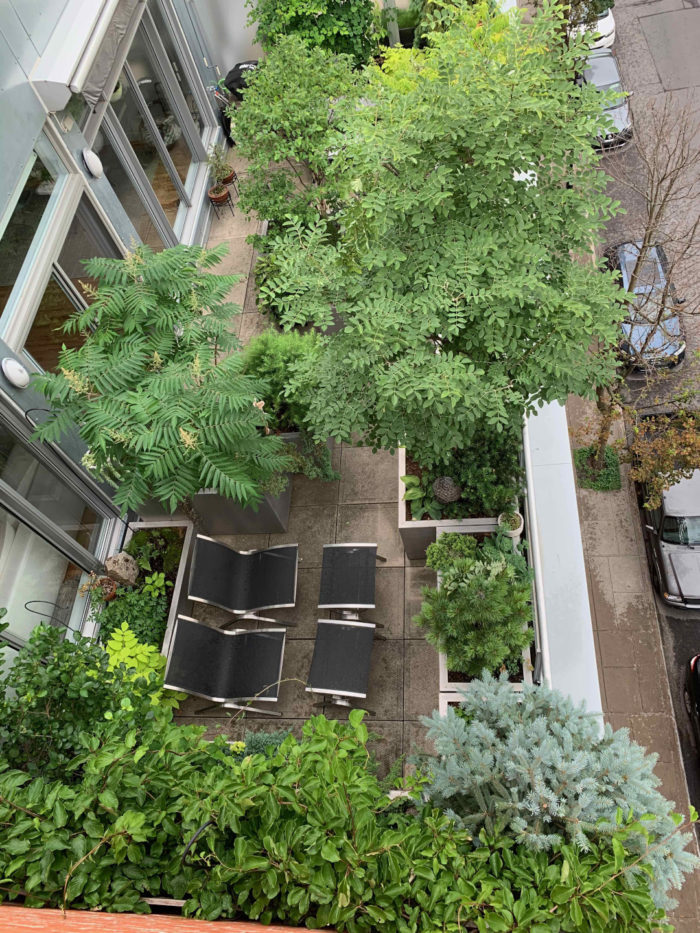 Today we're visiting Julie Hébert's garden.
I am an avid gardener in an uncommon situation. I live in Montreal, Canada (Zone 5b). When my husband and I bought a loft with a terrace in 2013, I knew I wanted to turn our drab concrete outdoor space into an intimate green nest. I wanted shrubs and trees that I could see maturing year after year, with the freedom to change up the look of the space with perennials. Our climate is not an easy one to work with. In addition to brutally cold winters and scorching heat waves in the summer, Montreal gardeners have to contend with winter temperatures that can fluctuate wildly, more so than those of other southern Quebec cities. Roots in planters are doubly punished because they can't benefit from the tempering effect of the earth's heat in the winter. Plants in planters dry out quickly, as they are more exposed to harsh winds. I had my work cut out for me.
I started by dividing our 350-square-foot, northwest-facing terrace into three zones: an atrium, a shady 'Zen' zone with a gurgling fountain to keep my ears focused inward, away from city sounds, and a sunny seating area. I had 18 planters made of brushed aluminum in different shapes and sizes. On average, they accommodate 16 square feet of soil. They are lined with 2-inch-thick R-10 extruded polystyrene insulation sheets and geotextile. I filled them with high-quality soil, then I started experimenting.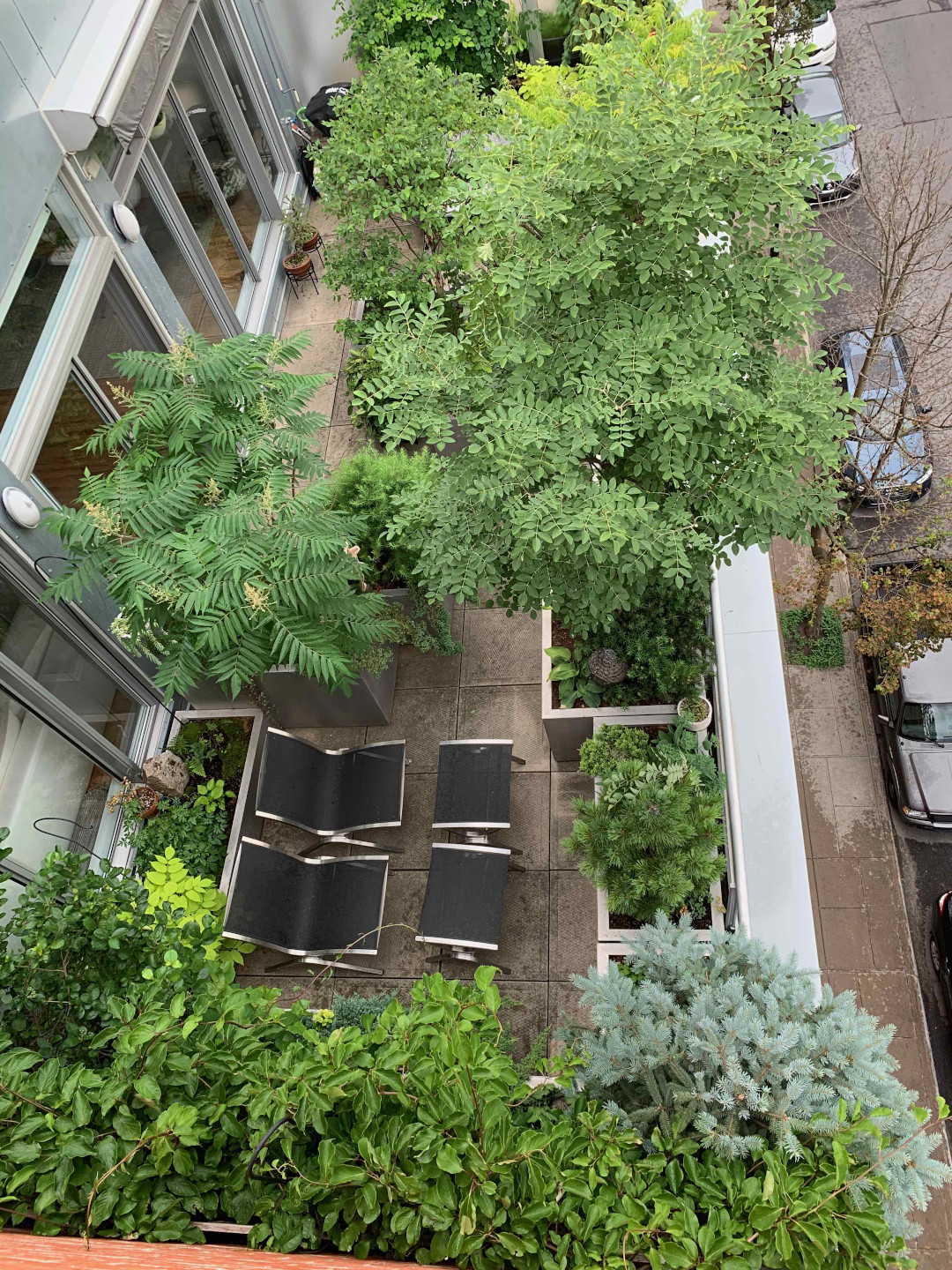 I learned quickly that plants hardy in Zone 5 were out—bye bye, Acer palmatum (Japanese maple, Zones 5–9). Then most Zone 4 plants were eliminated. Interestingly, I found that hardiness zones are not the only deciding factor in plant survival; the Epimedium × rubrum (red barrenwort, Zones 5–9) that my father gave me last year survived the 2020 winter without a dent, and my three Juniperus squamata 'Blue star' have been around for six years. Zone 3 Thuja species, though abundant in our local nurseries, don't stand a chance on my terrace, even with winter protection.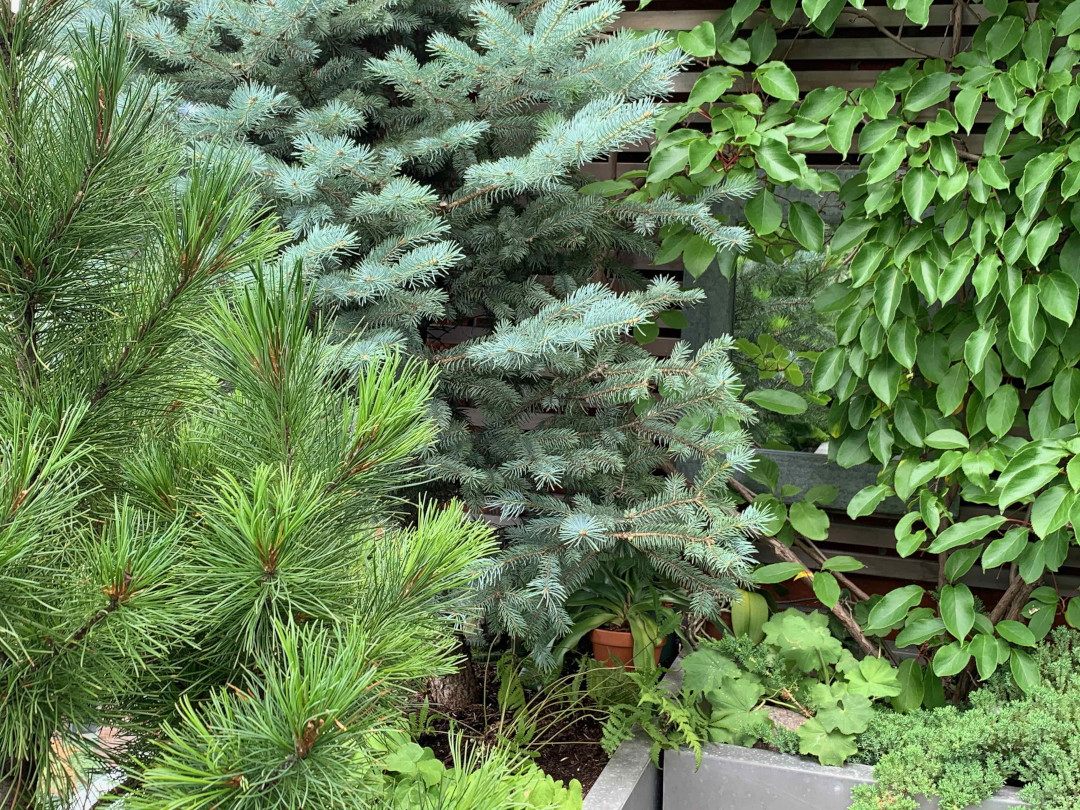 I generally stick with plants hardy to Zones 3 or colder and have learned to appreciate the beauty of common robust species such as Rhus typhina (staghorn sumac, Zones 3–9), Picea glauca (white spruce, Zones 3–6), Betula nana (dwarf birch, Zones 3–8), and Pinus mugo (Mugo pine, Zones 3–7). I plant dwarf species whenever possible, or larger ones such as Larix laricina (tamarack, Zones 2–5) and Tilia cordata (littleleaf linden, Zones 3–7) that take well to being pruned. I have learned that many dwarf conifer cultivars are grafted and that their root stock may not be as hardy as the species.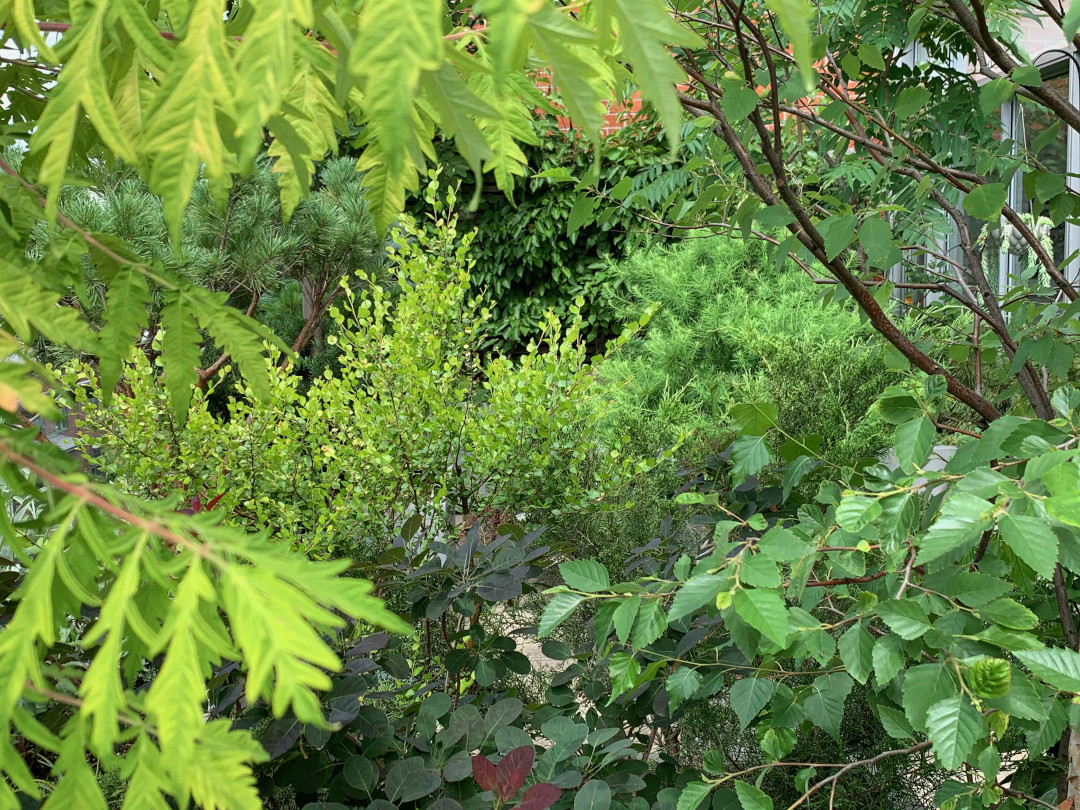 Once in a while I try to push my hardiness zone limits, as I have this year with a Cotinus coggygria 'Velveteeny dwarf' (smoke bush, Zones 4–9). Its deep red leaves, seen at the bottom of this photo, framed by Thymus pseudolanuginosus (woolly thyme, Zones 2–8), work well off the cinnamon bark of its neighbor, a Betula nigra 'Little King' (dwarf river birch, Zones 4–9). I found that many flowering perennials did not work, as I could not give them enough space to showcase them in mass plantings or drifts as I like to see them.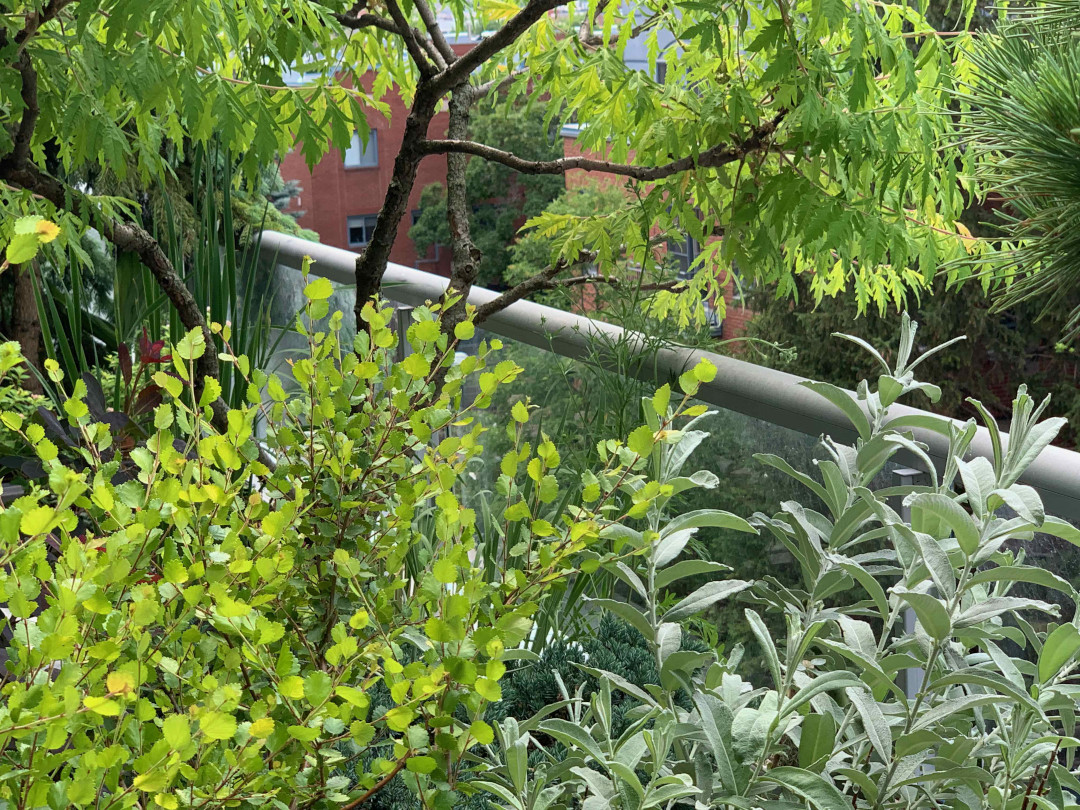 I learned to work with more subtle qualities in texture and form from small trees, shrubs, and nonshowy perennials. In a small space, it is possible to coordinate to great effect the blue of a single Salix candida 'Iceberg Alley' (sageleaf willow, Zones 3–7) with the chartreuse and delicate leaves of a Betula nana 'Golden treasure', and the emerald green feathery leaves of a Juniperus chinensis 'Mint Julep' (Chinese juniper, Zones 3–9).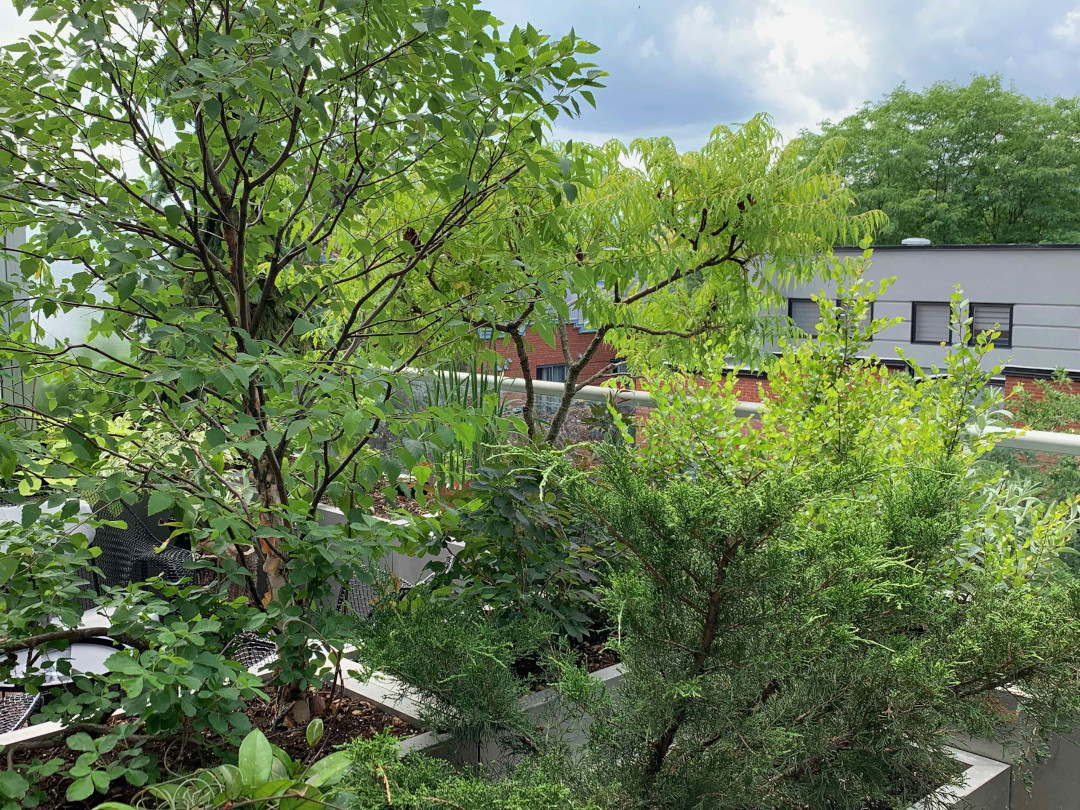 I have gained an appreciation for the finer details in the leaves of the various juniper species that thrive in this tiny urban garden. As with any gardener, I suppose, I like to layer plants, so I chose Picea glauca pendula (weeping white spruce) and Thalictrum rochebruneanum (meadow rue, Zones 3–8) for their vertical effect, and Rhus typhina and Rhus typhina 'Tiger Eyes' for their umbrella shape.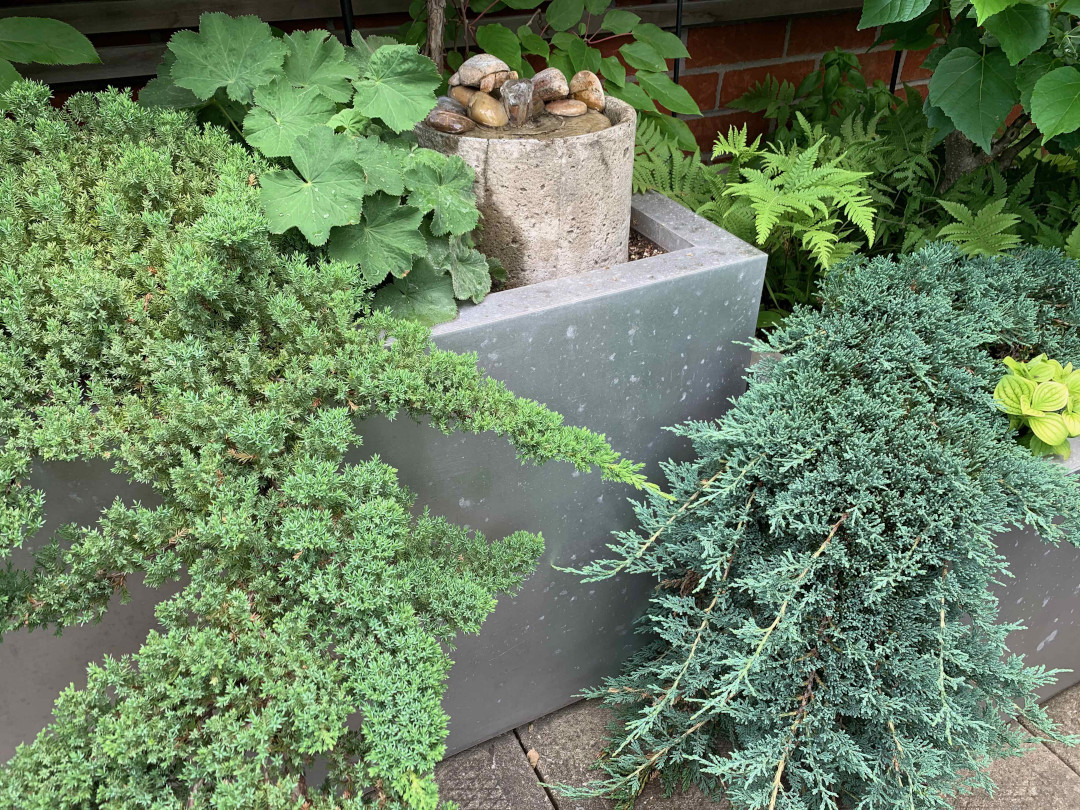 I grow Juniperus procumbens 'Nana' (dwarf garden juniper, Zones 3–9), Juniperus horizontalis (creeping juniper, Zones 3–9), or Empetrum eamesii 'Saguenay' (crowberry, Zones 3–5) for their cascading effects. I use Thelypteris phegopteris (beech fern, Zones 2–5) and Cornus canadensis (bunchberry, Zones 2–6) for ground cover, and moss grows all over the place.
I had a sturdy trellis installed (background in this photo) to support an Actinidia arguta (hardy kiwi, Zones 3–8) couple, which I hope will bear fruit in the next few years as they will soon reach maturity. My Maackia amurensis (maackia, Zones 3–7) is my largest specimen and offers very welcome shade during the summer. In our climate, we can expect it to grow to 15 feet high in the ground; mine is at 12 feet, and I have started to prune it a bit. I have learned that keeping plants in captivity demands the same responsibilities as keeping a pet cat or dog; they cannot find food on their own, so I need to provide it. Compost won't do, as we don't have the invertebrate life to metabolize it. I tried organic hen manure until I found signs of deficiencies in my lime tree and birch. This year I begrudgingly tried a balanced chemical fertilizer and have watched my plants heal and thrive.
As retired baby boomers leave their suburban gardens for smaller city dwellings, the demand for urban container gardens is growing. Growing edibles and annuals are one thing, but growing a garden to accompany us in our old age is a challenge. I am living it and wanted to share my experience with your readers.
Have a garden you'd like to share?
Have photos to share? We'd love to see your garden, a particular collection of plants you love, or a wonderful garden you had the chance to visit!
To submit, send 5-10 photos to [email protected] along with some information about the plants in the pictures and where you took the photos. We'd love to hear where you are located, how long you've been gardening, successes you are proud of, failures you learned from, hopes for the future, favorite plants, or funny stories from your garden.
If you want to send photos in separate emails to the GPOD email box that is just fine.
Have a mobile phone? Tag your photos on Facebook, Instagram or Twitter with #FineGardening!
You don't have to be a professional garden photographer – check out our garden photography tips!
Do you receive the GPOD by email yet? Sign up here.