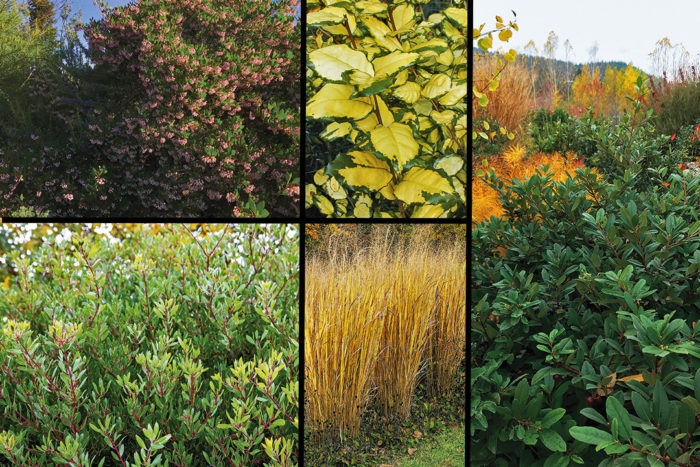 Whether you live in town or the country, privacy in and around your home can be an essential part of comfort, peace, and well-being. As gardeners, we naturally look to achieve this with plants. Yet traditional hedges just don't fit the bill for everyone. Not only do they have a particular aesthetic that doesn't appeal to all, but they can require a massive amount of energy to keep up—from pruning and the residual cleanup, to fertilizing and dealing with pests and disease, which can run rampant in a monoculture planting. Moreover, when shrubs are repeatedly sheared over time, a congested mess of interior branches develops, creating a bare, unhealthy center that, aside from being unattractive, can be quite fire prone.
Enter the alternative: a naturalistic "hedge" comprised of a variety of compatible species and cultivars that are appropriately spaced and sized for screening needs and that ultimately create a border of sorts brimming with biodiversity, habitat for wildlife and pollinators, and seasonal interest. This greener wall is not only more beautiful and beneficial, but it takes less of your time, energy, and money. What more could you ask for?
Ideally, a naturalistic screen includes selections of broadleaf ever­greens, conifers, deciduous shrubs, and even some grasses. This grouping melds together the best qualities of each—texture, foliage variety, fall color, blooms, berries, and noteworthy bark—into a riot of interest that peaks at different times of the year.
Many worthy plants even check off multiple boxes of usefulness. These are great ones to consider as key players in your lineup, with the potential for groupings and repetition to tie the ensemble together.
Shorter options add interest and fill in gaps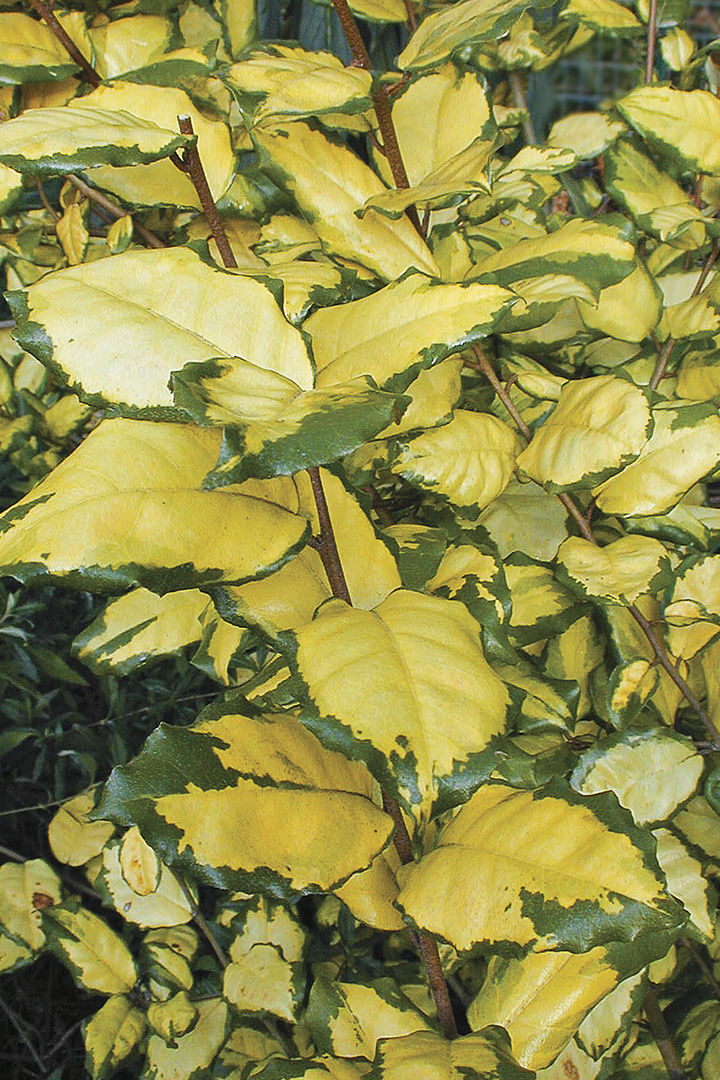 Name: Elaeagnus pungens 'Clemson Variegated'
Zones: 7–10
Conditions: Full sun to full shade; adaptable to a wide range of soils
Native range: Japan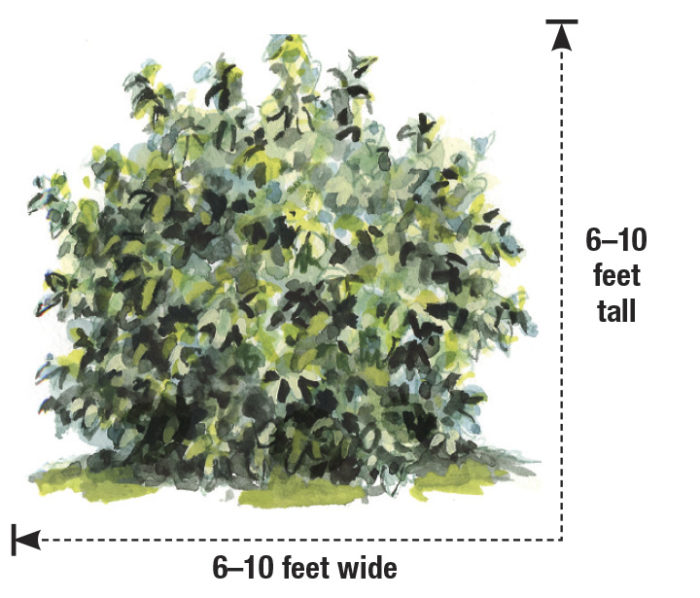 For a low-maintenance splash of color to accent your otherwise green screen, look no further than 'Clemson Variegated' silverberry. This Asian member of the olive family has roughly textured and artfully colored foliage. Each leaf is painted with a sunny golden center, transitioning to bright green before culminating in a deep forest green margin reminiscent of a slightly less refined hosta leaf. Although more dense if sited in sun, this adaptable shrub is quite happy in various degrees of shade, where its mounded presence brightens up dark areas and benefits from less exposure to the elements, preventing windburn and sunburn. That being said, these general survivalists have hidden thorns that repel deer, and they accept a wide variety of harsh conditions—including clay, salt, and drought—with ease, while fertilizing themselves and neighbors with nitrogen-fixing roots. What's more, they delight passersby in fall, as tiny ivory flowers inconspicuously fill the air with a pleasant fragrance and are occasionally followed by small red fruits—a lovely way to kick off the holiday season. Essentially, silverberry is made for self-sufficient naturalistic hedges.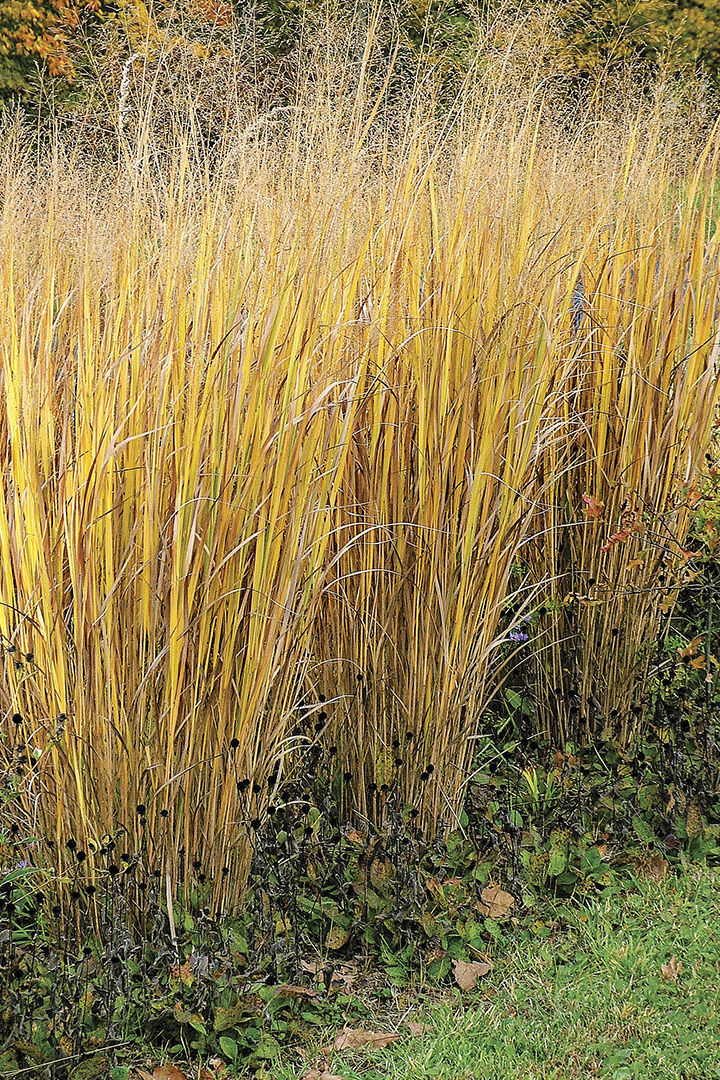 Name: Panicum virgatum 'Northwind'
Zones: 4–9
Conditions: Full sun; average to dry, well-drained soil
Native range: North America, except the West Coast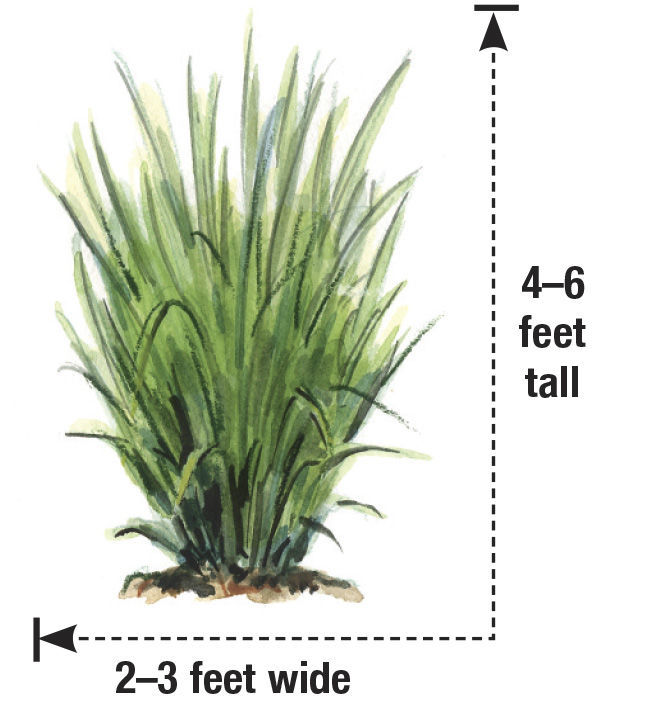 When it comes to filling in gaps between larger plants, nothing beats ornamental grasses for fast maturation with a healthy dose of textural appeal. I particularly like 'Northwind' switch grass (photo at top) in screening situations, since it easily reaches 4 to 6 feet tall, with a stiff, vase-shape habit. The delicate inflorescences produced in late summer by this American prairie native are a charming alternative to the plumes of more common grasses, and the golden fall color is a definite bonus. Birds also value the seed heads come winter. Accustomed to deep prairie soils and summer rains, 'Northwind' switch grass can be drought tolerant once established, but it will attain size quicker and retain its cool blue-green foliage color longer when ­irrigated regularly. In my experience, full sun is a must for good performance, so this grass works well as a temporary filler, while ­slower growing shrubs and trees mature to proper screening size, at which point it will eventually diminish once it's shaded out.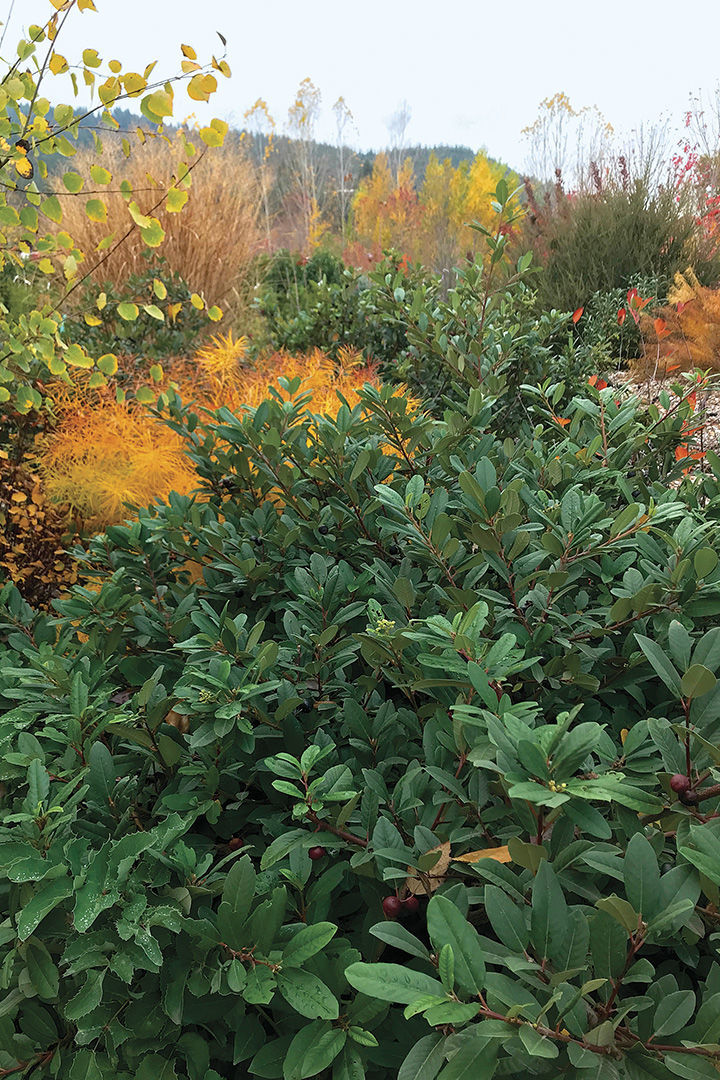 Name: Rhamnus californica 'Eve Case'
Zones: 6–10
Conditions: Full sun to partial shade; adaptable to many soils
Native range: California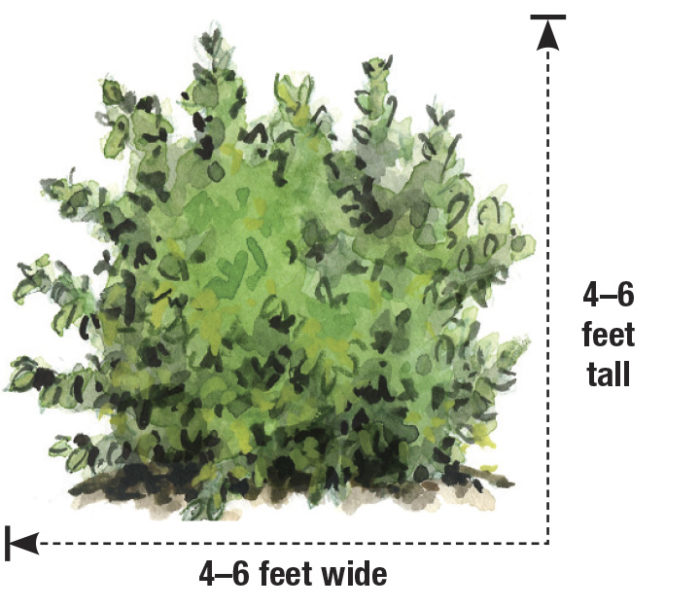 'Eve Case' California coffeeberry is a subtly handsome plant. It does such a good job in the supporting cast that it can be the common theme repeated throughout a planting, filling in around the ankles and knees of taller companions. Achieving a broad shape—with a denser, more compact, and ultimately smaller habit than the straight species—it can be useful in a wide variety of scales. Happy in full, hot sun or partial shade, California coffee­berry has burgundy stems and leathery, rich, blue-green leaves and is generally not preferred by deer. In spring, insignificant-looking clusters of tiny greenish-ivory flowers are borne in abundance, surprisingly attracting a flurry of pollinator activity. Large red berries appear later, eventually ripening to black, supplying a small feast for wildlife in fall.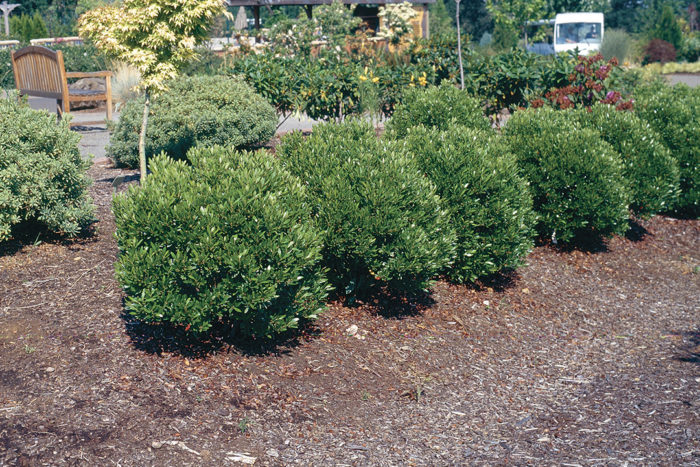 Name: Ilex glabra 'Shamrock'
Zones: 5–9
Conditions: Full sun to partial shade; tolerates most soil types
Native range: Eastern United States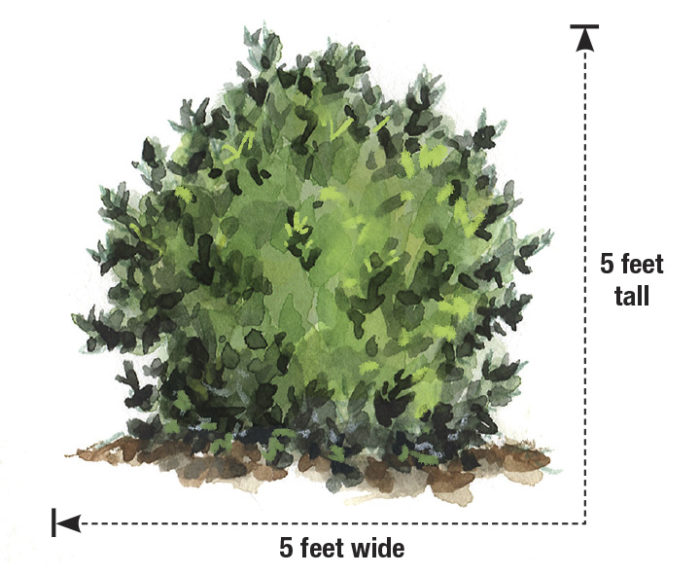 'Shamrock' inkberry holly is another great filler shrub for full sun to partial shade. Whereas the species can often become leggy with age, 'Shamrock' is a compact form whose dense, mounded habit is the perfect complement to more vertical plants, as it closes negative space gaps to maximize privacy at ground level. This native of the eastern United States tolerates anything from sandy soils to heavy clay, boggy sites, and seasonal flooding, as long as the soil is on the acidic side and receives regular moisture. Though its simple, glossy, dark green leaves are a bit on the boring side, 'Shamrock' can create resting spots for the eye between more flashy shrubs, or it can be a foil for variegated foliage accents. Distinctive among broadleaf evergreens in its tendency to colonize, inkberry holly has yet another benefit to a natural hedge: its flowers, while visually insignificant, are exceptionally attractive to bees. 'Shamrock' is a female cultivar, so a male such as 'Nordic' is required to produce small black berries in fall.
Name: Cupressus macrocarpa 'Wilma Goldcrest'
Zones: 7–10
Conditions: Full sun to partial shade; average, well-drained soil
Native range: California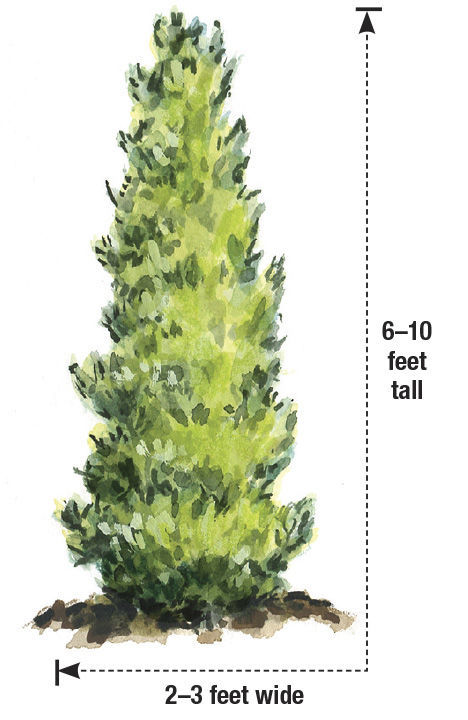 In small spaces, narrow plantings, or anywhere you need a little more zest, try 'Wilma Goldcrest' Monterey cypress. As a highlight among darker broadleaf evergreens, this dwarf, columnar selection with excellent golden to lime green coloring (depending on the duration of sun) is sure to light up the party. Slowly reaching a mere 6 to 10 feet in height and 2 to 3 feet in width in 10 years, it is the perfect candidate for plugging slim openings, especially come winter when a tucked-in, protected location can help prevent damage. Otherwise fairly tough, 'Wilma Goldcrest' enjoys full sun in coastal climates but appreciates afternoon shade where summer heat is more intense. Also commonly called lemon cypress due to the citrusy fragrance emitted from the foliage when brushed, it is one of few cypress that deer will leave alone.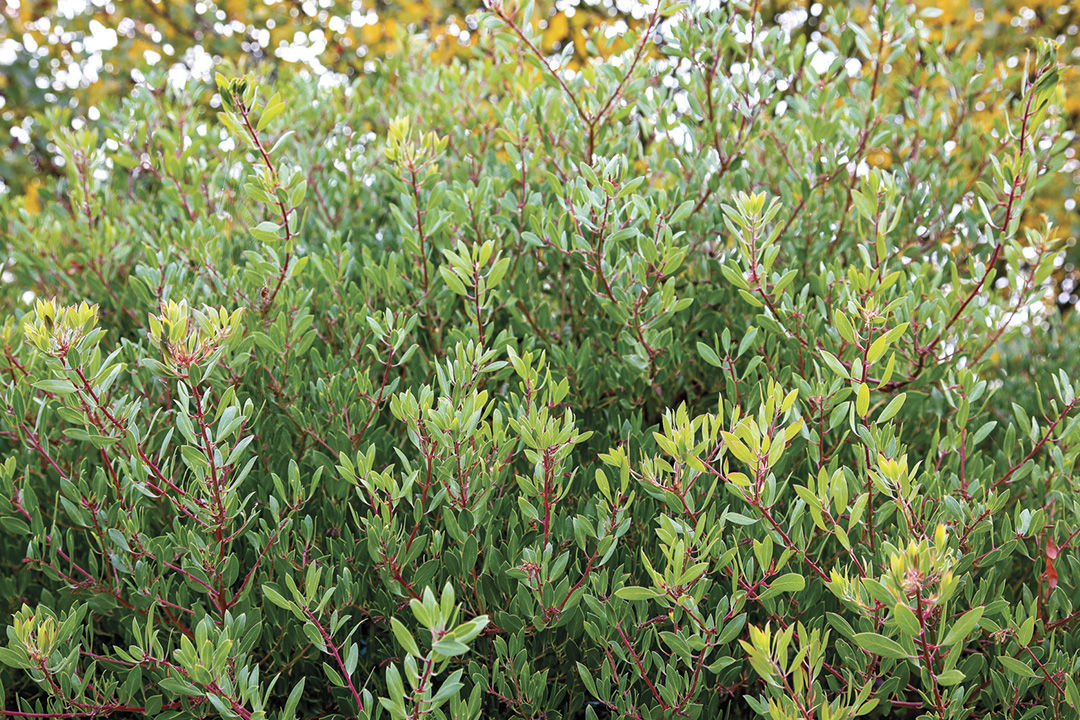 Name: Arctostaphylos densiflora 'Howard McMinn'
Zones: 7–10
Conditions: Full sun to partial shade; adaptable to a wide range of soils
Native range: California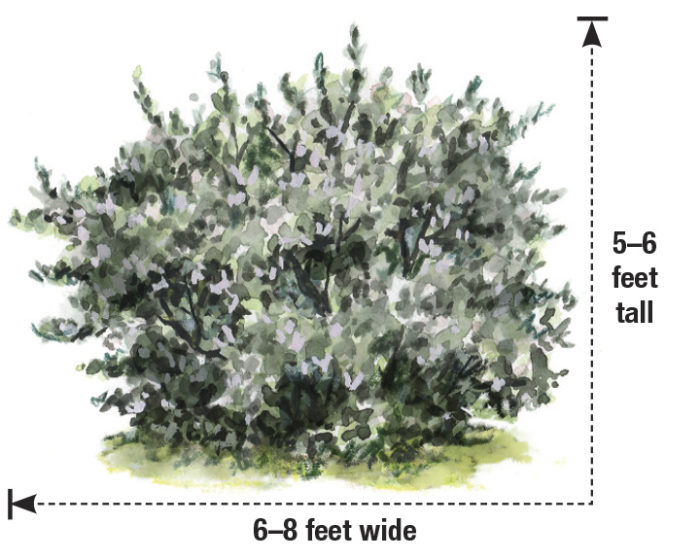 Contrary to the belief that manzanitas are slow and difficult to grow, 'Howard McMinn' manzanita is quick to bulk up, garden friendly, and even tolerant of partial sun—hence its more common availability in the nursery trade and its presence in commercial landscapes. When given room to spread its naturally mounded form and allowed to root where rambling stems contact soil, this Sonoma, California, native can become a beast of a shrub. Easily reaching 5 to 6 feet tall and wider, it serves as a perfect filler in larger screens between more upright and vase-shape plants. While it still has picturesque mahogany bark with a sinuous branching habit, its foliage—small, simple, deep green leaves with a glossy finish—usually catches people off guard. However, when it comes to tough countenance, 'Howard ­McMinn' is true to its manzanita roots, reveling in sun, heat, and drought, and although it prefers poor soils with sharp drainage, it can handle clay better than most. As if these selling points weren't enough, very early in spring a light honey scent and activity from bees and hummingbirds will draw you to the clusters of shell pink, urn-shape flowers smothering this substantial shrub and lasting at least a month or more. Red drupes form and ripen by fall, continuing to support the diet of birds well into the cold season.
Use taller plants to anchor the hedge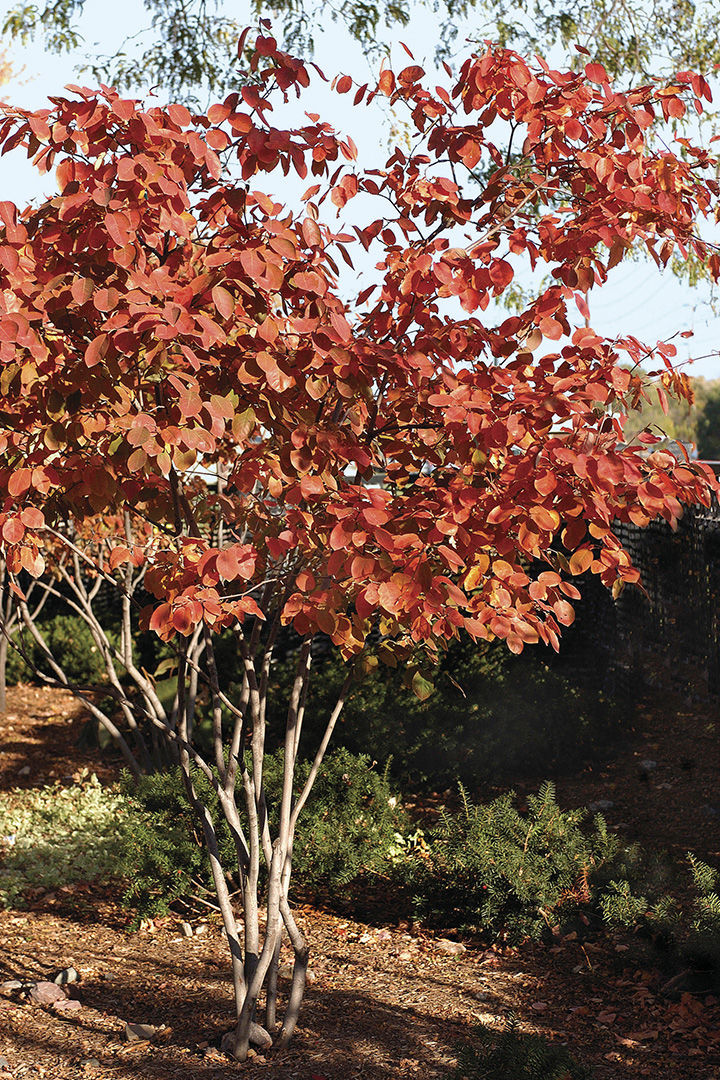 Name: Amelanchier × grandiflora 'Autumn Brilliance'
Zones: 4–9
Conditions: Full sun to partial shade; adaptable to a wide range of soils
Native range: Hybrid of two North American species
One of my favorite deciduous choices to include in a mixed hedge is serviceberry. Known by a slew of common names, these large shrubs or small trees have it all: blooms, berries, fall color, and significant wildlife value. They even work for those who don't like "messy" trees, since birds devour the dark blue berries before you notice they are ripe for picking. Though there are many species, hybrids, and cultivars, 'Autumn Brilliance' serviceberry is an attractive selection. In early spring, airy clouds of small white blossoms set against a backdrop of bronzy new growth positively sparkle, announcing the shift of seasons with refreshing yet subtle elegance. In fall, 'Autumn Brilliance' is true to its name, delivering a fiery finale of rich oranges and reds.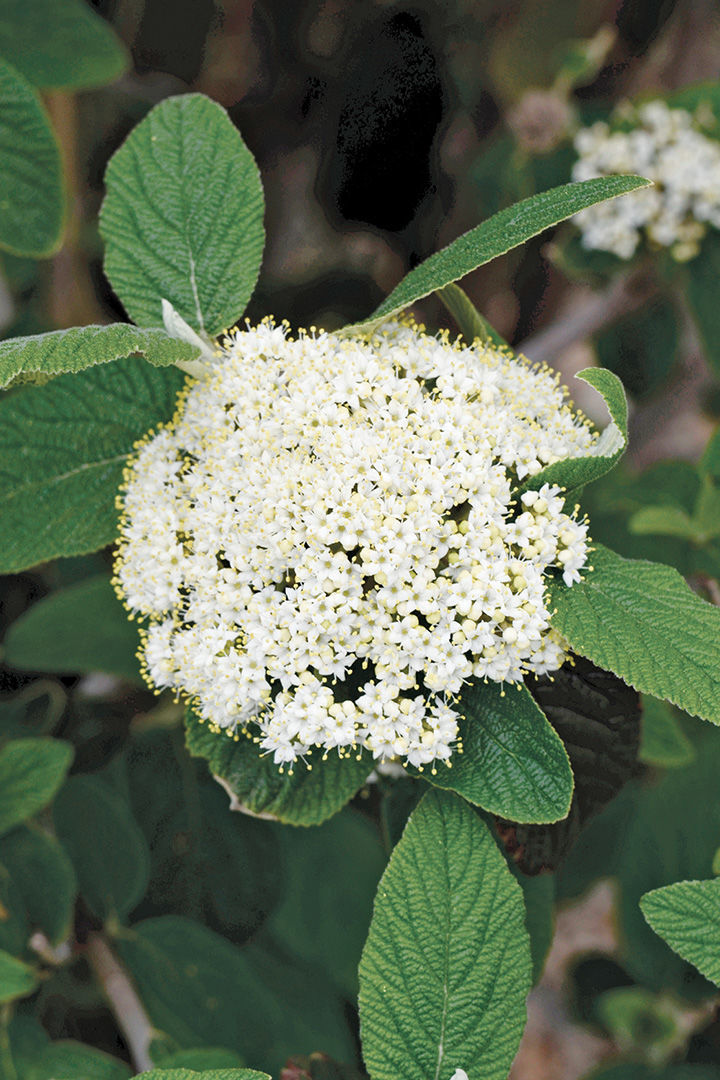 Name: Viburnum × rhytidophylloides 'Allegheny'
Zones: 5–8
Conditions: Full sun to light shade; average to wet, well-drained soil rich in organic matter
Native range: Hybrid of European and Asian species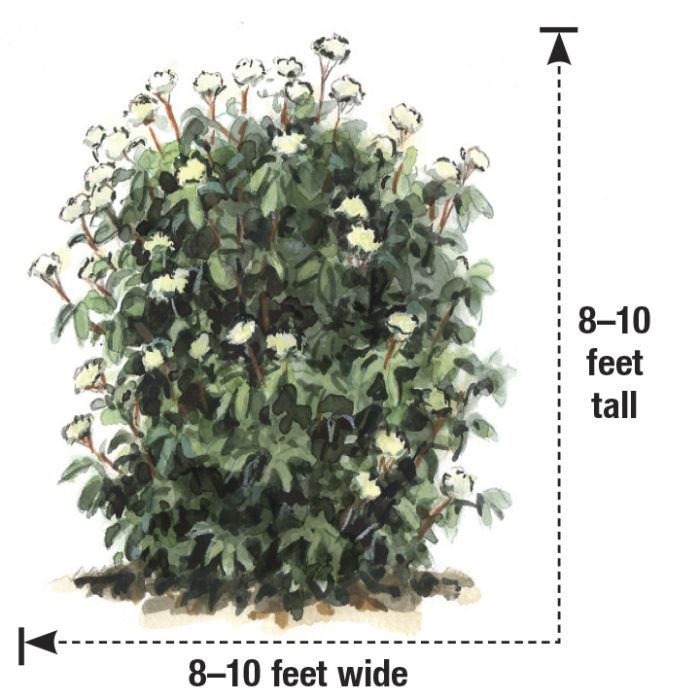 With scores of distinguished viburnums available, choosing one can be difficult, but when screening is concerned, 'Alle­gheny' leatherleaf viburnum is worth your attention. This hardy hybrid combines the best attributes of its parents, Viburnum rhytidophyllum and V. lantana 'Mohican', remaining evergreen in mild climates, and in colder zones it will readily hang onto its bronzed leaves if tucked into a sheltered spot. Deep green and dense, this coarse shrub sports heavily quilted, leathery foliage with paler undersides, a welcome contrast to glossy broadleaf evergreens and conifers alike. In mid to late spring, butterflies are drawn to flat-topped, creamy white cymes that protrude from its bold leaves, giving way to clusters of red berries in late summer that eventually turn blue-black by winter, providing late season forage for birds.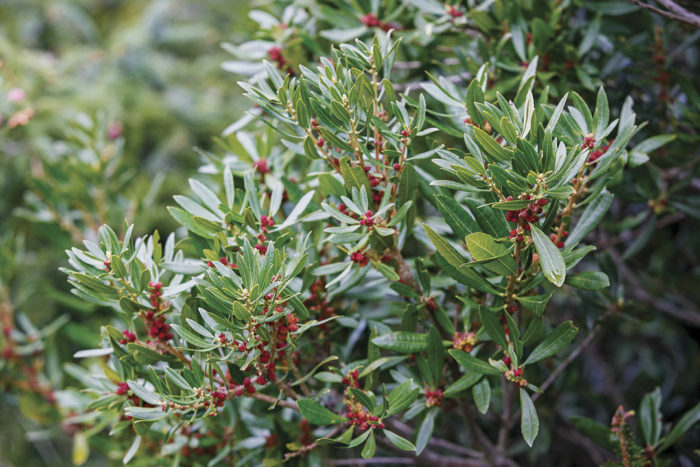 Name: Morella californica (syn. Myrica californica)
Zones: 7–9
Conditions: Full sun to partial shade; any well-drained soil
Native range: Pacific Coast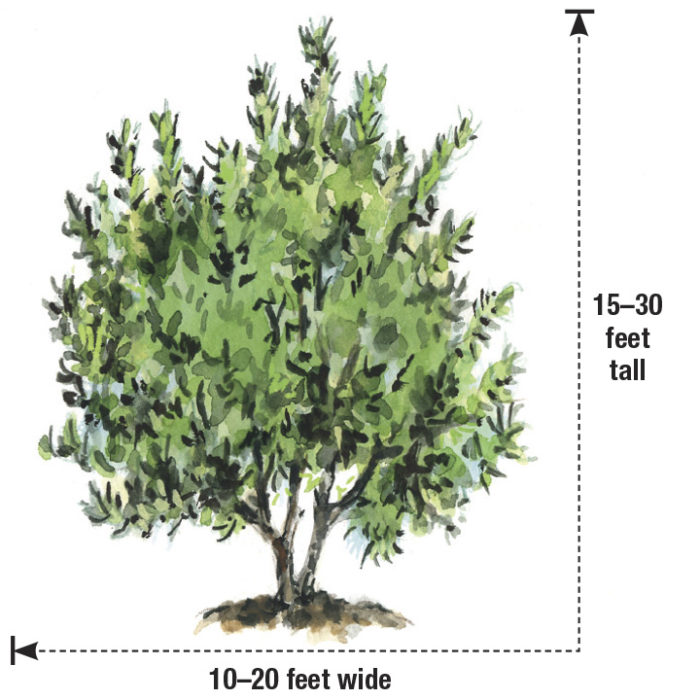 If more traditional dense and glossy greenery is your thing, check out Pacific wax myrtle or one of its cousin species native throughout North America, such as Morella pensylvanica (Zones 3–7). Found all along the West Coast, this large evergreen shrub or small tree has a lot of tricks up its sleeve. It tolerates a wide range of conditions: sun to shade, sand to clay, ample moisture to drought, and wind and salt spray. Also, while deer often scoff at its aromatic foliage, birds relish the small peppercorn-like dark purple berries that cover stems late in the season. Pacific wax myrtle makes a great background plant, weaving in between conifers and showier deciduous shrubs and trees, but it can also be kept in check with occasional pruning.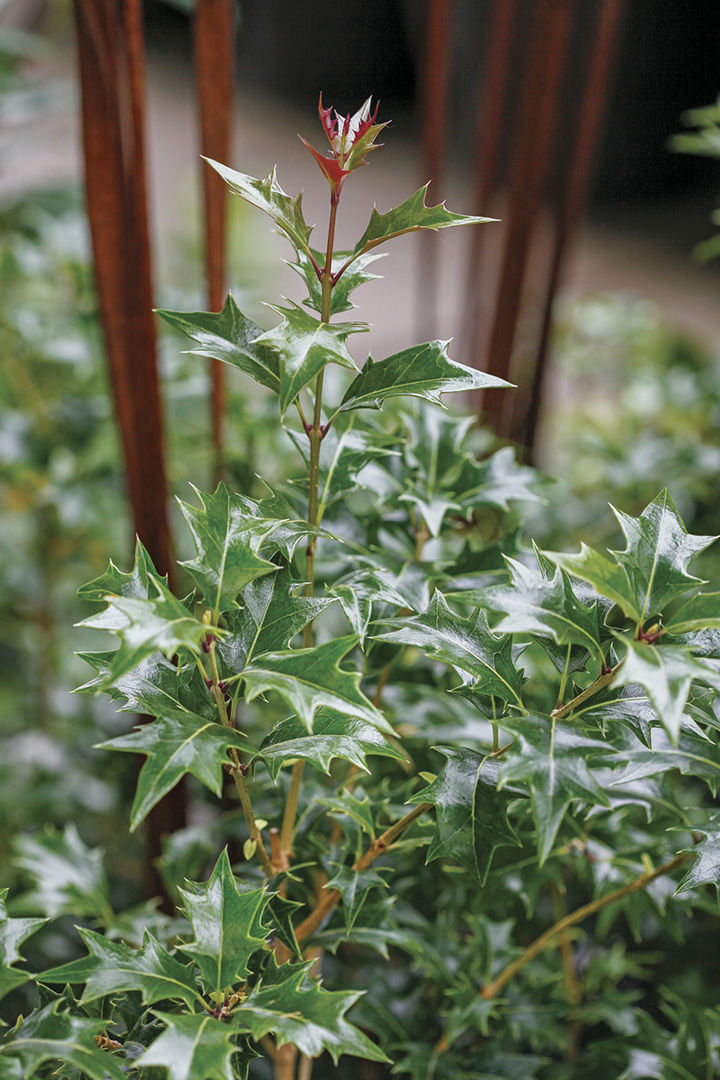 Name: Osmanthus heterophyllus 'Gulftide'
Zones: 7–10
Conditions: Full sun to partial shade; average to moist, well-drained soil
Native range: Japan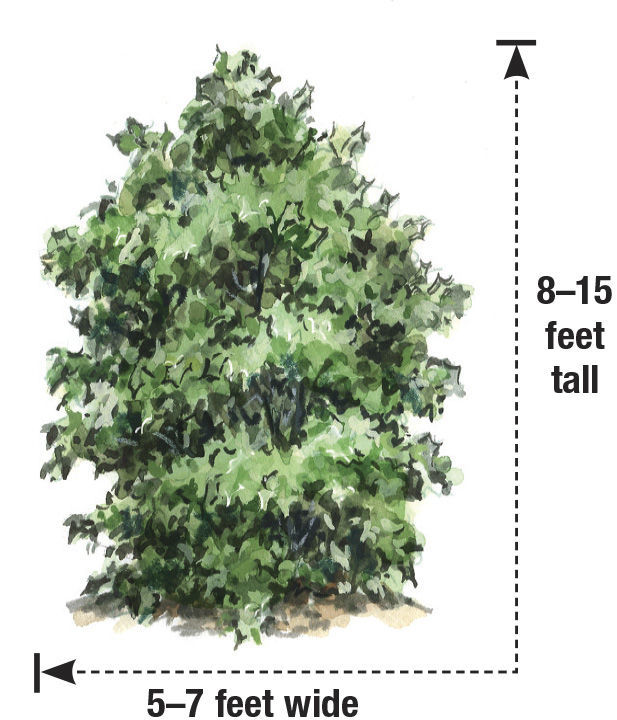 For shadier locations, such as within the shadow of larger screening specimens, try 'Gulftide' osmanthus. Reportedly the hardiest of the genus, this old selection is densely clothed in glossy, dark green foliage with wonderfully nasty spines—meaning the deer will likely save themselves and head next door. Come fall, this unprepossessing shrub cannot be missed, perfuming the air with a sweet scent born from multitudes of tiny white flowers crowding its dark stems.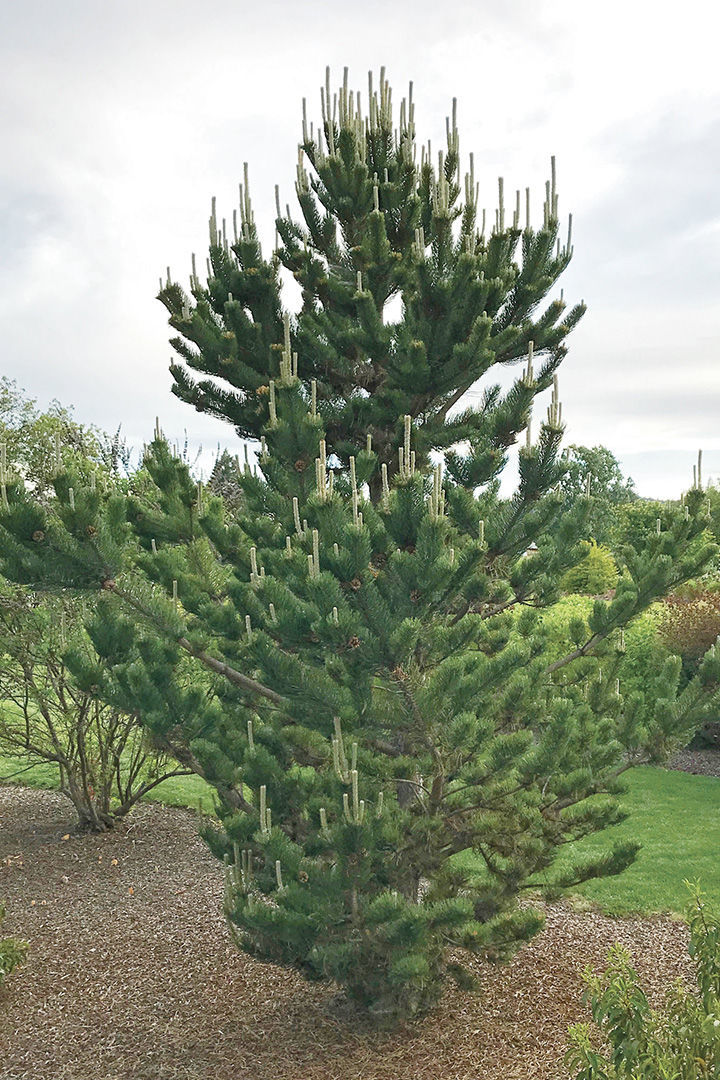 Name: Pinus nigra 'Oregon Green'
Zones: 4–8
Conditions: Full sun; moist, well-drained soil
Native range: Europe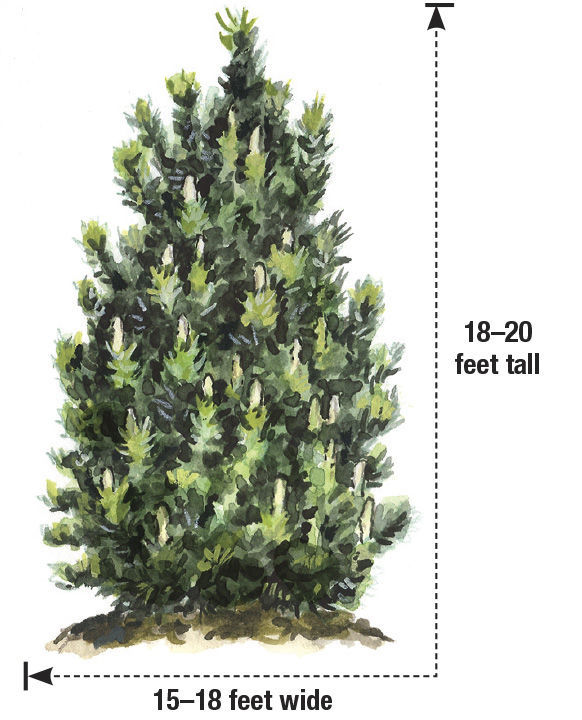 I like conifers with character, and 'Oregon Green' Austrian pine has it to spare. With a more open branching habit and shorter needles than the species that twist and curve in a densely packed arrangement along stems, it creates a sculptural form that feigns playful movement, especially in youth. Yet at maturity, 'Oregon Green' can achieve a broadly pyramidal shape that has just enough fullness for screening, while still allowing light to shine through. The unique form and deep green needles ensure textural diversity in privacy plantings that can be dominated by solid broadleaf shrubs. In midspring, 'Oregon Green' is lit up with ivory candles that add to its spirited energy. Sun loving and tolerant of heat, drought, urban pollution, salt, and even clay, and unpalatable to browsing deer, this compact Austrian pine is an easy standout. Furthermore, when it comes to creating habitat, conifers are an essential element in the landscape, especially for overwintering birds, and 'Oregon Green' provides it with style.
When you consider planting for privacy as an opportunity, you not only block unwanted views and viewers, but you also give yourself the gift of something beautiful to behold, as well as ­enhancing your local ecosystem with much-needed habitat. Have fun playing around with contrasting textures, colors, and forms, and embrace the challenge to create a tapestry of diverse, visually engaging plantings that rival any bountiful border.
---
Design
Putting together a mixed hedge
The idea of a mixed hedge can be applied to any screening situation, from expansive acreage to tiny yards or even to narrow side yards. If space permits, staggering several rows of plants that are layered in scale and arranged where complementary shapes and habits fit together like puzzle pieces, you can establish a sense of depth, density, and balance from every angle. First and foremost, know your site, conditions, privacy goals, and limitations, then choose a palette of plants that works well within those parameters.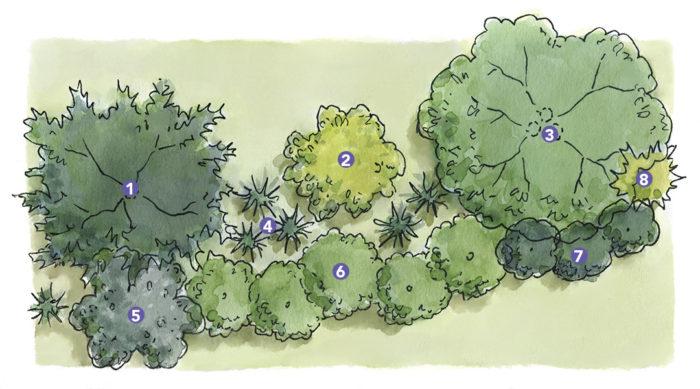 Plant key
1. 'Oregon Green' Austrian pine
2. 'Clemson Variegated' silverberry
3. 'Autumn Brilliance' serviceberry
4. 'Northwind' switch grass
5. 'Howard McMinn' manzanita
6. 'Eve Case' California coffeeberry
7. 'Shamrock' inkberry holly
8. 'Wilma Goldcrest' Monterey cypress
---
Bonni Criswell is a landscape designer in southern Oregon.
Sources
• Gossler Farms Nursery, Springfield, OR; 541-746-3922; gosslerfarms.com
• Las Pilatas Nursery, Santa Margarita, CA; 805-438-5992; laspilatas.com
• Monrovia, Azusa, CA; 888-752-6848; shop.monrovia.com
• Woodlanders, Aiken, SC; 803-648-7522; woodlanders.net