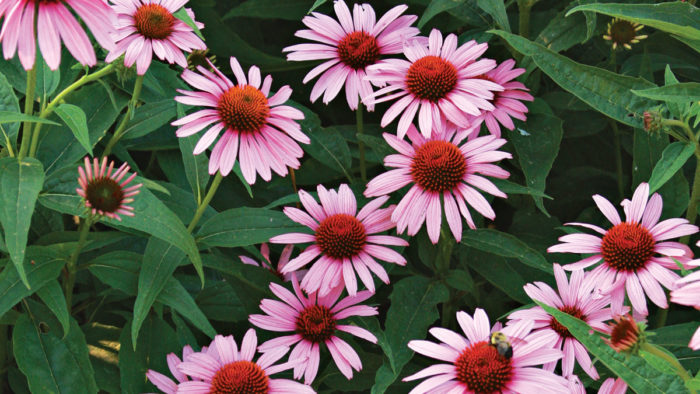 We all want the newest, jazziest plants available, but a garden is not complete without a backbone of infallible plants that provide interest whether your new investments flourish or fail.
Find some tough, multiseason stars for the Northwest below. And discover even more reliable performers in Plants to Build a Bed Around.
---
1. 'Kaleidoscope' mayapple
Name: Podophyllum 'Kaleidoscope'
Zones: 7–9
Size: 18 inches tall and 24 inches wide
Conditions: Partial to full shade; evenly moist, well-drained soil (let dry only slightly between watering)
Native range: Himalayas, China, and Japan
If you are looking for a big bold leaf for shade as an alternative to hostas (Hosta spp. and cvs., Zones 3–9), mayapple is your plant. With its eight-lobed geometric leaf shape and distinct hexagonal color pattern in shades of silver, burgundy, and chartreuse, 'Kaleidoscope' is a particularly interesting cultivar that has the power to dictate the color choices for the entire bed. Give it a protected spot; new shoots can tolerate a touch of frost in early spring, but extended temperatures below 20°F may necessitate a covering. It's a surprisingly easy plant to maintain, requiring only to be cut back in late fall before it lies dormant for the winter.
2. 'Magnus' purple coneflower
Name: Echinacea purpurea 'Magnus'
Zones: 3–8
Size: 30 to 36 inches tall and 12 to 18 inches wide
Conditions: Full sun to partial shade; dry to medium, well-drained soil
Native range: Central to Southeastern North America
From midsummer to early fall, 'Magnus' purple coneflower is a particularly profuse bloomer. Large, nondrooping, rose-purple petals surrounding a dark cone stand atop sturdy stems. What sets 'Magnus' apart from its counterparts is its height. At close to 3 feet tall, it makes a bold statement. As a major bonus, coneflowers are great for attracting pollinators. Leave the flower heads standing into November and December for midwinter interest.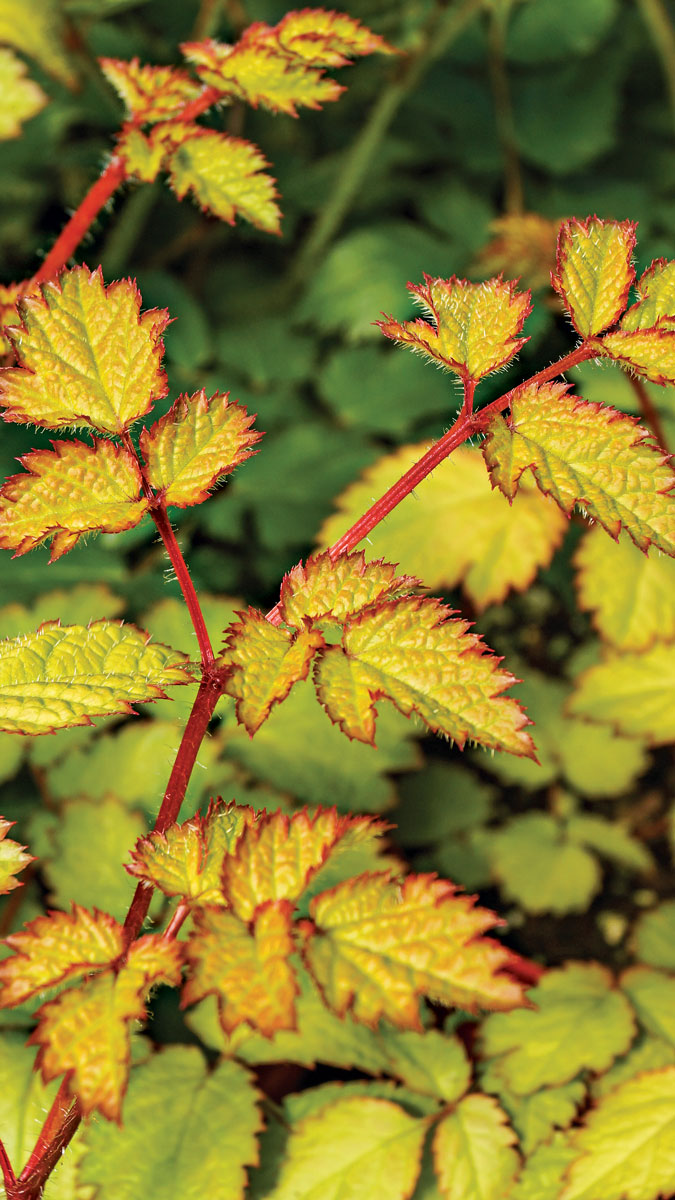 3. 'Amber Moon' astilbe
Name: Astilbe 'Amber Moon'
Zones: 4–9
Size: 30 inches tall and 18 inches wide
Conditions: Partial to full shade; evenly moist, fertile soil
Native range: China
It's the foliage color and texture of 'Amber Moon' that make it a true standout. Chartreuse leaves, tinged in red on the edges, add a spot of brightness to a shady spot. The lacy texture adds a touch of softness. Plant 'Amber Moon' in the middle of a bed behind a low-growing ground cover or in front of a dark green shrub to highlight its striking bright pink vertical panicles. The sturdy, long-stemmed flower heads work well in midsummer bouquets.
4. 'Helen von Stein' lambs' ears
Name: Stachys byzantina 'Helen Von Stein', syn. 'Big Ears'
Zones: 4–9
Size: 8 inches tall and 15 to 18 inches wide
Conditions: Full sun; average to dry, well-drained soil; drought-tolerant
Native range: Turkey, Armenia, and Iran
While walking through a friend's garden recently, I stopped and asked, "What is this?" Although I am familiar with lambs' ears' silvery blue-green color and irresistibly touchable woolly texture, I had never seen a cultivar with foliage this large. With individual leaves reaching up to 8 inches long, 'Helen von Stein' forms a dense mat that is perfect for the front edge of a border. This cultivar is also noted for its heat tolerance, being less likely to wilt and droop in hot temperatures, and it is deer and rabbit resistant. Cut it back in late fall.
---
Courtney Olander is a landscape designer in Seattle.
View Comments